Vegan gingerbread houses, cookies for Santa, and peppermint-flavored everything! We love the holidays for many reasons, but the seasonal desserts might take the cake for us––get it? We've scouted out the most fun and festive vegan holiday desserts in LA! Deck the halls, grab your oat milk, and get ready for sweetness overload!
Baked Vegan Vixen
Pop-up
Baked Vegan Vixen is bringing joy to the world with these breathtakingly beautiful confections! Their oh-so-tasty Slutty Blondies are a fun twist on Slutty Brownies! This variation is a white chocolate brownie stuffed with golden sandwich cookies and topped in raw sugar cookie dough, white chocolate chips, and sprinkles! But the holiday cheer doesn't end there! Load up on Berry and Cheese Danishes, Oatmeal Caramel Apple Pie Cookies, Hot Cocoa Yule Logs, Strawberry Cream Cheese Strudels, Pop-Tarts, and Pies! Their Cinnamon Roll Apple Pie is another creative revision to a coveted classic––this time, the crust is replaced with cinnamon rolls! YAAAS!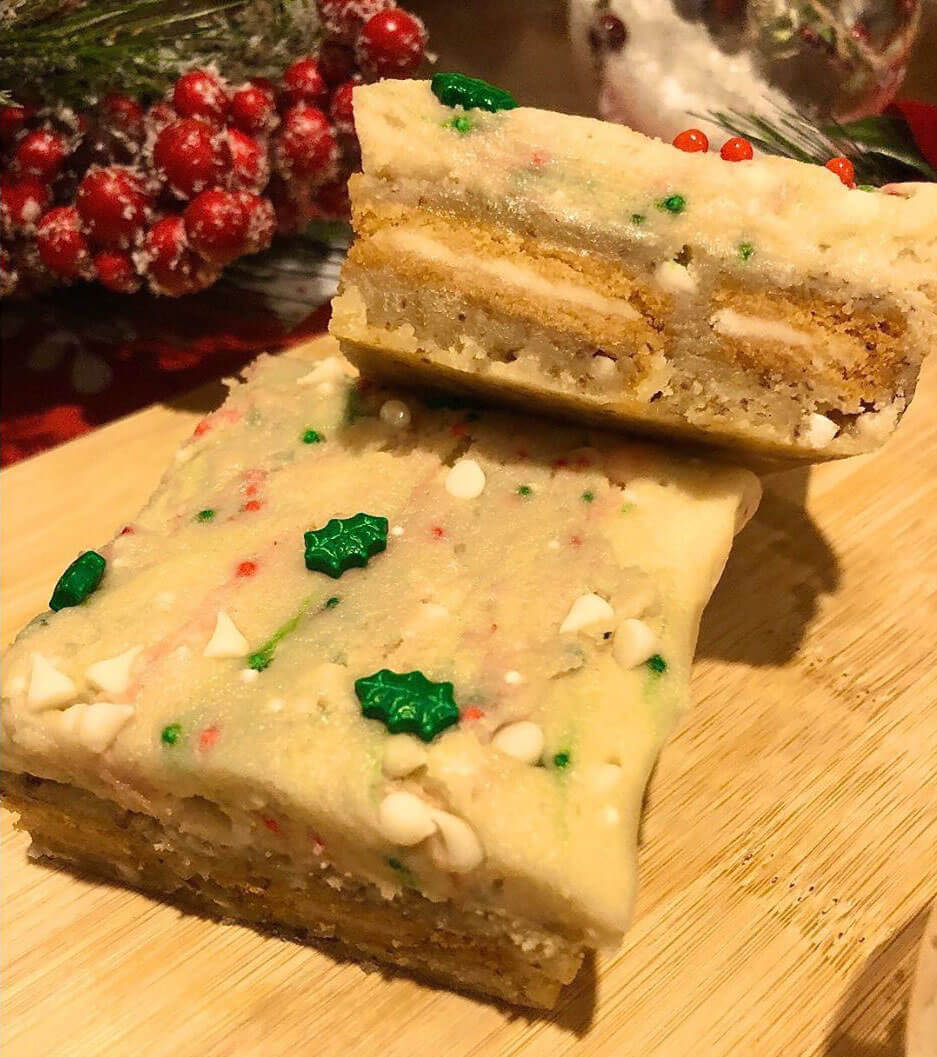 Two Birds Baking Company
Hapa Cupcakes in Fullerton and Delivery
This vegan company is the frosting to our cupcake––literally! Two Birds Baking Company is pulling out all the stops with their seasonal flavors of Gingerbread, Zinfandel Spiced Cranberry Orange, Peppermint Hot Chocolate, Pfeffernusse, and Mocha Red Velvet available in cupcakes, mini cupcakes, or full-size cakes! If that doesn't jingle your bells, pick your favorite flavors and customize their Centerpiece Wreath Cake decorated with a dozen surrounding cupcakes––it's the best of both worlds! Lastly, the Centerpiece Holiday Floral Cake is a 6" or 10" cake that serves as a gorgeous floral arrangement table-topper and an insanely delicious final course! Everything can be made gluten-free upon request!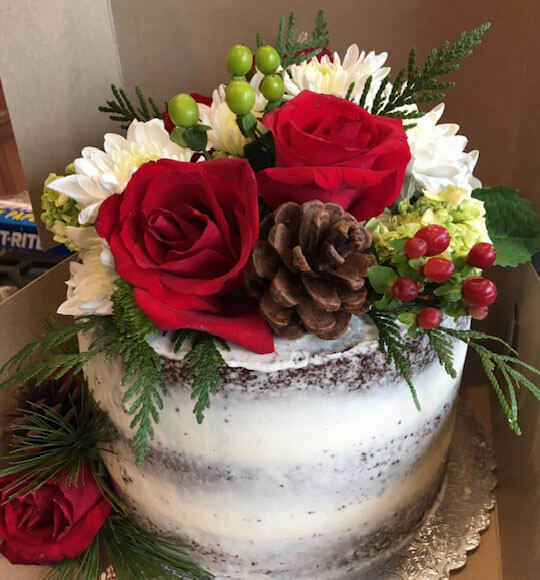 Baked Vegan Sweets
Pop-up (Long Beach storefront opening in 2020!)
For our Grinch-lovers out there, check out these utterly adorable Grinch Cupcakes baked with a red heart on the inside! Once you are fueled by this cupcake and the sweetness of the giving season, treat your friends, family, or Santa to the various gift boxes from this vegan pop-up! Their Cake Truffle Gift Box, Macaron Gift Box, and Santa's Cookies Gift Box are great gifts that range in holiday flavors from Gingerbread and Eggnog to Peppermint Hot Chocolate, Red Velvet, and Chocolate Chip! They have loads of other items to add to your list such as Eggnog or Snickerdoodle Cheesecake, Peppermint Hot Chocolate or Apple Lattice Pie, Classic Bread Pudding, Peppermint Mocha Brownie Cookies, and Holiday Brownie Bites! Whew!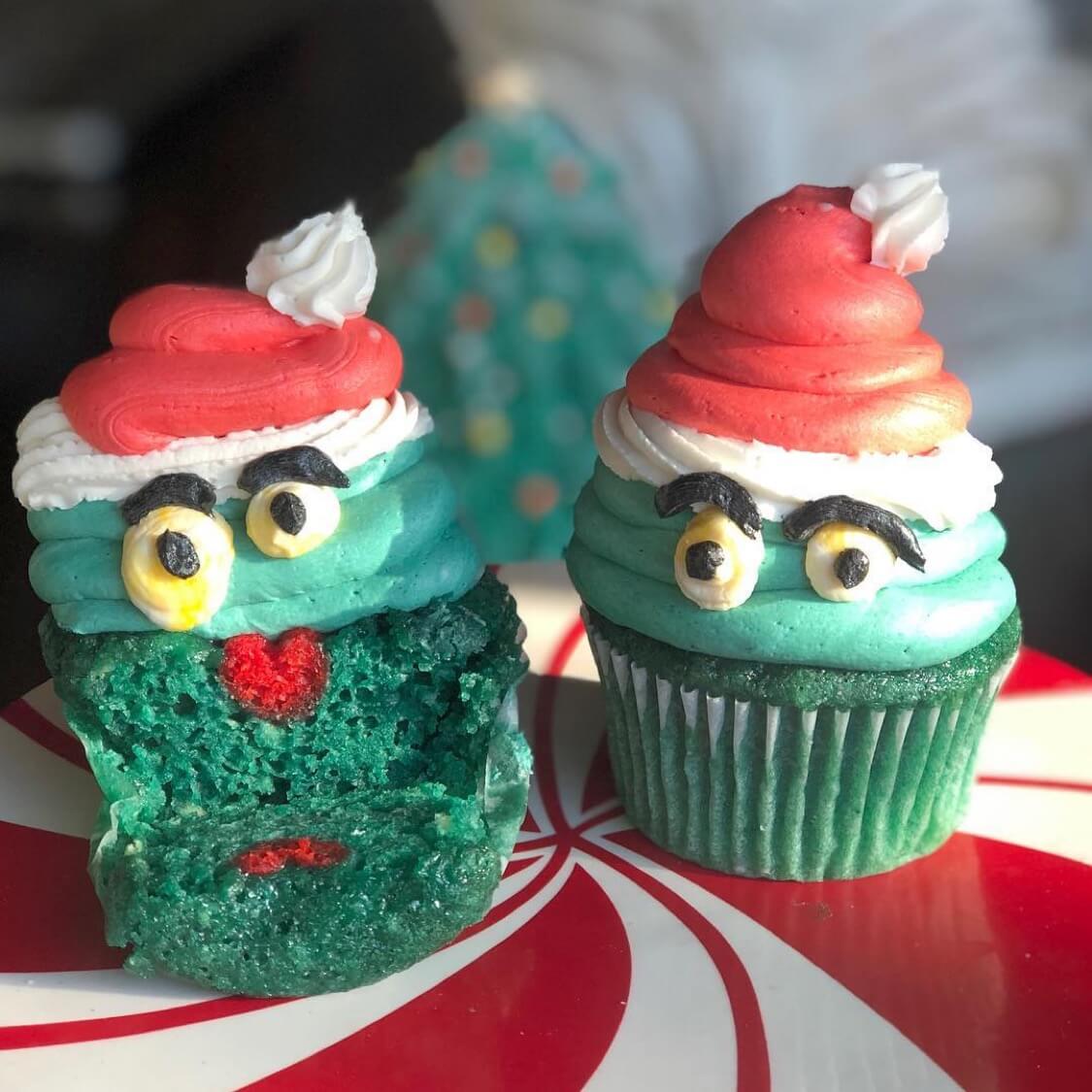 Cocobella Creamery
Hollywood
What's the best part about the moderate weather in LA this Christmas? It's not too cold for a scoop of ice cream! (Not like that's ever stopped us before!) One of our favorite ice cream parlors is bringing the holiday cheer with their December flavors and Christmas Cones! If you're an oat-milk-a-holic, (yes we just made up a new word!) you'll want their oat milk-based Gingerbread or Black Sesame. If you're a die-hard coconut lover, treat yo'self to the coconut milk-based Apple Pie or German Chocolate flavors. Nestle a scoop or two of your favorite flavors in a gluten-free Christmas Cone that's chocolate flavored and dusted with peppermint candy canes!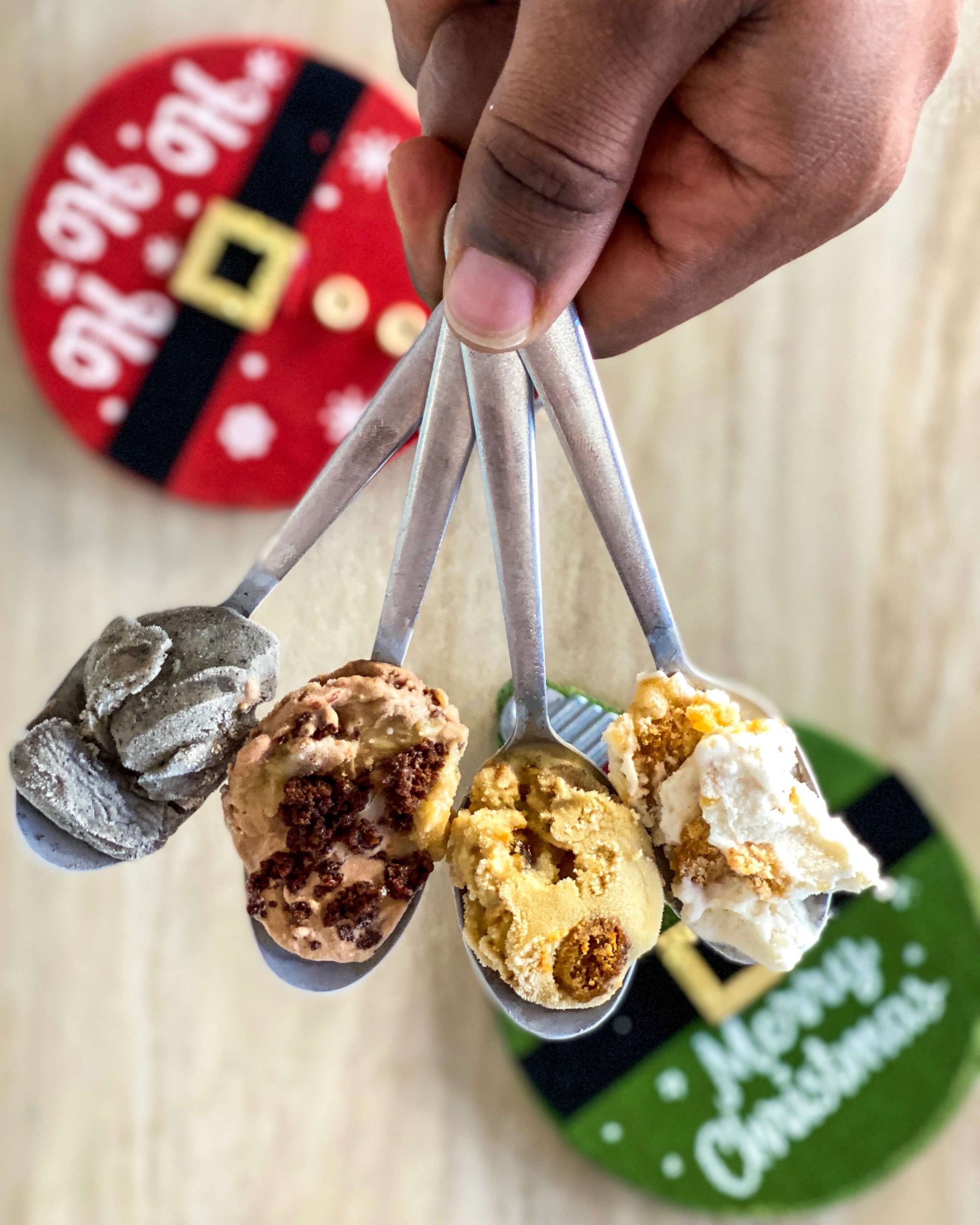 NoHo Bakehouse
Pop-up
Our hearts are melting over how adorable these cookies are! Noho Bakehouse is the one-stop shop for all things cookies! Taste traditionally-decorated Cookie Cutouts, Melted Snowman Cookies, or Gingerbread Cookie Sandwiches with maple frosting. For those craving something more fresh and minty, try Chocolate Peppermint Cupcakes or Peppermint Bark! The Peppermint bark is composed of gluten-free pretzels coated in chocolate, marshmallows, and candy cane crumbles! Yum!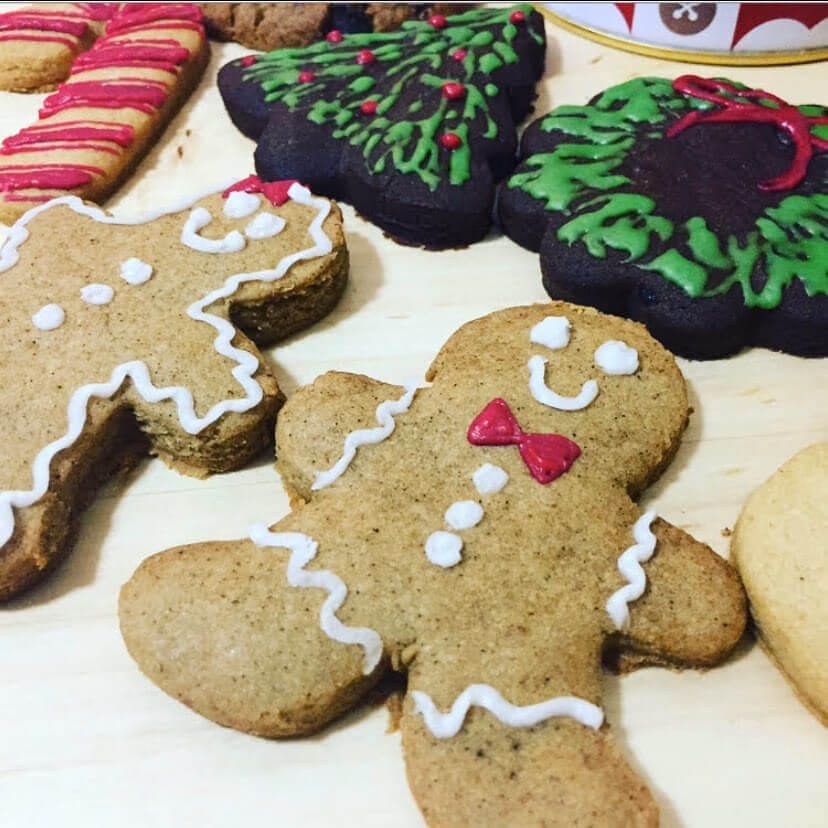 The Cupcave
Pop-up / Special Order
What's on the dessert menu? Double Chocolate Peppermint Cookies, Cookies 'n' Cream Peppermint Cupcakes, Decorated Gingerbread Cookies, Decorated Sugar Cookies, and Mini Cherry Pies! Get your hands on these goodies and share them with your family to show them the abundantly scrumptious food vegans really eat! But be careful––once your family tries these goodies, you will be elected to take charge of the dessert menu every year to come!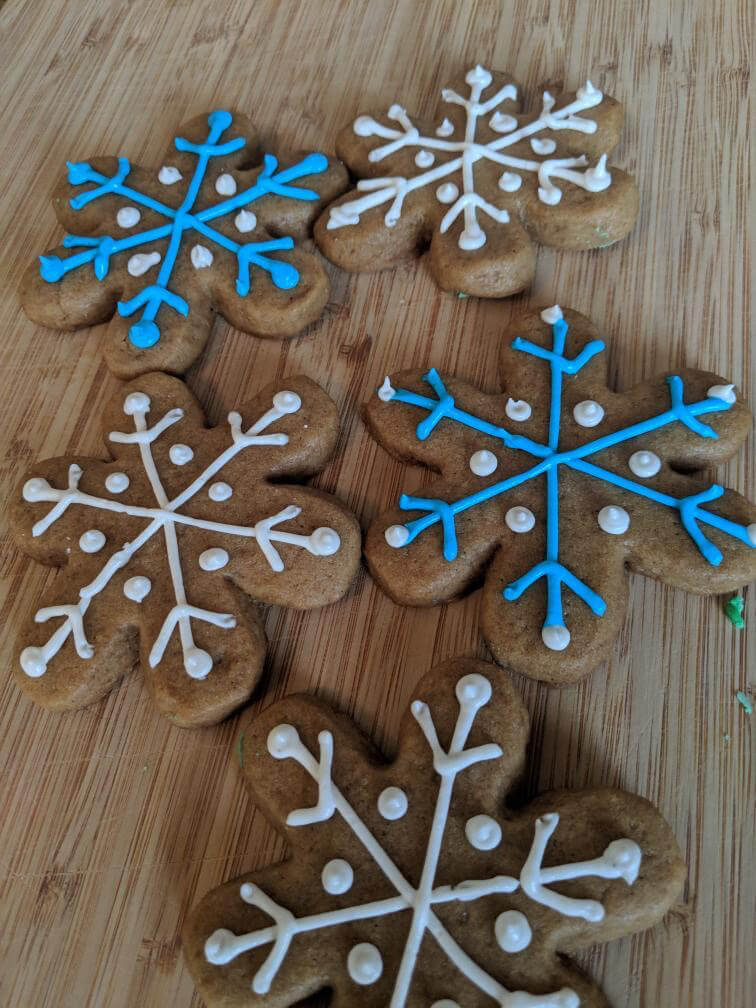 Hello Cake Girl
Boyle Heights
Are you wanting to skip the hassle of setting up and decorating for Christmas this year? Save your time, energy, and even the environment when you decorate with some vegan and gluten-free Matcha Vanilla Wreath Cupcakes! The clean-up is a breeze, too––all you have to do is eat them! You'll also want to try their Chocolate Peppermint or Gingerbread cupcakes and donuts! Let the sugar rush continue!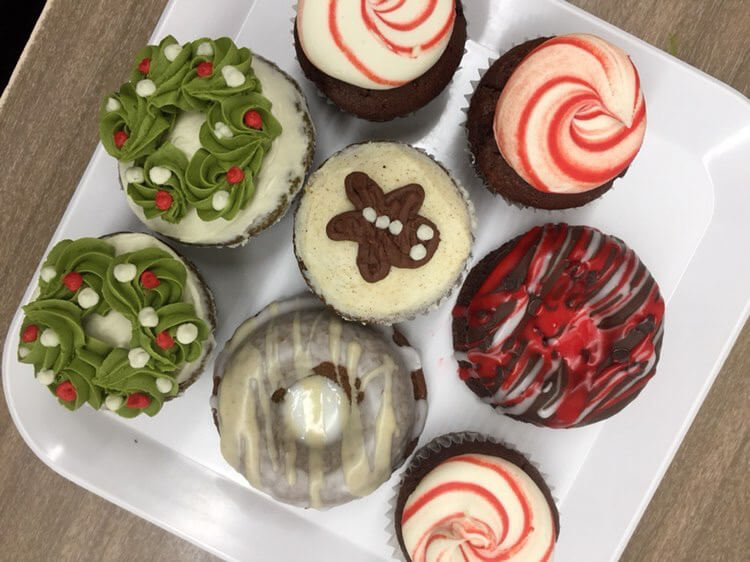 Karma Baker
Westlake Village
Are you tired of watching your friends decorate gingerbread houses from the sidelines? Get in on the action this year with this vegan Gingerbread House Kit from the Karma Baker! Oh, and did we mention it's gluten-free? Holla! While you're at it, pick out Gingerbread, Sugar, or Mint Crunch cookies for Santa, and Santa Butt Donuts for Christmas morning! This is not reindeer play––the Santa Butt Donut is literally a chocolate "chimney" donut with Santa's lower half sticking out! We've seen it all!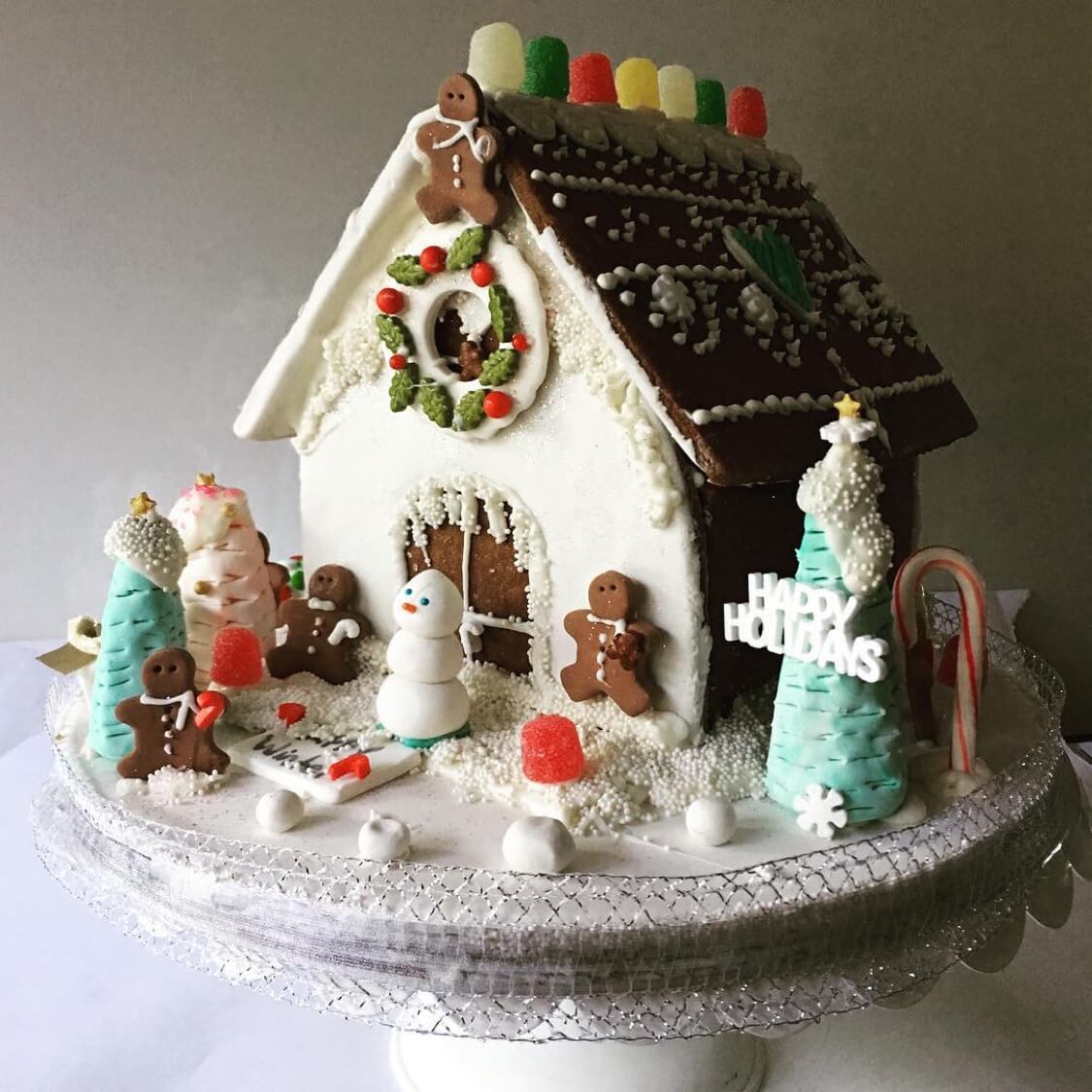 Cinnaholic
Echo Park
Los Angeles is crawling with actors, performers, and film buffs! If you identify yourself in one of those categories, you have probably been asked, "what is your dream role?" But we're here to ask you a more important question, what is your dream ROLL? Ours is the Hot Cocoa Dream Roll from Cinnaholic! This warm, sticky cinnamon roll is topped with hot cocoa frosting, homemade Cinnadoodle cookie bites, marshmallows, chocolate sauce, and powdered sugar. Our second choice is their seasonal Spiced Praline Roll with Chai frosting and pecan praline topping! It's a dream come true!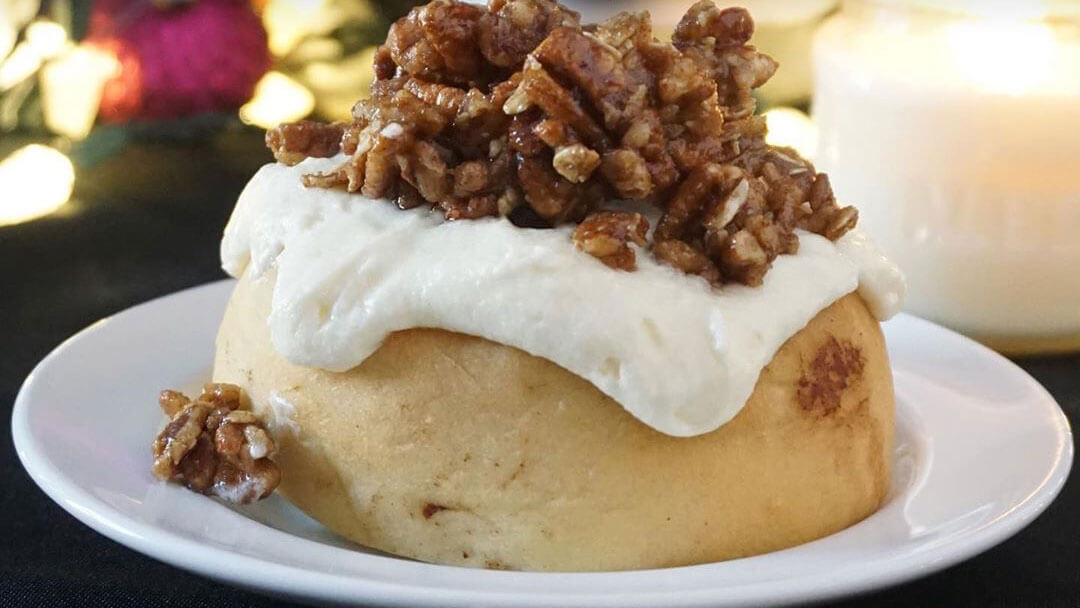 Vegan By Victoria's
Santa Ana
Two words: Sweet. Bread. Ring in Día de Los Reyes, or 'Three Kings Day' a bit early this year with Rosca de Reyes from this all-vegan hot spot! The name of this traditional Mexican staple translates to "Kings' Wreath!" The sweet bread is shaped like a wreath and decorated with figs, jicama, and other candied fruit to represent the jewels brought by the wise men. In typical king's cake fashion, there's a baby Jesus figurine baked inside. When the bread is sliced and shared with others, the person who gets the teeny tiny Jesus must throw a party and invite their family and friends!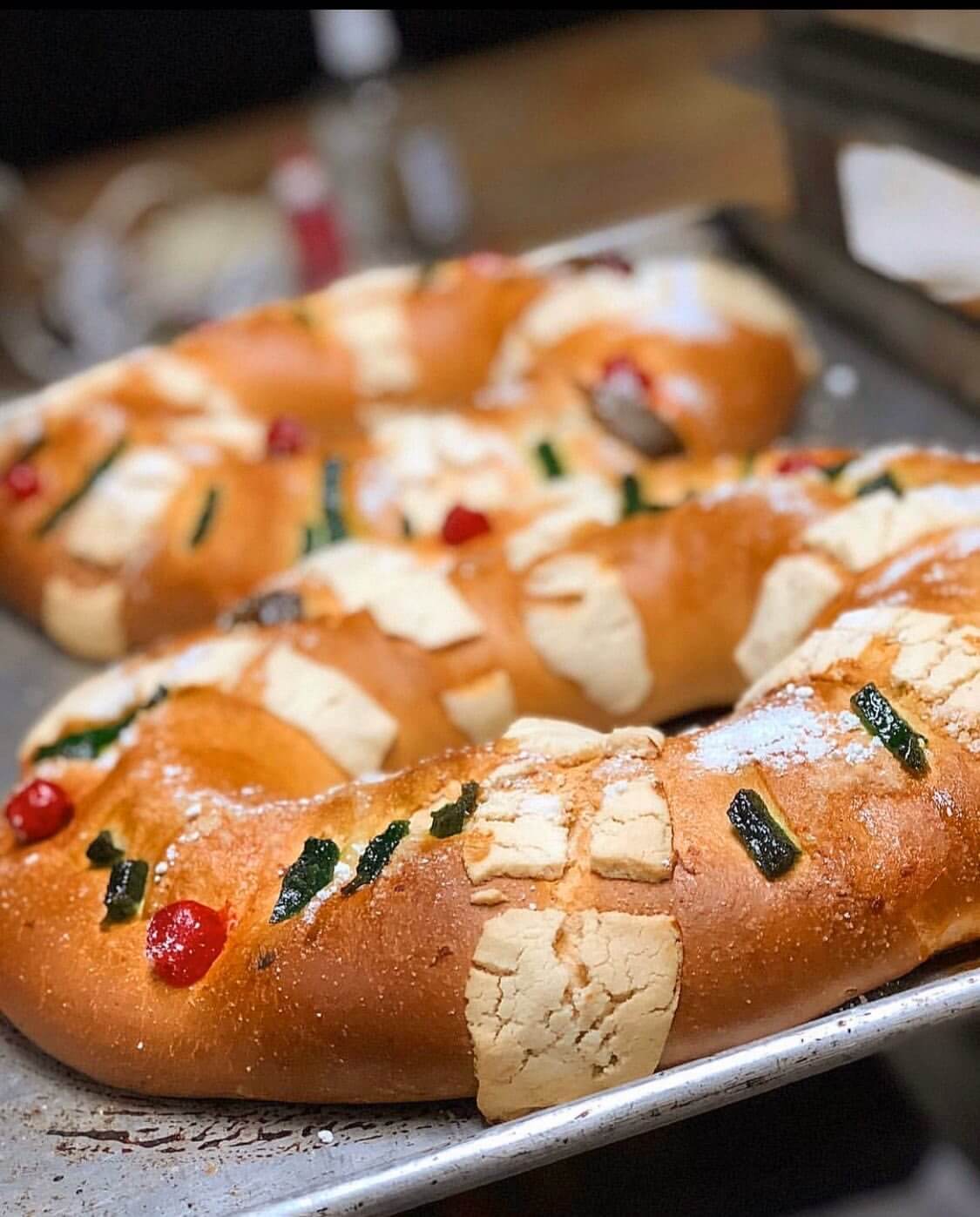 Cocoluv Cookies
Pick-up, delivery, and nationwide shipping
If you're as indecisive as us when it comes to choosing a dessert, you'll love the Variety Luv Gift Box from Cocoluv! With a bread loaf, two coffee cakes, two brownies, one dozen cookies, a half dozen holiday cookies, and 8 ounces of almond toffee, you'll taste a little bit of everything! Other Luv Gift Box variations are the Cookie Jar, Cookie Box, and Pastry Box. Their holiday cookies range from Peppermint Patties and Snickerdoodles to Ginger Molasses, Sugar Cookies, and Crinkle Cookies!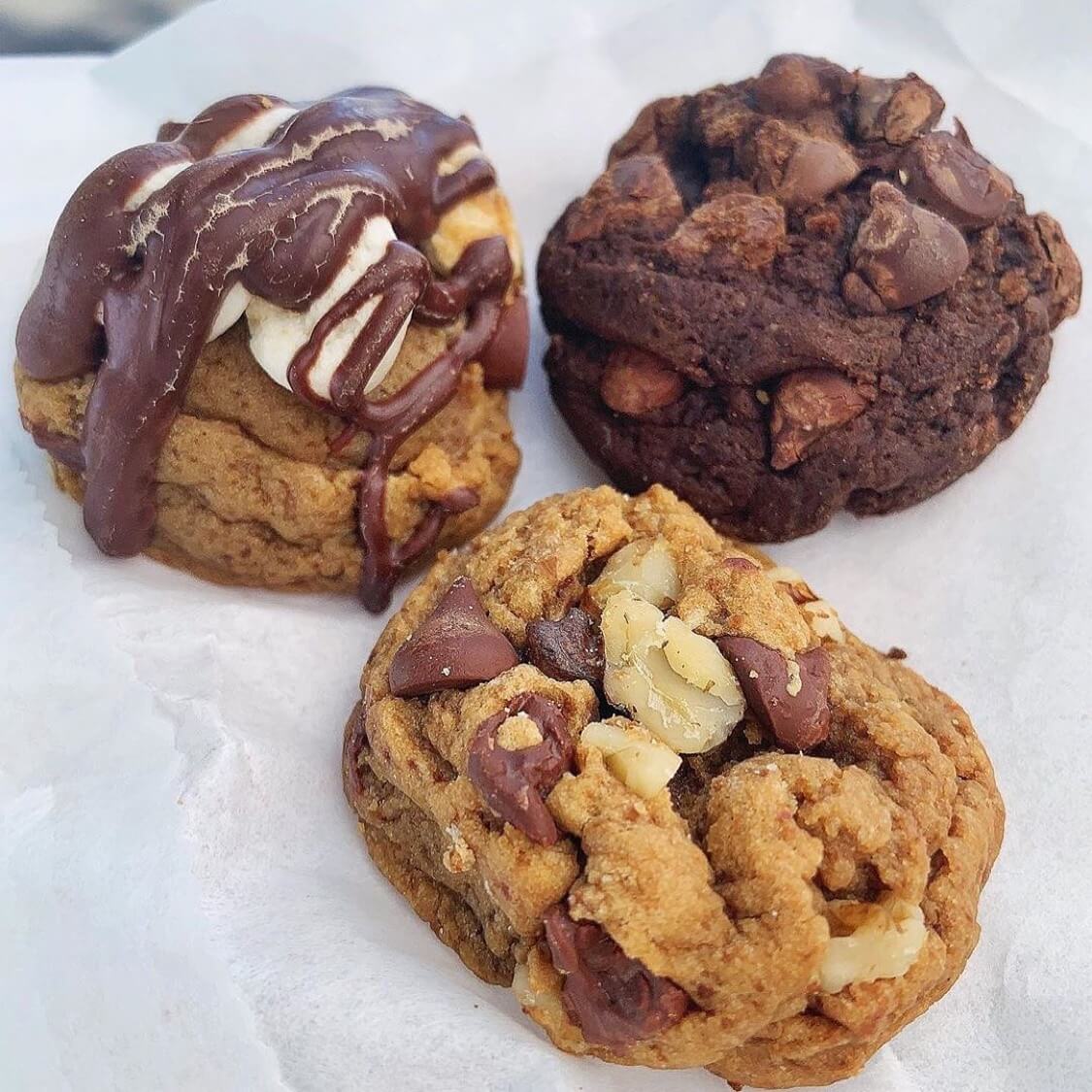 Erin McKenna's Bakery
Larchmont and Santa Monica
The vegan and gluten-free pastries from this gem are so delectable, they would melt the hearts of Scrooge, Jack Frost, or even the Grinch! 'Tis the season for Cake Balls, Gingerbread Friends, Ginger Teacake, and gift baskets! The gift baskets come in four different price ranges and the option to build-your-own basket! Still not satisfied? Place a custom cake order to create your own vegan wonderland!