The chic and urban city of Houston offers a wide variety of plant-based restaurants, including eateries that specialize in vegan BBQ, authentic Mexican eats, and Asian-style cuisine, to name a few. Get a taste of Southern comfort with a plate of brisket mac 'n' cheese, or chow down on a breakfast burrito to start the day right. No matter what you're in the mood for, Houston's vegan eateries have you covered! Here are 10 vegan restaurants to try when you're exploring Houston, TX!
Whether you're craving a bowl of spaghetti carbonara or a plate of al pastor tacos, you can get it all at Korny Vibes. This fully vegan cafe offers a variety of comfort food dishes, such as vegan fried chick'n, double bacon cheeseburgers, pasta, and vegan fried shrimp. Be sure to check out the sweets menu, which features milkshakes, root beer floats, and chocolate cake.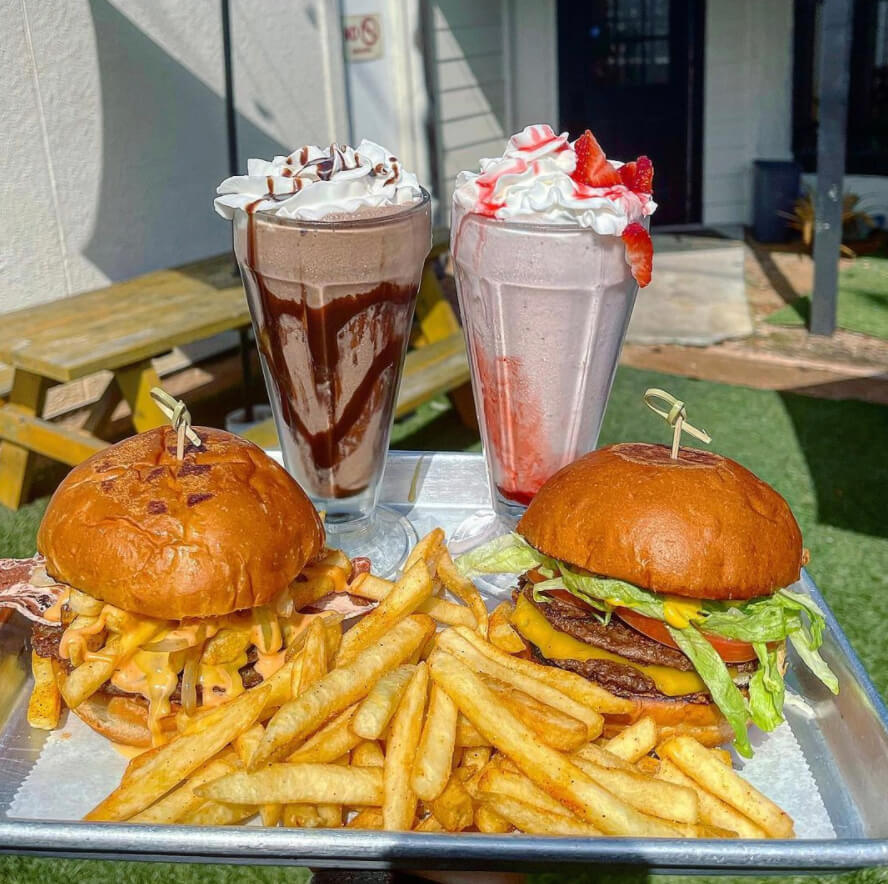 Verdine has been serving locally sourced, 100% plant-based eats to Houstonians and visitors alike since 2019. Inspired by Houston's multicultural community, this eatery offers a diverse selection of cuisine, spanning from Orange Cauliflower (tempura-battered cauliflower, sweet orange chili sauce, and pickled daikon) to Sausage Arugula Pizza (gluten-free cauliflower crust, fresh crème sauce, sliced tomatoes, Beyond Meat sausage, rosemary, vegan parmesan, and Hooray Foods bacon topped with arugula salad). Verdine also offers unique dessert options, like the Caramel-Sauced Cookie Sandwich (two artisanal butter sugar cookies filled with chocolate ganache and strawberries, rolled in chocolate chips, and topped with caramel sauce). Get yours a la mode with vegan ice cream for a $3 upcharge.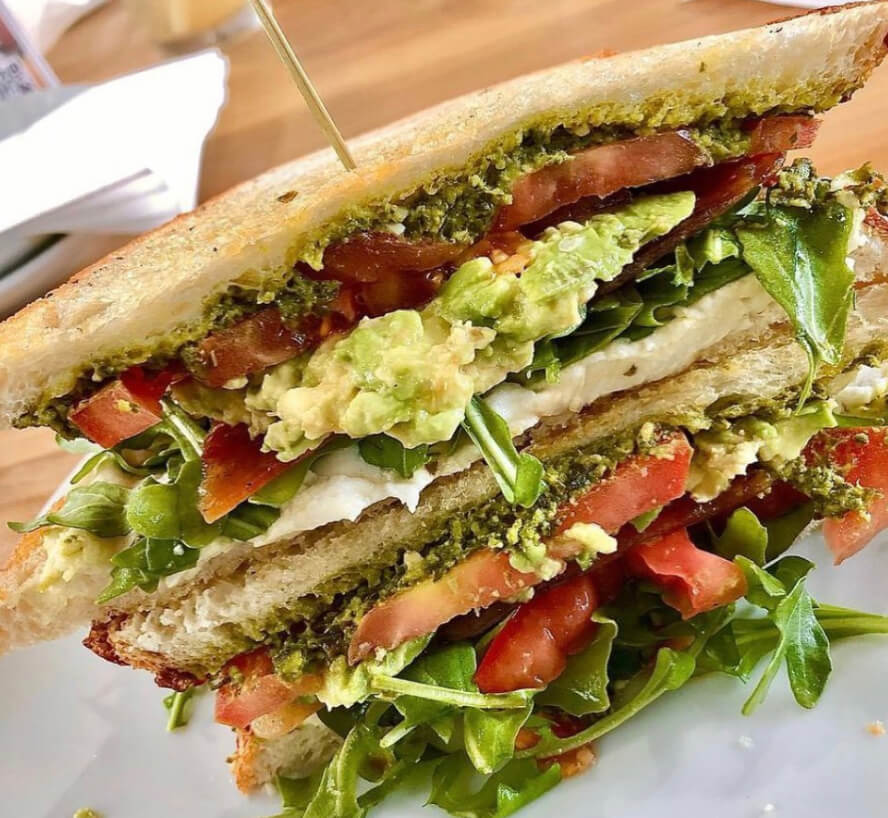 Photo credit: @theveganhappening on Instagram
Dine on classic American fare in a casual setting at Green Seed Vegan, which offers 100% vegan and soy-free bites, as well as some gluten-free options. The menu features mouthwatering eats like the Illy Cheesesteak (grilled portabella mushrooms, caramelized red onions, cheese, mayo, and mustard on a whole wheat French baguette) and the Big Tex (buckwheat quinoa patty, zucchini bacun, avocado, cheese, jalapeño, red onions, tomato, and mayo on a whole wheat bun). Boost your wellness with one of the eatery's elixir shots, such as ginger, wheatgrass, blue-green algae, and immunity (chlorophyll, fresh-pressed garlic, fresh-pressed ginger, lemon, and cayenne).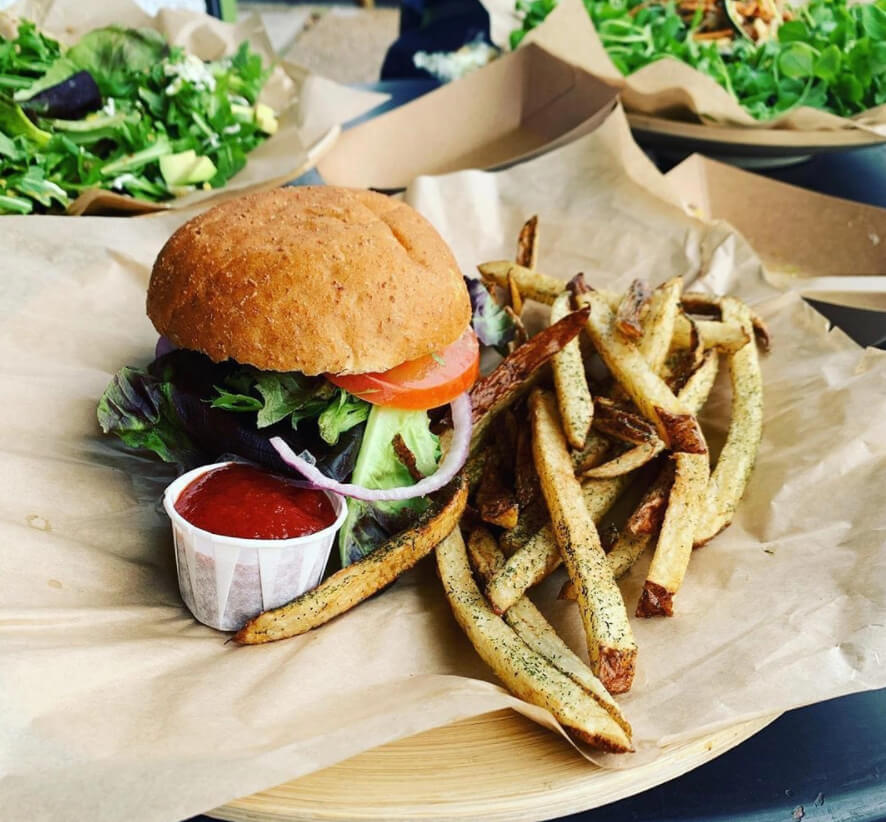 Lindiana's recreates Southern comfort food recipes with a vegan twist. Located on the historic Texas Southern University campus, this plant-based food truck serves dishes like shrimp po' boys, chicken & waffles, and mac 'n' cheese. The McLinda chicken sandwich is also a fan favorite and comes topped with hot sauce for a spicy kick.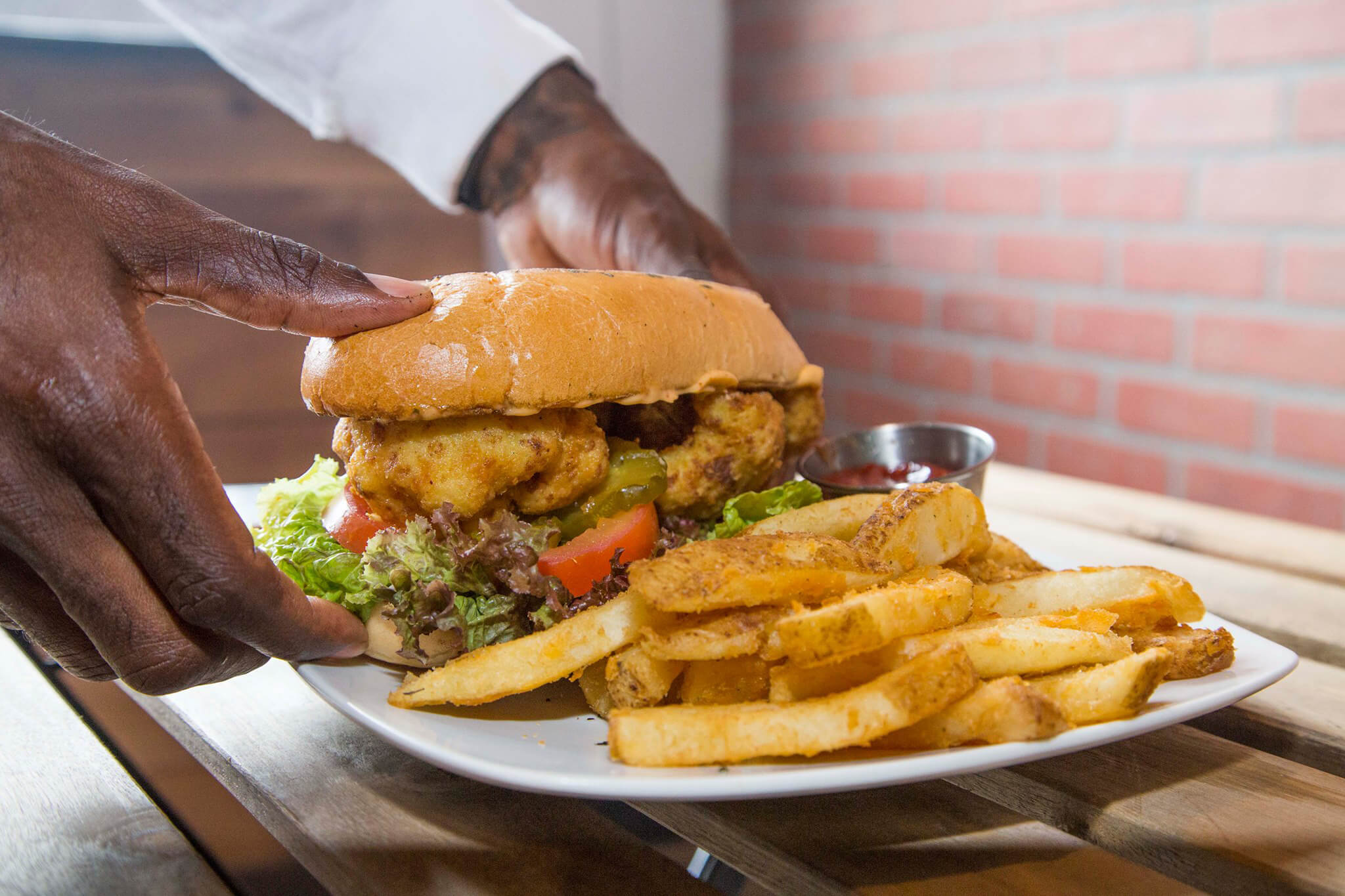 Veegos specializes in authentic Mexican cuisine made entirely from plants. The all-vegan eatery serves traditional dishes like pozole, tostadas, nachos, quesadillas, flautas, and tortas, as well as Americanized bites like burgers and chili cheese fries. Mexican-style desserts are also available, such as tres leches, arroz con leche, and cheesecake sopapillas to name a few.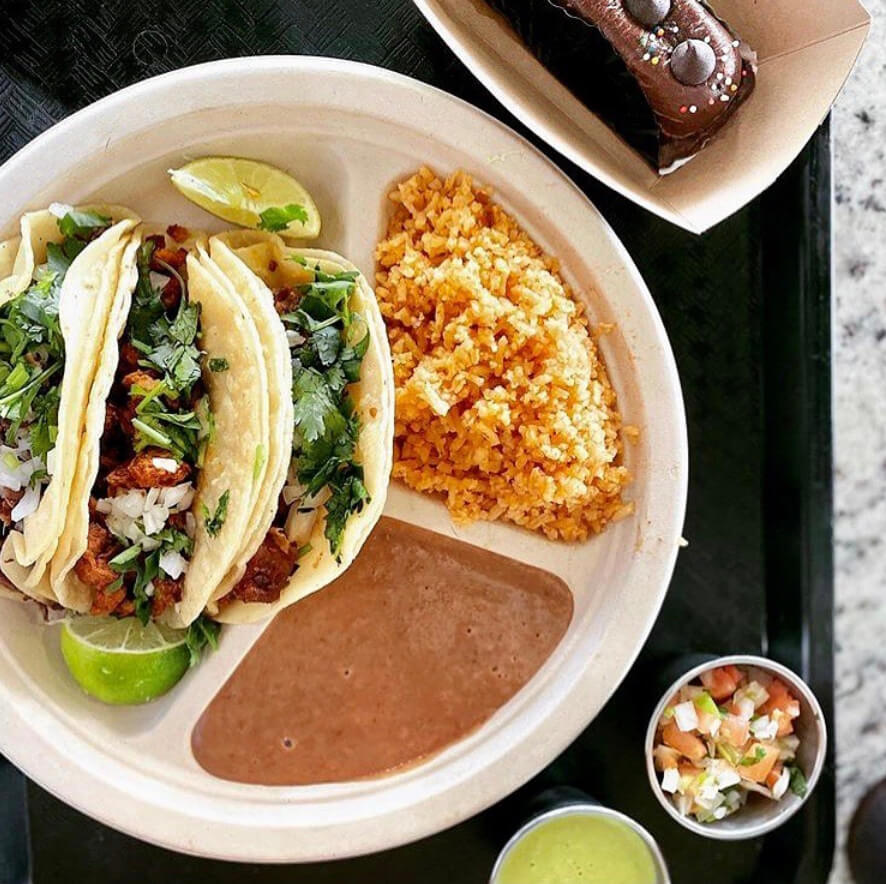 Wondering where to get vegan brunch in Houston? Cascabel has you covered! This 100% plant-based restaurant offers breakfast and brunch on Sundays, which features a full menu of items like breakfast tacos, breakfast burritos, chilaquiles, and chile rellenos. Complete your brunch with a mimosa, michelada, or a jalapeño mezcal margarita.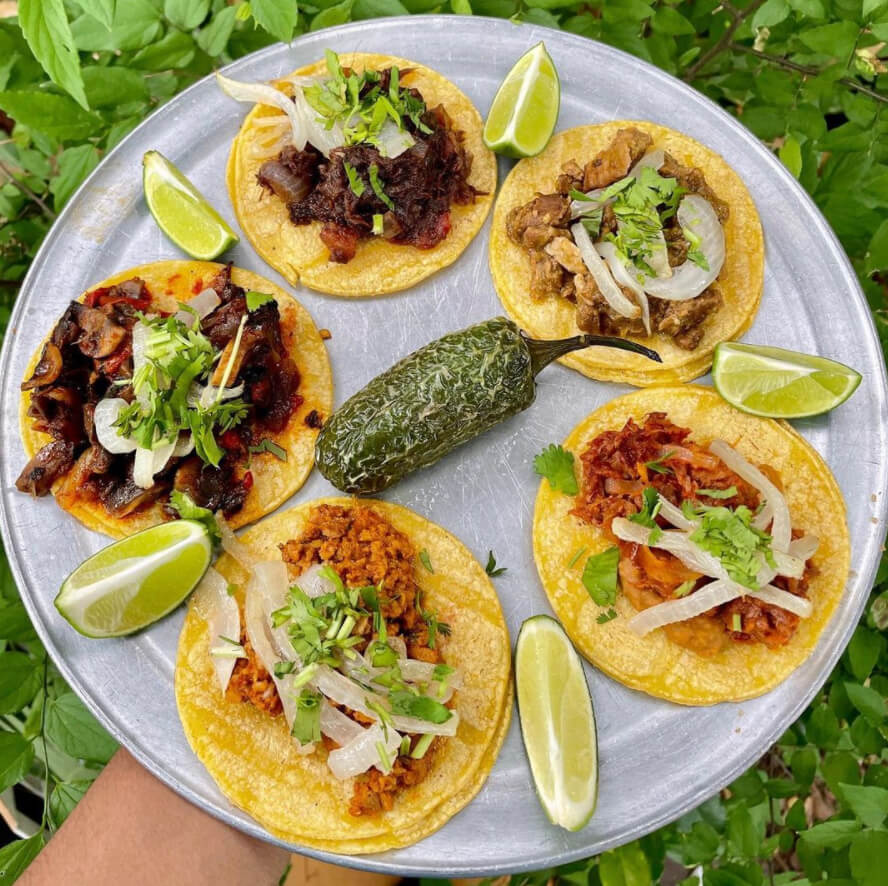 Trendy Vegan is a plant-based eatery that serves classic Asian dishes such as General Tso's tofu, vegetable sushi rolls, hot and spicy dumplings, and veggie lo mein noodles. Boost your wellness routine with one of the restaurant's fresh smoothies, which include options like Vitality (blueberry, kale, peach, celery, and chia seed), Immunity (pineapple, beet, broccoli, and mango), and Cleaning (pineapple, cucumber, banana, kale, and chia seed).
Photo credit: @dashamfoodiecouple on Instagram
Houston is known for having some of the best BBQ around, and Houston Sauce Pit is no exception! The 100% vegan BBQ food truck offers a plant-based take on classic Texas barbecue, and offers plates like Chopped Veef Baker, loaded brisket mac, and Smoked Wangs, as well as side dishes such as potato salad, brussels sprouts with "bakon," BBQ chips, and BBQ smoked loaded elote.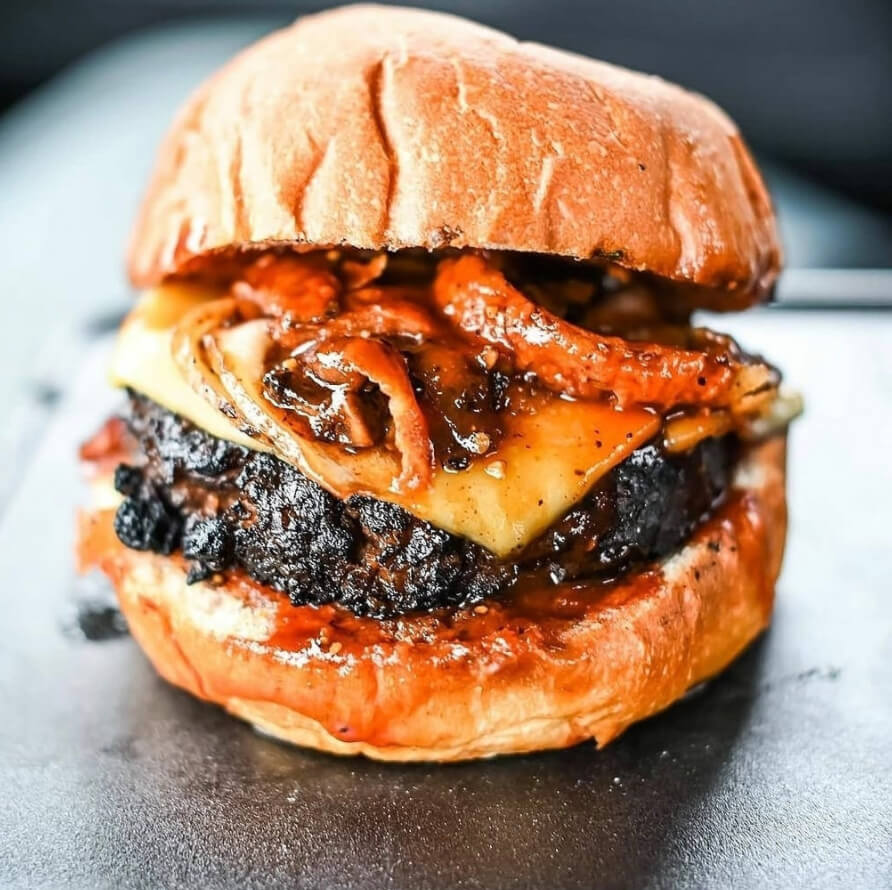 Get your soul food fix at Soul Food Vegan, which crafts plant-based Cajun-style bites made from ingredients like pea protein, cauliflower, jackfruit, and oyster mushrooms. Experience a taste of Southern comfort with the Soul Food Vegan platter, which comes with your choice of cauliflower steak, oyster mushrooms, or jackfruit ribs (seasonal item), as well as a side of mac 'n' cheese, collard greens, and dirty rice.
Doshi House specializes in locally roasted coffee, as well as fresh brewed teas and elixirs. Spice up your morning with the Chili Mocha latte (red chili, cocoa syrup, and plant-based milk), or the Karak Cha (traditional Indian masala chai tea). In addition to drinks, the coffeehouse also offers a vegan food menu, which features bites like Korean BBQ tacos (seasoned vegetable protein, cabbage, cilantro, onion, and ginger tomato cream sauce), as well as potato & quinoa tacos (seasoned potato & quinoa, black beans, cilantro, onions, and a cilantro-cashew cream sauce).