With all the joys of the gift-giving season comes that dreaded internal struggle of not knowing what to get your Aunt Jane! After stalking her Facebook page, racking your brain of all past conversations, and scrolling through the gift ideas on Amazon, you're still stuck! Instead of buying a sweater your Aunt Jane pretends to like that you coincidentally find at Goodwill weeks later, give her something anyone would love––desserts!
These aren't just any old desserts. They're vegan, festive, and delivered right to Aunt Jane's doorstep! Special bonus? You can introduce your loved ones to the tasty vegan lifestyle and get your holiday shopping done in just one click!
Maya's Cookies
Who wouldn't want to unwrap a box of soft and chewy cookies this Christmas? Classic Gingerbread, White Chocolate Cranberry, Chocolate Peppermint S'mores, and Holiday Sprinkle Sugar Cookies are the freshly-baked flavors that fill these holiday gift boxes from Maya's Cookies! The best part is, the cookies are boxed and shipped out the day they are made, complete with a bow on top! You may just "accidentally" find another box in your cart addressed to yourself … how did that get there?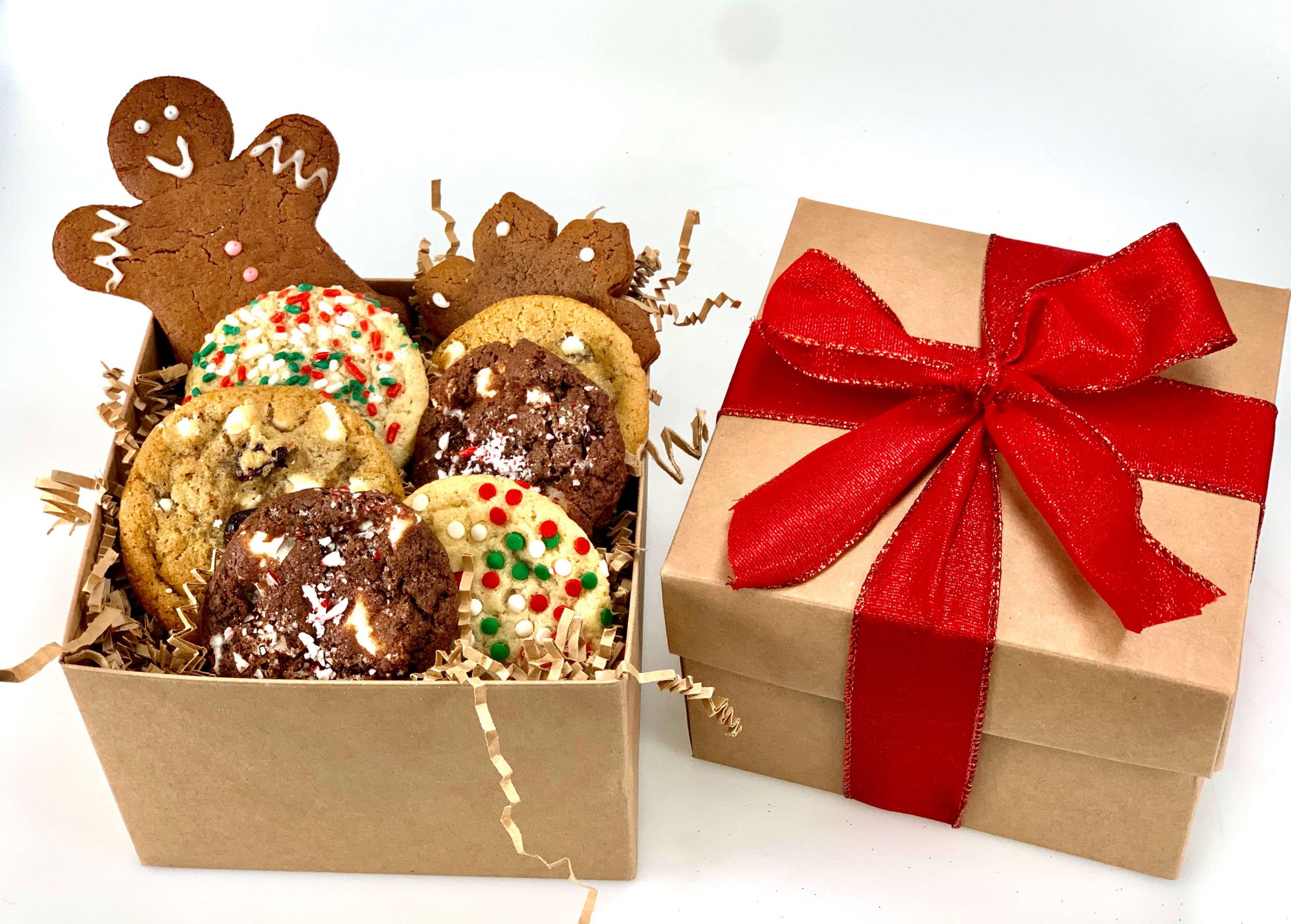 Karma Baker
The idea behind practicing good karma is all about cause and effect, so if we order desserts for Aunt Jane, does that mean we'll get some in return? We hope so! Instead of losing sleep over whether you'd like to order brownies, cookies, or donuts, order a sampler box for a little bit of everything! If your Aunt Jane is a chocoholic, send her the Chocolate KarmaBox complete with three different brownie flavors, chocolate donuts, sandwich cookies, and a cake pop!
Los Angeles customers: Use promo code VEGOUTLA at karmabaker.com or mention the code when ordering over the phone or in-store for 10% off your purchase.
The Naughty Cookie
Naughty or Nice? When it comes to desserts, naughty! From traditional chocolate chip cookie lovers to sugar enthusiasts with crazy palates, there's bound to be a flavor to fulfill Aunt Jane's sweet tooth! What are the choices? Chocolate Chip, Cookies & Creme, Ooey Gooey S'mores, Triple Chocolate Chunk, and Peanut Butter Chocolate Chip! The circular cuties are individually packaged and placed in their signature pink box! They can freeze for up to two months, but take it from us, they will be devoured way before then!
Erin McKenna's Bakery
Is Aunt Jane a picky eater? No worries! Search through the surplus of sugary confections from this bakery! Cookies, muffins, cakes, brownie bites, cinnamon rolls, cupcakes, and full-size cakes are some of the gift options you can ship to your secret (or not-so-secret) Santa! They're gluten-free, soy-free, vegan, and absolutely mouth-watering!
No Whey Chocolate
You can never go wrong with a box of chocolates––especially when they're vegan, gluten-free, kosher, and made with all natural ingredients! There's "No Whey" that exists! Now read that sentence back again! No Whey is the name of this allergen-friendly chocolate delivery company––see what we did there? Candy bars, truffles, chocolate covered pretzels, brownies, and cookies are just a few sweet variations available for dispatch to Aunt Jane's door! Order the Signature Truffle Collection for a flavor gamble between "Milk Fudge," Raspberry, Salted Caramel, Coffee, and Grand Marnier! There's also loads of seasonal products for Christmas, Chanukah, and Valentines Day!
Mary-Kate's Vegan Cakes
If your eyes haven't yet been graced by the feed of @sixvegansisters on Instagram, you're missing out! While those sisters' food posts are utterly jaw-dropping, not all of us are as kitchen savvy as they are! Ditch your awful recipe following skills and send Aunt Jane these crazy good cookies made by Mary-Kate––1/6th of the vegan girl gang! Be sure to get your order in early because these cookies are a hot commodity!
Yvonne's Vegan Kitchen
Yvonne has got it going on! Share the vegan and gluten-free magic of Yvonne's donuts, cookies, and crackers with your friends and family! Chocolate Covered Donuts, Macadamia Cranberry Cookies, Frosted Sugar Cookies, Thin Mints, Chocolate Chai Cookies, and Superfood Crackers are a number of awesome additions to make to your Aunt Jane's gift list or your snack table––but be warned, they'll go fast! Extra Nice Bonus: If you're in the Los Angeles area, you can special order cakes, pies, and vegan cheeses for local pick-up!
Delighted By Desserts
Cheer up those health nuts in your life with a sweet and creamy chickpea concoction––dessert hummus! With the help of Delighted By Desserts, deliver dessert hummus to the doors (and mouths) of those you love! Edible Brownie Batter, Red Velvet, Snickerdoodle Cookie, Key Lime Pie, Mint Chocolate Fudge, and Creamy Vanilla Bean are the healthy variations you'll find of this garbanzo goodness!
The Dirty Cookie
Does Aunt Jane have a tendency toward tipsiness? The Dairy Free Cookie Shots from this vegan-friendly company create the ultimate gag gift for her! The best part is, they're made of cookies! That's right––these Cookie Shots are literally edible shot glasses made of peanut butter or double chocolate cookie dough with a chocolate coated inside and rim decorated in sprinkles or chopped peanuts! Aunt Jane can fill it up with oat milk, cold brew, ice cream, or her favorite––spiked eggnog!
Baked by Melissa
There's something about bite-sized foods that make them so much more satisfying! While that could be considered a placebo effect, we still buy it! What else do we buy? The mini vegan cupcakes from this vegan-friendly cupcake delivery service! Take your pick from Chocolate Vanilla Chip, Peanut Butter, Cookie Dough, Superfood, Strawberry, and Triple Chocolate Chip flavors to treat your Aunt Jane to a world of wonderful bites!