Wondering where to find vegan-friendly Ethiopian cuisine throughout the US? We've got your answers! From East Coast to West Coast, there are many vegan and vegan-friendly Ethiopian eateries serving up some of the tastiest stews and Injera (sour flatbread) around. Here are 10 Ethiopian restaurants you need to check out!
Demera – Vegan-Friendly
Chicago, IL
A fan favorite with Chicago residents and vegan foodies alike, Demera has been serving family-style Ethiopian cuisine since 2007. All of the dishes labeled vegetarian on the menu are vegan and include options like Misir Wot (split red lentils stewed in a rich berbere sauce), Dinich Wot (chopped potatoes stewed in a rich and spicy berbere sauce), and Shiro (mixed legumes prepared with ginger root, rue, bishop's weed, and garlic). End your meal on a sweet note with the ye-basil-lime sorbet, a refreshing and palate-cleansing dessert made from fresh basil and lime juice.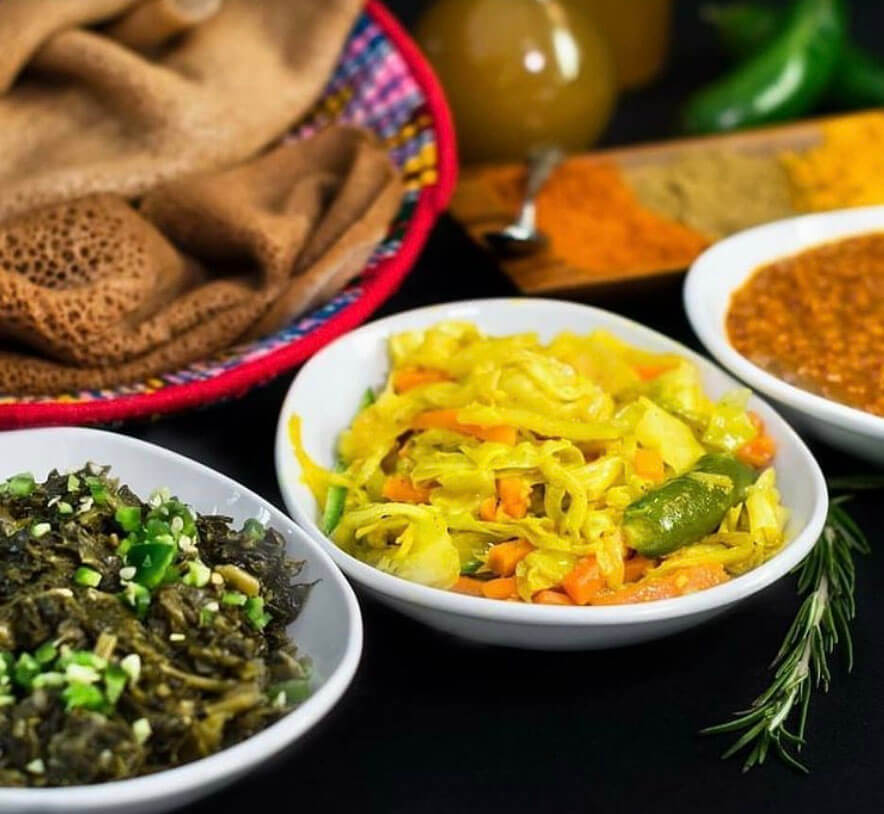 Los Angeles, CA
Chef Azla brings the traditions and hospitality of her home kitchen to Los Angeles through Azla Vegan, an eatery that offers Ethiopian cuisine with a plant-based twist. The menu offers classic stews like Shiro (ground chickpea flour stewed with tomato, garlic, and onion) and Yatakilt (curry potatoes, carrots, and cabbage), as well as tacos (served on Tuesdays only), salads, and more!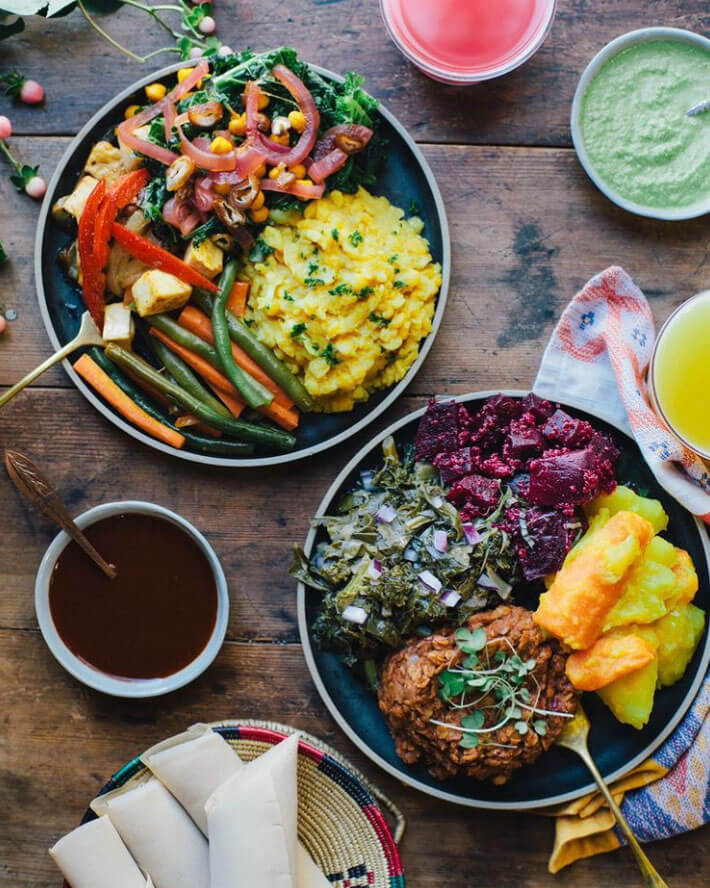 Brooklyn, NY
A taste of East Africa in Brooklyn, Bunna offers plant-based Ethiopian cuisine that comes served with a colorful variety of veggies, beans, and Injera. Of course, we can't forget to mention the Bunna (coffee brewed with cardamom and cloves), which is served free of charge at various times throughout the week.
Atlanta, GA
Experience the flavors of Ethiopia at Feedel Bistro, which serves vegan entrees such as Ingudai (mushroom tibs) and Ye'Shimbra Asa, a dish made from handmade chickpea biscuits cooked in a seasoned spicy sauce and served with a side of Siljo (fermented fava beans). Pair your meal with one of the restaurant's signature cocktails, like the lychee mojito (Bacardi Silver, Soho lychee, lychee syrup, mint, lime, and soda) or the Amiche Margarita (Patron Silver, lime juice, and Grand Marnier).
Portland, OR
Dine in a relaxing atmosphere while you experience Ethiopian hospitality at Enat Kitchen. The vegan section of the menu features traditional dishes like Buticha (ground chickpeas mixed with lemon juice, diced onions, and jalapeño pepper) and Kik Wot (split peas seasoned with garlic, ginger, and other spices). If you're a fan of beets, opt for the Beets Wot, which is delicately spiced with garlic and ginger.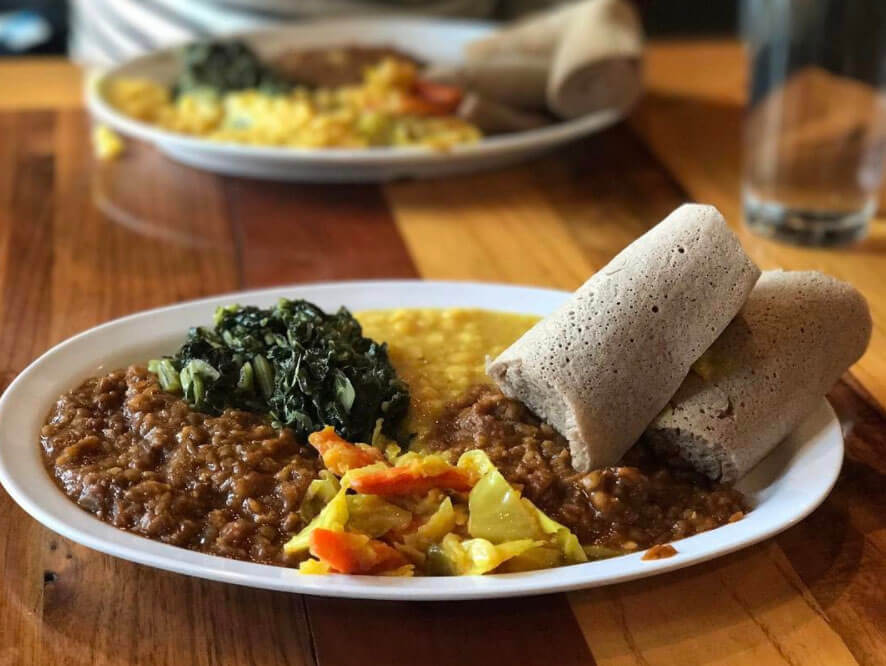 Photo credit: @veganbeautyreview on Instagram
Austin, TX
Aster's has been specializing in Ethiopian dishes since 1991 and offers many vegan-friendly entrees. Choose from options like the Fasolia Wott (potato, green beans, carrots, onions, and tomatoes seasoned with garlic, cinnamon, and ginger sauce), or for a more spicy stew, order the Keyi Miser (split lentil cooked with berbere, onions, and other Ethiopian spices. Each dish is served with Injera and your choice of three sides.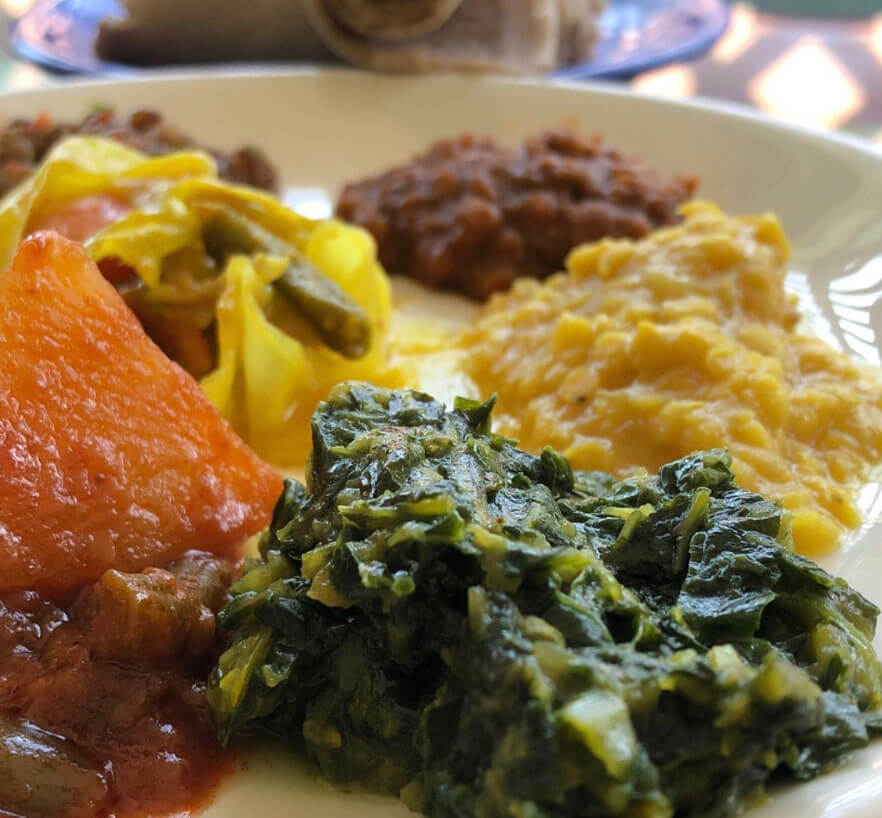 Miami, FL
Husband and wife duo Fouad and Eka Wassel opened Awash in August 2017 in the city of Miami Gardens, and the restaurant has been thriving ever since. The vegan-friendly eatery offers classic dishes like Yetsom Firfir (mixture of Injera with homemade sauce made from onion, tomato, garlic, and red pepper) and the Kik Alicha Yetsom (yellow split peas cooked with onions, garlic, turmeric, and green pepper). The eatery is known for having some of the best coffee in town as well as Ethiopian wines, which can be ordered by the bottle.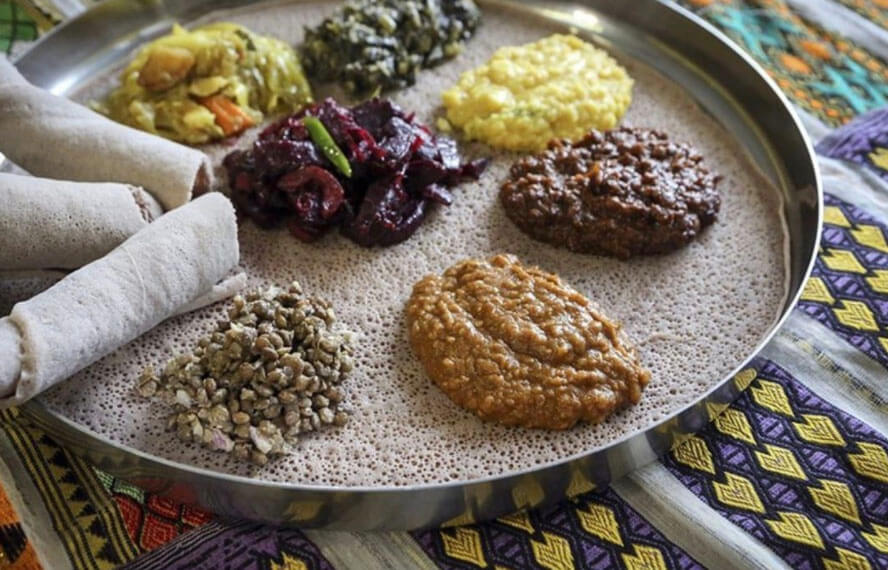 Los Angeles, CA
Visit Rahel's on a Sunday, and you'll be treated to an all-vegan brunch featuring kombucha champagne. In addition to brunch, the restaurant offers a full menu with dishes such as Veggie Banatu (fresh tomatoes and green peppers, seasoned with garlic and onions, and mixed with Injera) and sides like Azilfa (lentil salad).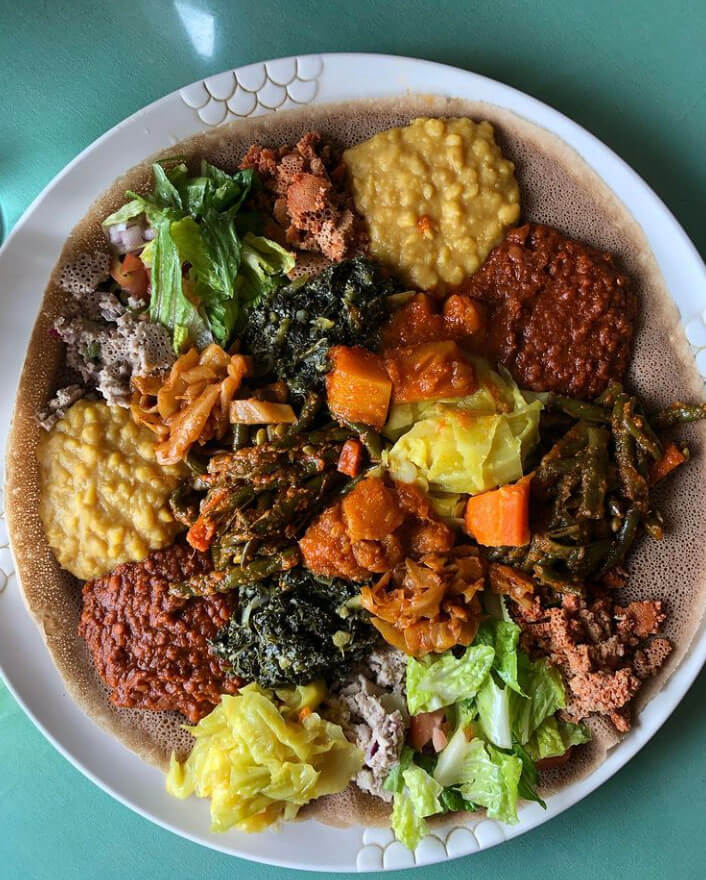 Photo credit: @vonzettacart on Instagram
Brooklyn, NY
Inspired by their vision to create an Ethiopian culinary experience, Romeo and Milka Regalli founded Ras Plant-Based, which fuses modern ambience with age-old recipes to create delicious one-of-a-kind cuisine. The menu features dishes like Missir (a slow-simmered red lentil stew served with fiery berbere sauce), as well as mushroom tibs (button mushrooms, tomato, jalapeño, onion, and rosemary) and Sambusa (flaky pastry shell stuffed with choice of savory mixed vegetable or lentil filling). Wash it all down with Ethiopian Kemem chai tea or kombucha.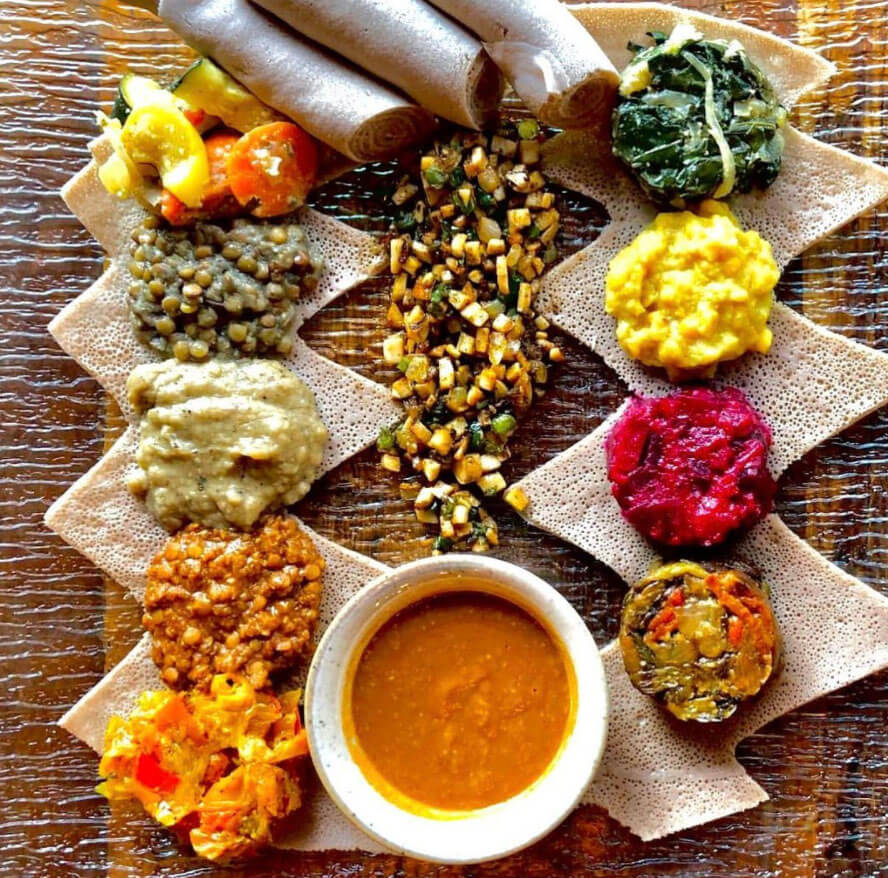 Milwaukee, WI
If you're in the Milwaukee area, you don't have to travel far to enjoy the cuisine of East Africa. Alem Ethiopian Village offers a vegan section of the menu that features everything from Gomen (steamed collard greens delicately seasoned and cooked with fresh garlic and pepper) to Yater Alitcha (yellow split peas cooked in a specially flavored mild sauce). The restaurant also serves a variety of beer and wine, which go for about $4.50 per glass.