There's really a national day for everything these days, and if you love the batter-dipped, deep-fried bite of onion rings, you're probably going to want to enjoy some on National Onion Ring Day (June 22). Here's a list of some spots in LA that serve onion rings, as well onion ring-stuffed items, like burgers.
RELATED: Black-Owned Vegan Business Spotlight: T&T Lifestyle
---
Join VegUP and Using My Privilege to take a stand against racism. Click here to learn more and donate now.
Doomie's Home Cookin'
Hollywood
Known for all their vegan comfort food, it's no surprise Doomie's has two onion ring-stuffed burgers on their menu. Order their Western Bacon Cheeseburger—their bacon cheeseburger topped with BBQ sauce and two handmade onion rings. Or, try their Memphis Cheeseburger—a cheeseburger topped with their pulled pork and two handmade onion rings.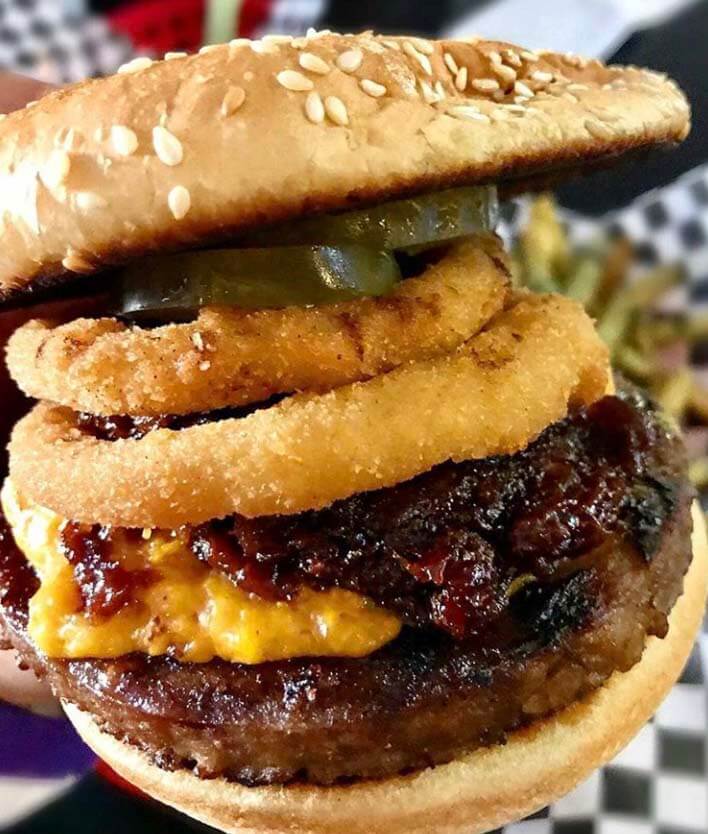 Photo credit: @ocveganeats
Fresh on Sunset
West Hollywood
For a bit of a healthier take on onion rings, check out vegan spot Fresh on Sunset's Quinoa Onion Rings. They're hand-crafted and coated with breadcrumbs and puffed quinoa.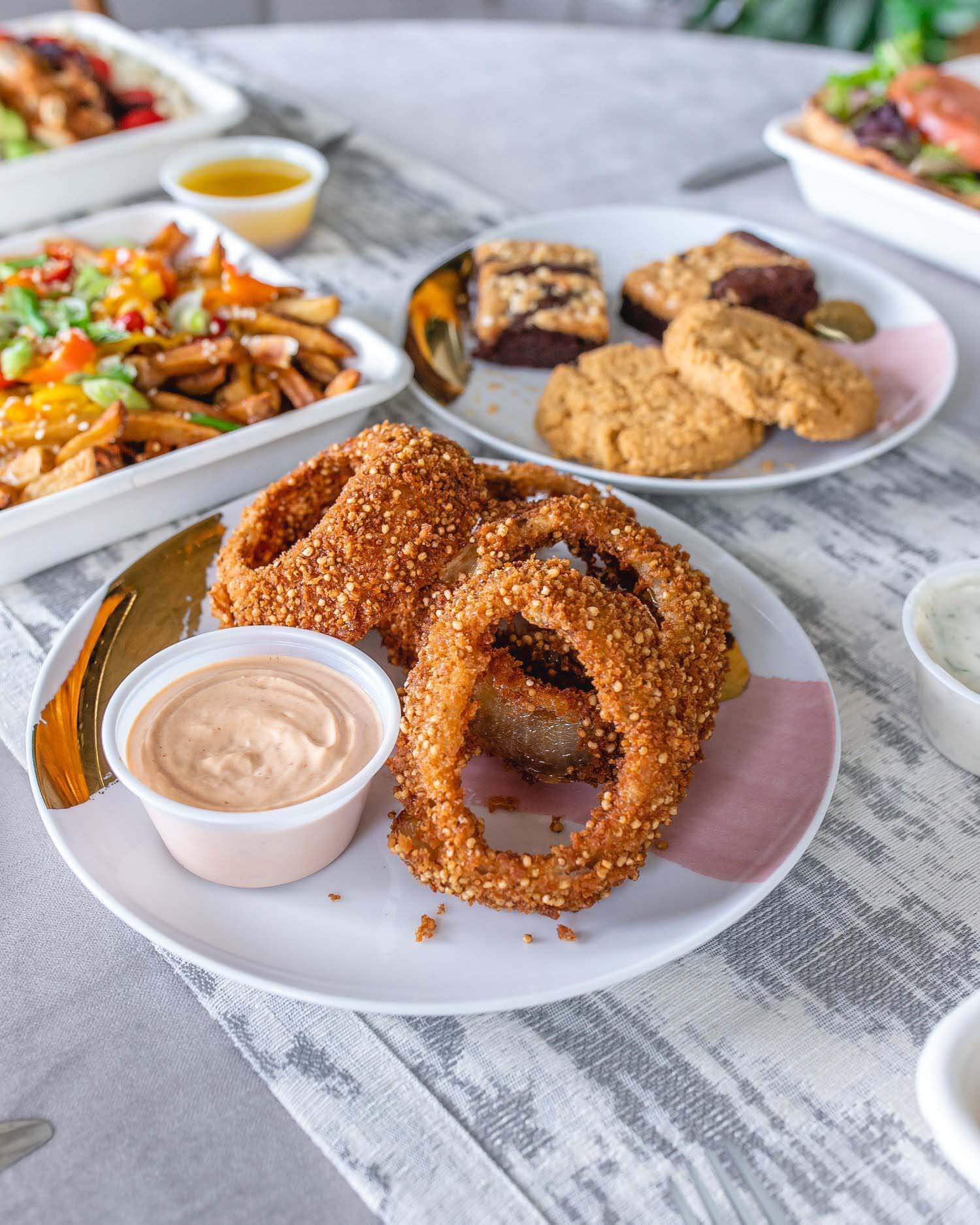 Green Leaves Vegan
Los Feliz
While Thai food takes up the majority of their menu, Green Leaves also serves a large handful of other cuisines, even branching out to onion rings. Theirs are fried fresh in non-dairy tempura flour and served with BBQ sauce or ketchup.
Healthy Junk
Anaheim (Center Street location)
Vegan comfort food joint Healthy Junk makes their BBQ Western Burger, which is a patty, topped with onion rings, plus relish, ham, BBQ sauce, and ranch between two buns. It's available at their Center Street location only.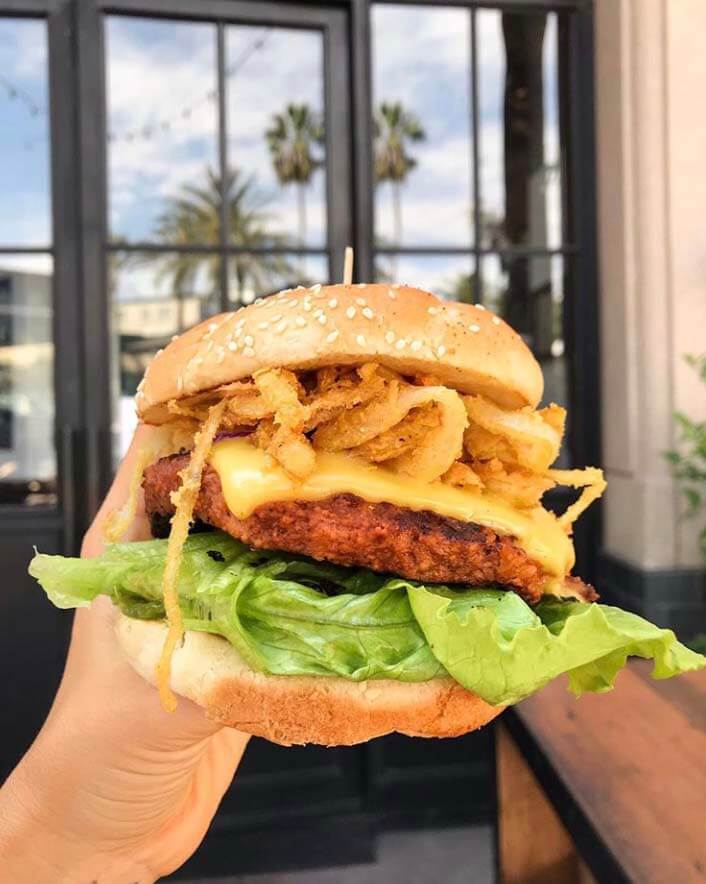 Munchies Vegan Diner
Santa Ana
This vegan diner offers an onion ring stuffed burger, as well as a side of onion rings. Their Western Bacon Munch—which can be made gluten-free—is a well-done quarter-pound charbroiled patty, bacon, fresh onion rings, provolone cheese, BBQ sauce, house-made cheese sauce, and garlic aioli on a freshly baked sesame seed bun. Their side of onion rings is gluten-free as-is, house-made, and served with ranch.
Native Foods
Costa Mesa and Westwood
Vegan chain Native Foods has two different burgers on their menu that feature onion rings. One is their Gastropub Burger, which is a burger patty, tomato bacon jam, smoked Gouda, fried onion rings, arugula, and plant-based mayo served on a toasted pretzel bun. The other is their BBQ Brisket Burger—Brisket-style seitan, a burger patty, fried onion rings, smoked Gouda, Southern slaw, pickle chips, plant-based mayo, and BBQ sauce on a toasted pretzel bun.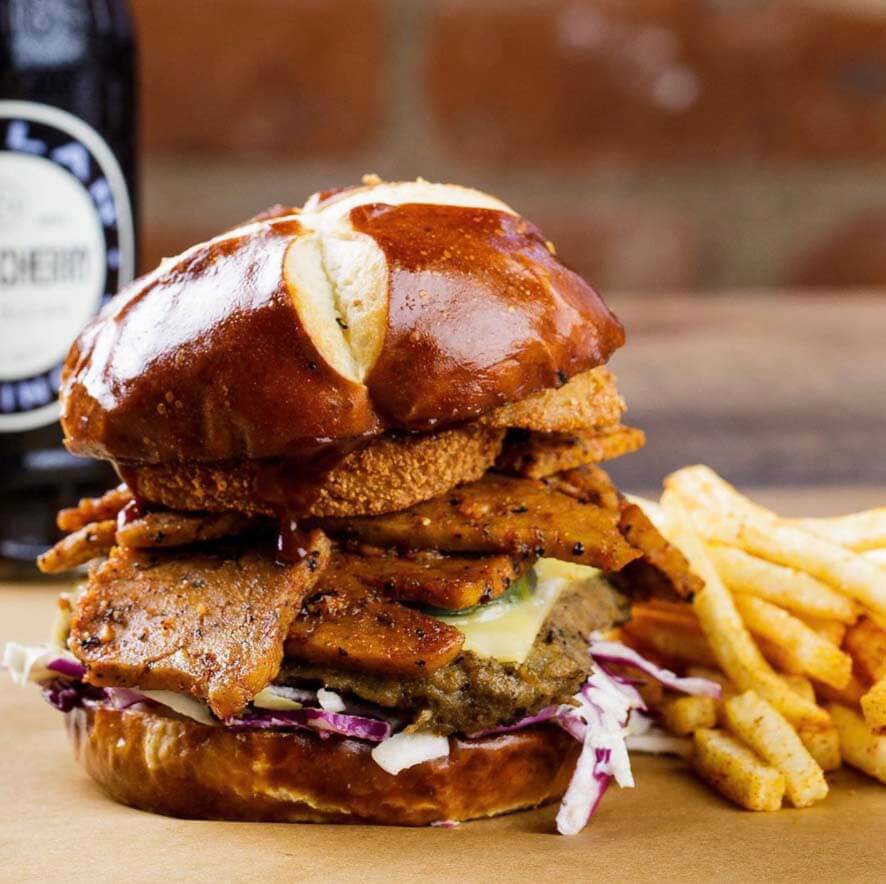 Plant Power Fast Food
Multiple Locations
This vegan fast food chain's Rambler Burger is sure to please onion ring lovers. The customizable menu item includes a patty of your choice ("beef," black bean, double "beef," double black bean, sub crispy chicken, sub grilled chicken) that's topped with lettuce, tomato, crispy onion rings, American "cheese," and BBQ sauce between two buns.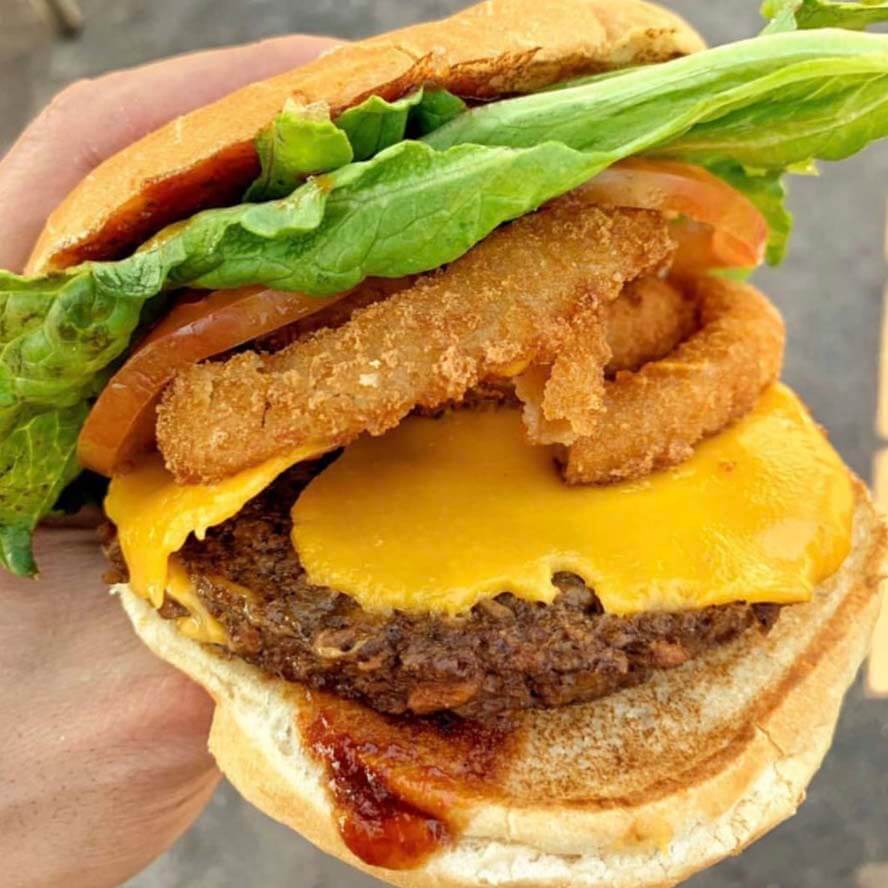 Photo credit: @foodbeastkatchup on Instagram
Veggietize Me
Pop-up
At this vegan pop-up, choose from V-Western in either a single or double patty version, if you're looking for something with onion rings. It's one or two Beyond patties, their V-Cheese, smoky tempeh bacon, fried onion ring, and BBQ sauce, on a sesame bun.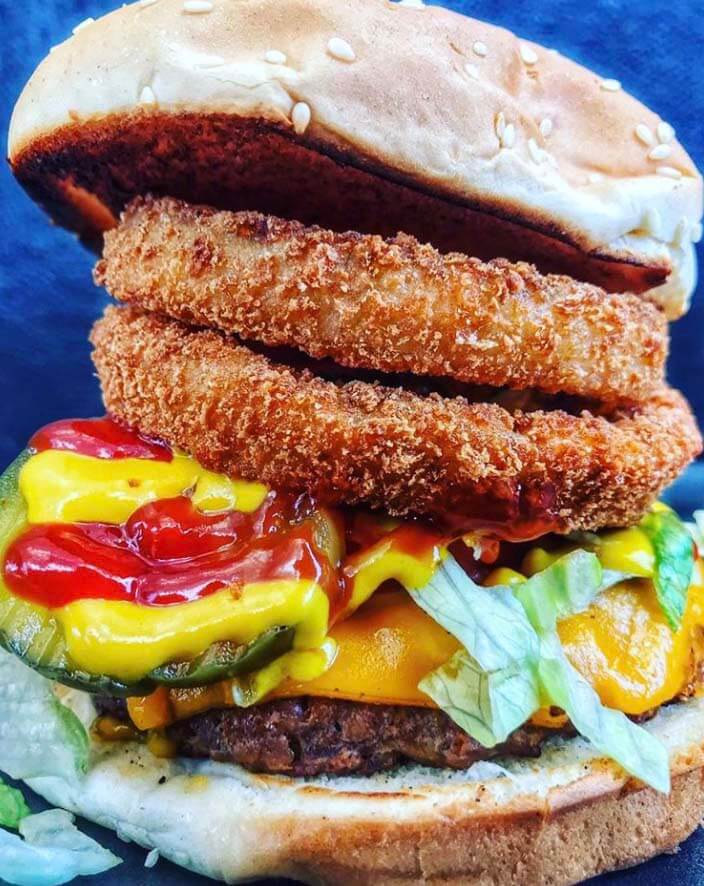 Photo credit: @aveganandher on Instagram
Vurger Guyz
Food Truck
Vurger Guyz offers two different items with onion rings. Their Smokey Sunset Vurger is shredded lettuce, pickles, golden brown fried onions, a thinly sliced tomato, fried jalapeños, vegan American cheese, and a specially seasoned Beyond patty topped with BBQ sauce all on a toasted bun. Their Sunrise Vurger features all the same ingredients, but includes Vurger Sauce, instead of BBQ sauce.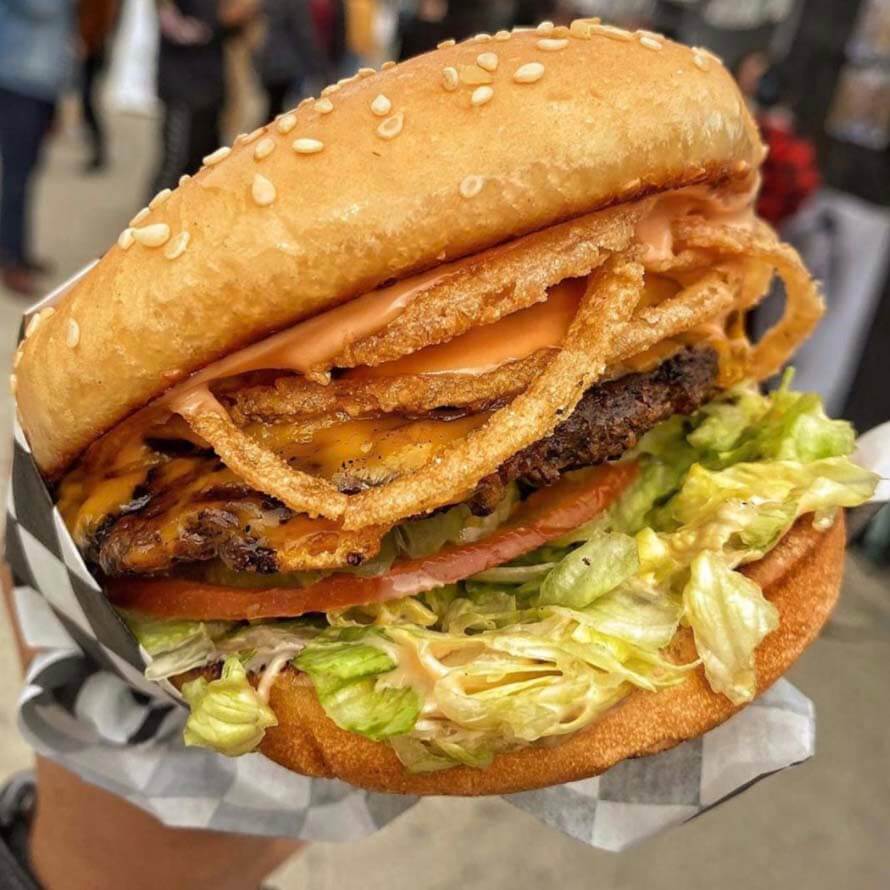 Photo credit: @veganstreetfair on Instagram
Word of Mouth Truck
Food Truck
Word of Mouth's Western Cheeseburger is the item for onion ring fans to order. It features their house bbq sauce, Follow Your Heart American cheese, house-made mushroom bacon, onion rings, and your choice of their house-made sweet potato and black bean patty or a Beyond meat patty on a pretzel bun.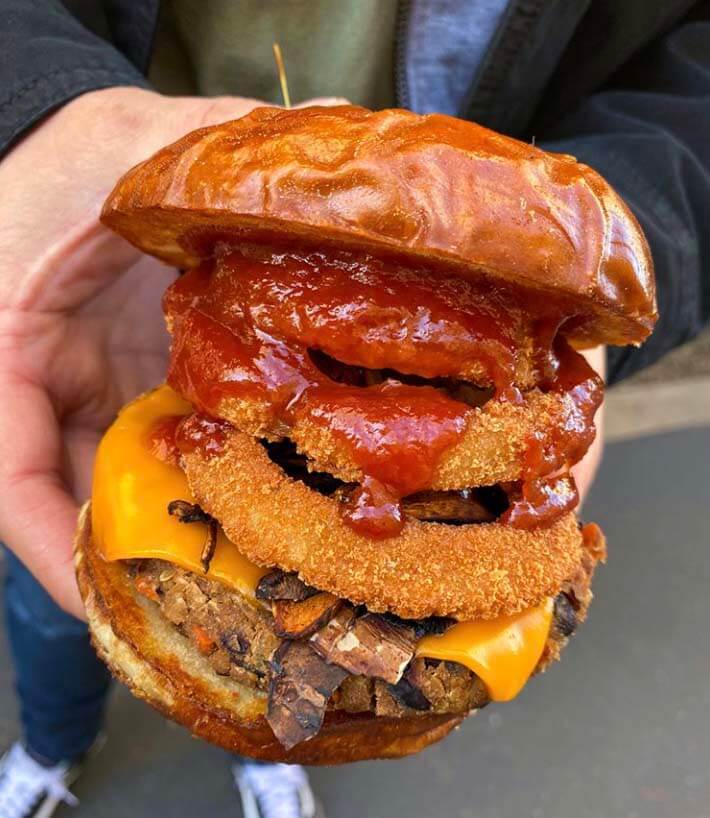 Feature image: Fresh on Sunset