Chef and Food Network personality Palak Patel is bringing the flavors of India to Atlanta through her newest vegan concept!
This week, Atlanta gets its first vegan Indian street food restaurant with the opening of Dash and Chutney. Chef and Food Network personality Palak Patel opened the eatery as an homage to her upbringing and created a menu that embraces traditional Indian dishes with a plant-based twist.
Indian Street Food in Atlanta
Chef Patel received culinary training at the French Institute of New York and is best known for her appearances on the Food Network, including Chopped, Food Network Star, Beat Bobby Flay, and Money Hungry. Prior to moving to Atlanta at age 12, Chef Patel grew up in a vegetarian household in India, where she watched her mother prepare traditional meals with "a dash of this and a dash of that." As a child, Patel also recalls enjoying local Indian street food, discovering the textures, colors, and bold flavors of the dishes.
"I describe my food as full-flavored Indian. I've always envisioned my restaurant concept—whatever it was going to be—as a plant-based menu. Not only is it reminiscent of my culture and childhood, but it's simply better for the environment—and I want to share the deliciousness with others, showing them it's not only good for you, but also the planet," Patel told VegOut.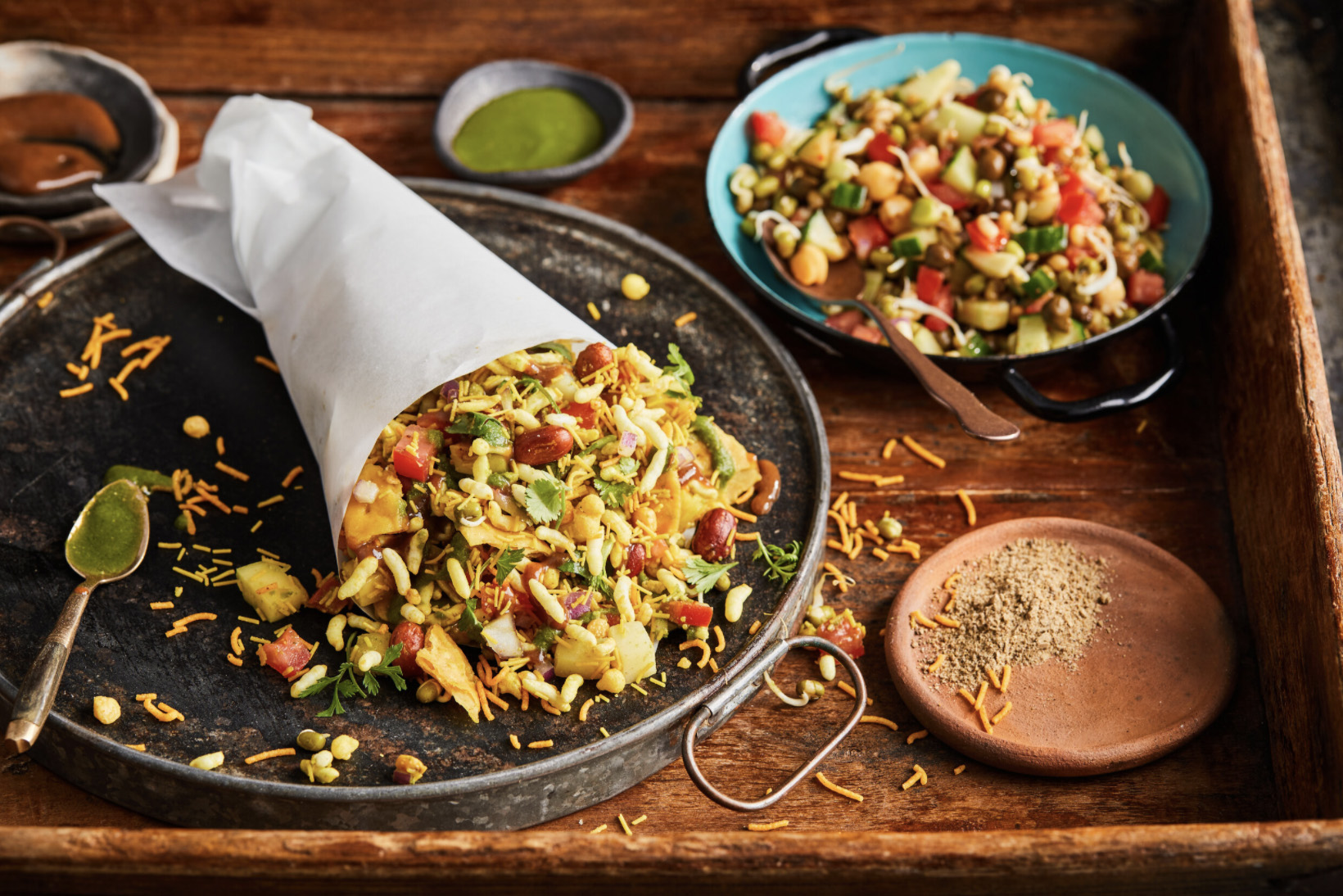 Dash and Chutney Joins Atlanta's Chattahoochee Food Works
Dash and Chutney joins Atlanta's Chattahoochee Food Works hall as the first plant-based Indian street food concept. Chef Patel developed the menu to include some of her favorite street food dishes from India, such as Samosa Chaat and Sev Papdi Chaat (Indian nachos), Vada Pav (a popular potato slider sandwich with chutneys), and Mumbai grilled cheese sandwiches with onions, tomatoes, and a unique spice blend. In addition, guests can enjoy classic Indian street snacks like Charred Corn and Hanvo (a savory Indian muffin with lentils), as well as the Goddess Bowl (a pea falafel and chopped salad), jarred chutneys, and spice sachets.
Dash and Chutney is located inside the Chattahoochee Food Works at 1235 Chattahoochee Ave NW, Atlanta, GA 30318, and is open seven days a week. For all of the latest updates on the eatery, check out their Instagram (@dashandchutney) or visit dashandchutney.com.