We've got the hookup on where to find the best plant-based cauli bites in Chi-Town.
Hey Chicago! It's time for a cauliflower wing tasting spree. This cruciferous veg deserves the glow-up of the decade—and we are here for it! We aren't sure about you, but wings have to be our favorite cauli preparation. Think BBQ- and Buffalo-coated crispy wings dipped in vegan ranch dressing. We aren't drooling, you are! To get in on the action, check out our list of the best vegan cauliflower wings in Chicago!
Albany Park
Kale My Name offers a wide variety of snackable appetizers, including our favorite crunchy, cruciferous veg—peep their "I'm Not Really Hungry But I'm Gonna Eat Anyway" menu. While the full menu is a vegan dream come true, don't sleep on those wings. The restaurant's cauliflower wings are tossed in BBQ or Buffalo sauce and come with ranch dressing.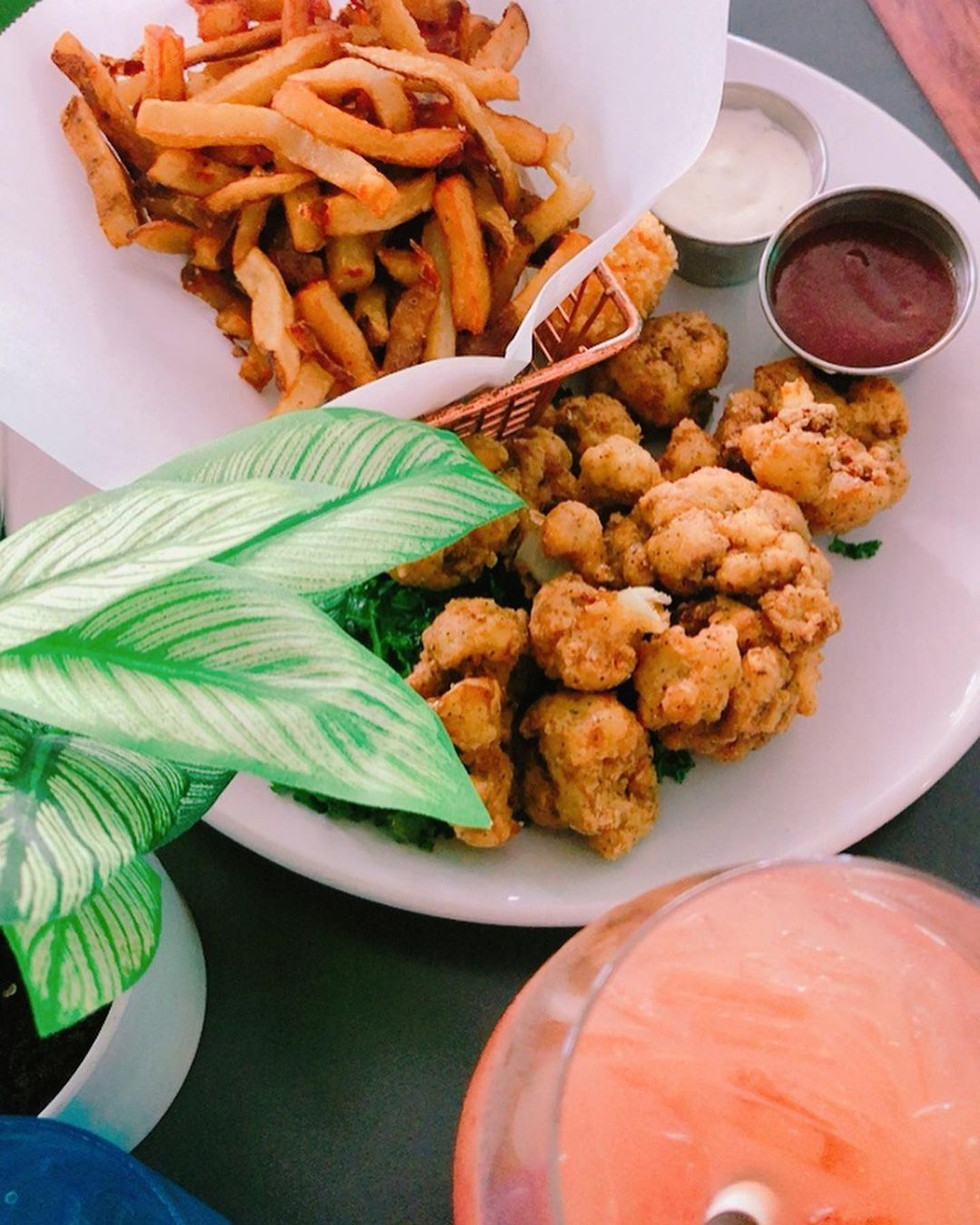 Photo credit: @wholyhaley on Instagram
Winnetka
The cauli wings from Spirit Elephant have serious game. And by game, we mean flavorful sauces. Pair your veggie-based appetizer with Buffalo, BBQ, Wasabi-Dijon Jerk, or Mango-Chili. Is it frowned upon if we order all four varieties? Asking for a friend. This vegan eatery also offers a wide variety of plant-based eats and tasty cocktails.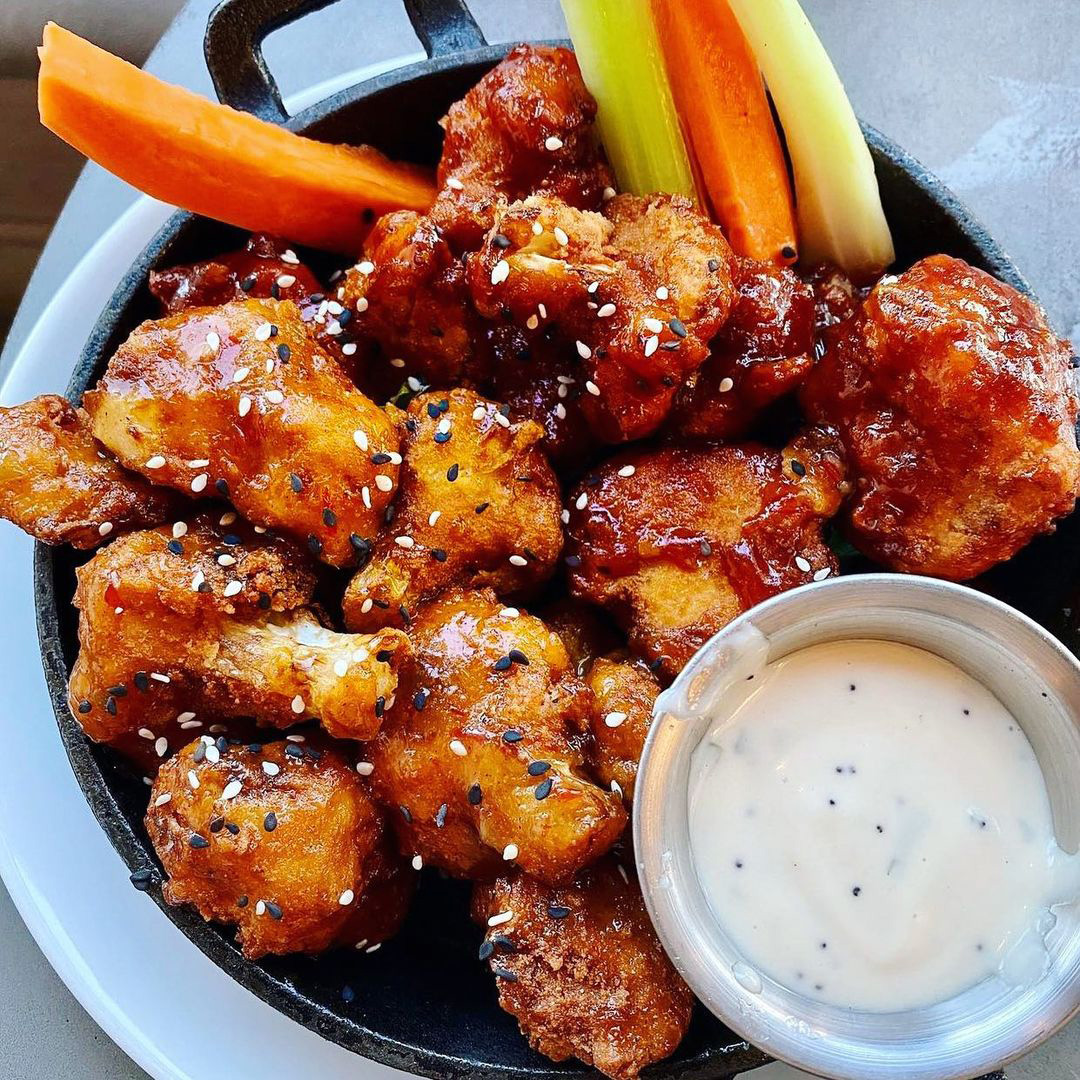 Photo credit: @better.with.fooood on Instagram
Wicker Park
Bloom Plant Based Kitchen is an all-vegan eatery offering crave-worthy fare. The appetizer menu features a tasty order of Buffalo cauliflower served with a cultured blue cheese crema. Say what?! We like to pair this popular appetizer with house-made ceviche, beet dumplings, and good company. We love an appetizer-for-dinner moment.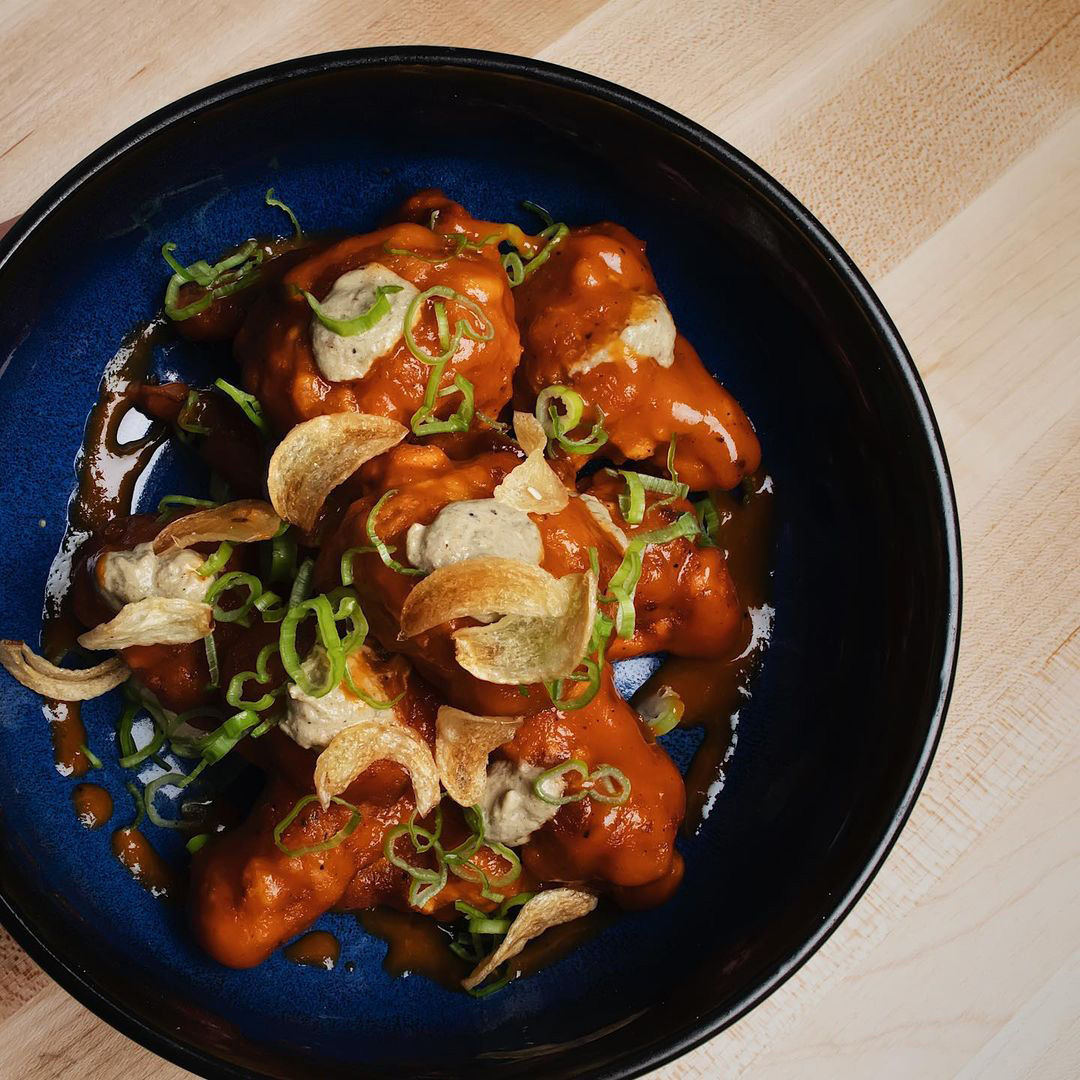 Lakeview
Here's another fully vegan delight to add to your Chicago bucket list. And this one specializes in plant-based comfort food! Kitchen 17 features a comforting cauliflower wing appetizer that can't be skipped. The breaded florets are tossed in Buffalo sauce and served with vegan ranch. Peep more buffalo-inspired dishes like their Buffalo Chicken Salad and Buffalo Burger throughout the menu.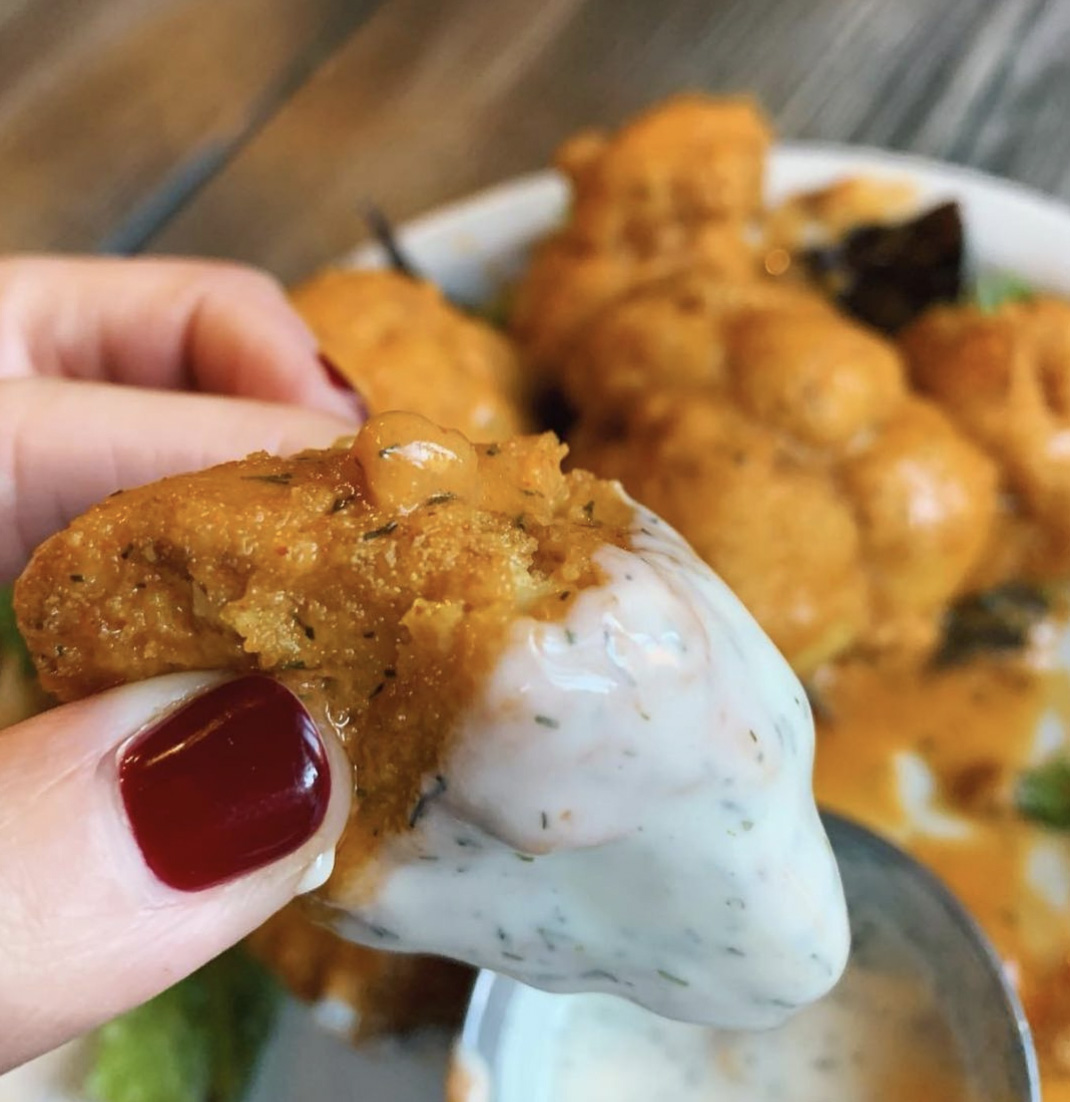 Photo credit: @afewofchifavoritethings on Instagram
The Loop, Lakeview, & Wicker Park
Hey cauliflower dippers, we see you! Native Foods offers a plethora of tasty vegan options, cauli dippers included. This shareable app can be tossed in Buffalo or Thai Chili Cilantro sauce—we love having options, y'all. This dish is topped with shredded cabbage, shredded carrots, green onions, and served with a side of ranch.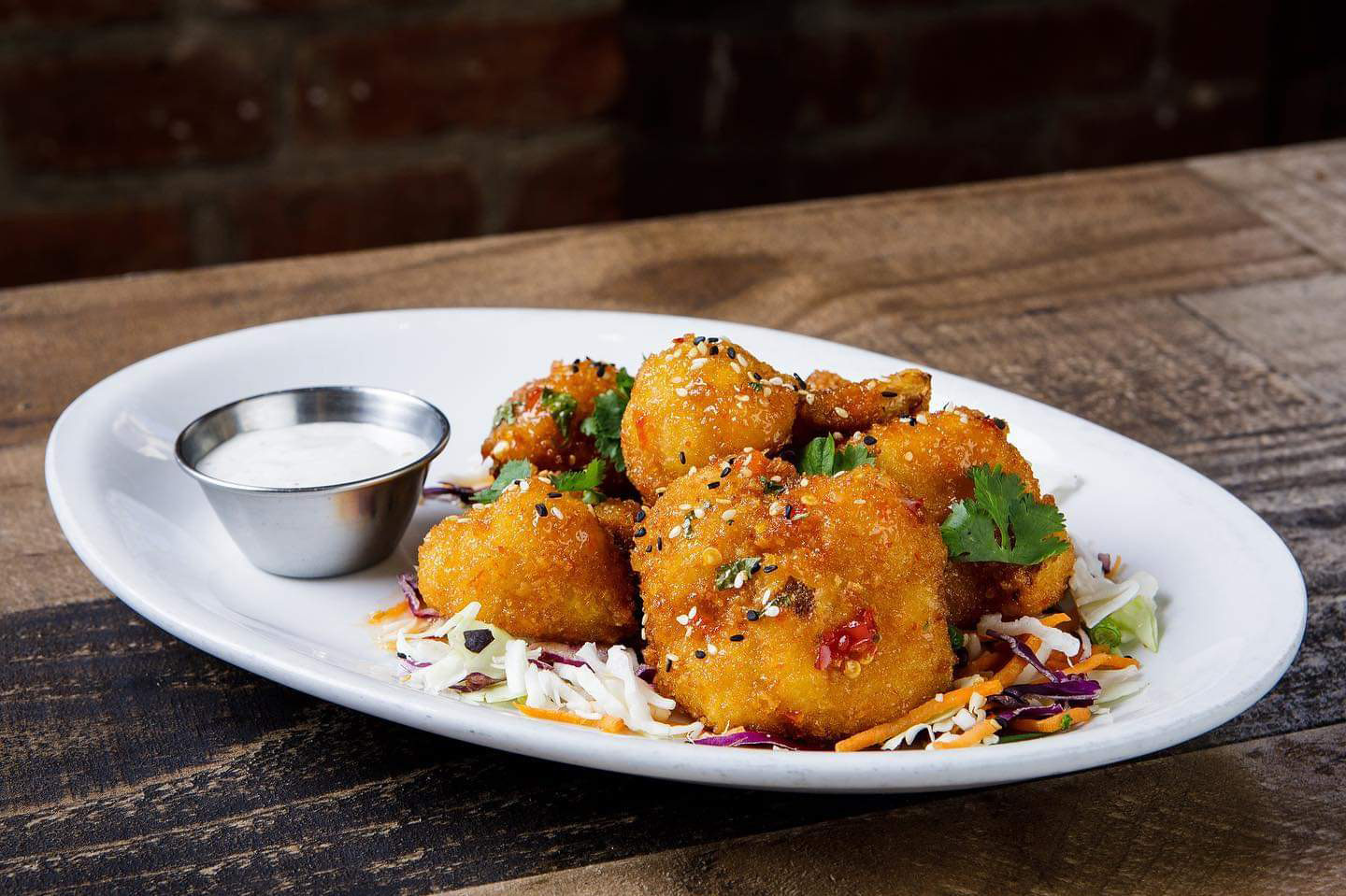 River North
Picky Vegan offers a customizable cauliflower wing dish, which makes great sense as the restaurant is all about giving the pickiest eaters what they want. These crispy, gluten-free wings can be tossed in Buffalo, sweet chili, creamy sesame, or Korean BBQ. Don't forget the vegan ranch, it makes the dish complete, if you ask us.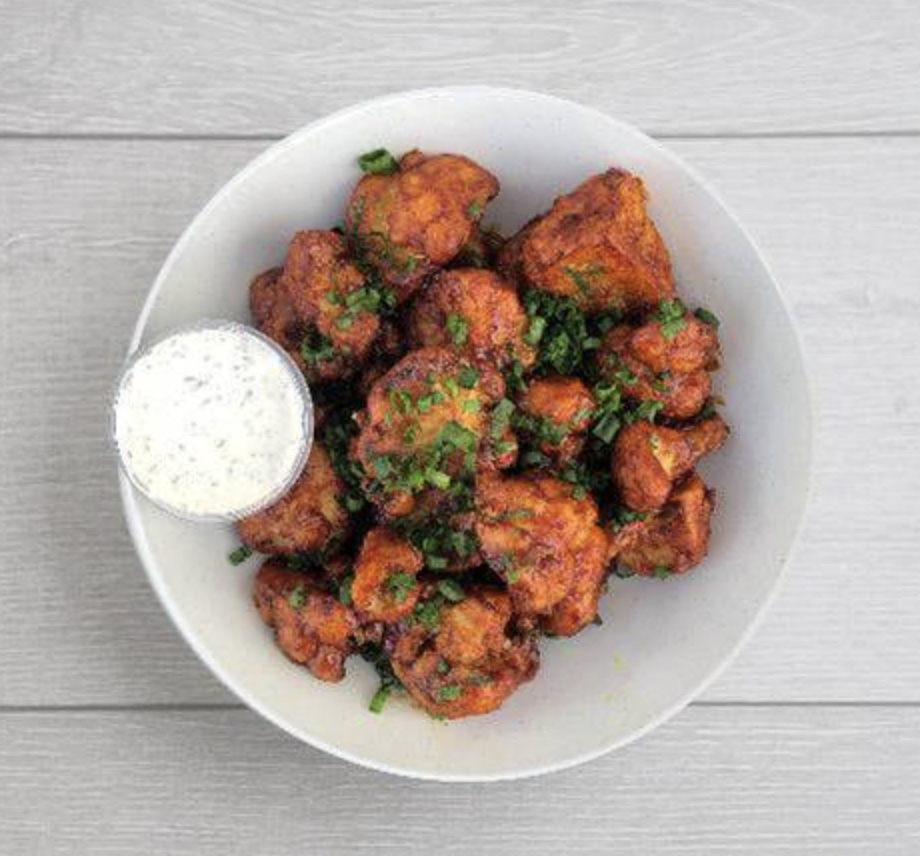 Photo credit: Postmates
One Eleven Food Hall, South Loop, & South Shore
Majani is known for soulful vegan cuisine. This fast-casual eatery offers plant-based comfort food including, you guessed it, fried cauliflower. The BBQ cauliflower starter is lightly battered, fried until crispy, and tossed in a bold BBQ sauce. Sign us up! Find these irresistible florets atop soul tacos and bowls, too.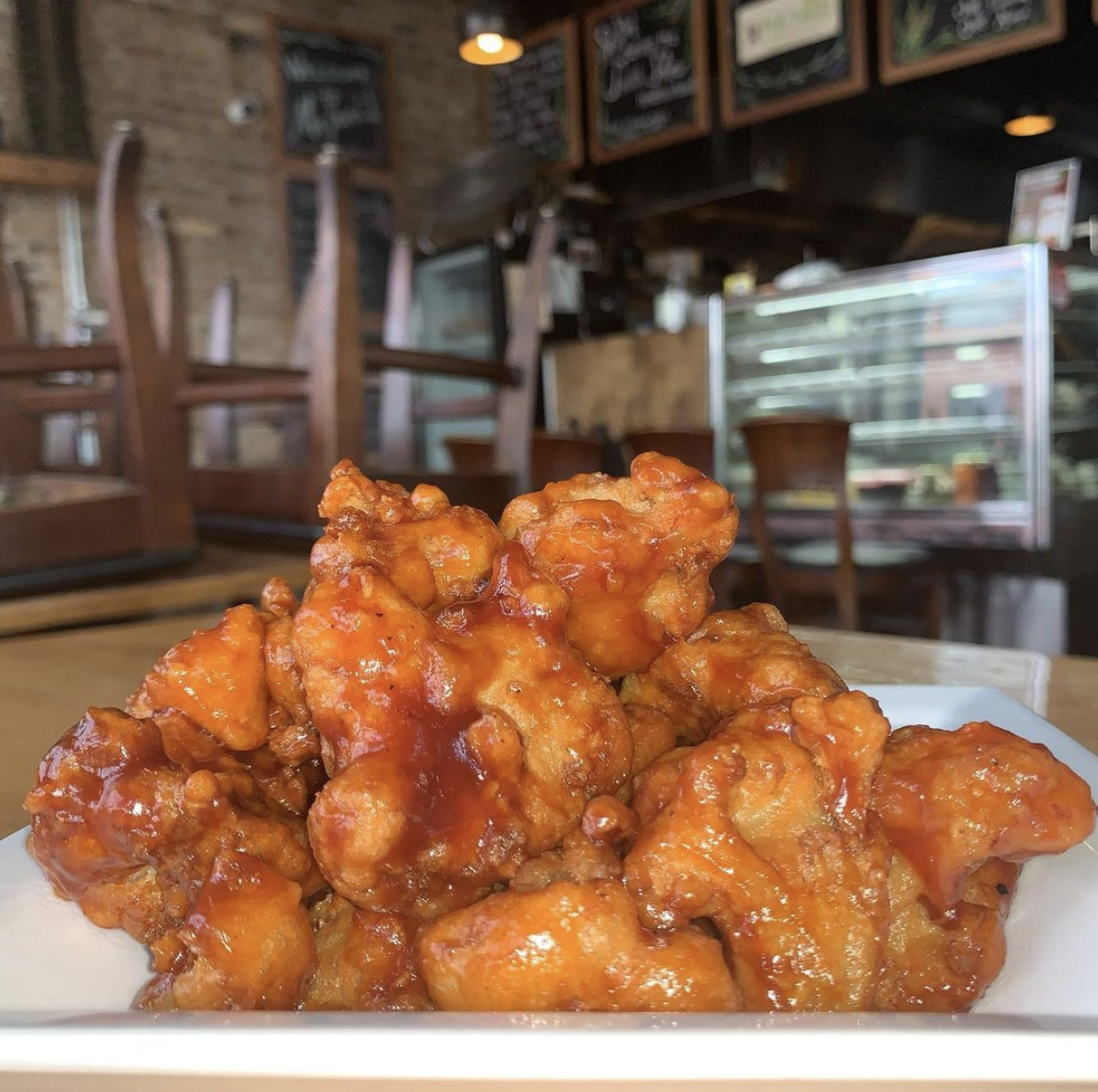 Irving Park
Vegan-Friendly
When in Irving Park, give the crispy smoked cauliflower at Eris Brewery & Cider House a try! These crispy, smoked cauliflower bites are topped with a chili maple glaze, cilantro, toasted sesame, and lime zest. The brewery also offers a variety of well-labeled vegan options including salads, apps, and tasty brunch eats.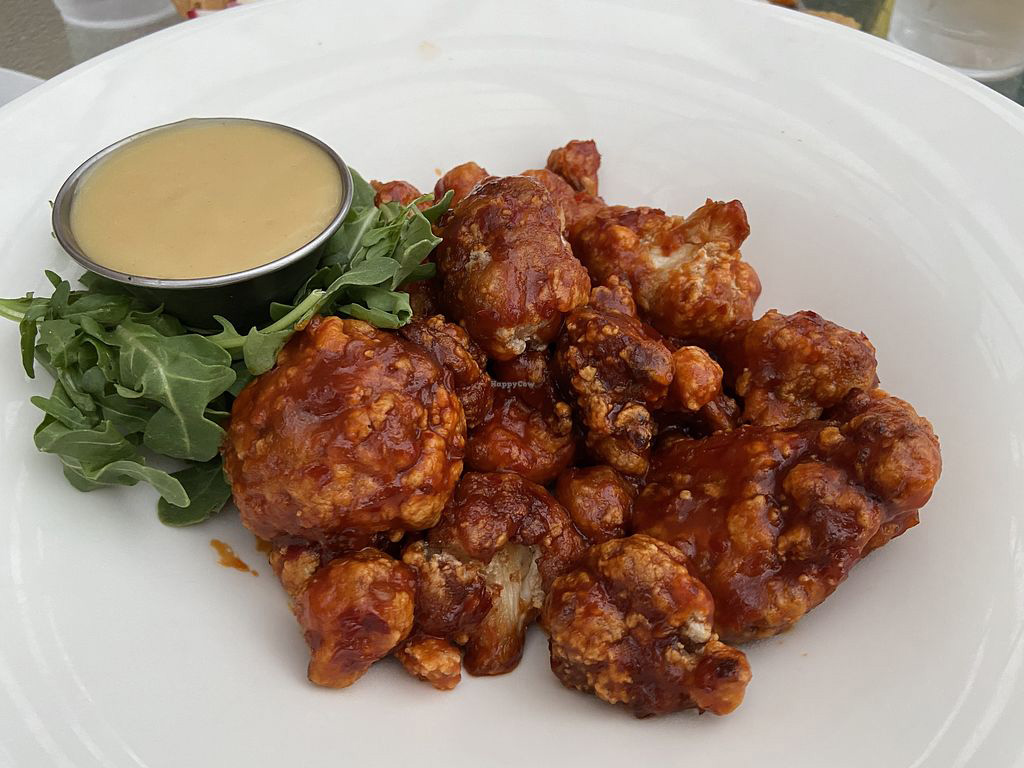 Photo credit: HappyCow
Near Northside
Vegan-Friendly
This vegan-friendly Korean eatery offers the tasty "Don't Cauliflower It a Comeback" appetizer. You know how we feel about food puns–it might just be our love language. This cruciferous dish contains sweet Korean BBQ cauli, roasted corn, charred peppers, marinated kale, green onions, and a side of vegan ranch dressing. MoonBowls' cauli is a must!