Southern California residents know their Mexican food, but the traditional Mexican sandwich—the torta—is often overshadowed by the hype of Taco Tuesday and mass appeal of nachos. While not quite as portable as a carefully wrapped burrito, tortas offer the same explosion of flavor and enhanced texture profiles thanks to their layered components of fresh tomatoes, creamy refried beans, cool mayo, and juicy plant-based meat on a thick sandwich roll. Here are six vegan-friendly spots in and around LA that do the vegan torta justice.
Costa Mesa
This OC vegan taqueria has started a new trend: Torta Thursday. Buy any torta, get an agua fresca on the house. The torta menu is exhaustive and includes the basics—like the carnitas torta—in addition to rare finds such as the hibiscus torta. All feature homemade refried beans, vegan mayo, lettuce, onion, tomato, and guacamole. Thursday just one-upped Tuesday.
West Hollywood and Newport Beach
This posh vegan Mexican restaurant is known for its lavish outdoor dining setup and exquisite cocktail program, but you'll need to order something to enjoy on the patio alongside that old fashioned. The crab cake torta is a hefty handheld made with sturdy ciabatta, seasoned carrots, eggplant, zucchini, oyster mushrooms, chipotle sauce, hummus, cilantro pesto, stretchy mozzarella, and fresh spring mix. The flavors and textures are thoughtful and complex, making you crave every single bite.
Photo credit: @lifeasraegz
Lincoln Heights, Delivery
"Big Vegan Torta" says it all. Like this family-run business's monstrous burritos, this sandwich is massive. Each comes on an oversized roll packed with refried beans, guacamole, chipotle cashew crema, sliced tomatoes, Vegenaise, pickled onions, and choice of Cena's signature plant-based meats. All are fantastic, but the barbacoa is exceptional and not often found elsewhere.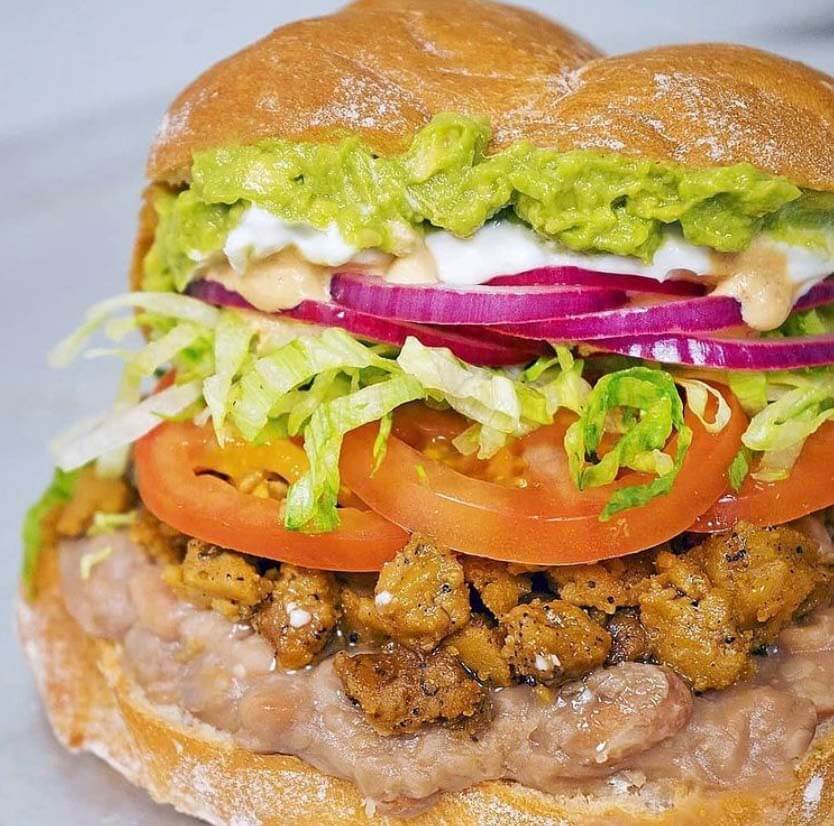 Glendale and Studio City
Hugo's is a vegan-friendly joint with a solid torta on the menu. You'll get a thick sandwich roll slathered with Vegenaise, refried beans, guac, and stuffed with diced tomatoes, onions, your choice of vegan filling. Plant-based options include potatoes, soy chorizo, and mushroom carnitas. If you're ravenous, kindly ask for potatoes and soy chorizo for a barely contained handheld that will keep you full all day long.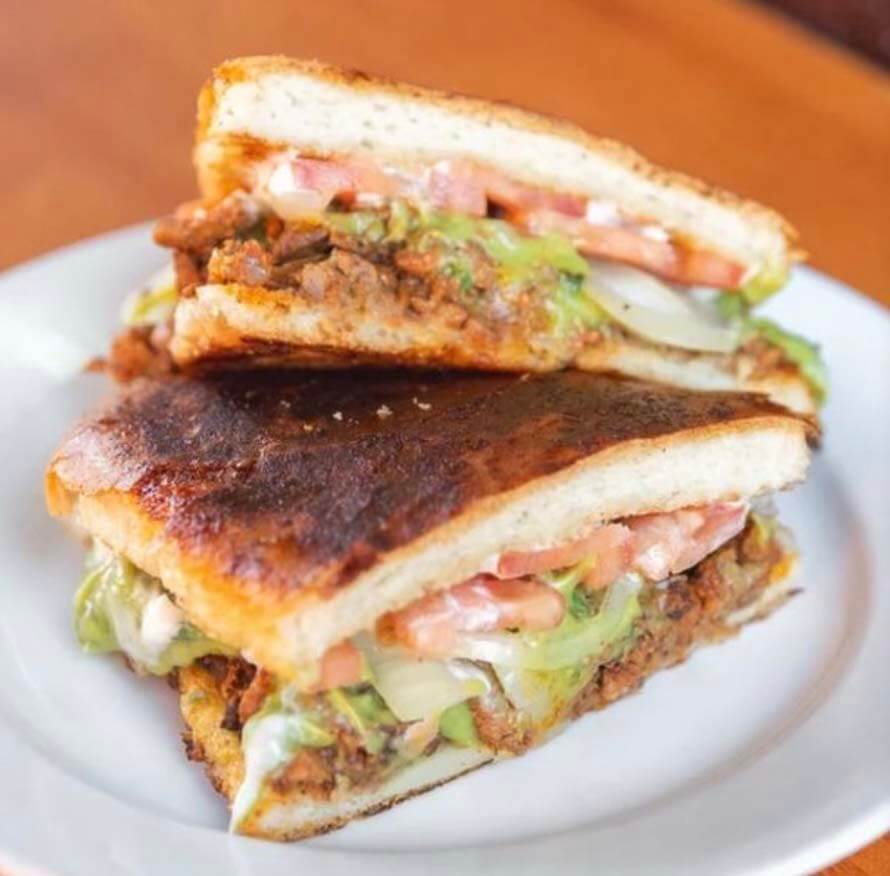 Van Nuys
To say this vegan Valley restaurant over-stuffs its tortas is an understatement. Order one, and you'll receive a split Mexican sandwich roll bursting with your choice of vegan meat, beans, purple cabbage, and pico de gallo, all drizzled with a vibrant chipotle mayo. The vegan protein selection here is impressive—ranging from the usual al pastor and asada to the more elusive chicharrón and oyster mushroom suadero. We highly recommend adding an agua fresca or a slice of homemade flan to accompany your meal.
Garden Grove
Never heard of Aunt Yese's? Those who know are trying to keep it a secret. This vegan-friendly daytime eatery is always packed, and no matter what time it is, expect a wait. The vegan torta leans more toward savory breakfast—it's filled with scratch-made refried beans, soyrizo, diced tomatoes, and avocado—and is served with wonderfully crispy home fries. It's well worth the drive down the 5, but plan ahead—Yese's is only open until 2pm.