Back
10 Vegan Thai Restaurants in Los Angeles
Craving some pad thai, Thai curry, or tom kha gai soup? Looking for more vegan and vegan-friendly Thai places to check out? Or just wanting to give Thai food a try for the first time? Read on to discover 10 of the best local spots for vegan Thai food.
Araya's Place
Beverly Grove
As the first vegan Thai restaurant in the northwest—founded in 1987—Araya's Place is well-established in the vegan Thai food scene. Family-owned and operated, they can accommodate every dietary restriction, as they make each dish to order. On the menu, they've got a wide array of options, including appetizers (like their Tofu Satay), traditional Thai salads and soups, 10 different curries, stir-fry dishes, along with a variety of noodle and fried rice dishes, plus, of course, sides, drinks, and desserts.
Bright Star Thai Vegan Cuisine
Rancho Cucamonga
Bright Star is a good vegan Thai option for those in or near the IE. They serve an array of typical Thai dishes made vegan, along with their own specials, which include appetizers, salads, soups, curries, noodles, rice dishes, and a la carte-style items, such as orange chicken and Kung Pao. Their menu is additionally highlighted by their lunch special option—available for many of their entree items—which then come served with a fried dumpling, salad, steamed brown rice, and miso soup.
Bulan Thai Vegetarian Kitchen
Silver Lake
Although not entirely vegan, most of Bulan's menu is actually vegan or can be requested to be made vegan. Their extensive menu includes plenty of traditional favorites, including (but definitely not limited to!) Papaya Salad, Pad See-Ew, "Drunken Noodles," and Tom Yum, as well as more unique finds, like their Curry Puff (Thai empanada), their popular Hot Wings, Thai spaghetti, and the vegan meat option of mock duck.
H.O.P.E.
Studio City
With the words "healthy, organic, positive eating" making up their name, H.O.P.E. in Studio City puts health at the forefront. Just a couple of the customer-favorite items on their all-vegan menu include their Yummy Wonton Soup, curries (which are made with no added salt), and their Beefless Garlic dishes. And if you're seeking a variety, order their combo—available at lunch and dinner—which adds brown rice, a spring roll, and salad to your meal.
Green Leaves Vegan
Los Feliz
For a menu featuring breakfast options, in addition to the typical lunch and dinner menu, check out Green Leaves. Their breakfast menu items include four different pancake dishes, plus, they have two breakfast burritos. As for their typical Thai options, their extensive menu covers lots of favorites—from satay to start your meal to banana rolls for dessert.
L.O.V.E. Organic Cafe
West Hollywood
The sister restaurant of H.O.P.E. in Studio City, L.O.V.E. (stands for "love organic, vegan eating") in WeHo shares a similar vibe, taking pride in serving made-to-order vegan dishes crafted with only the freshest and highest of quality food, free of GMOs, pesticides, additives, and preservatives. With a straightforward menu, the cafe offers a variety of traditional Thai dishes—including curries, fried rice dishes, noodle entrees, soups and salads—as well as seven different vegan sushi rolls. And nope, these aren't just plain veggie rolls.
Photo credit: @pimpster
Lotus Vegan
North Hollywood
With a large menu, Lotus is another Thai restaurant offering both a ton of traditional Thai and traditional American options (including breakfast items). In the mood for chocolate chip pancakes? They've got it. How about Thai Fried Rice or Kung Pao Spaghetti or curry? Yep, all that and more. They pretty much have every Thai dish the average person could think of, along with American foods like burgers, breakfast foods, and more to truly please everyone's appetite.
My Vegan Restaurant
Eagle Rock & Pasadena
Founded in 2009, My Vegan specializes in serving affordable menu items made with no MSG, no GMOs, and of course, no animal products. With a menu full of appetizers, soups, salads, house specialties, noodle dishes, a la carte dishes, rice, pasta dishes, and a combo special, they've got all essential Thai dishes covered. And if breakfast food is preferred, they've got some pancake and platter options available as well.
Photo credit: @goodygaloreee
My Vegan Gold
Silver Lake
The "gold edition" of My Vegan offers a similar selection of menu choices, plus their own house specialties and a few other options, such as their Eggplant Black Bean Sauce entree, their Spicy Jackfruit dish, and their Supreme Fried Rice. Also, they have two "Gold Edition Bowls" on the menu— their Moo Bowl (grilled citrus pork over brown rice, with corner salad pickle) and their My Vegan Bowl (organic kale stir-fried with organic tofu and spicy garlic sauce over brown rice).
Photo credit: @sapling_vegan
Satdha Kitchen
Santa Monica
Satdha features a simple menu with fresh, traditional Thai dishes. Mung Bean Croquette, their vegan take on Crying Tiger (Thai grilled steak), Kabocha Cream Soup, Kow Yum (Thai rainbow rice salad), Beet Dyed Noodles, Vermicelli with mushroom coconut curry sauce or mung bean coconut curry sauce, Catfish Eggplant, Koa Kling (Thai dry meat curry), and sauteed vegetable dishes are just a few of their menu highlights. Also worth noting is the fact that they serve complimentary kale chips as a starter.
RELATED: Where to Get Vegan Sushi Takeout and Delivery in Los Angeles
---
Want even more LA vegan food, news, and lifestyle content? Subscribe to VegOut LA Magazine!
Symphony Barnes
@symphonybarnes
Symphony is a Southern California native who is passionate about health and wellness. She enjoys writing, living in California, and sharing her vegan lifestyle. Symphony graduated from Pepperdine University with a Bachelor of Arts in Journalism.
Articles by Symphony
More from VegOut
Subscribe Now
Get the premier vegan food and lifestyle magazine delivered to your door (or inbox!)
Order the magazine!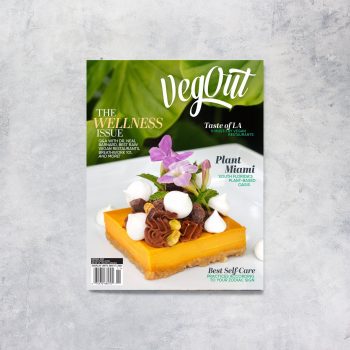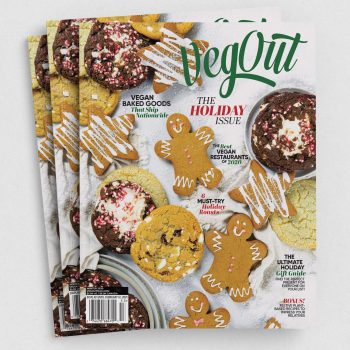 Navigation