Here's where you can get some of the tastiest vegan eats at the most magical place on earth!
Planning a trip to Walt Disney World? We've compiled a list of the top vegan eats at both the parks and resorts to help you plan your Disney vacation. From iconic park snacks to newly improved vegan-friendly resort menus, the most magical place on Earth is becoming a plant-based haven for foodies and vegan park-goers alike. Here are the best vegan eats at Disney World!
Casey's Corner
Magic Kingdom
After snapping pics in front of the majestic Cinderella Castle, head over to Main Street, where you'll find Casey's Corner. The hot dog spot offers a Plant-Based Loaded Slaw Dog, which features a vegan Beyond Sausage topped with pickled slaw, BBQ vegan aïoli, and roasted corn relish served with your choice of french fries or mandarin slices. We also recommend pairing your plant-based dog with a Frozen Mint Julep Lemonade for a refreshing touch.
Liberty Tree Tavern
Magic Kingdom
Visit the 999 happy haunts at Disney's Haunted Mansion, then walk to Liberty Square, where Liberty Tree Tavern awaits to welcome you for lunch or dinner. Vegan lunch options include roasted vegetable & tomato soup, portobello pot roast, and Revolutionary Meatloaf. The restaurant also offers a prix fixe plant-based dinner menu, featuring salad, roasted vegetable & tomato soup, Revolutionary Meatloaf, and Johnny Appleseed's Warm Apple Cake, which is also offered on the lunch menu for dessert.
Space 220 Restaurant
Epcot
Ever wanted to dine in outer space? Well, now you can! The new Space 220 Restaurant at Disney's Epcot lets guests dine 220 miles above Earth, with vegan options included. The menu features a prix fixe lunch and dinner, both of which come with a salad and your choice of an entrée. Vegan-friendly items include the Galaxy Grains Salad and a Terra Bolognese entrée. The star of the menu is the plant-based carrot cake, which combines a decadent carrot cake with salty, sweet frosting and comes topped with candied walnuts and pepitas. While the carrot cake is served with dinner only, you can purchase the cake à la carte during lunch or in the lounge area of the restaurant.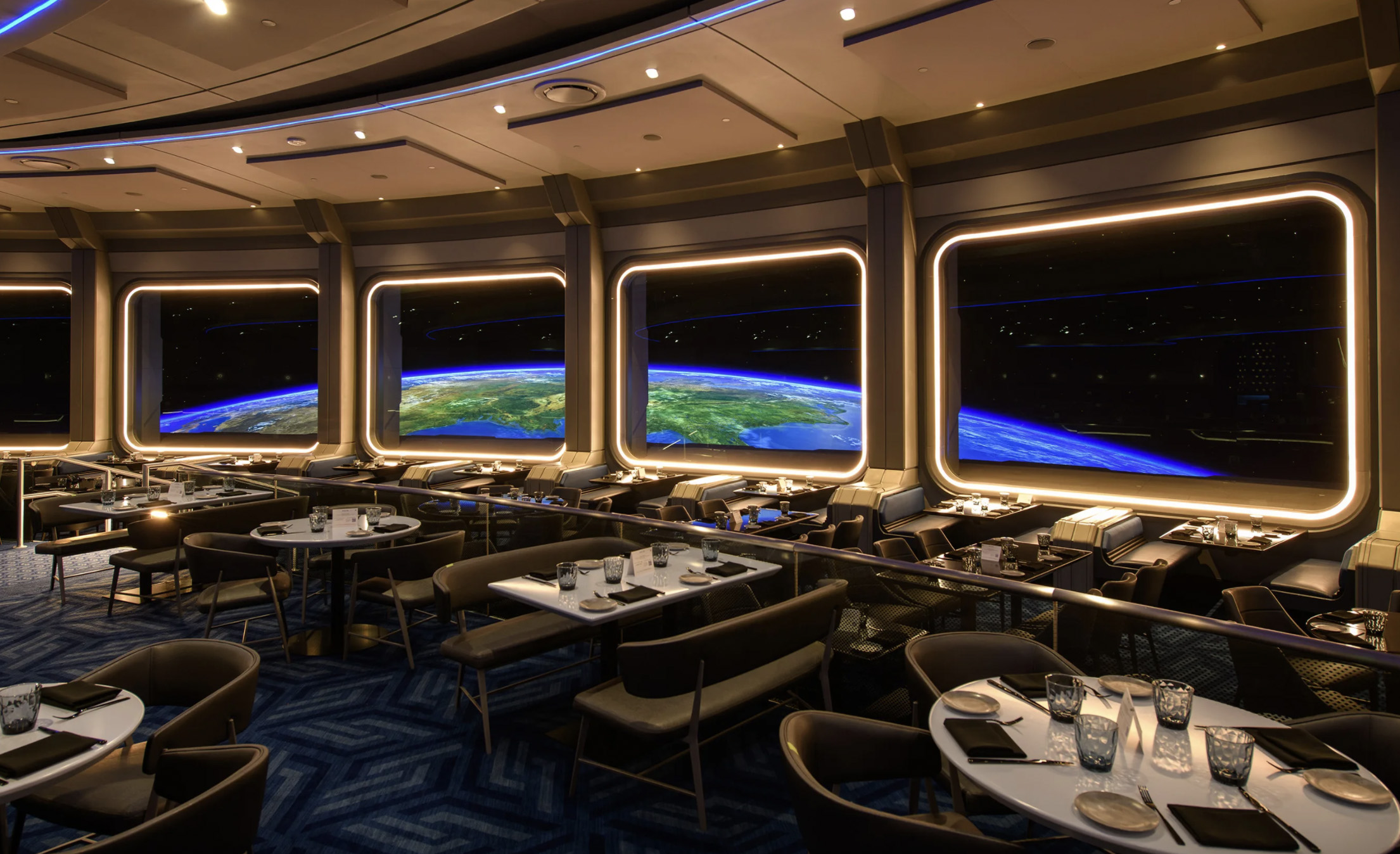 Docking Bay 7 Food and Cargo
Star Wars Galaxy's Edge, Hollywood Studios
As you walk into Star Wars Galaxy's Edge, you will be met with a bright suns greeting, as well as a few tasty vegan options. Those looking for a light meal should head over to Docking Bay 7 Food and Cargo, which offers a Felucian Garden Spread composed of plant-based kefta "meatballs," served over a bed of herb hummus and tomato-cucumber relish with pita bread. Afterward, quench your thirst with a cup of Batuu's blue or green milk, both of which are made from plant milk and served frozen.
Rosie's All-American Cafe
Hollywood Studios
Located on Sunset Boulevard near the legendary Twilight Zone Tower of Terror attraction, Rosie's All-American Cafe has added a toasted "lobster" roll to the menu, which also happens to be fully plant-based. Priced at $10.49, the lobster roll combines marinated hearts of palm medley, celery, and sweet apples in a creamy dressing atop a toasted bun, and comes served with crispy potato chips.
Tamu Tamu Refreshments
Animal Kingdom
While you can get your hands on a Dole Whip at pretty much every Disney Park, Tamu Tamu at Disney's Animal Kingdom offers a unique twist on the iconic dairy-free dessert. The quick-service stand offers the option to dress up your Dole Whip by ordering the Simba Sunset, which comes topped with watermelon-, strawberry-, and coconut-flavored syrups. In addition, guests 21 and older can enjoy a Dole Whip topped with coconut rum or a King's Cooler (which comes topped with coconut rum and the Simba's Sunset flavored syrups).
Tusker House
Animal Kingdom
Early morning safaris at Disney's Animal Kingdom can work up quite the appetite, so make a breakfast reservation at Tusker House to keep you fueled throughout the day. The restaurant offers a plant-based, all-you-care-to-enjoy breakfast platter, which includes scrambled Just Egg, vegan and gluten-free Mickey waffles, Impossible meat patties, seasoned potatoes, fruit salad with plant-based yogurt, and Impossible chickpea curry over rice, as well as strawberry preserves and plant-based butter to smear on your waffles. The platter costs $42 for adults ($27 for children), and you may also be joined by Donald and friends during your visit!
Steakhouse 71
Disney's Contemporary Resort
If you're looking to dine in a modern, chic atmosphere for dinner at Walt Disney World, Steakhouse 71 is your spot. The restaurant offers plant-based appetizer, entrée, and dessert options—you'll enjoy onion rings with spicy ranch dipping sauce, a vegetable Wellington stuffed with mushroom duxelles and fire roasted artichoke hearts wrapped in a puffed pastry, and apple tarte tatin with blackberry gelato for dessert.
Beaches & Cream Soda Shop
Disney's Beach Club Resort
What's a Disney vacation without a gigantic, chocolaty vegan sundae? Well, at Beaches & Cream Soda Shop you can find just that. The No Way José sundae features vegan vanilla ice cream, non-dairy chocolate, and warm peanut butter sauce. Be sure to request the sundae be made vegan, as there is a dairy version of the sundae available as well. Share the No Way José with a friend, or keep all the sweetness for yourself!
Kiosks, Carts, and Quick-Service Locations
All Walt Disney World Parks
We'd be remiss if we didn't mention the classic Disney snack—Mickey pretzels—which can be found at kiosks, carts, and quick-service locations throughout Walt Disney World parks. Omit the cheese sauce that comes with the pretzel, and opt for mustard instead. And don't forget to snap a pic with your Mickey pretzel before you take a bite!
Photos courtesy of Disney