A quick guide to the best vegan dessert options to satisfy Angelenos' late-night cravings.
New York may be the city that never sleeps, but the extended hours of these late-night vegan dessert spots in Los Angeles are giving the city a run for its money. Though LA is not famously known for its late-night hot spots, we're here to tell you that there is an overwhelming amount of tasty vegan sweets here that you need to try. But, there's no rush—the earliest any of these places close is 10pm, so you can be sure to satisfy your late-night cravings regardless of what time it is.
Beverly Grove, Koreatown, Echo Park, & Riverside
Open Sunday-Wednesday until 11pm & Thursday-Saturday until 12am 
If you're feeling snacky and need a savory late-night fix, Monty's Good Burger is the perfect place for you! Their entirely plant-based menu boasts crunchy tater tots, loaded fries, and delicious hamburgers that work well as both a snack and a meal. To complement your food, however, you should definitely try out one of their famous shakes or floats! Their shake's sweetness pairs perfectly with their salty crispy shoestring fries! With rotating milkshake flavors, there is always something new and exciting to try out at Monty's, so be sure to check out their Instagram and see what new flavor they're serving up. To enhance your milkshake experience, add a cookie on top of your shake to give it that extra something special.
Echo Park
Open until 10pm
Advertised as the original gourmet vegan cinnamon roll bakery, Cinnaholic's tasty treats are most definitely the solution to your late-night cravings. Aside from serving up their signature rolls like the Cookie Monster and Campfire S'mores, Cinnaholic offers an amazingly popular build-your-own roll option. You can dress up your hot gooey cinnamon roll with fun frosting flavors like marshmallow, chai, chocolate, strawberry, and more, and you can add toppings like Oreos, pretzels, pie crumble, marshmallows, and delicious homemade cookie dough. The cookie dough here is insanely addicting—so don't hesitate to order it on its own as a single-serving scoop or in a container!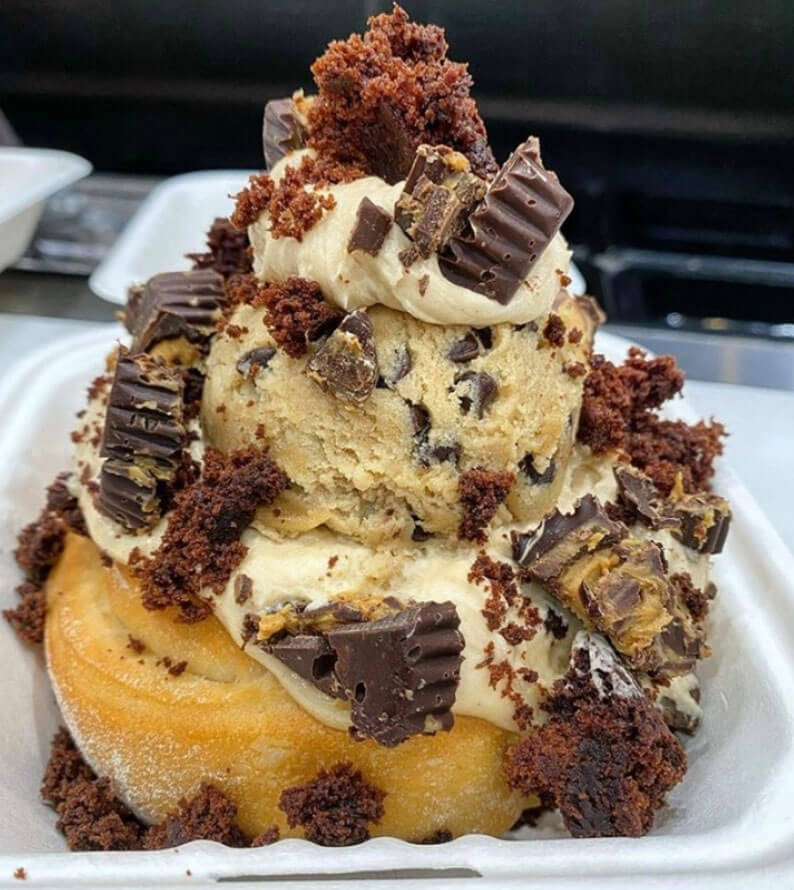 Multiple Locations
Open until 12am
With many locations across LA and California in general, Van Leeuwen has some seriously satisfying vegan flavors available at their scoop shops. While they don't exclusively offer vegan flavors, Van Leeuwen serves up some classic vegan crowd-pleasers like Mint Cookies & Cream and Vanilla Bean, while also offering more imaginative options like Banana Peanut Butter Fudge, Rhubarb Crumble with Sweet Basil, and Brownie Sundae Raspberry Swirl. With at least four new flavor changes every month, Van Leeuwen is always exploring exciting taste combinations, so be sure to stop in and check out what they're serving this month!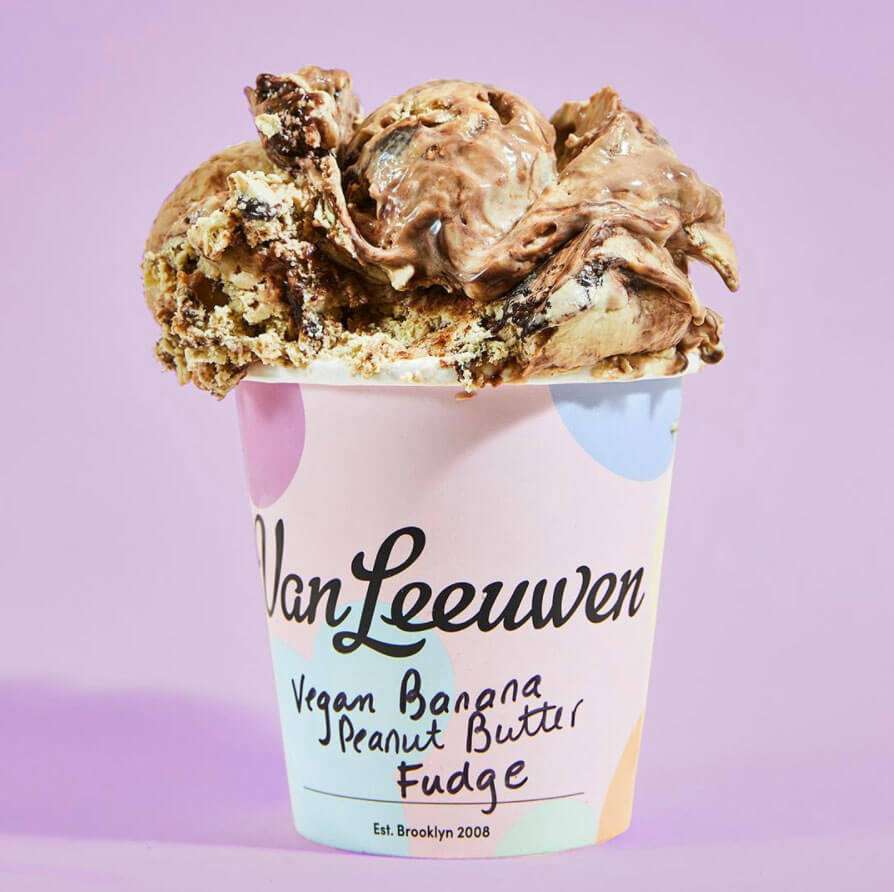 West Hollywood
Open Monday-Wednesday until 1am & Thursday-Saturday until 2am
If you're craving the delicious bite of a warm gooey cookie, look no further than Insomnia Cookies. With a variety of vegan flavors on hand, their Santa Monica Blvd location has what you need. Or order a to-go pack of six—guaranteed to arrive at your door warm, like they're fresh out of the oven. Whether it's a Birthday Cake, Cookies N' Cream, Chocolate Chunk, or Double Chocolate Chunk cookie, you can't go wrong. Whatever time of night it may be, Insomnia Cookies has your needs covered. They're open until 1am on weekdays and 2am on weekends.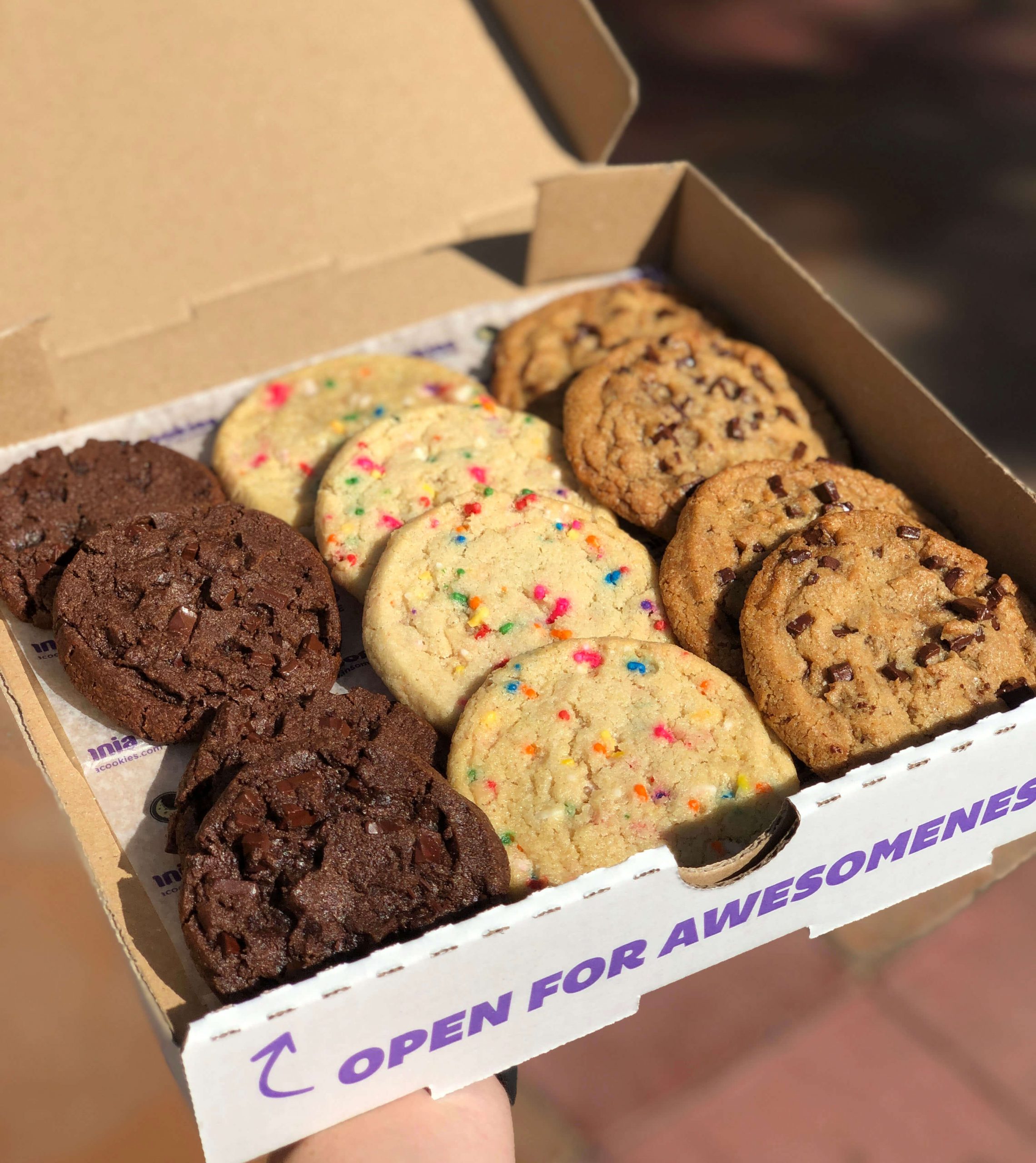 Santa Monica
Open until 10pm
With both a brick-and-mortar store and an ice cream truck, Frozen Fruit Co is all around the LA area, serving up batches of innovative plant-based vegan ice cream. Beyond the classics like chocolate and vanilla, Frozen Fruit Co also puts a twist on these standard flavors, offering Salted Chocolate, Lemon Passion Fruit Creme, and Sweet Laurel Cookies and Cream—a collaboration with local LA bakery, Sweet Laurel. Beyond these standard flavors, however, Frozen Fruit Co also has a rotating secret new flavor each weekend. Check out their Instagram to stay updated with their new flavor cycles and find the location of their food truck!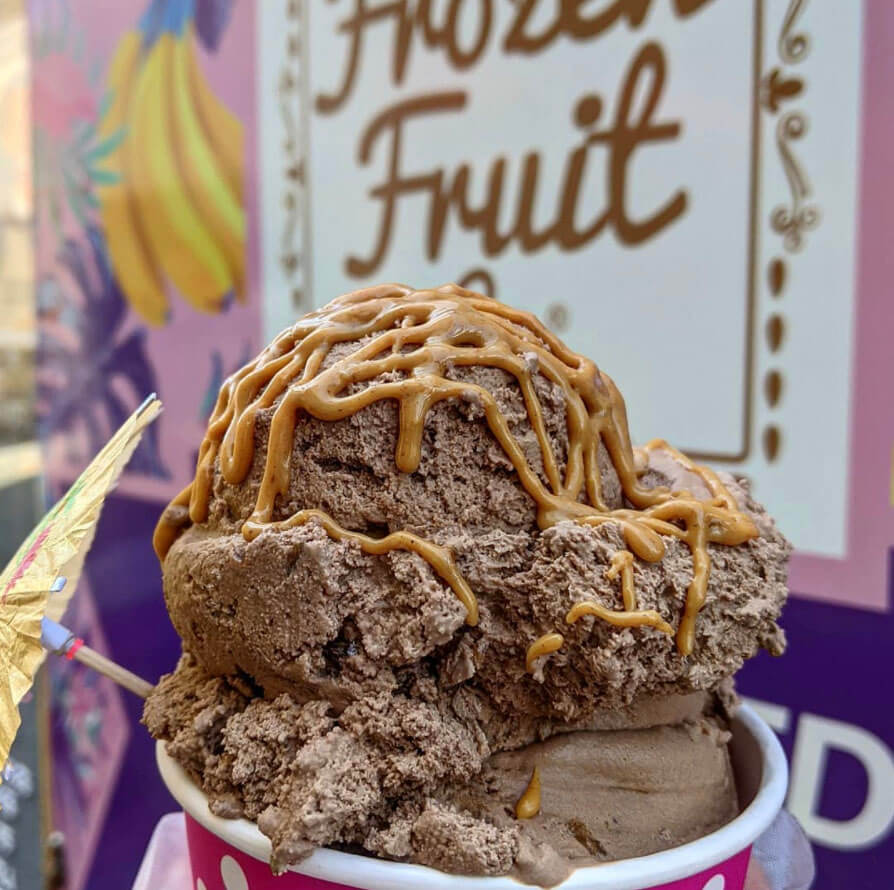 Sherman Oaks
Open until 11:30pm
With a beautifully sugary cinnamon topping, the churros at Happy Days Cafe are next level. Cooked fresh to order, they come with a variety of fillings and sizes to help you create your perfect churro platter to enjoy yourself or share with friends. Their vegan options don't end there, however. You can also enjoy your hot churros with a cold scoop of vegan ice cream, a vegan donut, or wash it all down with a smooth milkshake if you're looking for something a little extra. Be sure to stop in and ask what their latest vegan offerings are, and someone will point you in the right direction! We guarantee Happy Days Cafe won't disappoint.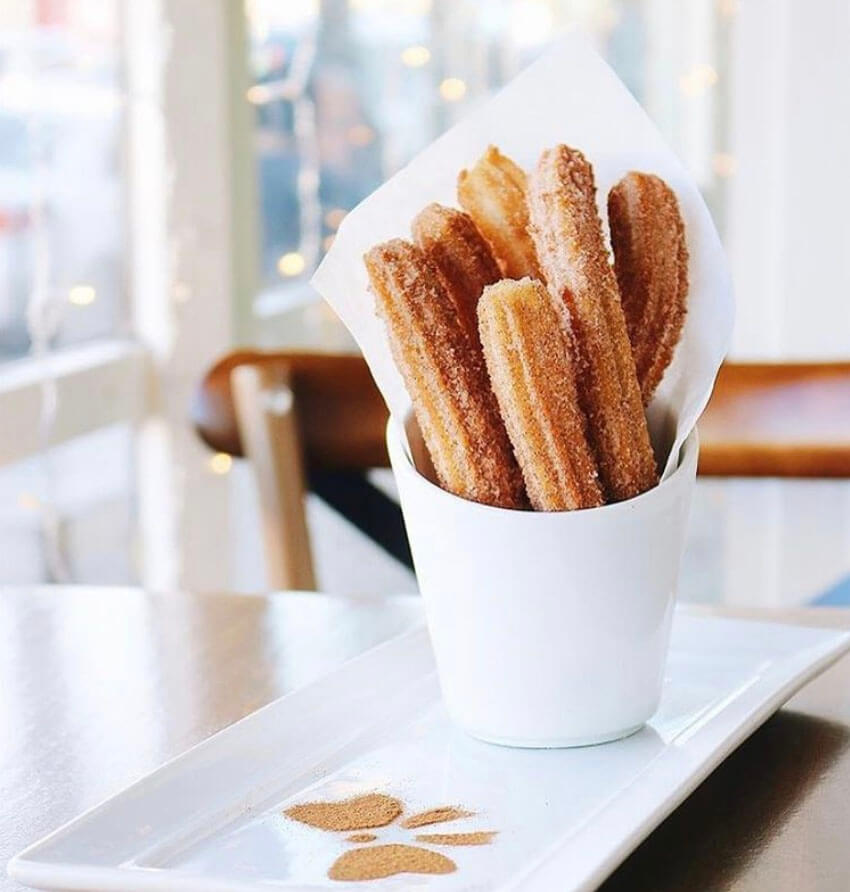 Koreatown
Open Sunday-Thursday until 11pm & Friday-Saturday until 12am
Creamistry's LA location boasts fresh ice cream made to order right in front of you. With a variety of ice cream bases, you can choose from a vegan coconut milk, cashew milk, or fruit-flavored sorbet base. After selecting your base, you can choose from a variety of flavoring options, including Madagascar Vanilla Bean, Sea Salt Caramel, and Ruby Cacao. To finish, you can top off your tasty creation with delicious add-ins like fresh fruit, nuts, and sauces. Creamistry's customizability is unparalleled and definitely makes it a must-try for ice cream spots in LA.
Photo credit: @bambastic on Instagram
Tarzana, Silver Lake, & Highland Park
Open until 10pm
With three locations—Tarzana, Silver Lake, and Highland Park—Magpies is ready to give you delicious vegan soft serve wherever you are in the LA area! Aside from offering a delicious spread of ice cream flavors available at their scoop shop, Magpies also has a selection of ice cream pies that you have to try. With innovative ice cream flavors like Date Shake, Coconut Sticky Rice, and Corn Almond, along with Birthday Celebration and Tin Roof Sundae pies, you'll want to order a scoop of ice cream to wash down your slice. On top of that, Magpies updates their flavors regularly, so be sure to keep up with what they're scooping on their Instagram page!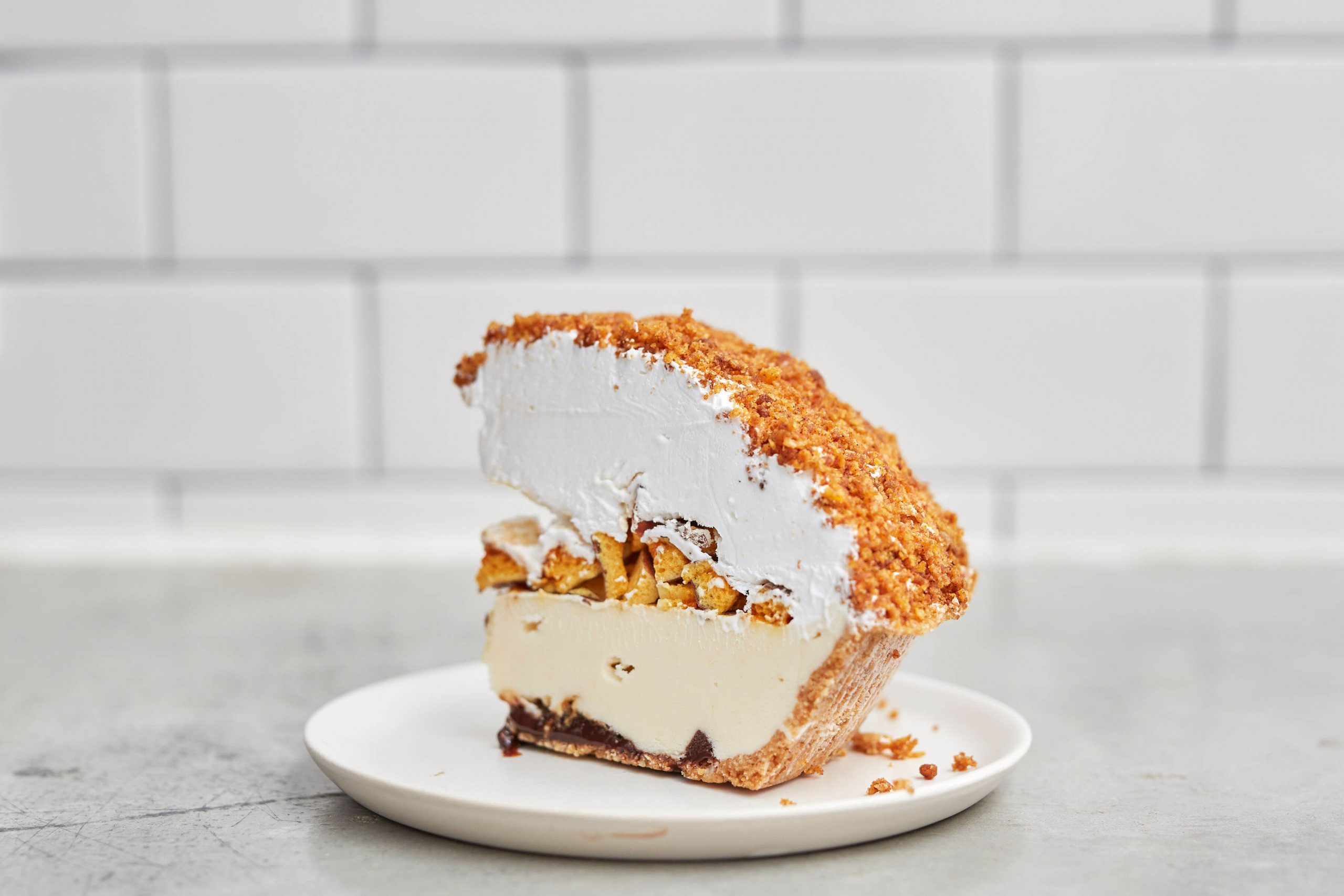 Hollywood
Open Monday-Thursday until 12am & weekends from Friday morning at 9am-Sunday at 12am
Doomie's Home Cookin' might just be the coolest place in Hollywood. Open for roughly 72 consecutive hours on the weekends, Doomie's is the place to go when you're craving something sweet or fried. Their vegan milkshakes are deliciously creamy, with flavors like Mocha, Salted Caramel, and Strawberry Oreo. However, the best thing on their menu is their fried Oreos. Topped with a light drizzling of chocolate sauce, Doomie's combines the sweetness of the chocolate and Oreos with the deliciousness of fried dough in a perfectly satisfying fried Oreo. Aside from these sweet treats, you can also order some vegan fried chicken or a burger to help wash down your meal, if you're craving more of a savory snack!