Back
25 Black-Owned Vegan Beauty Brands to Support Right Now
While signing petitions and donating to organizations is great, giving money directly to the Black community is also important. Why keep filling the pockets of giant companies, when you can support these smaller businesses? Check out this list of fully vegan brands including makeup, hair care, skin care, shower products, and more.
Couple Danielle and Rondel Roach wanted to build a better experience for their daughter who had sensitive skin. That's when BombD Aesthetics was born—their line of vegan skincare products made from butters, oils, and recognizable ingredients, which are designed for providing relief from eczema, dermatitis, acne, and hyperpigmentation.
This nail polish brand was started by Stephanie Warren, who decided to follow her passion for creativity and self-expression, which she often expressed through nail painting. Her line of vegan, 10-free nail lacquer, gel polish, nail powders, and more is aligned with her other passions for veganism, health, and wellness.
This brand was founded by Dr. Mia Chae Reddy, who after living abroad and studying under a fourth generation Moroccan herbalist, was inspired to launch a skincare brand celebrating global and timeless beauty traditions. Named for Queen Dehiya, one of the most powerful warriors in Northern Africa, Dr. Reddy established Dehiya Beauty—a luxurious, all-natural, vegan and organic skincare line made in small batches.
This line was launched by activist, musician, and writer Kayla Phillips. She decided to create a line of handcrafted bath and body products aimed to soothe aches and pains of her chronic illness and life as a touring musician, being sure to keep it aligned with her vegan, ethical mindset, which she picked up at the age of 14.
Trinity Mouzon Wofford co-founded Golde with her partner Issey Kobori with the mission of "bringing good vibes to the wellness industry." The independent brand of health and beauty products specializes in superfood-boosted lattes, face masks, wellness kits, and more.
After founder Desiree Verdejo had gone through acne and hormonal breakouts—despite trying to find solutions in popular, premium skin care products—she was determined to create her own clean solution that was also effective and affordable. Hyper Skin was soon born and Verdejo's first product, Hyper Clear, is the star—a vitamin C serum blended with vitamin E, kojic acid, turmeric, and bearberry that works to brighten, smooth, and treat hyperpigmented skin.
When founder Barbara Jacques and her husband James got the news they were expecting, soon coupled with news she had an ovarian tumor, she wanted to stay positive and learn about caring for her baby and growing tumor hand in hand. Upon learning about common environmental toxins in beauty and personal care products, she sought to make family-friendly and environmentally safe, yet effective alternatives, hence creating Jacq's Organics in the same year her daughter was born.
Sholayide Otugalu's passion for makeup first sparked at about age 13, and as she got older, she worked for established beauty brands and learned about the industry, gearing up in her goal to create a her own brand that was natural and chemical-free, yet still catered to those seeking luxury and glamour. She eventually started her own brand of luxury organic skincare and mineral makeup, which she named Joséphine Cosmetics.
This brand's founder Keli Smith first got the idea for the line while watching the movie "Good Hair" with Chris Rock, where she saw him melt a Coke can with a relaxer, which made her realize that in a similar way, her recurring migraines were likely triggered by the chemicals in the body products she used. She then initially was determined to make alternative products for herself, but ended up going on to launch a whole line of plant-based, multi-purpose products made with minimal ingredients specific to melanin-rich skin, which she named KAIKE (pronounced "cake").
Following up on her career as a makeup artist, Lesley Thornton realized her heart was in product development, and so she decided to couple that along with her steady passion for the cosmetics industry, to initiate a brand of clean and sustainable products. She soon began to develop the brand that would come to be known as KLUR—her own line of vegan serums, oils, and creams.
Lamik Beauty is a line of vegan makeup products made for multicultural women crafted with natural and organic ingredients. Founded by Kim Roxie, who started off in the beauty industry as a mall makeup artist, the brand came to be because Roxie set out to launch a natural, safe beauty brand free of the common unreadable ingredients, made for and by women of color.
When her mother was diagnosed with breast cancer, this brand's founder, Jasmine Rose, was dedicated to learning more about it, and soon discovered that there is a strong link between certain chemicals and its development. Rose then evaluated her beauty and dietary habits, switching to a natural lifestyle, and since she came from a background working as a visual artist, she began experimenting with cosmetic recipes, which led her to develop her own cosmetic brand, which she designed for Black women seeking out natural beauty products.
Started by life-long friends Liha Okunniwa and Abi Oyepitan, LIHA Beauty was born from the duo's desire to craft a luxe, natural, and organic range of skincare products. Taking their African roots and British attitudes into account, the products are a blend of the rich botanical life of West Africa with traditional English aromatherapy and folk remedies.
The Lip Bar launched upon founder Melissa Butler's frustration with the beauty industry's lack of diversity and inclusion, along with the fact that most beauty products on the market are made with excessive unnecessary chemicals. Working in finance on Wall Street at the time, she began her cosmetics start-up in her own kitchen, which eventually led to getting on Shark Tank, and despite rejection, she pivoted and was able to reach a deal with Target, and now her products are sold at over 450 of the company's locations worldwide, as well as online.
Frustrated with the inability to find a cosmetics brand that catered to her complexion and desire for clean beauty products, LIPLOVE Founder Latrice Love was working in the corporate world when she elected to create her own brand. Since launch, the collection of sustainable, vegan, and non-toxic beauty products has continued to expand in many ways, with the release of additional products to accommodate a variety of ages, lifestyles, and more.
This family-owned range of handmade soaps, lotions, and sugar scrubs was established by Diana Marcelin. She decided to formulate her own natural soaps and skin products upon realizing that the products she was using were not actually skin-friendly and were the reason for the skin issues she was experiencing.
Founded by Amanda E. Johnson and KJ Miller, Mented Cosmetics is a line of vegan, paraben-free, and nontoxic products that feature lipsticks, lip glosses, and lip liners, as well as other beauty products, crafted for Brown girls. Believing every woman should be able to find herself in the beauty world, no matter her skin tone, the founding duo chose to devise the brand after expressing their mutual disappointment in their ability to find the perfect nude lipstick.
Mischo Beauty was started because founder Kitiya Mischo King—who has a background in beauty and a chemistry degree—envisioned a luxe, nontoxic nail lacquer as an alternative to the highly-toxic and chemically-filled ones all over the market. That's when her brand was born—a line of nail polishes that are 10-free, vegan-friendly, and void of artificial fragrances.
Just as founder Jane Ormon noticed that her skin issues as a Black woman weren't being catered to among the market of skincare products, she chose to take it upon herself and create her own line that not only catered to melanin-based skin tones, but to skin tones of all colors and all skin types. To ensure her products were environmentally-friendly, Ormon decided that Nolaskinsentials would be made in small batches to guarantee only quality, vegan ingredients would go into creating her wellness and skincare line.
When OBIA's founder Obia Ewah got sick during her third year of medical school, she made the switch to a healthier lifestyle—namely becoming more conscious of the foods and products she put into her body—but she faced trouble finding hair products that were able to tame her thick hair. So, as a chemist, she started to tinker with her own formulations for fun, and upon success, she linked up with her younger brother Omini Ewah to launch her concoctions into an official hair care company that would become OBIA Naturals.
With day-to-day razor burn being a daily problem, one particular razor burn finally pushed OUI the People founder Karen Young over the edge, motivating her to build this body care brand specializing in shaving products. She sought out to manufacture a razor that could deliver a close shave without irritation and without plastic waste, so she ventured into crafting a high-quality, reusable, metal, single-blade safety razor that would eventually become the vegan and cruelty-free brand's signature product—The Single.
Founder Symantha Wechie-Onyechi was always obsessed with getting her nails done growing up, but she was disappointed that she wasn't ever able to find a perfect shade of nude for her skin tone, so she set out to make her own. While she originally wanted to keep her line simple, with just a few nude shades, she fell in love with creating unique bold colors that would work for every skin tone, making OOO Polish an inclusive brand of colors.
Plant Apothecary is a line of organic skincare and bath products started by Holly McWhorter, along with her husband Bjarke Ballisager. With backgrounds in architecture, journalism, and music, they started the brand after noticing the opportunity to promote healthy ingredients, environmental friendliness, and social responsibility in body care products via straightforward and minimal design, as there weren't many similar alternatives on the market.
With over a decade of experience in the nail industry, working as a professional licensed cosmetologist, Jasmine Gunther decided to follow her dreams and create her own line of nail polish. She launched Wei Lacquer—a 10-free all vegan and non-toxic brand.
Offering a skincare line of moisturizers, masks, and mists, this brand is committed to sustainability and inclusivity. Enjoy eco-conscious beauty products loaded with vitamins and nutrients to nourish your skin. From their Perfect 10 Oil Cleanser to their Detoxifying Charcoal Mask to their Detox Nightwear Cream, they've got what you need for your next perfect pampering sesh.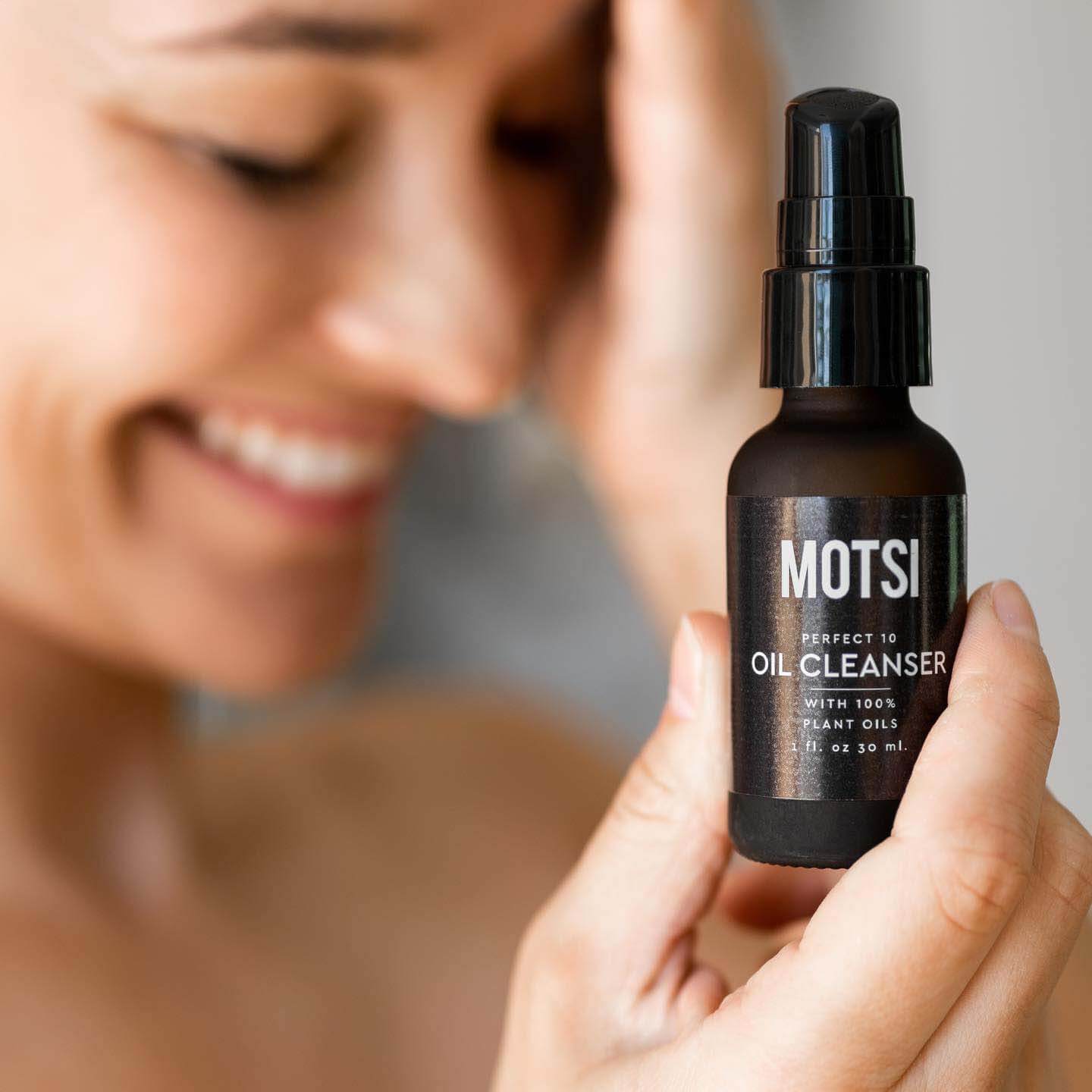 Symphony Barnes
@symphonybarnes
Symphony is a Southern California native who is passionate about health and wellness. She enjoys writing, living in California, and sharing her vegan lifestyle. Symphony graduated from Pepperdine University with a Bachelor of Arts in Journalism.
Articles by Symphony
More from VegOut
Subscribe Now
Get the premier vegan food and lifestyle magazine delivered to your door (or inbox!)
Order the magazine!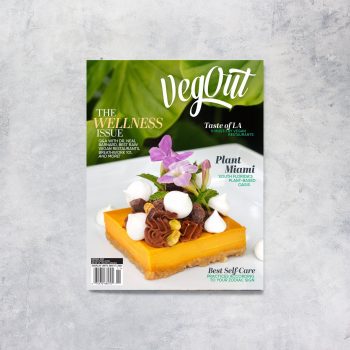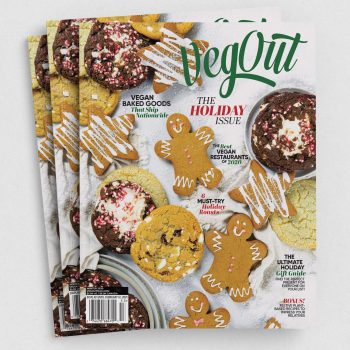 Navigation