Wondering where to get your favorite cruelty-free bites in Williamsburg? Brooklyn's mecca of vegan eats still has some restaurants open for business so you can stay well-fed while practicing social distancing. Here are 8 vegan restaurants open for takeout and delivery.
by CHLOE.
Known for their delicious burgers, sandwiches, salads, and sweet treats, this vegan chain is open and ready to serve you. The newest addition to the menu is the Chicky Chicky Parm Parm, made with crispy tempeh chicken, marinara and mozzarella cheese on a potato bun. The Guac Burger is a fan favorite and pairs excellently with a side of fries and Chloe's signature beet ketchup. While Sweets by CHLOE in Manhattan is temporarily closed, you can still order cupcakes, donuts, and cookies from their Williamsburg location. Even your four-legged friends can join in on the fun with Chloe's Bag O' Bones, made in house with organic peanut butter. For every bag of dog bones sold, by CHLOE. donates $1 to the humane society.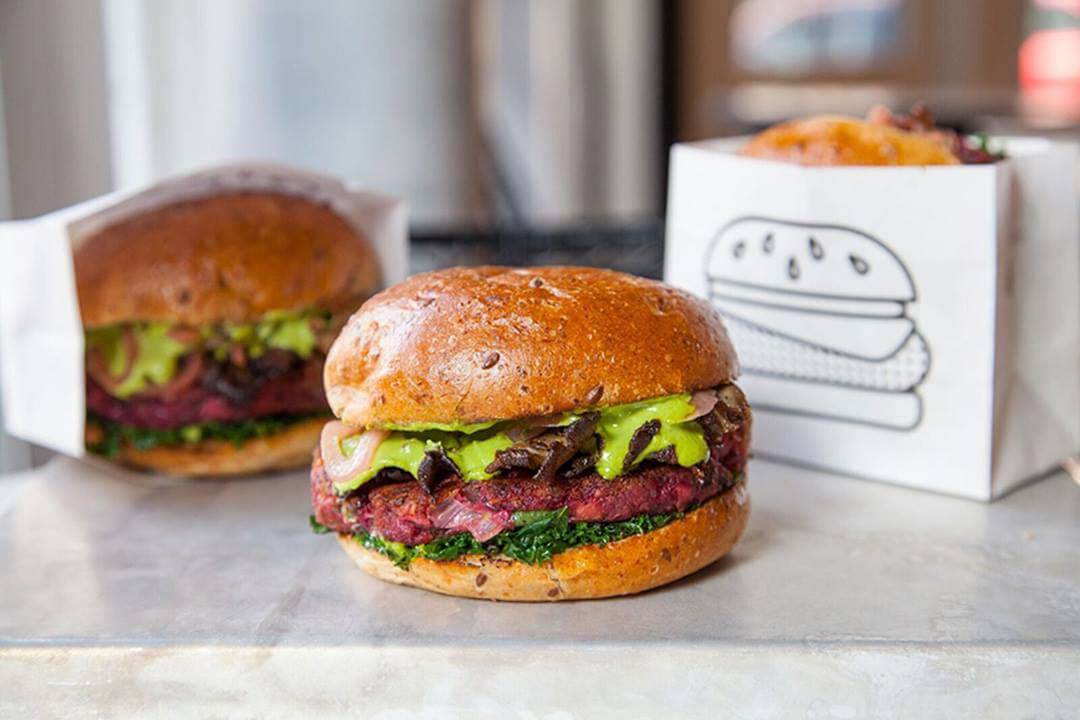 Dun-Well Doughnuts
Doughnut lovers rejoice! Williamsburg's exclusively vegan doughnut shop is open for takeout and delivery via Postmates and DoorDash. Dun-Well features a variety of artisanal doughnuts that are handcrafted daily with organic ingredients. Choose from flavors like Boston Cream, Chocolate Raspberry Pie, and Vanilla Sprinkle. The doughnut selection is rotated daily, so call the store directly to inquire about flavor options. You can also add hot coffee, tea, an Iced Lavender Latte, Iced Horchata Latte, and a pint of ice cream to any order. Doughnut sundae, anyone?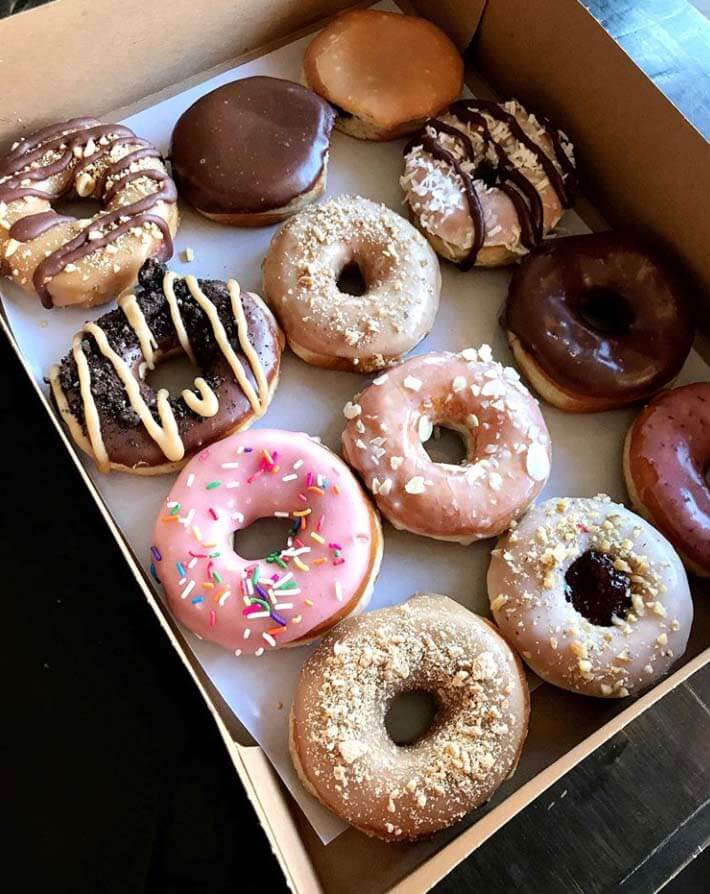 Screamer's Pizzeria
Pizzeria NYC's first all-vegan pizzeria, Screamer's serves authentic NY-style pizza in combinations ranging from Pepperoni to Buffalo Cauliflower. The Grandma Pie is made using garlic oil, Numu mozzarella, Violife mozzarella, sauce stripes, and basil to create a vegan spin on traditional Sicilian style pizza. We like to sink our teeth into the Vampire pie topped with garlic oil, pepperoni, almond ricotta, caramelized onions, and red onions. If you prefer your pizza folded up, calzones are also available and can be filled with any of Screamer's pizza toppings. The Greenpoint location is currently taking orders for delivery only between 4pm-9pm. If you'd like to add a little extra to your order to thank those responsible for making these delicious pies, the staff has added a tip section to the Seamless and Grubhub (Use promo code AFF7 for $7 off your purchase of $12 or more!) menus.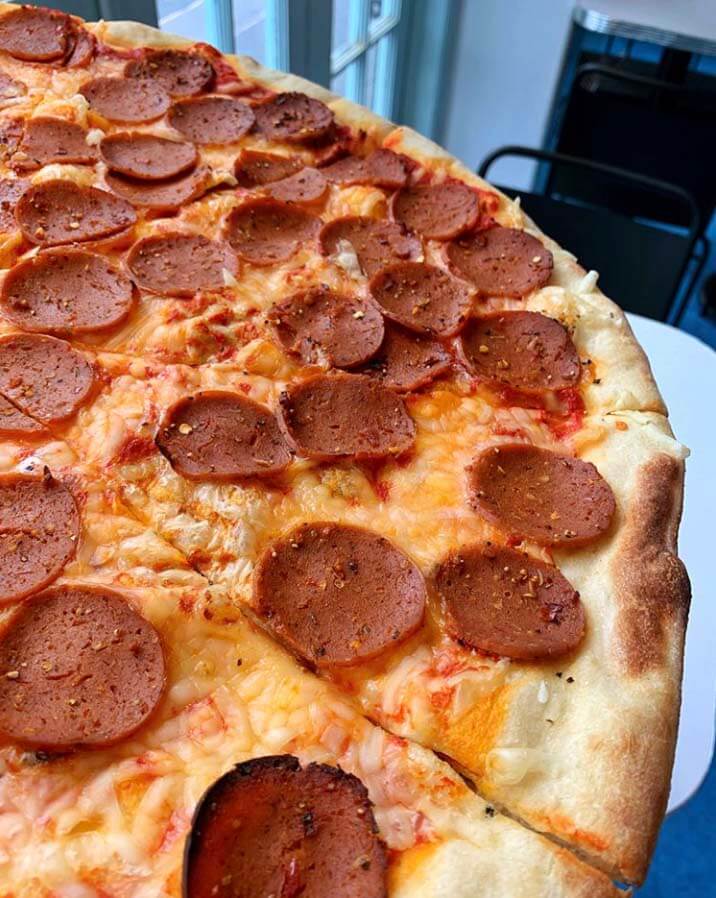 Wild Ginger
Wild Ginger has been serving pan-Asian dishes in NYC since 2005, and relocated to their Williamsburg location in 2014. The vegan eatery offers everything you'd expect to find at a traditional Chinese restaurant and more. Starters include dishes like Scallion Pancakes, Steamed Spinach Shumai, and Crispy Watercress & Soy Cheese Wontons. For a vegan twist on a Chinese Classic, order the General Tso's Soy Protein with a side of steamed veggies. If you're like us you know a good meal is never complete without dessert, so be sure to check out the sweets menu which includes a variety of soy-based ice creams, cheesecakes, and a chocolaty peanut butter concoction known as the Peanut Butter Bomb. The restaurant is currently offering a 10% off plus 5% cashback deal for first-time delivery or pickup orders, which can be placed on their website.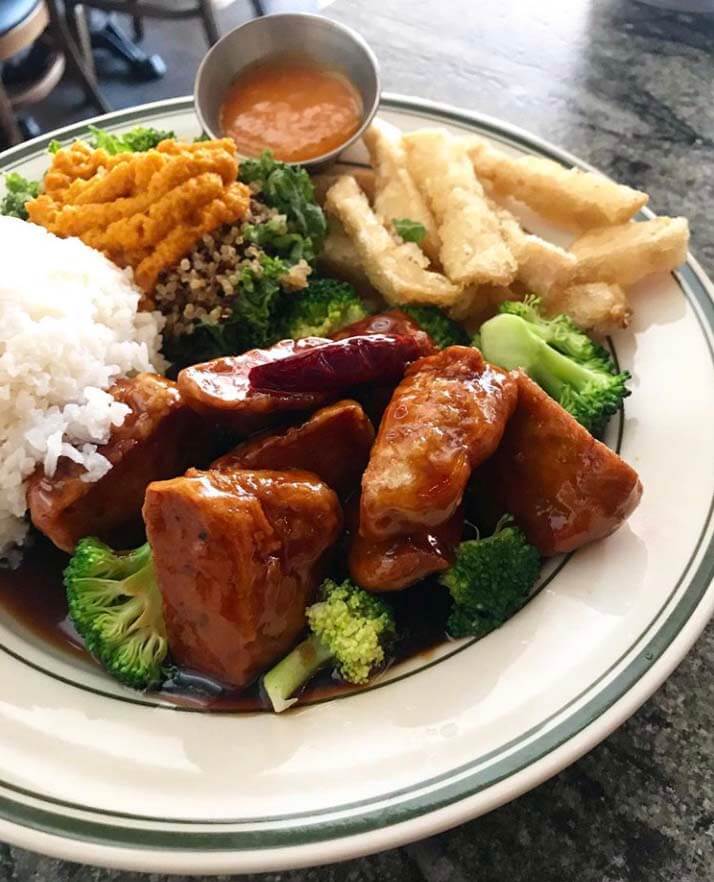 Pine Box Rock Shop
Located on the border of Williamsburg and Bushwick, this couple-owned vegan bar has your Sunday brunch covered as they are currently offering their award-winning Bloody Marys, Spicy Margaritas, regular margs, and the 1-2 Rum Punch in a 32 oz growler for delivery. Note that each time you return a growler, you'll receive $5 off your order. Pine Box Rock Shop is also delivering wine, beer, and mini vegan empanadas made locally by BK Empanada. All orders can be placed on Venmo, but they will be up on Grubhub (Use promo code AFF7 for $7 off your purchase of $12 or more!) soon so keep checking their Instagram for updates.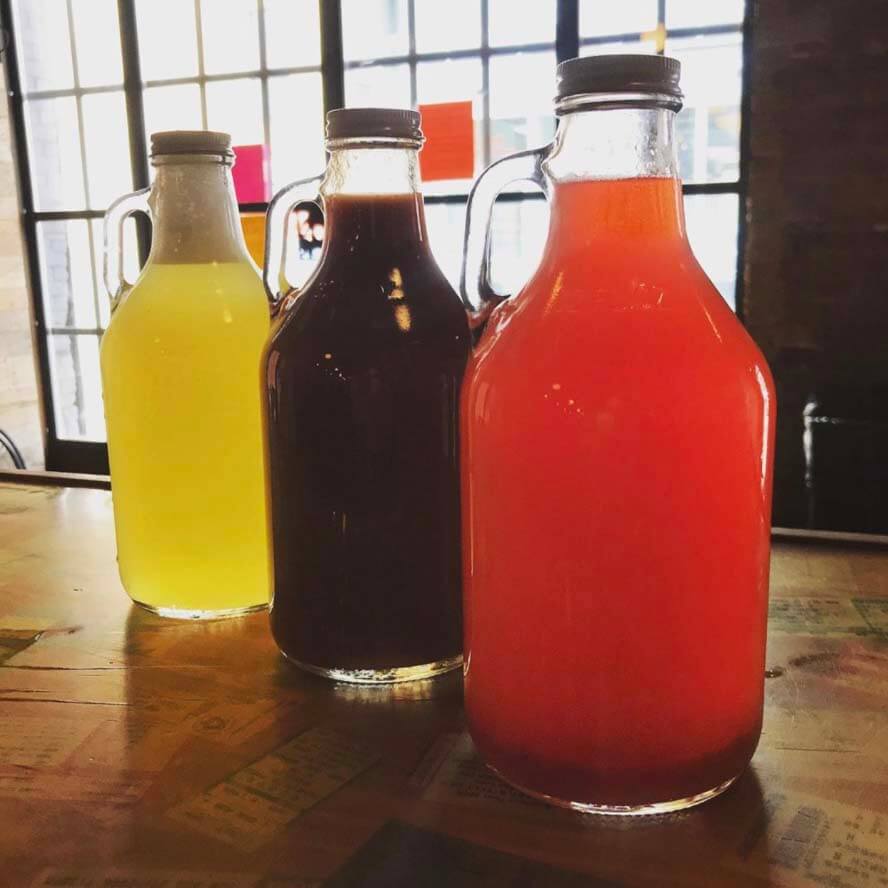 Champs Diner
Champs Diner is making sure all of your vegan comfort food needs are met as they are open for takeout and delivery. Order gooey mozzarella sticks, cheese curds, sandwiches, burgers, pancakes, milkshakes, and more (we're not judging)! If you're in a breakfast-for-dinner kind of mood, try the Kickin' Cowgirl, a tofu scramble with tater tots, chili, cheese, and avocado served with a side of Texas toast. Champs Diner will be closed until Thursday 4/9, and will then be operating on a Thursday-Sunday schedule for the rest of the month. Pickup and delivery hours may vary so check their Instagram and website for updates. There is also a tip feature on the delivery platforms listed as an "item" if you'd like to tip the staff but can't make it in. In addition to this feature, Champ's employees have set up a COVID-19 Staff Relief Fund through Go Fund Me, which you can find by visiting champsdiner.com.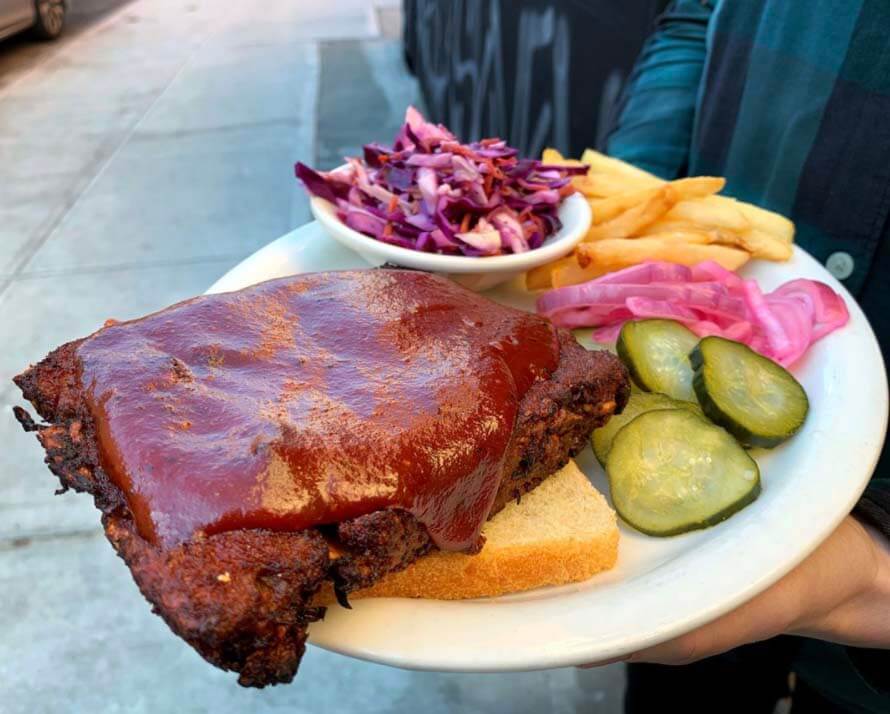 Jungle Cafe
Jungle Cafe places emphasis on using fresh ingredients to provide nutritious vegan eats at a reasonable cost to the Greenpoint area of Williamsburg. The menu features items like freshly baked Jalapeno Corn Muffins, Lentil Soup, and a variety of burgers, sandwiches, bowls, and tacos. Their specialty item is the Polish Mushroom Potato Tacos—think pierogi in a tortilla—made with mashed potatoes, vegan cheddar cheese, mushrooms, vegan sour cream, avocado, pico de gallo, cilantro, and sprouts. If you're looking for lighter fare, go for the Macro Bowl, which is filled with quinoa, red beans, butternut squash, kale salad, sauerkraut salad, avocado, and a side of Jungle Cafe's signature dressing. Orders can be placed on the restaurant website for both delivery and pickup.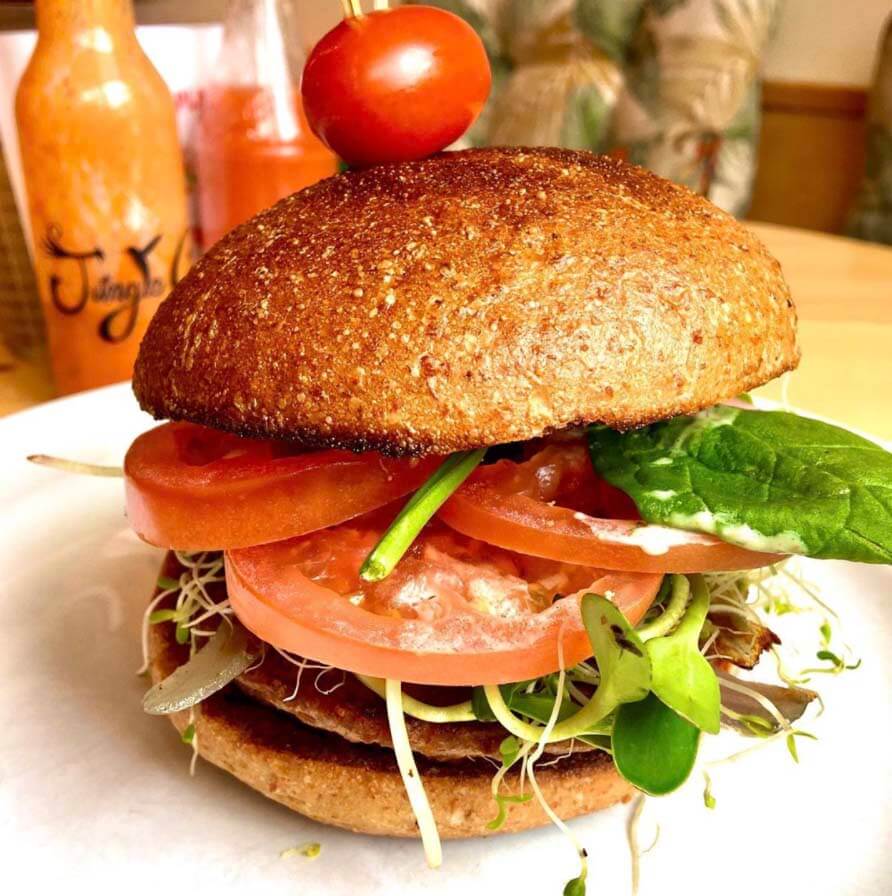 Bar Velo
Inspired by the 1930s and cycling culture, Bar Velo is keeping the upbeat spirit of the jazz era alive as they are bringing their craft cocktails, wines, beers, and delicious vegan bites to your door. Food items include small plates like dips, vegan cheeses, breads, and seasonal soups. If you're ordering for dinner, you can also choose from large plate items such as Bar Velo's tasty penne with slow roasted tomato sauce, basil oil, olives and breadcrumbs (can substitute gluten-free pasta). Pizza is also on the menu, and Bar Velo offers three options. If you adore all things truffle, go for the pizza made with truffle mushroom, tempeh bacon and sour cream. Bar Velo is taking orders for delivery and pickup through Uber Eats. To go cocktails and pizza by the slice are also available at the restaurant's pickup window. Cheers!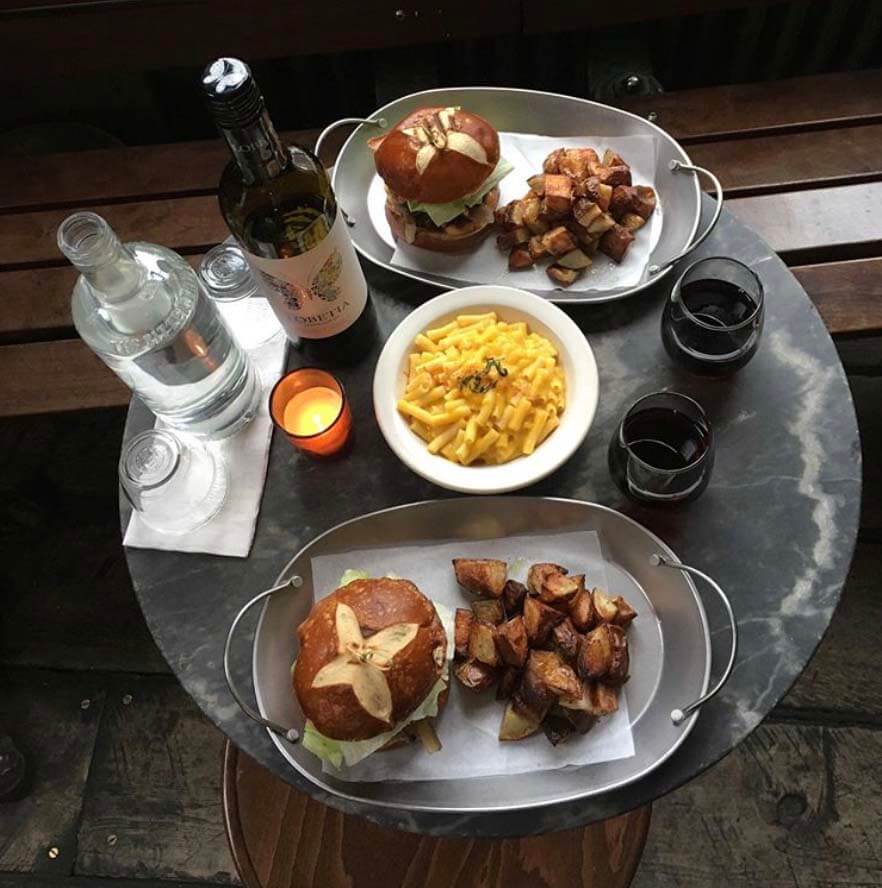 RELATED: Best Vegan Pizza Delivery in NYC
---
Want even more NYC vegan food and lifestyle content? Subscribe to VegOut NYC Magazine!