Ring in the New Year with a delicious meal at one of these restaurants!
If you're looking for where to celebrate New Year's in Los Angeles, you've come to the right place! We've scouted out a handful of vegan and vegan-friendly restaurants that will be open to help you celebrate the end of a wild year. From fancy prix fixe menus to burgers and fries, this list covers it all.
Beverly Grove
We couldn't think of a better place to celebrate New Year's in Los Angeles than at Nic's On Beverly! The plant-based paradise is offering a prix fixe New Year's Eve menu that begins with your appetizer choice of a winter salad or stuffed sweet mini peppers. After that, dig into an entree of orecchiette cacio e pepe with OmniPork or portobello steak and potatoes. Whether you're team fruity or team chocolaty, the lemon or chocolate tart dessert selections cover both palates! The limited-edition menu is $75 per person with the option to add on a truffle pizza for $100. Reservations can be made online for two different seating options—the first from 5-7:30pm, the second from 8:30pm-12am with a complimentary glass of prosecco to toast at midnight.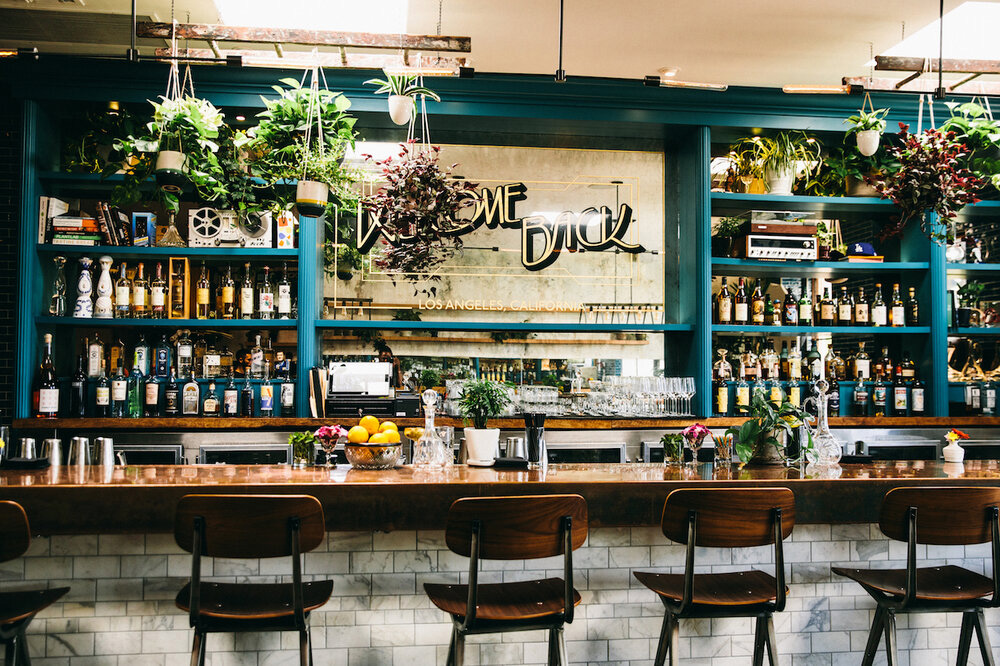 Beverly Grove
This limited-edition New Year's Eve menu is the perfect excuse to dine at Crossroads Kitchen! Before the meal starts, you'll get an artisanal vegan cheese plate to nosh on. The first official course is a leek and parsnip soup, followed by a radish avocado or romaine Caesar salad. Next up is a mushroom tart or plate of stuffed zucchini blossoms for the appetizer and squash ravioli or lion's mane mushroom scarpariello for the main course. Last but certainly not least, dig into a caramelized apple pecan snow globe with pear sorbet or chocolate brownie ice cream sundae for dessert. Reservations can be made online for 5:30-10:30pm with a New Year's celebration at midnight.
West Hollywood & Redondo Beach
Do you have dreams of celebrating Festa di San Silvestro (or New Year's Eve) in Italy? Pura Vita will give you a taste of what that's like with their special 5-course menu! The feast begins with a cashew mozzarella appetizer and a traditional Umbrian lentil soup that symbolizes wealth and prosperity. After that, you have the choice between a butter lettuce salad or seared scallops dish for the antipasto (first course), a gluten-free gnocchi dish or Neapolitan lasagna for the entree, and chocolate peppermint pie or vanilla bean confetti cake for dessert. This special holiday menu is $80 per person and will be available on New Year's Eve until 10pm. Reservations can be made online in advance.
Venice
This high-end vegan restaurant is launching customers into the new year with a delectable seven-course prix fixe menu. The feast includes three small appetizers, two entrees, a dessert, and a champagne toast finale. With ingredients like winter squash, pistachios, kumquat, and persimmons, the sophisticated dishes are sure to have you feeling satisfied leaving 2021. Plant Food + Wine is open from 12-9pm on New Year's Eve. Make a reservation now to secure your spot.
West Hollywood & Pasadena
If you want to go out and enjoy a nice New Year's Eve dinner but also have a budget to stick to, there's an option for that! Real Food Daily's West Hollywood location will be open until 10pm and their Pasadena location will be open until 9pm with their full menu. All items can be ordered a la carte so you can pick and choose what your feast entails. May we suggest the penne Alfredo and Buffalo cauliflower pizza? Real Food Daily is also hosting a special New Year's Day Brunch from 10am-9pm. No matter how hard you partied (or didn't) the night before, this is a great way to kick off 2022—so make your reservations now!
Multiple Locations
If you're not interested in all of these fancy New Year's Eve events or dinners, Monty's Good Burger has your back. All locations will be open until 7pm on New Year's Eve with a full menu of vegan burgers, fried chicken sandwiches, tots, fries, milkshakes—and the not-so-secret menu items, of course! Our suggestion to you? Celebrate an East Coast New Year's Eve by grabbing a bite to eat at Monty's Good Burger and heading home before things get wild.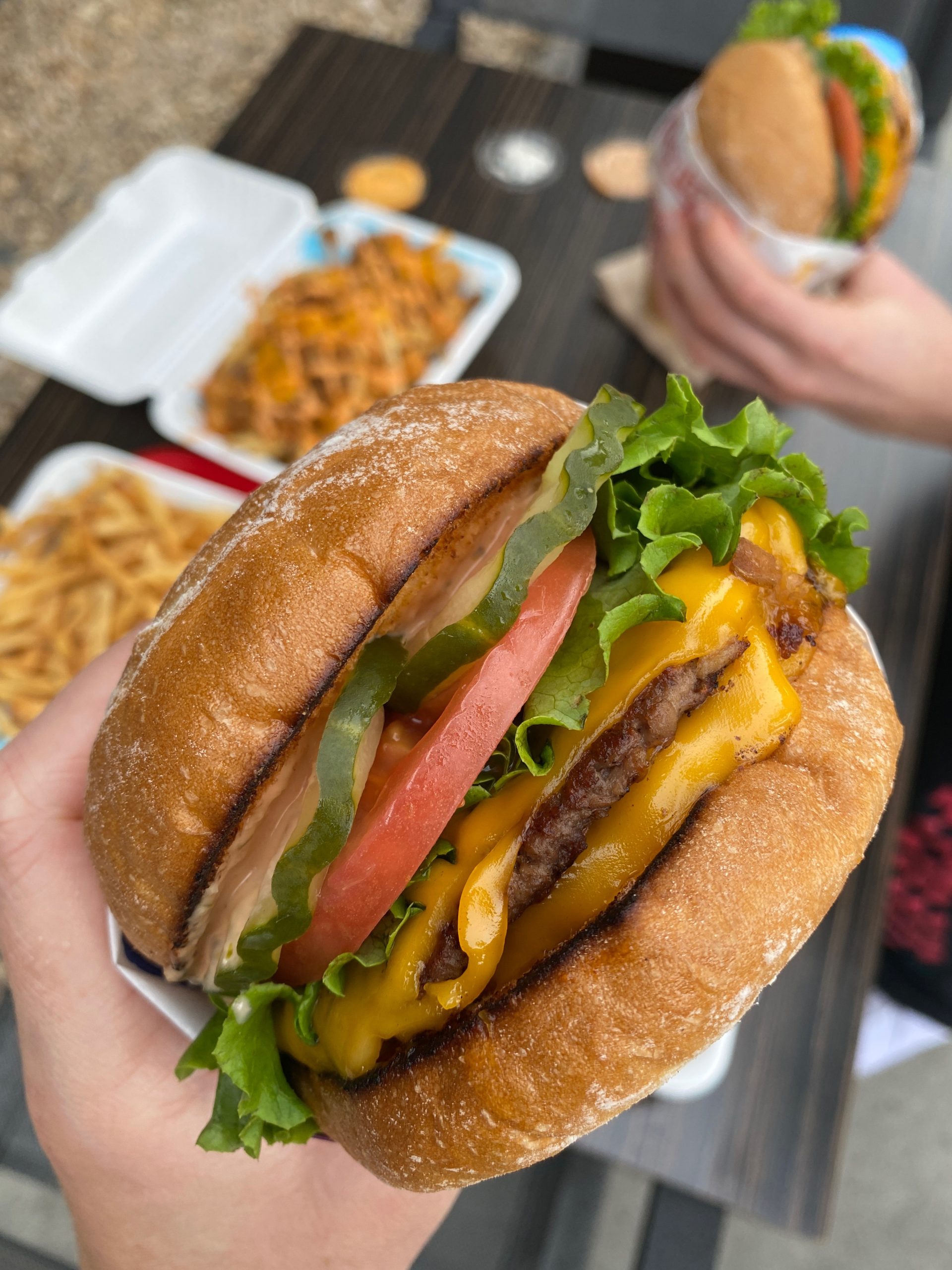 West Hollywood & Newport Beach
Vegan-Friendly
Gracias Madre is one of our go-to destinations for enjoying vegan food and cocktails, experiencing the Los Angeles nightlife, and grabbing some pics for Insta, of course. Both locations will be open late for New Year's Eve with their full menu and a champagne toast at midnight. Tables are filling up, so make sure to reserve your table ASAP!
Venice
Vegan-Friendly
This modern Mexican restaurant is hosting a special New Year's Eve event with a live DJ spinning all night and a complimentary glass of bubbly to toast to 2022! Nueva's full menu will be available all evening long with vegan options that include hearts of palm ceviche, mushroom tacos, kabocha tacos, falafel tacos, elote, crispy cauliflower, black beans, and chocolate coconut pastelitos. Make sure to let your server know that you are vegan as a few of the dishes must be modified. Reservations can be made online in advance.