Looking for the perfect Valentine's day gift? We've got you covered with these veg-friendly items!
Whether you're shopping for a friend, family member, significant other, or yourself this Valentine's Day, we're here to make the process a little easier with our vegan gift guide. From mouthwatering cookies to luxurious beauty products, there's bound to be something that will melt your or your loved one's heart. Here are 15 vegan-friendly brands to shop from this Valentine's Day!
Verón
Verón is an LA-based company that specializes in vegan macarons and offers Valentine's Bundles that will make your loved one swoon. Choose from the Like Bundle (includes a 5-pack of conversation heart macarons and a 5-pack of rose chocolate heart macarons), the Love Bundle (includes a 5-pack of conversation heart macarons, a 5-pack of rose chocolate heart macarons, and a 12-pack of assorted macarons), and the Forever Bundle (includes a 5-pack of conversation heart macarons, a 5-pack of rose chocolate heart macarons, a 12-pack of assorted macarons, and a 6-pack of chocolate macarons).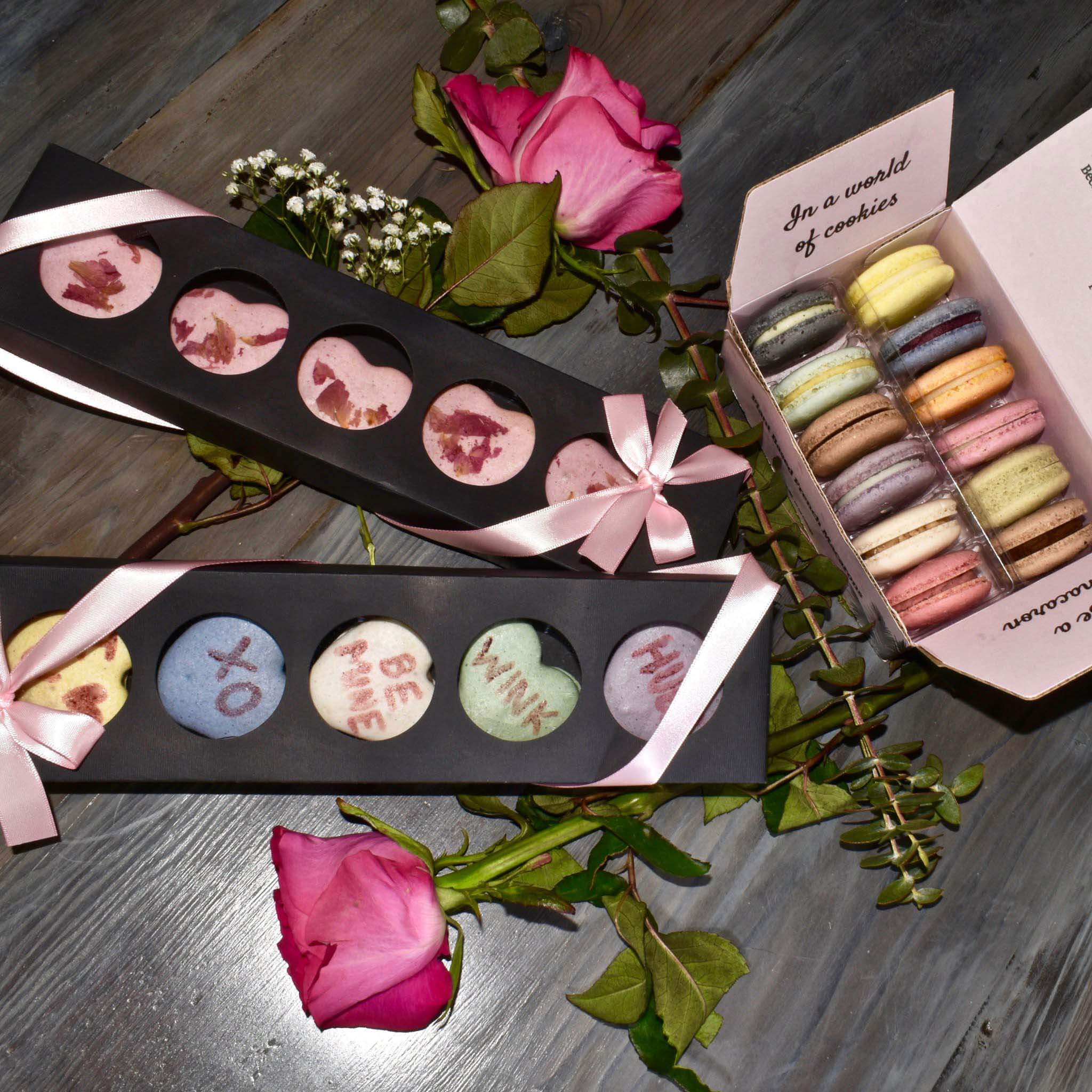 Sjaak's
Whether your special someone is traditional, health-conscious, or fun-loving, this women-owned company has something for everyone. Melt your minimalist lover's heart with Cupid's Kisses (4 white chocolates filled with handmade almond butter and dusted with coconut flakes) or For the Love of Chocolate (12 truffles—dark, white, and coconut milk chocolates). Your whimsical Valentine will swoon over the Bear Hug box, which comes with two halves of a dark chocolate heart filled with organic and vegan gummy bears. Sjaak's also offers Paleo Chocolate Truffles, made with paleo-friendly coconut milk chocolate so your sweetie can indulge while sticking to their nutrition goals.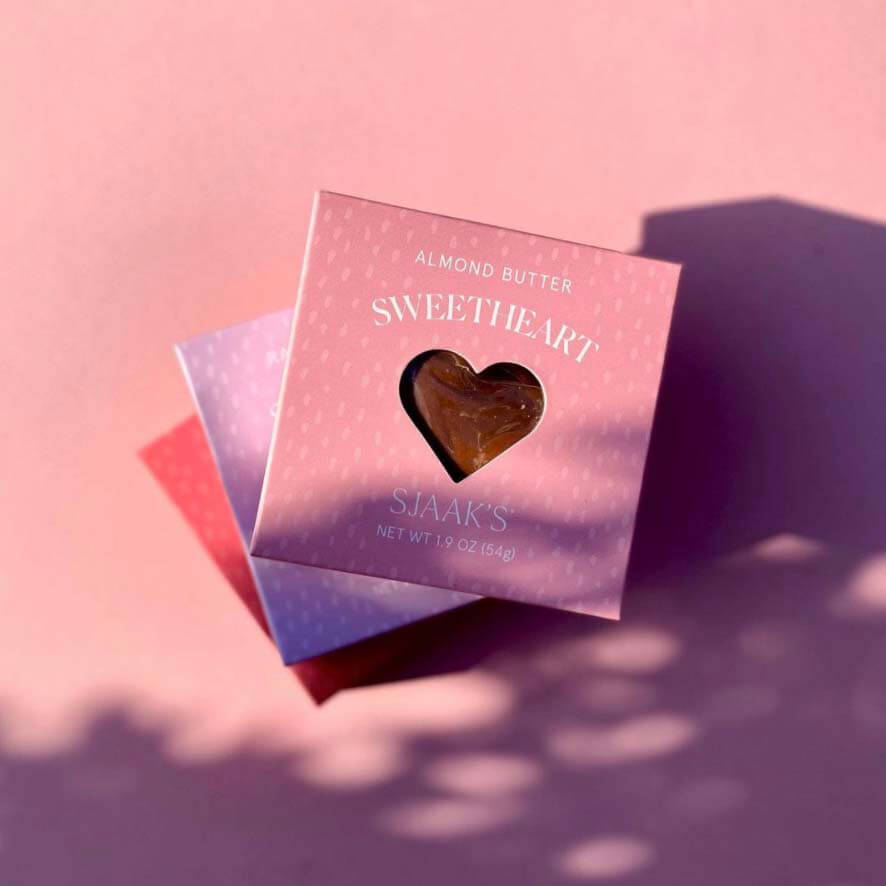 Cocacao
Heat things up this Valentine's Day with Cocacao's Cayenne and Cinnamon Bites! Each of the twelve chocolaty morsels pack a rich, smooth, decadent taste with just the right amount of heat. If your boo prefers more mild flavors, opt for Cocacao's Hazelnut with Sea Salt, Blueberry, Mint, or Original flavor bites.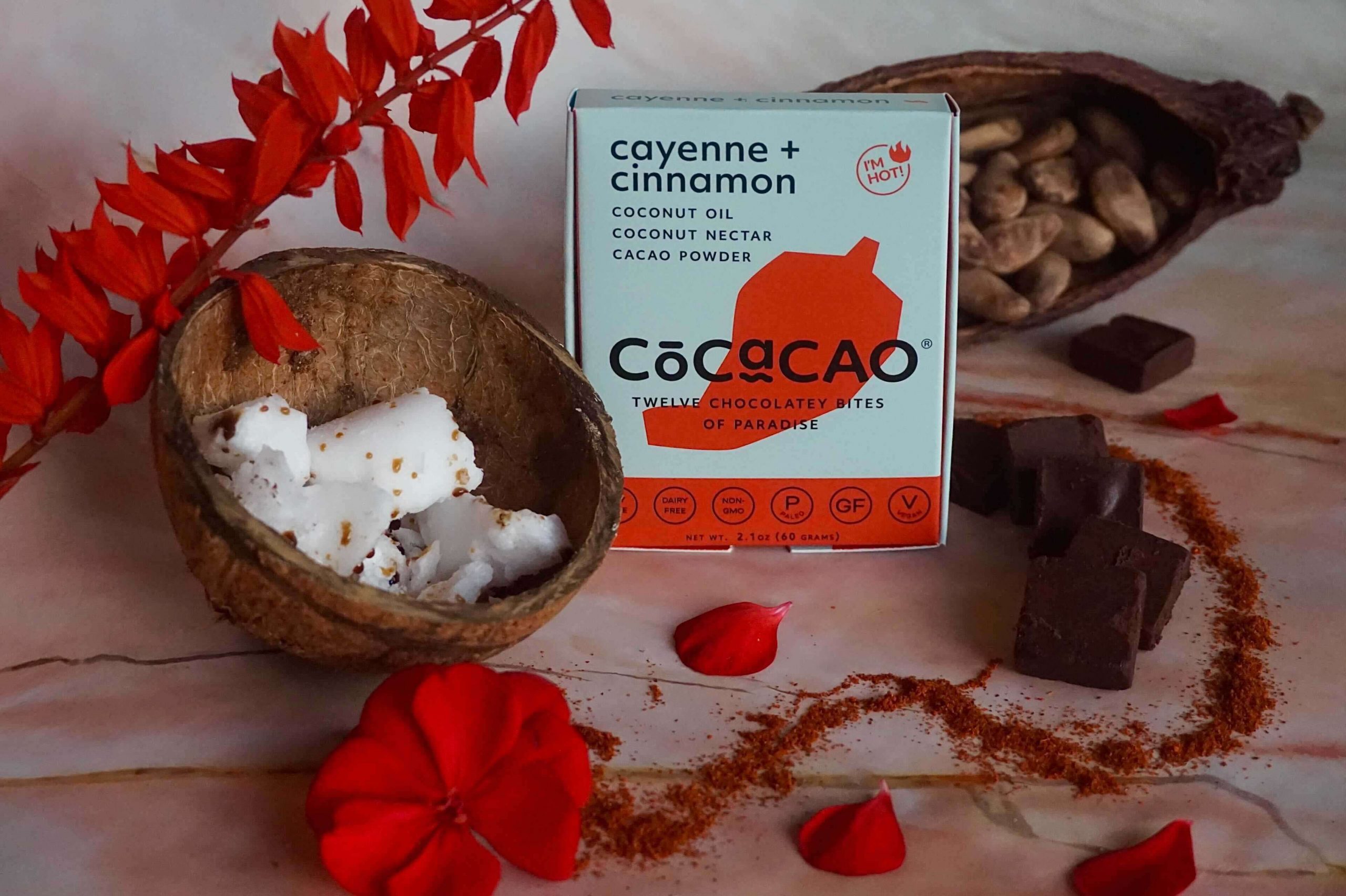 Major's Project Pop
Movie dates aren't complete without the proper snacks, so make sure your Valentine is covered by gifting them Major's Project Pop OG Organic Kettle Corn! The popcorn comes in a 2-pack for $31.99 (shipping included) and is made with organic, non-GMO popcorn, organic vegan cane sugar, organic virgin coconut oil, and Himalayan pink salt. Netflix and chill, anyone?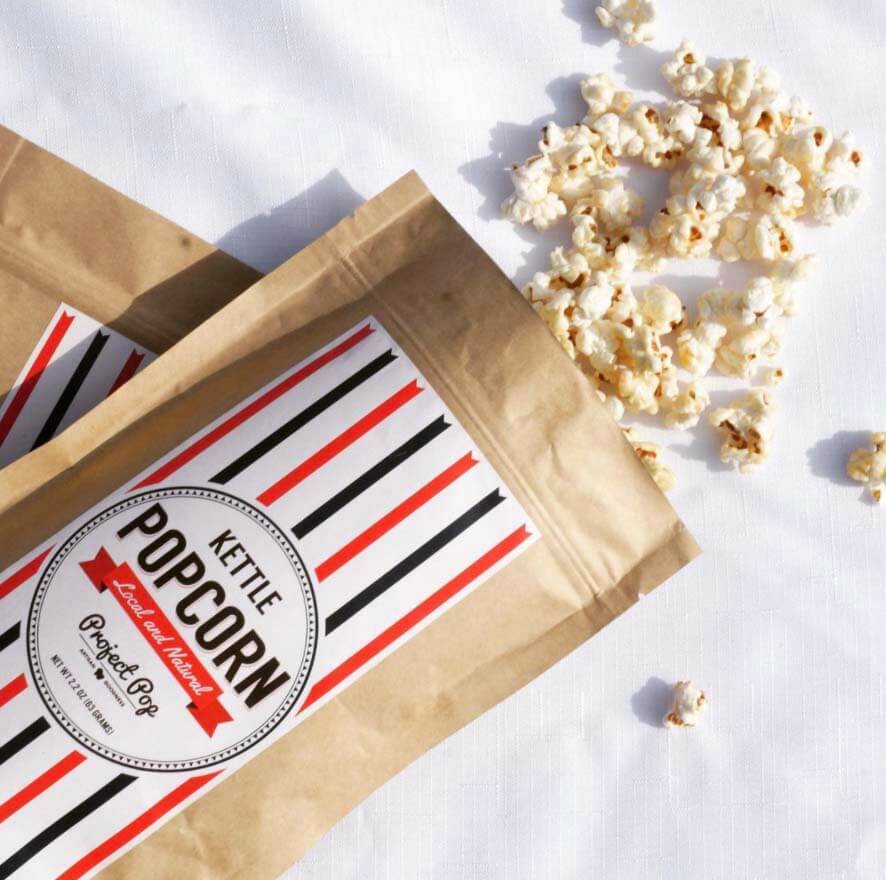 Oat Butter Brand
If your Valentine is a pecan pie aficionado, we've got the perfect gift idea for you! Oat Butter Brand's Sweeter Than Pecan Pie Oat Butter Cookies are crafted using brown-sugared pecan oat butter that's sandwiched between two tender chocolate shortbread cookies, and drizzled with vegan chocolate and sprinkles to end on a sweet note!
Use promo code VEGOUT for 10% off your purchase!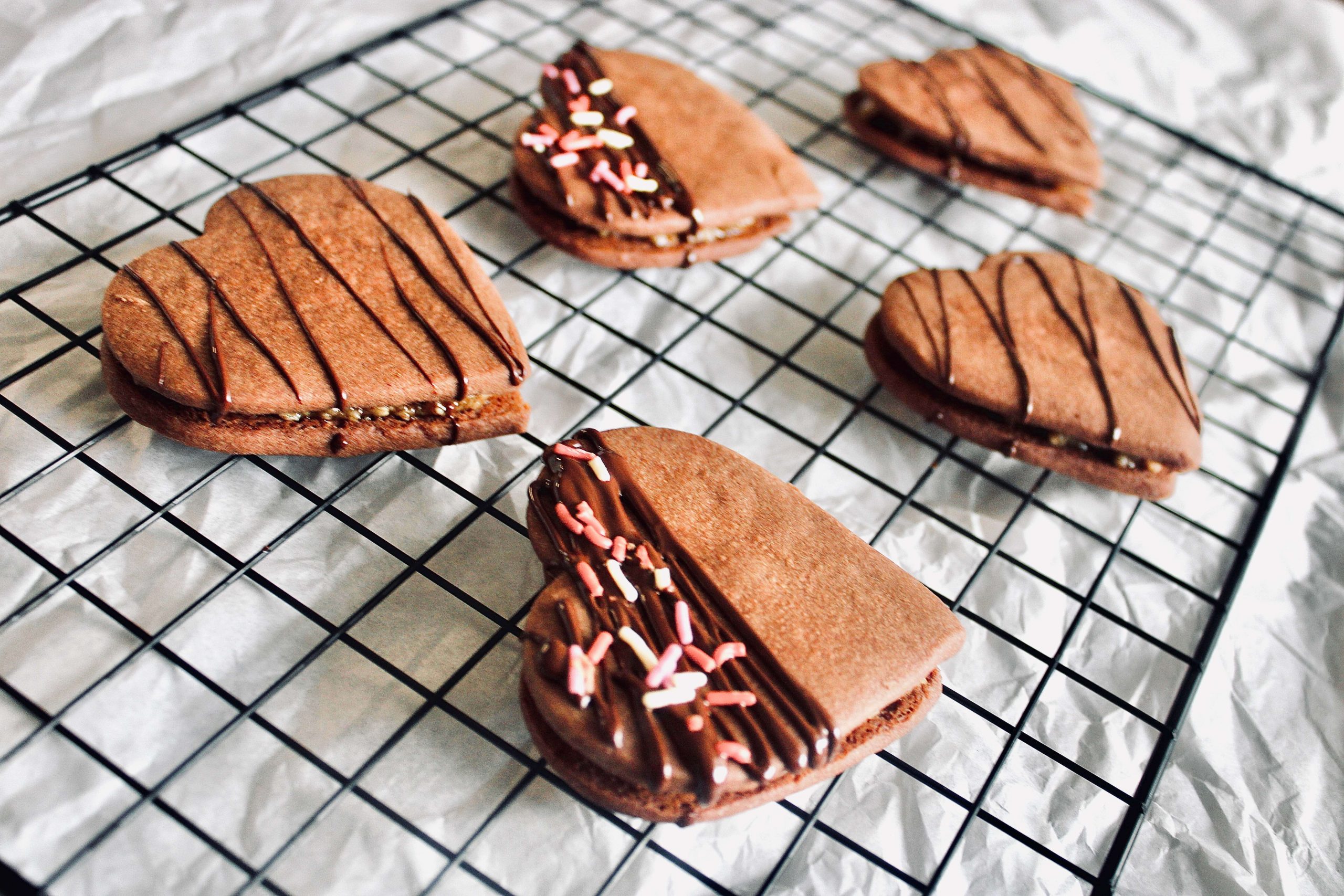 Southern Roots Vegan Bakery
Does your special someone love baked sweets? Switch things up from the usual chocolates with the Sugar Cookie Remix dozen from Southern Roots Vegan Bakery. Filled with sprinkles, vegan butter, sugar, and love, these cookies will have your Valentine reminiscing on the birthday cakes and sweet treats they enjoyed as a kid.
Use promo code VEGOUT for 10% off your purchase!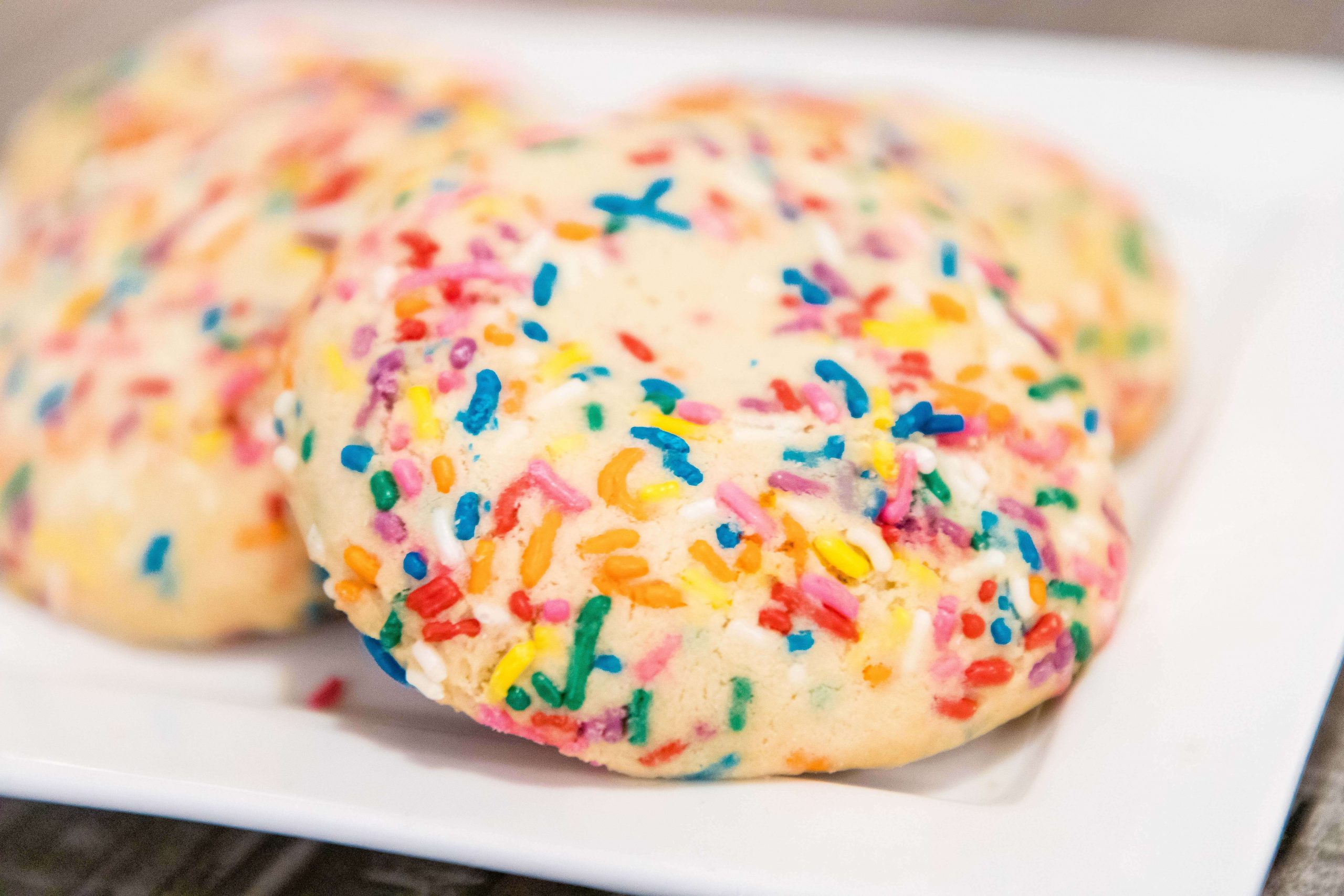 Coracao Confections
Treat yourself or a loved one to this decadent Valentine's Day truffle collection, designed to inspire love. The box includes truffles dipped in smooth (81%) dark chocolate, and features seasonal delights such as Almond Butter Maca Cupid & Love Potion Caramel Heart. The chocolates are vegan, made with certified organic ingredients, sweetened with coconut sugar, and crafted with fairly sourced cacao from South America.
Use promo code VEGOUTMAG10OFF for 10% off your purchase!
Sweet Loren's
Does your Valentine prefer to eat cookie dough straight from the tub? With Sweet Loren's Edible Cookie Dough, they can do so safely, no baking required! These 100% vegan cookie doughs are made using naturally heat-treated flour and come in chocolate chunk and birthday cake varieties. They can also be used to make cookie dough ice cream, truffles, and more!
Use promo code VEGOUT for 15% off your purchase at sweetlorens.com or click here to find it in a store near you!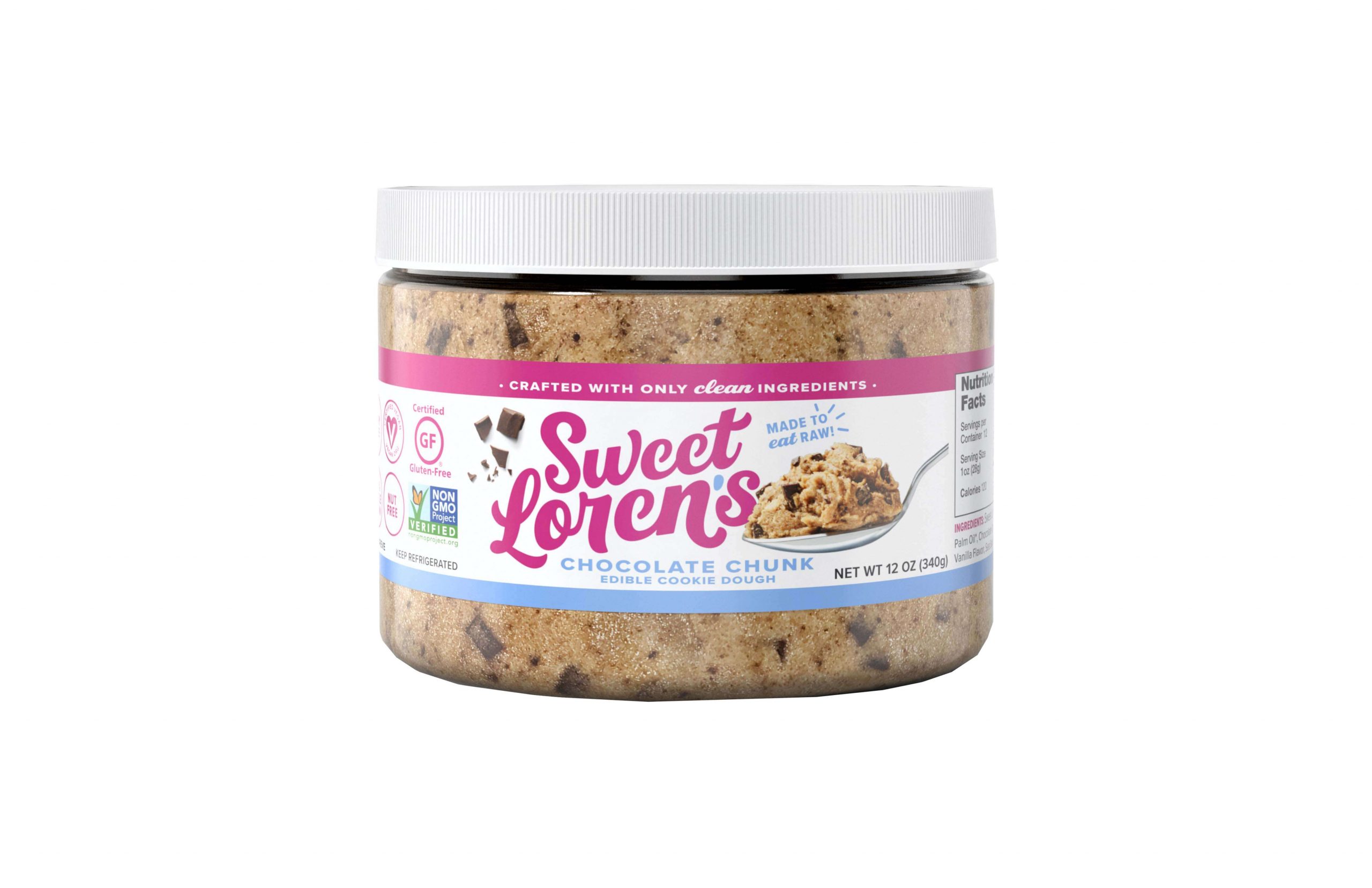 Fat Badger Bakery
Let a special someone know you're thinking of them by sending a box of Fat Badger Bakery's Valentine's Assortment (priced at $25), which comes with three chocolate walnut brownies (completely fudgy, not dry or cake-like), three new chocolate espresso cookies, three vanilla heart sandwich cookies with raspberry jam, and three chocolate chip cookies. There is also an option to include a handwritten note and a red ribbon to the box—how sweet!
Use promo code VEGOUT for 15% off your purchase!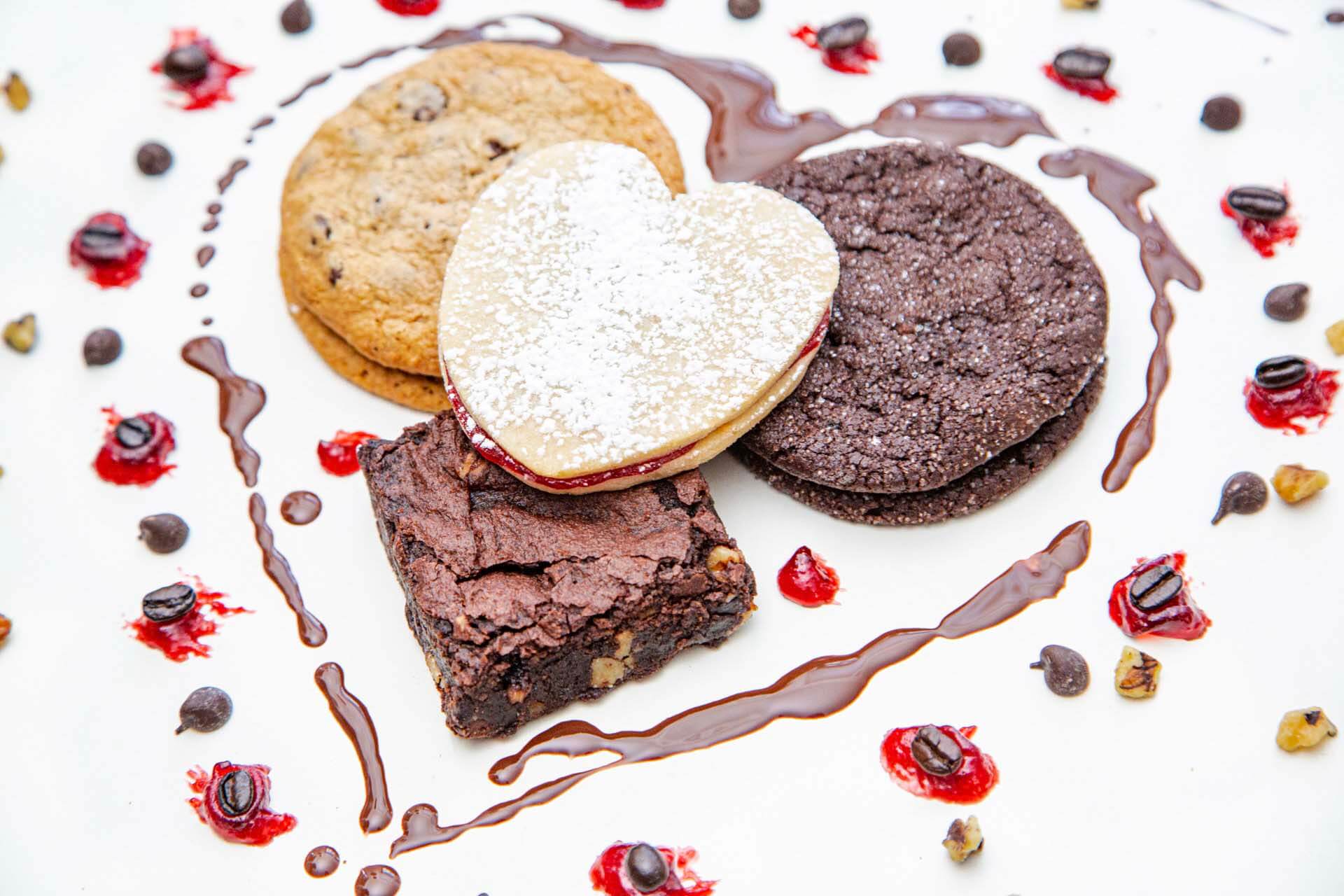 Maya's Cookies
Spoil your loved one with the luxurious and indulgent Valentine's Day gift tin from Maya's Cookies. The collection includes six Double Chocolate Cherry Truffle cookies made with rich chocolate cookie dough, white and dark chocolate chunks, and cherries soaked in Grand Marnier. One bite of these tasty vegan cookies, and they'll be sure to feel the love!
Use promo code VALENTINELOVE for 20% off your purchase!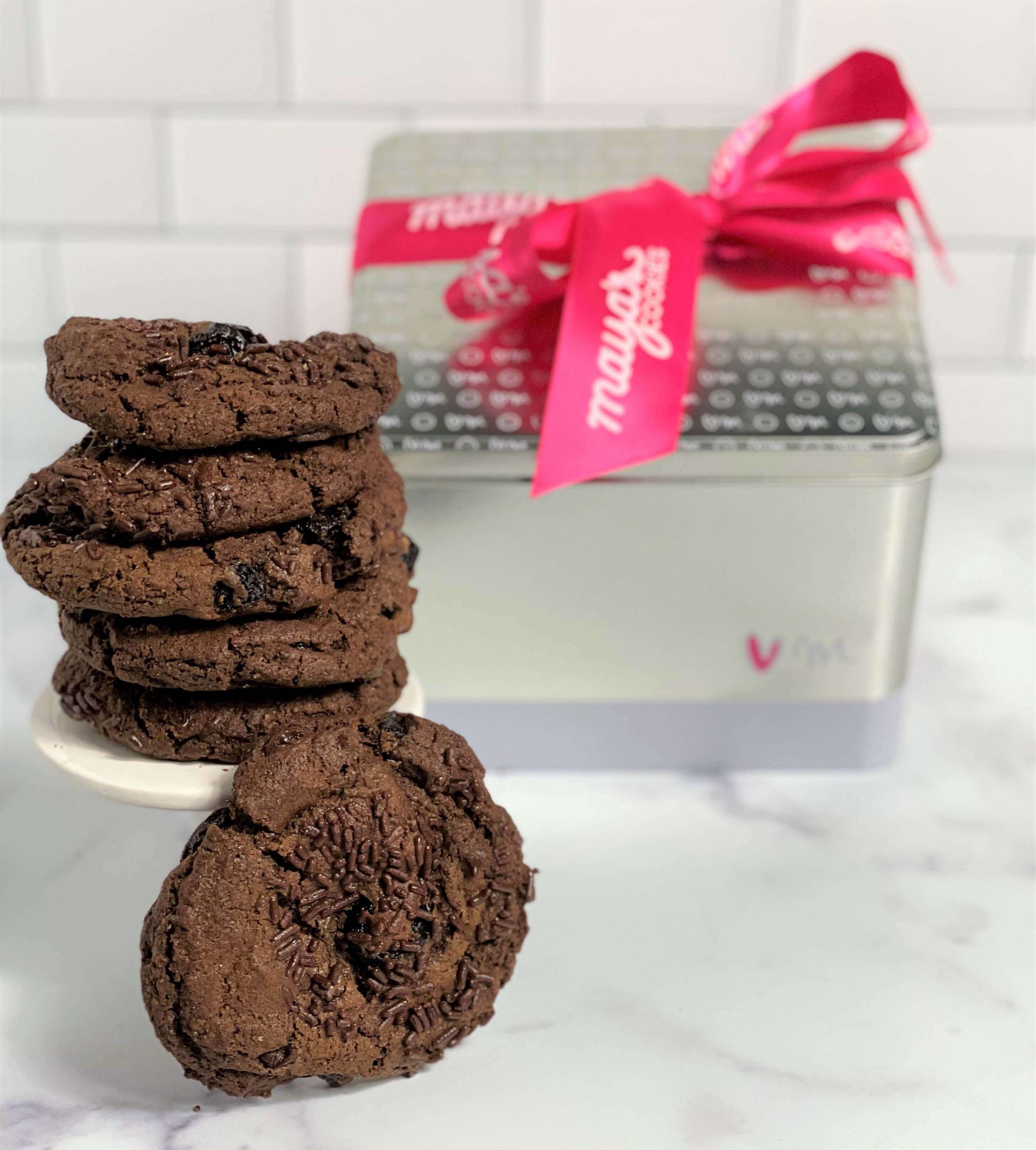 Wonderful Wine Co.
Whether you're celebrating Valentine's Day with your gal pals or you're dating a wine connoisseur, a gift from Wonderful Wine Co. is sure to impress! The starter 3-Pack is priced at $60 and includes a bottle of Syrah (red), White Blend (white), and Malvasia Bianca (orange). Each of the wines contains zero added sugars, giving them a lighter-bodied and more fruit-forward taste.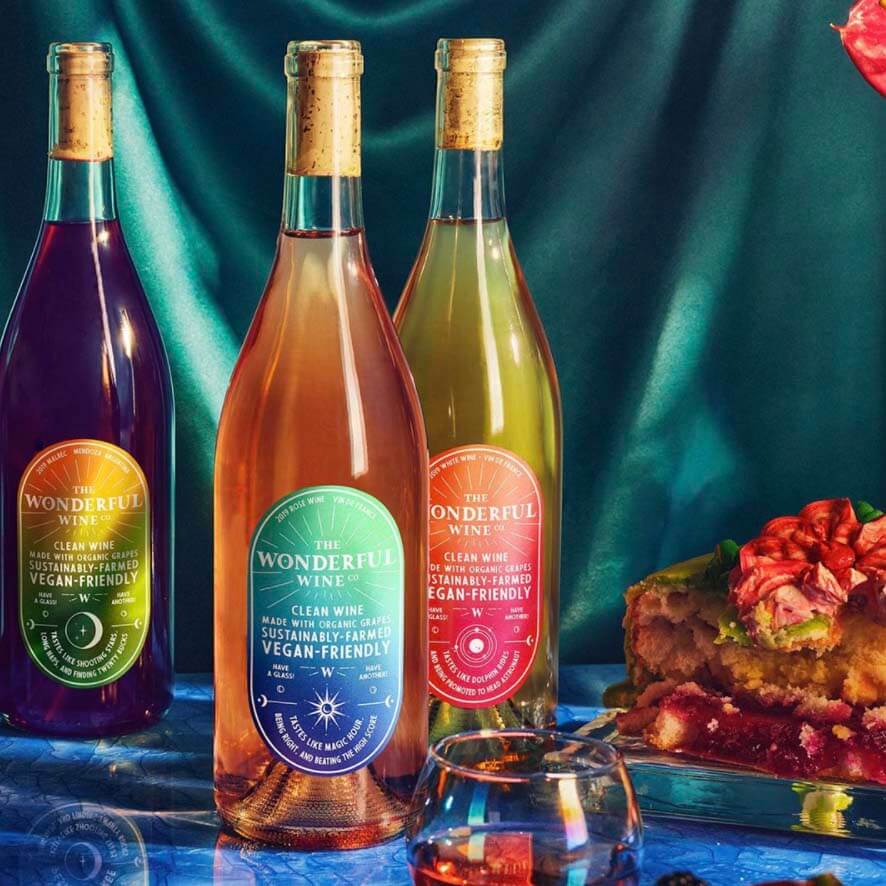 Coco Jolie
This woman-owned small business offers a luscious assortment of organic, fair trade, 100% vegan chocolates that are handmade in small batches. Their Valentine's Day Heart Boxes come in 14-piece and 29-piece collections, all crafted to deliver a lovely tasting experience for the chocolate lover in your life. Coco Jolie is based in New Jersey and ships anywhere in the U.S.
Use promo code VEGVAL10 for 10% off your first order!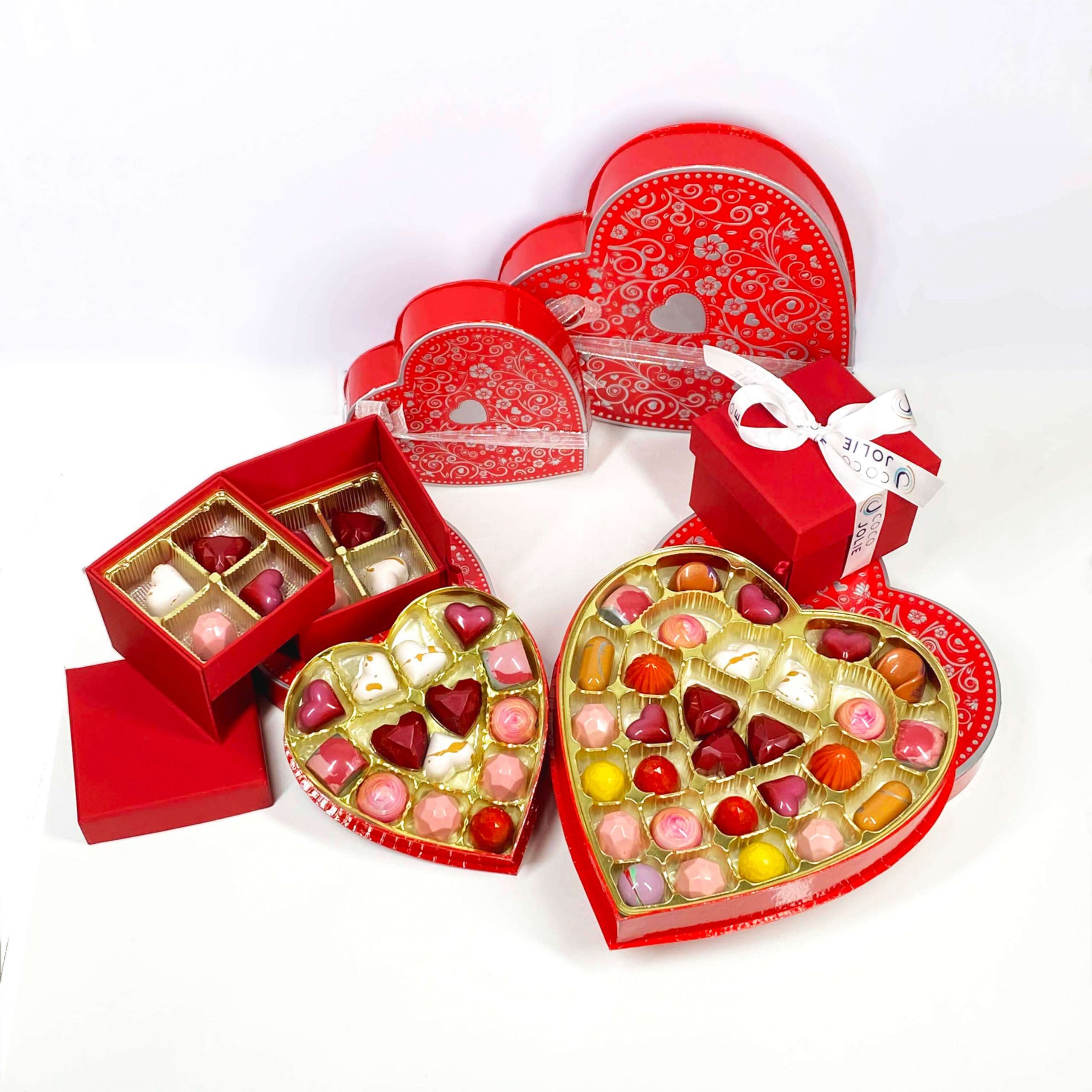 Pureology
Pureology's Superfood Treatment Hair Masks will have your loved one feeling like they just walked out of the salon. Choose from the Hydrate Superfood treatment (aromatherapy blend of pineapple, coconut, and vanilla), the Strength Cure Superfood treatment (aromatherapy blend of mandarin, peony, and jasmine), and the Hydrate Soft Softening Treatment (aromatherapy blend of red fruits, rose, and amber). Each mask is made with a 100% vegan formula and is also cruelty-free.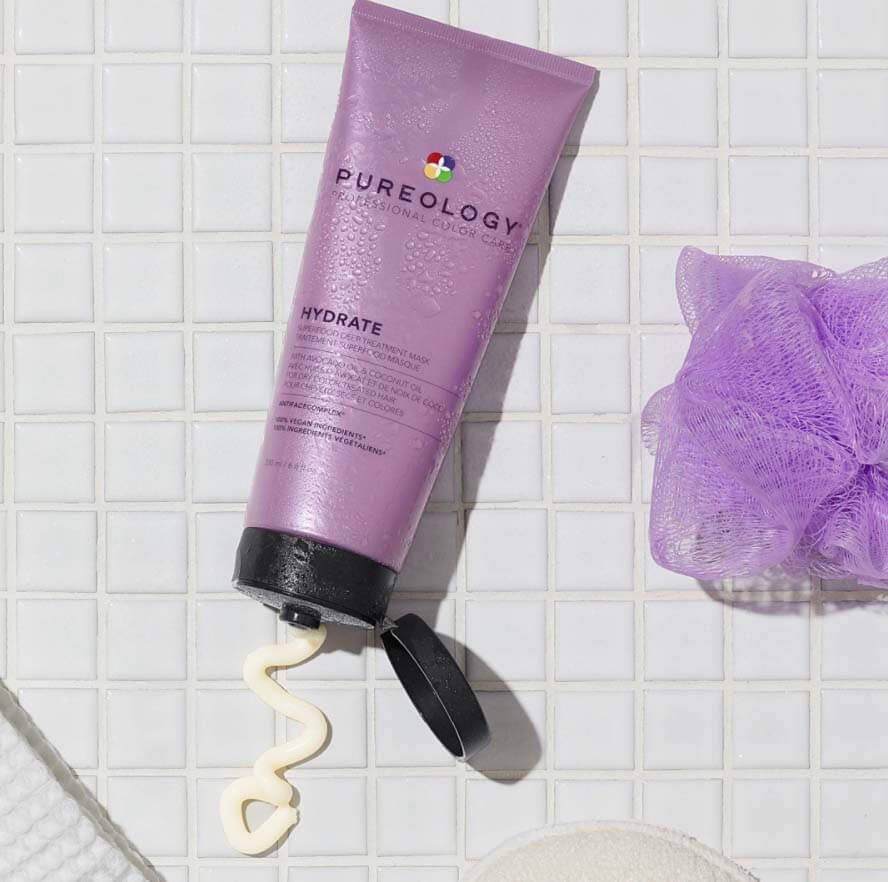 Lush Cosmetics
Valentine's Day is also about self-love, so why not treat yourself to a little TLC with the Love Yourself gift set from Lush Cosmetics! The collection includes a unicorn horn bubble bar, a love boat bath bomb, a heart beat bath bomb, and a rainbow bubble bar for one magical bath experience.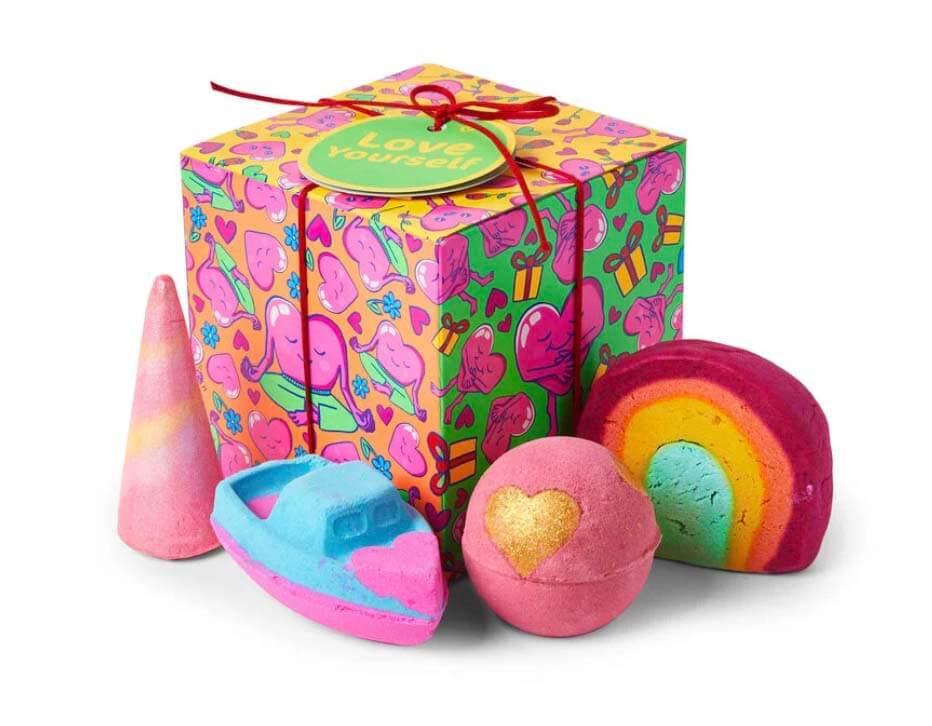 Wolven
The nature lover in your life will swoon over the Fauna Keyhole Top from Wolven, which is designed with an earth-toned print and vibrant green colors inspired by the beauty of the outdoors. The top features a keyhole cutout in front and reverses from print to solid. Complete the look with the Fauna Ruched Crossover Legging, which will flatter your loved one's physique with the silhouette-defining ruching in the back and beautifully printed design.