With all this spare time on your hands, do some online shopping and buy these items to help support small vegan businesses! With the recent devastation caused by COVID-19, many small businesses are facing a huge decrease in sales. If you are needing some vegan snacks, products, or services, consider buying from smaller grassroots companies to help keep them afloat. Do your part and get to shopping!
Vegan and Gluten-Free Cookies
Maya's Cookies
Order a box of cookies to sweeten your time at home! This San Diego based business specializes in crafting up tasty vegan cookies in rave-worthy flavors! Aside from their popular picks, you can now find gluten-free cookies for online delivery in Chocolate Chip and Chocolate Chip S'mores varieties. Who can resist these marshmallowy, chocolatey treats? Not us! Order a few boxes and refrigerate or freeze them to keep fresh longer. There's also a "Fruitee" Pebbles flavor for all you cereal lovers out there! Oat milk and cookies anyone?
Maya Madsen spent around 30 years as a spin instructor. Although she was a hardcore fitness enthusiast, she still craved a decadent dessert every once in a while! Once Maya discovered the lack of rich and nostalgic vegan cookies, she got to baking. In efforts to show the amazing options in a plant-based diet, Maya began sharing her cookies with her spin students who gave her rave reviews. To support her two sons in college, Maya turned her cookie-making into a business! Her company employs an amazing group of people in the San Diego community––including two single moms and college students from local universities. Aside from online orders, Maya's Cookies relies on popping up at local farmers markets and events. With the halt in these gatherings, give some love to her and her team by snatching up a cute box of cookies––and send one to a friend while you're at it!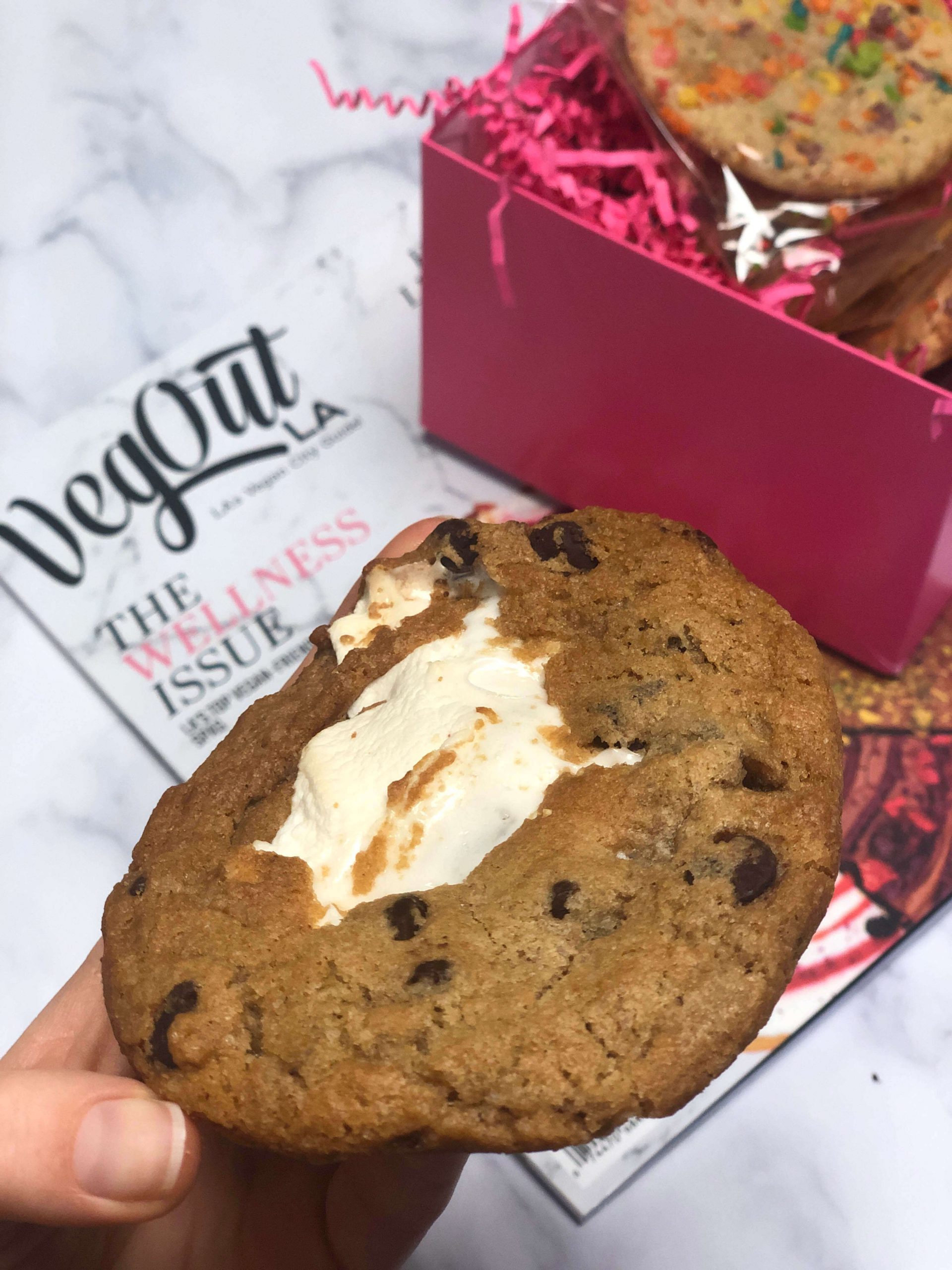 Artisanal Vegan Cheese
Wendy's Nutty Cheese
What better to pair with all that extra wine you're drinking than plant-based cheese and crackers? We can't think of anything tastier! These small-batch cheese rounds are a great way to get your savory snack fix. They are soy or cashew based, made with organic ingredients, and can be frozen to enjoy for later. Expect amazing flavors such as Almond Chedda, Roasted Garlic, Fig & Fennel, and Smoked Salt & Shrooms.
Wendy Grossman is a chef and visual artist who has been plant-based for 50 years. After losing her visual art company in the financial crisis of 2008, Wendy sought out more cooking opportunities. She worked for a chef who used feta on everything. In search of a tastier plant-based version, Wendy transformed her world into a cheese factory, and eventually turned her vegan cheese-making into a business. Two weeks into the COVID-19 pandemic, she's noticed the smaller stores she sells in are trying to hold on by serving takeout and delivery. In hopes that we will make it through this crisis, Wendy lowered the prices on her cheese online to help people out that might not have access to food in stores. Order Wendy's Nutty Cheese online at wendysvegankitchen.com or veganessentials.com.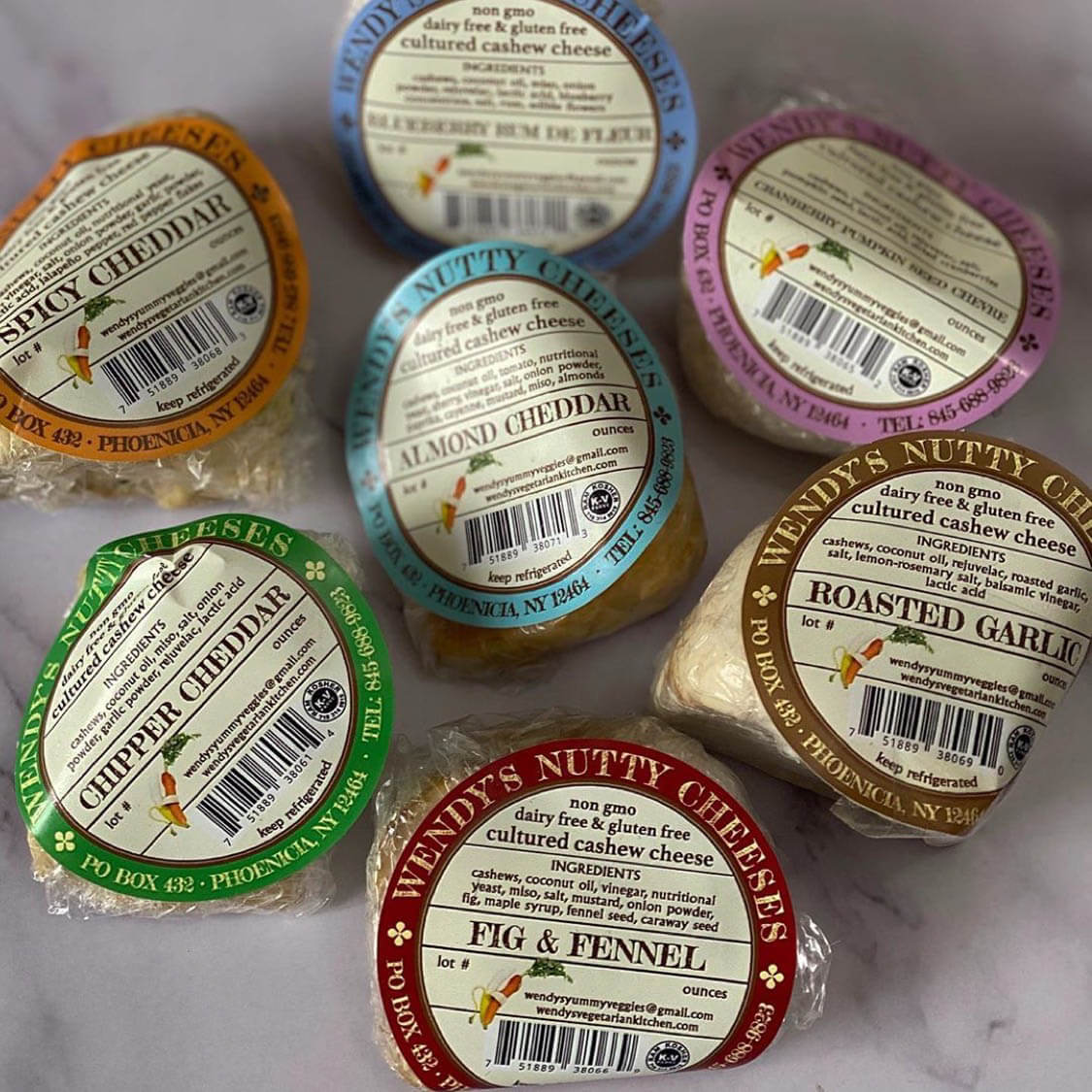 Nordic Crisps
Hungry Bird Eats
We wouldn't just tell you to eat cheese and crackers without giving you a recommendation on where to find both items––that'd be plain rude! These gluten-free Nordic Crisps are based on age-old Scandinavian recipes made with real ingredients such as organic rye flour and various seeds. Spread some of Wendy's Nutty Cheese on these Rye + Sea Salt or Multi-Seeds + Oregano Crisps for a nutrient-dense and mouth-watering experience. Need some wine? Here's an exclusive deal on wine from Winc!
Tina began Hungry Bird Eats after finding out her son was allergic to nuts and soy. With a lack of allergen-friendly snacks that weren't heavily processed, she decided to make some herself and launched Hungry Bird Eats, inspired by her Denmark ancestry. She had to unexpectedly stop production in the fall of 2018 when PilotWorks, a Brooklyn-based commercial kitchen and food startup hub, abruptly shut down. This left Hungry Bird Eats without a production workspace or guidance on what to do next. After facing numerous obstacles and hardships, Tina committed to rebuilding. She set up her own commercial kitchen in New Jersey and resumed production this past January. After all of these struggles, help sustain Tina and her business and try her creative crisps!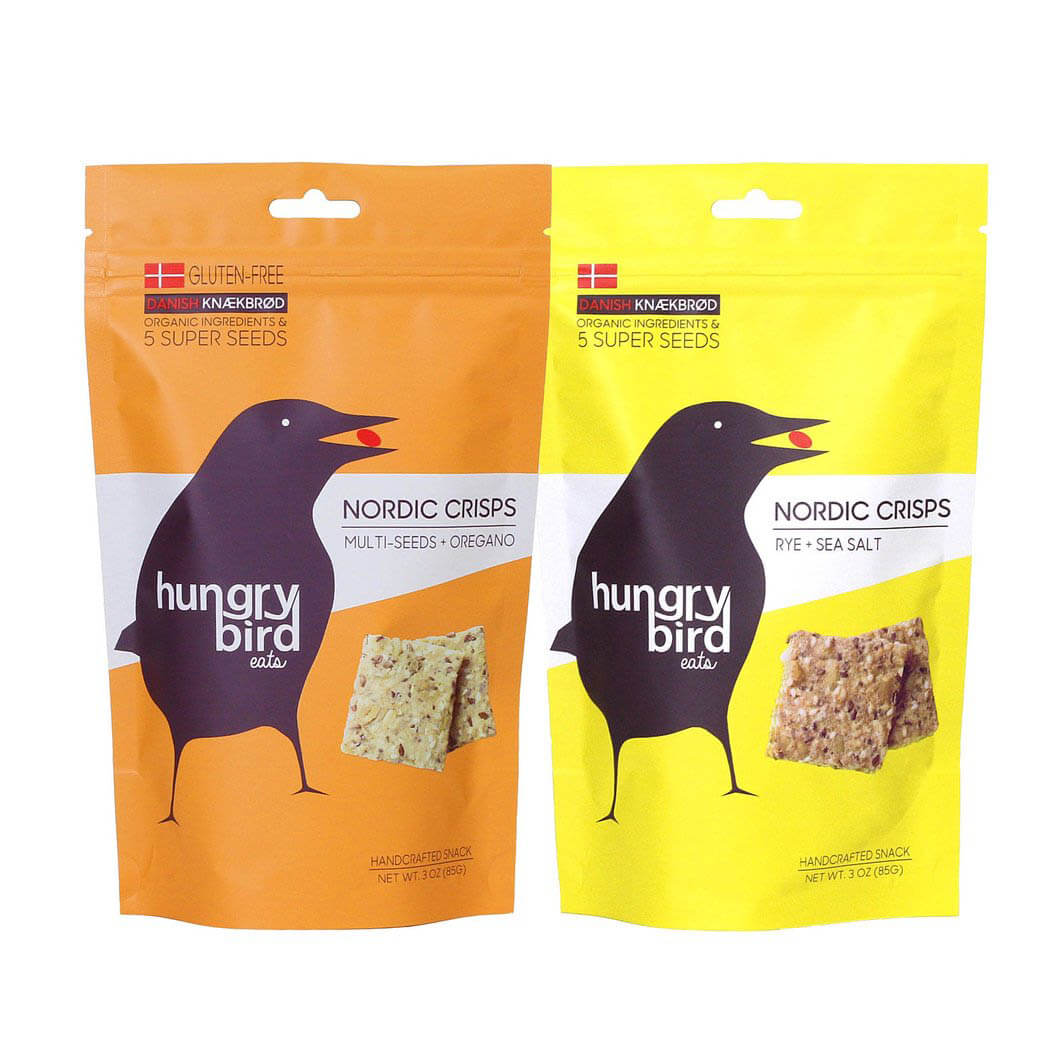 Raw Chocolate Bars
Hopf Chocolate
These small-batch chocolate bars are made with raw, organic ingredients and are packaged in eco-friendly and compostable material. We're sold! The Maca Crunch flavor is infused with house-made creamy cashew butter, Peruvian maca powder, and crunchy cacao nibs. Each antioxidant-rich chocolate bar from Hopf Chocolate is sweetened with low glycemic coconut nectar––there's only 12 grams of sugar or less! And every nibble contains anandamide (the 'bliss chemical') and phenylethylamine (the 'love chemical')––we could all use a little extra positivive energy now more than ever!
Andrea Hopf, owner and chocolatier, is used to sharing her inspiring bars with people at farmers markets and pop-up events. She also fulfills nationwide delivery orders. With the reduction of in-person events, she is offering free nationwide delivery (with the code FREESHIPPING85 online). For L.A. locals, there are other deals and discounts. Check their Instagram for more information.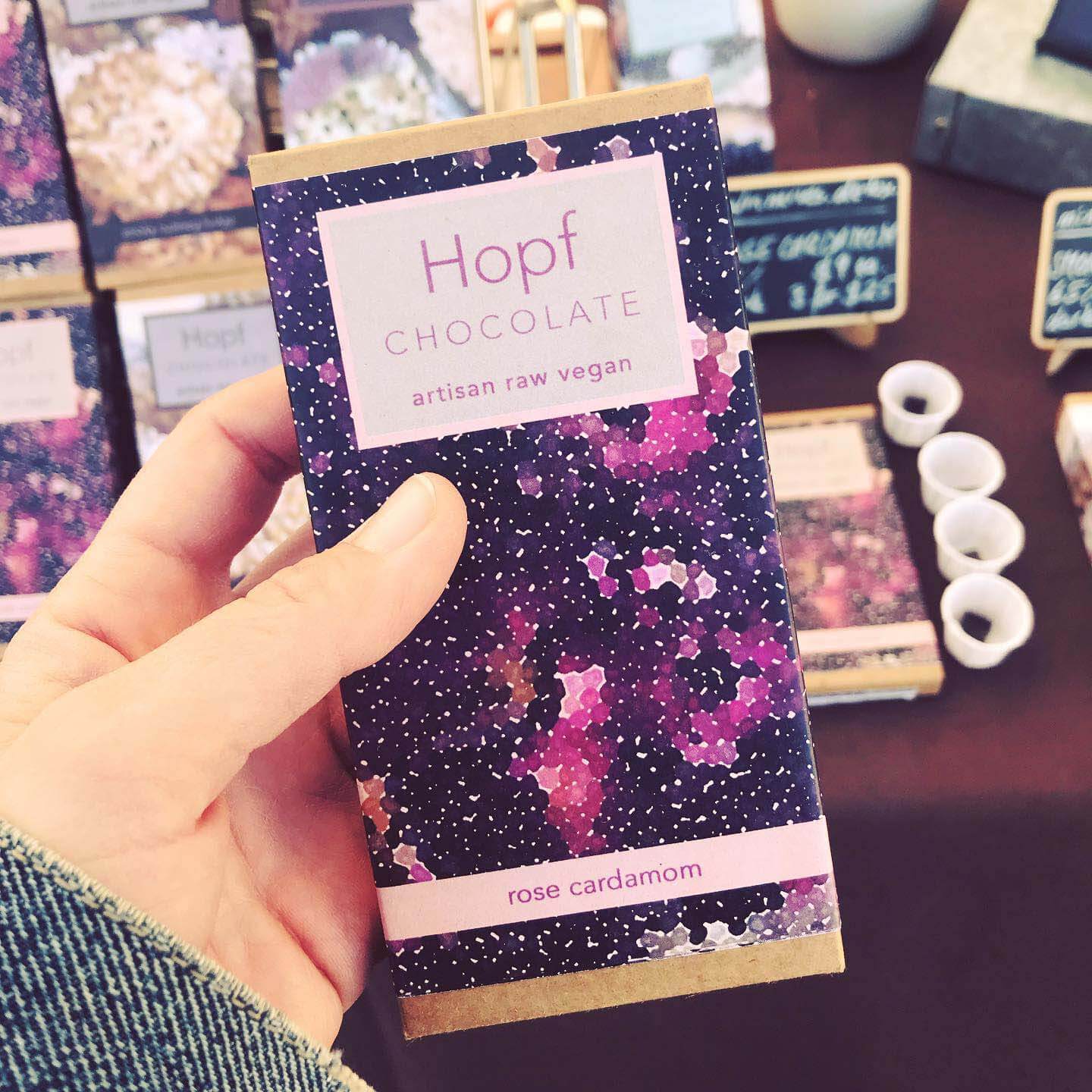 Vegan Leather Shoes
Tastemaker Supply
Hey, we never said this article was only about food! Revamp your wardrobe with these trendy kicks made with all-vegan leather and suede. The realistic texture of these shoes is achieved by using ethically-made durable microfiber. Whatever style matches your personality, there's bound to be a pair for you! From sneakers, flats, and sandals to heels and dress shoes, Tastemaker has it all! Can't find a design you like? This company often takes requests and recommendations from their followers.
Frey Chu created Tastemaker to offer the community high-quality shoes that are better for the environment––and their feet! He sheds light on what it's like to be a vegan entrepreneur through YouTube, Instagram, and the Tastemaker website. Help Frey keep making rad shoes and informing the world on veganism by buying a pair and freshening up your look!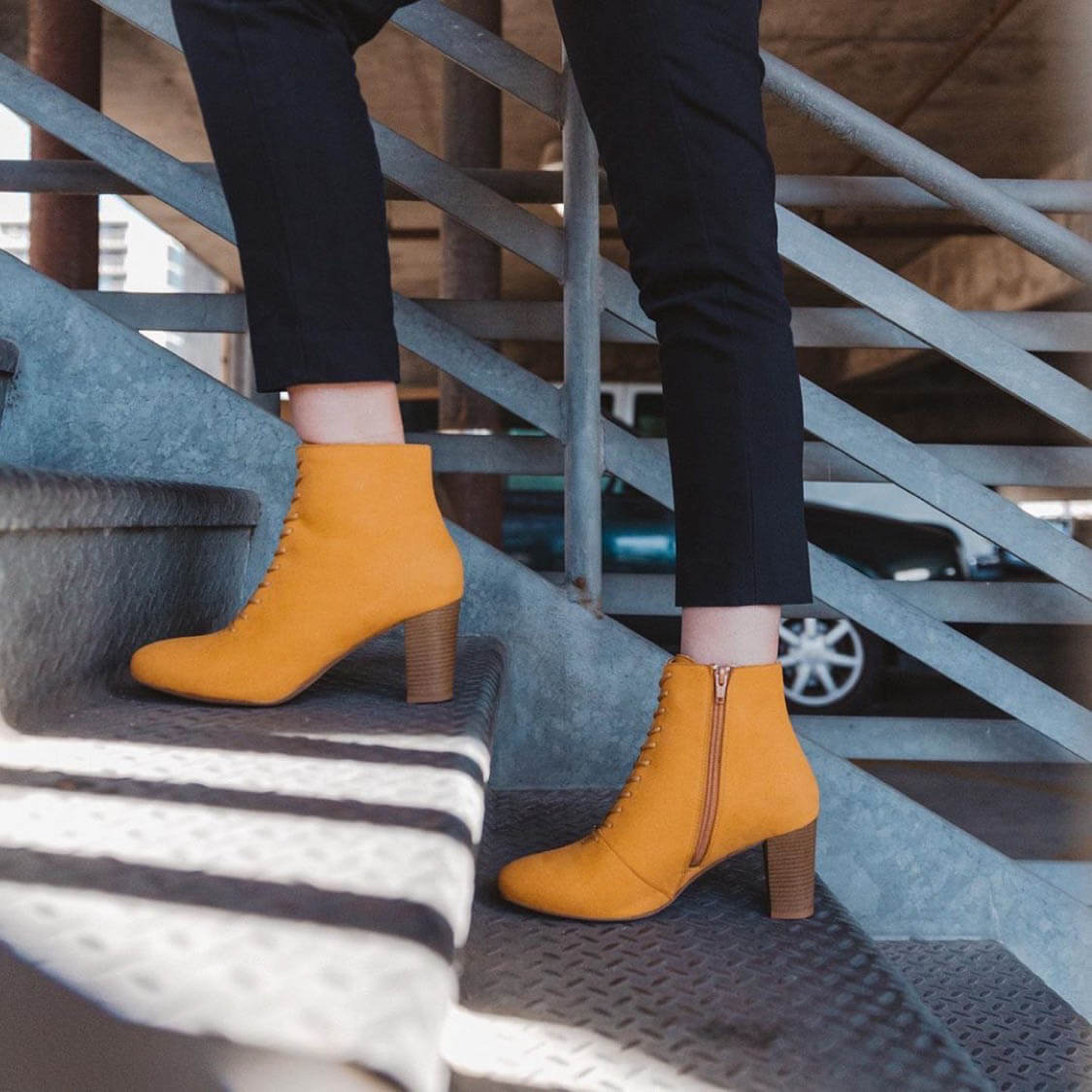 Hand-Crafted Crystal Necklaces
Meris Creations
If you're looking to minimize fear, anxiety, insomnia, and negative energy, or you just want a cute necklace, keep reading! These ethically-made crystal necklaces from Meris Creations utilize an array stones and shapes that are said to harness various positive and healing energies. These dainty and adorable necklaces are handmade with precious stones like Tiger's Eye, Lapis Lazuli, Rose Quartz, Amethyst, Hematite, and more!
Jamie of Meris Creations started her business with three goals––create with purpose, have fun (and share that fun with others), and hand make every piece. As a child, Jamie loved collecting stones and rocks. Years later, a friend gave her three crystals to help her through a difficult time, which is when she learned that crystals have energies. With the intention to spread that energy and her creations, Jamie started her jewelry line! Pop-up events were Jamie's primary way of sharing her products and story. Help build up Meris Creations by ordering some bling online!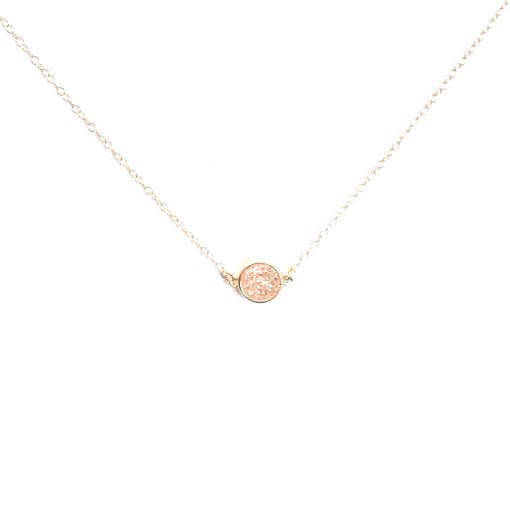 Cookie Shots
Dirty Cookie
Need a drink? Whether you forgot to stockpile cups (nowadays, it seems as if people are snatching up just about anything from stores, right?) or you need an extra sweet snack, these vegan and gluten-free cookie shots are the perfect solution! For another reason why you should order these decadent Double Chocolate and Peanut Butter Cookie Shots, here's a look into this female-owned business.
Owner Shahira Marei started Dirty Cookie to help give people jobs. The company relies on selling their products at events and theme parks. With the recent changes in event cancellations and business closures, Shahira is fulfilling all orders herself until she can rebuild the business and bring her team back. Support Shahira and her team while gracing your taste buds with these creative confections––that double as shot glasses!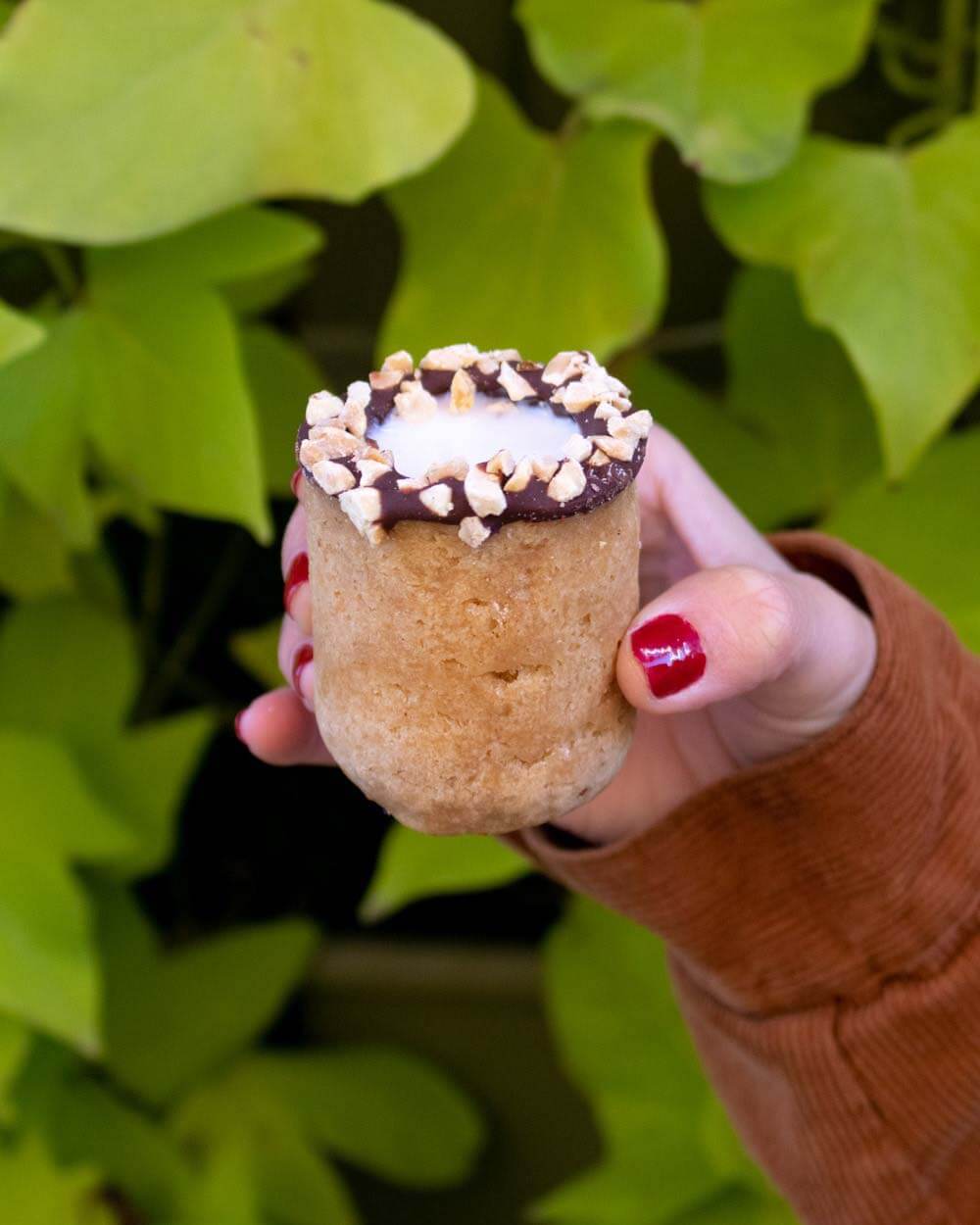 Digital Content
Pollution.tv
If you're looking to boost your business, gain more following, or just get some fresh content, look to Pollution.tv! Music videos, digital ads, commercials, influencer partnerships, and other forms of online content are consciously crafted by this creative agency to fit the needs and desires of you and your company––including your budget. They'll transform your material from idea to reality! Build your brand and collaborate with Pollution.tv to create the project of your dreams!
Founder, CEO, and 15-year vegan, Asher Brown created Pollution.tv to create, tell, and distribute the best possible stories. His team started with a group of passionate filmmakers in an empty warehouse. As the warehouse was transformed into a film stage and the company experienced growth, they continued to maintain their creative roots. Pollution only takes on projects they support. They've worked with loads of vegan brands like Veggie Grill, So Delicious, Beyond Meat as well as organizations like The Humane League, Switch4Good, and Farm Sanctuary. Although now is not the time to be on sets with loads of cast, crew, and creatives, now is the time to support those in the film and performance industry. With the shutting down of film sets, sound stages, musicals, and even Disneyland, many writers, directors, producers, performers, and other creatives are out of work. Collaborate on a remote project, like an online ad or media partnership, or book a video project in advance to show Pollution.tv some love!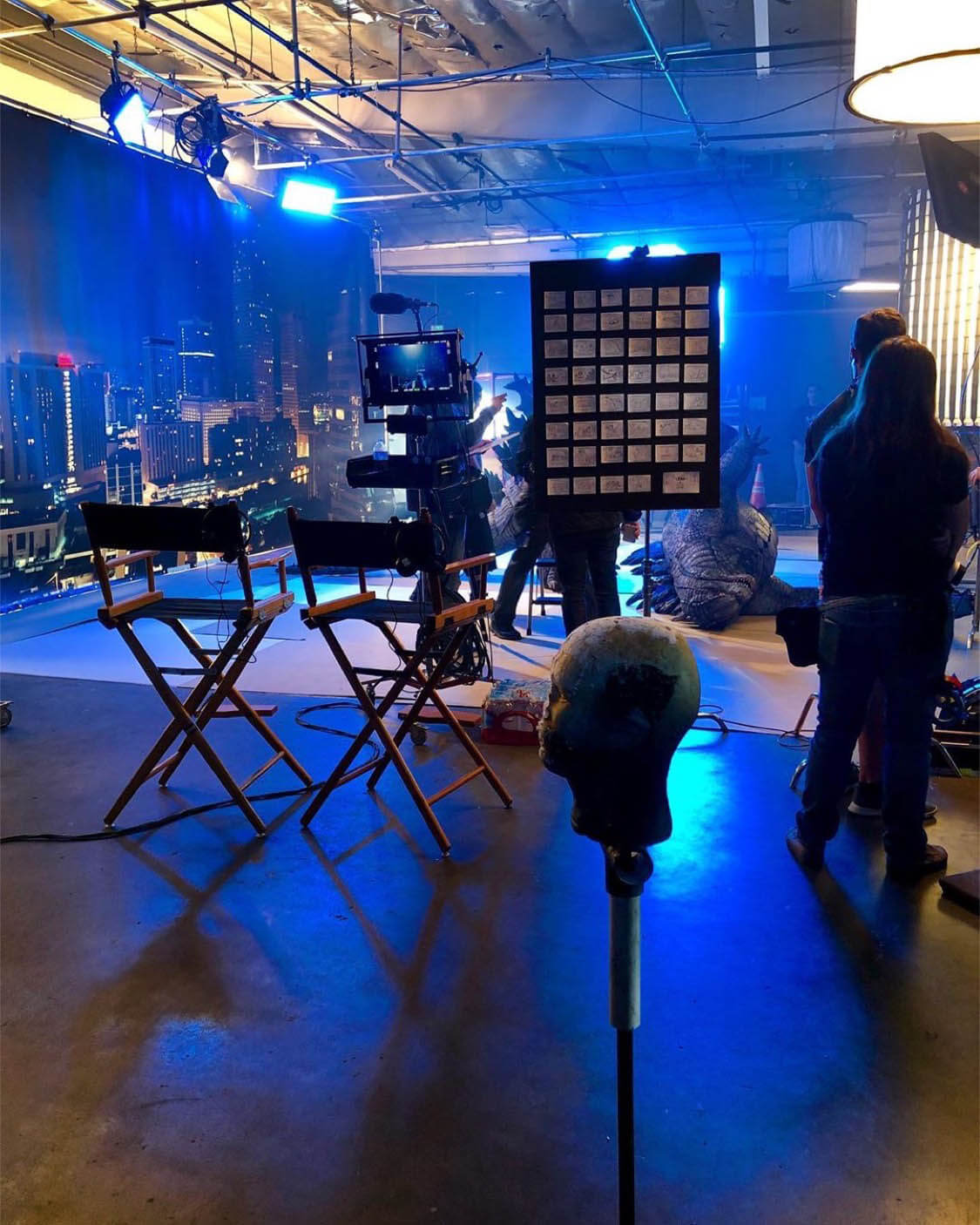 Vegan and Gluten-Free Granola
Love, Granola
Smoothie bowls, coconut yogurt, and ice cream always taste better with a scoop of scrumptious granola on top! Ditch the mainstream sugar-filled brands and secure a bag or two of this organic snack! Apple Cinnamon, Peanut Butter Crunch, and I'm Cocoa for Hazelnuts are just a handful of the flavors you should try! They also have a Gift Set that would make for a great care package to send to a loved one!
Magan Jolic created this company in efforts to find a vegan and gluten-free granola without added oils and sugar. Everything is made with the finest ingredients and in small batches. Love, Granola is still a fairly new business. With about a year under her belt, Megan could use some support in continuing to make this nutritious and delicious granola!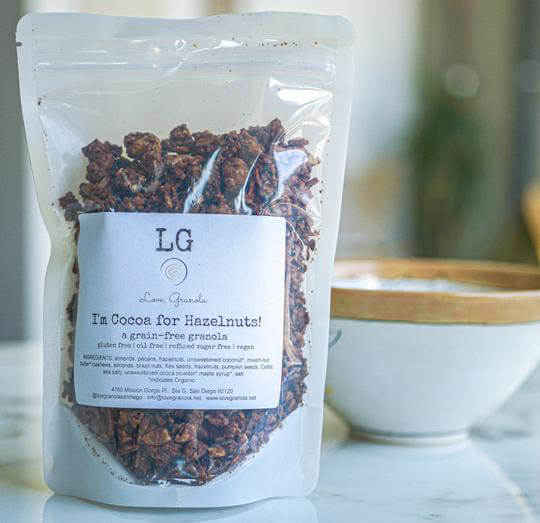 Hot Sauce
Baby Clydesdale
Be like Beyoncé and carry hot sauce in your bag! Okay, that might be a little extra but you can always just store it in your pantry. With all of us staying in, eating the same homemade dishes can get a little redundant, so this vegan-friendly company offers a great solution for you! Spice things up with this hot sauce in Carrot Habanero Ginger and Sriracha varieties.
Meet Justine and David. In 2012, Justine was a grad student in San Francisco, and David was a drummer in a San Diego band. Living off of rice, beans, and home-made sriracha, David became very skilled at hot sauce making. David had the idea of selling hot sauce at his shows to make some extra money to visit Justine. Although it didn't go as planned, his sauce was still a hit and the duo eventually started Baby Clydesdale in 2015. They began selling at local farmers markets and have "been basically making a living selling hot sauce in a tent ever since."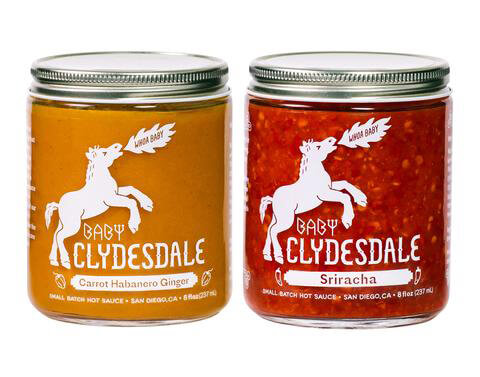 Vegan and Gluten-Free Baking Mixes
Creative Superfoods
Make use of your spare time and get baking! These superfood baking mixes will fill your kitchen with a glorious aroma of Belgian Waffles, Chocolate Chip Cookies, or Triple Chocolate Chip Cookies. The bags contain a concoction of high-protein nut and seed flour blends, natural super fruit powders, and 15 superfoods! Ingredients like goji berries, buckwheat, and carrots are all incorporated into these sweet confections. Don't want to make the whole batch? No worries! There are instructions to make smaller amounts, like 2-3 treats at a time––just add water, oil, and mix!
Jeffrey Hersey started Creative Superfoods from her desire to create nutrient-rich baking mixes that would appeal to both healthy eaters and people looking for homemade taste! The company does a lot of outreach at festivals, markets, and events. Because of the COVID-19 crisis, these events are getting cancelled, causing a major setback for Creative Superfoods. Even during these tough times, Creative Superfoods is committed to working hard so they can provide the community with nutritious baking mixes that have the gourmet taste without the gourmet guilt! For a limited time you can buy 4 and get the 5th one free! Place your order on their website.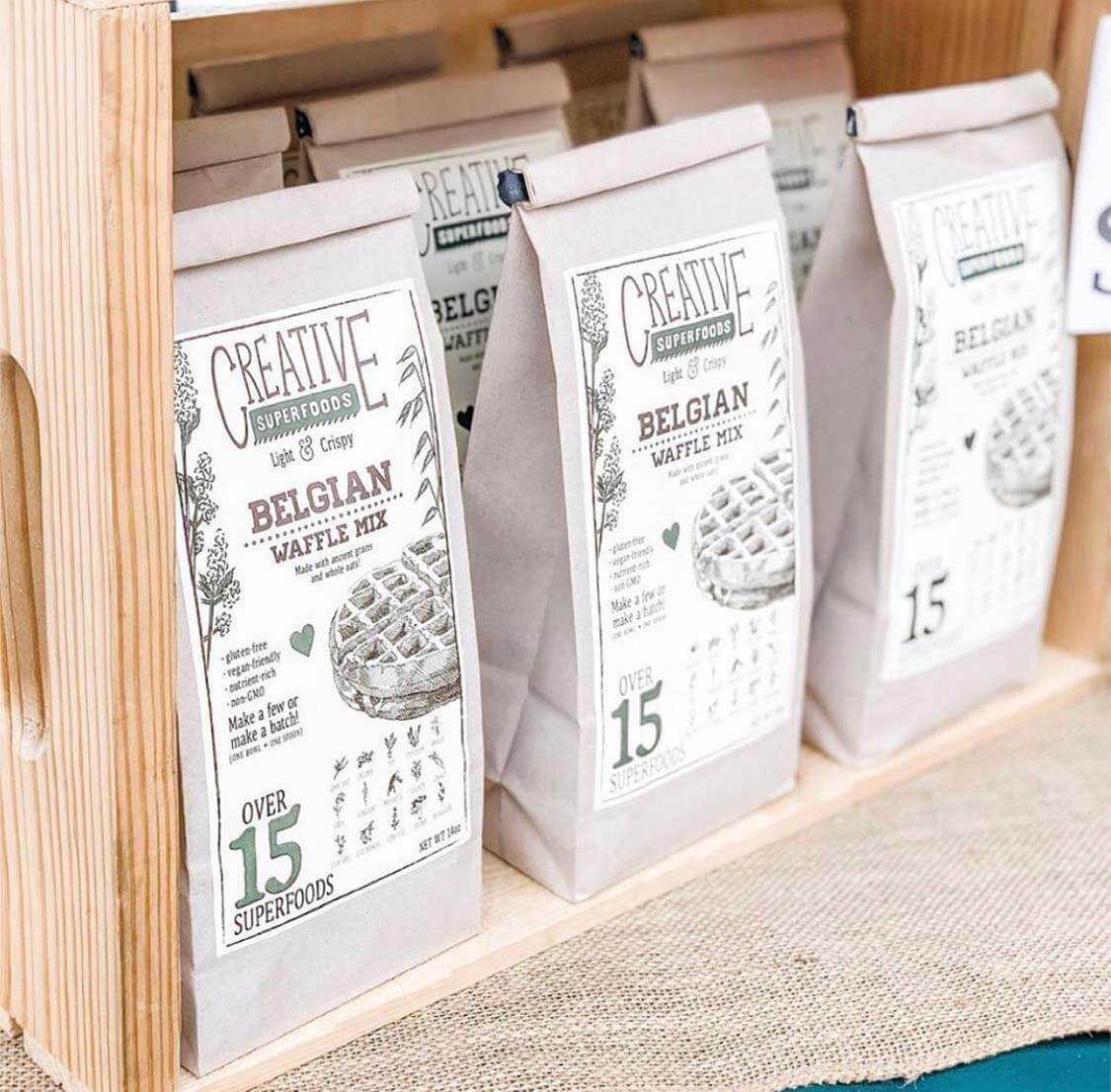 RELATED: 10 Self-Care Activities to Do at Home During the Coronavirus Quarantine
---
Want even more vegan news, food, and lifestyle content? Subscribe to VegOut LA Magazine or VegOut NYC Magazine!