Impossible Foods accelerates its retail rollout this week by launching the Impossible Burger online and in 1,700 more grocery stores nationwide! This wickedly popular brand has been making waves in the food industry with its realistic vegan beef alternative. In fact, when they first launched in retail stores this past September, their products became the number one item sold on both coasts, outselling traditional ground beef at most stores. Over the past few months, Impossible Foods has branched out to sell items at more and more supermarkets across the nation. Their most recent partnership is with The Kroger Company, America's largest retail grocery chain.
What's the reason behind their decision to partner with Kroger? Dennis Woodside, the president of Impossible Foods shared, "The launch of Impossible Burger at Kroger grocery stores nationwide signals our intention to make Impossible Burger available everywhere America shops––at brick-and-mortar retailers and [through Kroger's] increasingly popular online ordering and delivery services." He and the Impossible Foods team expect to expand their retail footprint more than 50-fold this year.
You can now find the Impossible Burger on the shelves of 2,700 grocery stores in 28 states. Not only that but with this new expansion, you'll have the option to order these products online through kroger.com for delivery or curbside pick up.
Here are the specifics of where you can find Impossible products:
Kroger-owned stores in 28 states under multiple brands including Baker's, City Market, Copps, Dillons, Fred Meyer, Gerbes, King Soopers, Kroger, Mariano's, Metro Market, Pay Less Super Market, Pick 'n Save, QFC, Ralphs, Smith's, and Kroger.com for curbside pickup and delivery
All Albertsons-owned stores in California and Nevada: Albertsons, Pavilions, Safeway, and Vons
All Jewel-Osco stores in the greater Chicago area, portions of eastern Iowa, and portions of northwest Indiana
All Wegmans stores along the East Coast
All Gelson's Markets in Southern California
All Fairway Markets in the New York City region
Burger King, Qdoba, White Castle, Red Robin, Cheesecake Factory, Hard Rock Cafe, and thousands of other restaurants
Find even more places to get the Impossible Burger at impossiblefoods.com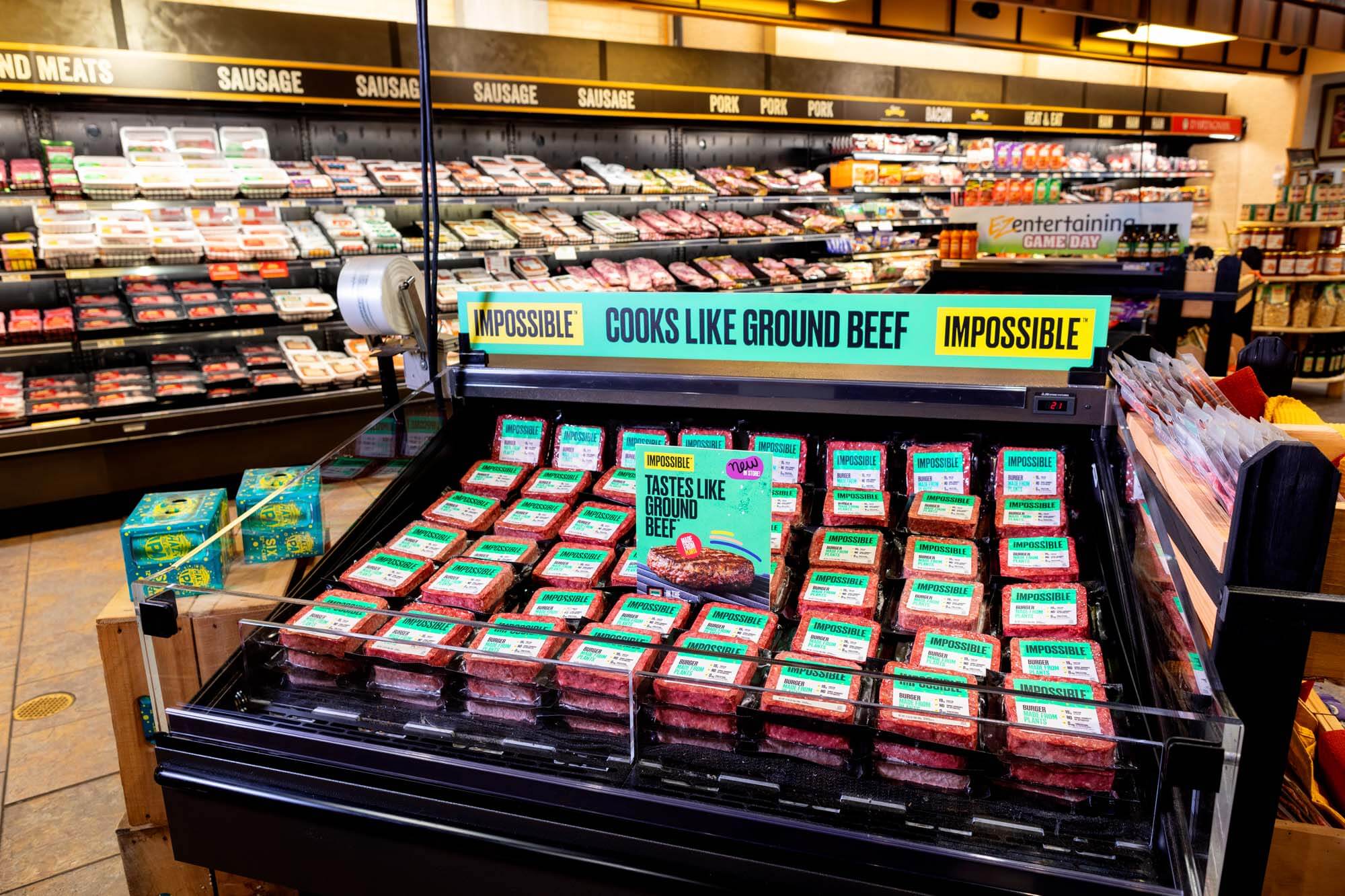 But that's not all! With more and more people trying this popular plant-based meat, Impossible Foods is releasing a cookbook, which is now available for pre-order on Amazon.com. Impossible™: The Cookbook highlights creative ways to cook with Impossible meat. Aside from an entire chapter about burgers, you can flip through recipes from a variety of cultural cuisines such as Churrasco Skewers with Chimichurri, Thai Laab with Fresh Herbs, Turkish-Spiced Sandwiches with Garlic Sauce, and more! Contributing chefs include Traci Des Jardins (Arguello, The Commissary, School Night, Public House; San Francisco), Tal Ronnen (Crossroads Kitchen, Los Angeles), and Brad Farmerie (Saxon + Parole, New York City) to name a few.
As part of their "social good program," Impossible Foods will donate $3 of the proceeds from each cookbook sold to No Kid Hungry, a nonprofit organization that aims to feed children across the nation. And on May 14th, Impossible Foods will debut the "Impossible Cook-A-Thon," a virtual event hosted by actor Eric Wareheim and chef Traci De Jardins to raise money for No Kid Hungry.
Keep the good news coming, Impossible Foods!
RELATED: Impossible Foods Expands Retail Product to 750+ Additional Grocery Stores Nationwide
---
Want even more vegan news, food, and lifestyle content? Subscribe to VegOut LA Magazine or VegOut NYC Magazine!