The popular fast food chain has teamed up with vegan chef and restaurateur Pinky Cole to create one tasty all-vegan burger!
As part of Shake Shack's collab series Now Serving, Shake Shack's culinary team has joined forces with star chef Pinky Cole and her Slutty Vegan team to create a limited-time menu item—the SluttyShack—for a good cause. This vegan burger will be available in limited quantities on Thursday, April 8 at the Old Fourth Ward Shack in Atlanta (just around the corner from Slutty Vegan's Edgewood location) and on Thursday, April 8 through Friday, April 9 at the Shack in Harlem, NY, where Pinky opened her first restaurant, Pinky's, in 2014.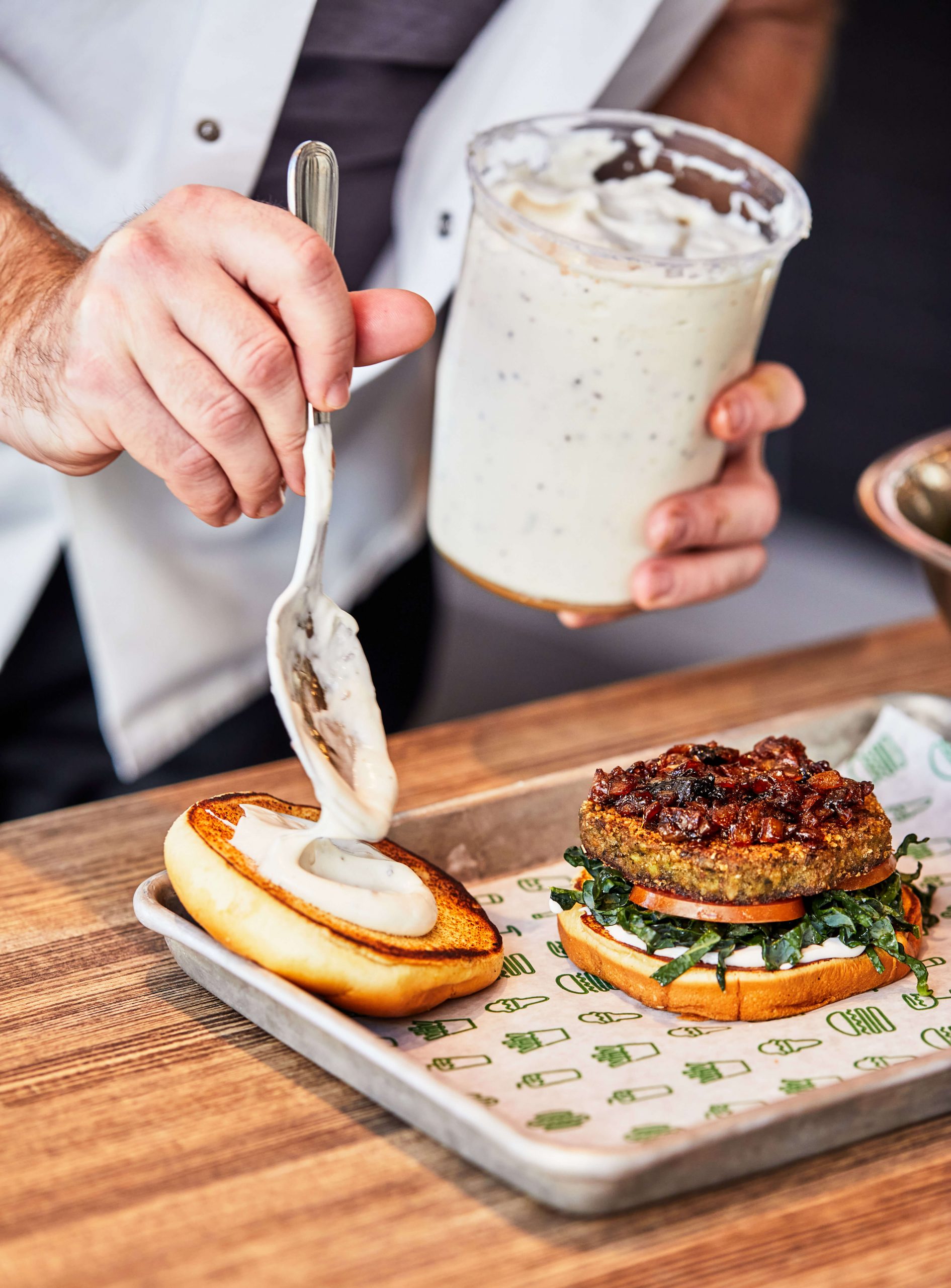 "Over the last year, we've all heard of Pinky Cole and the impact she's making, not just in Atlanta and New York but across the country," Mark Rosati, Culinary Director of Shake Shack, told VegOut. "Having the chance to collaborate with her and her team on this burger has been an honor—not only has it been fun and creative, but it's been inspiring. We're really proud to work alongside the Slutty Vegan team and support communities near and dear to us both."
The SluttyShack burger features a Shake Shack veggie patty topped with Pinky's secret Slut Dust, lemon ginger kale, caramelized onions, vegan ranch, and vegan mayo on Slutty Vegan's signature toasted Hawaiian bun. Priced at $8.49, the burger will be available for purchase in-store in both Atlanta and Harlem, through pickup on Shake Shack's website, and for delivery and pickup via the Shack app in Harlem.
Proceeds from the burger will be donated directly to two local organizations—the Giving Kitchen in Atlanta (a crisis relief organization for people in the food and beverage industry) and the ROAR in New York (a community of hospitality leaders advocating for the NYC restaurant industry).
Update (4/8/2021): The debut of the SluttyShack at Shack Shake's Harlem location has been postponed due to an employee testing positive for COVID-19. In a statement, the restaurant said "We learned one of our team members at our Harlem Shack has tested positive for COVID-19. For the safety of our team and guests, we have closed the restaurant and will be undergoing comprehensive measures for sanitizing the restaurant in its entirety. We will also reschedule our collaboration with Pinky Cole and Slutty Vegan planned for 4/8 and 4/9 to later this year and still look forward to bringing guests the delicious SluttyShack."