October is an all-day, quick serve restaurant and innovative delivery app from entrepreneur Justin Cohen. Offering satisfying, vegetable forward dishes at an affordable price ($12-$17 per dish, including delivery), October's 700 sq. ft. brick-and-mortar location, with seating for 8 indoors and 12 outdoors, opens this winter in NoLita at 384 Broome Street. The restaurant design is inspired by October's connection with the fall harvest, which is translated to the space through earthy tones and ample vegetation displays. Bringing the feel of fresh greenery to the overall dining atmosphere, guests can expect to see natural light streaming in through the front windows, rain-drop pendant lights, and white marble counters throughout.
Following the opening of October's brick-and-mortar, will be the launch of October's delivery app on Wednesday, January 24, offering a new approach to menu customization and transparency by linking ingredient education with consumers' day-to-day nutritional intake. Diners from Greenwich Village to Tribeca can order delivery through October's app. All guests can place pick-up orders digitally or at the restaurant to eat in.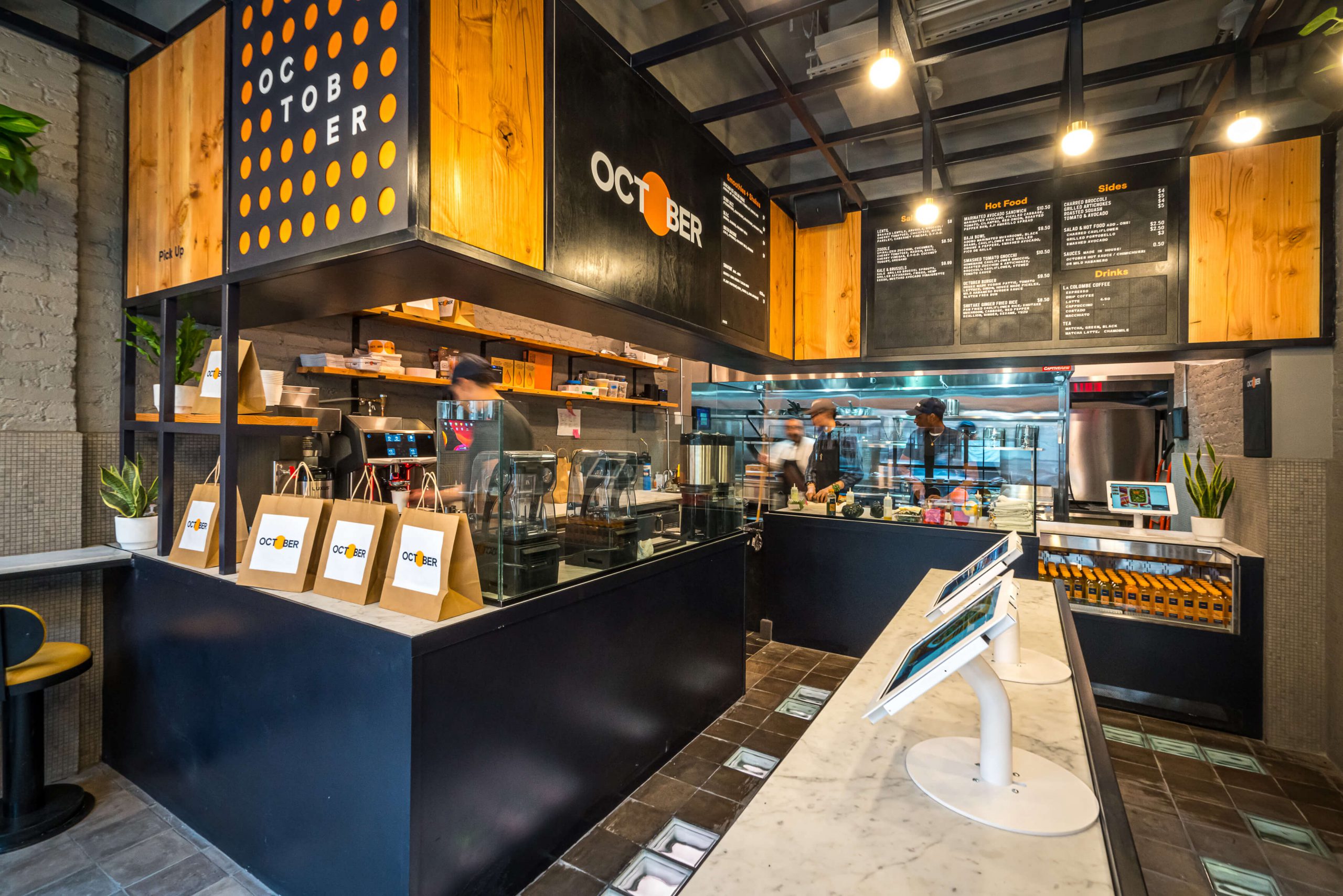 With a focus on sustainable practices, all produce is sourced from local farms. Each dish at October incorporates microgreens and herbs grown in-house. October's hydroponic garden built by Farm.One is located on its lower level and is visible to diners through glass flooring. The seasonal menu, with an emphasis on plant-produce and healthy fats, is free of top allergens (milk, eggs, fish, shellfish, tree nuts, peanuts, wheat, and soy) to offer and encourage healthy options for all. The vegetable forward menu includes dishes such as a Zoodle Salad with spiralized zucchini, cucumber, cherry tomatoes, red onion, radish, basil, sherry vinegar, coconut yogurt, oregano; Marinated Avocado Sandwich with pickled cabbage, tomato, cucumber, red onion, cilantro, aji amarillo spread on a roasted pepper bun or split pea wrap; and Cauliflower Gnocchi with roasted zucchini, artichokes, broccoli, cauliflower in a stewed tomato sauce. Diners can also expect smoothies, shakes, plant-based baked goods, and a variety of fresh juices and coffee.
October is located at 384 Broome Street, New York, NY, 10013.