Larchmont Village is home to the most adorable Sunday farmers market and rows and rows of cute boutiques and eateries. This low-key celebrity hot spot just got a new, much needed vegan-friendly addition in the form of a smashburger concept called Uncool. Uncool comes from Blurred Limes Hospitality Co, the masterminds behind Counterpart Vegan, Tacos Tu Madre, and Bardonna.
RELATED: Downtown LA's Bodhi Bowl Permanently Closes
---
Join VegUP and Using My Privilege to take a stand against racism. Click here to learn more and donate now.
With a Cali-cool open air layout and a minimalist stool and communal table set-up, this warehouse-inspired indoor and outdoor space is perfect for casual dining. The quirky eatery serves up unpretentious and comforting vegan favorites all day long. Get your classic burger fix with The Party in My Plants, an Impossible smashburger topped with onion jam, American cheese, vegan truffle island sauce, lettuce, tomato, and house pickles. Customize your burger by choosing between a Single (standard, one Impossible patty), Double (two Impossible patties), Salad (Impossible patty on a bed of arugula, fennel, and avocado dressing), or as a Rice Bowl (Impossible patty on ancient grains, with vinegar slaw and herbs). Feeling extra crispy? Try out what Uncool calls The Amazing Vegan Fried Chicken Sandwich, fried "chicken" seitan, vegan Uncool sauce, vegan American cheese, and house pickles. Don't forget to accompany your burger or sando with one of their sides, choose from fries, onion rings, or if you like it both ways, the funions (half fries, half onion rings). Make your order a Feel Good Combo for just $8, which adds fries, a drink, and a holographic Uncool sticker to your order.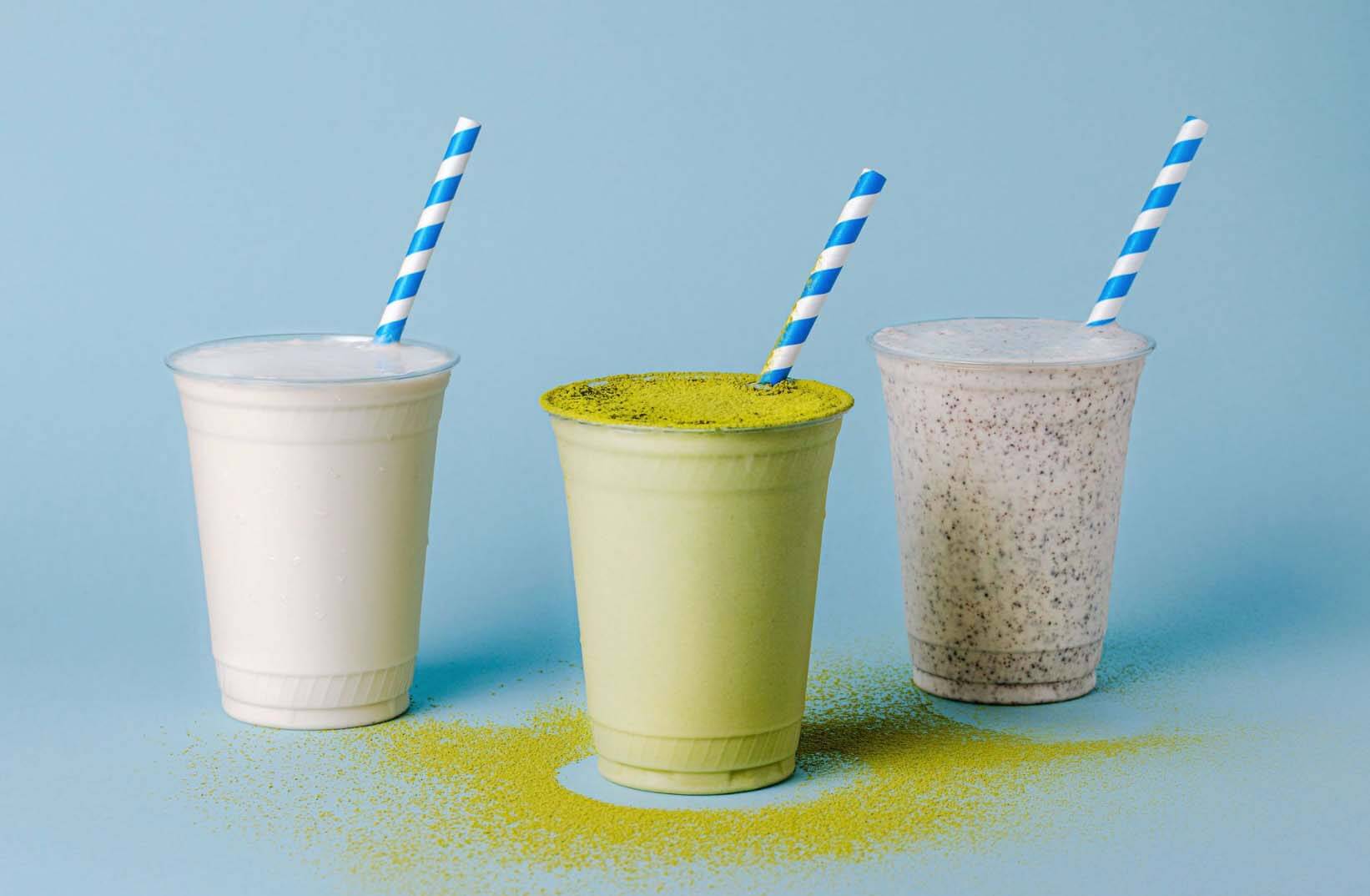 Stopping in for breakfast? They've got you covered with their Vegan Sausage Sandwich—an Impossible sausage topped with house herbs and spices, vegan smoked gouda, hash browns, vegan Uncool sauce, and maple syrup, all served between two buns.
If you're bringing in the youngins, treat 'em to the "Shawtie Menu" where they can get a baby-sized Vegan Grilled Cheese. And adults and kids alike will go HAM on the Vegan Milkshakes which come in three flavors: Vanilla Bean, Matcha Rose, and Cookies N Cream.
In addition to being good for those taste buds, this classic comfort eatery is also great for the soul, as Uncool donates $1 from every Feel Good Combo to STOMP Out Bullying, a nonprofit that combats racism, LGBTQ discrimination, and hatred in communities and schools around the nation.
Uncool is currently rollin' out these palette pleasing hits seven days a week, staying open late till midnight Friday and Saturdays, and 11pm all other days! Stop in at 139 ½ Larchmont Blvd for dine-in or takeout—getting burger SMASHED will be your new favorite activity.