As we all are constantly adapting to a new normal, so are vegan businesses. We're experiencing celebrated reopenings, never-before-seen-specials, and the emergence of brand new restaurants from this tumultuous time. Keep your eye on this page to check the latest in the creative evolution of the LA vegan restaurant scene.
Updated June 24, 2020 at 9:01am
Cafe Gratitude
Venice and Larchmont
After a nearly three-month temporary closure, two of four Cafe Gratitude locations are opening their doors. The Venice site is scheduled to open June 16, followed by the original Larchmont Village location on June 18. In addition to the affirmation-based favorites such as the Giving/Chef's Seasonal Flatbread and the Humble/Indian Curry Bowl, the menu will include a new Black Lives Matter Bowl in lieu of its standard Grateful Bowl. Comprised of kale, black beans, garlic tahini sauce, and a grain of choice, proceeds from this bowl will be donated to various nonprofits in direct support of the movement.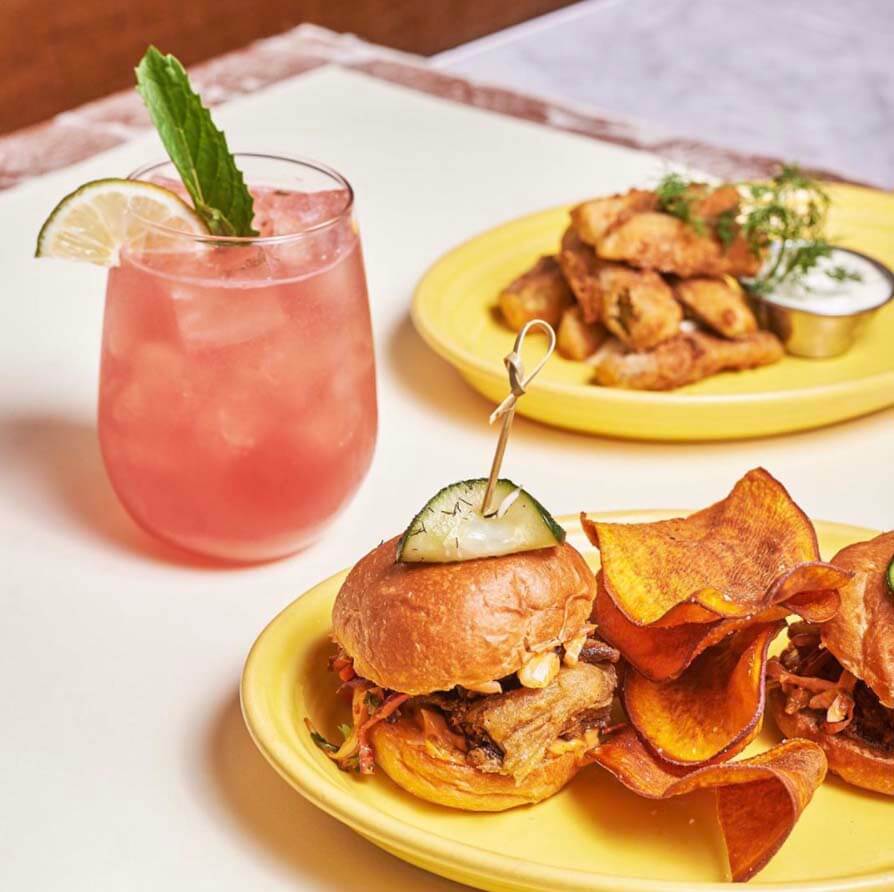 Gracias Madre
West Hollywood and Newport Beach
As of June 29, both Southern California Gracias Madre locations will be open for dine-in service (while also continuing takeout). Currently, both restaurants are limited to dinner hours, though after July 6, the West Hollywood location will resume its daily operations from 11am-11pm. Capacity at both locations is limited due to social distancing protocols. For updates on hours, check the business's Instagram page, @graciasmadresocal.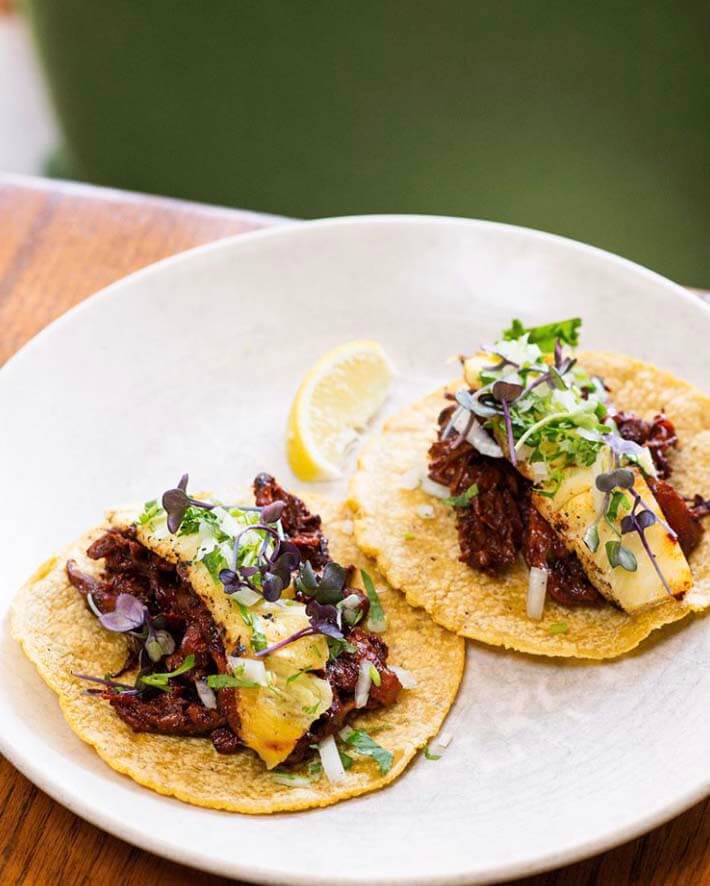 Real Food Daily
West Hollywood and Pasadena
This Los Angeles vegan institution is back in action. Both locations are now open for dine-in, takeout, and delivery—though with slightly restricted hours and a limited menu. Don't worry, you can still order the kitchen's greatest hits such as the Real Food Salad, All-Day Breakfast, and Build-Your-Basic-Bowl. The West Hollywood location is open seven days a week and closes early at 8pm, while the Pasadena location will be closed on Mondays and Tuesdays for the time being.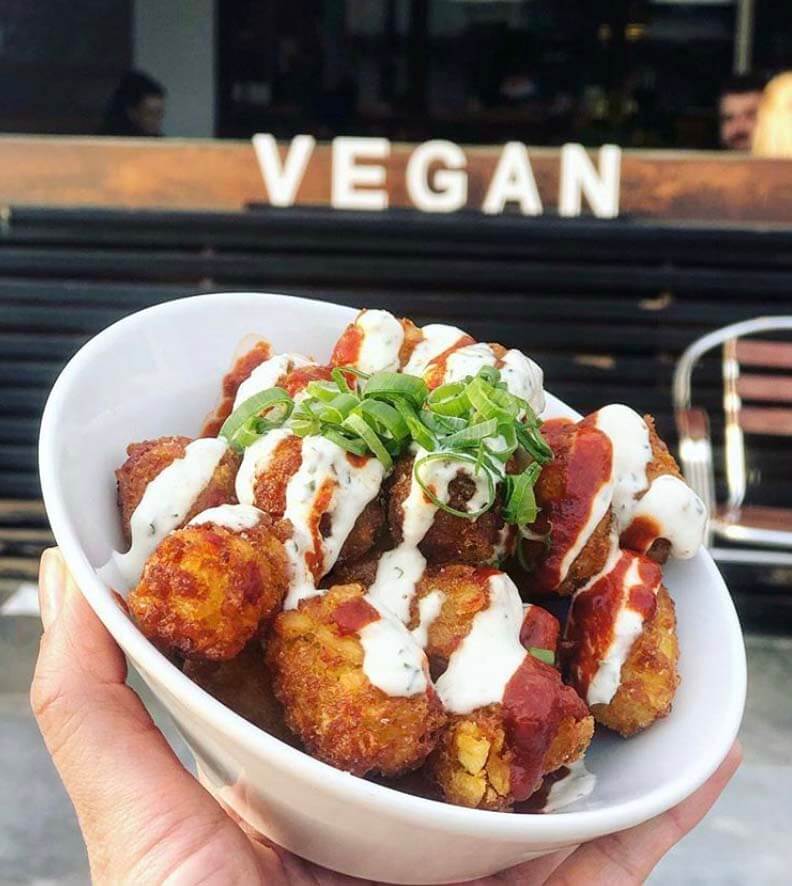 Azla Vegan
Leimert Park
While the DTLA spot remains closed, this family-run vegan Ethiopian restaurant has opened a new location for curbside pickup. The current menu features the eatery's signature Ethiopian Feast combination platter along with bags of berbere spices, produce boxes from Kindred Spirits Care Farm, bottles of Azla's homemade hot sauce "Awaze," and packages of healing sea moss. Online orders and takeout are available Tuesday-Sunday from 12-6pm.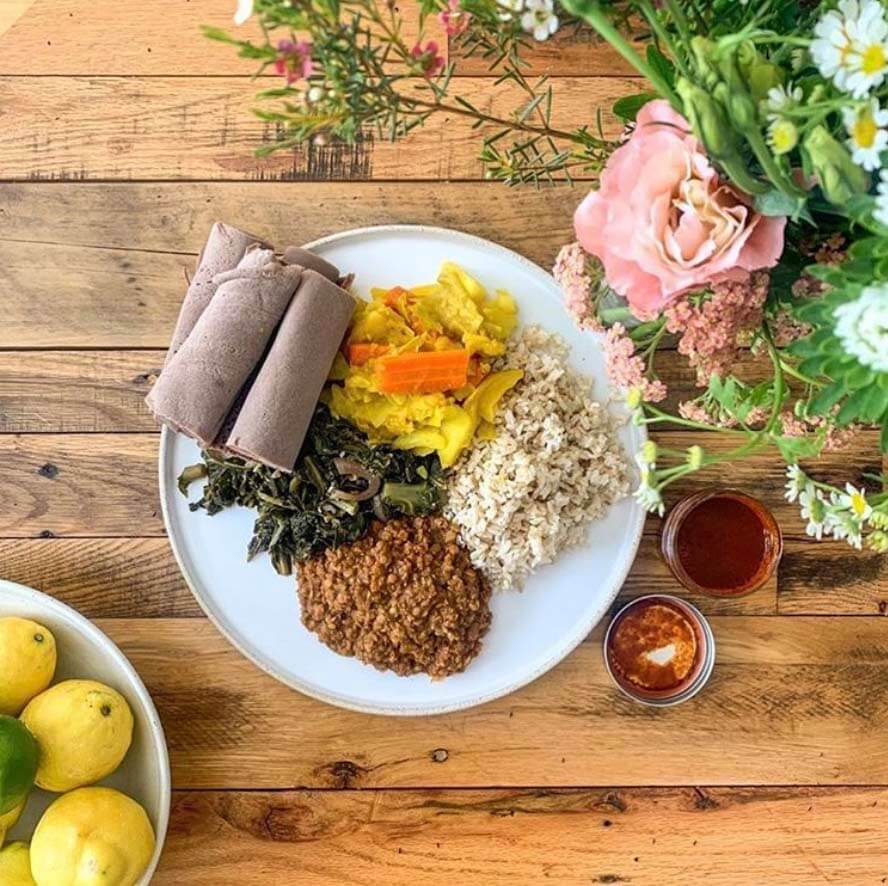 Photo credit: @brewinghappiness
Vegan by El Zamorano
Costa Mesa
Clear your calendar to drive down to Orange County on June 2 for the soft opening of OC's first vegan taqueria. Pop-up turned brick-and-mortar, Vegan by El Zamorano will be serving its incredible tacos, Asada Fries, Chile Rellenos, and more from 10am-7pm Tuesdays through Sundays.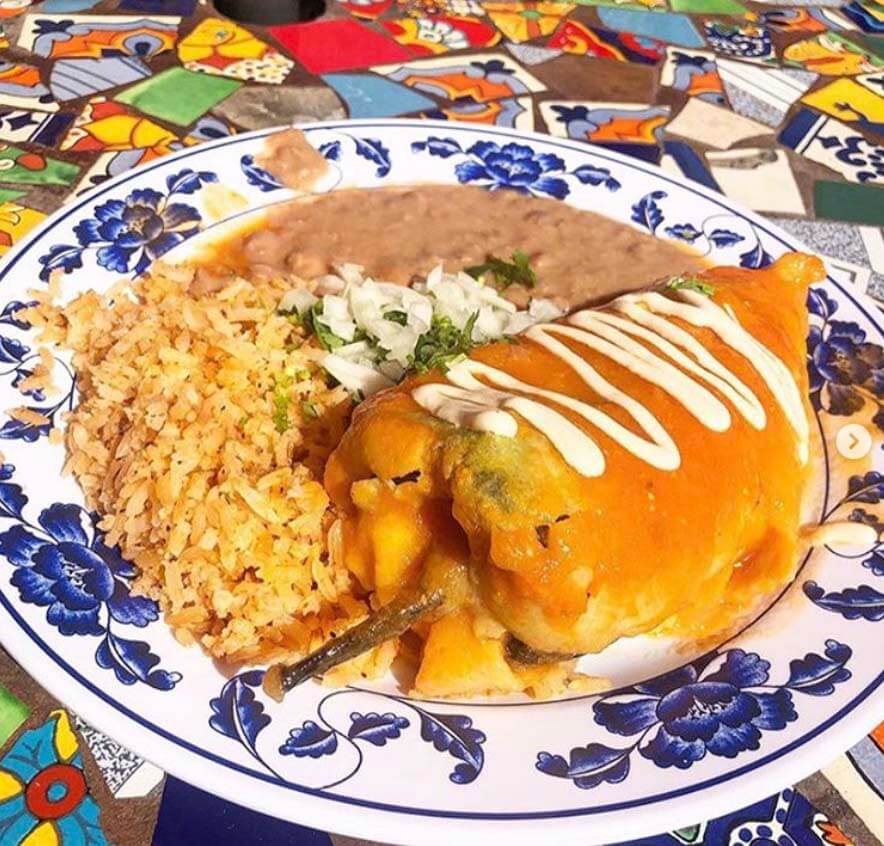 Photo credit: @maui_blu
Sage Plant Based Bistro
Agoura Hills
The fourth location of Sage Plant Based Bistro opened its doors on May 20 for takeout and delivery. Just off the 101 in Whizin Market Square, the new eatery will serve the same menu hits Los Angelenos have come to love. Customers can order their coveted buffalo cauliflower, pizzas, and Brazilian Burritos from 9am-11pm (breakfast served from 9am-11am).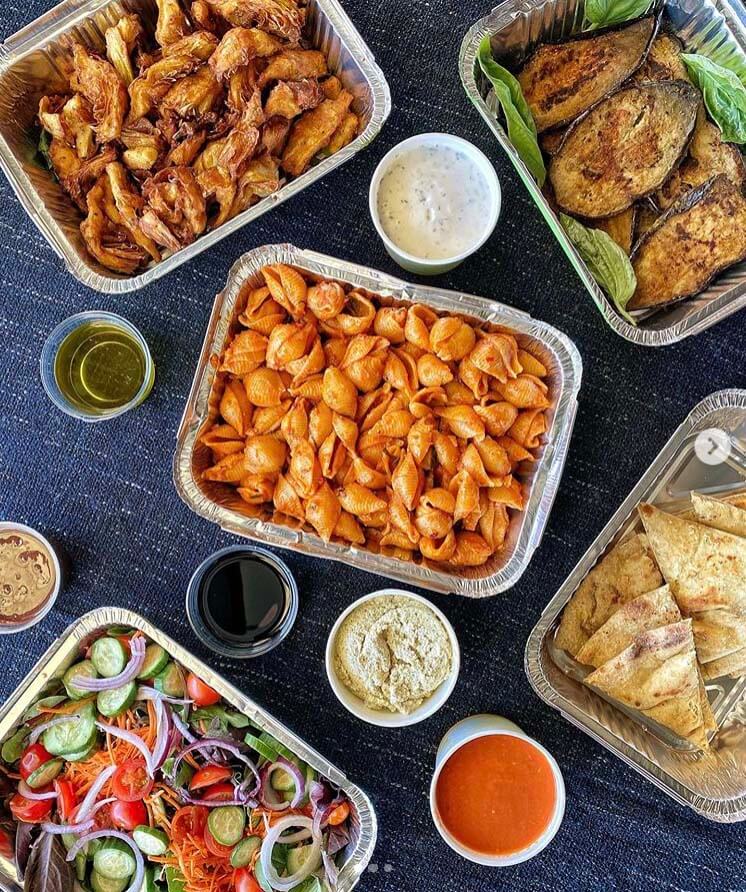 Cena Vegan
Lincoln Heights
We've been thankful to this rock-solid pop-up for remaining open five days a week. There's nothing like a warm, foil-wrapped, infant-sized burrito to tuck into when the craving for comfort food calls. As of May 16, the company extended its hours to include Saturday lunch and Sundays. Current operating hours are Tuesday-Friday 5-10pm, Saturday 12-8pm, and Sunday 12-7pm. Keep those barbacoa burrito bowls coming!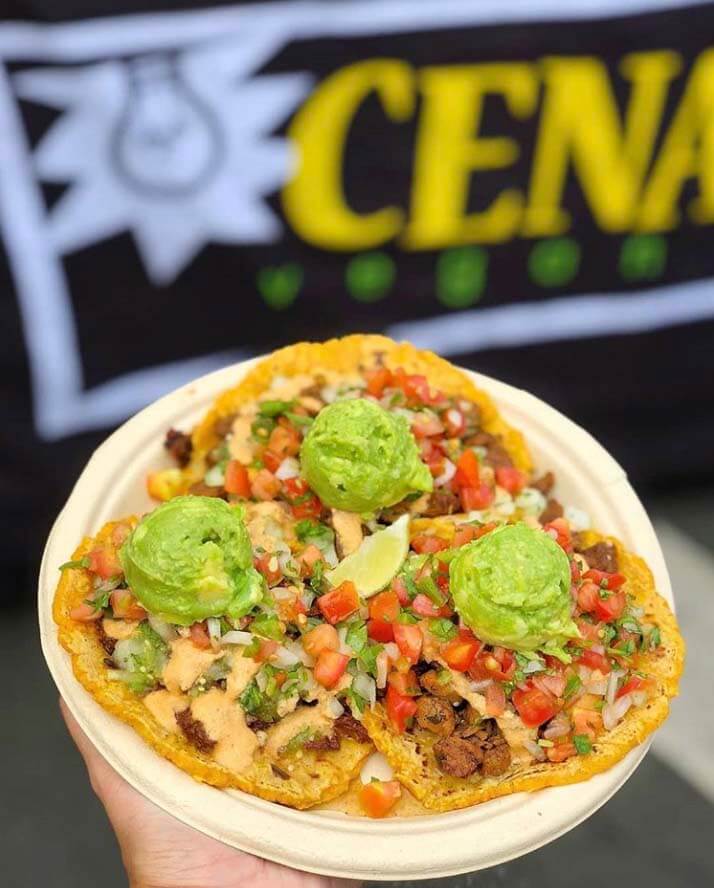 Magpies Softserve
Silver Lake and Tarazana
After a temporary hiatus, this beloved vegan-friendly softserve shop reopened both its Silver Lake and Tarzana locations. It's not stopping there. The business continues to innovate as customers delight to find new flavors almost every time they step in the shop. From coconut macaroon to the ever-rotating collection of frozen treats (bring back the Mexican Hot Chocolate pie), Magpies offers customers a delicious new excitement every time.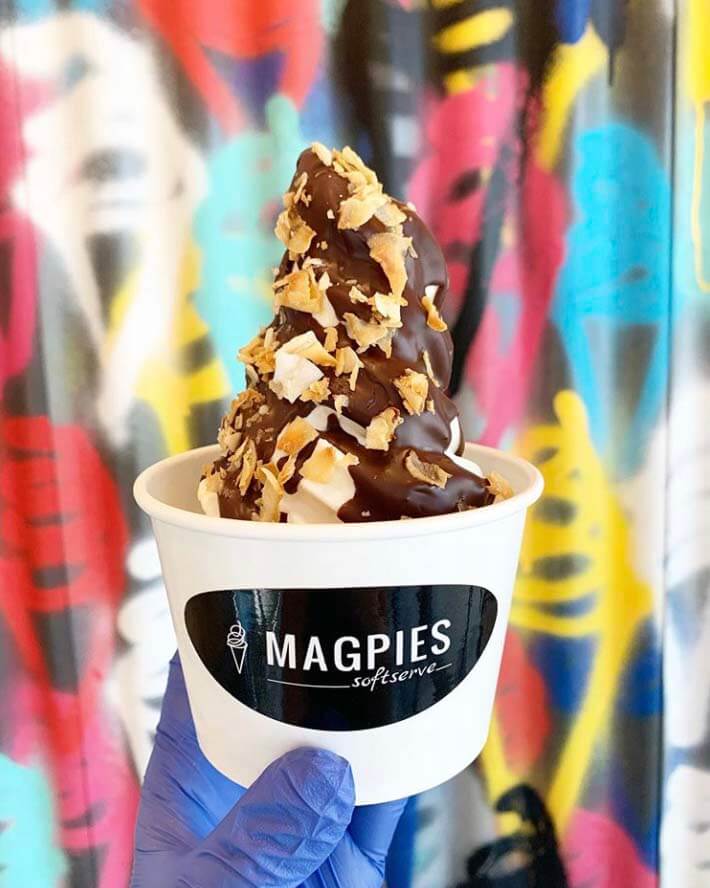 Nic's on Beverly
Beverly Grove
It's back! While we still can't enjoy a crafted cocktail out on the gorgeous hidden patio, we can order select menu items to-go. Open from 4pm-9pm on Fridays and Saturdays, Nic's is offering French Pearl cocktails, Nick's Burger with fries, Chinois Salad, Not-So-Chicken Nuggets, gnocchetti, and a few other hits for pickup and delivery.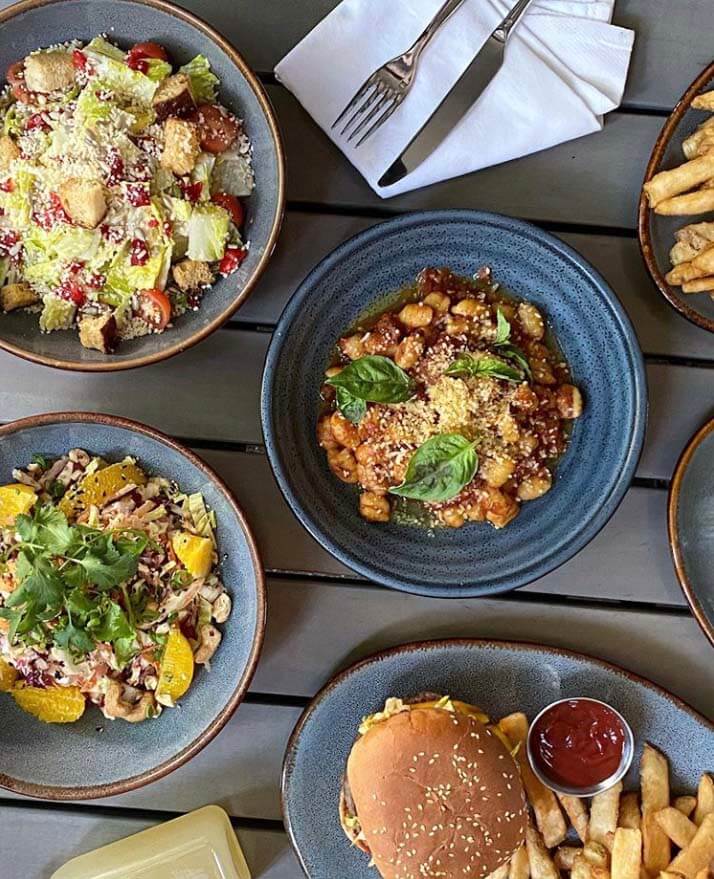 Pura Vita Pizzeria
West Hollywood
Pura Vita chef/owner Tara Punzone surely envisioned the opening of her highly anticipated pizzeria under different circumstances, but she was not deterred by the current restrictions. Patrons can now order Neopolitan-style pies, crispy mozzarella sticks, and arancini Tuesday through Sunday for pickup and delivery.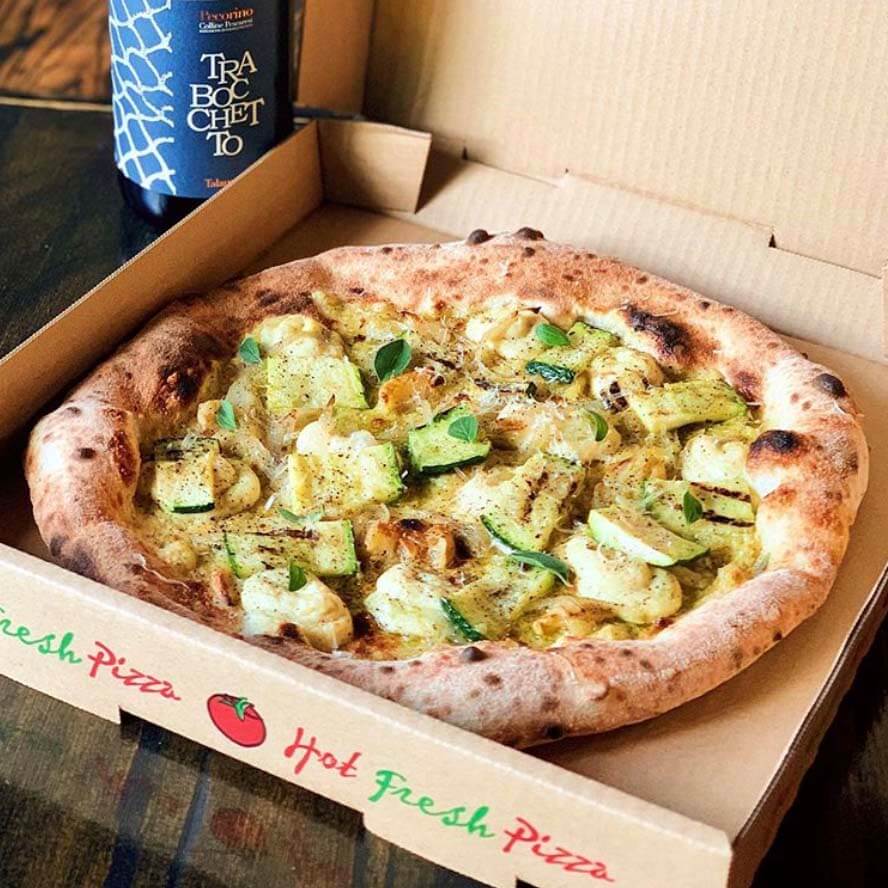 Seabirds Kitchen
Long Beach and Costa Mesa
To many local's sighs of relief, this microchain never closed its doors. However, it did scale back its menu, and Long Beach locals mourned their weekend pizza specials. After some tinkering in the kitchen, the restaurant debuted its pizza kits. While currently testing this in the Long Beach location only, the business teased that these kits may become available in Costa Mesa as well.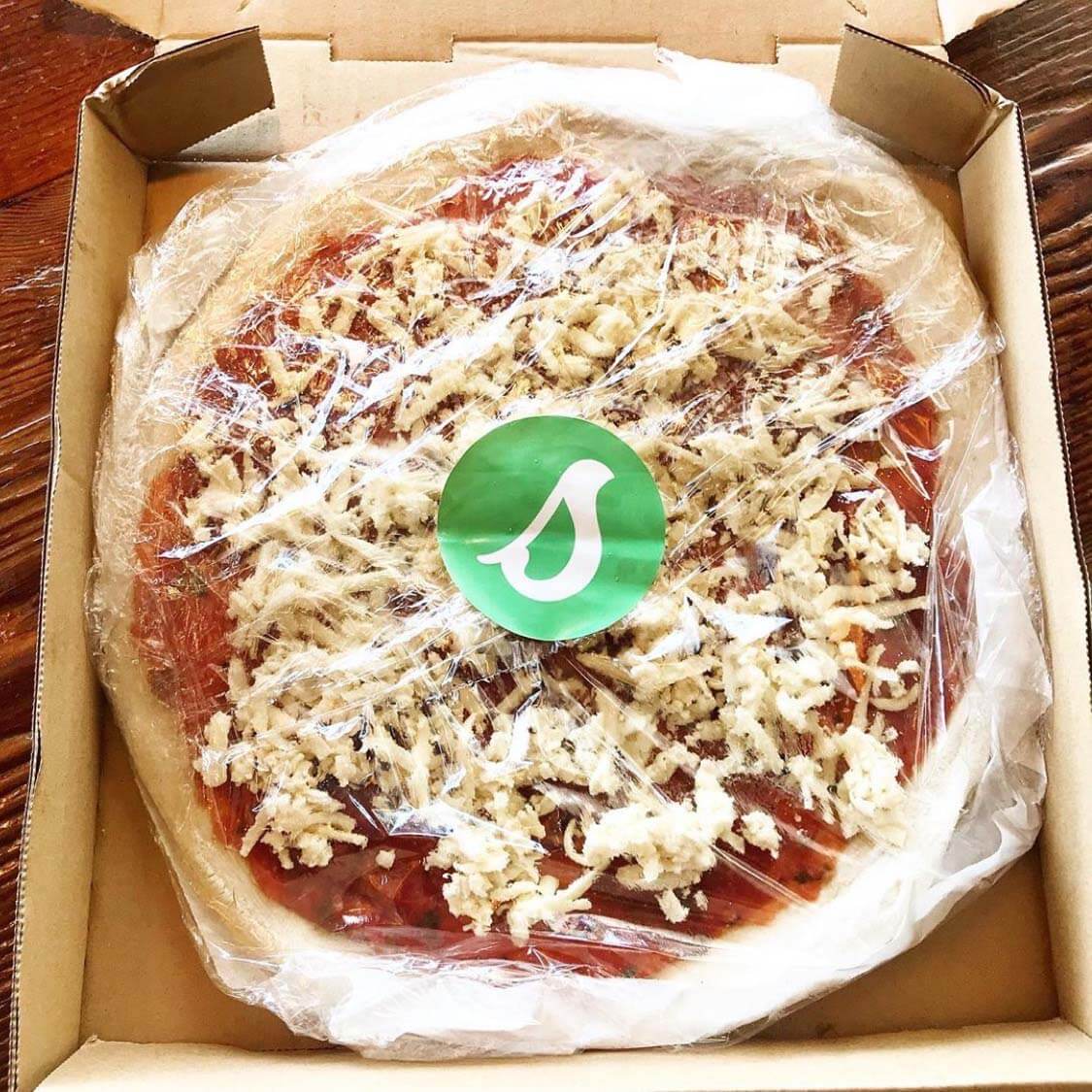 Vegan by Victoria's
East LA and Santa Ana
This vegan panaderia closed its doors in March, but mid-April, it reopened to the sound of virtual cheers. Hours are limited—12-4pm Fridays and Saturdays—and preorders are encouraged. In early May, the bakery began taking orders for pickup at its yet-to-open East LA storefront. Los Angelenos can now pick up pre-ordered pan dulce on Sundays from 1-3pm. As of May 15, the bakery will further expand its menu of mouthwatering conchas, cookies, and sweet breads to include homemade jackfruit and refried bean tamales.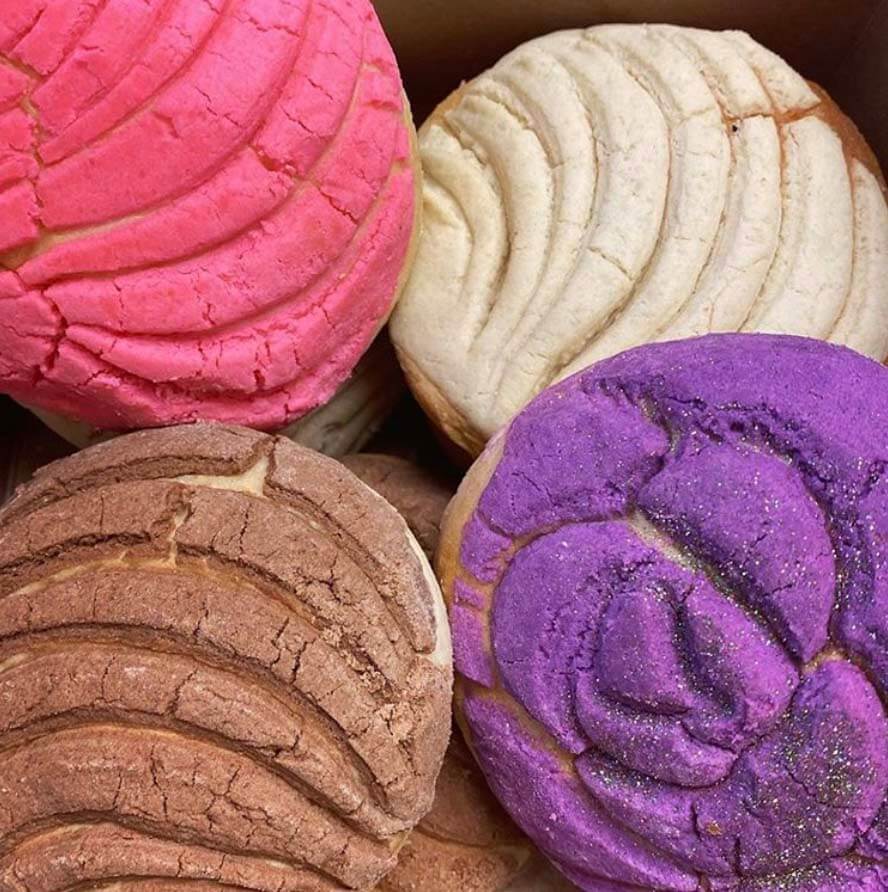 RELATED: Where to Get Vegan Sushi Takeout and Delivery in Los Angeles
---
Want even more LA vegan food, news, and lifestyle content? Subscribe to VegOut LA Magazine!