Back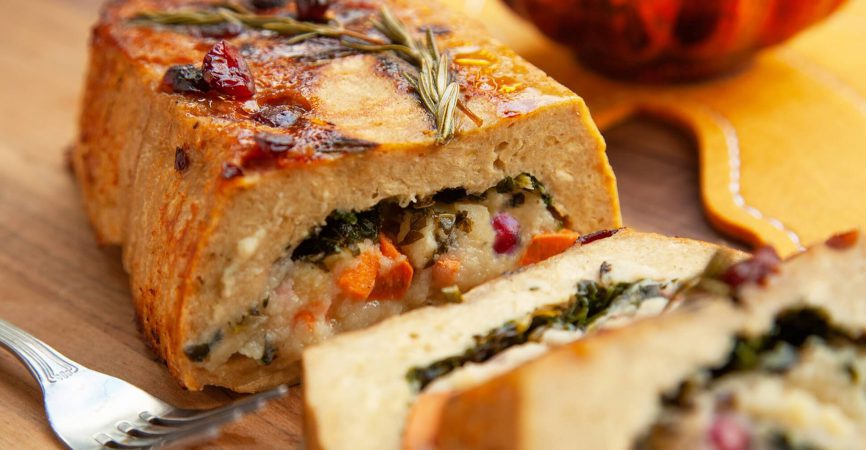 Where to Order Vegan Thanksgiving Dinner to Go in Los Angeles
Skip the hassle of cooking all day and pick up a vegan Thanksgiving feast from one of these spots!
Cafe Gratitude
Multiple Locations
We're feeling grateful for the abundance of dishes available for pick-up from this vegan spot! This year, you can choose from a Shaved Kale Salad, French Lentil & Butternut Squash Loaf, Roasted Maple Miso Brussel Sprouts, and Garlic Mashed Potatoes with Shiitake Gravy! For dessert, they've got Pumpkin, Pecan, and Chocolate Coconut Cream pies! Each dish serves 4-6 people and comes with heating instructions. You can place your order over the phone, in person, or online by Monday, November 25th. Pick-up is from 1pm-10pm on Wednesday, November 27th.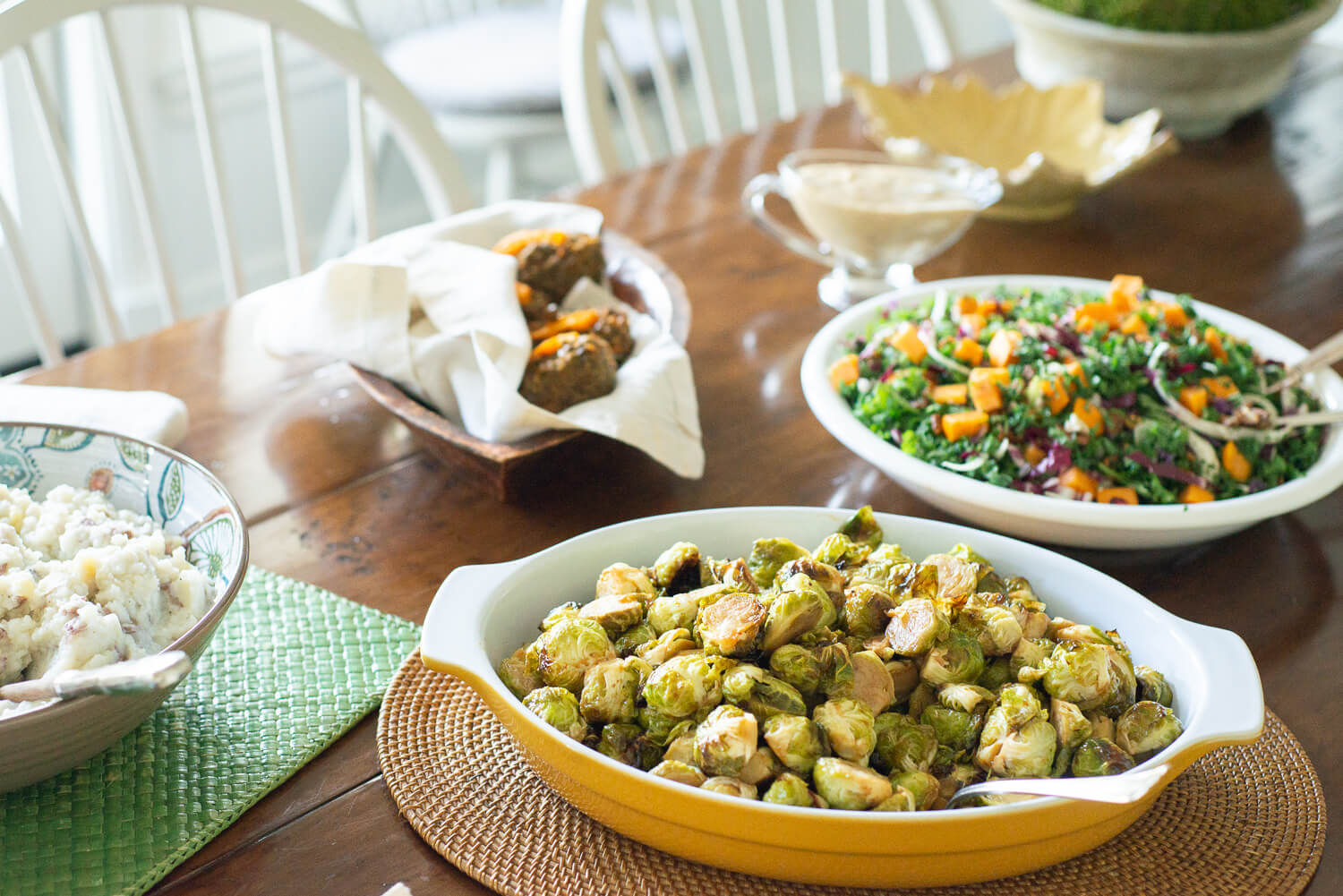 SunCafe Organic
Studio City
Give SunCafe a ring and place your order for their Vegan Thanksgiving Meal Box! It includes a Mixed Green Salad with candied cranberries and cranberry dressing, Green Bean Casserole, Candied Sweet Potatoes topped with vegan marshmallows, Pumpkin Stuffing, Mushroom Gravy, Filo stuffed with savory portobello, and Pumpkin Pie! There's also a gluten-free option available! Meals can be picked up on Wednesday, November 27th.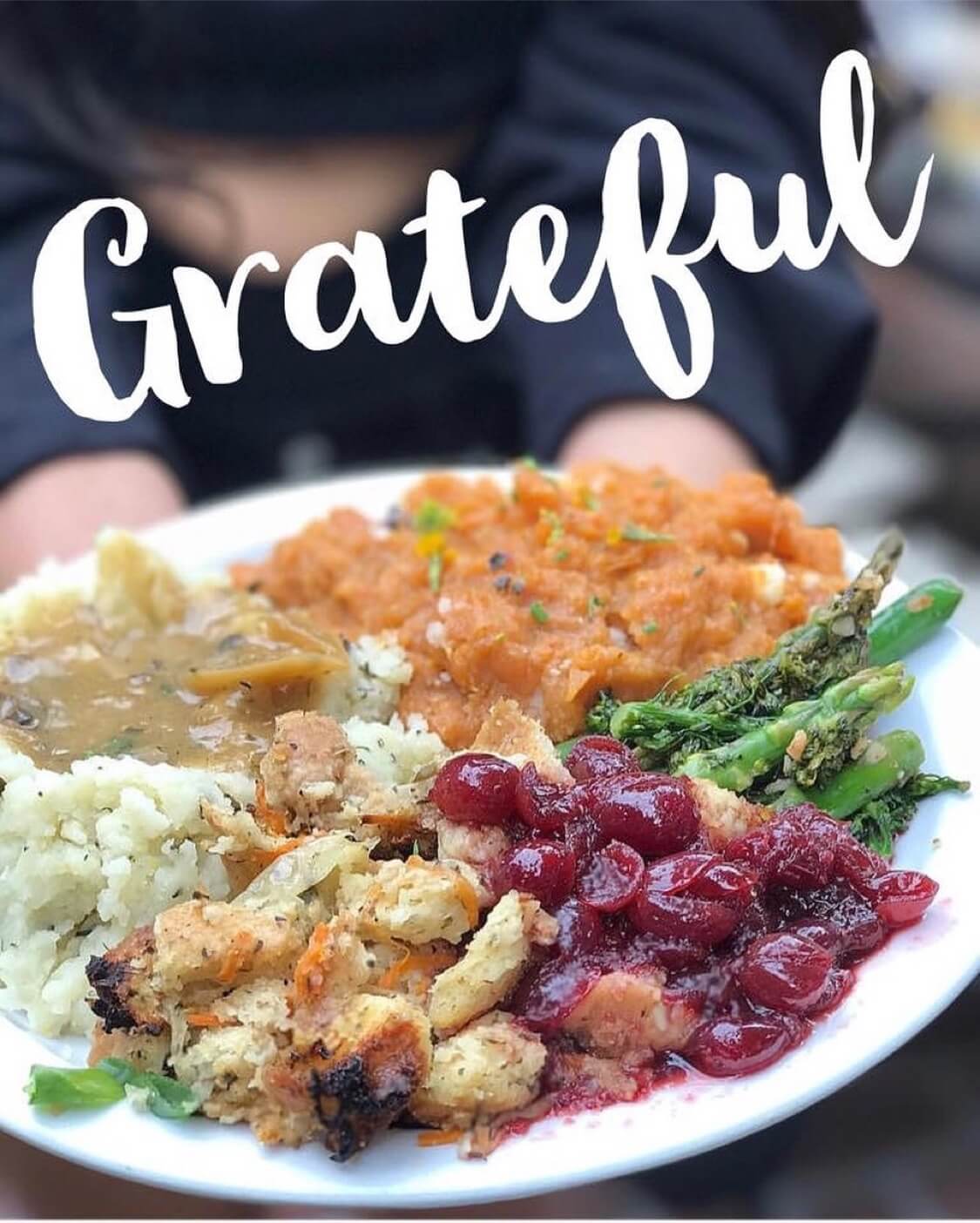 Sage Vegan Bistro
Echo Park, Culver City, and Pasadena
This sustainably delicious restaurant is known for its diverse and gigantic vegan menu! They keep their reputation up with a dense Holiday Catering Menu! Whether you'd like a la carte items, individual meals, or a family meal for four, you can build your own Thanksgiving fare! For the main dish, choose from a Seitan Turkey, Lentil 'Meat' Loaf, or gluten-free Tamales with Verde sauce! Side dishes include Collard Greens & Kale, Macaroni 'n Cheese, Mashed Maple Yams, Mashed Potatoes, Gravy, Cranberries, and Cranberry Apple Stuffing! For the grand finale, get a Peach Cobbler, Apple Crisp, or Sweet Potato Pumpkin Pie! Submit your order online and pick up at the location of your choice between Monday, November 25th and Wednesday, November 27th.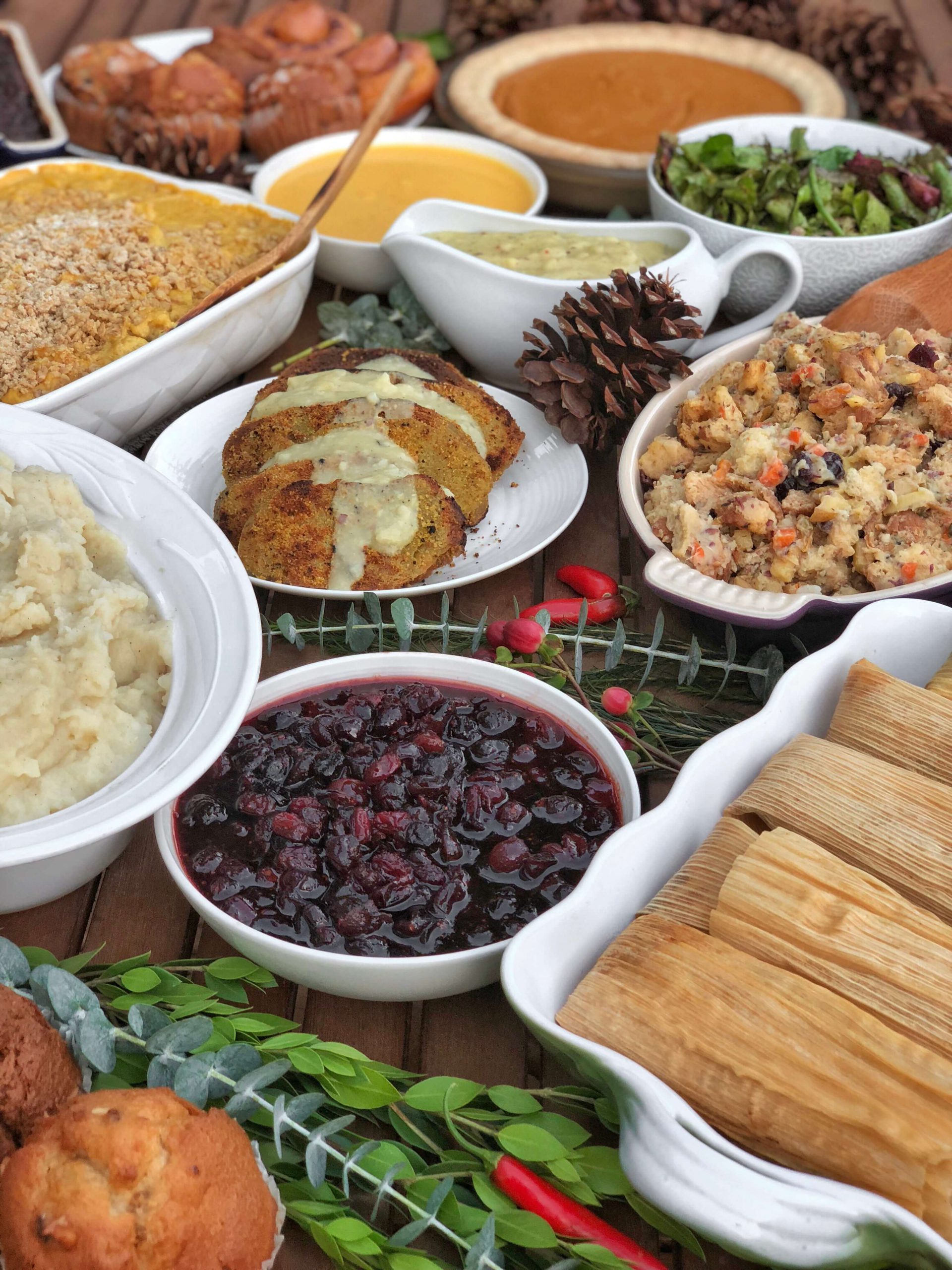 Native Foods Cafe
Multiple Locations
The best thing about Thanksgiving is all of the jokes about how sad it must be to only eat kale as a vegan––NOT! Show those haters the wealth of flavors and textures that are possible with a plant-based diet when you pick up a Holiday Roast from this spot! It's stuffed with sweet potatoes, garlic mashed potatoes, cranberries, kale, and apples, garnished with rosemary, and served with a side of mushroom shallot gravy! Pre-order it for pick-up, stick it in the freezer, and follow the baking directions when you're ready to blow those skeptics' minds! At the Westwood, Costa Mesa, and Point Loma locations, they will also have their buffet menu (including sides and desserts) available for take-out!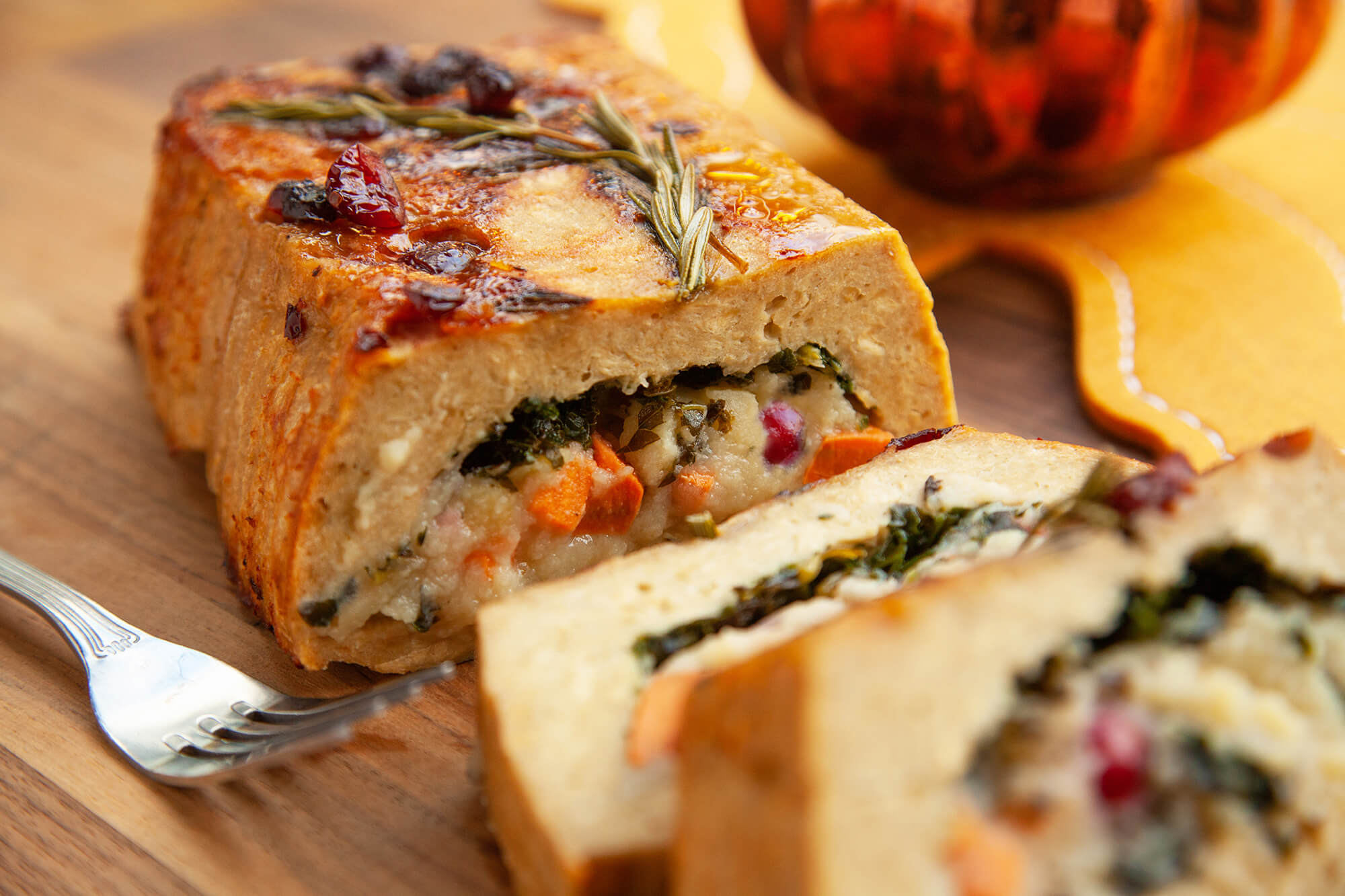 M Cafe
Melrose
If you'd like a full Thanksgiving feast or just a few solo items, M Cafe has it all––they've even got soy-free, gluten-free, and nut-free options! Entree options include Shepherd's Pie with mirepoix, braised jackfruit, porcini mushrooms, and mashed sweet potato, or a Beet Barbecued Tempeh Loaf! They have an array of sides like Roasted Sweet Potatoes, Macaroni & Cheese, Brussel Sprouts, Maple Glazed Stuffed Acorn Squash, Creamed Kale, and Herbed Bread Stuffing! All of their specialty desserts including the Chocolate Fudge Cake, Japanese Kabocha Squash Tart, Apple Tart, and Quinoa & Blueberry Tart are vegan, organic, and made without refined sugars! Email m1@mcafedechaya.com or call the store before Monday, November 25th at 5pm to get your grub!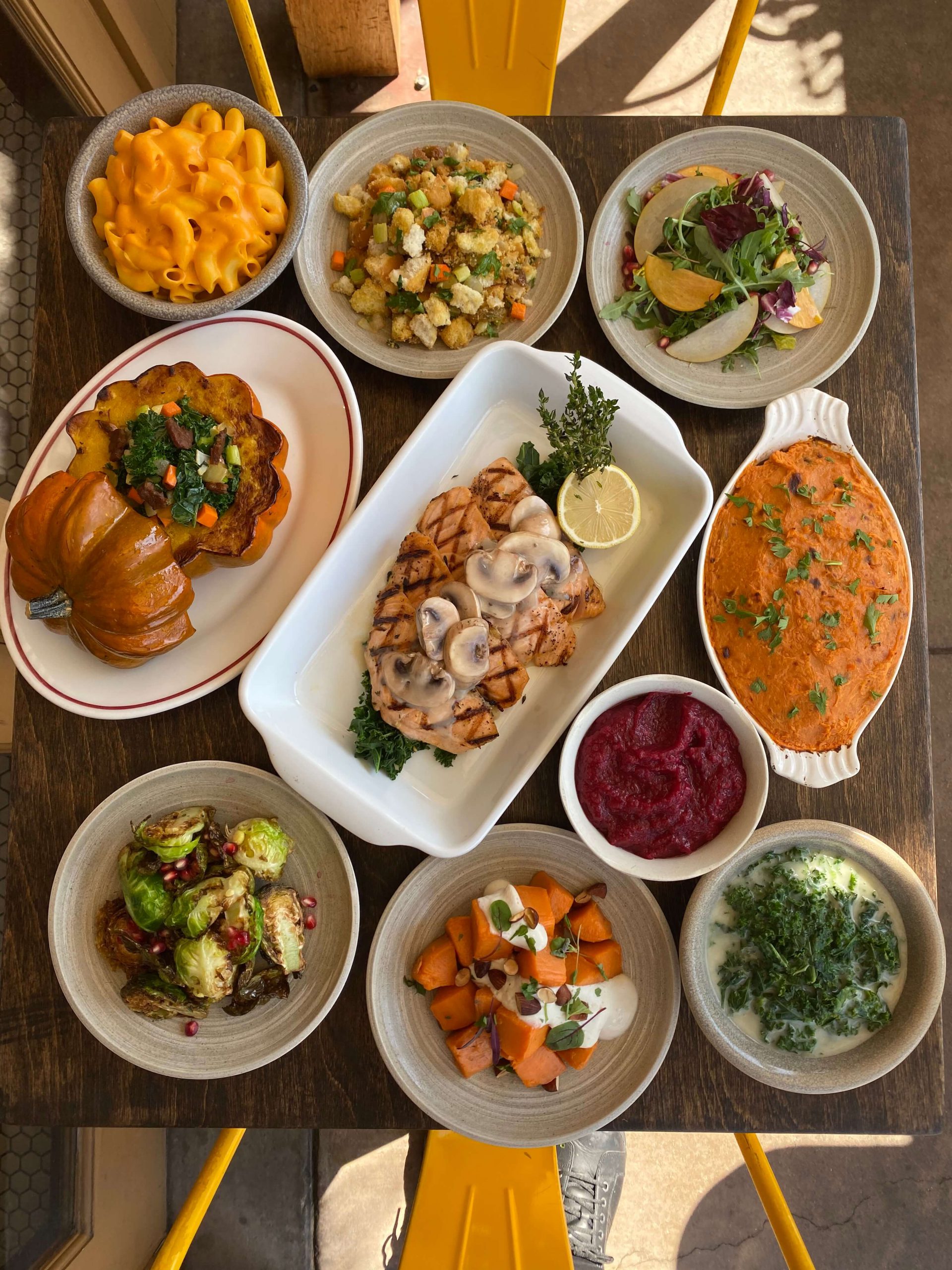 Mama's Tamales
Westlake
Not into the faux turkey trend? Take part in another holiday tradition and order a tamale feast this Thanksgiving! Mama's first holiday package comes with a dozen tamales, a half sheet of rice, a half sheet of beans, plantains, and sides of red and green salsa. Their second package is a Pan con Pollo Vegano Kit that comes with 2 pounds of "Pollo" (a.k.a. Stewed Jackfruit with traditional Salvadoran spices) as well as 6 Bolillo breads, Creamy Curtido, Pickled Curtido, and assorted fresh vegetables! They'll also throw a few Follow Your Heart coupons for veganaise to spread inside your bread! The last package option is the Pupusa Dozen with a dozen pupusas, a half sheet of rice, a half sheet of beans, a side of plantains, with Curtido and tomato salsa! The pupusa flavor options are Bean and Cheese, Jackfruit and Cheese, Calabacita and Cheese, or Jalapeño and Cheese! Place your orders via phone 213-487-7474 or online by November 20th at 5pm. They will be open on Thanksgiving morning for pick-ups.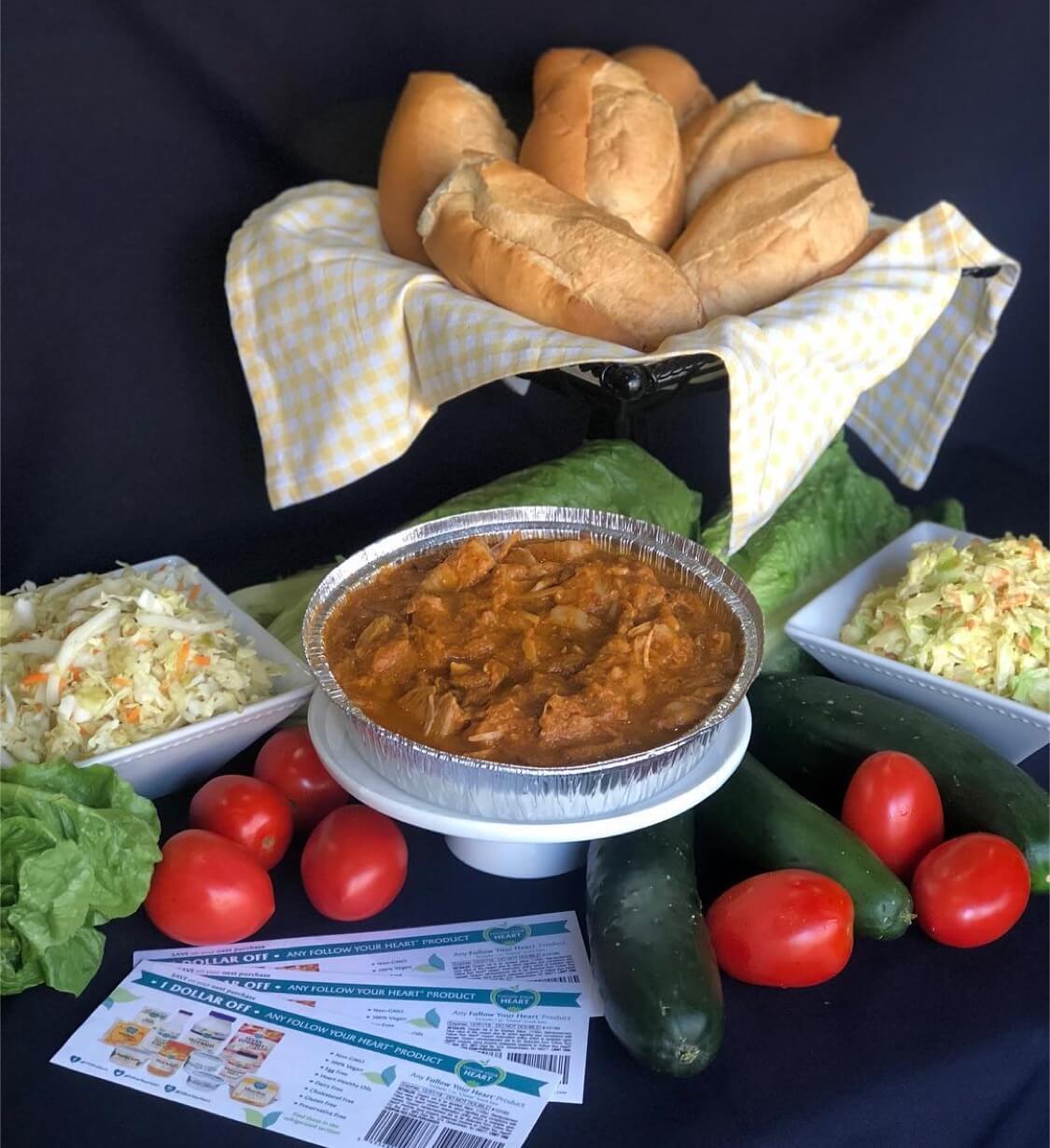 Veggie Grill
Multiple Locations
Veggie Grill pulls through once again this year with their take-home Holiday Feast! From November 4th to 23rd, you will be able to take part in this banquet that feeds four! It's comprised of their Stuffed Holiday Roast, Apple Sausage Stuffing, Green Bean Casserole, Mashed Yams, Cauli-mashed Potatoes, Porcini Gravy, and Cranberry Sauce! If that's not enough, you can add more sides or get a 4-pack of pumpkin cakes! Place your order online for a flavorful, stress-free holiday!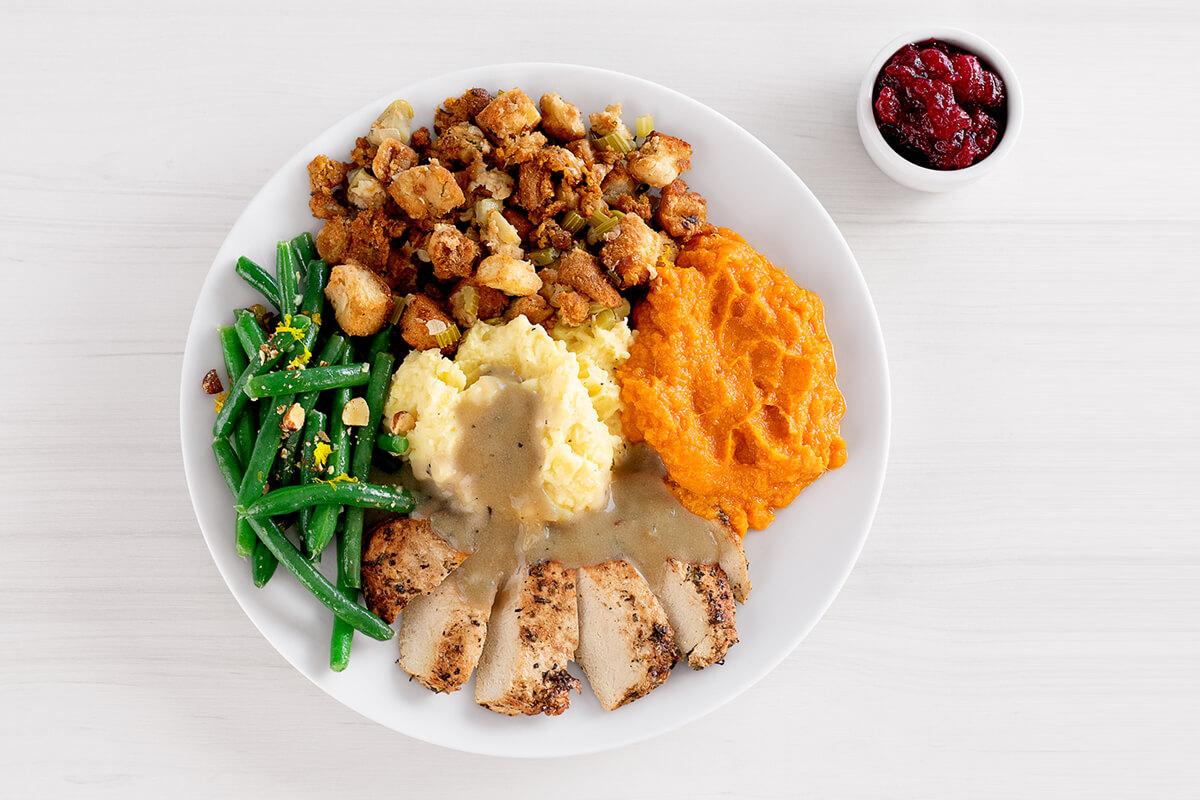 Follow Your Heart Market & Cafe
Canoga Park
Follow Your Heart (a.k.a. the creators of Veganaise) has a marketplace in LA with a Heat & Eat Thanksgiving Menu! They offer a Vegan "Turkey" Pot Pie, Oven Roasted Rosemary-Basted Vegan "Turkey," Stuffed Acorn Squash, Fresh Rosemary & Thyme Stuffing, Glazed Oven-Roasted Organic Yams, Creamy Organic Mashed Potatoes, Creamy Country Gravy, Vegan Cashew Mac & Cheese, Steamed Organic Green Beans, and Organic Cranberry Relish! Their desserts include Cranberry Bread, Fruit Tart, Cheesecake, Pumpkin Cheesecake, and pies in Pumpkin, Apple, Strawberry Rhubarb, Pecan, and Cherry flavors! Mix and match the dishes to order the perfect amount to feed your pack, or choose their Thanksgiving Feast by the plate which includes most of the dishes listed above! Oh, and did we mention there's plenty of gluten-free options? Woo! Email cafe@followyourheart.com to place your order! Get that order in before Monday, November 25th to pick up between Tuesday, November 26th and Thanksgiving Day by 3pm!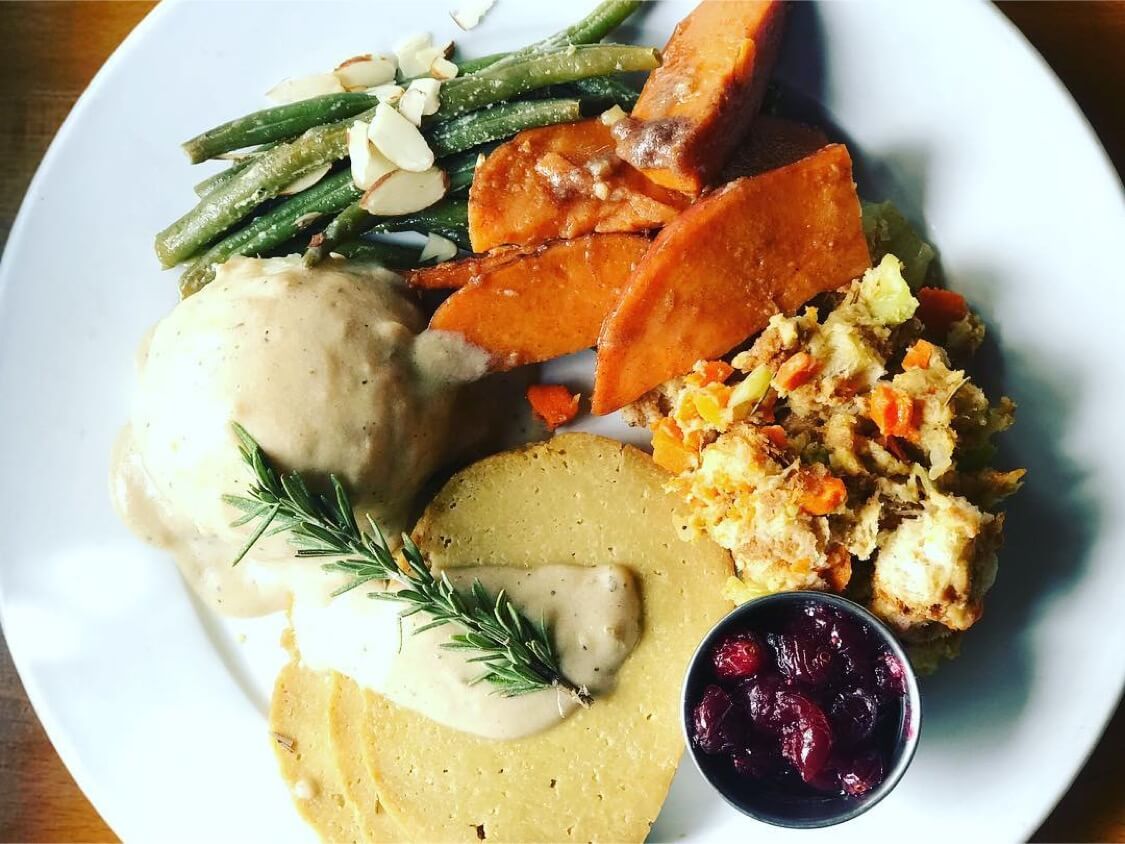 Whole Foods
Multiple Locations
This year, Whole Foods is elevating its holiday offerings with their Vegan Meal for Two curated by Chef Jenné Claiborne, a.k.a. Sweet Potato Soul! It's comprised of a Mushroom Étouffe, Braised Collard Greens with Tomatoes, Spicy Cornbread Dressing, Balck-Eyed Pea Fritters, and Pumpkin Pie. If you've been wanting to try The Herbivorous Butcher's meat-free meats but haven't been able to get your hands on their Minneapolis-based products, you might want to order The Vegan Stuffed Turk'y Meal for Four! It comes with The Herbivorous Butcher Vegan Stuffed Turk'y, Green Beans with Roasted Shallots, Mashed Potatoes, Mac & Yease, Mushroom Gravy, and Cranberry Orange Sauce. You can add extra items to your order like Vegan Apple Pie, Pumpkin Curry Soup, Rosemary Rolls, and more! These items can be ordered a la carte if you'd like to customize your Thanksgiving dinner to meet your liking! Place your order online, in-store, or over the phone at 1-844-936-2428!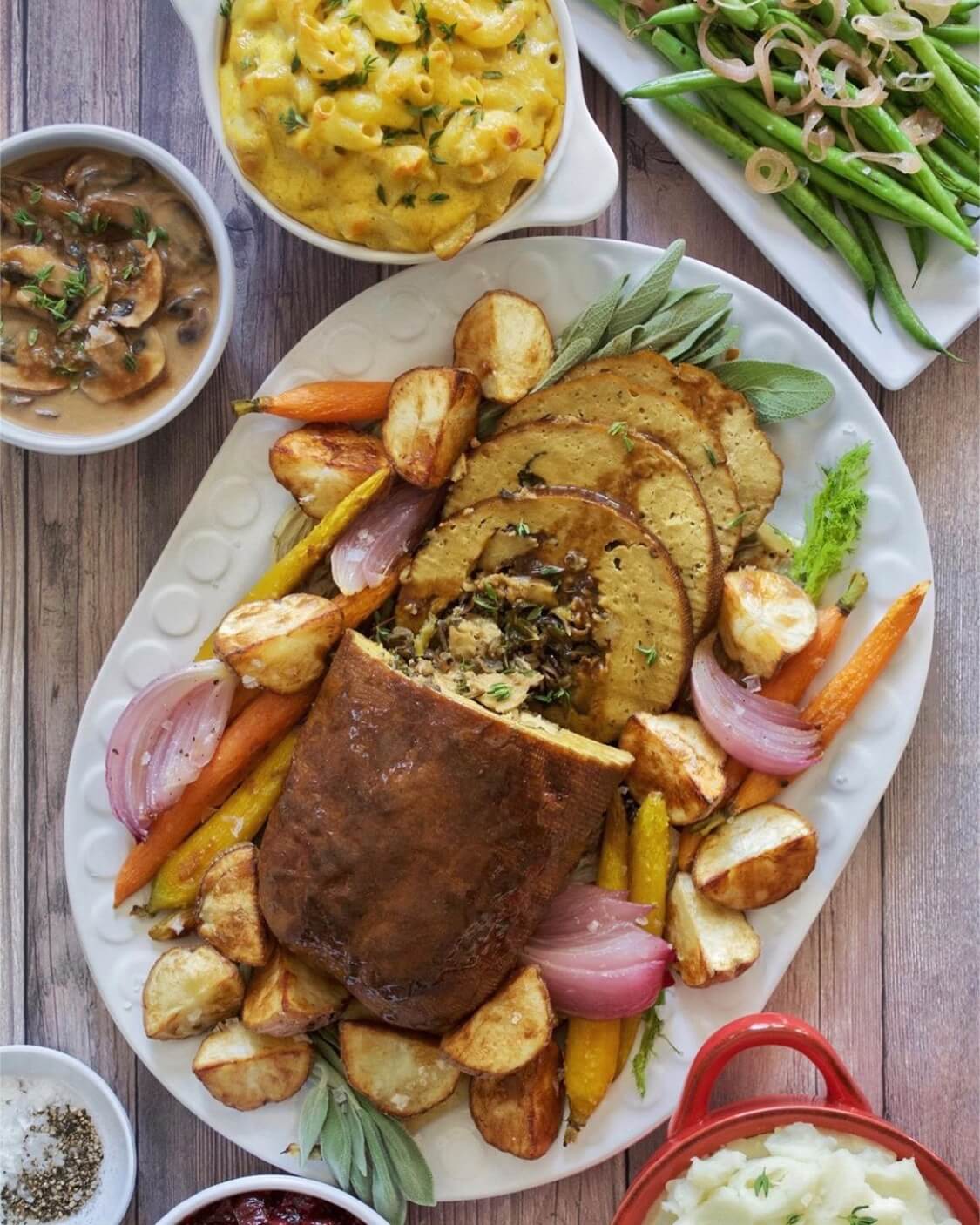 Joi Cafe
Westlake Village
From 'Meat Loaf' and Soul Stuffing to Cauliflower Mash Green Bean Casserole, Baked Cheesy Mac & Joi, and Butternut Squash Soup, Joi Cafe takes the word "feast" to a new level! On the sweet side, you can pick up Pecan Crunch Sweet Potato Casserole with Marshmallows, Sun Oven Take & Bake Cinnamon Rolls, as well as pies and cakes from Yvonne's Vegan Kitchen! These aren't your typical, boring old cake flavors either––try Chocolate Creme De Menthe, Vanilla Spice with Sunflower Date Caramel, or Vanilla Lemon with Raspberry Jam! Can't commit to just one flavor? You can order them by the slice and try all three! Pre-order your food online by 8pm on Friday, November 22nd. Pick up is on Wednesday, November 27th between 10am-6pm! All dishes serve 4-6 people; all pies and cakes serve 8-10.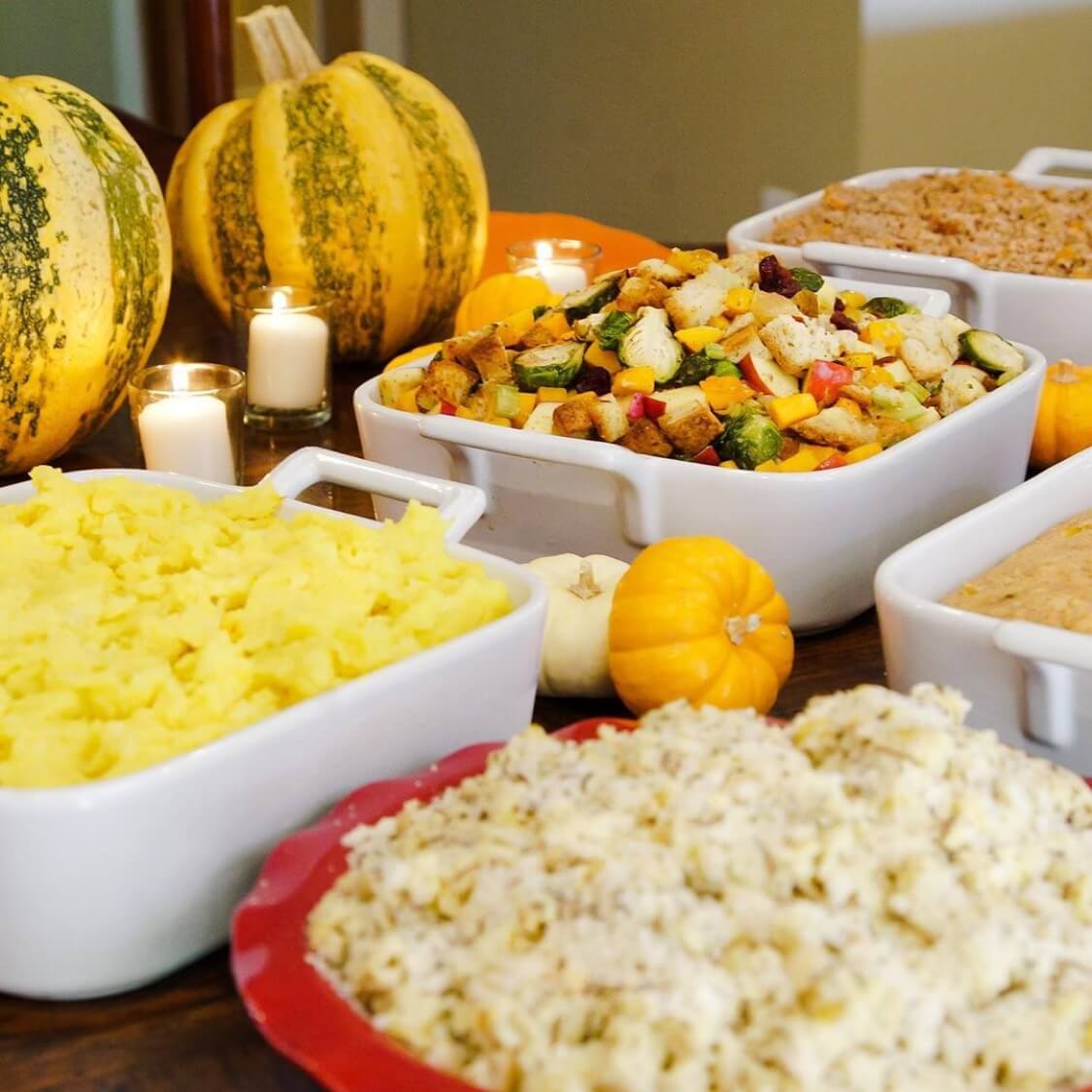 Organix
Eagle Rock
This vegan deli and marketplace has a few things you might want to grab for Thanksgiving this year! They will be selling Vegan Wellington Roasts in Roasted Turkey Cranberry Walnut or Portobello Spinach Walnut flavors! If you're not into those options, get yourself some tamales available in Shredded Beef or Chik'n & Green Chile flavors! Order forms for both are available at the shop!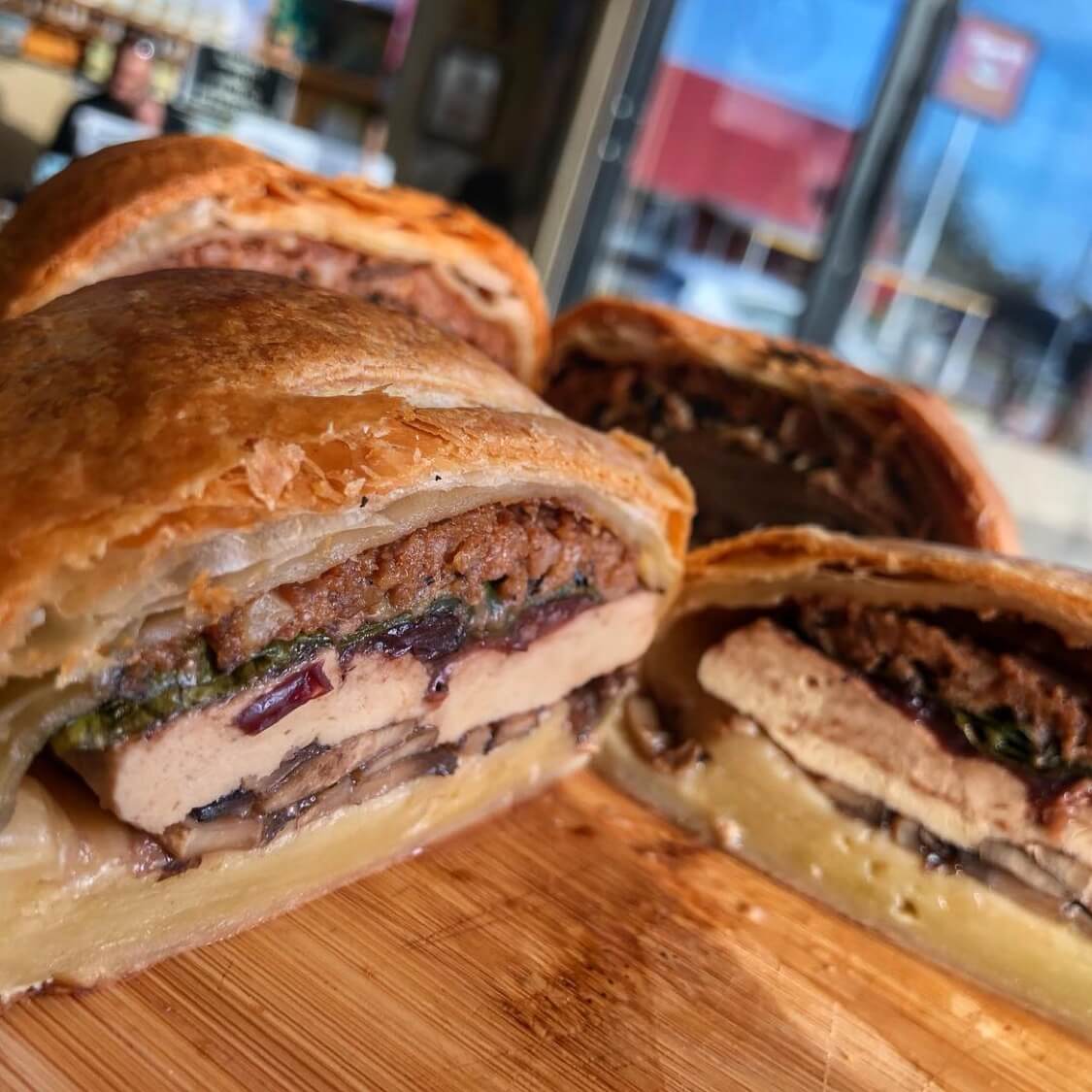 Stuff I Eat
Inglewood
Raw vegans, you are not forgotten! For the 11th year in a row, Stuff I Eat has both a Cooked Thanksgiving menu and a Raw Thanksliving menu! The individual plates can be pre-ordered for pick-up by Wednesday, November 28th! What's in them? The cooked menu includes Vegan "Turkey" Cutlets, Mashed Potatoes & Gravy, Mac 'n' Cheese, Yams, Dressing, and Homemade Cranberry Sauce. Choose between String Beans or Kale Greens, and Broccoli Salad or Mixed Green Salad on the side. For dessert, you get a slice of Organic Sweet Potato Pie! The raw menu comes with a Cauliflower Cashew Mash with Gravy, Savory Wild Rice Stuffing, Cranberry Sauce, Nut Loaf, Marinated Spinach, and Napa Cabbage! Additionally, you get the choice between Jicama "Potato" Salad or Broccoli Salad. Dessert is a slice of Raw Organic Sweet Potato Pie! Yummy!
Shojin
Culver City and DTLA
This year, order your Thanksgiving feast with an Asian twist from Shojin! It comes with Kabocha Pumpkin Croquettes and Shojin Shiso Gyoza, a Baked "Crab Cake" Hand Roll, and your choice between their Spicy Dynamite Roll 2.1 or Kiss of the Spider Woman Sushi Roll. Their entree is a "Meatloaf" Wellington with Red Wine Tamari Sauce, Mashed Potato, Kabocha Pumpkin, Brussel Sprouts, and Cranberry Sauce!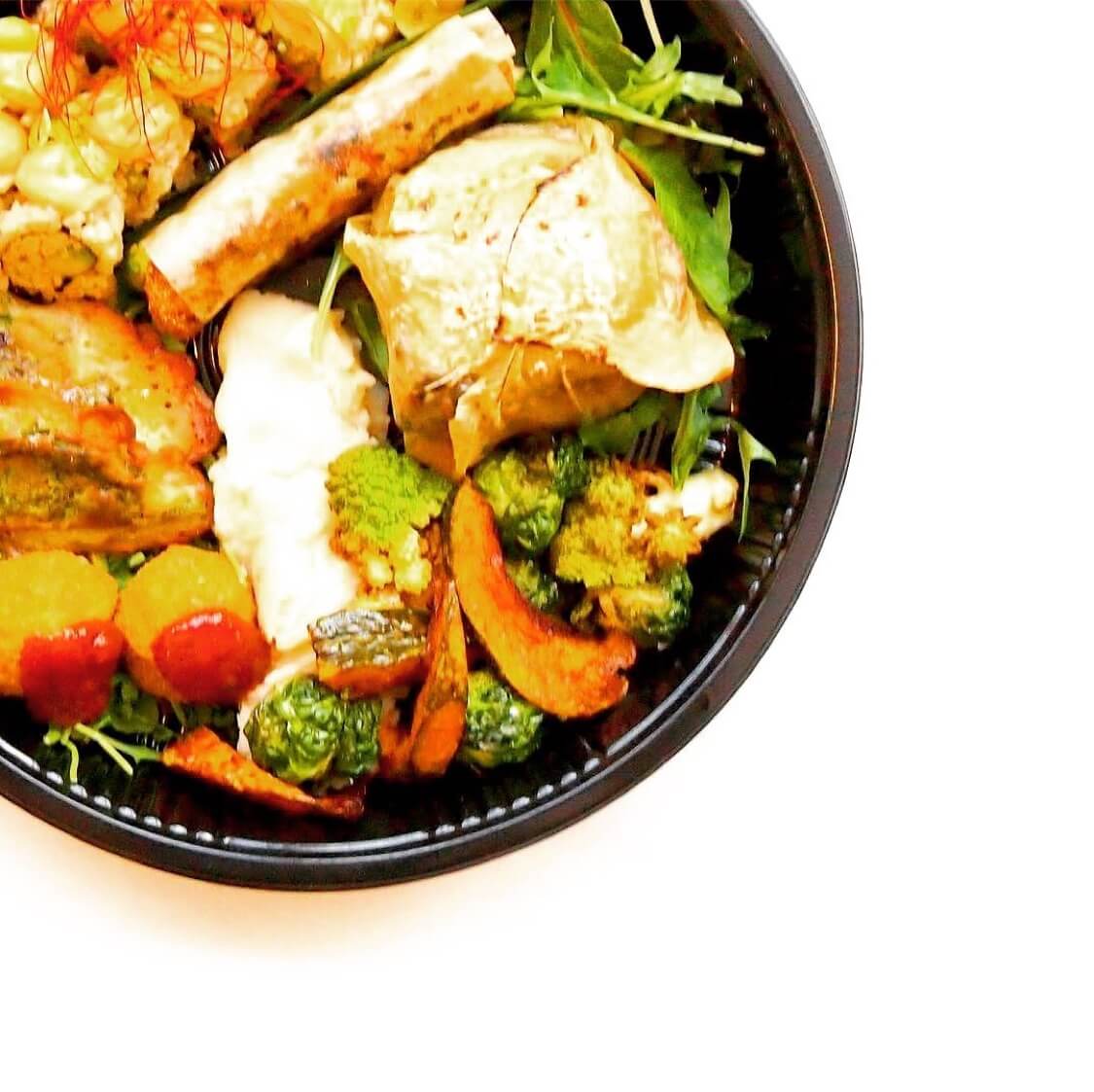 Ahimsa Vegan Cafe
Long Beach
This dynamic vegan spot will be accepting catering orders for Thanksgiving day. Appetizers include Bread and Butter, Salad and Dressing, and Butternut Squash Soup. For the main course, enjoy Mock Turkey, Stuffing, Mashed Potatoes and Gravy, Corn on the Cob, Candied Yams, and Cranberry Sauce. For something sweet, get Pumpkin Pie Cheesecake or Apple Cider! Call 949-436-0588 to place your order!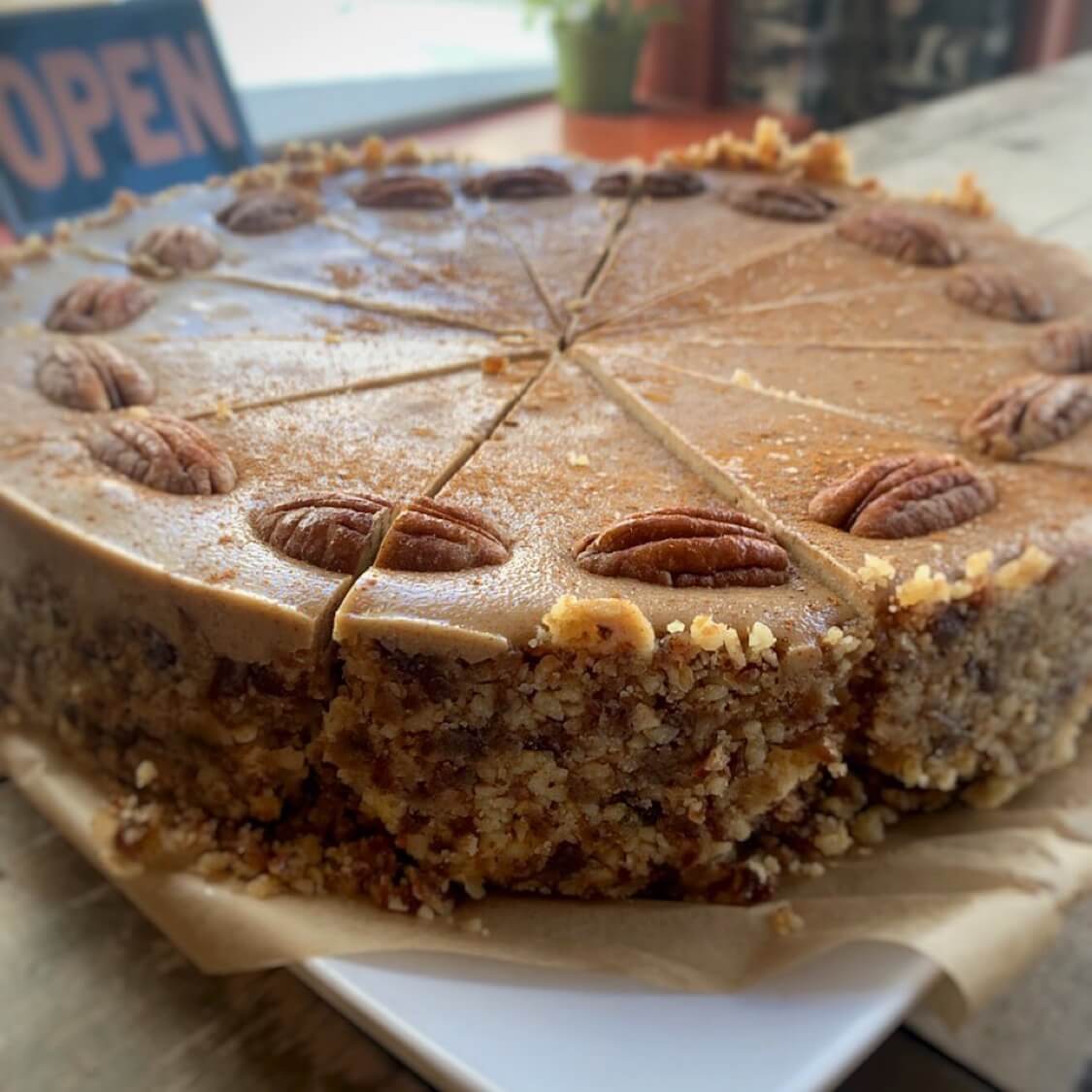 Mother's Market
Multiple Locations
Live your wildest Tofurky dreams with the pre-order options from this spot! Their Tofurky entree is available in four different flavors––Gravy Giblet, Vegetarian Feast, Veggie Roast, and Ham-Roast Glazed! Their Field Roast entrees include Celebration, Celebration Stuffed Roast, or Hazelnut Cranberry variations. Their vegan sides available to order are Mashed Potatoes, Vegan Gravy, Roasted Cauliflower Head, Cranberry Apple Relish, Green Beans Almondine, Roasted Delicata Squash with cranberry agrodolce, Just Yams, Roasted Irish Roots, and Roasted Brussel Sprouts. For dessert, pick up Pumpkin Pie, Pecan Pie, Raw Apple Pie, Raw Donut Holes, Signature Raw Avocado Chocolate Pudding, or Pumpkin Spice Pudding! Order here!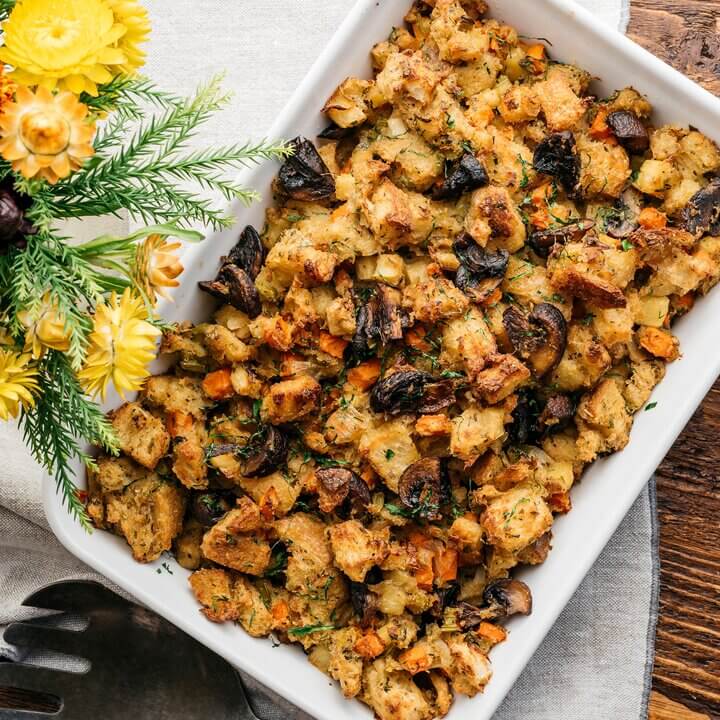 Munchies Diner
Santa Ana
It's Thanksgiving dinner three ways––as a bowl, sandwich, or plate! That's right! However you prefer to enjoy those staple holiday flavors, Munchies will have you and the fam feeling full and grateful! Pre-order the ThanksLiving Bowl, Sandwich, or Plate for pick-up on Thanksgiving Day anytime from 9am-3:30pm! Blessings on blessings!
All Vegan Organic Cafe
Santa Monica
AVO Cafe makes the holiday a bit easier with their all-in-one Thanksgiving Bento Box! It features Young Jackfruit Turkë Stew made of jackfruit, peas, sweet potato, broccoli, and mushrooms in a savory gravy! It's paired with Sourdough Stuffing with celery and parsley, Garlicky Green Beans, and Pumpkin Pie! No need to order in advance unless it's for larger parties! They will be open from 12-8pm for pick-up!
Señoreata
Pop-up
Tired of the same Thanksgiving meal year after year? Switch things up with Señoreata's Cuban fare! Their catering menu is chock full of flavorful eats like Arroz con Pollo, Plantain Picadillo Nachos, Cuban Sandwiches, Ceviche, Meat Pies, Papa Rellena, and more! Take your pick, place your order via email at catering@senoreata.com by November 19th at 9pm, and please your palate!
Real Food Daily
Pasadena and West Hollywood
Thanksgiving meal pick-ups will be available at the Pasadena and West Hollywood locations. Indulge in Roasted Vegetables, Cranberry Sauce, Pecan Praline Yams, Mashed Potatoes with Gravy, Sage Walnut Corn Stuffing, Butternut Squash or Potato Leek Soup, Hickory-Smoked Maple-Carved Jackfruit, and Pumpkin Pie––need we say more? Place your order by Monday, November 25th for pick up on the 27th or 28th!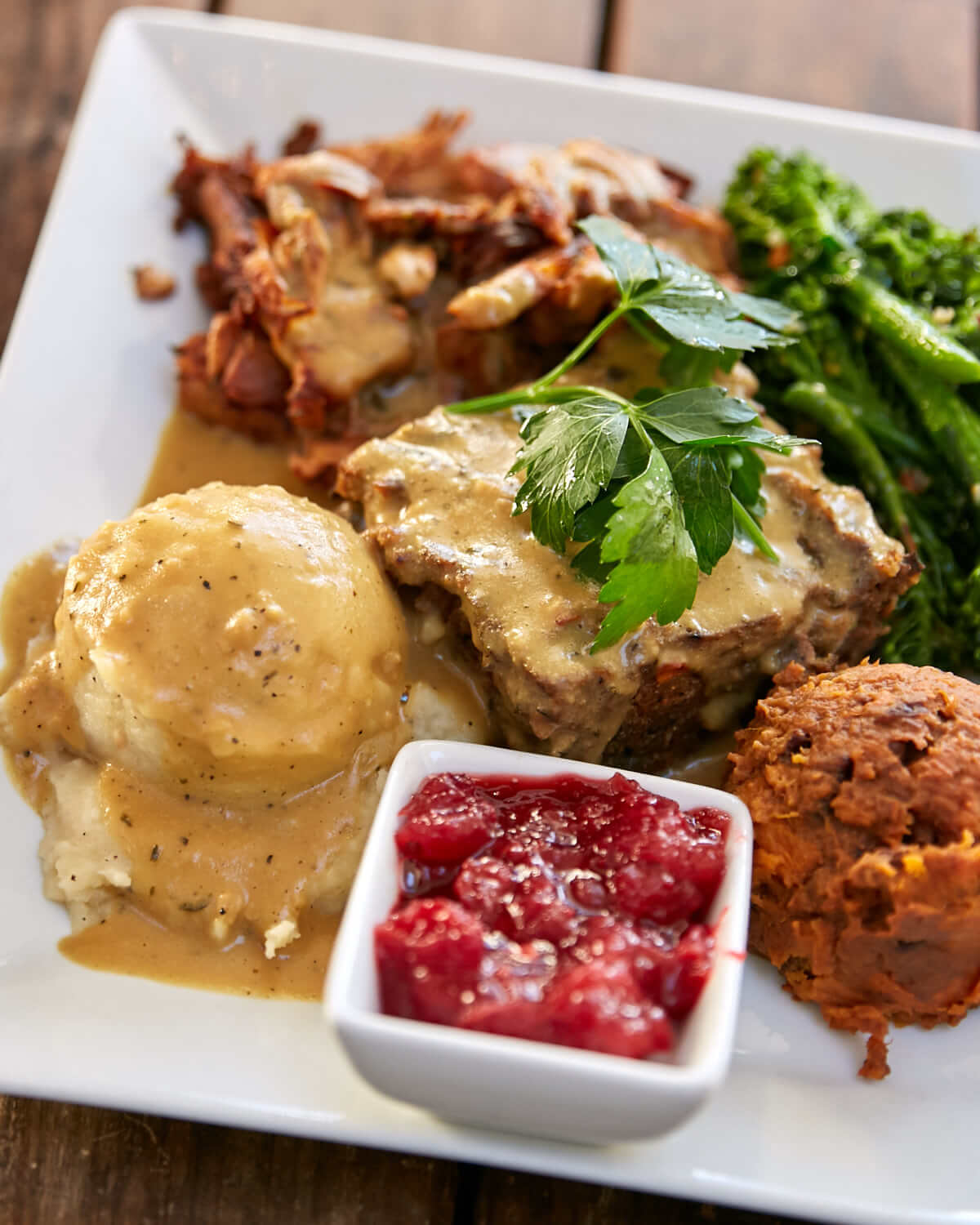 Doomie's
Culver City
At the Culver City location, you can find traditional Thanksgiving meals available for pick-up at an affordable price! For just $20, you get a complete meal with Turkey, Mashed Potatoes, Gravy, Stuffing, Drop Biscuit, Carrots, Corn, Yams, Cranberry Sauce, and Pumpkin Cake! Pre-order it online for pick-up on Thanksgiving Day!
Erewhon Market
Multiple Locations
Erewhon has an abundance of holiday offerings available for pick-up! Their vegan entree is Eggplant Lasagna with an endless amount of side combinations to go with! The sides are Vegan Mac & Cheese, Organic Wild Rice Stuffing, Organic Sourdough Stuffing, Organic Yam Puree, Organic Brussels Sprouts, Organic Green Beans Almondine, Vegan Cashew Cream of Spinach, Organic Fall Harvest Salad, Organic Cranberry Relish, Organic Mushroom Gravy, and Organic Roasted Tri-Colored Carrots. For dessert, pick up an Organic Gluten-free Vegan Pumpkin Pie or Organic Shallow Vegan Strawberry Rhubarb Pie! Place your order online before Sunday 11/24 for in-store pickup or delivery on Wednesday 11/27 or Thursday 11/28!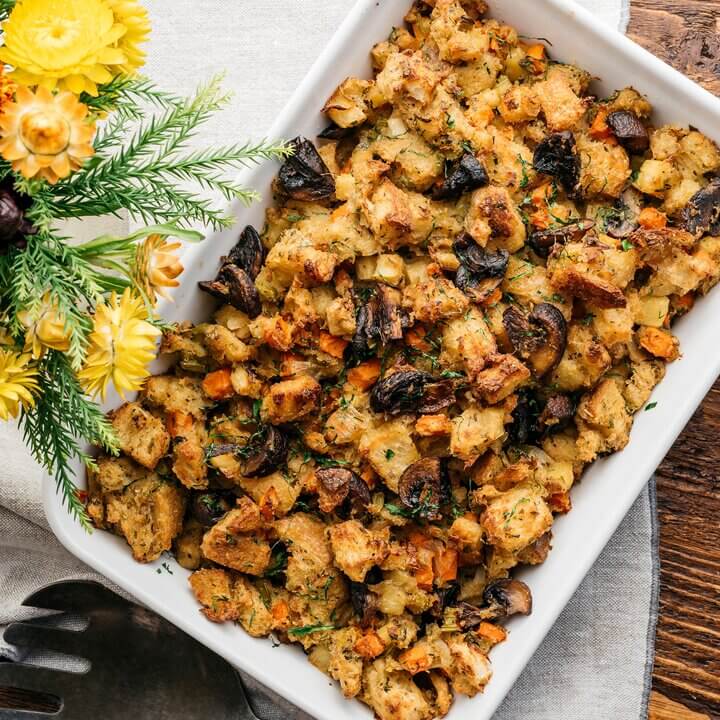 Krimsey's Cajun Kitchen
North Hollywood
This one is homemade without having to make it at home—winning! Krimsey's Thankful Plate is completely vegan and gluten-free with nut-free and soy-free options! Their Meal Packages may be ordered prix fixe for 2+ people, or by the tray! What does Chef Krimsey have lined up? Stuffed Acorn Squash, Mashed Potatoes and Mushroom Gravy, Black-Eyed Peas and Greens, Green Bean Casserole, and Roasted Sweet Potatoes! Add Mississippi Mud Cake, Cajun Cake, Bananas Foster Bread Pudding, or Oatmeal Pumpkin Cookies for the last course! Place your order online or via email at holidays@krimseys.com before they sell out! They're open 11am-10pm the day before Thanksgiving!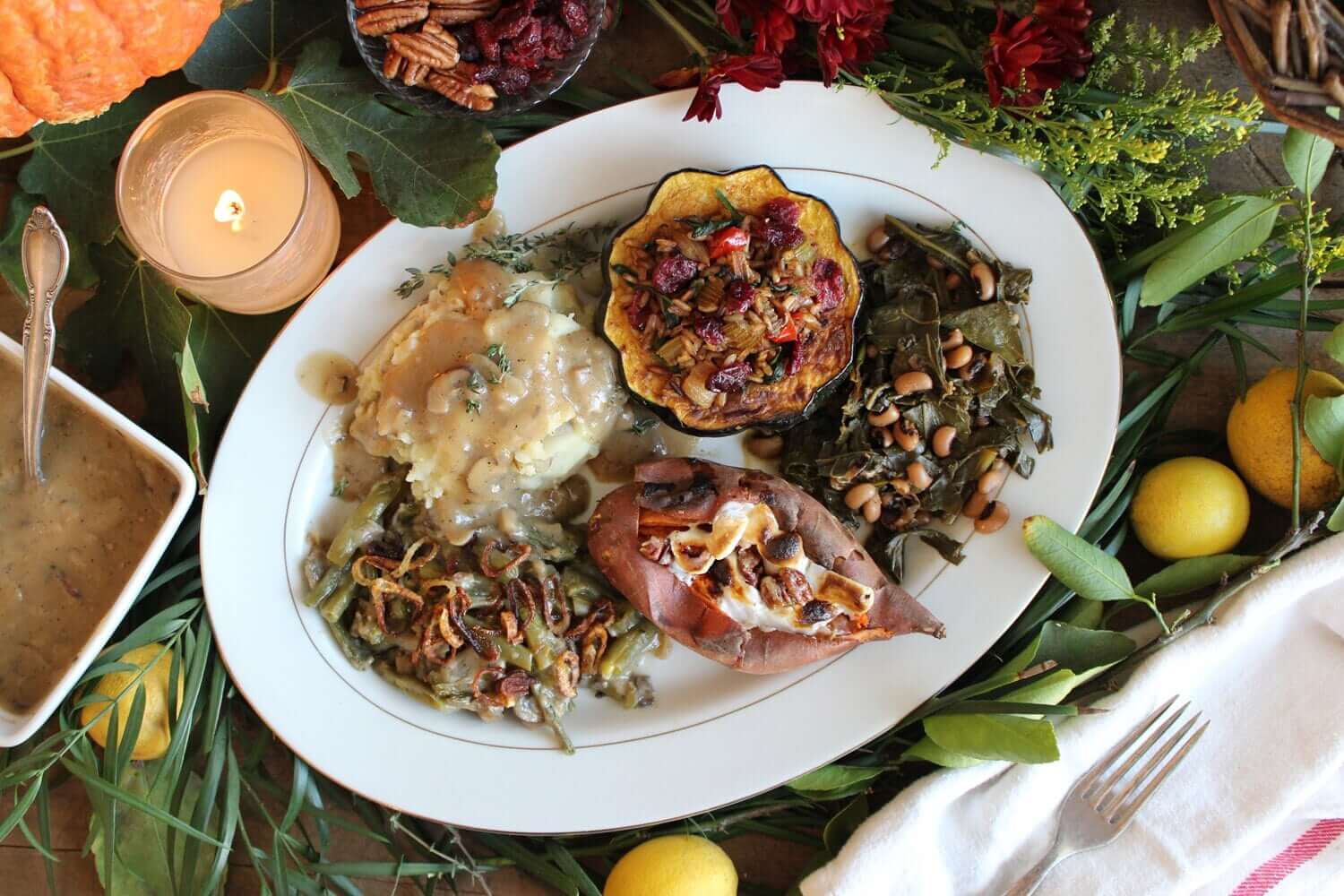 Pura Vita
West Hollywood
Chef Tara Punzone goes above and beyond this Thanksgiving at Pura Vita! You can mix and match any of the following: Candied Brussels Sprouts, Roasted Potato, Roasted Garlic Whipped Potatoes, Roasted Cauliflower, Sage Apple Ciabatta Stuffing, Applewood Smoked Maple Jackfruit, and Porcini Mushroom Gravy. But wait––isn't this an Italian restaurant? It sure is! They'll also have Baked Ricotta, Cesare, Pura Vita, Peppas, Polpettine, Lasagna Pura, Baked Pasta Alfredo. For a sweet finale, order Spiced Iced Ginger Cookies or the Piccolo Platter with cookies and macaroons. Call 323-688-2303 by 8pm on Sunday, November 24th for pick-up on Wednesday evening or Thursday morning!
The Grain Cafe
Mid-City, Culver City, Long Beach and Redondo
If you've got a larger pack to feed, this Holiday Feast from The Grain Cafe serves 10 people! Your crew gets to binge on Vegan Turkey, Mashed Potatoes and Gravy, Stuffing, Roasted Garlic Vegetables, and Cranberry Sauce! Pre-order it in advance for pick-up on Thanksgiving Day from 8am-4pm! For smaller orders, stop by the location nearest you and place an order for take-out!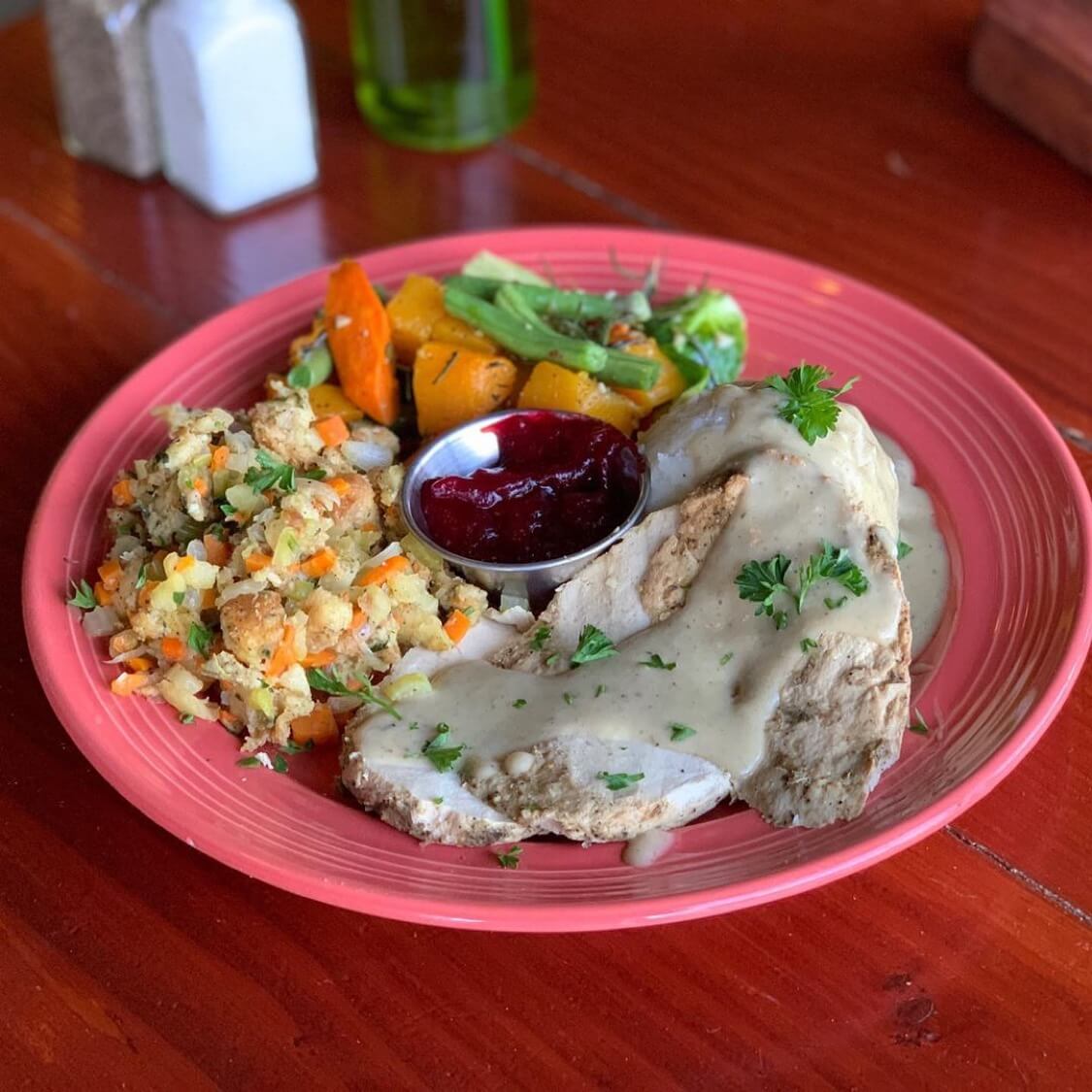 Allie Mitchell
@alliemitch
Allie is a writer, musical theatre performer, yoga instructor, and walking vegan restaurant directory. On any given day, you can catch her making tofu scramble, scouring Trader Joe's for new plant-based products, or watching The Lizzie McGuire Movie! Visit her website at alexandrammitchell.com.
Articles by Allie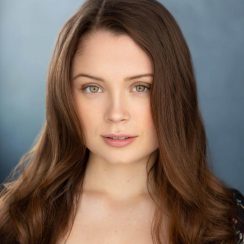 More from VegOut
Subscribe Now
Get the premier vegan food and lifestyle magazine delivered to your door (or inbox!)
Order the magazine!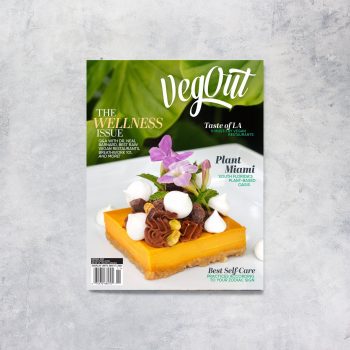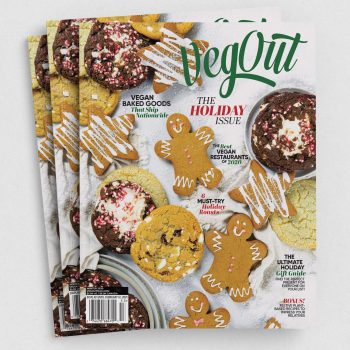 Navigation