Back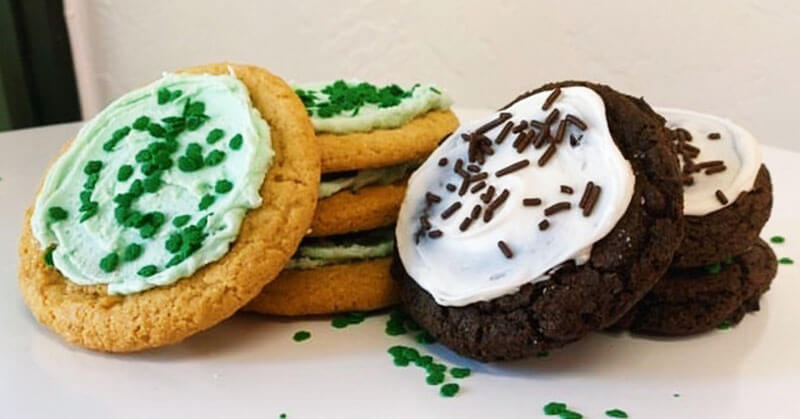 Where to Find Vegan St. Patrick's Day Treats in Los Angeles
Whether you're Irish or not, these festive vegan treats are too delicious to pass up! Ah yes, that random holiday between Valentine's Day and Easter where you wear green, drink beer, and eat mint-flavored desserts. If you haven't pieced it together (or read the title of this article), we're talking about St. Patrick's Day. While it's not the biggest event of the year, it's a great excuse to seek out the craziest spirulina-colored desserts. The good news is, there's no need to search! We've scoured out the best vegan St.Patrick's Day treats in LA from mint-flavored all the way to alcohol-infused. Here they are!
Plant Power Fast Food
Long Beach, Redlands, Riverside, and Long Beach
Plant Power continues their streak of veganizing fast food faves with their Clover Mint Shake! This smooth and minty milkshake pays homage to the nostalgic McDonald's Shamrock Shake––this time, without all the mysterious processed ingredients and artificial colors. And every health nut's favorite superfood, organic spirulina, is used to color this smooth and sweet drank! Get an order of fries to dip in your shake if you dare!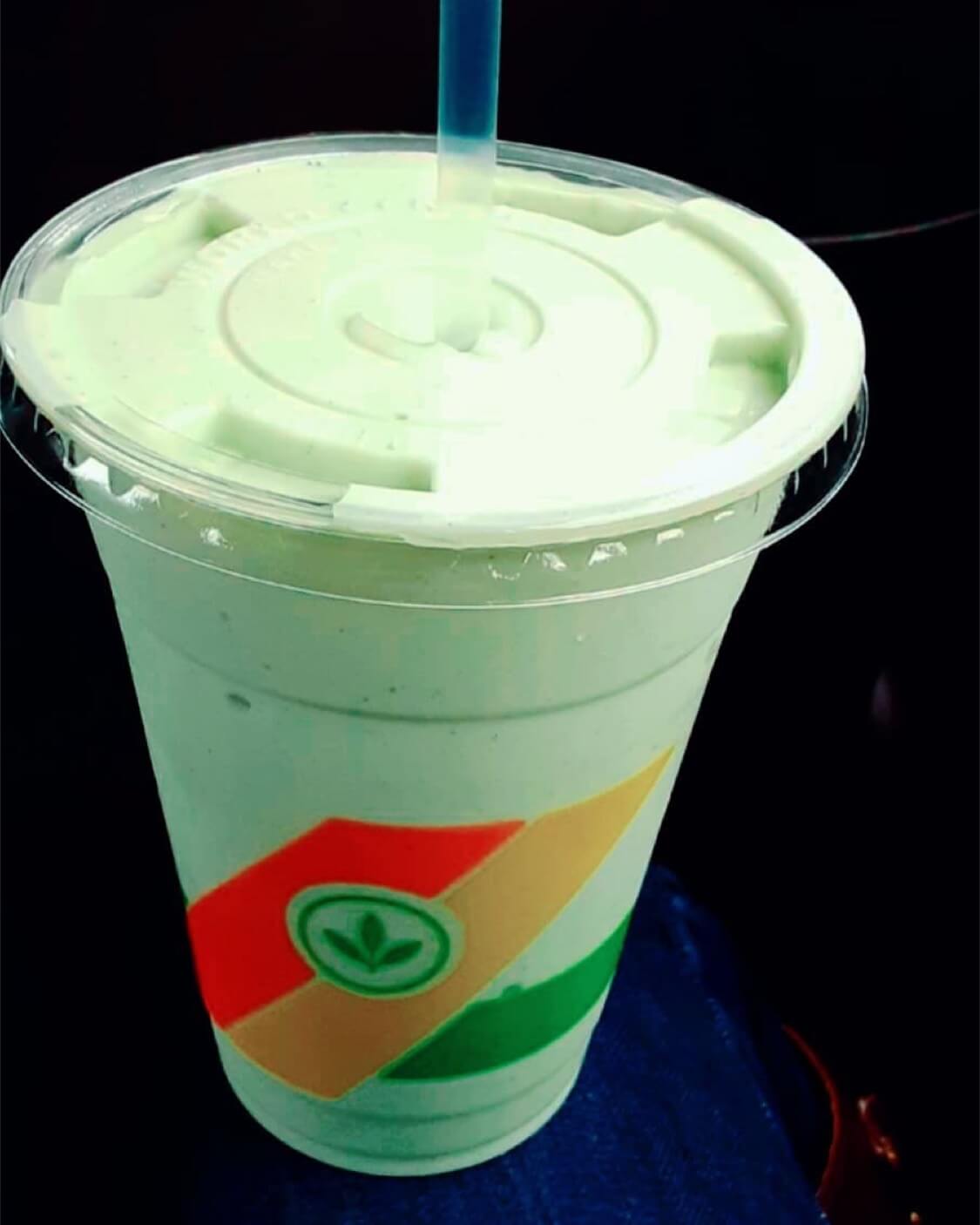 The Karma Baker
Westlake Village and Delivery
The Karma Baker is popping awffff this St. Paddy's season! And by 'popping awffff'—we mean with their Holiday Cake Pops! Okay, that may have not been our best intro, but we can guarantee you that these cake pops are much better than our punny jokes. Not only that, but this spot is also baking up Shamrock Cupcakes, Cream de Mint Karma Shamrock Cookies, St. Patrick's Day Donuts, and Seasonal Sugar Cookies. It's our lucky day!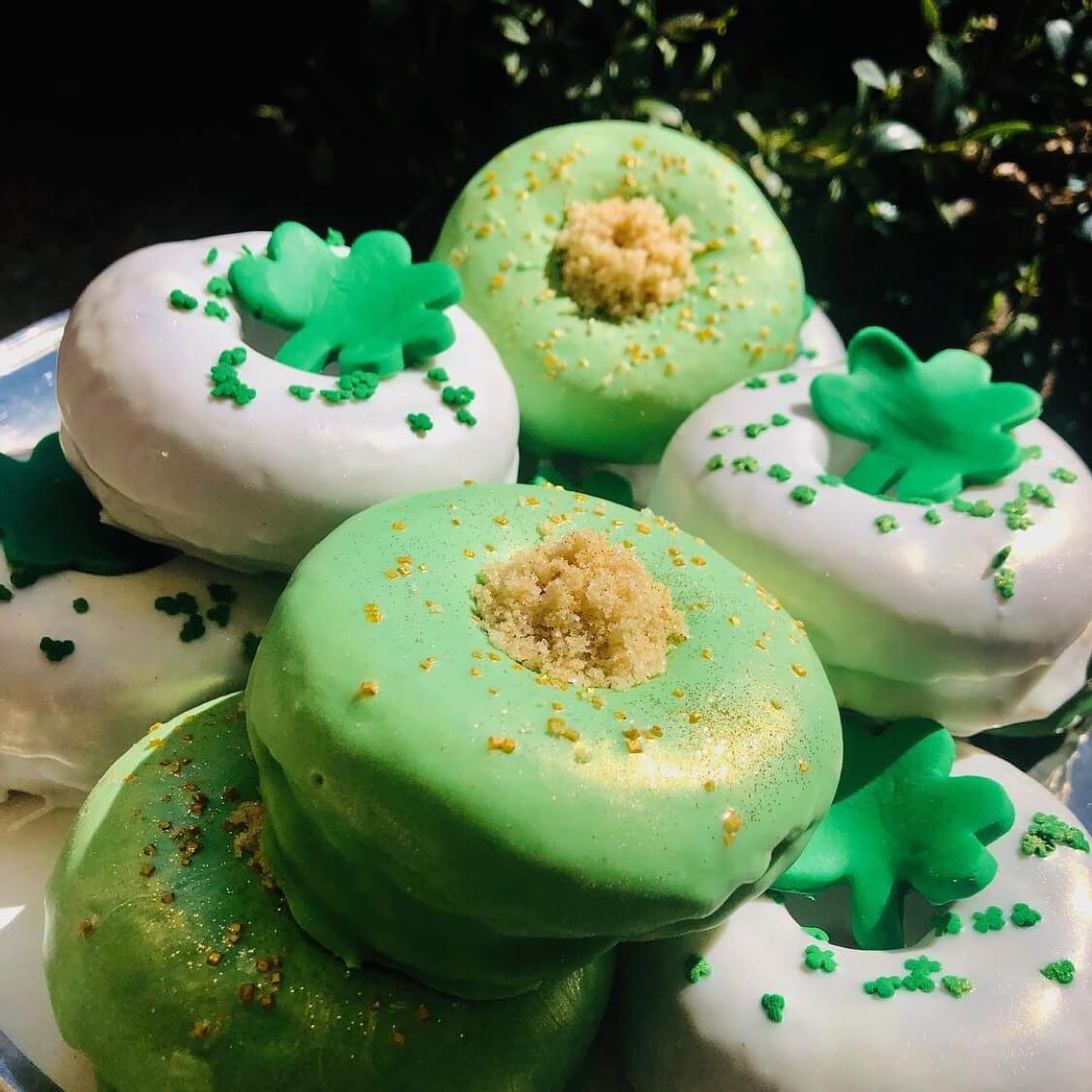 Yoga-urt
Echo Park and Glendale
We're not sure who came up with the tradition of wearing green on St. Patrick's Day to avoid getting pinched, but we think it's a little outdated. Instead, we are making a new rule that in place of wearing green, you must eat green foods––and no, we're not only talking about kale and collard greens! The all-vegan dreamy soft serve shop, Yoga-urt, makes our new rule even easier to follow by giving you 10% off when you order a green soft serve flavor on the 17th! Each location will stock three different varieties of green soft serve. Ganesha's Sweet Greens and Green Tranquility at both locations, Mint Magic at one store, and Pistachio Passion at the other. Now the question is, cone or cup?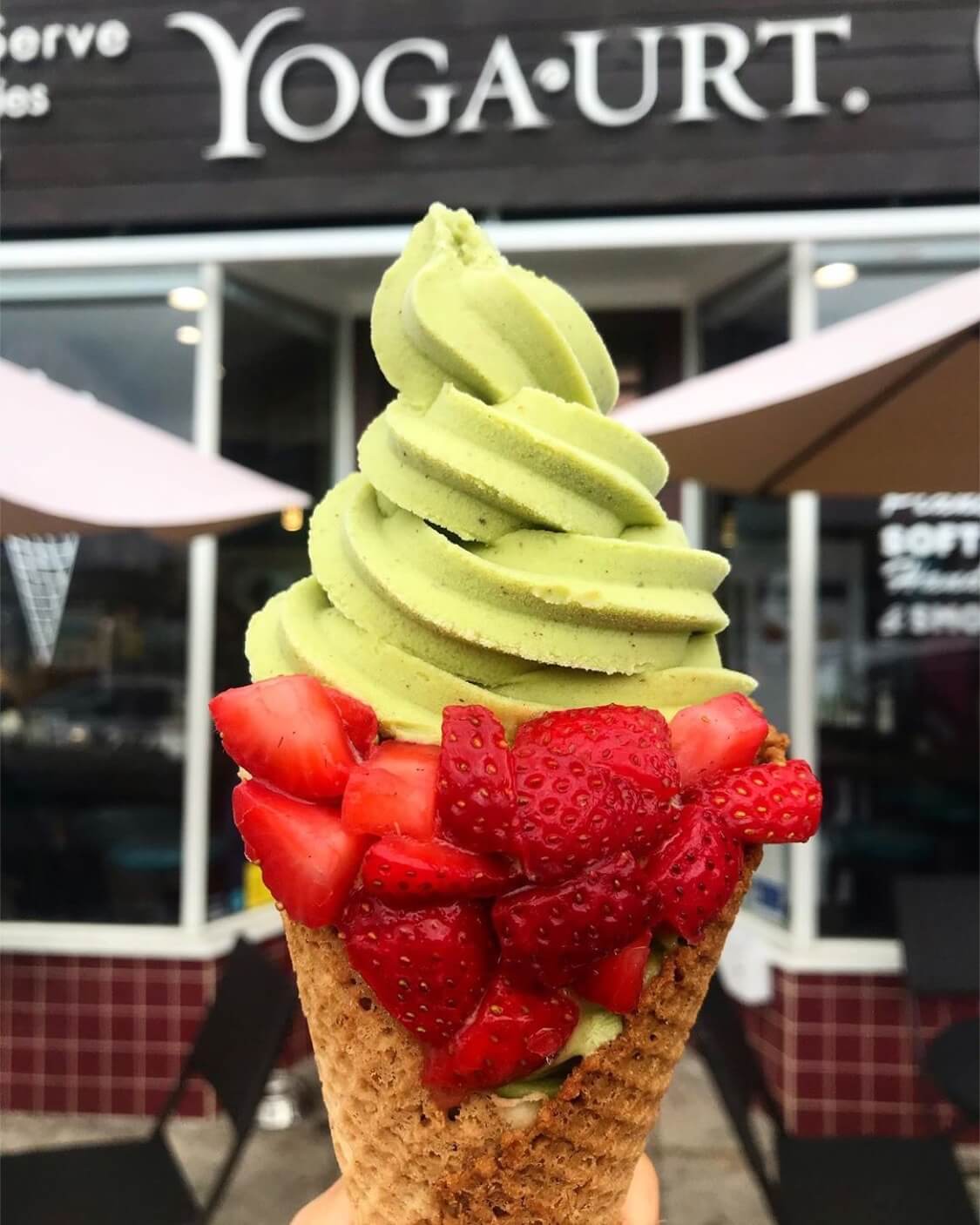 Baked Vegan Sweets
Pop-up (Storefront opening April 2020)
Wouldn't it be nice if you could combine your favorite Irish drinks with decadent desserts? You're in luck! Baked Vegan Sweets is serving up Chocolate Stout Cupcakes dipped in Guinness ganache and Irish Coffee Cupcakes infused with Baileys Irish Cream complete with coffee buttercream! Other than their creative cups of cakes, you'll be able to find shamrock-decorated sugar cookies as well. Word has it, the more sweets you eat on St. Patrick's Day, the luckier you get! We may have made that saying up, but are you mad about it?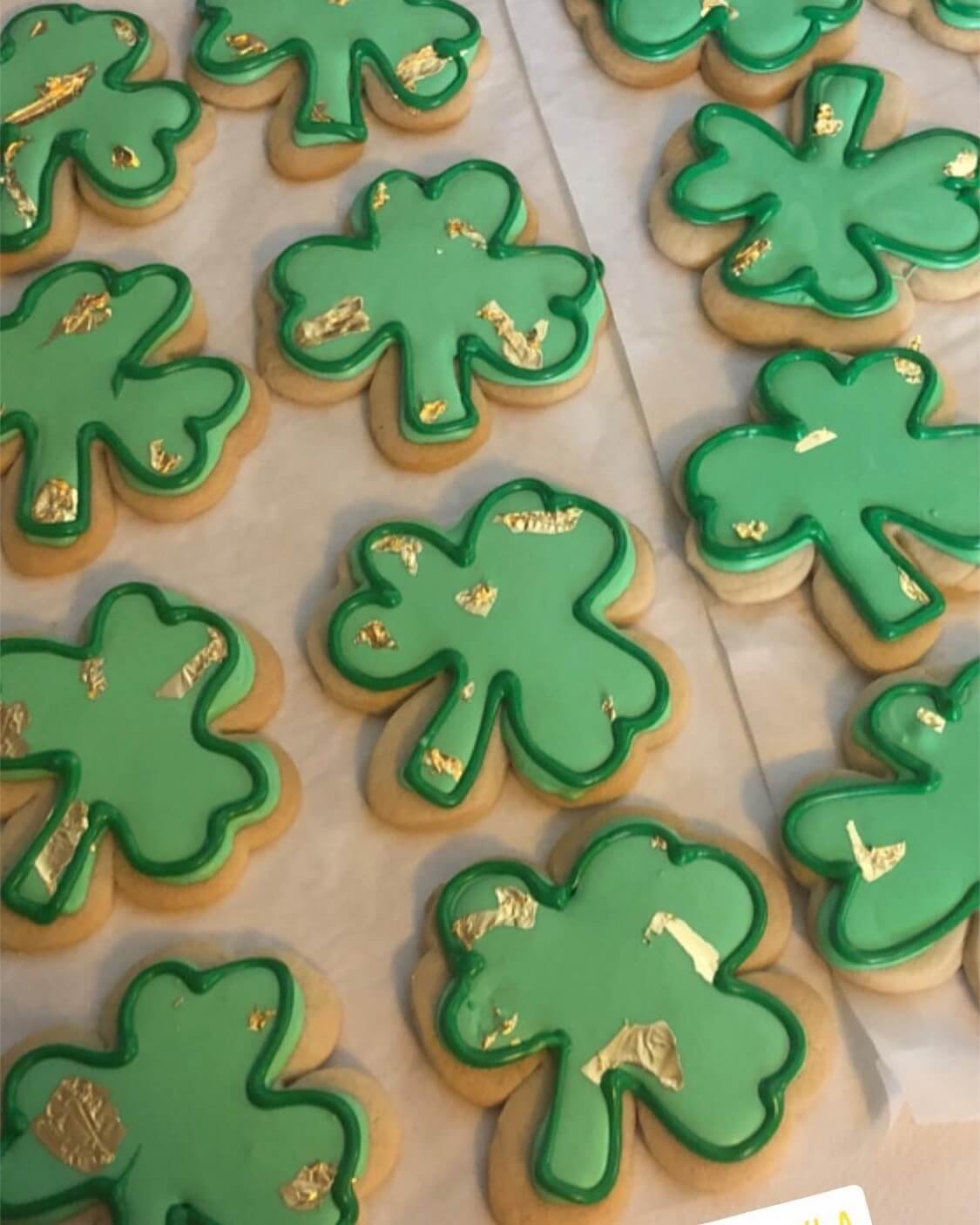 Monty's Good Burger
Echo Park, Koreatown, and Riverside
From collaborating on a shake flavor with Vince Staples to feeding Joaquin Phoenix the night of his Oscars win, Monty's continues to astound us with their ability to popularize plant-based eating by fusing it with pop-culture and media. What's next? A collab shake and merch-line with Pizzaslime! To pair with their 90's inspired clothing collab, Pizzaslime's SLIME! Mint Shake will take you back to the days of Nickelodeon––with a tasty twist! This bright green beauty has a sweet and creamy coconut vanilla flavor with mint "slime" oozing around the sides. Get your hands on this nostalgic milkshake all throughout March. And $1 from each shake sold will be donated to the Monty & Friends Adoption Fund. They're charitable too? What doesn't Monty's do?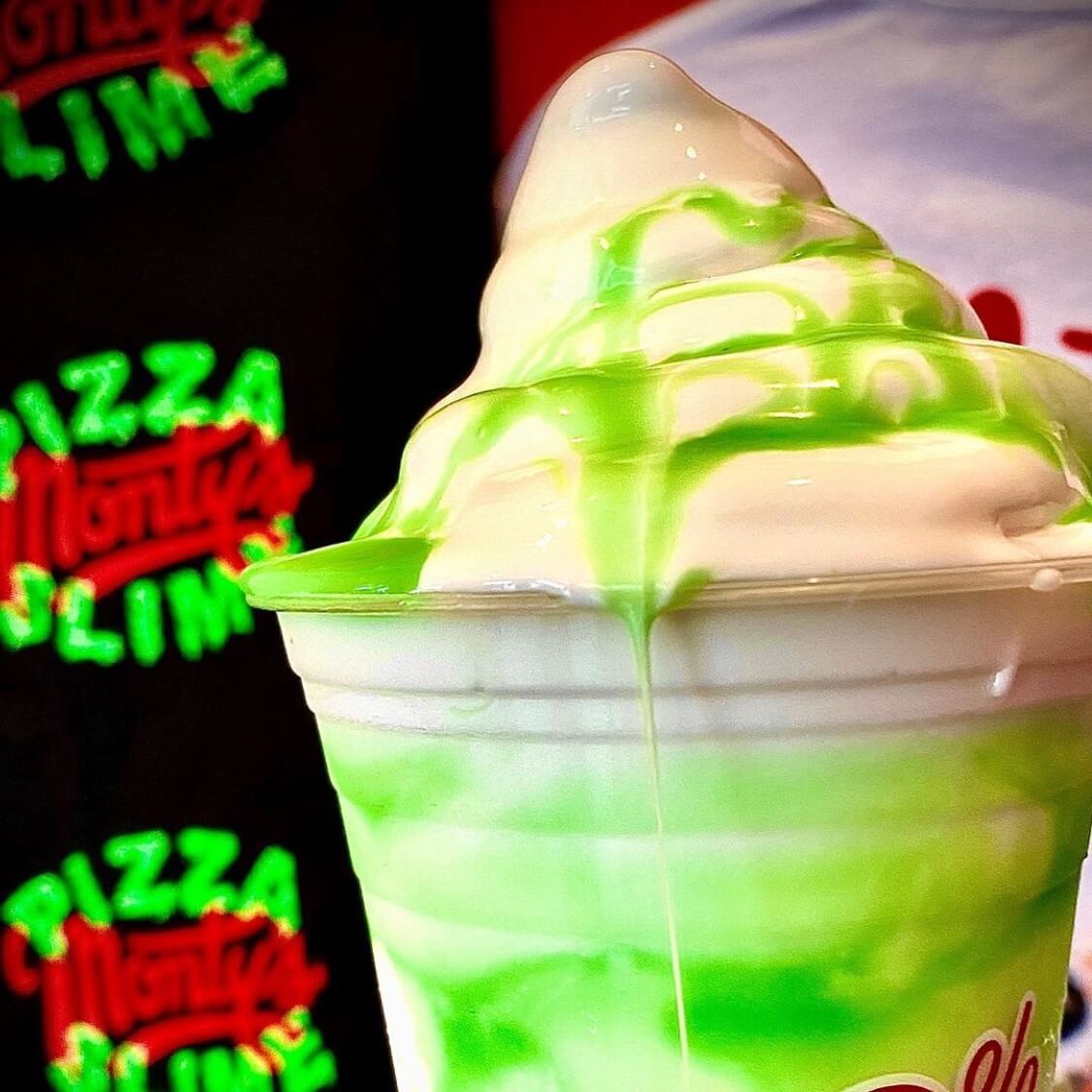 Baked Vegan Vixen
Pop-up
If you're anything like us, you most likely associate this time of year with Girl Scout cookies! For those that live under a rock (how grounded of you), we'll catch you up to speed on the flavors of Girl Scout cookies that are vegan in this article. There's just something about an invigorating bite of a Thin Mint cookie that hits different! But wait––what if someone combined those fan-favorite rounds with the succulent sweets crafted by Baked Vegan Vixen? Talk about dessert goals! This season, Baked Vegan Vixen is whipping out Thin Mint Girl Scout Cupcakes and Pop Tarts decked out in festive frosting alongside their other stellar sweets!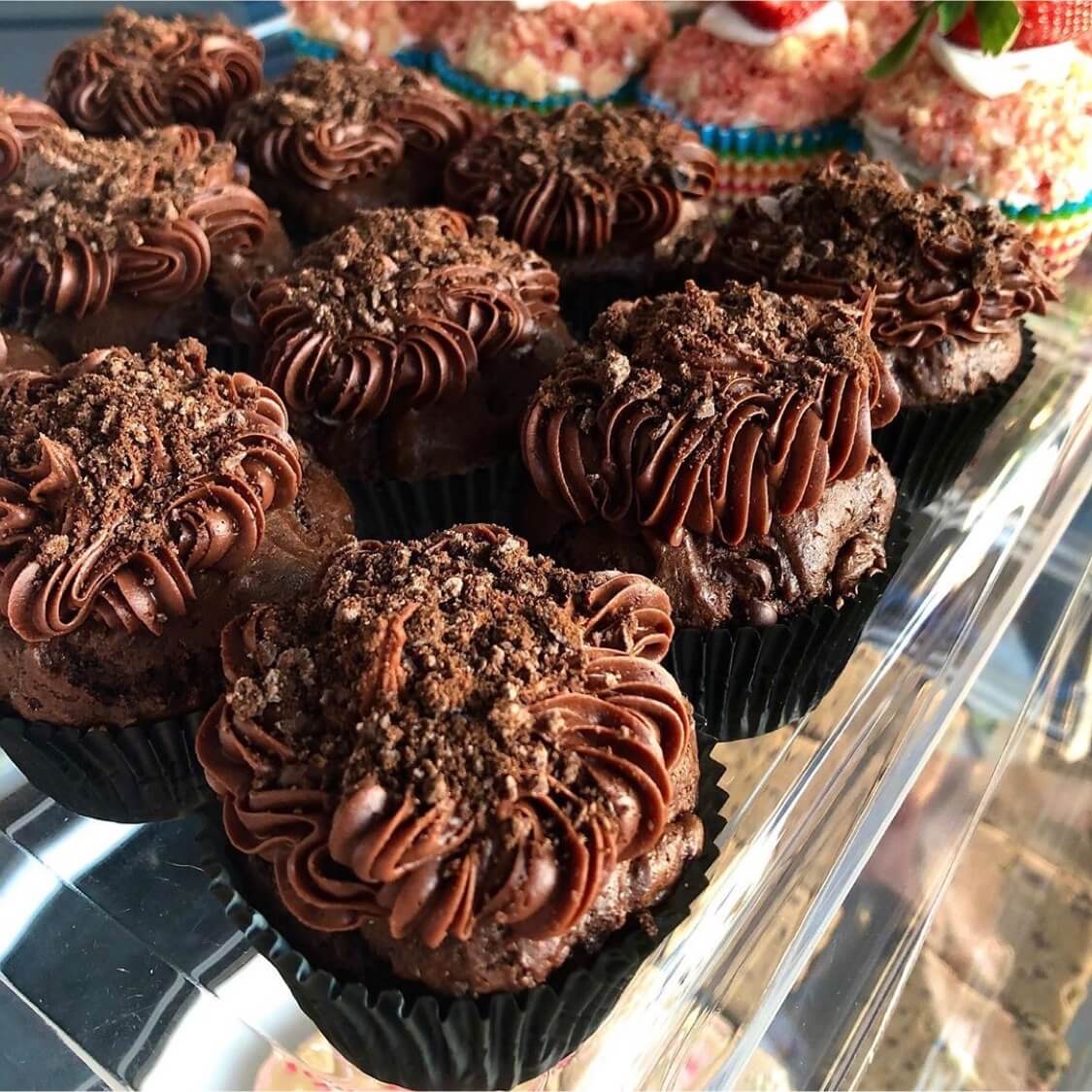 Two Birds Baking Co.
Hapa Cupcakes in Fullerton and Delivery
Eat these, they're Irish! Hmm––that might not be the exact saying, but check out these Irish-inspired desserts from Two Birds Baking Co.! The Irish Coffee Cupcake swirls Bailey's coffee buttercream atop a brown sugar and vanilla cupcake infused with coffee and whiskey. And the Irish Car Bomb is a whiskey chocolate stout cupcake topped in Bailey's buttercream. Not into the whiskey flavor? Try the Chocolate Mint Cupcake crowned in vanilla buttercream or the Old School Irish––a vanilla cupcake garnished in a glorious glob of rich chocolate buttercream with a golden Oreo. We repeat: GOLDEN. OREO. The Old School Irish is so good, you'll only be able to track it down at Hapa Cupcakes.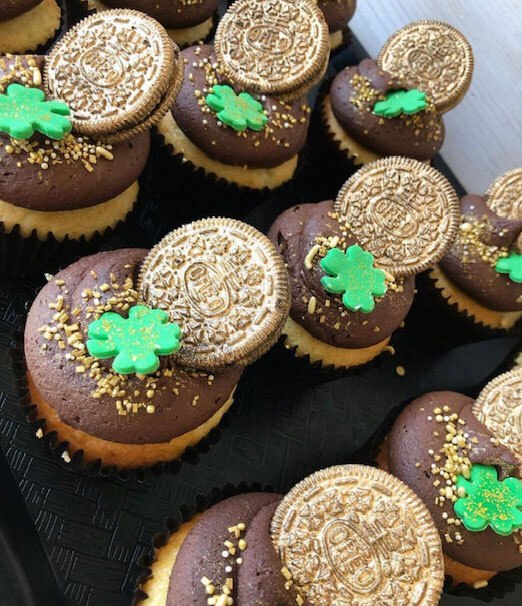 Yvonne's Vegan Kitchen
Select stores and special order
We can always count on Yvonne to craft up the most jaw-droppingly gorgeous and gorge-worthy desserts! This St. Paddy's season, you can find her Chocolate Creme de Menthe Cupcakes at Joi Cafe, Grassroots, Fresh on Sunset, Auraganic Juicery, or via special order. The cupcakes are composed of a rich, brownie-like chocolate cake topped in a festive swirl of green and creamy mint frosting! Just like all of Yvonne's other confections, these vegan and gluten-free cupcakes take a healthier route with the use of oat flour and coconut sugar. Looking for something with a bit more pizzazz? Custom order any cake to be dressed up like a leprechaun, dusted in green sprinkles, or embellished in three-leaf clovers! Flavor combos range from Double Chocolate or Chocolate Stout Cake with Chocolate Buttercream to Carrot Cake with Raspberry Jam Buttercream. Are you drooling yet? All special cake orders must be made with advance notice (7-14 days in advance.)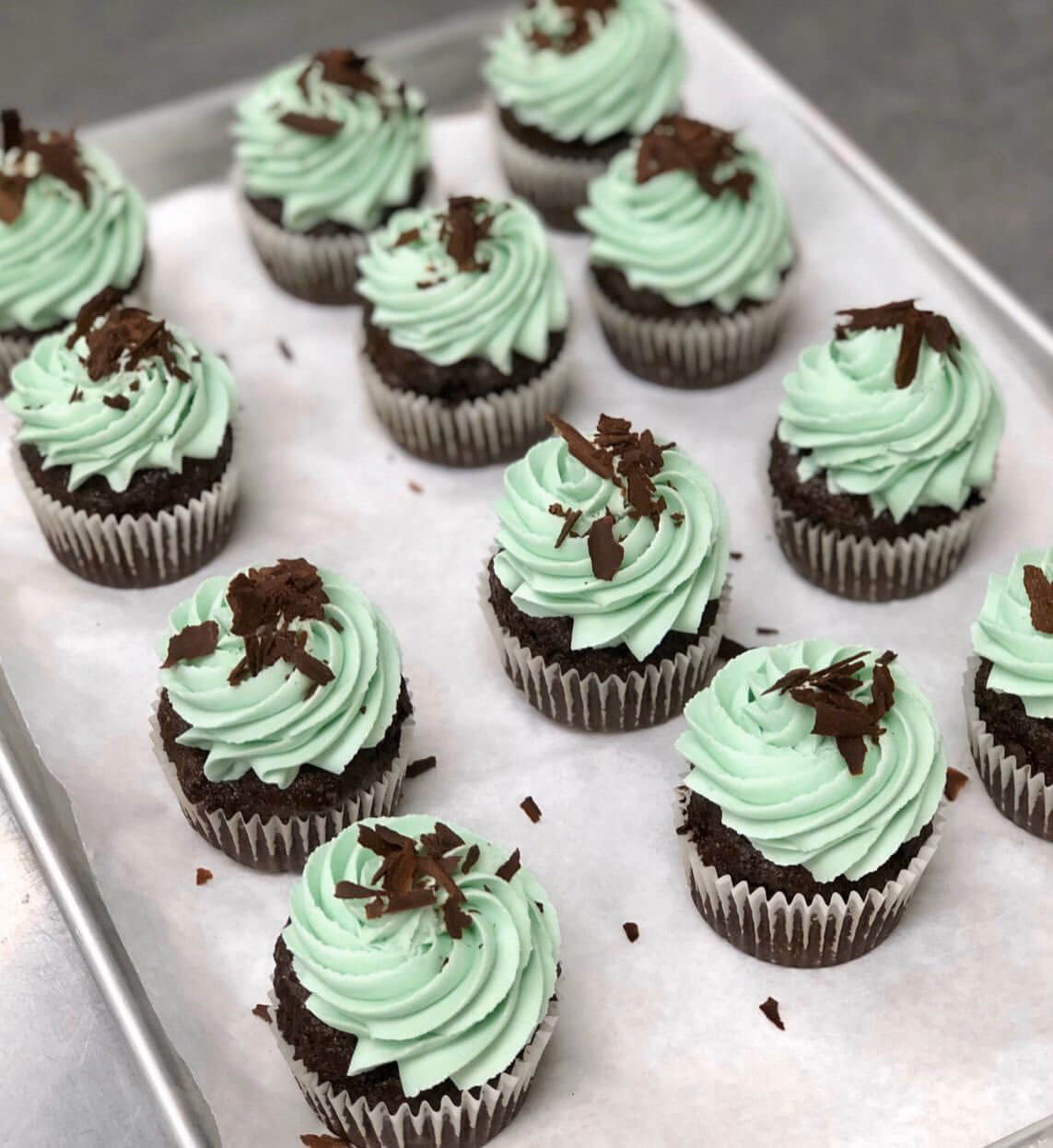 Madame Shugah
Pop-up
There's something about green-colored anything that screams "vegan!" Madame Shugah helps us embrace the international color of vegan with her St. Patrick's Day Pistachio Brownie Shake. Slurp up pistachio ice cream blended with a moist gluten-free brownie and draped in ooey gooey caramel! It's the perfect way to try Madame Shugah's famous milkshake and brownie all in one glorious sip … and sip … and sip … and––it's gone! "Can we have another milkshake please?"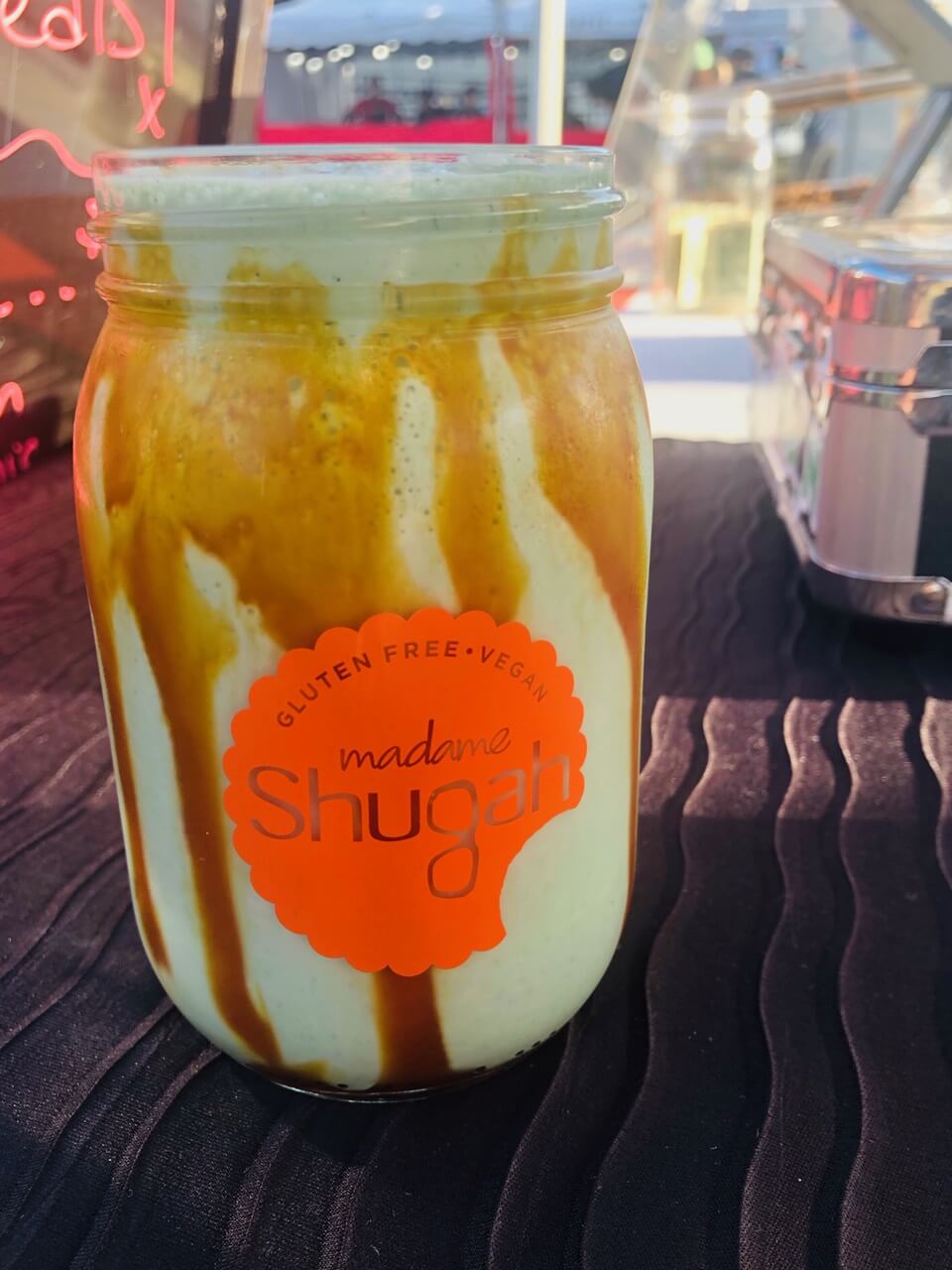 Donut Friend
DTLA and Highland Park
Dash over to Donut Friend for their Irish Whisky Donut! This fluffy ring of sweetness is composed of a raised bismark donut with whiskey whipped cream, chocolate glaze, and a sprinkle of white chocolate crispy rice cereal on top. If you're paying a visit to this LA vegan landmark, you might as well fill a box up with some other flavors! Looking for more artistic liberties in ordering your donut? Combine your favorite base flavor, fillings, and toppings to craft up your donut pot of gold (or green!) The green frostings and toppings range from lime cream and mint cream to pistachios, lime zest, basil, and even pistachio ice cream to make it into an ice cream sandwich!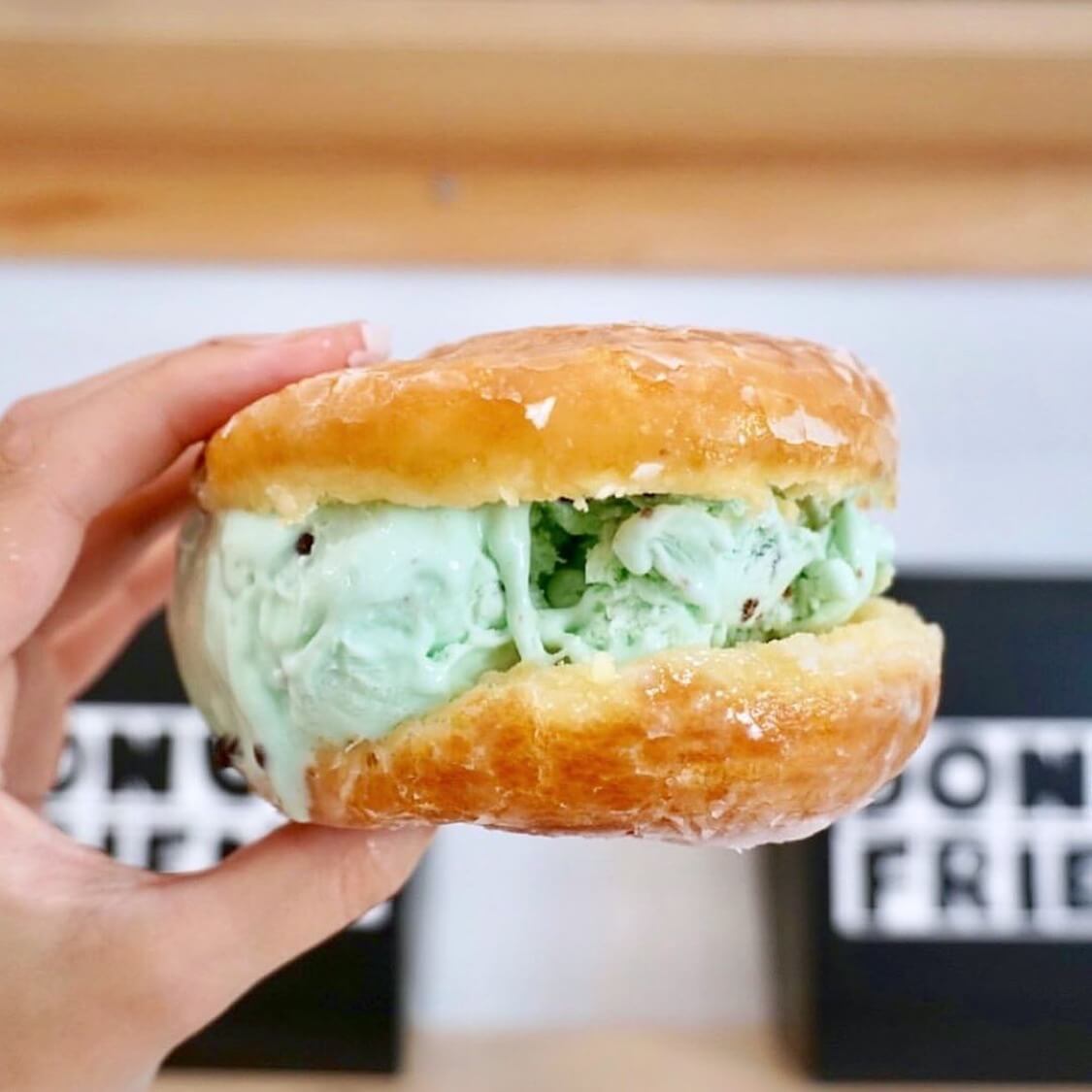 Hello Cake Girl
Boyle Heights
If only these Matcha Pot of Gold Donuts were at the end of every rainbow! Well then, how do you find them? Rather than following a rainbow, just follow your maps to Hello Cake Girl for this sweet matcha gold donut finished in chocolate chips. You can also cash in on their Mint Chip Brownies and Mint Cream Filled Cupcakes while you're there! Desserts are a form of currency, right? They should be!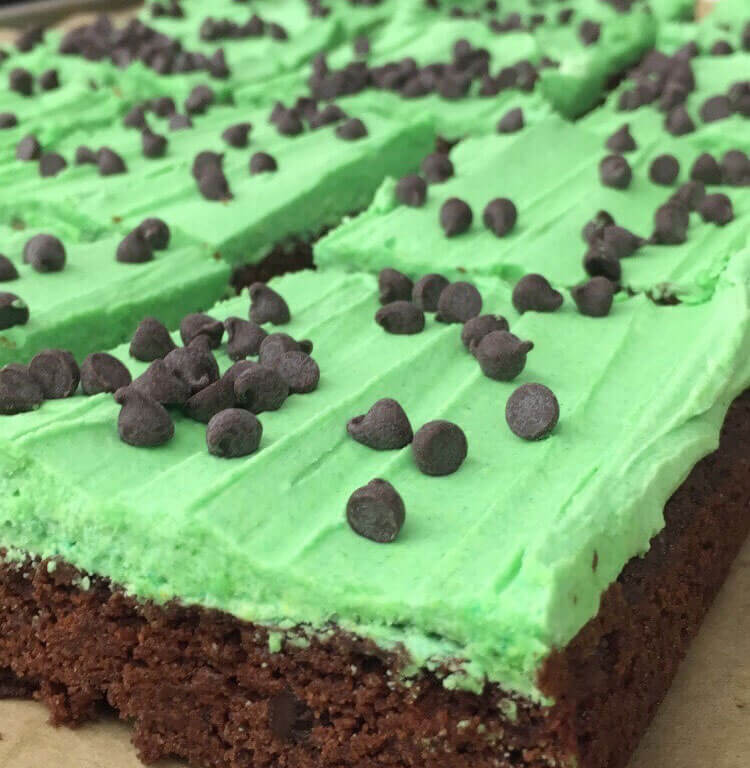 NoHo Bakehouse
Pop-up
Eat a few of these festive Cookies O' Cream treats and you're sure to have good luck! Two brownie cookies hug in on a dollop of mint green frosting for a ravishingly rich bite. And you might as well pick up a few Irish Cream Sugar Cookies with a celebratory frosting scoop on top! Fear not––the green frosting is achieved with all-natural food coloring. Where can you find all this goodness? NoHo Bakehouse is popping-up alongside Rockin' Hot Chick-un at Besties Vegan Paradise on Saturday, March 14th from 5-8pm. Get dinner, dessert, and groceries for the week all in one spot!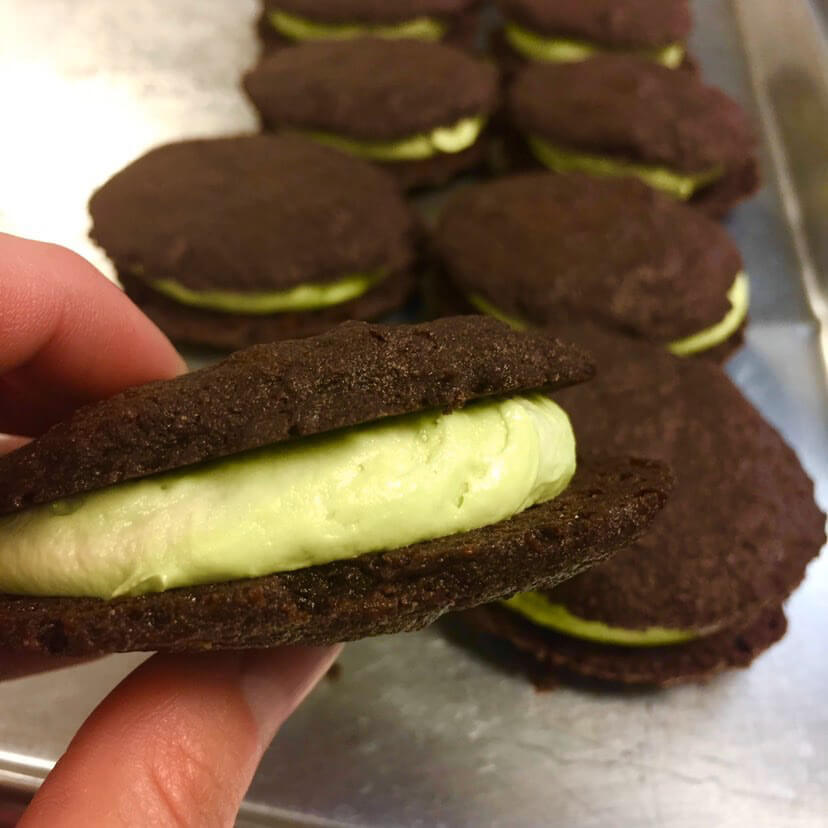 Maya's Cookies
Pop-up and Delivery
If there's anyone who knows how to do cookies right, it's Maya's Cookies! After all, it's in their name! What's baking in the kitchen of Maya's Cookies this St. Paddy's Day? Shamrock Shake Sugar Cookies and Baileys Irish Coffee Cookies. Well, what are you waiting for? Order your box of cookies today! Not in LA? Maya's Cookies ships nationwide!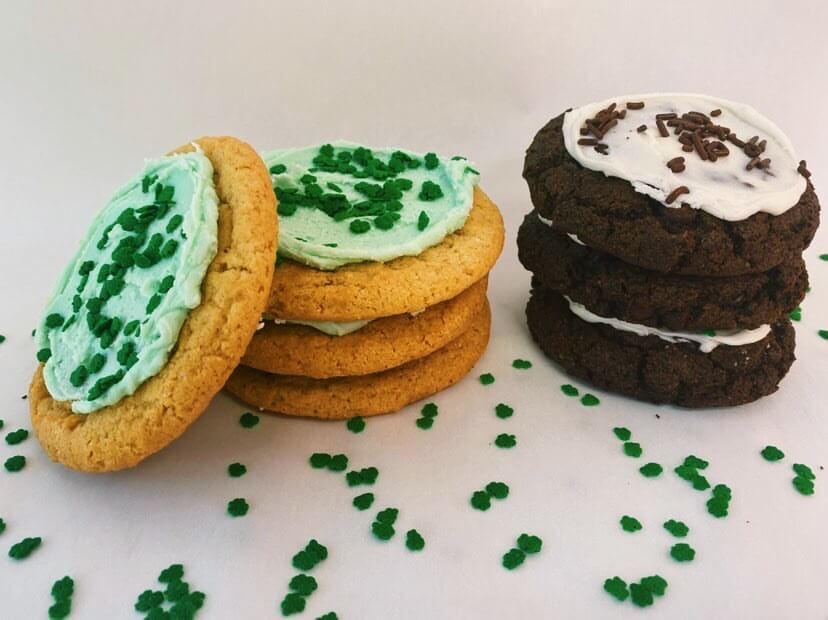 Magpies Softserve
Silver Lake and Tarzana
What spot has swirls, pints, and pies of vegan soft serve? Magpies! This spring season, they're serving up Chocolate Stout Softserve flavor and making a Chocolate Stout & Pretzel Softserve pie. Oooh––how about getting a slice of the soft serve pie and pouring even more soft serve on top? Soft serve-ception!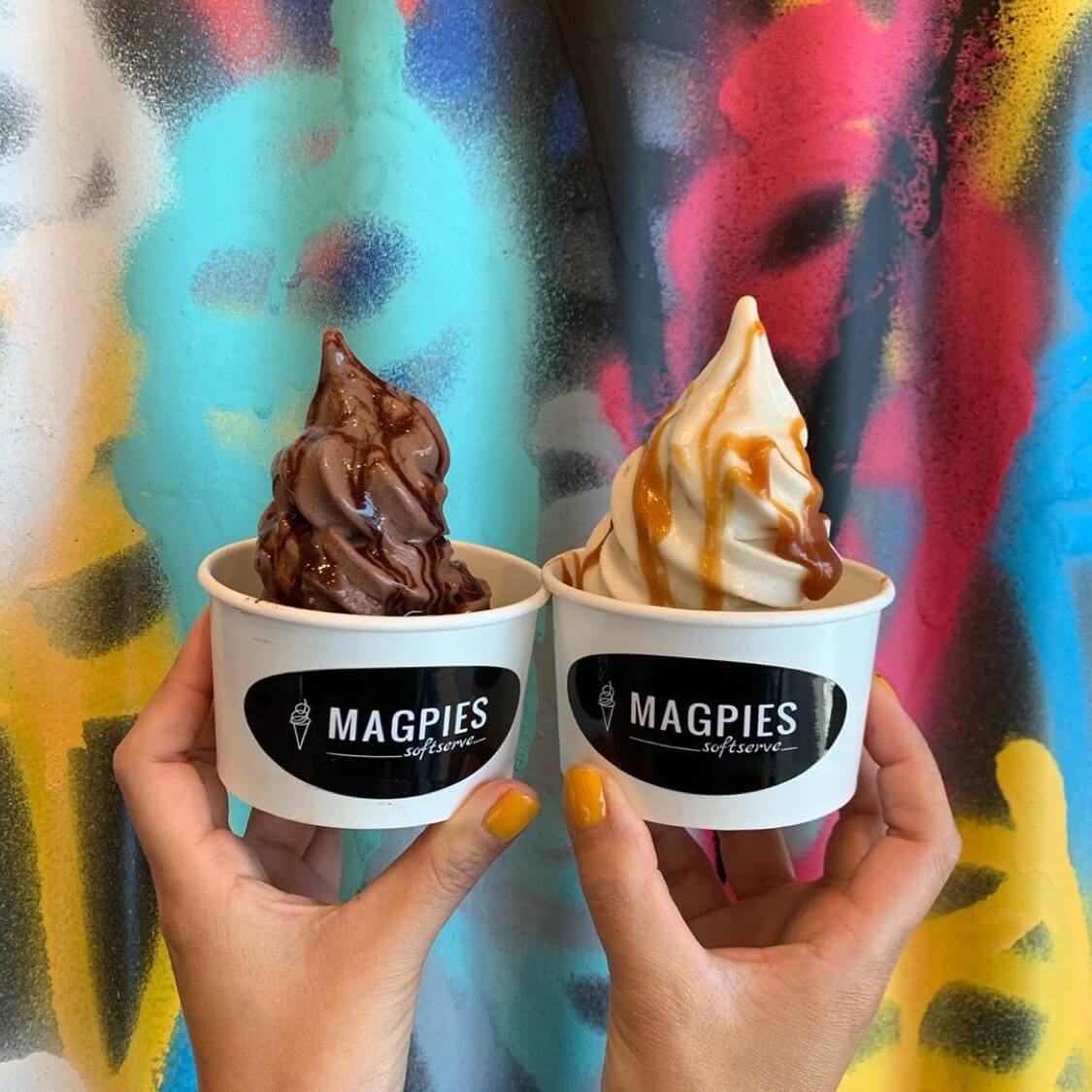 Veggietize Me
Pop-up
What's the best way to cool down your mouth after devouring Veggietize Me's fiery hot Felipe Burger? Their Oreo Creamy Cold Magic Mint Shake! You've probably salivated at the sight of this pop-up's original Oreo Creamy Cold Shake while scrolling through Instagram. And if you've hunted them down at events, you may have discovered that their shakes are so good, they sell out quickly! This time, make Veggietize Me your first stop for burgers, fries, and this fun shake!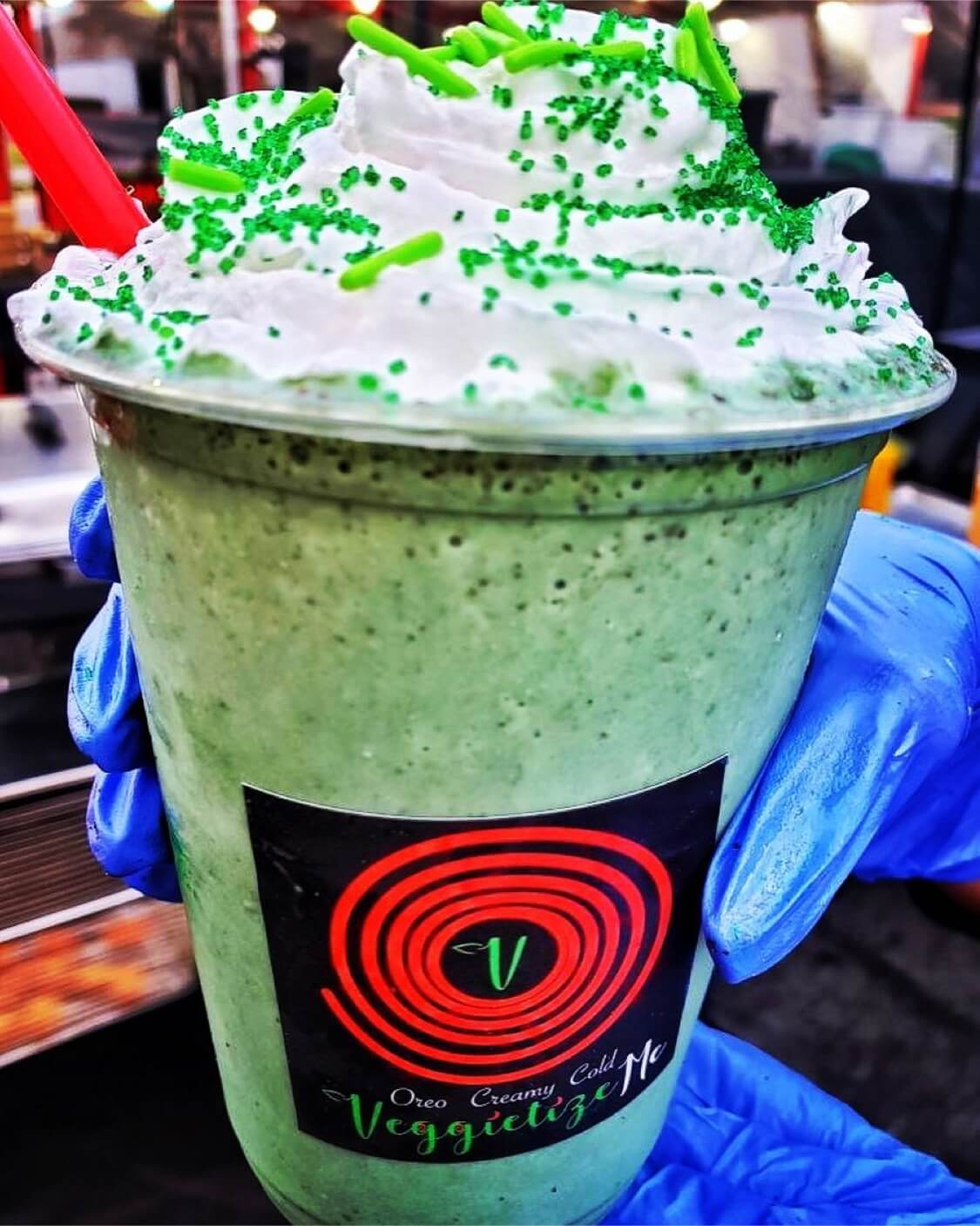 Cocoluv Cookies
Pop-up
Get your taste buds ready for copious amounts of celebratory treats for this Irish-ish holiday! Now we're sure you've heard of red velvet, but what about green velvet? Yep, Cocoluv's holiday menu includes Green Velvet Cake and Cupcakes with vegan cream cheese. Other magical menu items include Mint Oreo three ways: in Chocolate Cupcakes, Stuffed Brownies, and Chocolate Chip Cookies. As if that's not enough mint, they've also got Peppermint Patties! Send your orders in advance for free local delivery, pick-up, or nationwide shipping!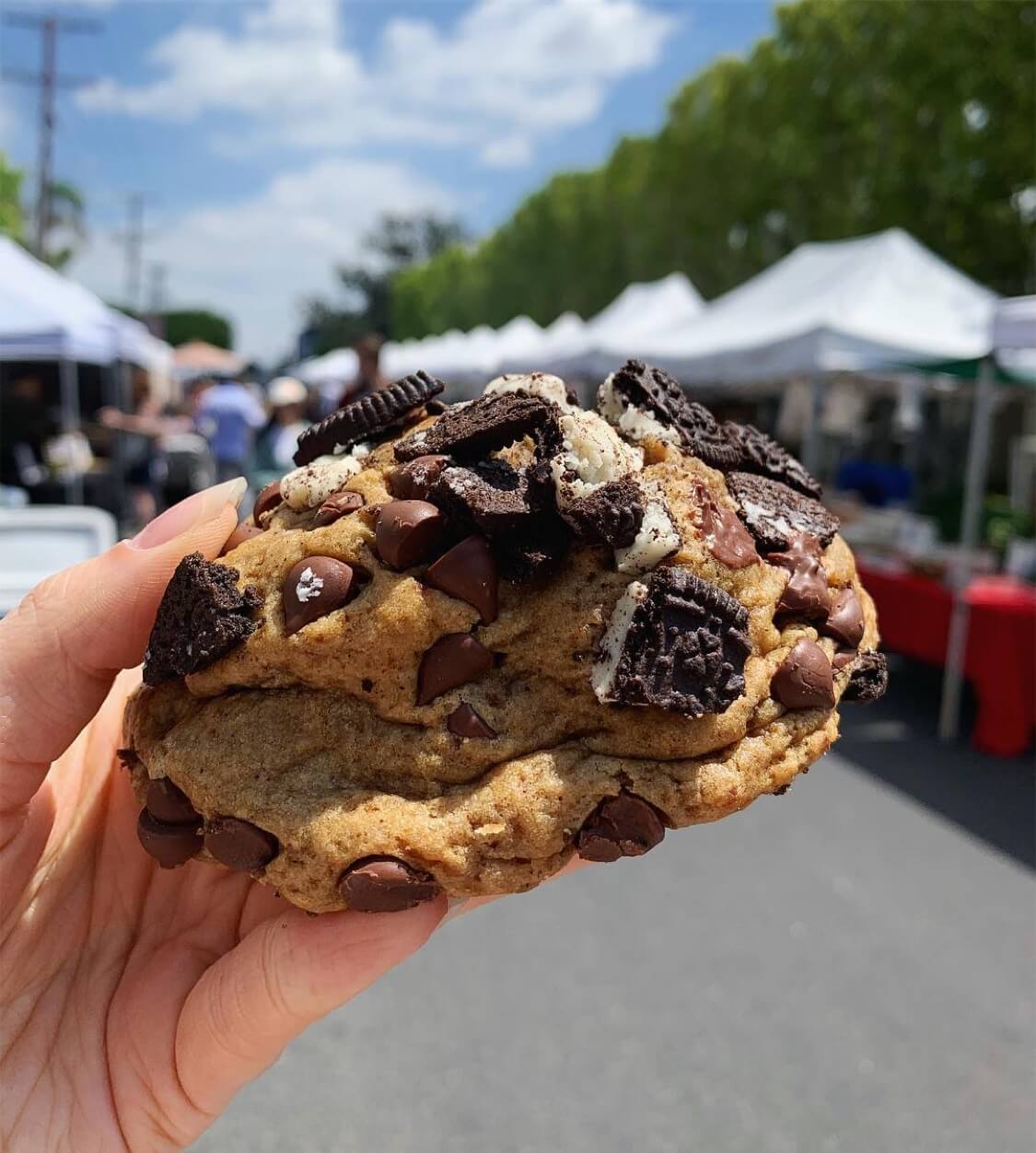 RELATED: The Top 10 Spots for Vegan Eats in Silver Lake
---
Want even more LA vegan food, news, and lifestyle content? Subscribe to VegOut LA Magazine!
Allie Mitchell
@alliemitch
Allie is a writer, musical theatre performer, yoga instructor, and walking vegan restaurant directory. On any given day, you can catch her making tofu scramble, scouring Trader Joe's for new plant-based products, or watching The Lizzie McGuire Movie! Visit her website at alexandrammitchell.com.
Articles by Allie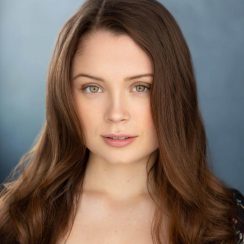 More from VegOut
Subscribe Now
Get the premier vegan food and lifestyle magazine delivered to your door (or inbox!)
Order the magazine!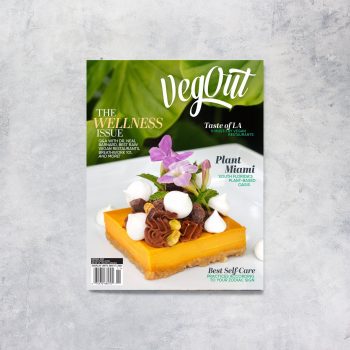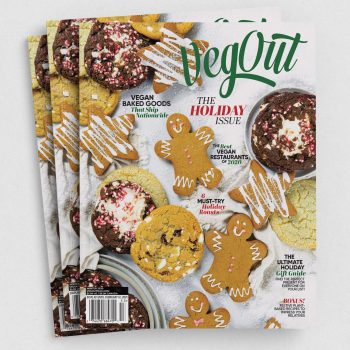 Navigation