Back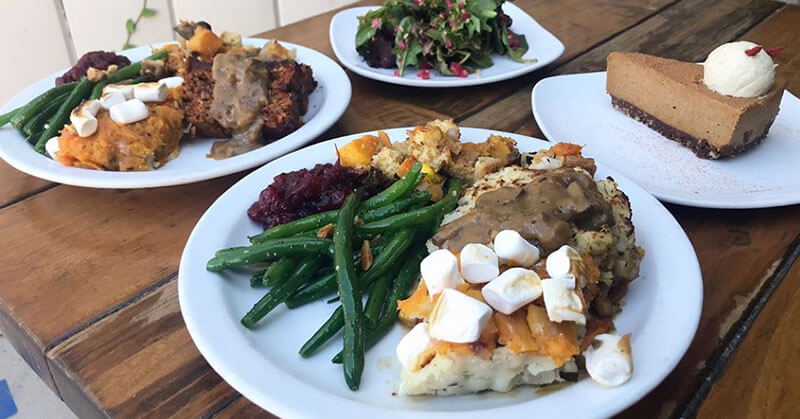 Where to Eat Vegan Thanksgiving Dinner in Los Angeles
Sit back, relax, and leave the cooking to the professionals!
Crossroads Kitchen
West Hollywood
Ditch the potluck idea, grab your friends and family, and treat yourself to a fancy four-course meal from 12pm-5pm at Crossroads! For starters, warm up with a Butternut Squash Bisque with nutmeg crème fraiche! After that, freshen your palate with their Autumn Chop Salad with kohlrabi, granny smith apples, persimmons, candied pecans, and a pomegranate vinaigrette. For the main performance, enjoy a plate of Holiday Spiced Lentil Tempeh or Scallopini with cherry cabernet sauce, Mashed Potatoes with porcini gravy, Classic Stuffing (gluten-free available), Brussels Sprouts with crispy shallots, currants, a maple mustard glaze, and sweet potato biscuits. For the grand finale, sweeten things up with their Pumpkin Mousse Verrine or Cranberry Sorbet! After reading the line-up, there's no way you're going back to that potluck plan––see you at Crossroads!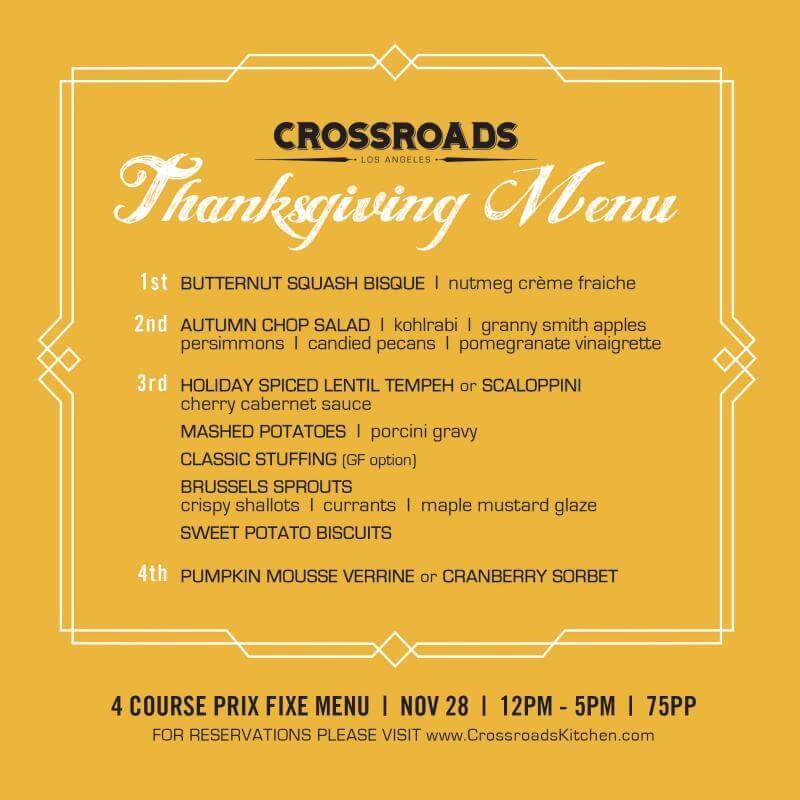 Native Foods
Cafe Westwood, Costa Mesa, and Point Loma
Reserve your spot at the Westwood, Costa Mesa, or Point Loma locations to enjoy this Thanksgiving buffet! Whether you prefer dine-in or take-out, enjoy an array of savors and sweets! They have a Thanksgiving Roast, Apple Cider Braised Brussels Sprouts (say that five times fast!) Polenta Butternut Squash Terrine, Garlic Mashed Potatoes, Stuffing, Mushroom Gravy, Cranberry Orange Compote, Green Salad with Pecans and Pomegranate, Pumpkin Pie, and Pumpkin Cheesecake! Most of these items are gluten-free as well! But don't expect to see the regular menu—they are only serving this terrific Thanksgiving menu on the holiday!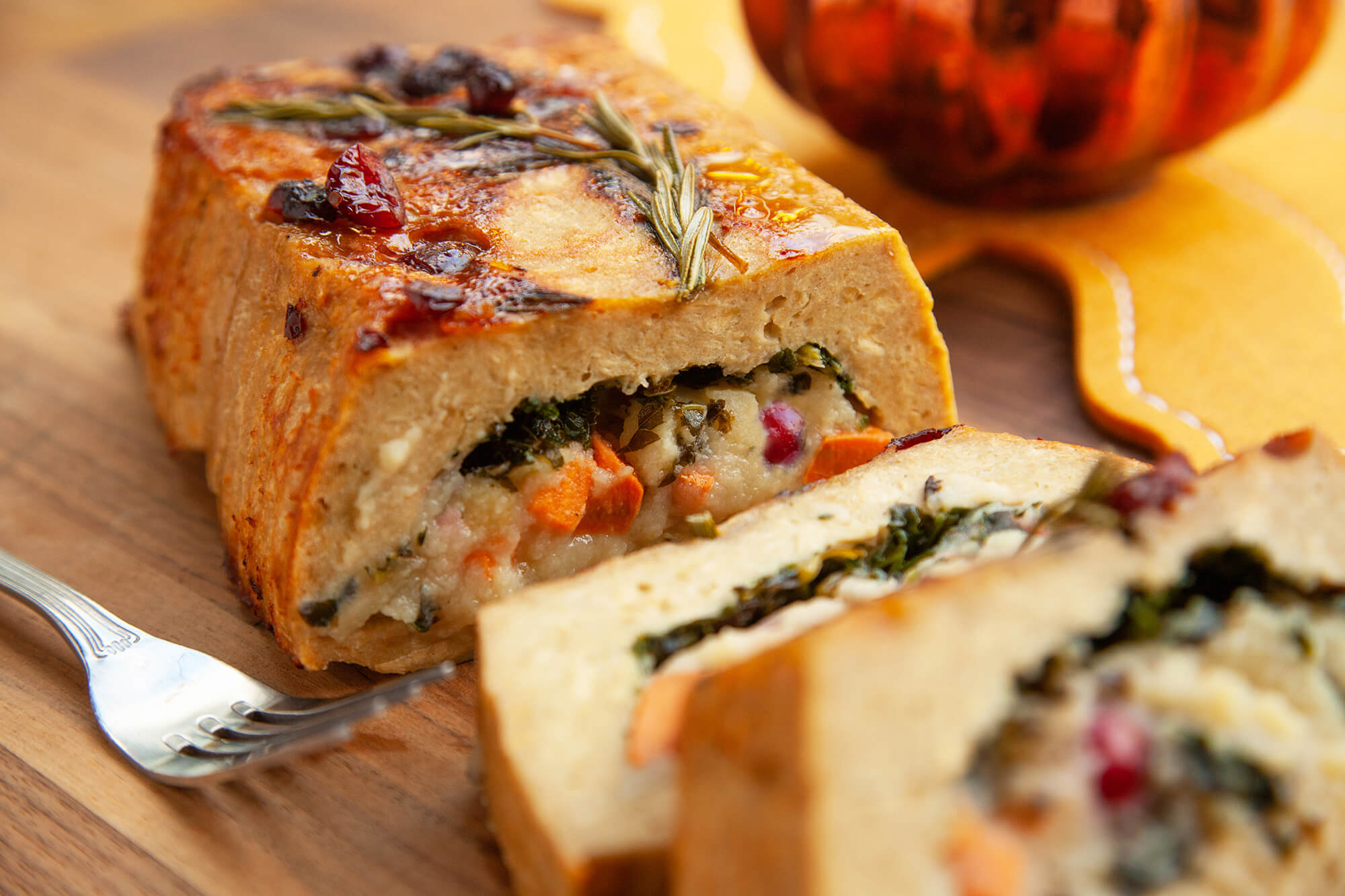 Cafe Gratitude
Venice only
Stop by Cafe Gratitude's Venice location on the holiday for their annual free Thanksgiving. That's right––FREE! From 11am-3pm (or until food runs out,) Cafe Gratitude will be serving free plant-based meals to the community. It is first-come, first-served so get there early! There will be live music, food, and drinks! All of the proceeds will be donated to the Immigrant Defenders Law Center, a social justice law firm offering deportation defense to nearly 600 immigrants each year, regardless of eligibility for relief. If you're looking to help out at the event, sign up online or over the phone by November 26th to volunteer! No experience required, just a passion for giving back to the community!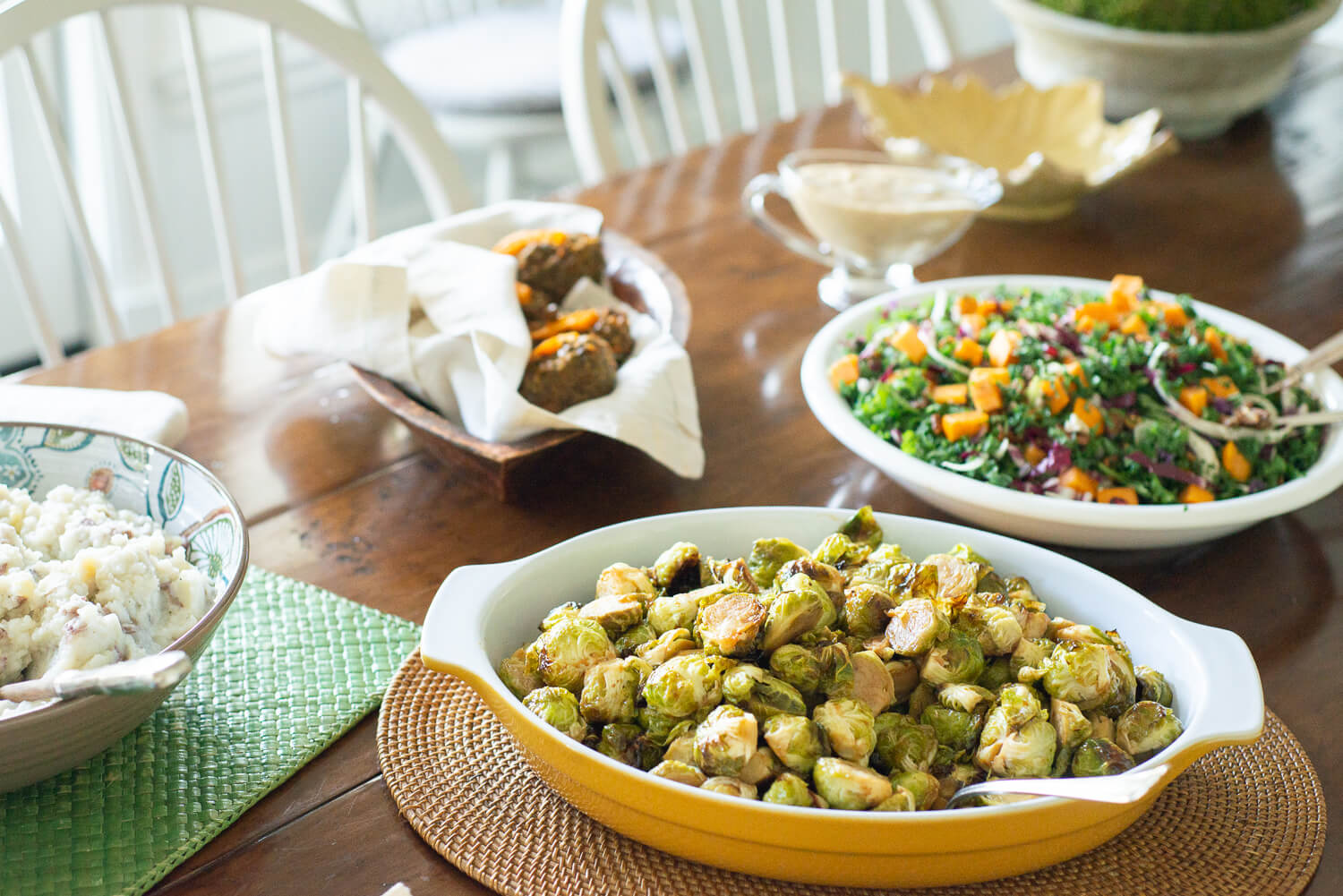 Stuff I Eat
Inglewood
Stuff I Eat is open for Thanksgiving from 12pm-6pm with both their Cooked Thanksgiving menu and Raw Thanksliving menu. The cooked menu includes Vegan "Turkey" Cutlets, Mashed Potatoes & Gravy, Mac 'n' Cheese, Yams, Dressing, and Homemade Cranberry Sauce. You also get to choose between String Beans or Kale Greens, and Broccoli Salad or Mixed Green Salad on the side. For dessert, enjoy a slice of Organic Sweet Potato Pie! The raw menu comes with a Cauliflower Cashew Mash with Gravy, Savory Wild Rice Stuffing, Cranberry Sauce, Nut Loaf, Marinated Spinach, and Napa Cabbage! Additionally, you get the choice between Jicama "Potato" Salad or Broccoli Salad. Dessert is a slice of Raw Organic Sweet Potato Pie!
SunCafe
Studio City
Sun Cafe is offering a Thanksgiving dinner with all the bells and whistles! Pick between a Shepherd's Pie or Savory Lentil Loaf that's paired with Mushroom Gravy, Gluten-Free Stuffing, Garlic Green Beans, Green salad with pomegranates, Cranberry Sauce, Sweet Potatoes with vegan marshmallows, and Suncafe's famous Pumpkin Pie Cheesecake!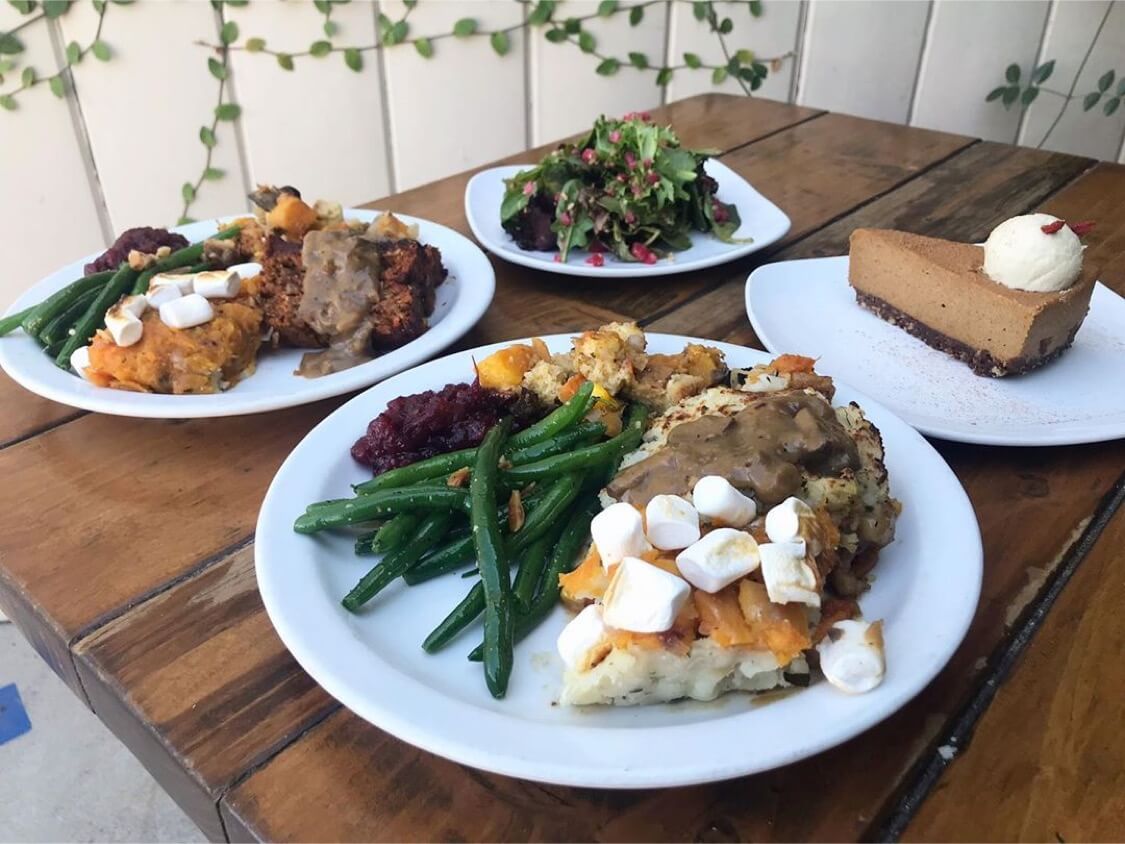 Inn of the Seventh Ray
Topanga
This enchantingly romantic restaurant in Woodland Hills has a Thanksgiving feast for vegans and non-vegans alike! Choose between a 3 or 5-course meal with the option to add wine flights. They've also got your small tots covered with their kid's menu! For an appetizer, select either Spinach Artichoke Jar or Mushroom Ravioli. There'll be a Roasted Butternut Squash or Wild Mushroom & Truffle Soup, and Markey Baby Greens & Winter Apple or Kale, Radicchio, & Endive salad! Their main entree is an Apple Cider Brined Faux Turkey consisting of Green Apple & Fresh Roasted Chestnut Stuffing, Sage-infused Gravy, Corn Spoon Pudding, Sauteed Greens, Maple-glazed Yams, Roasted Brussels Sprouts, Inn-made Cranberry Sauce, Balsamic Braised Cipollini Onions, and Roasted Fingerling Potatoes. And if you're not already stuffed, finish things off with their Amazecake Pumpkin Pie or Warm Apple Pie with Vanilla Coconut Ice Cream! Make your reservation online now to take part in this magical experience!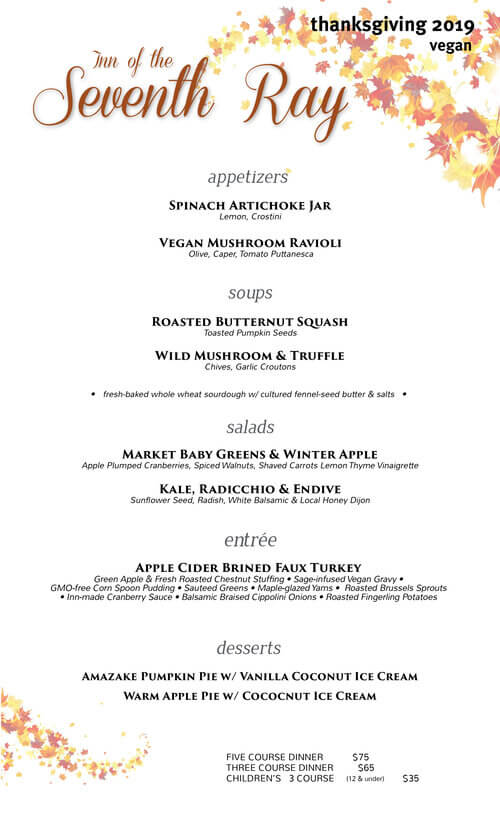 Veggie Grill
Multiple Locations
Celebrate the season with Veggie Grill's Thanksgiving Plate or Thanksgiving Sandwich! The Thanksgiving Plate (available November 28th-December 1st at select Veggie Grill locations) includes Stuffed Holiday Roast, Apple Sausage Stuffing, Green Bean Casserole, Mashed Yams, Cauli-Mashed Potatoes, Porcini Gravy, and Cranberry Sauce! Sounds good––but what if all of those dishes were put together in a sandwich? Ladies and gentlemen, let us introduce you to the Thanksgiving Sandwich! In between bread, you'll find Roasted Turkey, Apple Sausage Stuffing, Gravy, Cranberry Sauce, and Mashed Yams on the side! The handheld feast is available from November 1st-30th!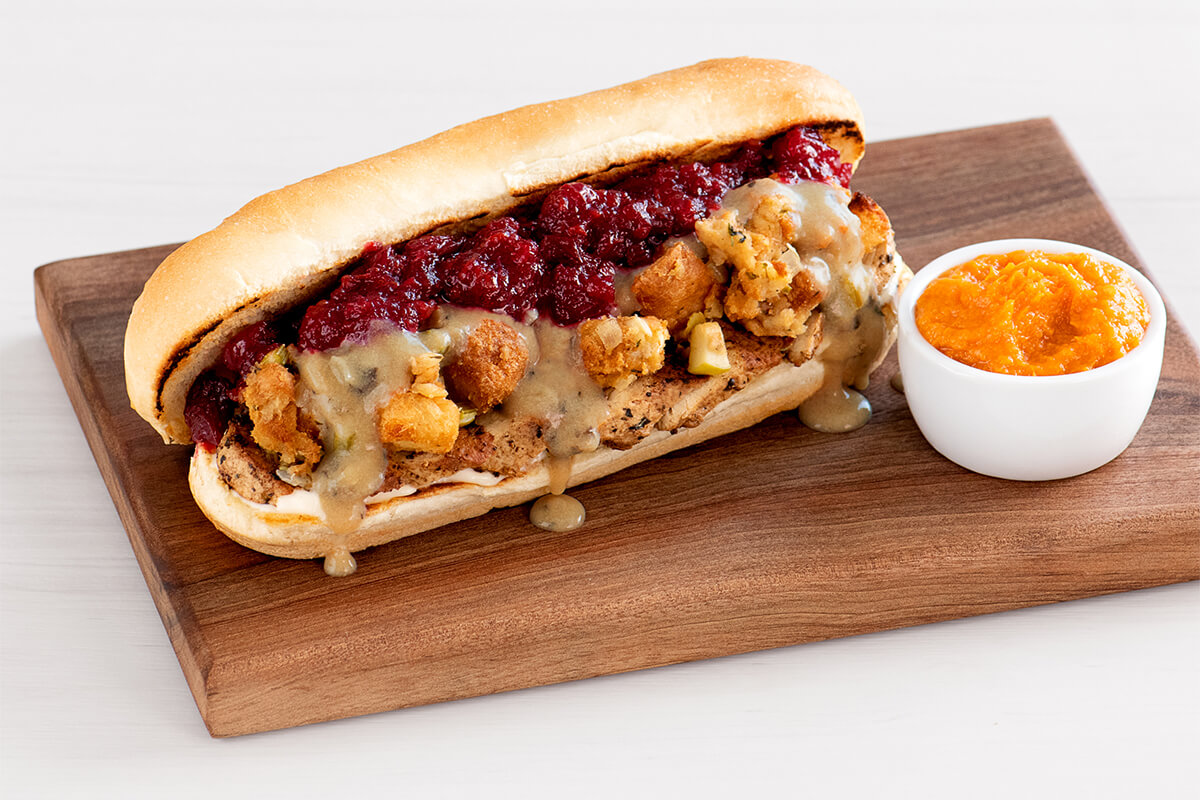 Shojin
Culver City and DTLA
Dine-in at this macrobiotic Japanese restaurant for their unique Thanksgiving Platter! For starters, enjoy Kabocha Pumpkin Croquettes and Shojin Shiso Gyoza. After that, feast on their Baked "Crab Cake" Hand Roll and your choice of Spicy Dynamite Roll 2.1 or Kiss of the Spider Woman sushi rolls. For the entree they have a "Meatloaf" Wellington with Red Wine Tamari Sauce, Mashed Potato, Kabocha Pumpkin, Brussels Sprouts, and Cranberry Sauce. Both locations open 12-10:30. Reserve online!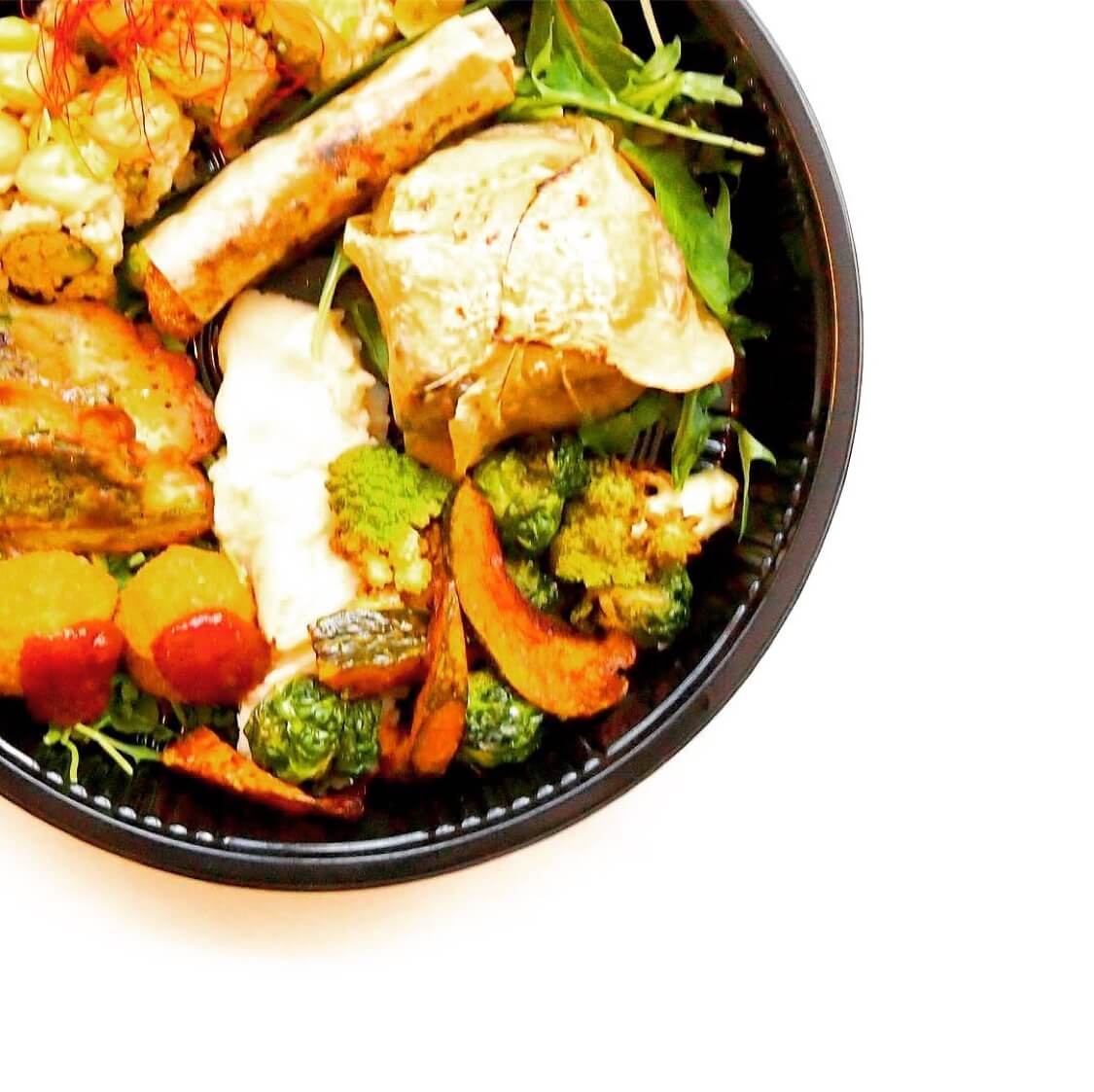 Ahimsa Vegan Cafe
Long Beach
Take a trip to this Long Beach vegan spot and enjoy a Thanksgiving meal anytime between 12 and 8pm! The feast begins with Bread and Butter, Salad and Dressing, and Butternut Squash Soup. After that, enjoy Mock Turkey, Stuffing, Mashed Potatoes and Gravy, Corn on the Cob, Candied Yams, and Cranberry Sauce! For something sweet, add a slice of Pumpkin Pie Cheesecake or a glass of Apple Cider!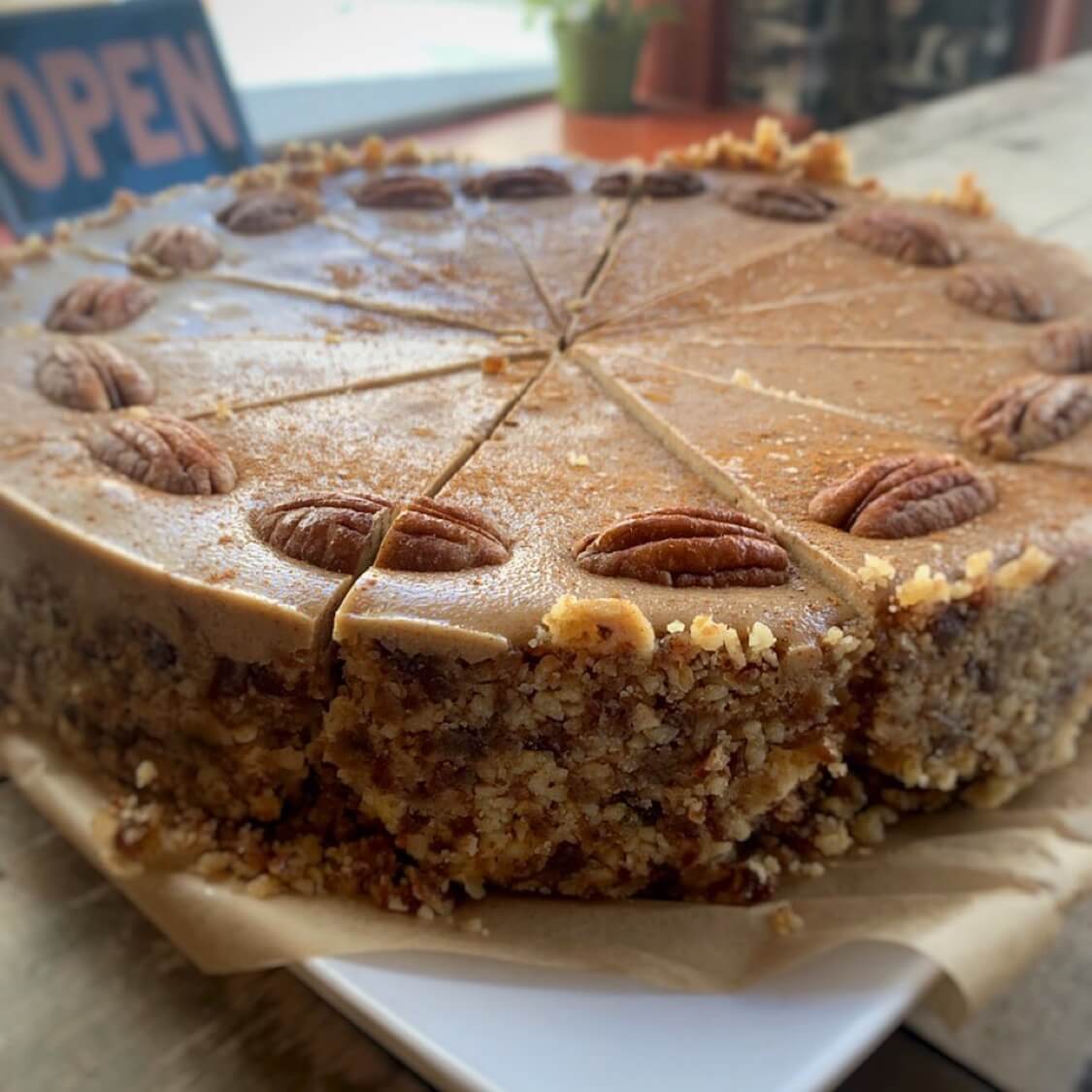 Follow Your Heart Market & Cafe
Canoga Park
Follow Your Heart to this spot for a dine-in Thanksgiving experience (see what we did there?) The restaurant will be open from 9am-3pm to serve up their Vegan Thanksgiving Feast! Your plate comes loaded with Sliced Vegan Turkey, Fresh Rosemary & Thyme Stuffing, Creamy Organic Mashed Potatoes with Country Gravy, Steamed Green Beans with Toasted Almonds, Glazed Oven-Roasted Organic Yams, and Orange Cranberry Relish! If you'd like to avoid gluten, they have a gluten-free option with Roasted Acorn Squash stuffed with wild rice, lentils, and vegetables as an entree, and a gluten-free version of their stuffing! Feel free to add soup, salad, and a glass of Chardonnay or Pinot Noir! Can't make it in on Thanksgiving? They have a special brunch the day after! From 8am-3pm on Friday, November 29th, you can order "Turkey" Rancheros or gluten-free Pumpkin Pancakes!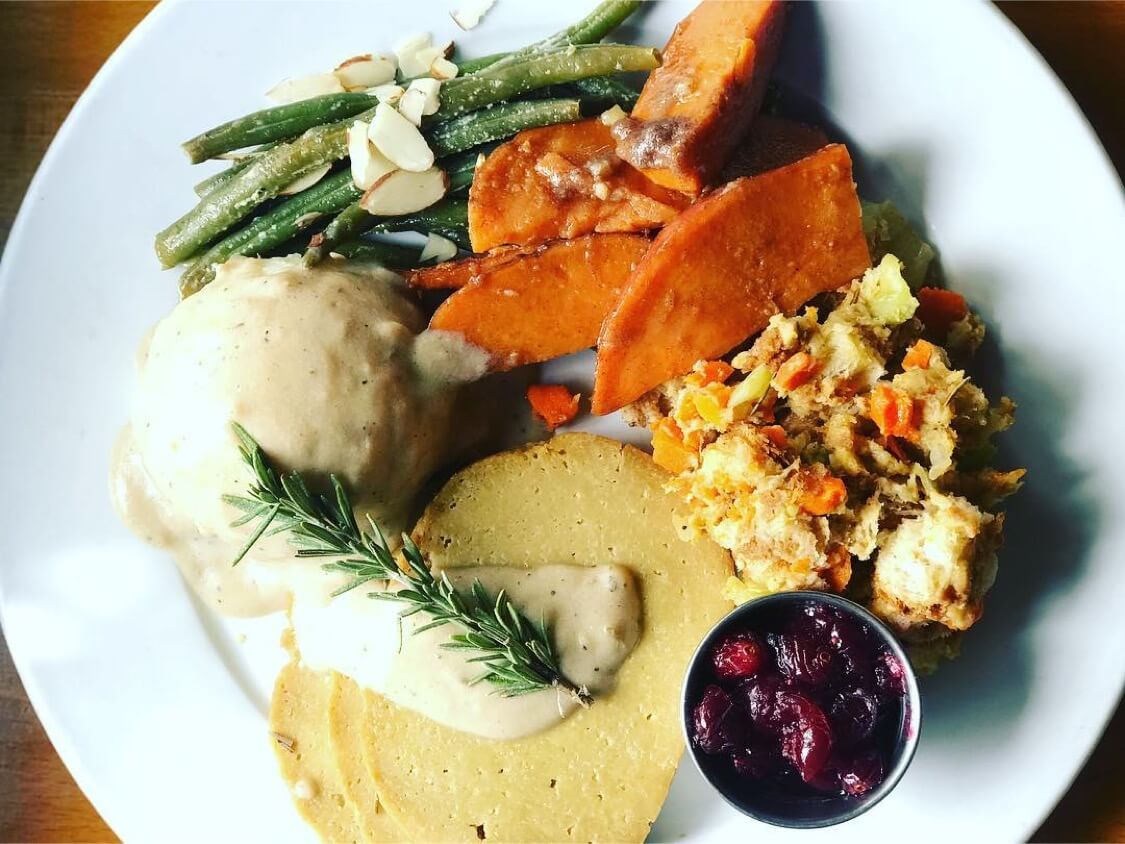 Plant Food + Wine
Venice
Matthew Kenney's lavish Venice restaurant is open on Thanksgiving day from 12pm-8pm with their family style prix fixe menu! Gobble down Chestnut Soup, Fresh Brioche Bread with poppy seed butter, a Warm Fall Salad, Jackfruit Cassoulet, and Warm Pumpkin Crumb with Chai Ice Cream! Visit their website or Instagram for more information and to make a reservation!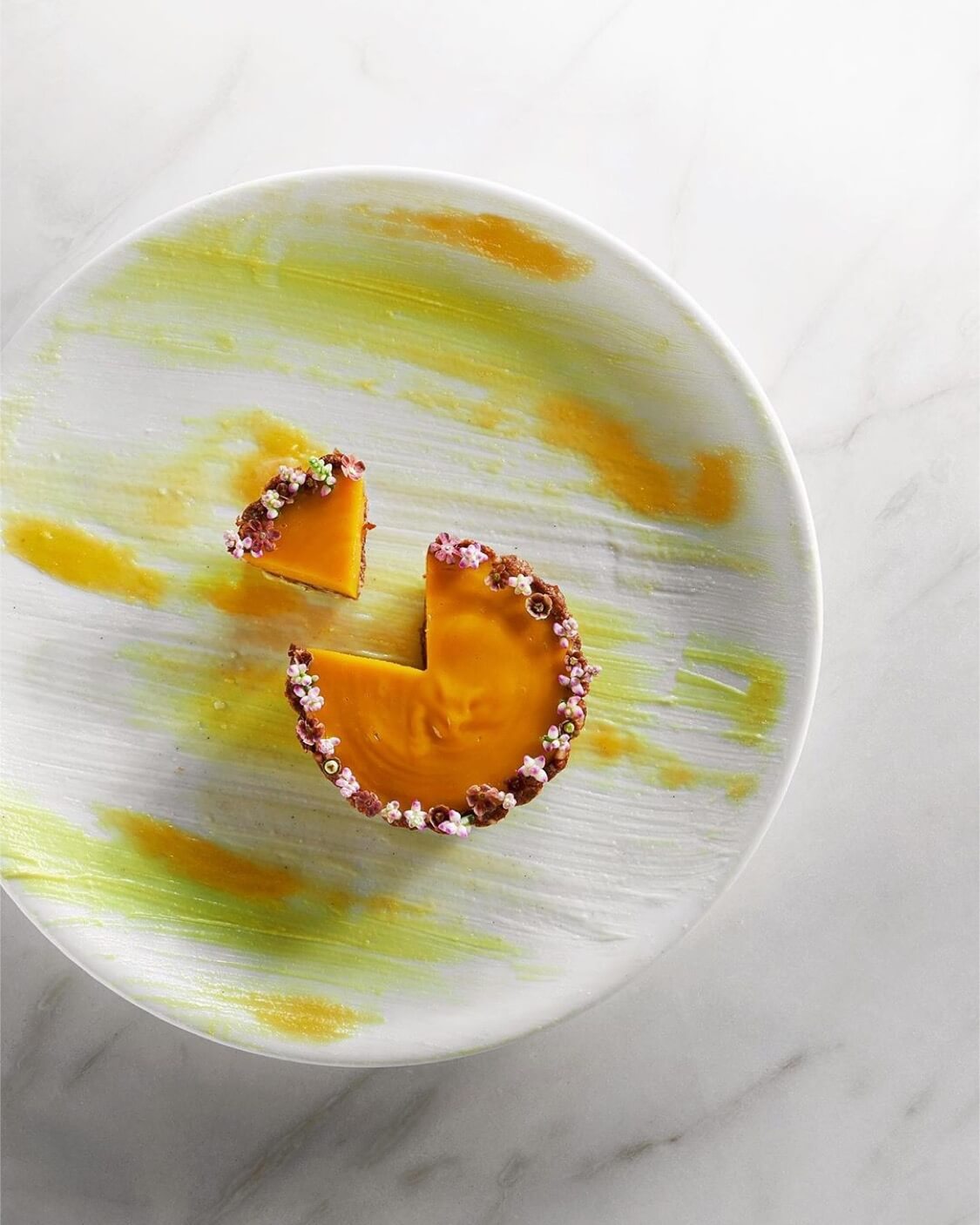 Real Food Daily
Pasadena and West Hollywood
Real Food Daily is back for another year with their Thanksgiving Teaser! Splurge on Pecan Praline Yams, Sage Walnut Corn Stuffing, Hickory Maple Carved-Jackfruit, Sautéed Broccolini, Mashed Potatoes with Gravy, and Cranberry Sauce! They're open from 11am-7pm!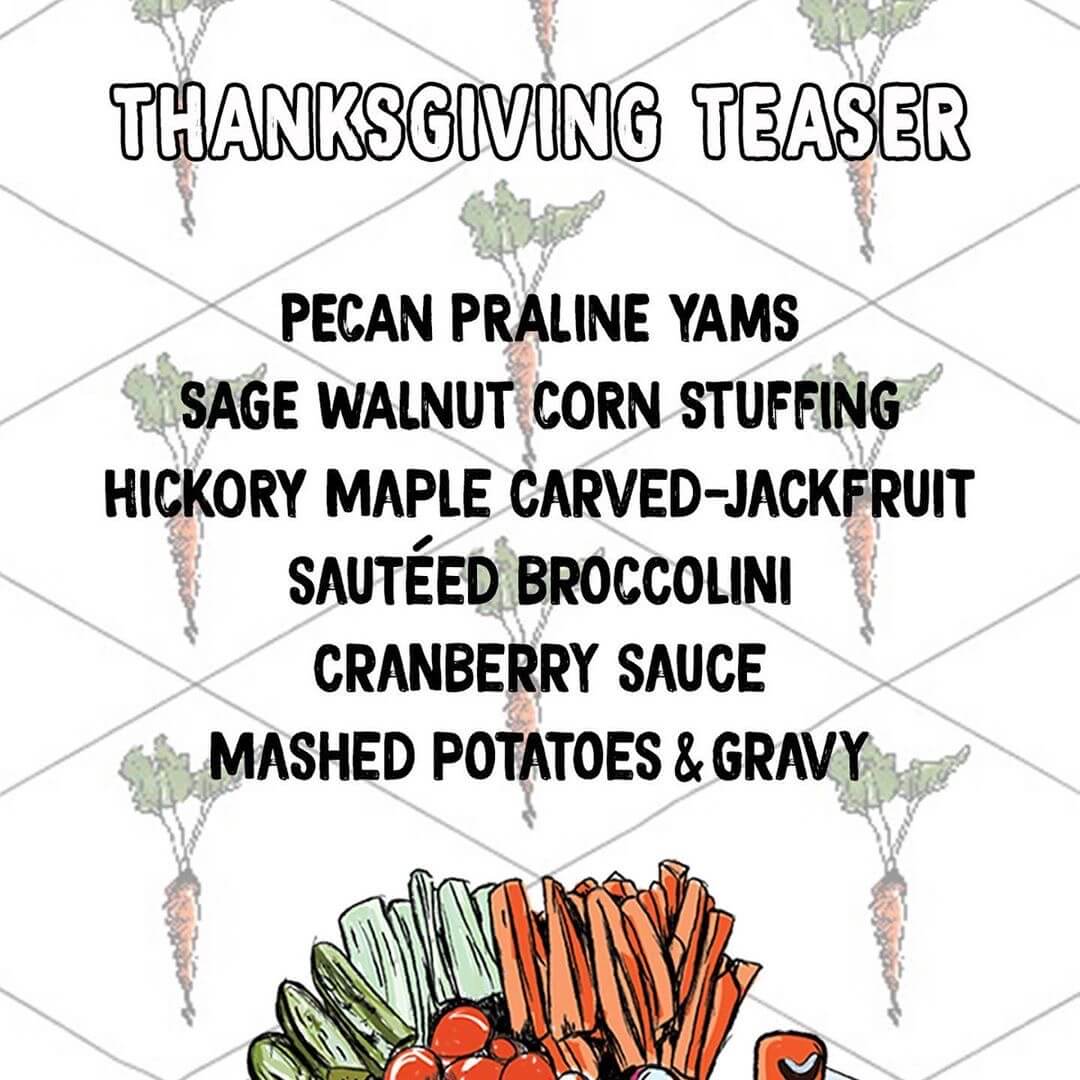 Doomie's
Culver City
Doomie's Culver City will be open on Thanksgiving with a special (and affordable) holiday menu available for dine-in and take-out. Fill up your plate with Turkey, Mashed Potatoes, Gravy, Stuffing, Drop Biscuit, Carrots, Corn, Yams, Cranberry Sauce, and Pumpkin Cake––for just $20! If you can't go a day without Doomie's regular fare, Doomie's Hollywood #NextMex, and NextMex Express in City Terrace will be open with their regular menus. Doomie's Hollywood will hold normal business hours (11am-12am). The other locations' hours will be announced soon!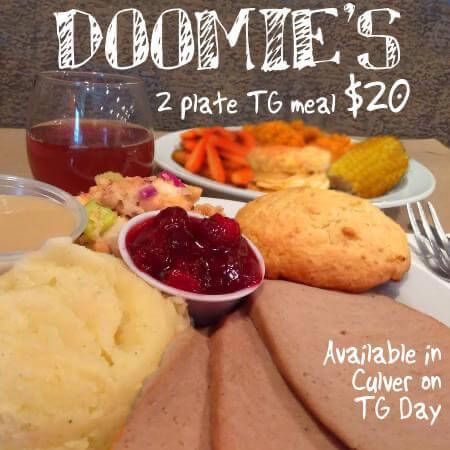 All Vegan Organic Cafe
Santa Monica
Celebrate Thanksgiving just blocks away from the ocean at this Santa Monica cafe! Their Thanksgiving Bento Box is comprised of Young Jackfruit Turkë stew made with jackfruit, peas, sweet potato, broccoli, and mushrooms in gravy! On the side, there's Sourdough Stuffing with celery and parsley, Garlicky Green Beans, and Pumpkin Pie! They will also have a Thanksgiving Happy Hour from 5pm-8pm for smaller bites and á la carte items! Get it for dine-in to feast on their charming patio, or order it for take-out and enjoy it on the beach!
The Grain Cafe
Mid-City, Culver City, Long Beach, and Redondo Beach
All four locations are open from 8am-4pm with a Holiday Feast! The plate is piled high with Vegan Turkey, Mashed Potatoes and Gravy, Stuffing, Roasted Garlic Vegetables, and Cranberry Sauce! You know what to do––type "The Grain Cafe" in your GPS and get to getting!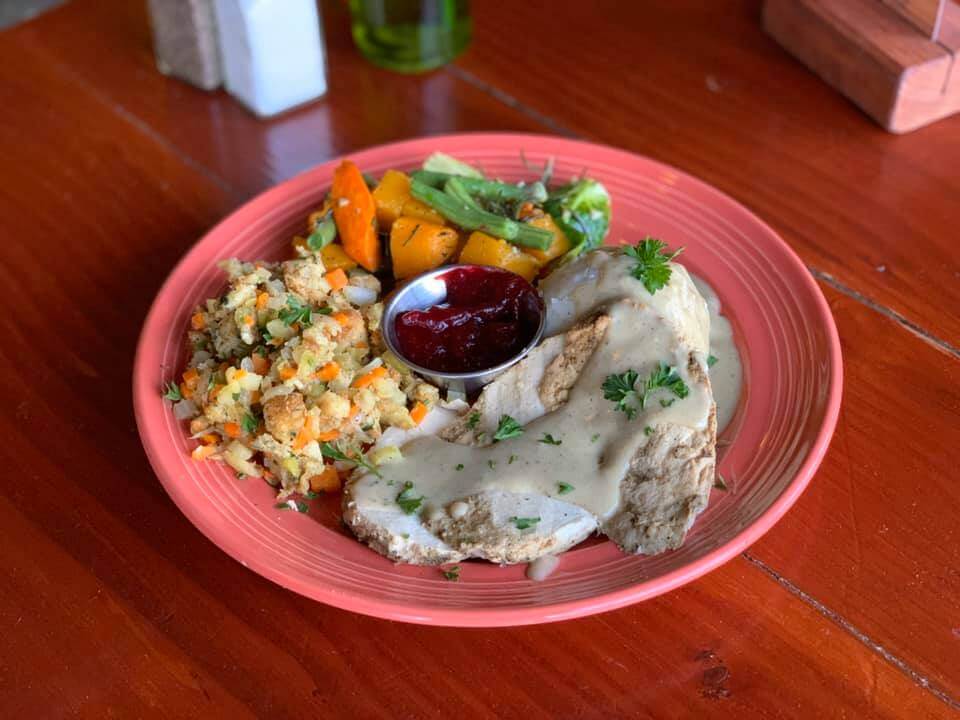 Munchies Diner
Santa Ana
The plant-based gods at Munchies never stop––not even for the holidays! Head to the diner anytime this Thanksgiving from 9am-3:30 pm for their ThanksLiving Bowl! Turkey, hand-mashed potatoes, house-made gravy, mac n' cheese, corn, and grilled broccolini is what you'll find in your bowl! They'll also have a ThanksLiving Sandwich and ThanksLiving Plate! If you can't wait until then, these items will be available starting Monday, November 18th! And since you've made it all the way there, order some of their other menu items! Pro-tip: never leave the diner without ordering a milkshake!
Allie Mitchell
@alliemitch
Allie is a writer, musical theatre performer, yoga instructor, and walking vegan restaurant directory. On any given day, you can catch her making tofu scramble, scouring Trader Joe's for new plant-based products, or watching The Lizzie McGuire Movie! Visit her website at alexandrammitchell.com.
Articles by Allie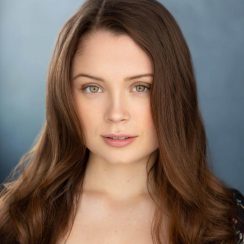 More from VegOut
Subscribe Now
Get the premier vegan food and lifestyle magazine delivered to your door (or inbox!)
Order the magazine!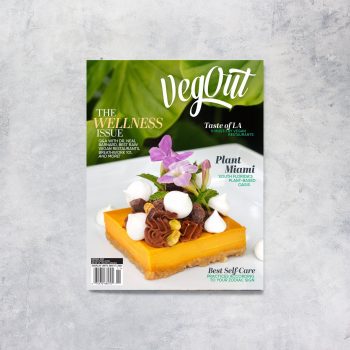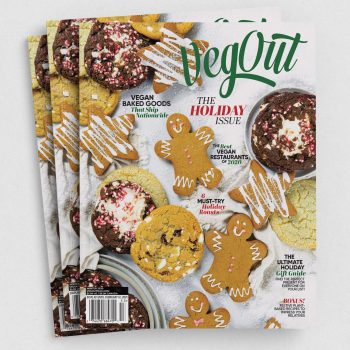 Navigation