Chocolate chip cookies are an absolute staple in any sort of diet. Whether you're vegan, vegetarian, or a true omnivore, their gooey chocolaty taste is sure to brighten up your day, bringing back memories of childhood and baking with family and friends. If you follow a plant-based lifestyle, it can be challenging to find a chocolate chip cookie recipe that is just as satisfying as the non-vegan counterpart. With a bunch of recipes out there on the internet, it's tough to parse out which are the best and can be replicated just as easily at home by amateur bakers as by a professional cooking in a fully equipped kitchen. Keeping these things in mind, and with the help of Melt Organic plant-based butter, we decided to take matters into our own hands and try out some of the most popular vegan chocolate chip cookie recipes on the internet. Ranking them based on flavor, texture, and overall deliciousness, we're here to let you know which are worth baking and which you can save for when you're feeling more adventurous!
As one of the most popular vegan chocolate chip cookie recipes on the internet, with over 600 reviews, this cookie is a must-add to your special treats list. The New York Times is known for its home-baker-friendly recipes, so we were so excited to recreate this cookie to see if it passes our taste test.
This isn't your standard chocolate chip cookie, however. The addition of coconut sugar and the use of a massive amount of chopped chocolate instead of chocolate chips set this recipe apart from the other two—giving the cookie an intense chocolate maple flavor. Combined with just the right amount of salt, this crunchy cookie can also be topped with flaky sea salt for that extra touch.
This recipe calls for coconut sugar and flax meal, ingredients which may call for a special grocery trip, and requires the use of a hand mixer, but in a quick 45 minutes, you'll have a fresh batch of chocolate chip cookies that will satisfy vegans and non-vegans alike. This recipe is definitely worth saving in your bookmarks, because it's quick, easy, and turns out the perfect cookie every time.
Tasty is well-known for its foolproof recipes, having dedicated an entire team to perfecting them—so we knew this one would be on our list of those to recreate. With over 2000 reviews, this chocolate chip cookie variation is well-loved by an entire community of people who swear by its deliciousness.
This cookie's ingredients are a little more accessible and easier to find in your pantry. With no flax egg, the recipe uses simple ingredients like brown and white sugar, flour, and vanilla extract, among others. Calling for two different kinds of vegan chocolate chips, this cookie blends a sweet and more bitter chocolate flavor that enhances its overall taste.
The recipe does require some time to chill in the fridge before baking, so keep that in mind if you're in a rush. However, the result is delicious! With a gooey center, these cookies are perfect for those who love a softer more malleable cookie with less of a crunch.
Lesser known than its mainstream counterparts, the Minimalist Baker chocolate chip cookie recipe still has garnered a pretty big following of passionate cookie-lovers. Plus, it requires no electric equipment and can be made in one bowl! This prospect of dirtying only one piece of kitchenware was too tempting for us to pass up, so we knew this would be the third and final vegan chocolate chip cookie on our list.
Similar to the New York Times cookie, this Minimalist Baker recipe uses a flax egg in place of a real egg to help bind the ingredients together. Other than that, this recipe keeps it nice and simple, using one kind of vegan chocolate chip and other standard baking ingredients you can find in your kitchen.
The instructions do require a long chill time of 40 minutes, so keep this in mind if you choose to test these cookies. Otherwise, the process of making these is pretty simple.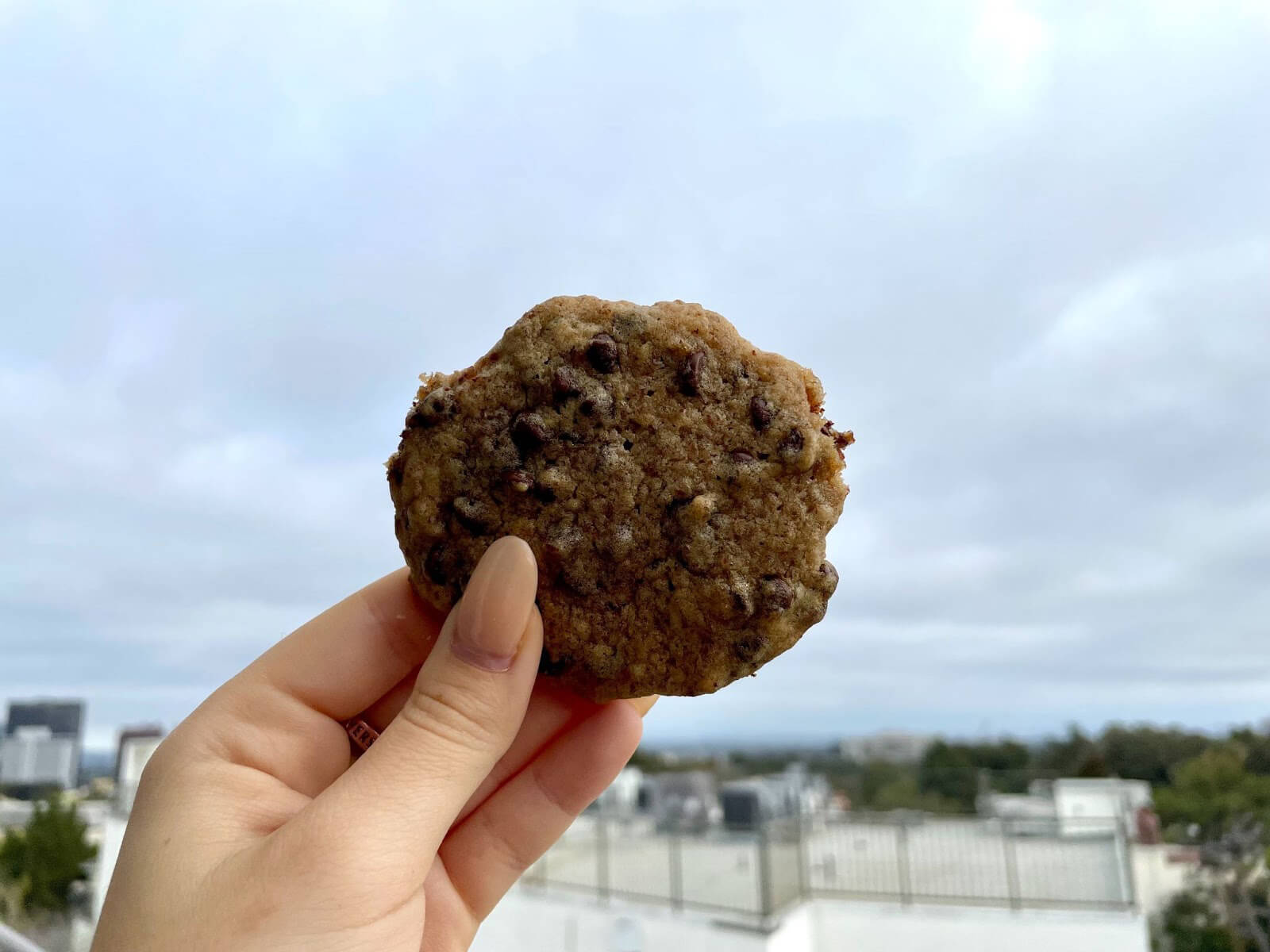 Results:
After testing all of the recipes, it was surprising to see how the selection of ingredients and variety of techniques changed the overall taste and texture of each cookie. After multiple rounds of testing (and many glasses of oat milk), we were able to reach a firm conclusion on which one ranked supreme.
In third place, we have the humble Minimalist Baker cookie with a 1.5/5 star rating. While it was tasty, it had a healthier, earthy flavor. If we're eating a chocolate chip cookie, we want it as sweet and decadent as can be! The flax was at the forefront of the flavors for this cookie and the texture was a little too soft for our liking.
In second place, we have the Tasty cookie with a 3/5 star rating. It was a toss-up between the New York Times cookie and this one, but we ultimately decided that while the Tasty cookie had a great look to it, it was a bit too soft for us and tasted too strongly of brown sugar. You could make this recipe and please any of your vegan and non-vegan friends, but we were really looking for a nice crunchy on the outside, soft on the inside cookie and the Tasty recipe did not deliver that.
In first place, we have the famous New York Times recipe with a 4.5/5 star rating. This cookie was possibly one of the best chocolate chip cookies that we have ever eaten. With a great crunch on the outside and softness on the inside, this treat lived up to our expectations. Definitely make some and share with friends!
This article is brought to you by Melt Organic. Try Melt's non-GMO, organic butter, available in sticks and tubs, in salted, unsalted, probiotic, and original. For more information on Melt, visit MeltOrganic.com or follow them on Instagram (@meltorganic).