Back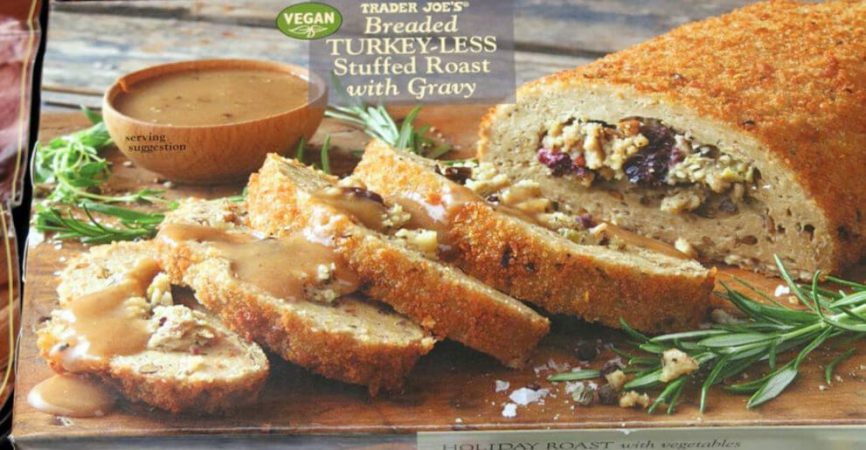 Vegan Thanksgiving Guide to Trader Joe's
Trader Joe's is a great place to do your holiday shopping. They have everything from vegan turkey to pumpkin rolls. Yum!
Breaded Turkey-Less Stuffed Roast with Gravy
There's no need to feel left out and without a main dish on Thanksgiving. Just grab a Trader Joe's Breaded Turkey-Less Stuffed Roast, which also includes gravy. Your tummy and the turkeys will thank you.
Riced Cauliflower Stuffing
This rice cauliflower-based stuffing has carrots, dried sweetened cranberries, leeks, onion, and celery. What more could you want?
Gourmet Fried Onion Pieces
These fried onion pieces are a wonderful addition to your green bean casserole. They are crunchy, and add some extra flavor and flair—great for when you are trying to impress your non-vegan relatives.
Mashed Sweet Potatoes
The Mashed Sweet Potatoes that Trader Joe's carries are great for those who want mashed potatoes, but don't have time or are too lazy to to wash, peel, steam, and then mash and flavor potatoes. These come prepped and already mashed—all you have to do is heat them up and add spices and the like to flavor it to your preferences.
Cranberry Sauce
Similar to the mashed sweet potatoes, this cranberry sauce is perfect for the laziest of cooks. All you have to do is open the jar and pour it in a dish.
Sweet Potato & Marshmallow Pixie Pie Mix
Looking for something a little different from your typical pumpkin or apple pie? Then pick up this sweet potato and marshmallow pie mix! Yes, even the marshmallows are vegan—no gelatin in sight. Just follow the directions on the box, using an egg replacer in place of the egg, and you're good to go.
Pumpkin Rolls
These bad boys are surprisingly vegan, including the icing. They're soft on the inside and crispy on the outside with the most delicious pumpkin spice icing you can drizzle on top.
Maple Leaf Cookies
These are vegan cookies are actually cookie sandwiches with maple cream in the center. And, they're even shaped like maple leaves. They're a perfect addition to your dessert options, and a great go-to for those who want something other than your typical Thanksgiving treats.
Spiced Cider
Whether you want to drink this as is or use it in a cocktail for your 21 and over guests, this spiced apple cider will be a crowd-pleaser.
Organic Pumpkin
Trader Joe's has canned pumpkin puree for all your pumpkin-based recipe needs. You could obviously use some for your pumpkin pie, pumpkin bread, etc., or make pumpkin pie oatmeal or pumpkin pancakes the morning of Thanksgiving if want to be extra festive.
Honeiah Karimi
@
Honeiah is a graduate student studying linguistics. In her free time, she enjoys showing people how delicious vegan food can be. She's also a Kombucha fiend.
Articles by Honeiah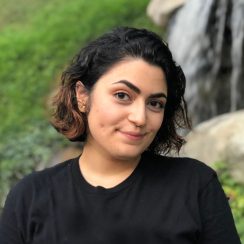 More from VegOut
Subscribe Now
Get the premier vegan food and lifestyle magazine delivered to your door (or inbox!)
Order the magazine!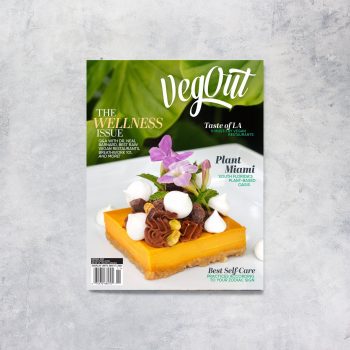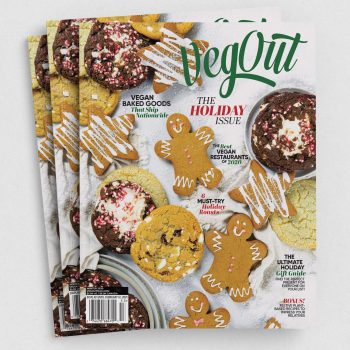 Navigation