Get your ice cream, oat milk, and sweat rags on standby, because these are too hot to handle!
Lettuce Feast
Food Truck
If you own an Instagram account, chances are you have scrolled past glamour shots of these tasty tenders! What's the spiciest thing they've got? Their Tenders or Sando tossed in the Reaper + flavor with a side of Spicy Garlic Sauce! Feelin' hot hot hot!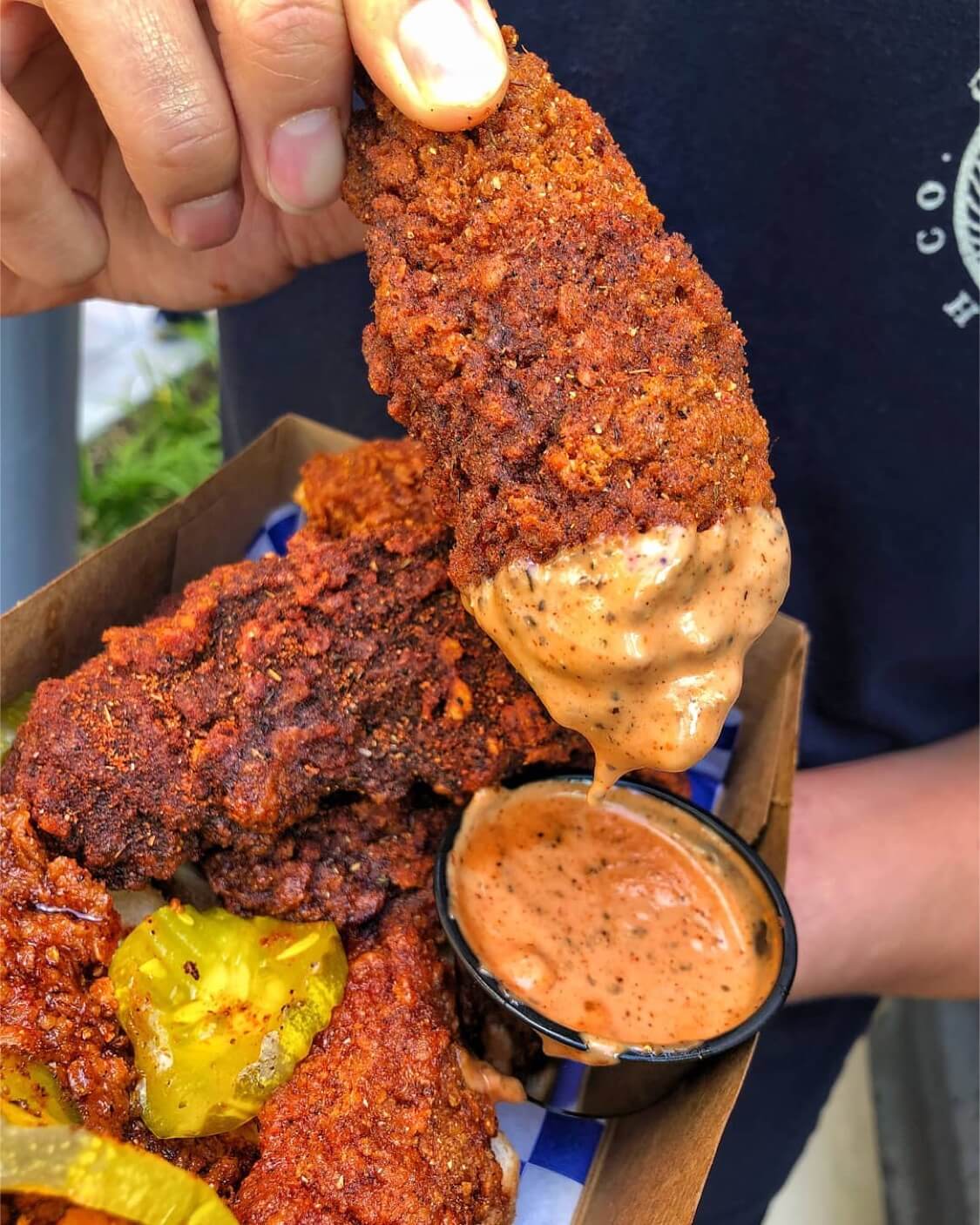 Modern Shaman
Whittier
Need to open up your sinuses, kick your cold in the butt, or want to warm up with some spicy soup? The Menudo at this all-vegan spot is the perfect medicinal meal for you! This traditional Mexican soup is made vegan with tofu, non-GMO soy curls, hominy, Guajillo, and California chilies—the texture is terrific! For more spice in your life, order the fiery Oyster Tacos with fried oyster mushrooms, jalapeños, red cabbage, fresh tomatoes, green onions, cilantro, tangy aioli, and cilantro-lime cashew sauce!
Modern Times
DTLA
What's the best way to get your veggies in? Make them spicy! If you order the FuegoLote at Modern Times, you'll undoubtedly experience the heat! It's spicy elote (Mexican grilled corn) with habanero lime mayo, charred Serrano butter, pickled Jalapeños, and house-made chile de Arbol tajin. Feel the burn!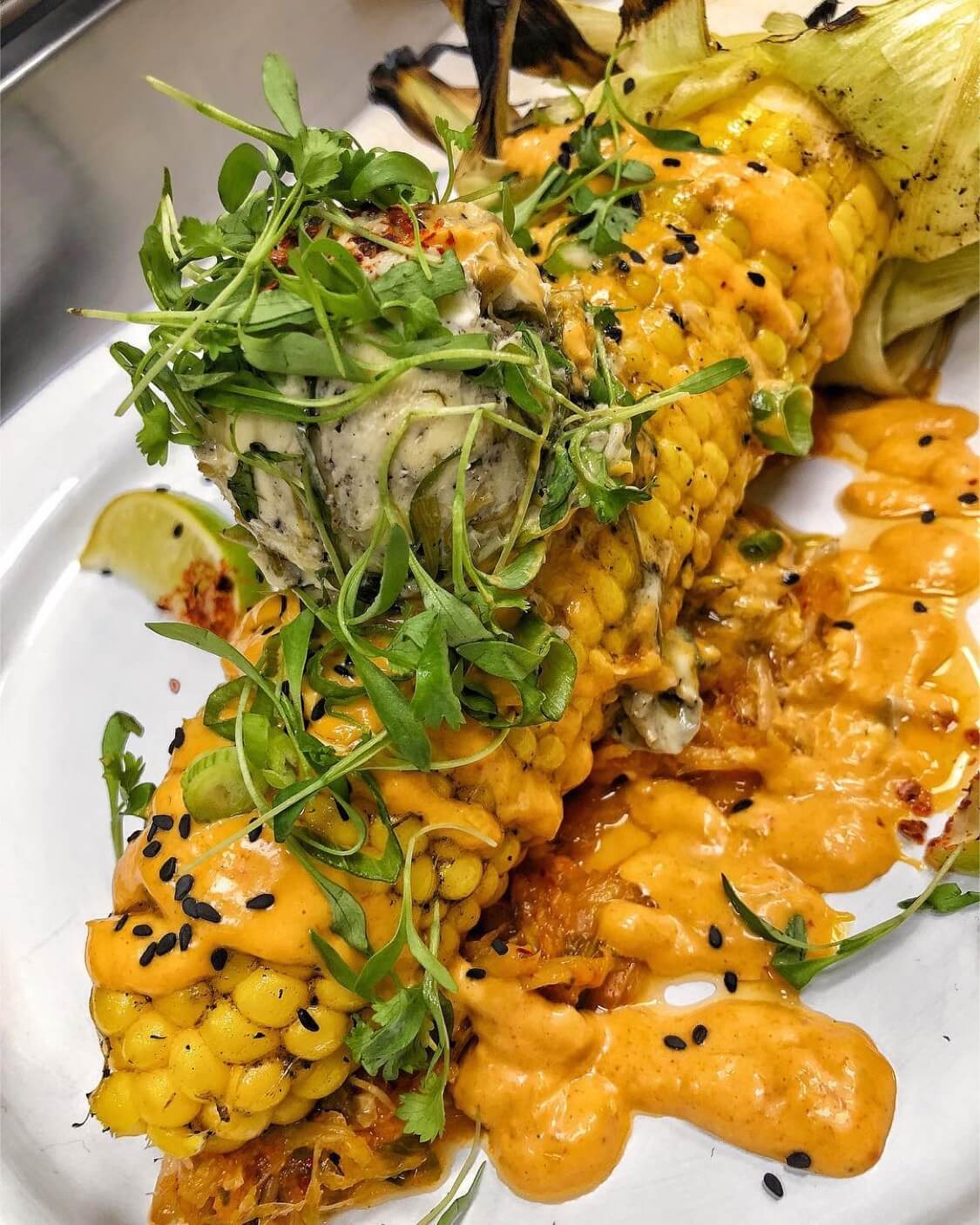 Lotus Vegan
North Hollywood
Lotus Vegan doesn't chince on the spice in their all-vegan Thai dishes! Their Pra Sam Rod, or "three flavored fish," is breaded, deep-fried vegan fish topped with red bell peppers, onions, pineapple, and a sauce made with three different heat components. You choose your spice level from one to five. The spiciest level has five peppers next to the name, so if that's any indication, you know it's straight fire!! If you're feeling courageous, you can ask for it even spicier with more Thai chili!
Krimsey's Cajun Kitchen
North Hollywood
Looking for some good ole Southern heat? Order the Spicy Cajun Jambalaya at Krimsey's! It's Cajun-spiced rice, kidney beans, black-eyed peas, bell peppers, onion, garlic, and veggie sausage slices topped with fresh green onions, red cabbage, and Krimsey's spicy sauce. Fire emoji x 100!!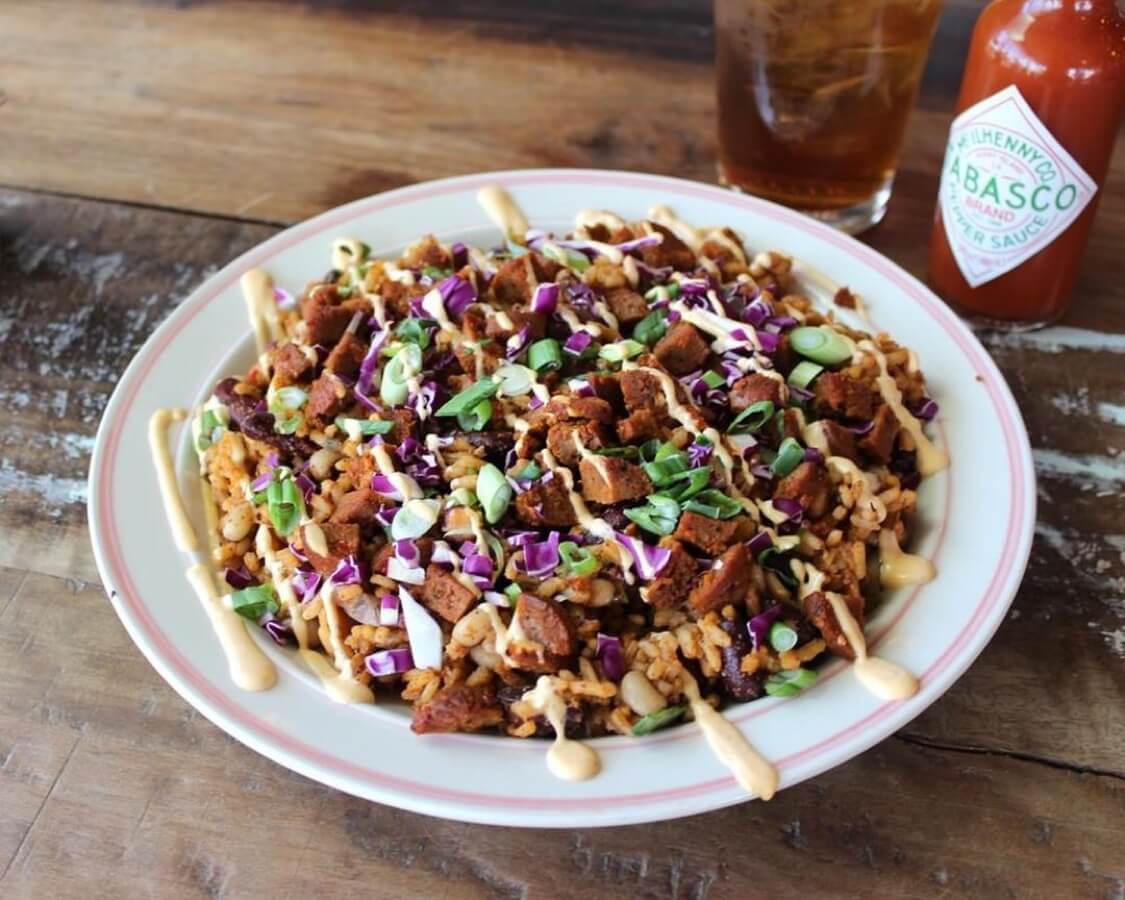 Es Todo Vegan
Arts District
Boost your burrito with some heat by ordering the Barbacoa Burrito at this internationally-inspired vegan joint! Inside a toasted flour tortilla, there's pea and soy-based chicken, stewed nopales, raw corn, green peas, red onions, tomatoes, mixed greens, fresh serrano peppers, braised biryani rice, garlic mayo, and house-made Barbacoa sauce. What's in the Barbacoa sauce? Chipotle, cayenne, and Aleppo peppers––ow owww! Everything is made to order, so feel free to ask for more heat and load up on sauce!
Rockin Hot Chick-un
Food Truck
Find your way back to Tennessee with the Nashville Style Spicy Fried Chick-un Sandwich from this vegan food truck! The masterminds behind We are the Vegan Hooligans and Tehuanita 2.0 run the truck, so you know they can bring the heat! Their iconic sandwich can be ordered Original or Rockin style with your spice level of choice! It's a handmade seitan chick-un patty dipped in Nashville sauce with a layer of vegan mayo, pickles, and creamy coleslaw served on an artisanal onion bun. If you order it super spicy, they'll add a double dose of cayenne, habanero, and Carolina Reaper hot sauce! Find them on Instagram to find their weekly locations!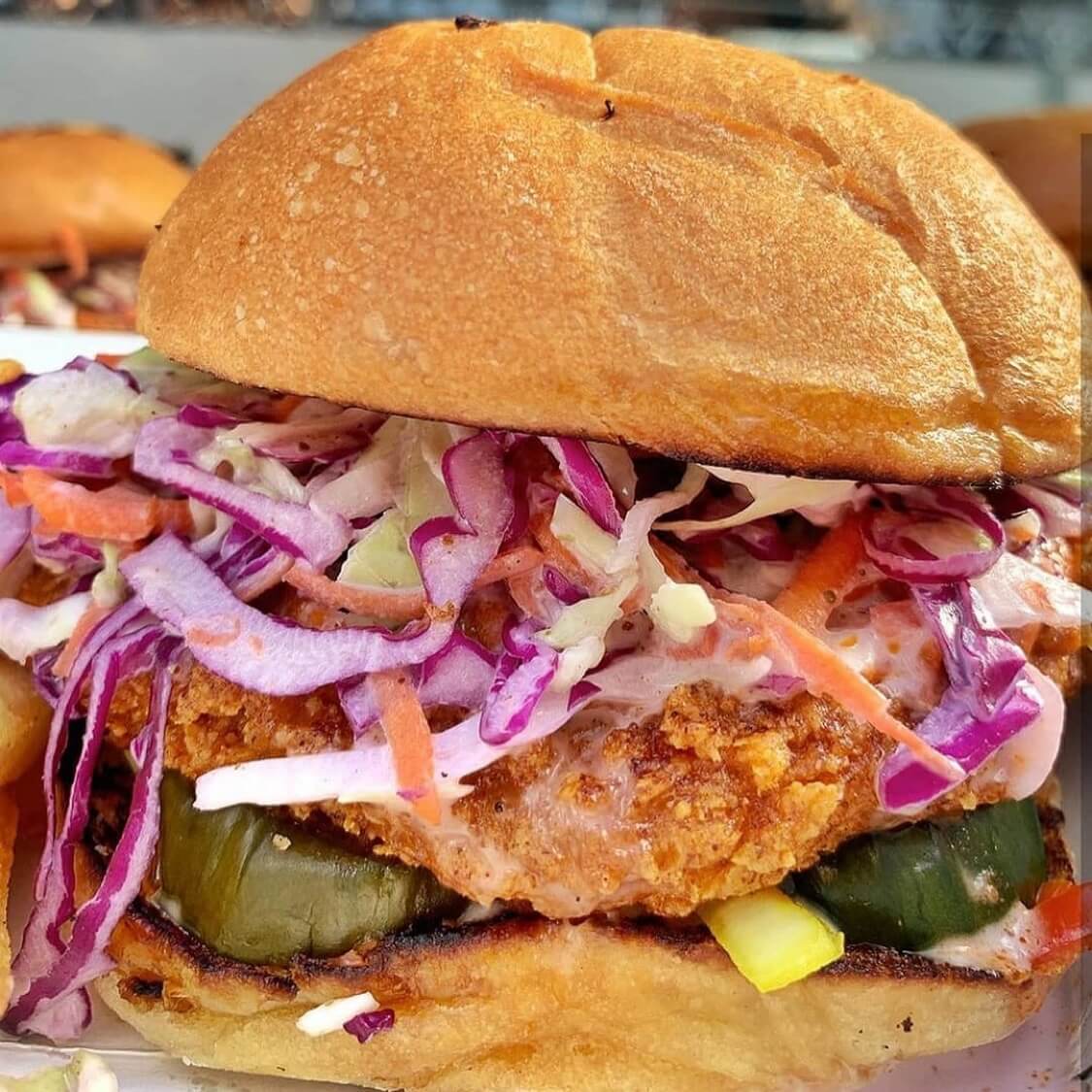 Veggietize Me
Pop-up
If you're looking to spice up your burger game, order the Felipe from this vegan pop-up! It's a spicy burger with sriracha, jalapeños, and the option to add Serrano peppers! Be sure to order their Oreo Creamy Cold Shake to cool your tongue off! We hope you haven't lost all sense of taste from the spiciness, because this shake is sweeeettt!!!
Madre Tierra
Upland
Get lost in the sauce with the Spicy Wet Burrito at this all-vegan Mexican fusion joint! Order their burrito with your choice of soyrizo, seitan Asada, or jackfruit pollo as your protein and get it slathered in sauce! What's in the sauce? Chile de Arbol and other secret spices––we can't spill all the beans, it's mom's secret recipe!
Love Baked Wings
Melrose
What's hot and new at this vegan-friendly spot? The Hot Cauli! These are breaded and baked cauliflower florets covered in a hot Nashville-style seasoning. To crank up the temperature, add their homemade hot sauce made with a variety of peppers, including Ghost, Carolina Reaper, Habanero peppers, and more! They've also got vegan chickpea wings! Their whole restaurant is gluten-free, non-GMO, no high fructose corn syrup, no msg., no soy, and all heat!
Sugar Taco
Melrose
Sugar Taco isn't all horchata lattes and extra guac when you order their Ghost Taco! It's a black tortilla filled with Pollo Diablo, diced ghost peppers, and is so spicy you have to sign a waiver! It costs $6.66, so if you're superstitious, be sure to order some extra sides and desserts to change the final cost. Even if you're not superstitious, still order more food, it's damn good! They've got a big Ghost Taco eating competition coming up on October 30th with a grand prize of $1000!
The Stalking Horse
West LA
The title of this spicy menu item reads, "KILLER LATKE!!!!!!!!!!! WARNING: SERIOUSLY SPICY! NOT FOR THE FAINT OF HEART!" Why so many exclamation points? This crispy potato pancake is loaded with three-chili hot sauce, Carolina Reaper pepper dust, bleu cheese, and chives. If you can finish it, they'll buy it for you! Or if you're feeling bold, sign up for their monthly Killer Latke Challenge! You must eat as many little killer latkes as you can in under 6:66––but be warned, our staff tried this dish, and it's no joke! Our tip to you: ask for some almond milk and vegan ice cream, you'll need it! Good luck!