Back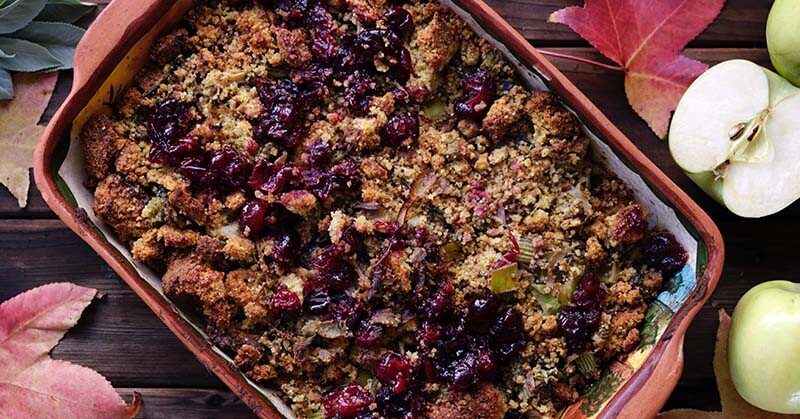 The Best Store-Bought Vegan Stuffing for Thanksgiving 2020
Picture this: You wake to the scent of sage, thyme, and rosemary filling the house. You roll out of your twin-size bed and start helping your family finish up Thanksgiving dinner. Sounds like simpler times, right? Perhaps the holidays aren't this effortless these days, and maybe you're in charge of stuffing this year. If that's the case, we've totally got you covered! Check out these seven vegan store-bought holiday stuffing mixes perfect for a feast.
RELATED: 21 Vegan Thanksgiving Items from Trader Joe's
---
Want even more vegan food, news, and lifestyle content? Subscribe to VegOut Magazine!
Trader Joe's
Riced Cauliflower Stuffing
Cauliflower stuffing? Name a more on-brand 2020 Thanksgiving side—we'll wait. This new freezer aisle fave provides all the taste of holiday cheer while getting extra veggies on our plates! We consider this a win-win.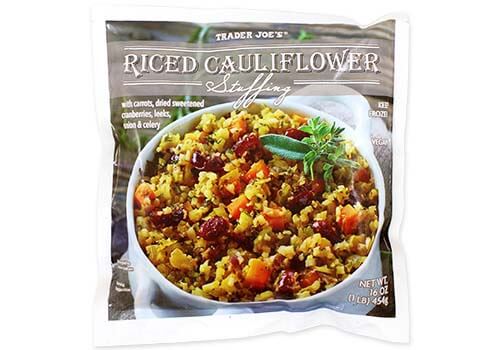 Whole Foods
365 Everyday Value Organic Multigrain Stuffing Mix
For a fiber-rich take on this T-giving classic, Whole Foods has your back! This stuffing mix is made from plant-based ingredients and provides vegan-friendly preparation suggestions on the package.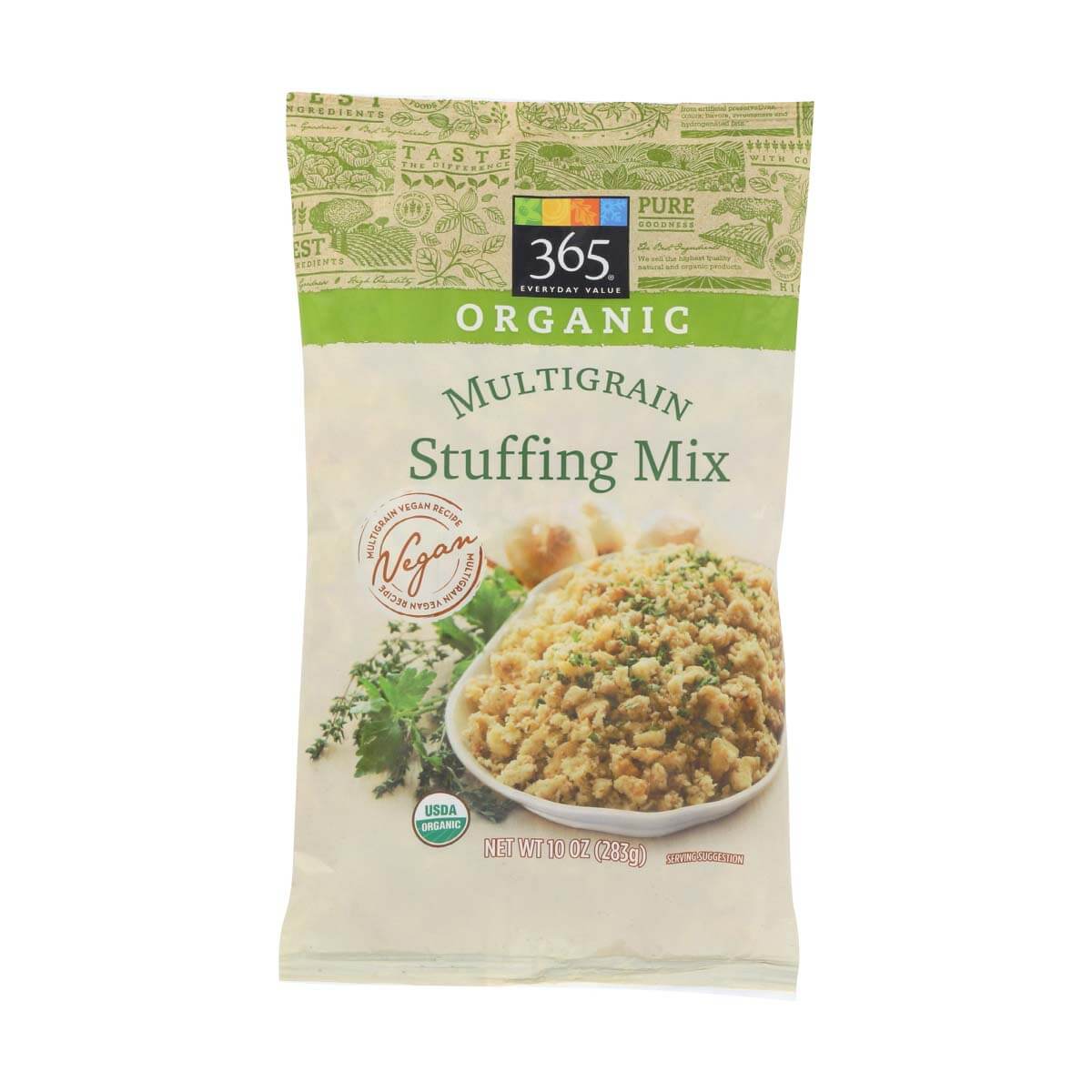 Arrowhead Mills
Organic Savory Herb Stuffing
We absolutely love a classic stuffing mix! And lucky for us all, this brand can be found at most major grocers. Easily substitute veggie broth and olive oil in the recipe for the finished product to be totally vegan-friendly!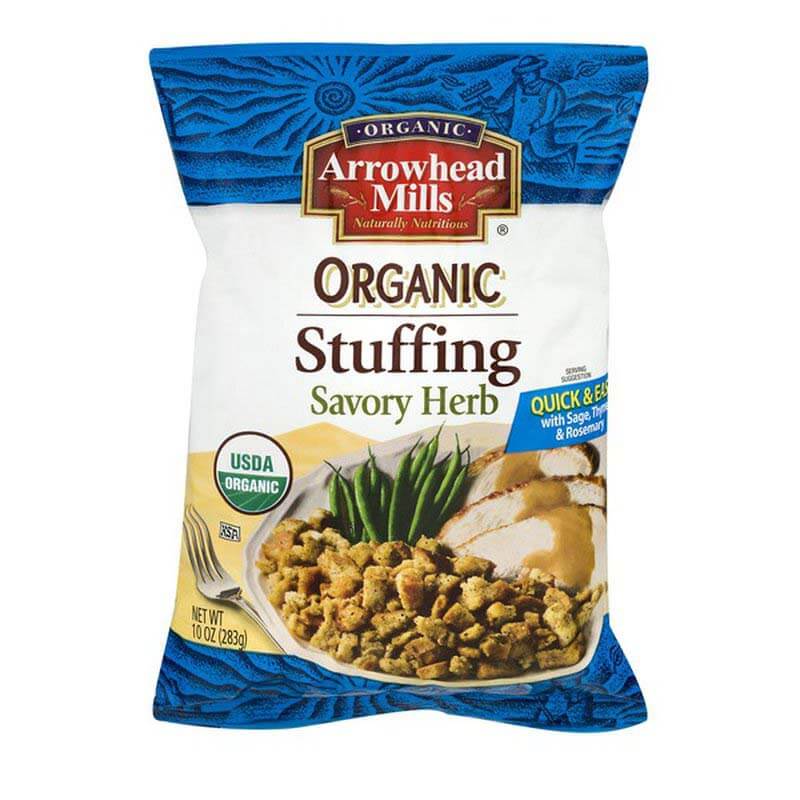 Pepperidge Farm
Herb Seasoned Classic Stuffing
Pepperidge Farm doesn't just make cookies and bread, they make vegan-friendly holiday stuffing too! Crafted from a blend of breads, herbs, and spices, this stuffing mix is a tasty addition to your holiday table. If preparing according to the directions, sub vegan butter and veggie broth.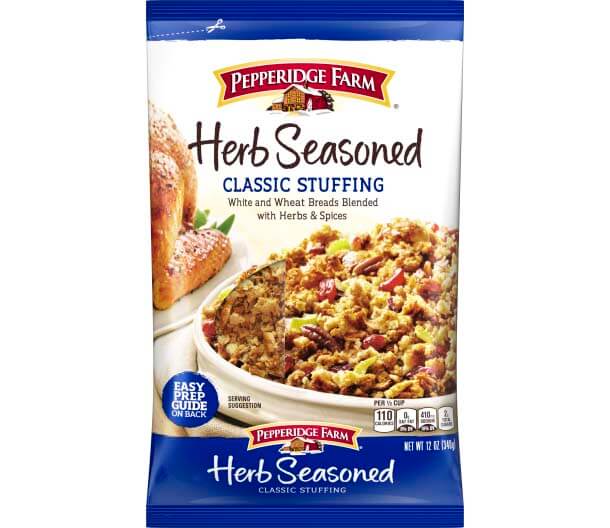 Mrs. Cubbison's
Seasoned Cornbread Stuffing
Stuffing from cornbread? We're totally into it! This tasty twist on a holiday staple contains all cruelty-free ingredients. When prepared with plant milk and vegan butter, this side dish is a fully vegan offering to share.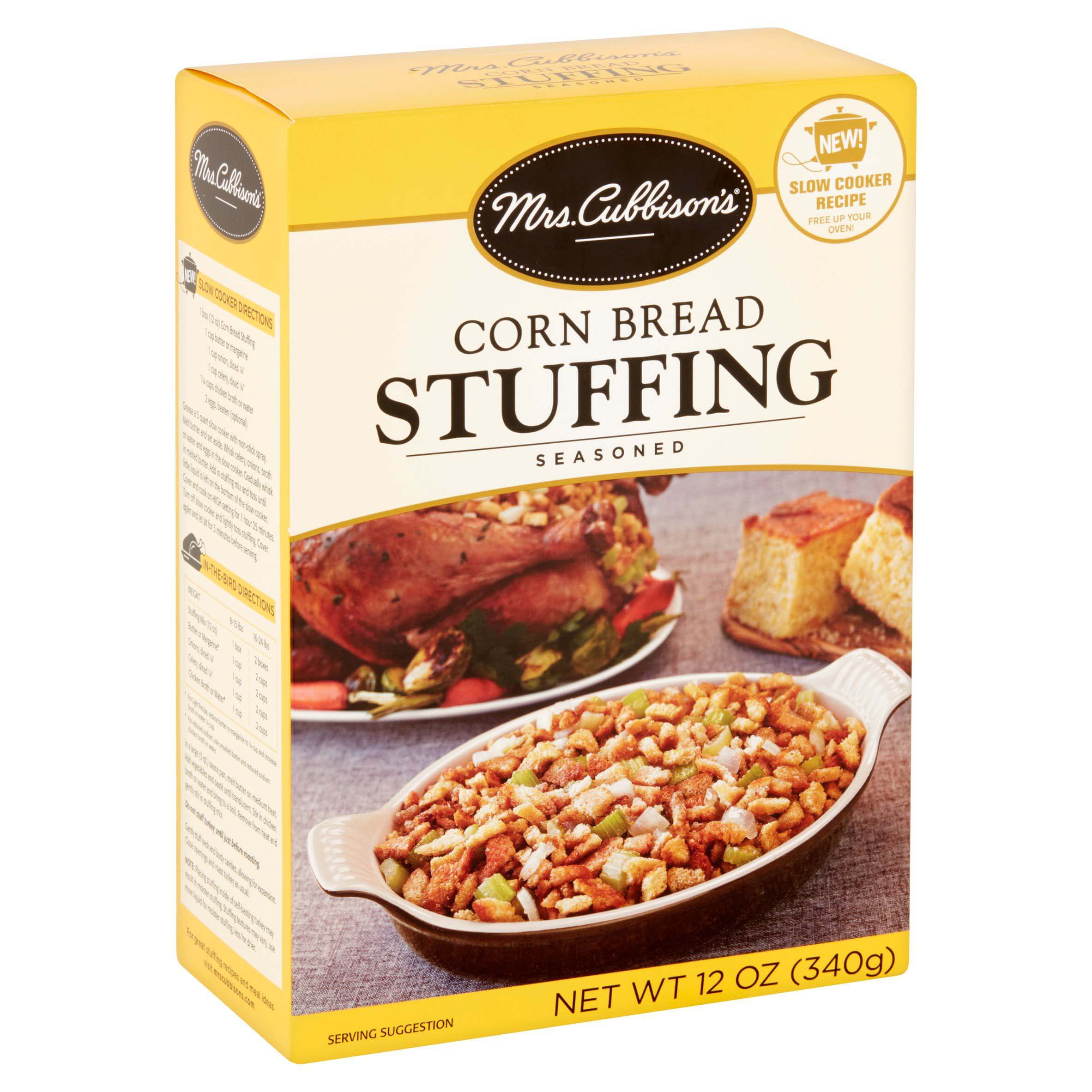 Thrive Market
Organic Grain-Free Stuffing Mix
Starting with a blend of tigernut flour, arrowroot powder, and cassava flour, this organic stuffing is not only vegan but gluten-free! Follow the veganized directions on the back of the package for all the flavors of a plant-based Thanksgiving. Be sure to add it to your next Thrive Market order.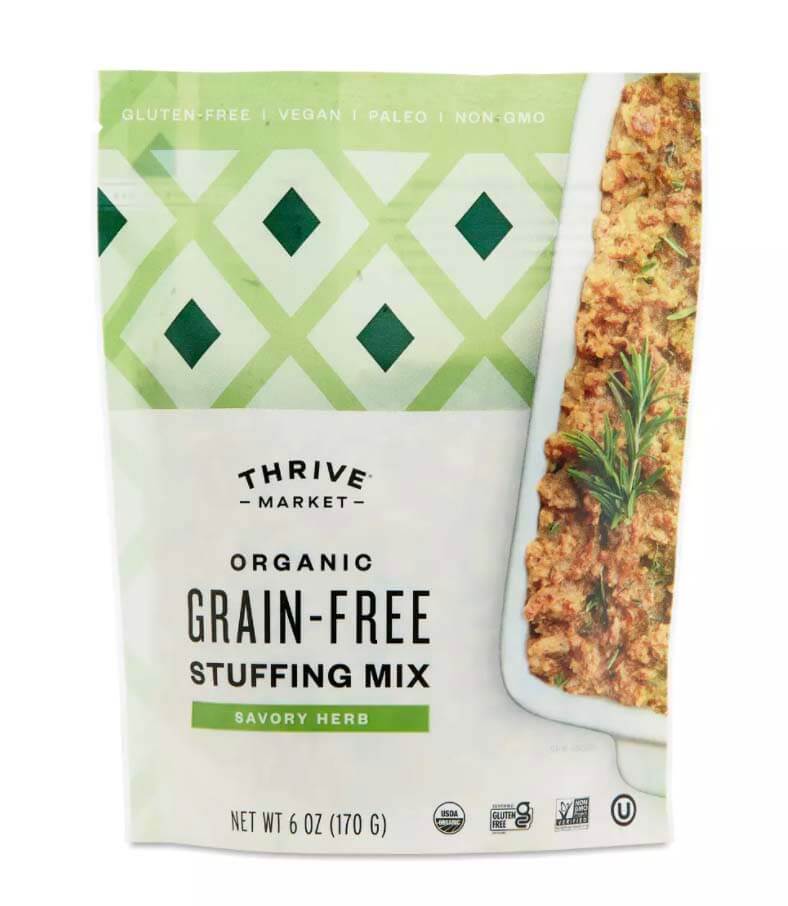 Olivia's
Traditional Stuffing
Made from a mix of French and multigrain breads paired with holiday-inspired seasonings, this stuffing is an easy choice for Thanksgiving dinner. Serve it with a holiday roast and your other veganized side dish faves for the full effect.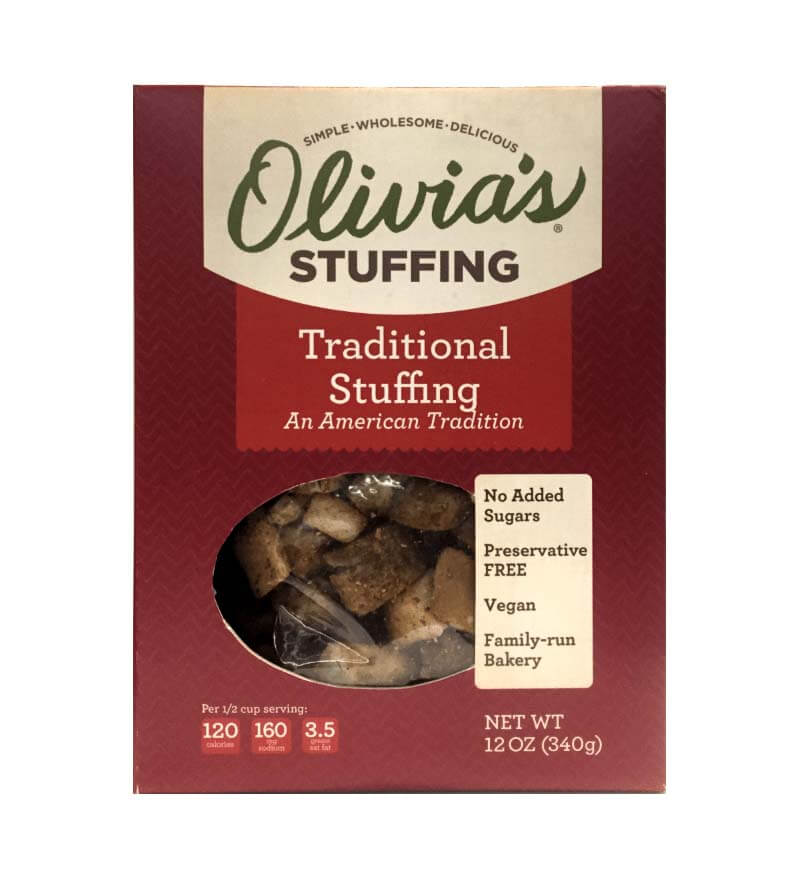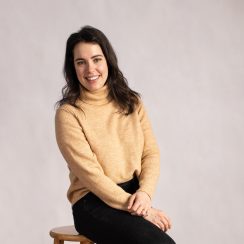 More from VegOut
Subscribe Now
Get the premier vegan food and lifestyle magazine delivered to your door (or inbox!)
Order the magazine!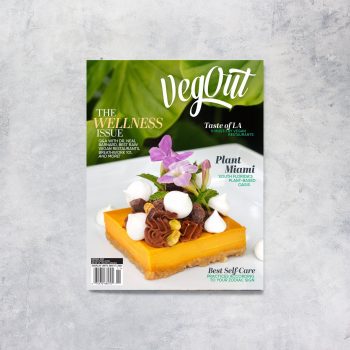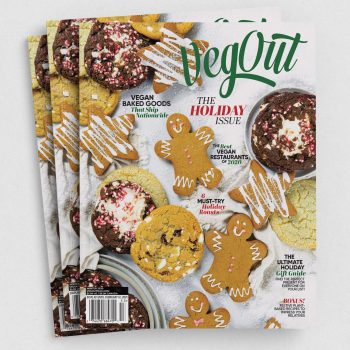 Navigation