Back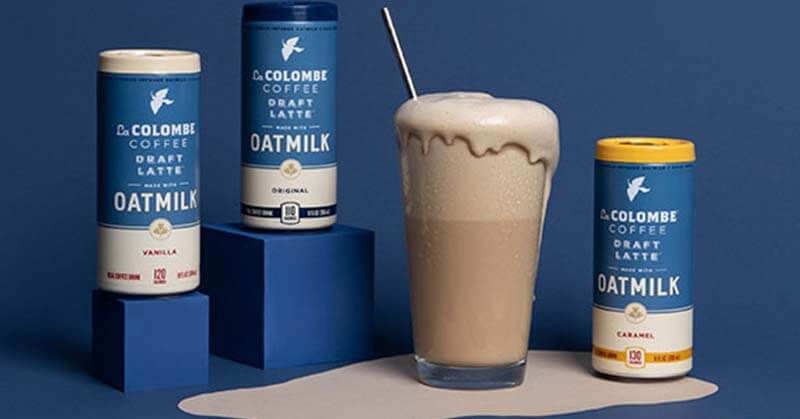 The 14 Best Vegan Canned and Bottled Lattes
Looking for a caffeine boost you can take with you on the go? When the alarm goes off and it's back to the grind, these ready-to-drink, dairy-free lattes will provide you with just the right amount of energy to take on your day. Here are the vegan-friendly lattes we are loving!
RELATED: 11 Non-Dairy Coffee Creamers That Taste Better Than the Real Thing
---
Want even more vegan news, food, and lifestyle content? Subscribe to VegOut LA Magazine or VegOut NYC Magazine!
RISE Brewing Co.
Rise and shine with sustainably-sourced coffee drinks from RISE Brewing Co. The brand offers vegan ready-to-drink lattes such as the Nitro Cold Brew Oat Milk Latte and the Nitro Cold Brew Oat Milk Mocha Latte. For tea drinkers, RISE also makes a London Fog: Nitro Earl Grey Tea Oat Milk Latte, as well as Organic Oat Milk, which can be added to your morning tea or coffee!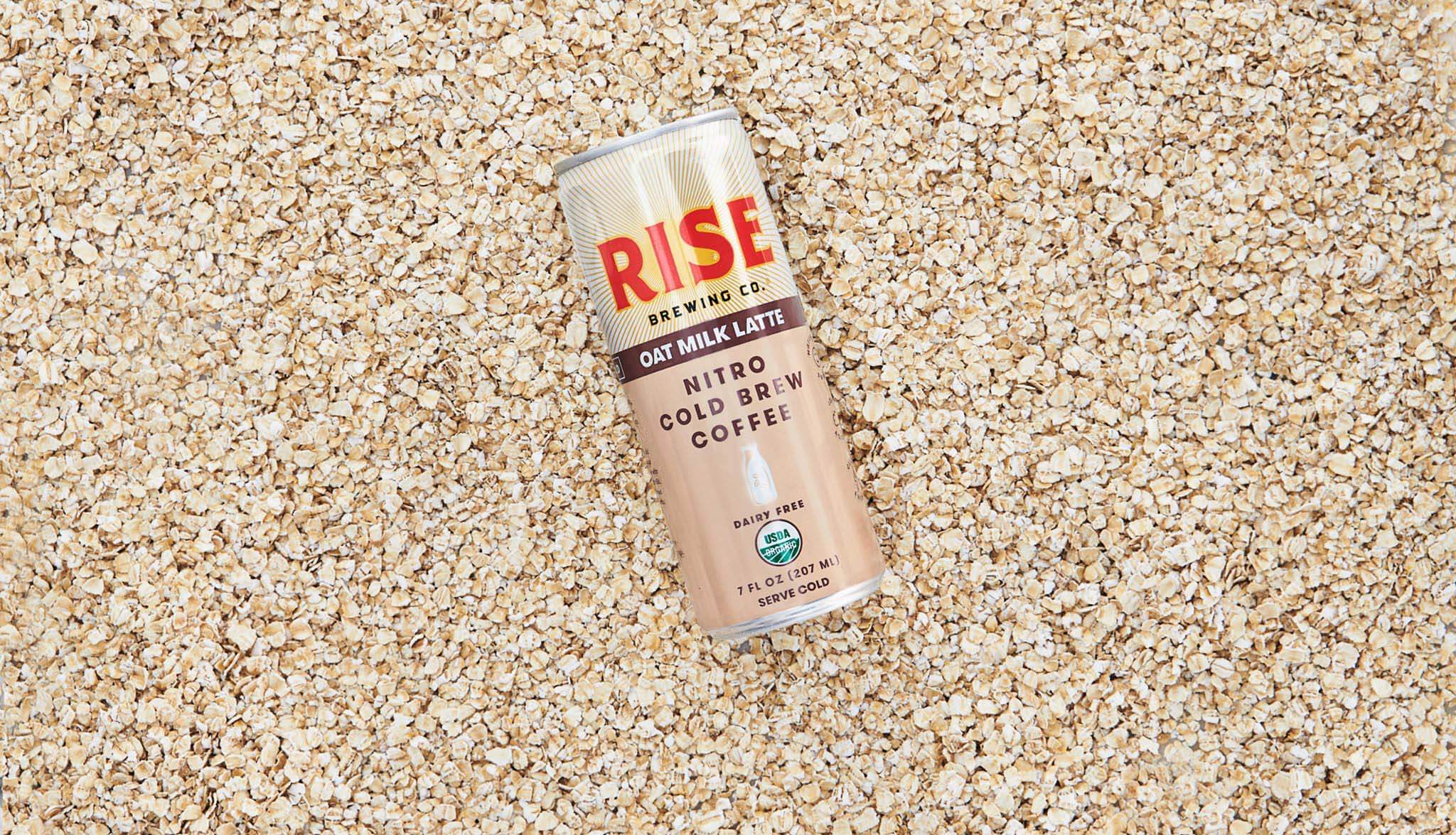 Koia
A favorite among vegans and gym sharks alike, Koia's coffee lattes offer a protein-packed caffeine boost that will fuel your daily routine. The lattes come in three flavors—Salted Caramel, Mocha, and Vanilla—and contain zero sugar, so you can avoid that midday energy crash.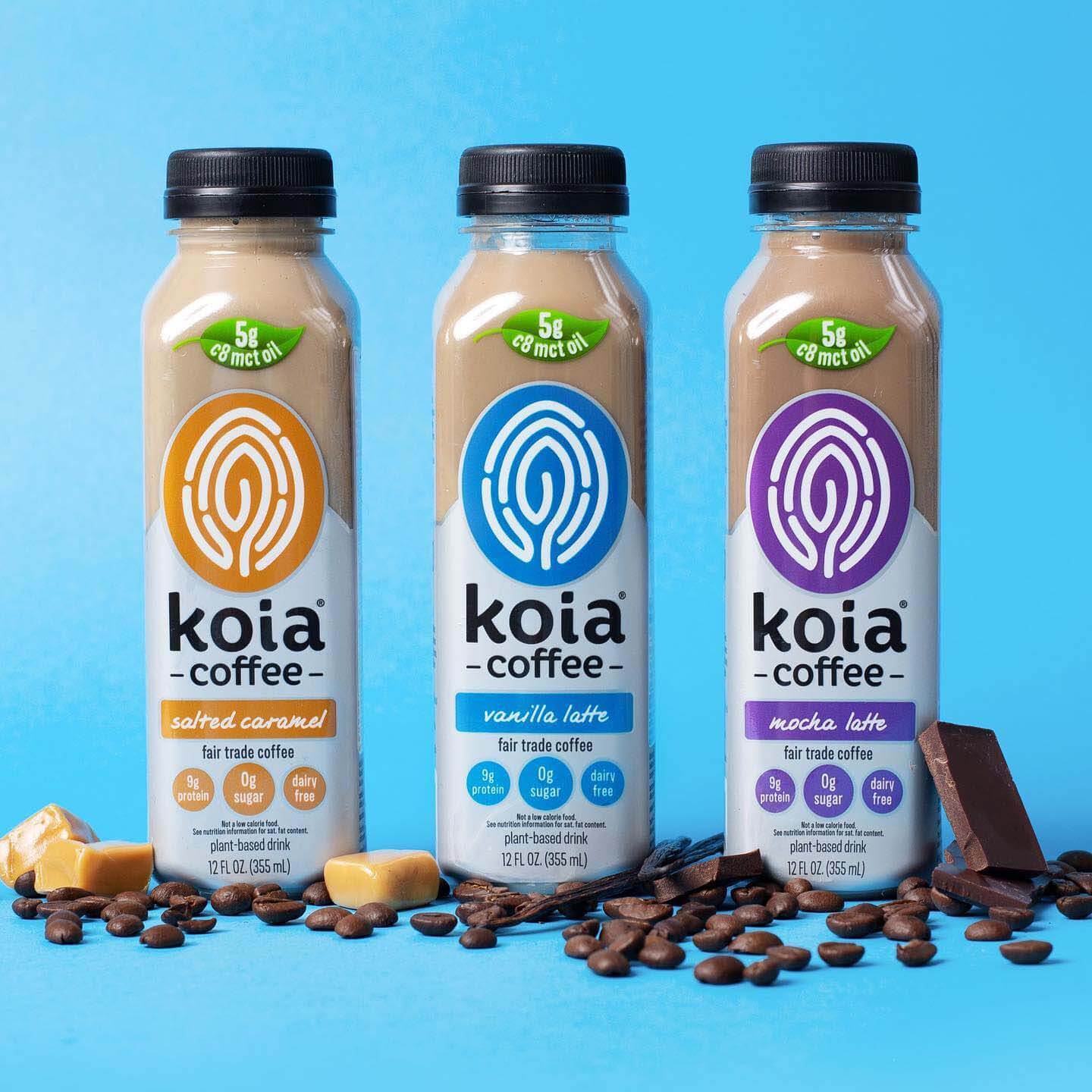 Califia Farms
Named after the mythical warrior Queen Califia, it's no wonder this plant-based company makes some of the best dairy-free lattes around. Choose from cold brew coffee drinks like Mocha Noir, Salted Caramel, and Black & White with oat milk creamer. For an extra energy boost, go for the nitrogen-infused Nitro Lattes, which come in Mocha, Salted Caramel, Black & White, and XX Espresso flavors.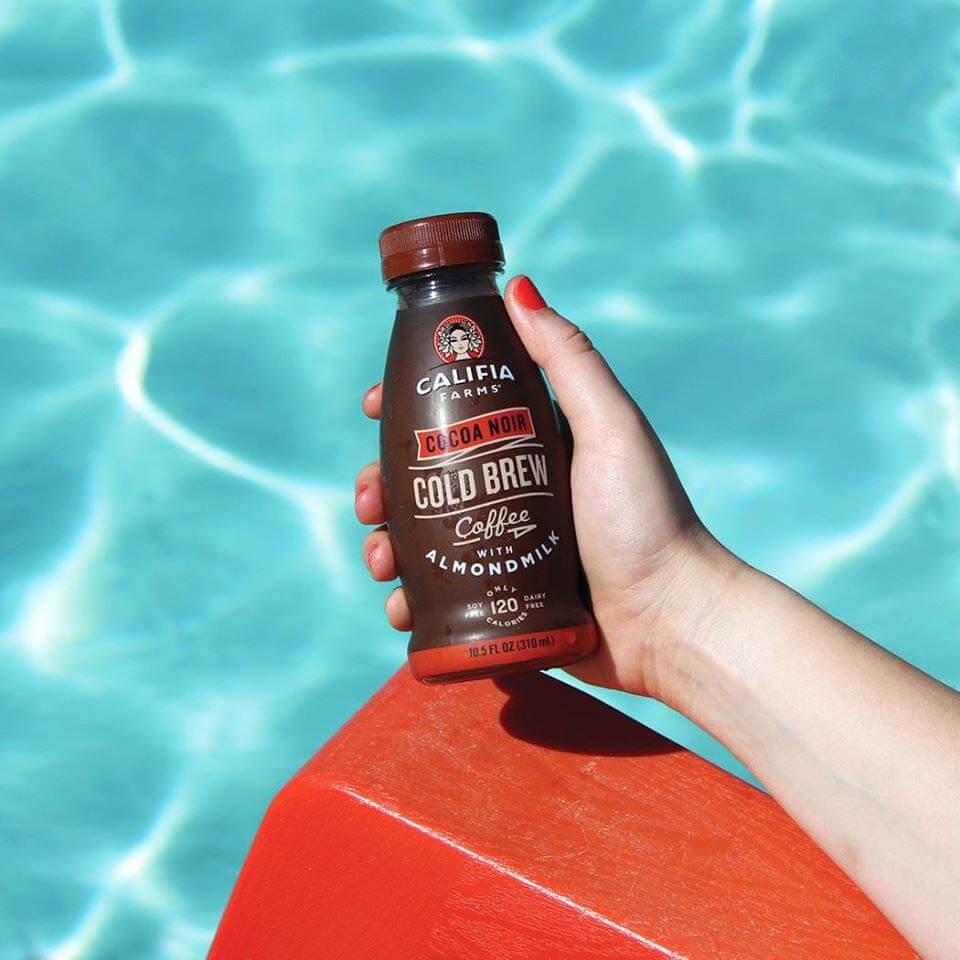 OWYN
If you take your coffee with your protein, OWYN has what you need to achieve those plant-based gains! The brand's Cold Brew Coffee shake packs in 20 grams of protein, 97mg of organic caffeine, and is made with superfood greens like kale, spinach, and broccoli. All OWYN products are also free from dairy, gluten, soy, and artificial sweeteners.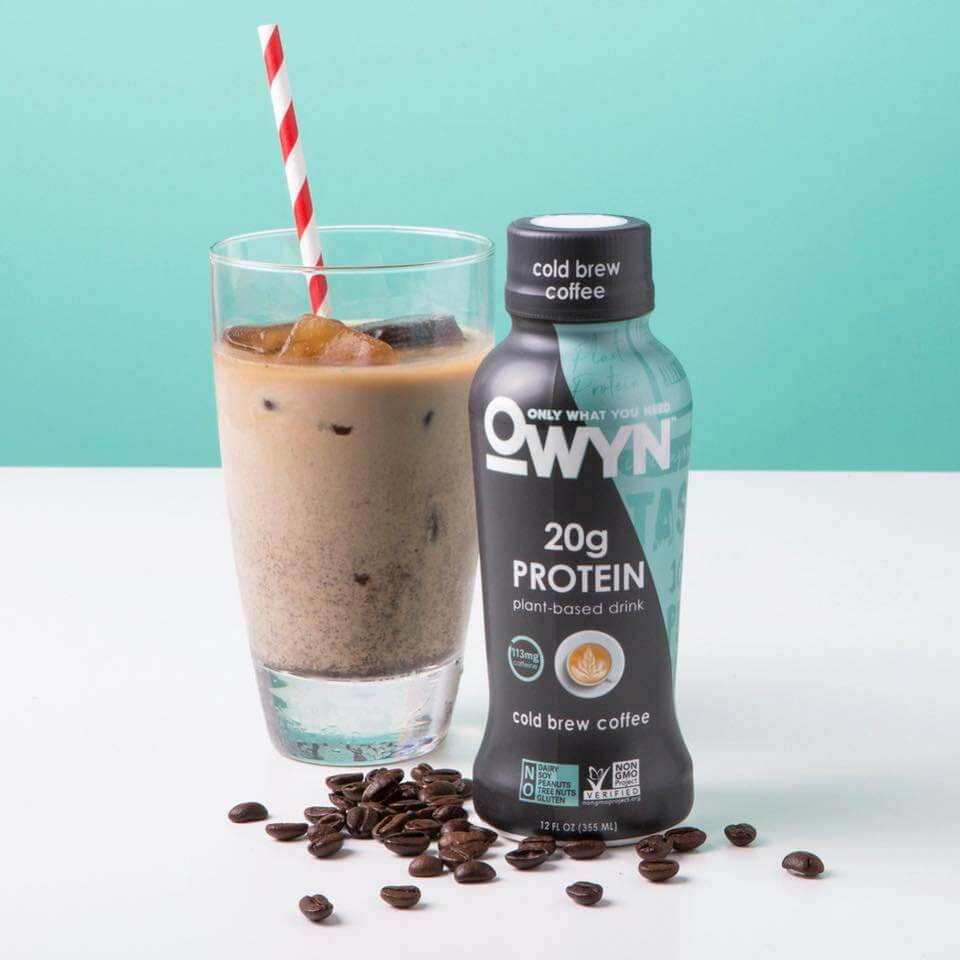 Starbucks
Want to bring the joy of Starbucks to your fridge? Now you can with the coffee chain's ready to drink almond milk frappuccinos. The dairy-free lattes come in two flavors—Vanilla and Mocha—and are great for taking on the go.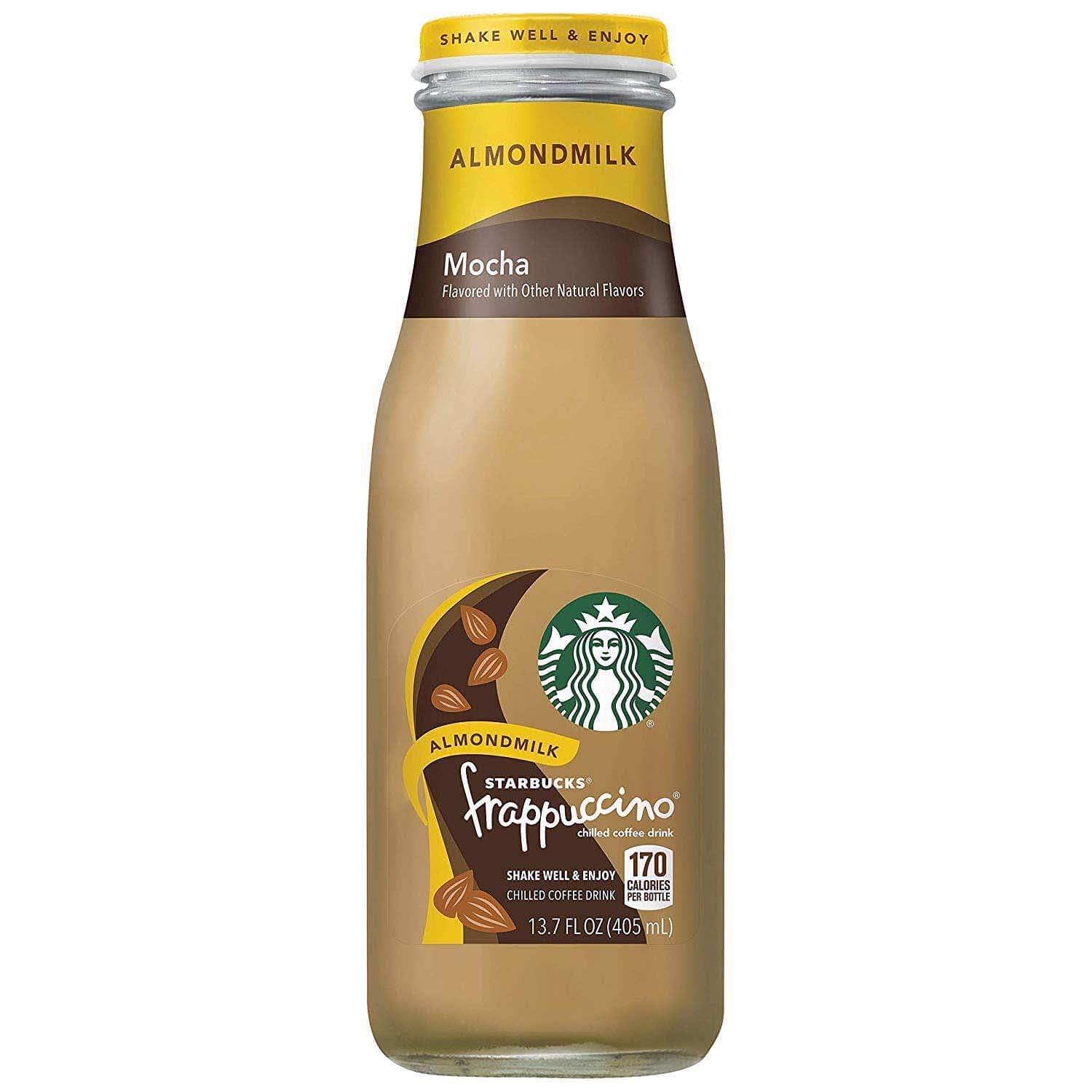 La Colombe
La Colombe offers three plant-based Oatmilk Draft Lattes that come in Vanilla, Original, and Caramel flavors. Each single-serving latte offers a frothy, creamy texture and contains 120 mg of caffeine (equivalent to about 1.5 cups of coffee). The company is also eco-friendly and uses sustainable packaging in all of their products.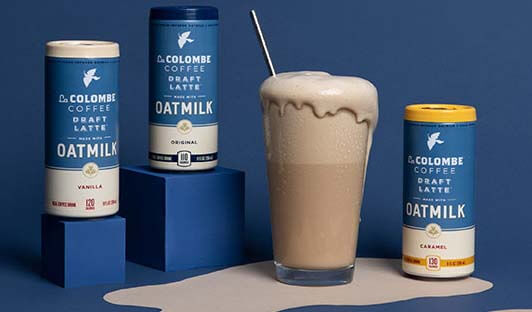 Trader Joe's
Can we rave enough about Trader Joe's? Of course not, especially when they offer Coconut Cream Lattes in a can! The veg-friendly coffee beverages come in Original and Caramel Spice flavors, and go for only $1.99 a pop. Each latte has a smooth, creamy texture and features notes of coconut cream in every sip.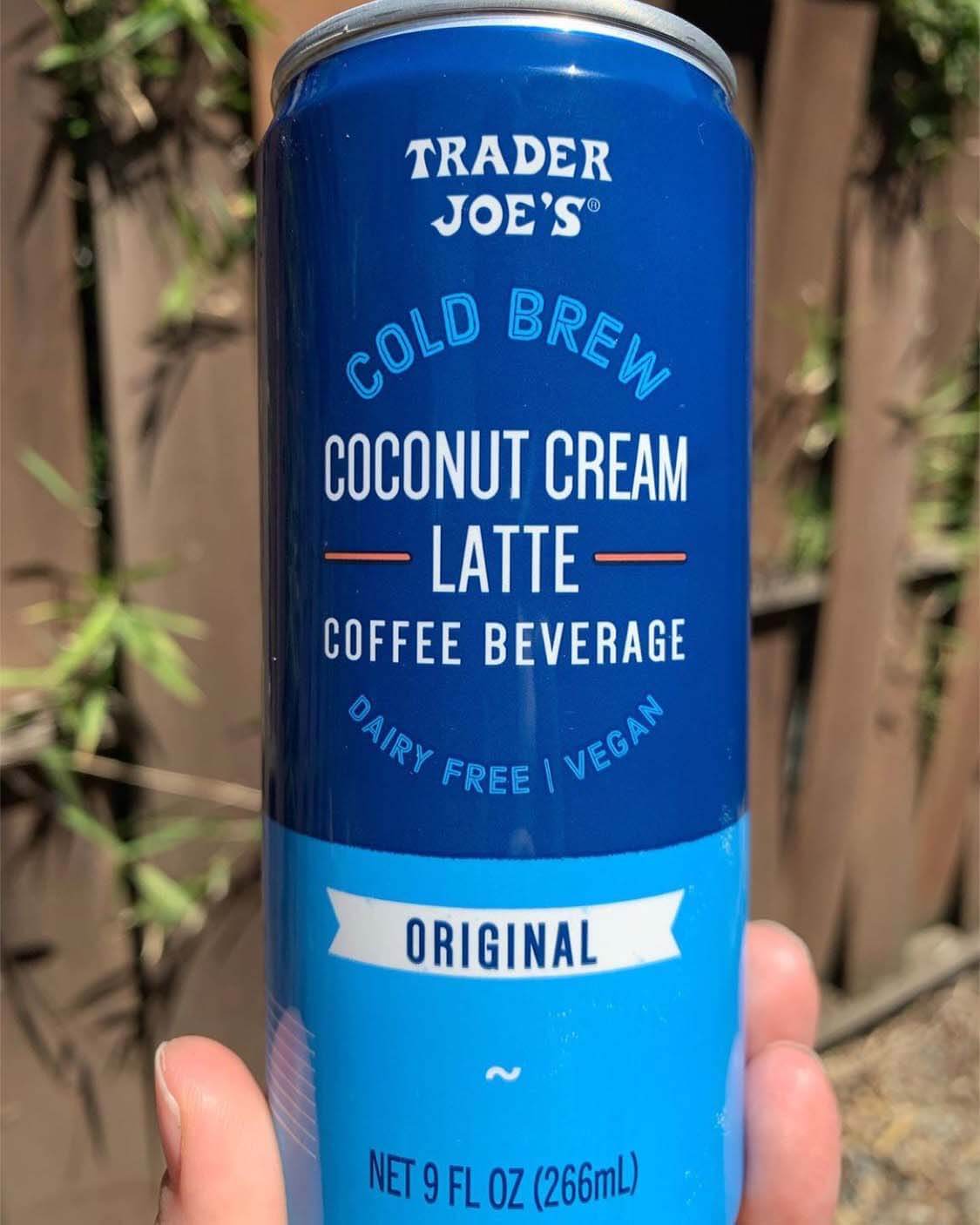 Photo credit: @traderjoesvegan on Instagram
Silk
You probably know Silk for their delicious, plant-based milks, but did you know they also make cold brew lattes? You bet! The company recently released two latte beverages—Mocha and Espresso—both of which are made with nutty almond milk and creamy oat milk. We suggest adding the latte to a shake with vegan protein powder, banana, and ice for the perfect post-workout snack.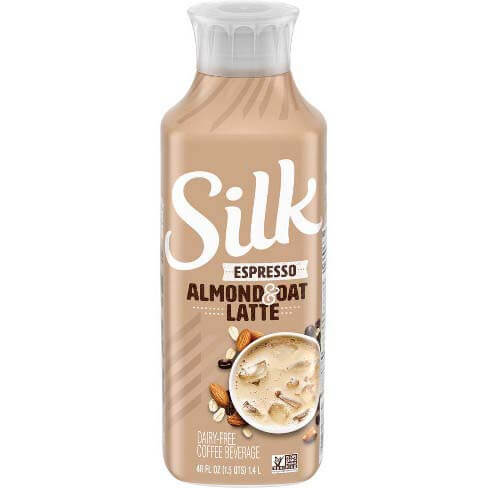 Oatly!
Where are our matcha drinkers at? If you can't get enough of the Japanese green tea, the Oatly Matcha Latte is a delicious way to get your fix. The beverage has a creamy oat milk base and is sweetened with agave syrup. Oatly also offers coffee lattes in Chocolate, Mocha, and Cold Brew flavors, all of which are 100% vegan.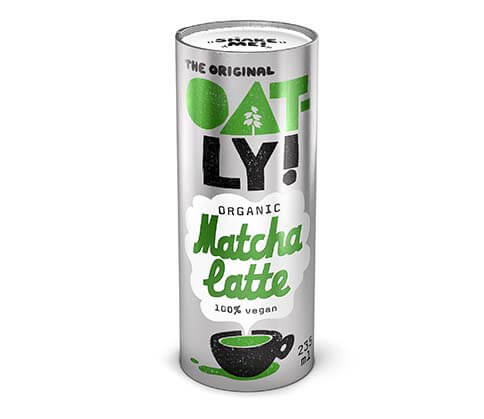 Pop & Bottle
From their Classic Cold Brew Coffee to their Golden Turmeric Lattes, Pop & Bottle has something for everyone to enjoy. If you're sensitive to caffeine, we recommend the Cacao Almond Latte, which contains about 25mg per bottle. All of the company's products are vegan-friendly except for the "GLOW" Vanilla Oat Latte, which contains marine collagen.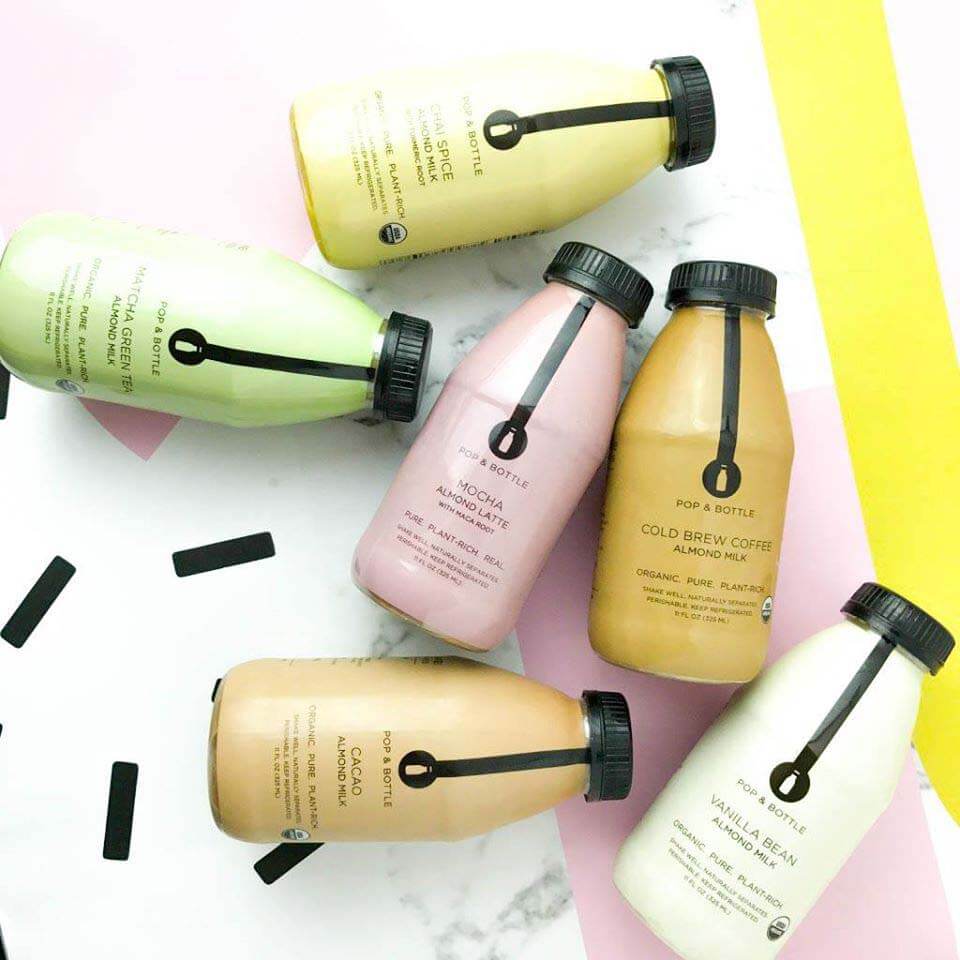 REBBL
REBBL offers a line of 100% vegan plant-based protein elixirs, including a Cold-Brew Coffee made from ingredients like reishi extract, pea and sunflower protein, and maca root extract. If you prefer to get your energy boost from super herbs, go for the Ashwagandha (Indian ginseng) Spicy Chai Elixir, which contains creamy coconut-milk, and about 60-80mg of caffeine per serving.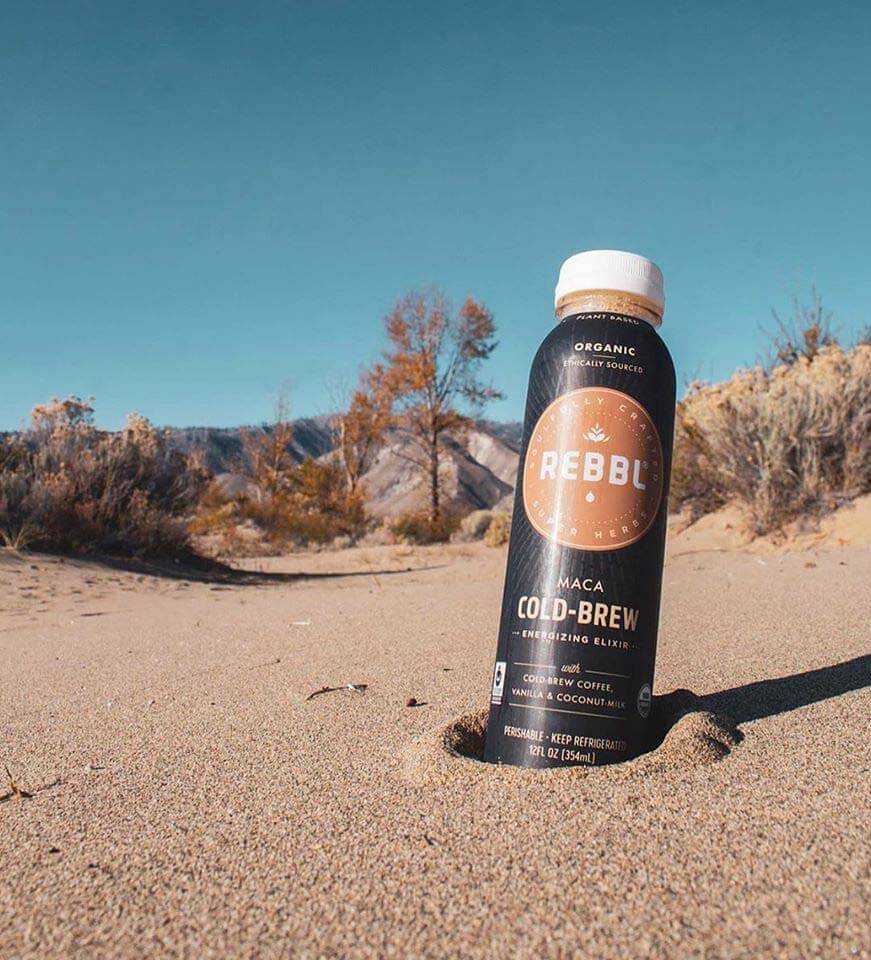 Malk
Have you ever tried pecan milk in your latte? Now you can with this company's Pecan Malk + Cold Brew Coffee, which contains fair trade organic coffee, organic maple syrup, vanilla bean extract, himalayan salt, and of course, milk made from organic pecans—yum!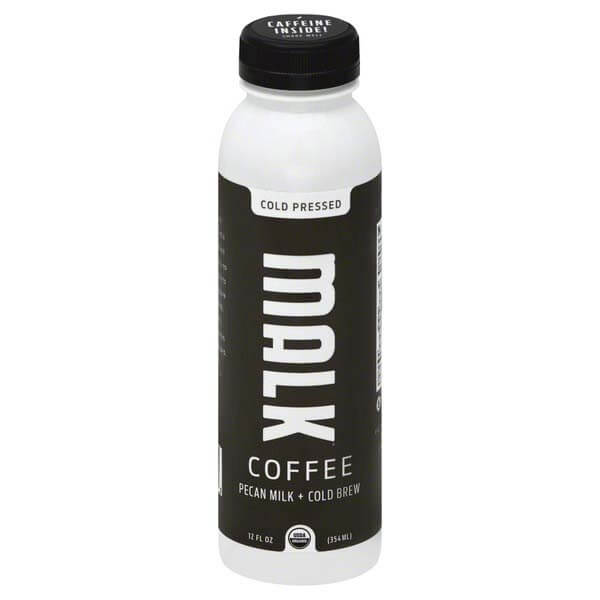 Palm & Bean
Wishing you were sipping coffee on a tropical beach? While we might not be able to take that island getaway just yet, you can bring the flavors of the tropics to your fridge with Palm & Bean's cold brew coffee drinks. Choose from Tahitian Vanilla and Kona Mocha lattes, both of which dairy-free, gluten-free, and non-GMO.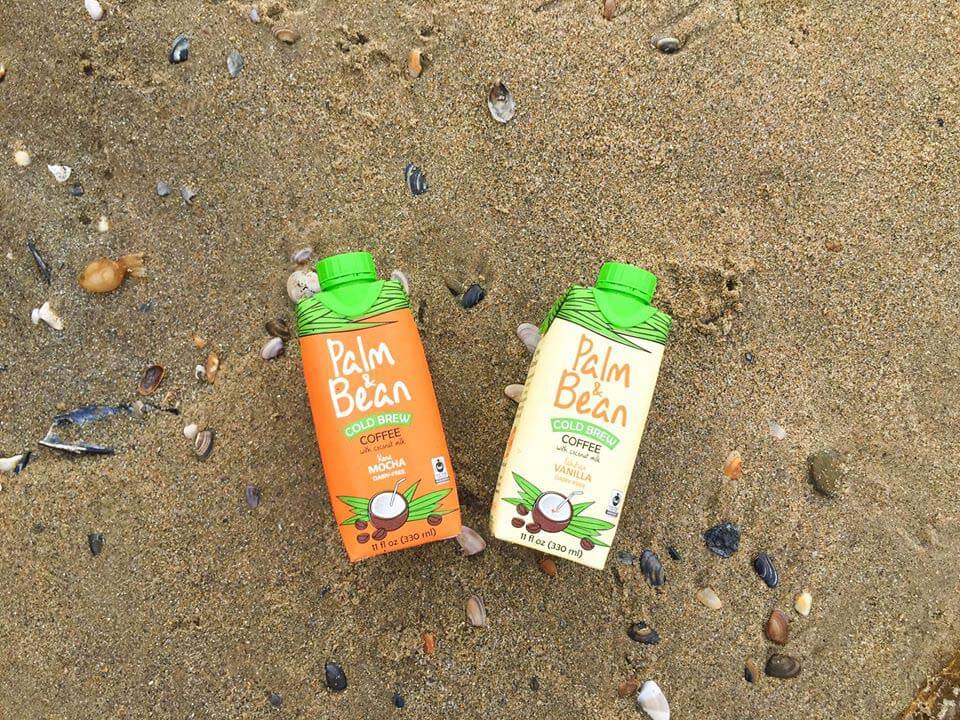 Stumptown
In partnership with Oatly, Stumptown offers three latte beverages, including Original, Chocolate, and Horchata Cold Brew Coffee. Each is made with Oatly Oat Milk, and packs the caffeine equivalent to about 1.5 cups of drip coffee. We think a latte with Horchata sounds delicious, how about you?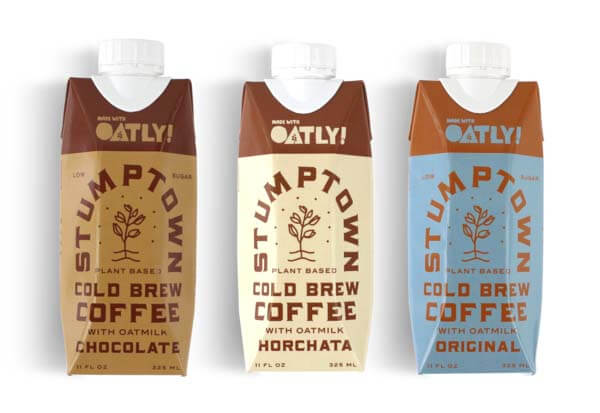 Kayla Pasko
@kaylapasko
Kayla, a Midwest girl living in NYC, is a writer with a background in media sales. When she's not scoping out trendy vegan spots, she's usually taking a yoga class, shopping at Trader Joe's, or catching a Packers game.
Articles by Kayla
More from VegOut
Subscribe Now
Get the premier vegan food and lifestyle magazine delivered to your door (or inbox!)
Order the magazine!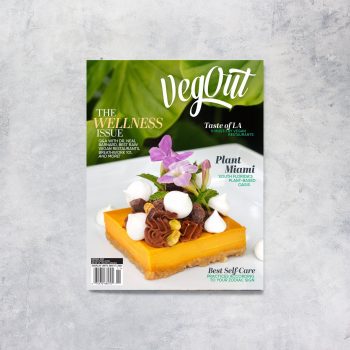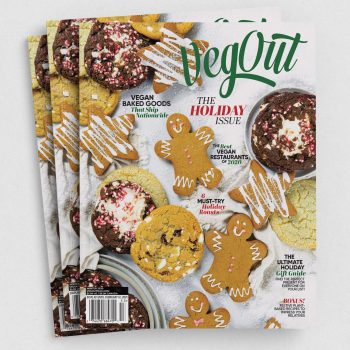 Navigation