The grocery aisle is packed with cereal options and, fortunately for us, there's a growing number of vegan brands. Whether you're feeding your inner child with fun shapes and flavors or fueling your adult breakfast cravings with superfoods and whole grains, here's a list of vegan cereals to get your day started right.
Seven Sundays grain-free, sunflower-based cereal features no refined sugar and no artificial sweeteners. Made with plant-based protein, cassava flour, and maple syrup—the Real Cocoa Grain Free Sunflower Cereal takes us back to our childhood favorites!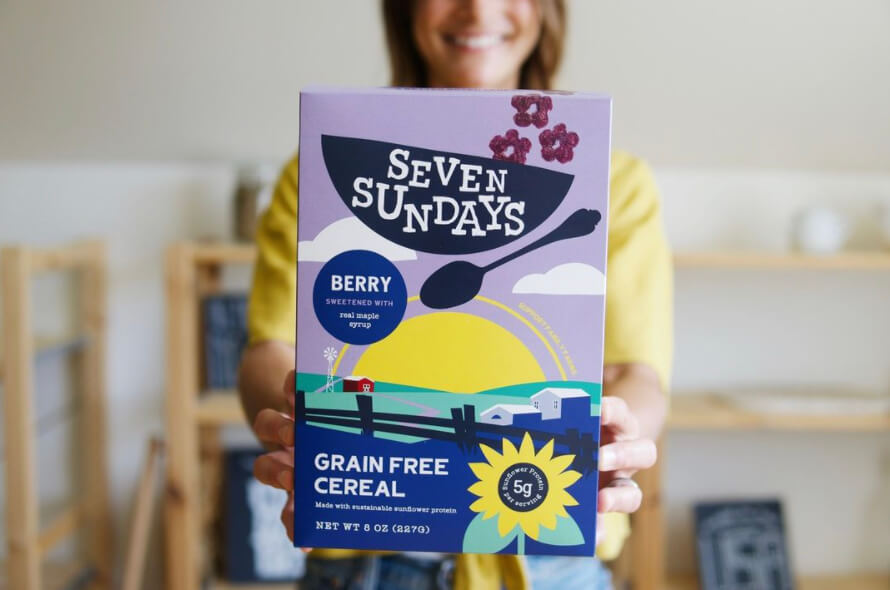 The pillow-like Puffins Cereal is sold in several vegan-friendly flavors, including Peanut Butter, Cinnamon, Multigrain, Protein Berry Burst, and Original. Each serving is made with whole grains and contains no more than 9g of added sugar, making it a healthier—but still tasty!—option for kids.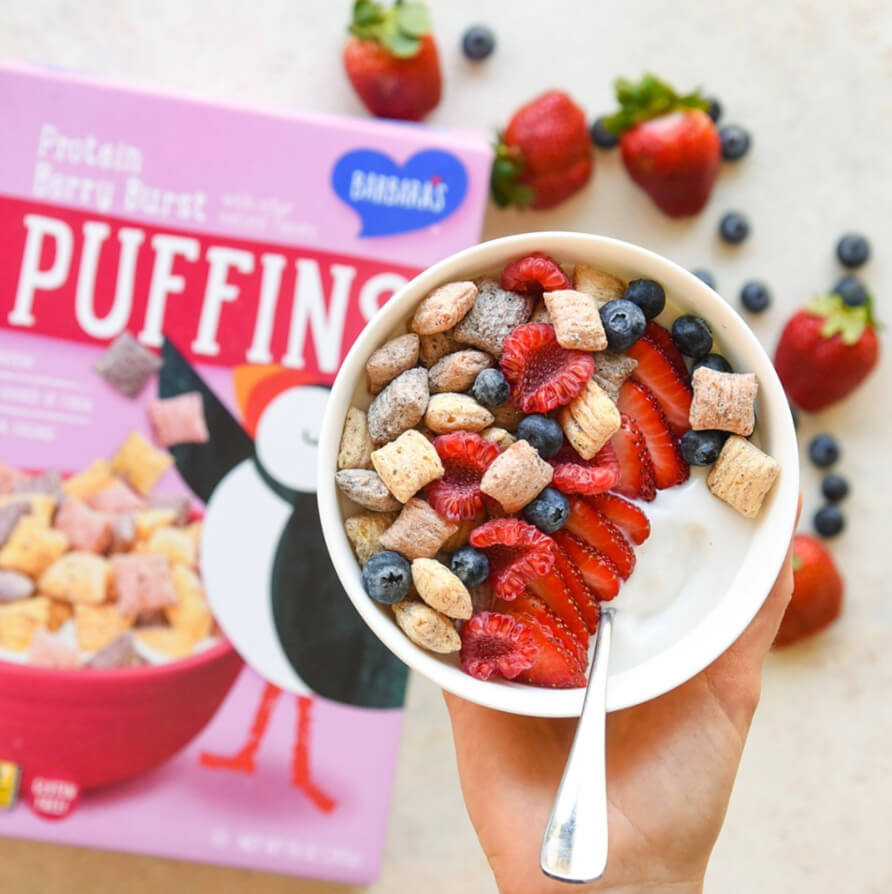 Nature's Path cereals are made for both kids and adults! You'll find everything from Sunrise Crunchy Maple to Panda Puffs to Flax Plus Multibran Flakes. The brand uses organic and non-GMO ingredients to provide a more nutritious product, and vegan options are clearly labeled.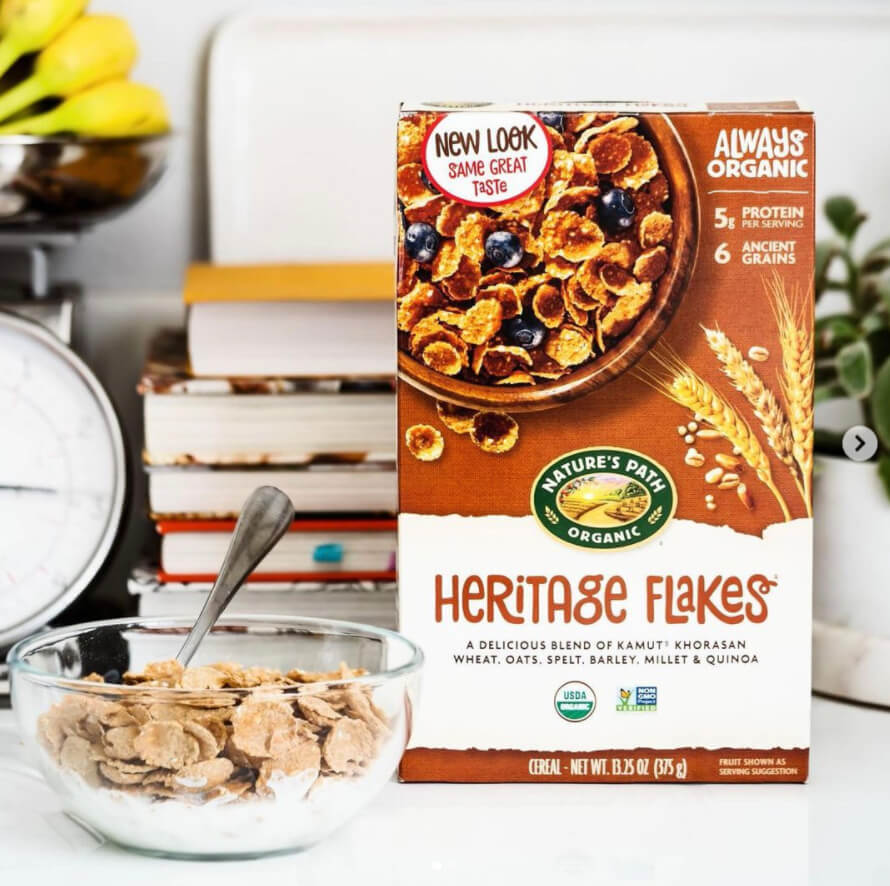 Cinnamon Crunch, Graham Crunch, and Purely O's are all reminiscent of childhood favorites! If you're looking for an ever-so-cinnamony cereal that's also vegan-friendly, look no further than Cascadian Farms. The brand offers a variety of options that are widely available.
Kashi GO, sold in two flavors—Dark Cocoa and Cinnamon Vanilla—is keto-friendly, contains 12g of plant-based protein from lentils, and has just 1g of sugar. We're loving our morning bowl from this vegan-friendly brand.
Love Grown Power O's are made with a blend of nutrient-dense beans and lentils. You heard right—the high-fiber, high-protein cereal makes for a healthier breakfast option and, with flavors in original, chocolate, and cinnamon, there's something for everyone.
Looking for low-sugar cereal with a fun crunch? Three Wishes contains little to no sugar and is sweetened mostly with monk fruit. This allergy-friendly product is made without soy, gluten, corn, rice, dairy, or peanuts. The combination of chickpeas and peas provides 6g of protein per serving!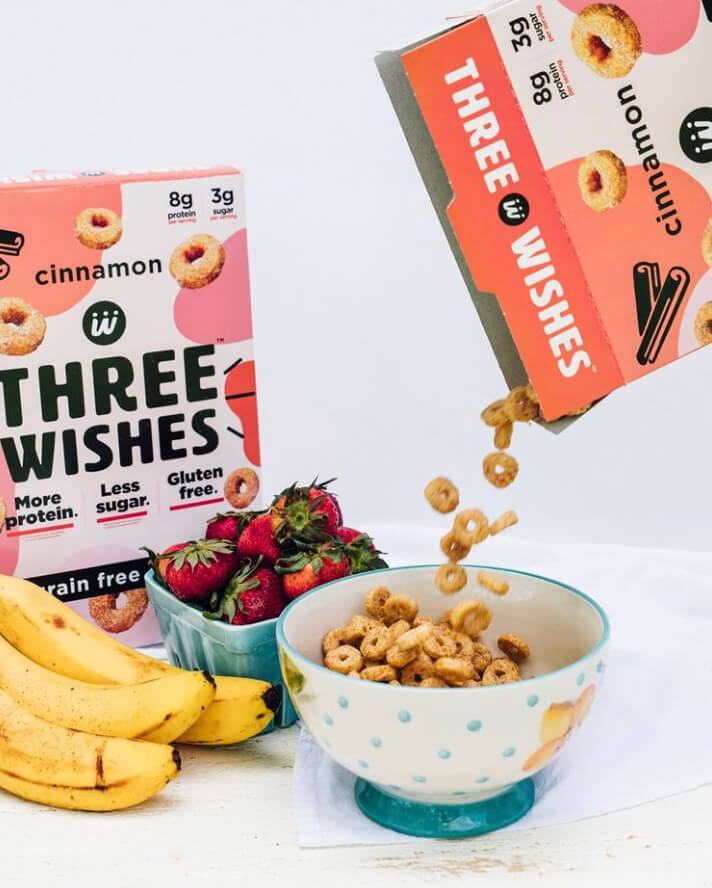 Need a no-added-sugar option? We've got you! Food for Life's Ezekiel 4:9 Sprouted Whole Grain Cereal provides a high-fiber, high-protein start to your morning. The almond variety contains a whopping 8g of protein with only 1g of sugar. Use it to top your plant-based yogurt!
Trader Joe's knows what's up when it comes to vegan options, and the breakfast selection stocks more than a few plant-based foods. Some of our favorites include Joe's O's, Crunchy Cinnamon Squares, Cocoa Crunch, and Neapolitan Puffs, among others. Grab a carton of Milkadamia nut milk and pour yourself a bowl!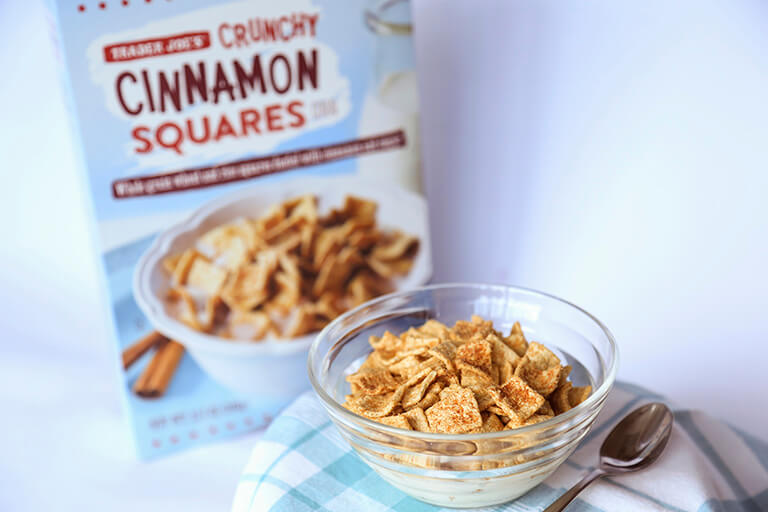 Corn Flakes, Morning O's, Peanut Butter Balls, and Crunchy Cinnamon Squares are just a few of the many vegan options sold under the Whole Foods 365 Everyday Value label. These tasty gems are made from whole grains, so pour yourself a bowl, or two!