These good-for-you veggie snacks are a tasty way to eat your vegetables.
Looking for a new, healthy snack that actually tastes good? VegOut fam, you know we've got you! Meet your new snacktime go-to—Root Foods Veggie Chips. Unlike other veggie snacks, Root Foods chips are 100% vegetable-based—they're a true celebration of what veggies can do. Enjoying real vegetables at snacktime has never been easier or tastier! The fellow vegan snackers have spoken and these delicious, plant-based crisps are a must-try. What can we say? We're obsessed with these veggie chips!
On-the-Go Farm-Fresh Veggies
The founders of Root Foods, Joshua Chen and Michael Debreczeni, met in culinary school and bonded over the simplicity of delicious and wholesome ingredients. Coupled with their connections to small farms, the two created sustainable, 100% vegetable snacks that are both healthy and tasty. Say hello to on-the-go farm-fresh veggies. Each vegetable is grown with regenerative farming practices such as restorative crop rotation. The plants are well-hydrated with double-purified spring water and are grown without pesticides or genetically modified ingredients. These thoughtfully crafted, high-quality products are totally vegan and gluten-free, and are kept incredibly simple—only veggies, a touch of canola oil, a dash of sea salt, and a sprinkle of tapioca starch here.
Nutrients That Your Body Needs
It's no secret that vegetables are an important component of a balanced diet. Veggies supply dietary fiber and powerful antioxidants along with vitamins, minerals, and phytonutrients—all of which play an important role in supporting your gut health, immune system, and cardiac function. These plant-based foods may also reduce the risk of chronic illness and promote healthy weight achievement. Generally speaking, adults should aim to consume at least five servings of vegetables per day. That means that most meals and snacks should have some sort of veggie presence to reach that goal. Since Root Foods are veggie-packed snacks, these shelf-stable packs can definitely count as one of those servings. Bonus: The unique varieties and combinations contain specific nutrients your body needs.
Root Foods' Five Varieties of Veggie Chips
This small business offers five varieties of veggie chips—Tomato, Pepper, Onion, Taro, and Six Mix (a blend of bell peppers, asparagus, broccoli, zucchini, okra, and green beans). The Tomato variety is rich in heart-healthy lycopene, a powerful antioxidant that is bright red in color. Both the Pepper and Onion chip varieties contain high amounts of vitamin C, another powerful antioxidant important for cell regeneration. The Six Mix is rich in vitamin K, a nutrient needed for proper blood function. Lastly, the Taro chips are rich in dietary fiber, the perfect carbohydrate for feeding your gut flora.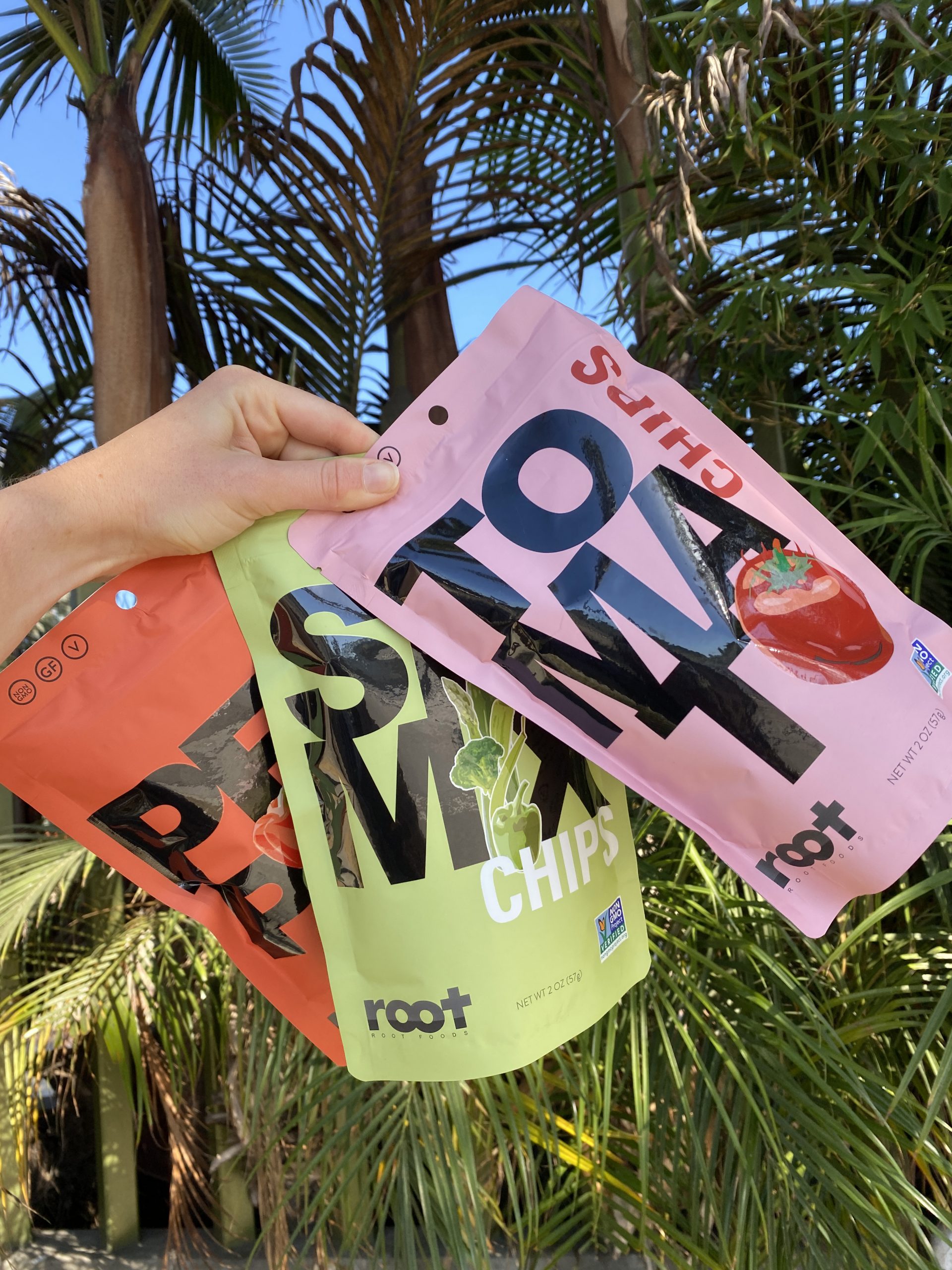 Shelf-Stable Veggie Snacks
Perfect for Work Lunches, Commutes, and School Days Root Foods chips make it easy to meet your veggie goals while away from home. These shelf-stable veggie snacks are perfect for work lunches, commute snacks, and school day nibbles. On-the-go farm-fresh veggies, anyone? These veggie-packed snacks are great for the picky plant-based eater and the novelty-loving vegan alike. We love enjoying these salty snacks in unconventional ways. Think soup and salad toppings, savory oatmeal mix-ins, or as an added crunchy component to homemade vegan sandwiches. There's no wrong way to eat your veggies.
Made with simple ingredients and packed with powerful nutrients, Root Foods veggie chips are sure to become a pantry staple. Find these products on Amazon and get snacking. Happy crunching!