These plant-based restaurants are offering discounts for healthcare workers serving our community during the COVID-19 crisis. While most of us are working from home, making recipes, taking free online fitness classes, and spending extra time with our furry friends, those in the medical field are working day in and day out to protect our community during this pandemic. If you are one of the many heroes working on the frontline in hospitals and medical facilities, THANK YOU! These vegan restaurants are giving out special discounts to express their gratitude to you all. Because the last thing you want to do after working a long shift at the hospital is to try and forage through bare grocery store aisles for food.
Full Service Coffee Co.
Koreatown
Let's get the ball rolling with the best way to start your day––coffee! We'd recommend making a caffeine pit stop at this locally-owned retro coffee spot that just went completely dairy-free! And not only are they catering to us vegans, but they're also serving healthcare workers. When you present your medical badge, you will get 10% off your entire order. Aside from their brews, Full Service Coffee Co. is selling freshly baked bread, baguettes, wellness shots, coffee beans, cold brew growlers, and oat milk! They're brewing on weekdays 7am-1pm and weekends 8am-1pm.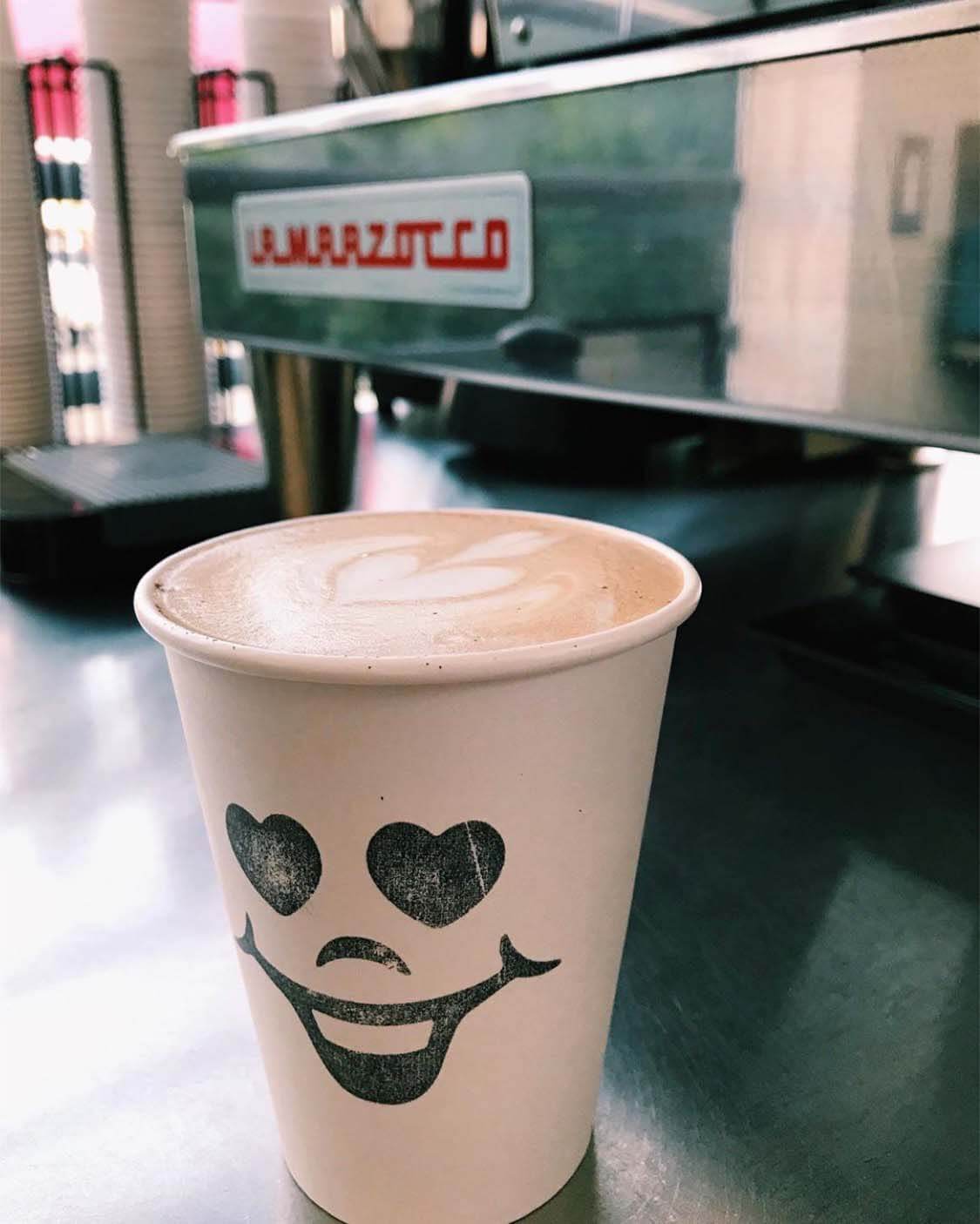 Bodhi Bowl
DTLA
Bodhi Bowl is one of our favorite spots for a quick, healthy, and well-rounded meal! Aside from making glorious bowls, wraps, salads, and paninis, this all-vegan restaurant gives back to local non-profit organizations, animal rescues, and now, healthcare providers who are facing COVID-19 head-on. If you are a medical professional, you receive $8 off any meal when you show your ID and mention this article. Not in the medical field? Show Bodhi Bowl some love for all they do in the community and order a scrumptious meal for pick up or delivery. Open Monday-Friday 11am-5pm.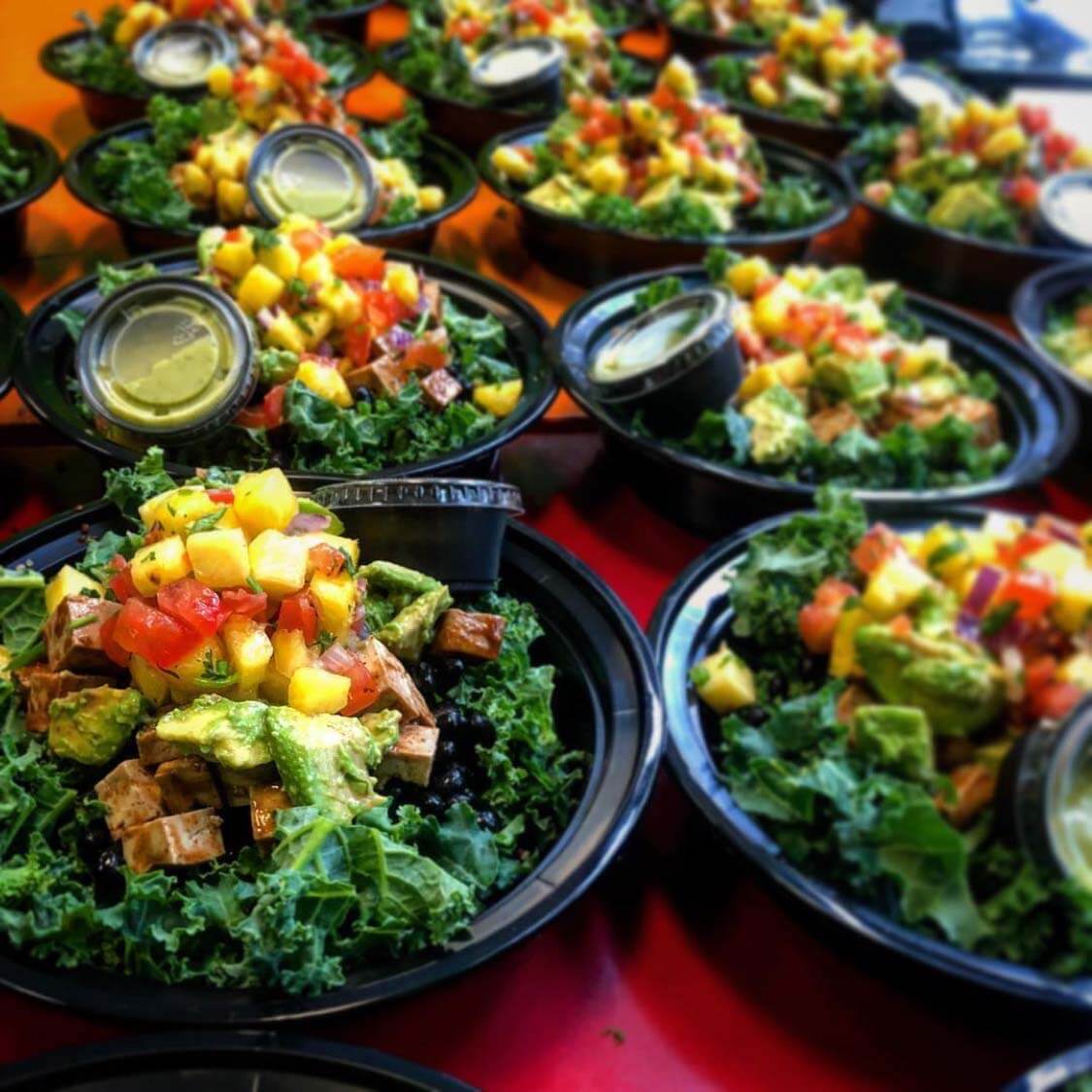 Krimsey's Cajun Kitchen
North Hollywood
Do you want to treat your coworkers to a warm, flavorful lunch? Do you also want to introduce your team to the amazing dishes vegans enjoy? This all-vegan cajun spot is offering 50% off catering orders for healthcare workers! Jambalaya, Red Beans & Rice, Hushpuppies, Cornbread––the whole nine yards! For more information, email info@krimseys.com. The order must be for a hospital or medical facility and is currently for pickup only. Current hours are 11am-9:30pm.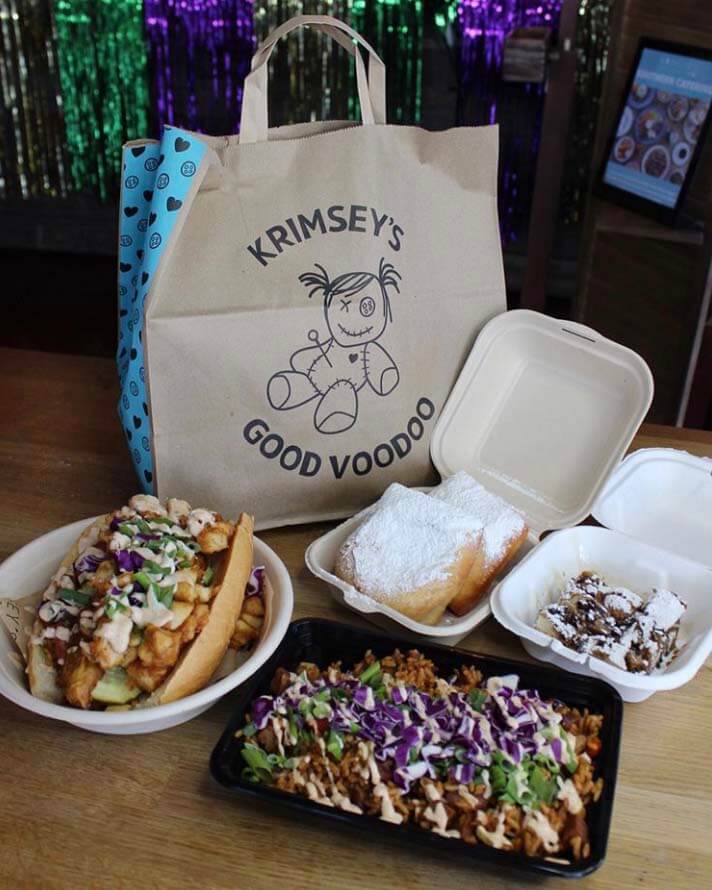 Mama's Tamales
Westlake
Mama's Tamales is comforting the hearts and bellies of medical staff by offering 20% off. Show your valid employee ID, pick your favorite dish, and they'll bring it out to you curbside! Who wouldn't want to break into a warm and gooey Bean and Cheese Pupusa? They are fulfilling takeout orders Fridays and Saturdays 12-5pm.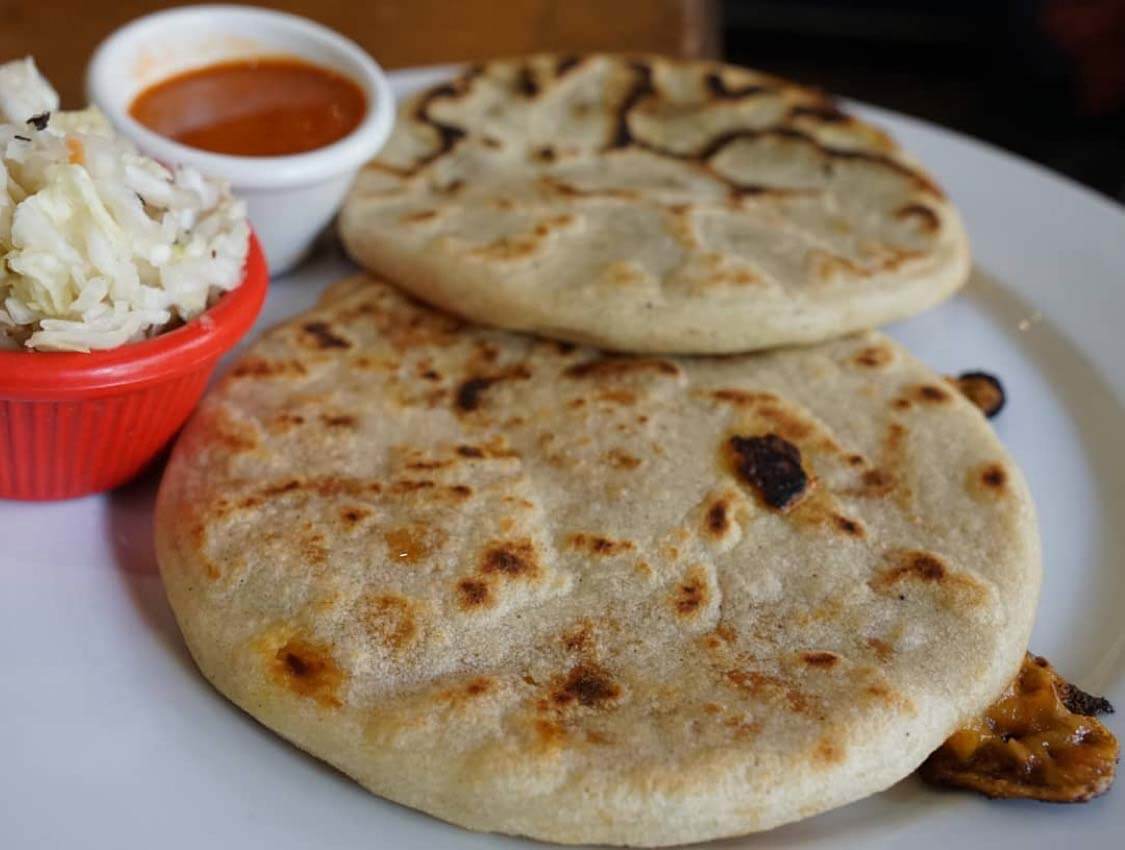 Hug Life
Long Beach, Garden Grove, and Orange
To the heroes out there tirelessly working in hospitals to serve our community, you deserve a pint of ice cream! We're serious. If you present your medical badge, you will receive a free pint of ice cream from Hug Life. We wish you the best of luck in deciding which flavor to get––they're all so good! All locations are open 12-11pm. The Orange location is open an extra hour later on Fridays and Saturdays.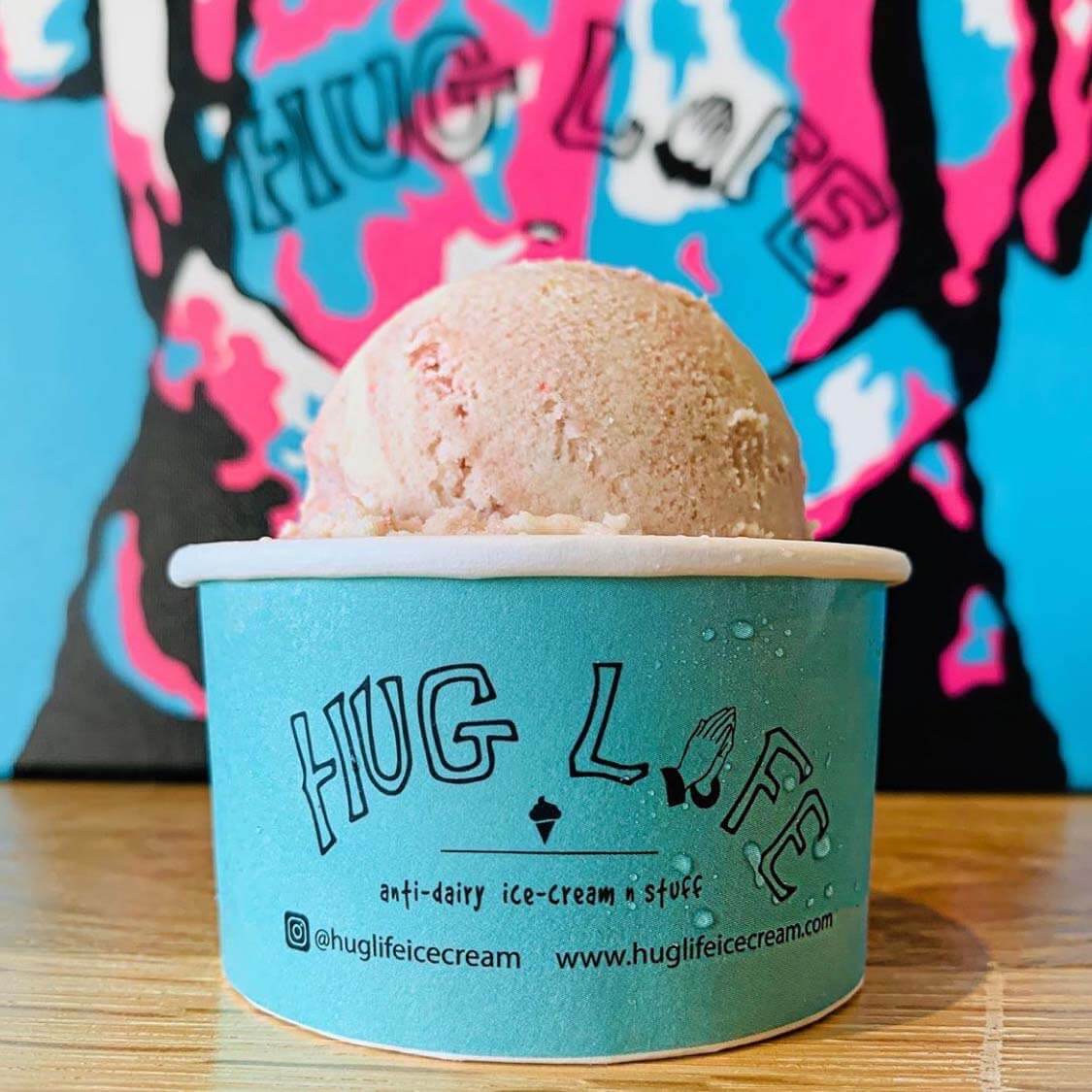 Joi Cafe
Westlake Village
Joi Cafe is spreading joy (too cheesy?) during these trying times by giving hospital staff with an ID 25%. Can't get off work to snag a freshly-baked Cinnamon Roll? They're delivering to local hospitals free of charge! If you need some motivation to get to work, we think that's a great incentive! They're open 9am-6pm for takeout or delivery.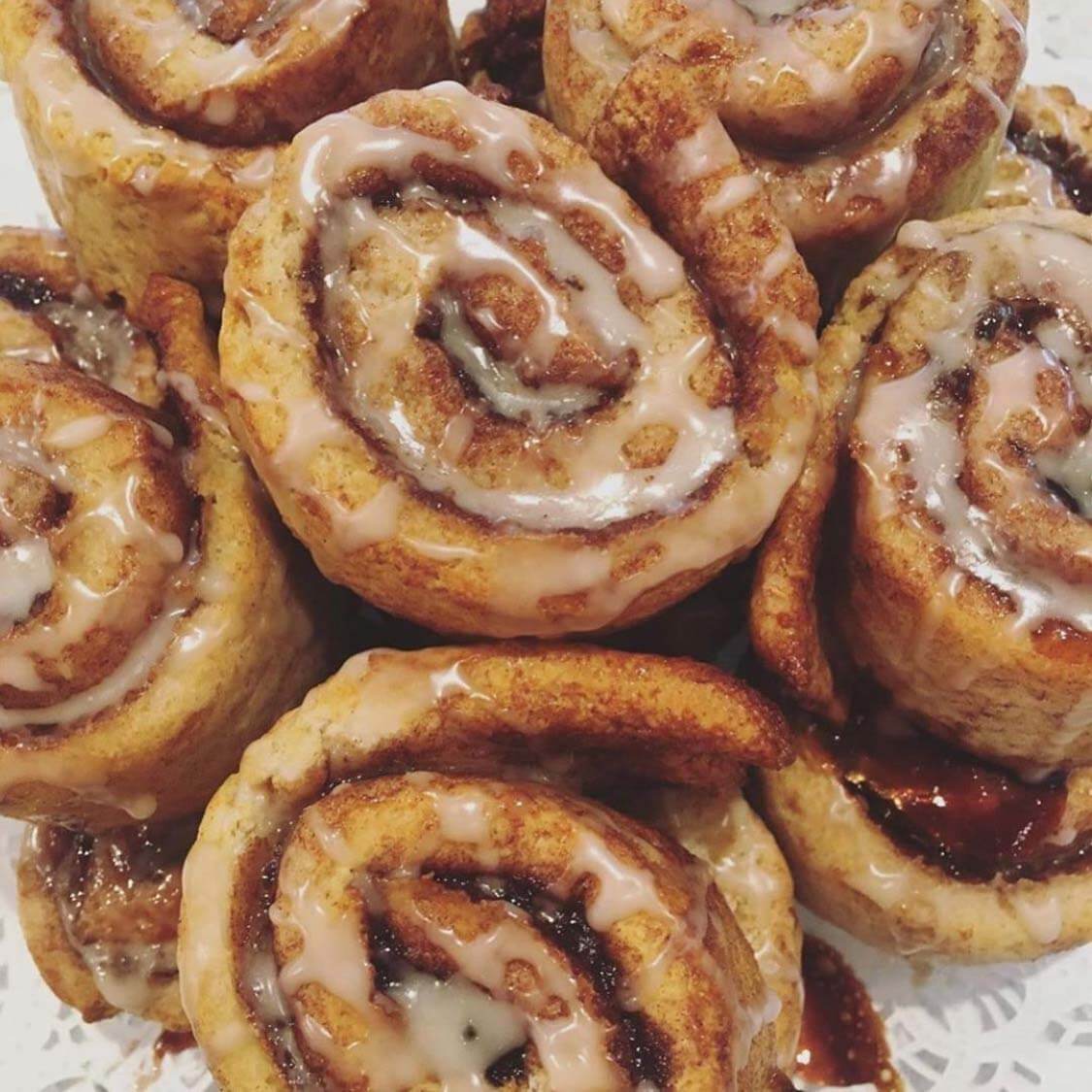 The Black Bean
Fountain Valley
To share their gratitude for the medical community, this vegan restaurant is giving out free meals (up to $15 value) to local healthcare workers on Monday, March 30th from 3-8pm. Be sure to provide proper medical identification to redeem this discount. What kind of meals can you expect? Burgers, quesadillas, and grilled cheese sandwiches to name a few.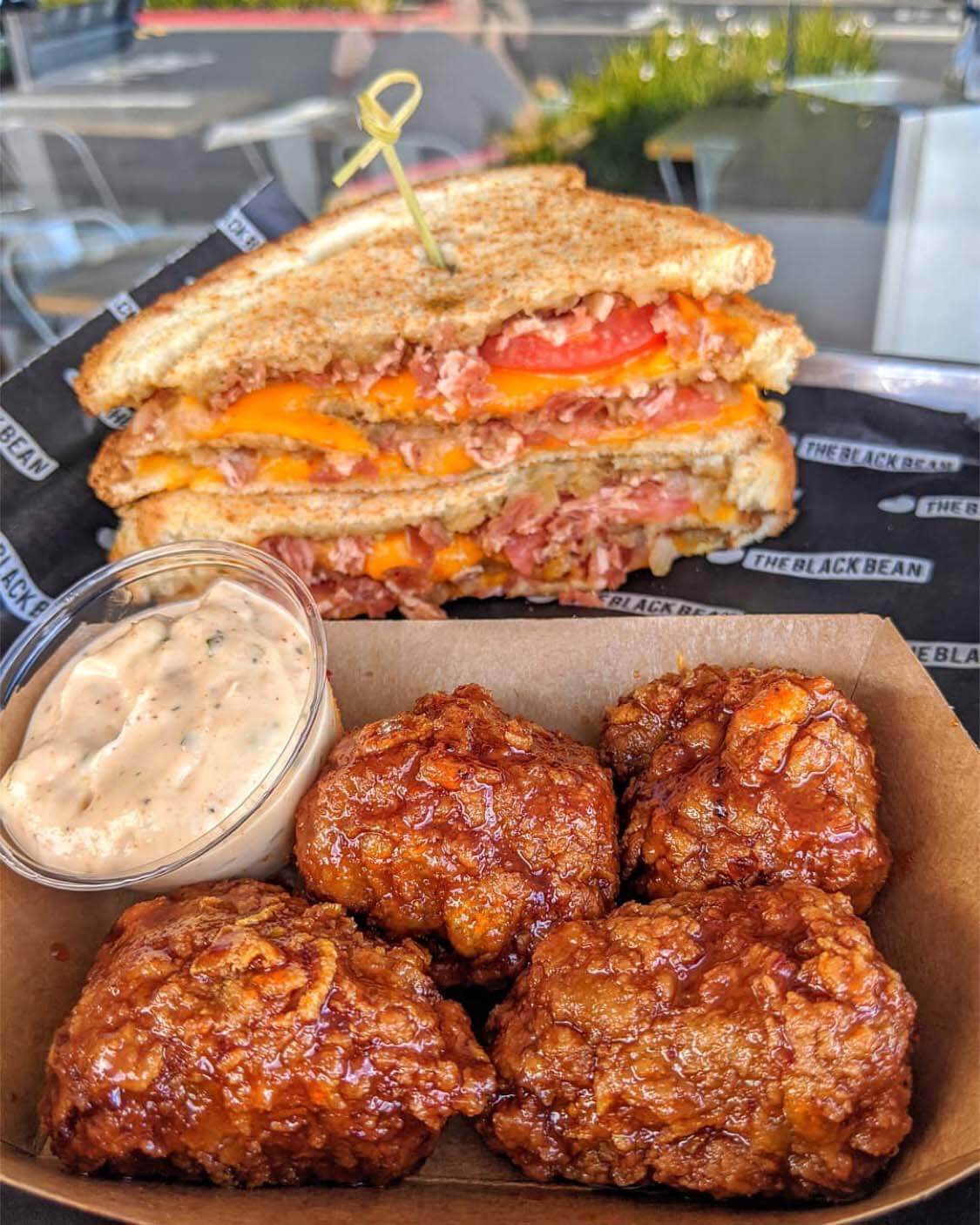 Erin McKenna's Bakery
Santa Monica and Larchmont
Are you a lover of all things vegan and gluten-free? Then you'll want to check out Erin McKenna's Bakery. If you are a healthcare worker (with a valid ID), you will be able to fill your belly for less––40% less to be exact! From cupcakes, cookies, and donuts, to bread and entire meals, there's bound to be something you'll enjoy! The Larchmont location is open Monday-Tuesday 8am-5pm and Wednesday-Sunday 8am-8pm. Santa Monica is open Monday-Wednesday 10am-6pm and Thursday-Sunday 8am-7pm.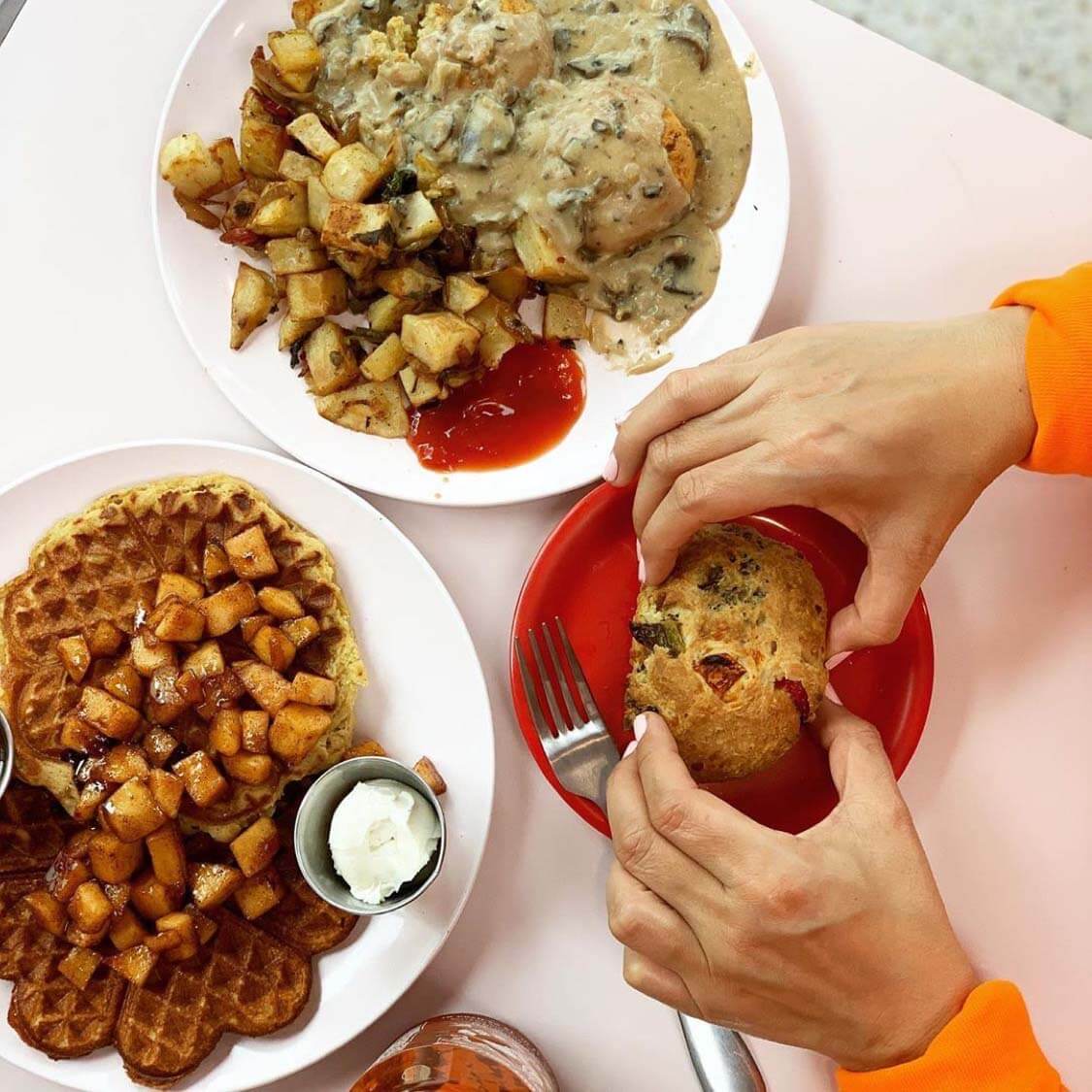 Cruzer Vegan Pizza
Los Feliz
If you work in the medical field, you can score grub from Cruzer for 10% off! Beyond their crave-worthy pizza, try the Cheese Breadsticks, Drumsticks, Philly Cheesesteak, and Cruzer Burger! And they've got plenty of vegan ranch too! Be sure to show your medical badge when ordering. Open 11am-10:30pm daily.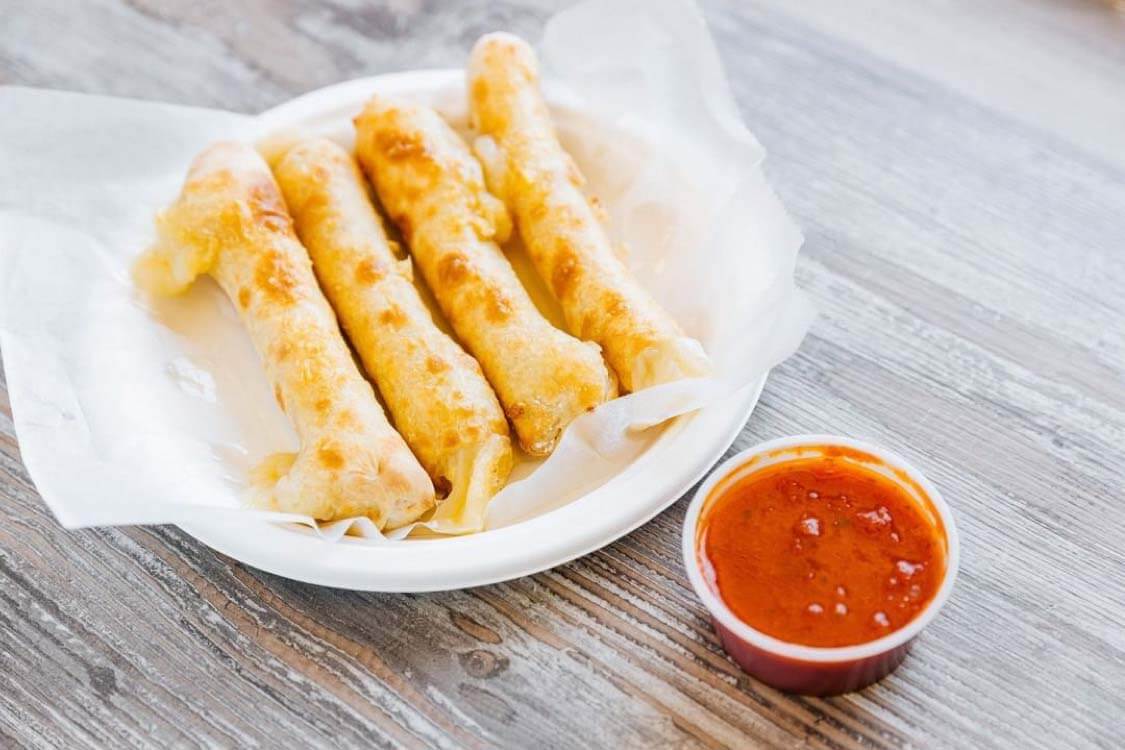 Beleaf Burgers
Chino Hills
What has Go Fish Filet Sandwiches, Beleaf Nuggets, Boogey Style Fries, and Cookie Butter Milkless Shakes? Beleaf Burgers! This plant-based paradise is giving healthcare workers 25% off with a valid ID. They're open 12-6pm daily so you can get your fix!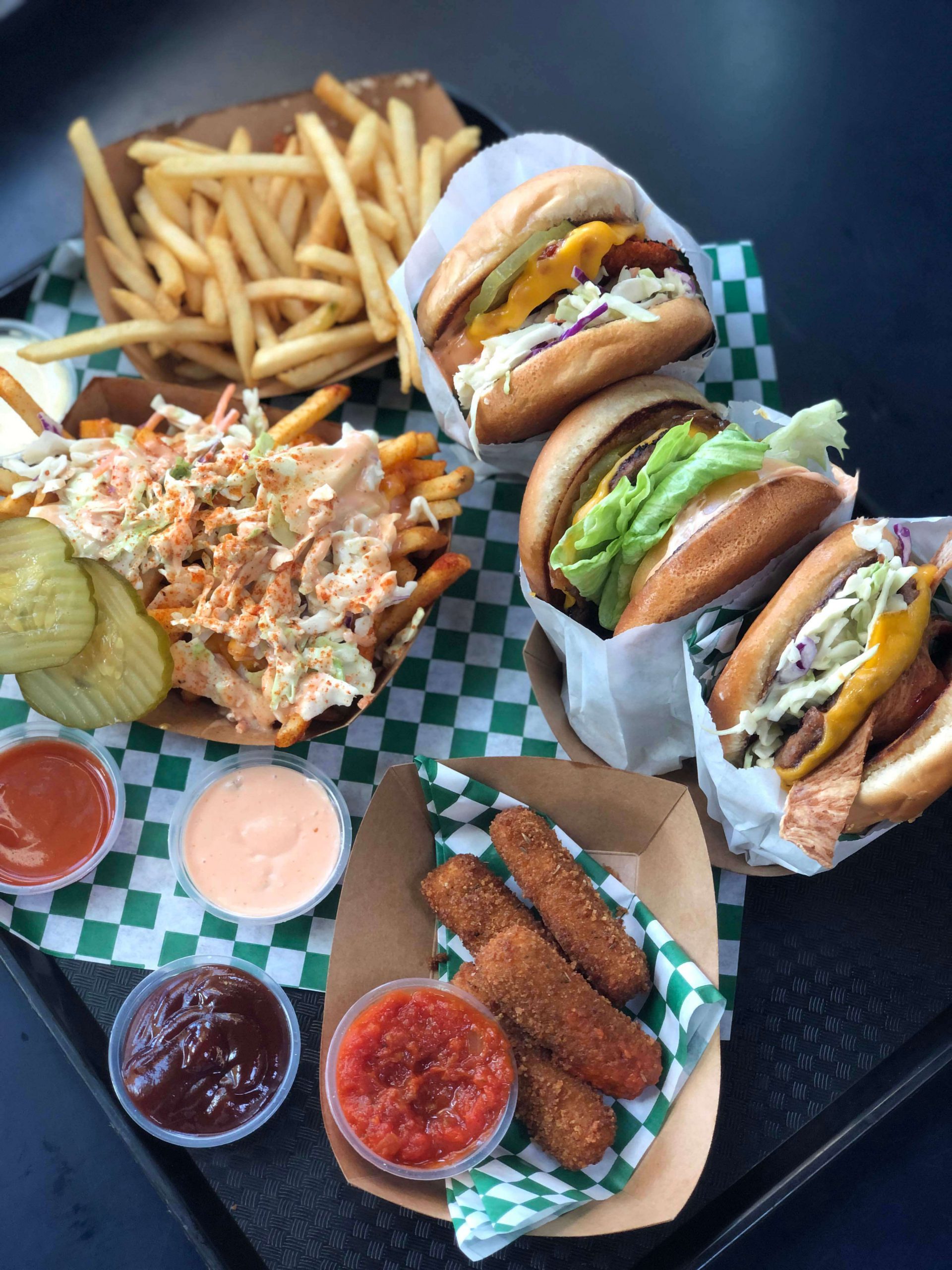 Frozen Fruit Co.
Santa Monica
Are you looking to sweeten your day with some ice cream? This all-vegan scoop shop in Santa Monica is honoring medical workers by granting 20% off take-out orders. Show your medical ID, pick your favorite flavors, and enjoy! Did we mention their ice cream is made with 5 ingredients or less? Woohoo! Open 1-10pm daily.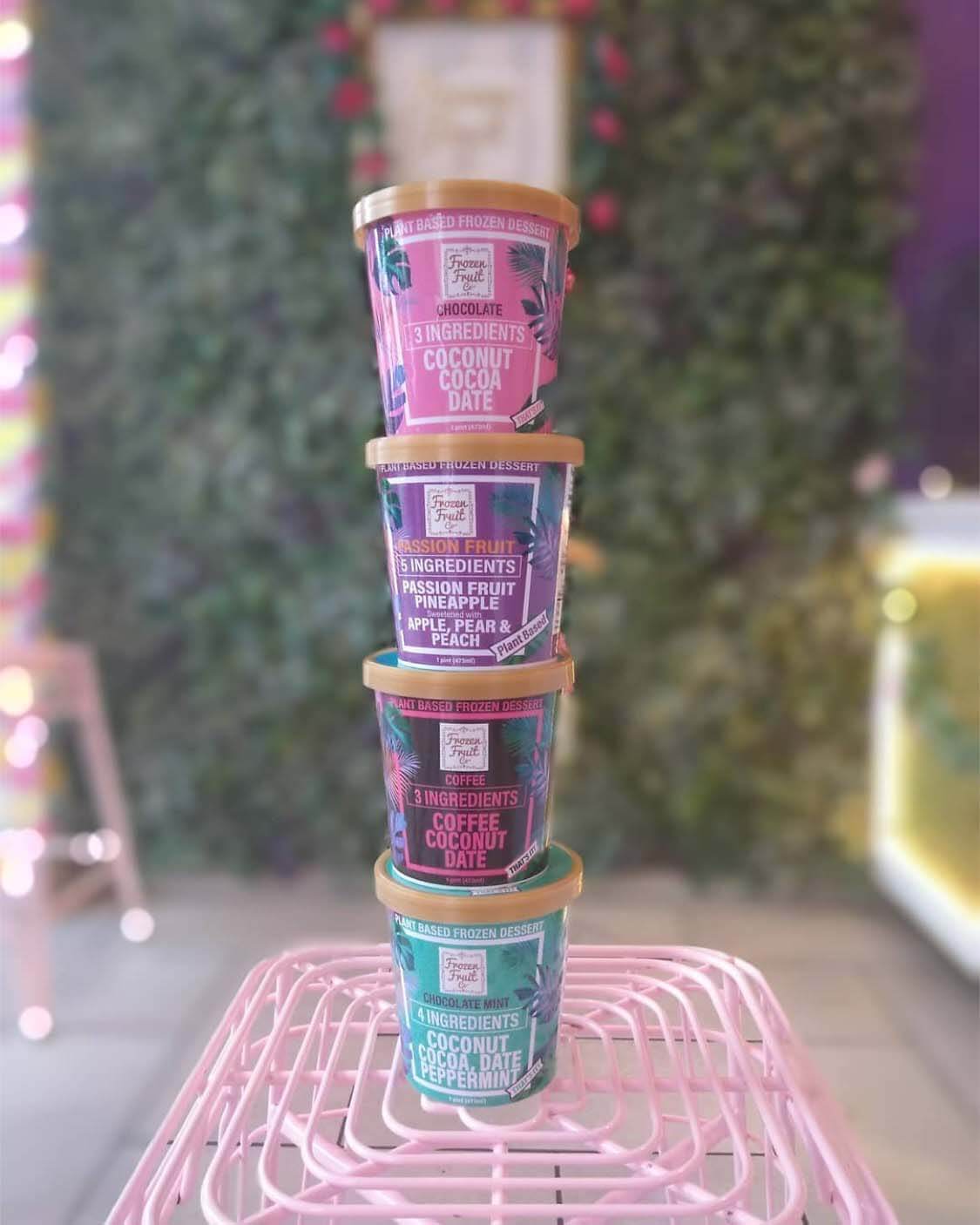 Gegen
East Hollywood
Did you know Gegen always offers 10% off for healthcare workers, firefighters, and police officers? We love it! But wait, there's more! To support healthcare workers that much more in these trying times, Gegen is making it 20%. They've got burgers, subs, salads, pizza, hot dogs, and breakfast all day! Need something fresh to pair with all that? Order a smoothie in Green Madness, Berry Goodness, or Orange Bliss variations. They're open Monday-Thursday 8am-8pm, Friday 8am-10pm, and Saturday-Sunday 12-8pm.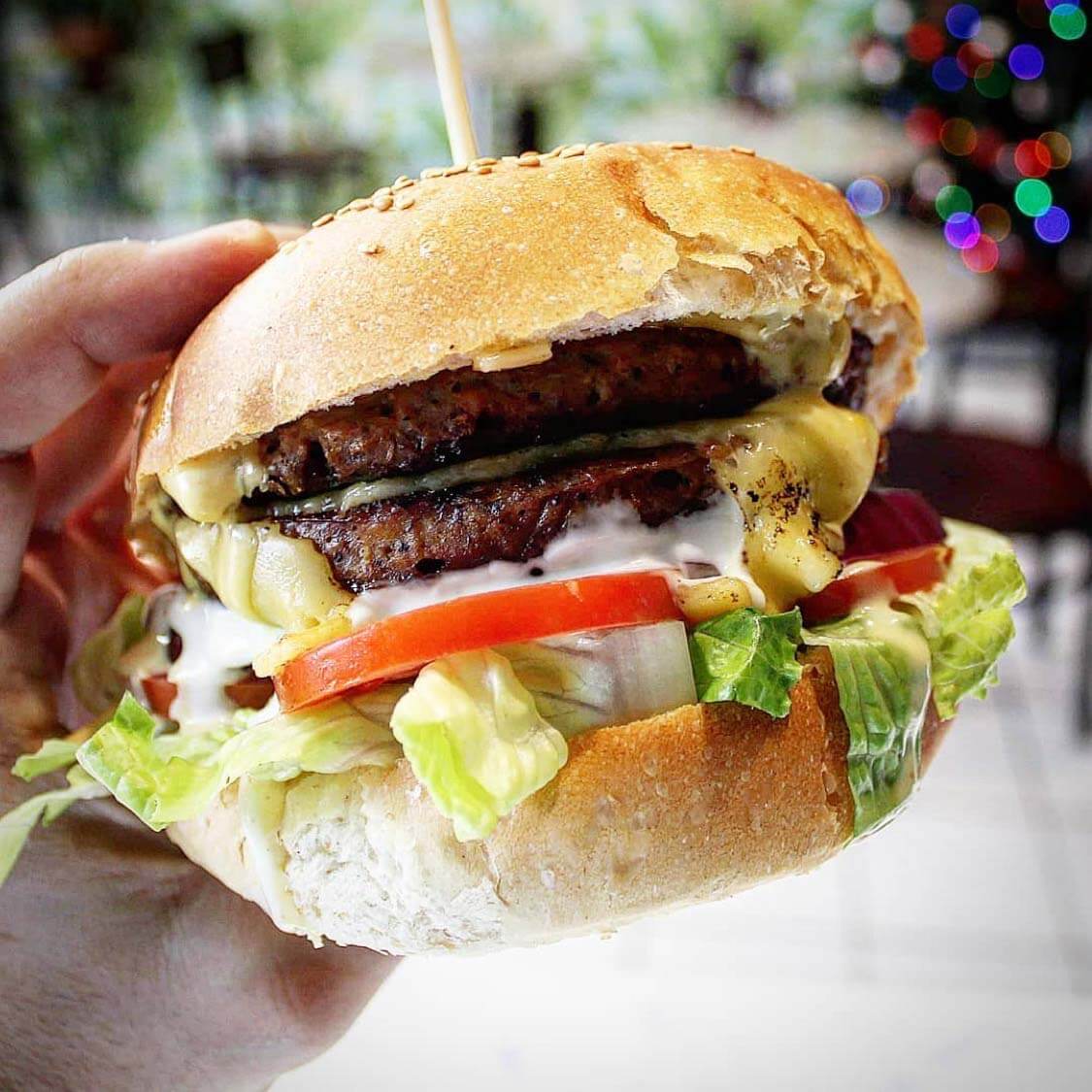 Karma Baker
Westlake Village
We love Karma Baker for many reasons. They make the craftiest vegan and gluten-free confections, deliver nationwide, and they offer a "hero's discount!" This heart-warming deal extends 15% off to all the heroes out there, including first responders and healthcare workers. Either stop by the bakery Monday-Saturday 10am-5pm and mention this deal or use the code "HEROS2020" online. We know you're thinking, "Oooh, can we use this code even if we're NOT in the medical field?" Our answer is NO! Be a good human. Karma's a b––akery! Oh, and have you seen their new Karma Cake in a Jar? We were scrolling through Instagram the other day and just about passed out over how delicious it looked. We can't wait to try it!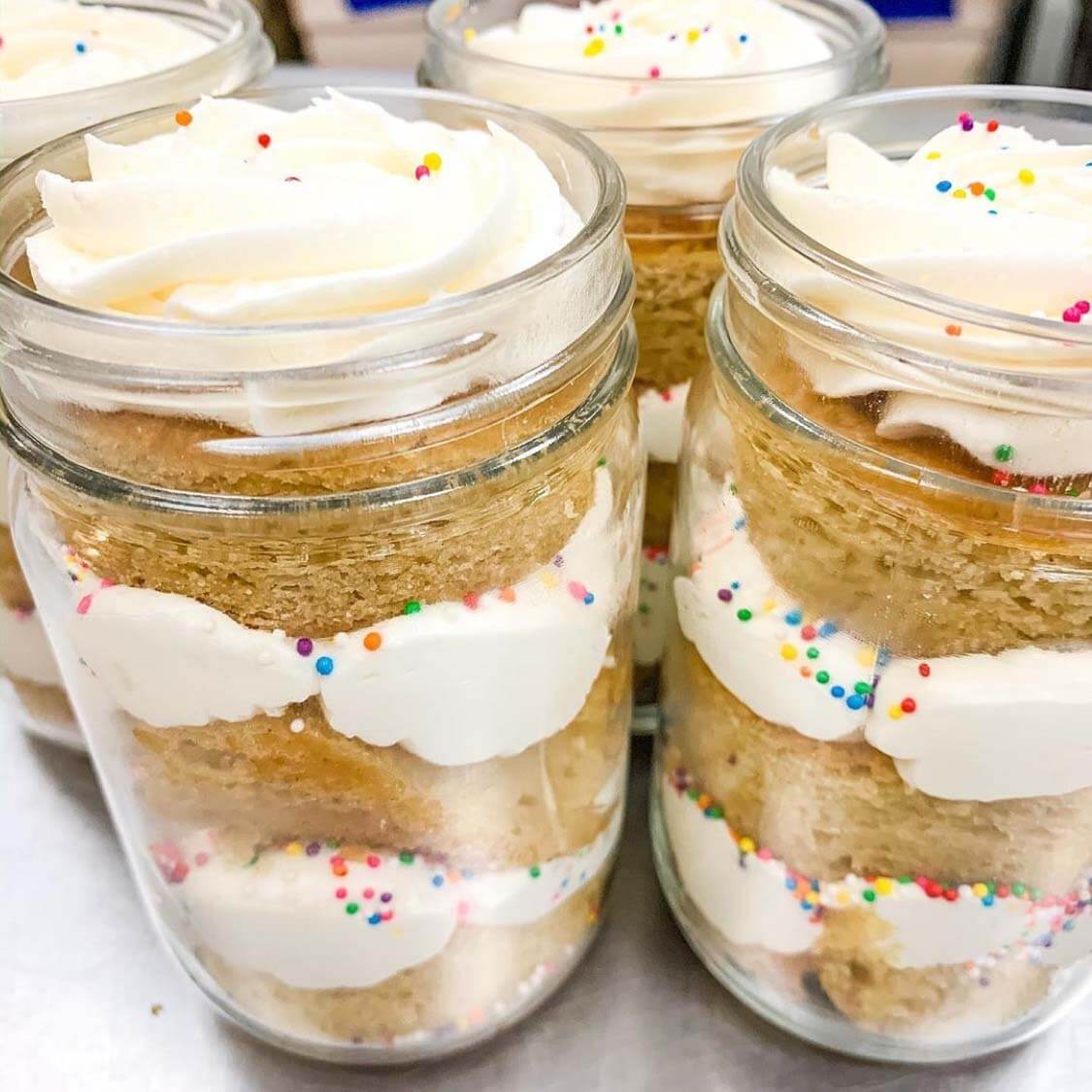 Sourdough Nation
Pop-up
What's made with sourdough, cashew cheese, and yummy toppings? Sourdough Nation's pizza pies! This all-vegan pop-up is giving out $10 pies to healthcare professionals that show a valid ID. That's almost 30% off! It's a great excuse to eat some 'za! While you're there, do yourself a favor and grab their Garlic Knots and Krack Bars! Check out their Instagram for details on dates and locations.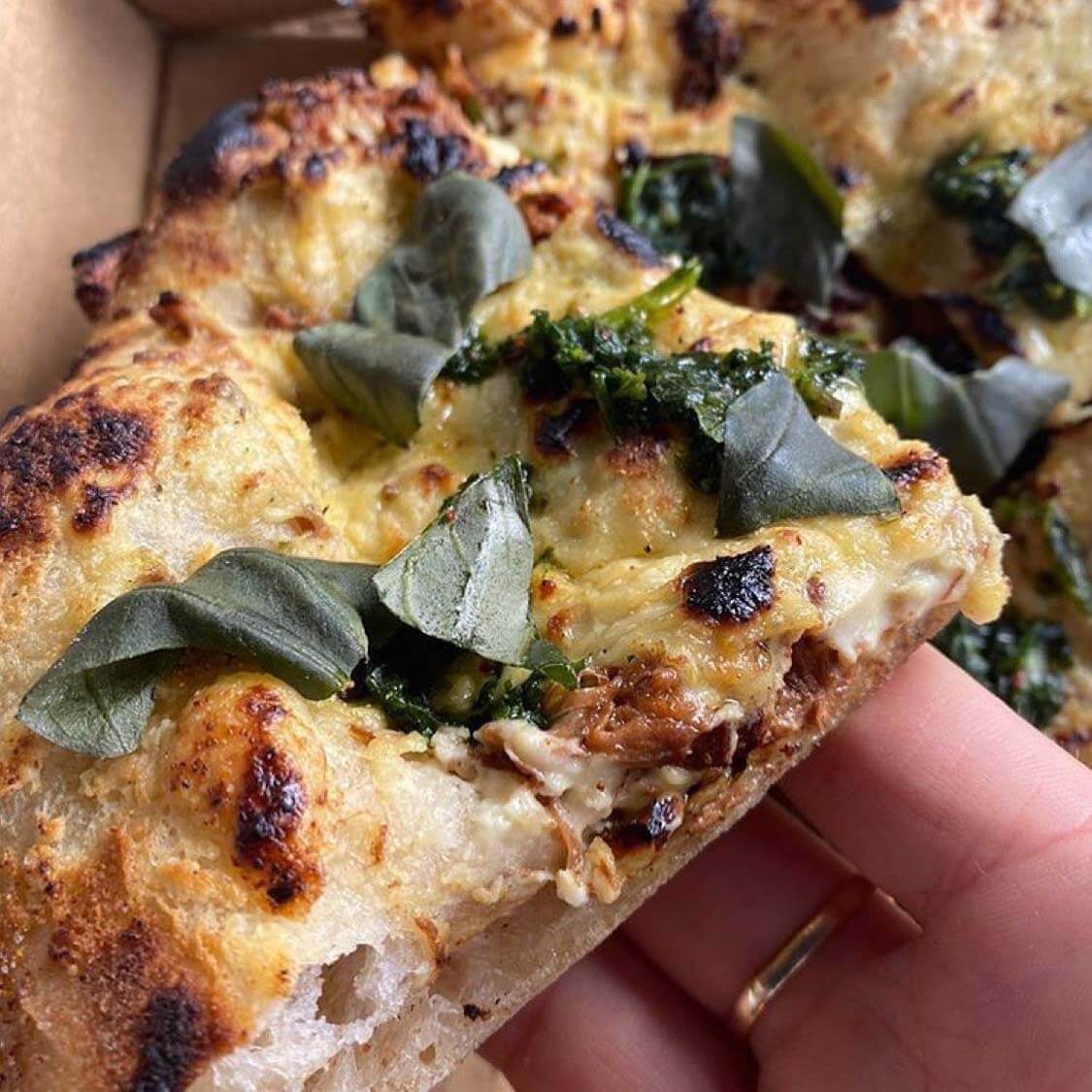 Honeybee Burger
Los Feliz and West LA
This plant-based burger joint is giving back to hospital employees of the Children's Hospital Los Angeles and Kaiser Permanente in Los Feliz by offering 50% off in-store pick-up orders (Los Feliz location only). To score this sweet deal on their mouth-wateringly delicious burgers and frots, place your order at www.orderfor.me and use the code "Hbbcares." Upon pick up, you must show your employee ID from the participating Los Feliz hospitals. And if you're lucky, Honeybee might be serving their Chick-A-Bee Sandwich made with vegan fried chicken from Atlas Monroe! The Los Feliz location is open Monday-Thursday 12-8pm and Friday-Sunday 11:30am-9pm.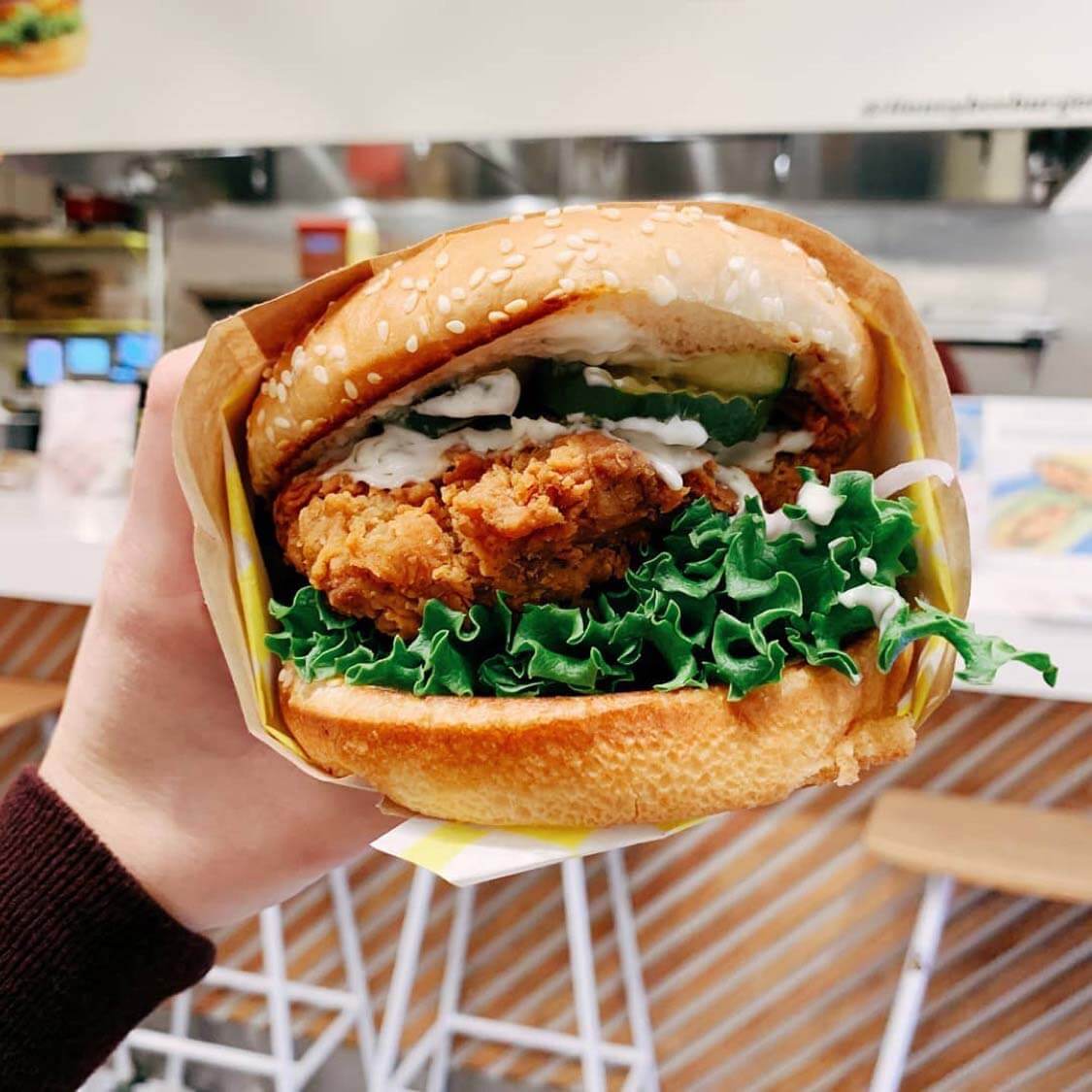 Hello Cake Girl
Boyle Heights
Did anyone else used to love eating Gansito snack cakes? If you're not familiar, that's the name of a nostalgic Mexican pre-packaged treat. If that still doesn't ring a bell, imagine a chocolate-coated Twinkie with a jam filling––sounds amazing, right? Right! Hello Cake Girl makes a Gansito-inspired cupcake that harnesses the flavor of the classic treat without all the processed ingredients! We got so carried away in their cupcakes, we almost forgot to share the discount they're offering. Oops! Medical workers (with an ID) get 10% off any purchase for walk-in or take out orders. Be sure to grab one of those cupcakes if there are any left! Current hours are 10:30am-6pm Monday-Saturday.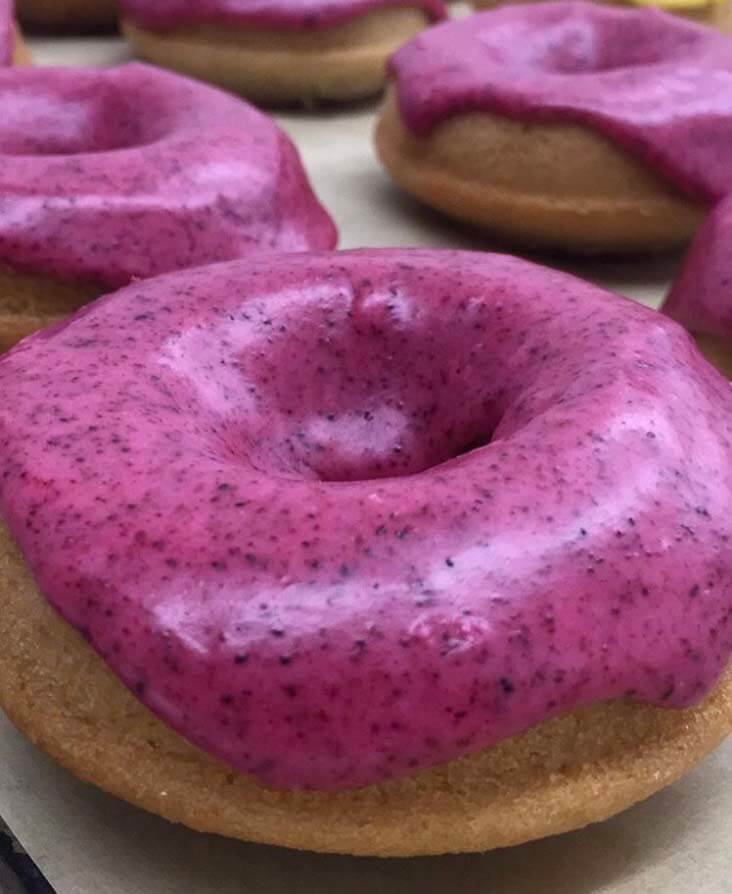 The Grain Cafe
Mid-City and Long Beach
The Grain Cafe is one of the oldest and tastiest vegan restaurants out there––they were vegan before it was trendy! This restaurant has such a lovely staff, tasty menu, and welcoming atmosphere that you will even experience it when you order something for take-out or delivery! The Grain Cafe is supporting those serving our community by offering a 15% discount to medical personnel, firefighters, and police officers. Mid-City and Long Beach are open daily 7am-9pm. The Redondo and Culver City locations are temporarily closed.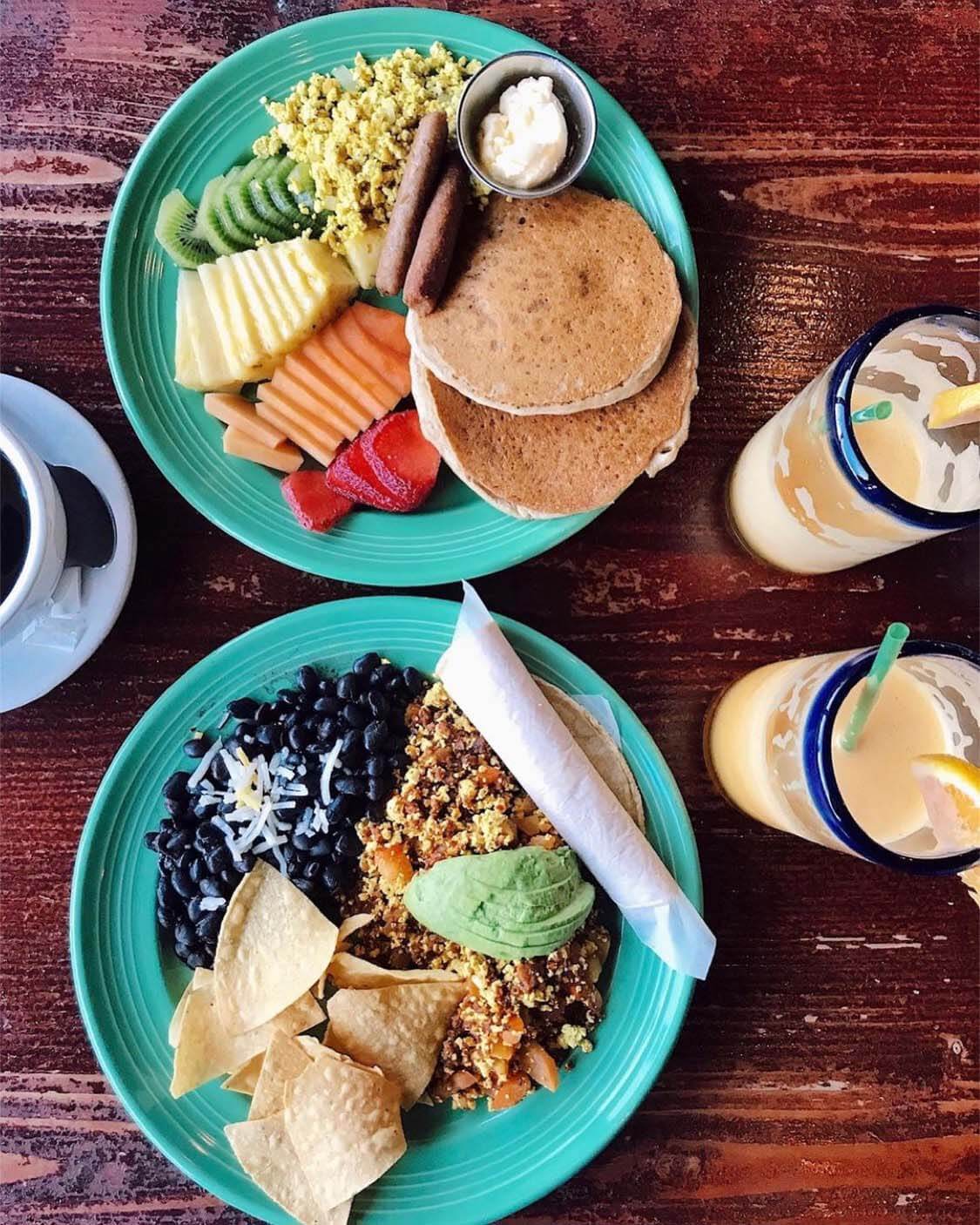 Julie Goes Green
Palms
Julie Goes Green is giving 10% off to those in the medical field (with an ID). Whatever your Italian food cravings are, this vegan spot has you covered. From pizza, pasta, and salads to subs, bowls, appetizers––and even vegan Shrimp Scampi—there are loads of delectable dishes to choose from. Their hours are 11am-10pm daily.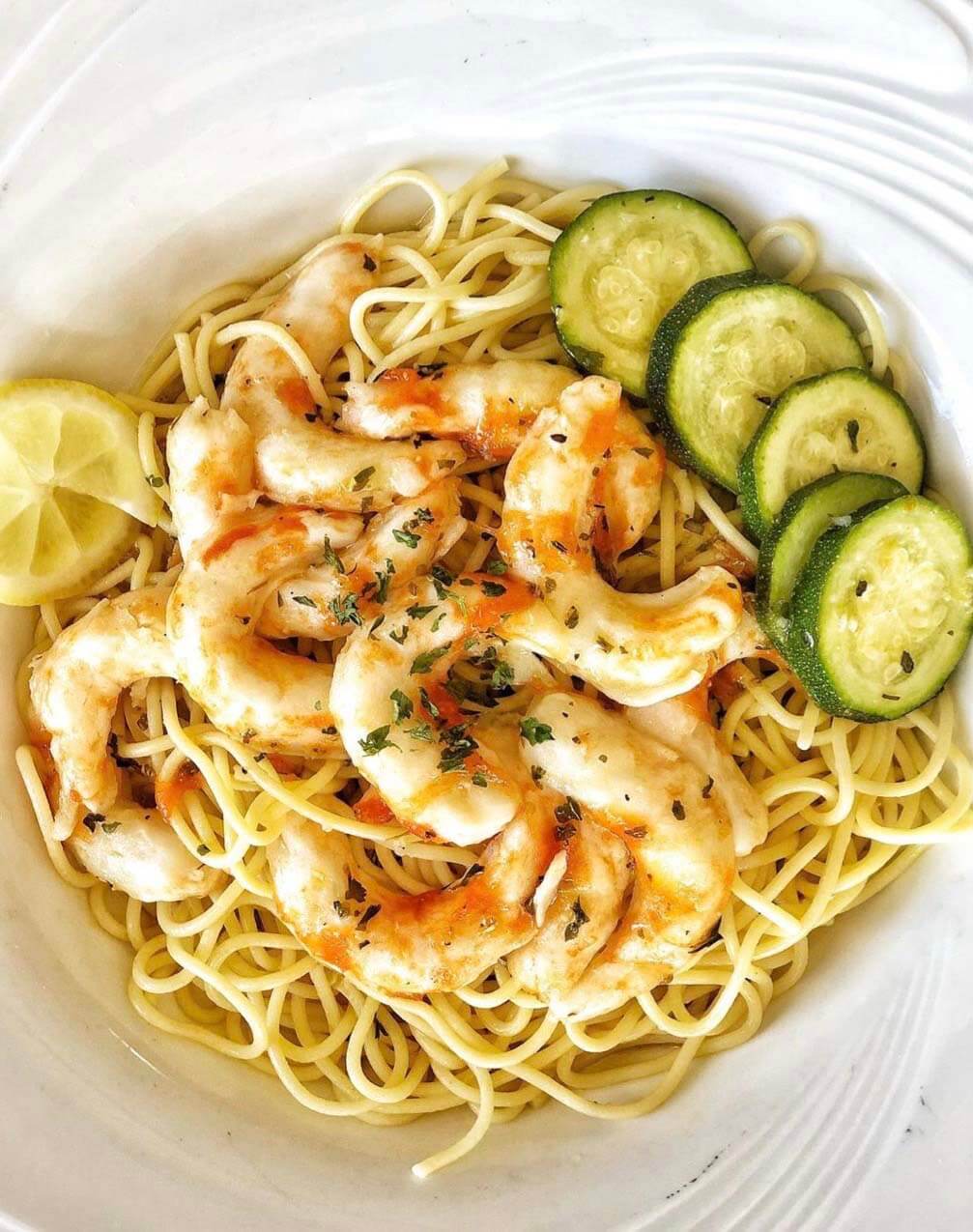 Purgatory Pizza
DTLA
What is this vegan-friendly pizza joint doing during the pandemic? Aside from expanding their delivery radius, giving out lunches to students in need, and just making dope pizza, they also shared that they are offering 20% off to medical staff "during this shit storm." We couldn't have said it better ourselves! They're open 11am-10pm. Go get your pizza!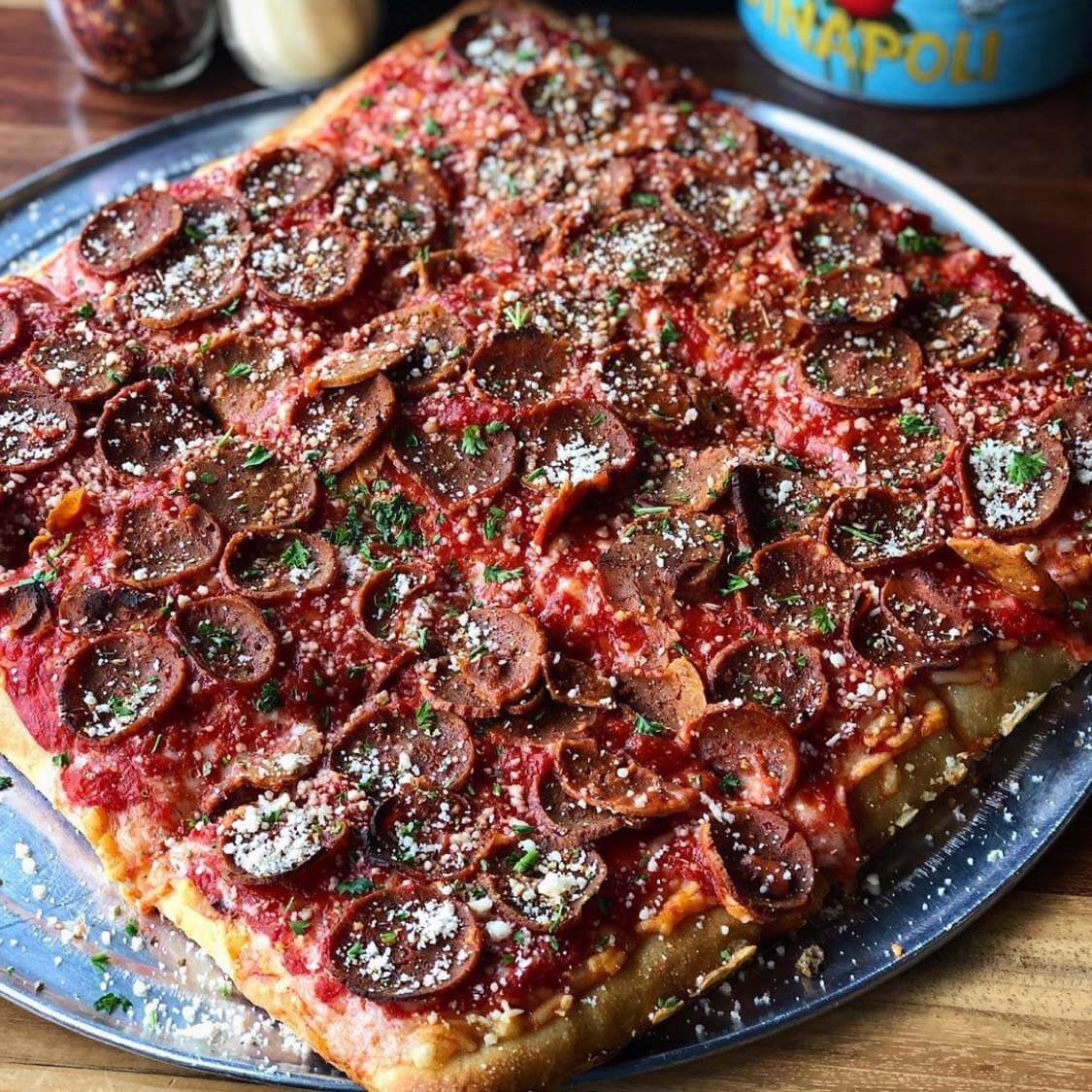 Jesse Boy
Hollywood
Healthcare workers with a valid medical badge will receive a 10% discount on all takeout orders from this vegan-friendly Korean-inspired restaurant. Check out their vegan Korean Fried Cauliflower with jasmine rice, fries, or a salad! And don't worry, they use a separate fryer for us vegans! They're also giving out a roll of toilet paper with every order (while supplies last). We love it! They're open 11am-10pm daily.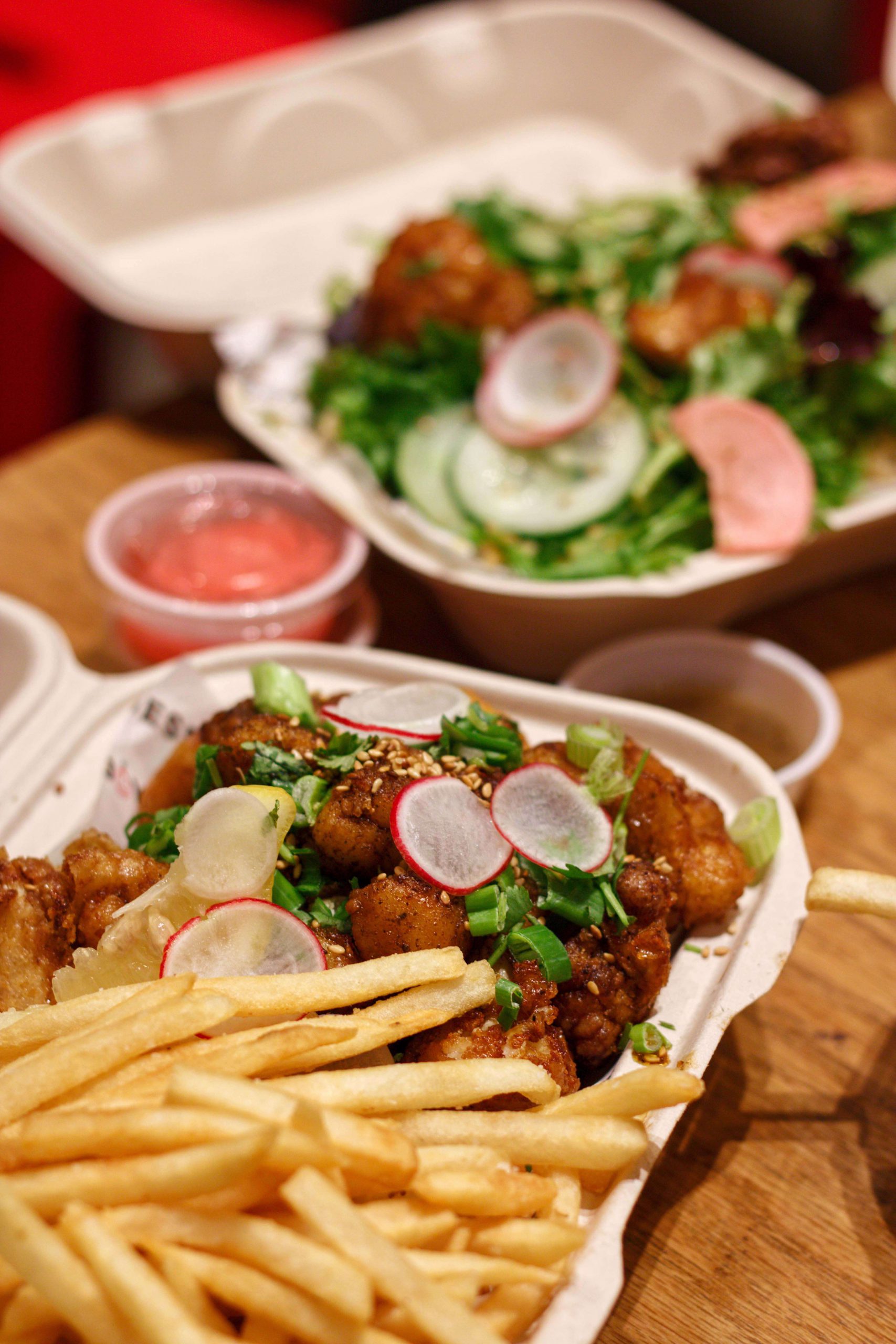 Starbucks
Multiple Locations
This vegan-friendly coffee chain is giving out free tall brewed or iced coffee to those on the frontline. This includes doctors, nurses, hospital staff, researchers, paramedics, firefighters, and police officers. The deal lasts until May 3rd. Note: Some Starbucks locations are temporarily closed in efforts to prevent the spread of COVID-19. Be sure to check with locations in your area to see if still operating––and also so you don't get your coffee hopes up!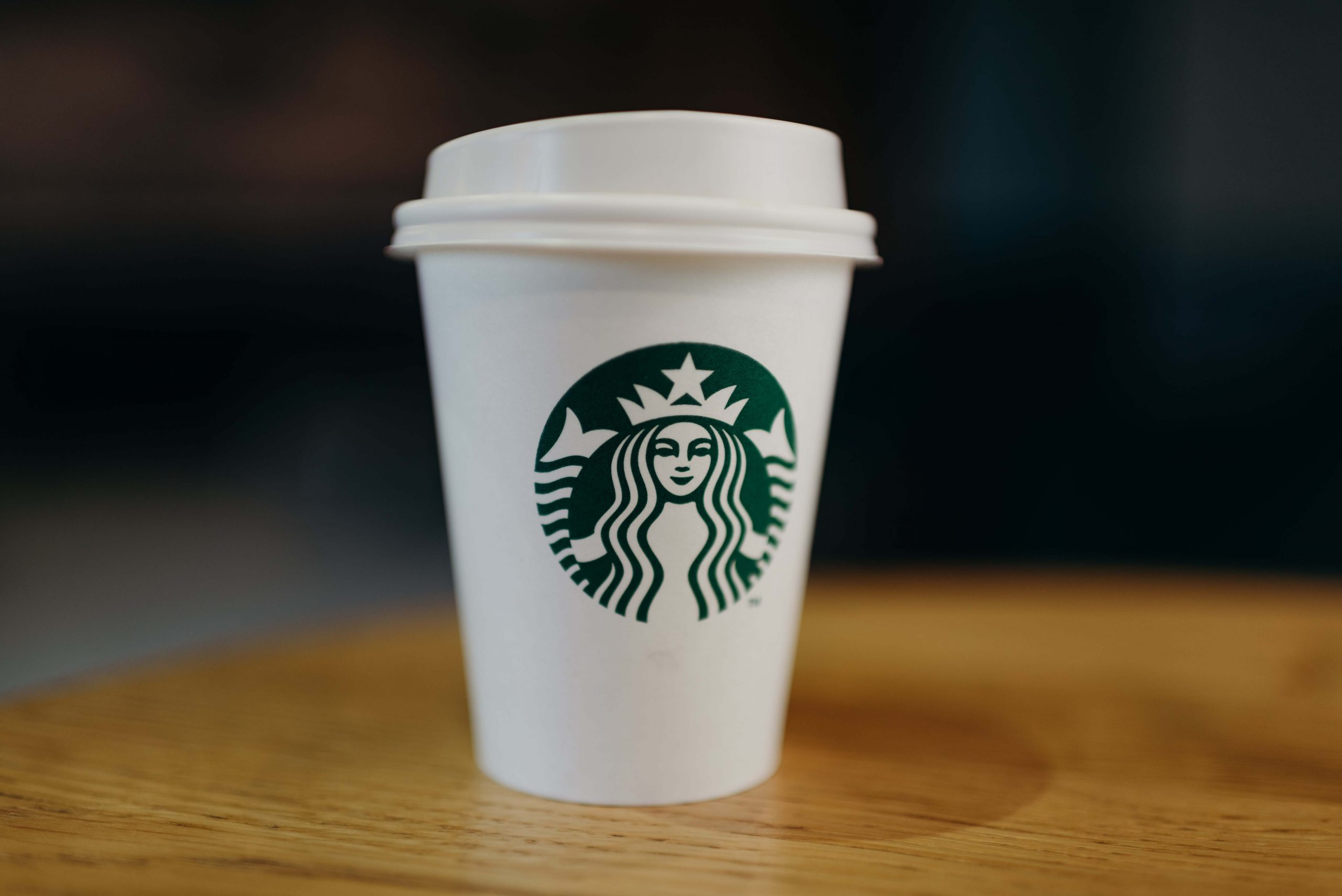 RELATED: 9 Best Vegan-Friendly Grocery Delivery Services
---
Want even more LA vegan food, news, and lifestyle content? Subscribe to VegOut LA Magazine!