Check off your shopping list while enjoying these portable plant-based bars from Dirt Kitchen!
Looking for creative ways to add more veggies to your diet? We've got just the thing. Introducing Dirt Kitchen Pressed Bars: a delicious new way to eat your veggies. From the makers of Air Dried Veggie Crisps and Air-Dried Veggies + Nuts, Dirt Kitchen now offers a line of portable plant-based Pressed Bars. These sweet and savory bars are a totally new snacking experience to be enjoyed both at home and on-the-go—hello holiday shopping! True to their brand, Dirt Kitchen puts veggies into everything they do.
Dirt Kitchen's Better-for-You Pressed Bars
Dirt Kitchen Pressed Bars are made with easy-to-identify, recognizable ingredients—what you see Is what you get. When you look at a Dirt Kitchen Pressed Bar, you see each ingredient. These delicious bars are made by taking veggies, fruits, nuts, and seeds and simply pressing them together. And these bars are seriously keeping it real—they are free from added sugars, artificial ingredients, and binders. Dirt Kitchen Pressed Bars have nothing to hide! They are a testament to the bold flavors and beautiful colors that veggies, fruits, nuts, and seeds have to offer. The unique pressing technique used by Dirt Kitchen allows each bar to take on the true form and flavor of its ingredients—balancing both sweet and savory flavors. Options can be found in four better-for-you bars that balance both savory and sweet flavors. Dirt Kitchen Pressed Bars are available in four varieties: Almond + Raisin + Carrot; Tomato + Raisin + Black Pepper; Apple + Cinnamon + Carrot; and Apricot + Beet + Pumpkin Seeds—a little something for everyone. Dirt Kitchen Pressed Bars are totally vegan, gluten-free, and non-GMO.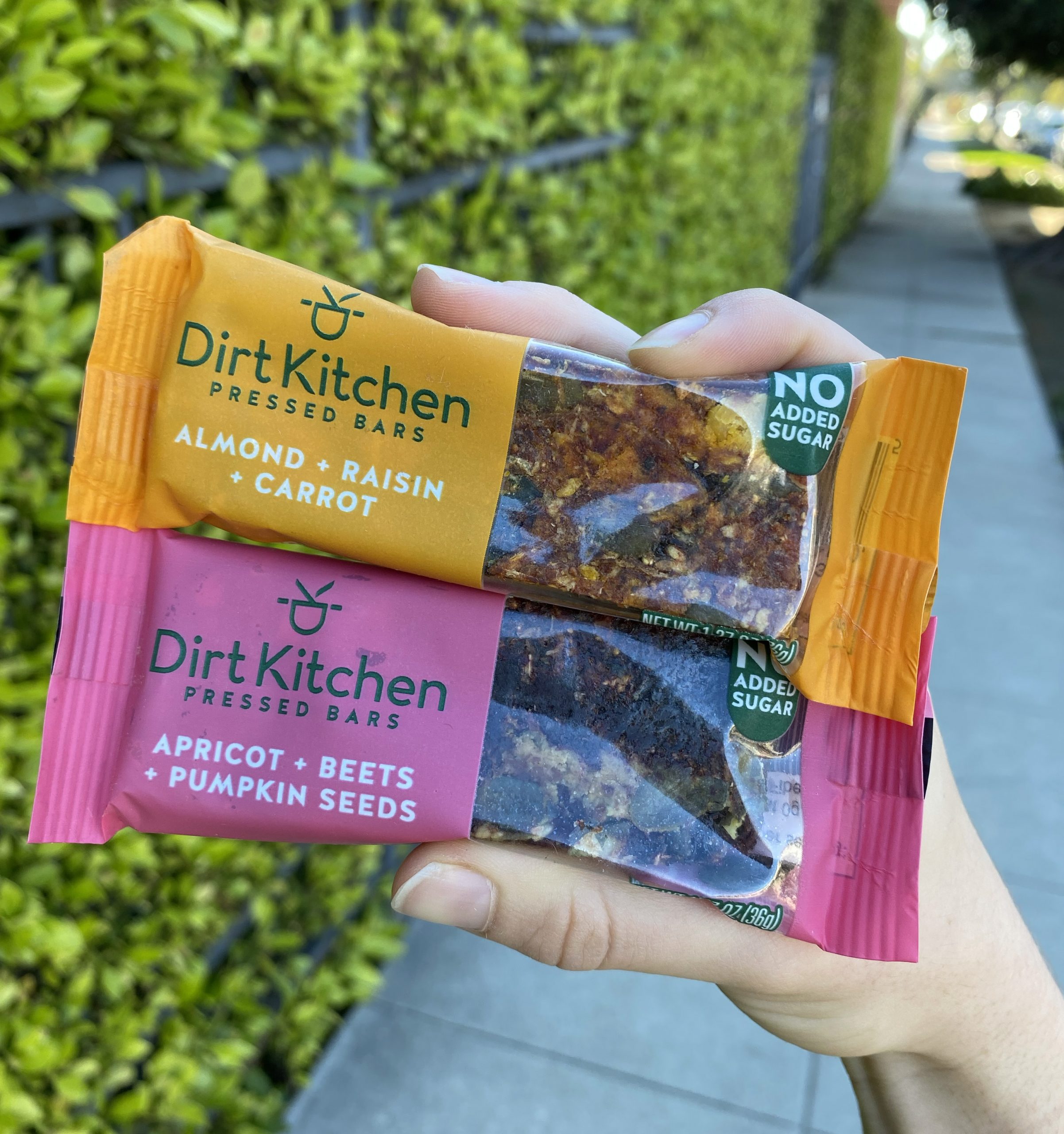 Dirt Kitchen's Pressed Bars Are the Perfect Black Friday Shopping Snack
These portable bars are a great way to add veggies and fruits to your day, especially while on the go this holiday season. While we love an indulgent Friendsgiving feast—we see you holiday roasts, mashed potatoes, pumpkin pie, and wine—we almost always crave a light, delicious fruit-and-veggie-packed snack afterward while we shop. Who's with us? Dirt Kitchen Pressed Bars are crunchy, portable, and packed with veggies and fruits, making them the perfect snack for long holiday shopping shopping lines and jumping from store to store in the name of a great deal. Prepare yourself for holiday shopping season with a delicious, better-for-you snack, with no added sugars, to keep you fueled. And when the holiday shopping rush winds down and you're curled up on the couch watching a holiday classic with the new blanket you just had to snag, be sure to treat yourself to a Dirt Kitchen Pressed Bar. The Apple + Cinnamon + Carrot Pressed Bar is our go-to—now or any time of the year.
Where to Find Dirt Kitchen's Pressed Bars
Whether it be for holiday shopping or your usual daily grind, have we convinced you to give these sweet and savory Dirt Kitchen Pressed Bars a try? Find them at DirtKitchenSnacks.com/Bars. Dirt Kitchen Snacks products are also available for purchase in select Los Angeles retailers, including Lassens. Let's get snacking!