Here's everything you need to make vegan pizza at home! Pizza has to be one of the best meals out there! It's got everything we could ever want in a dish––carbs, cheese, and veggies. Not to mention, it's so easy to eat! While getting pizza delivered is convenient, it can be fun to get in the kitchen and make one from scratch. Not sure where to start? Check out these vegan pizza ingredients!
Crust
Classic Thin & Crispy Vegan Pizza Crusts
Simple Truth Organic
These pre-made crusts from Simple Truth Organic will make your pizza night a little bit easier! No more doughy hands, flour-coated counters, and odd-shaped crusts––hallelujah! All you have to do is toss on your favorite sauce, vegan cheese, and toppings, and you're all set. You can find this product at any Kroger-branded grocery store.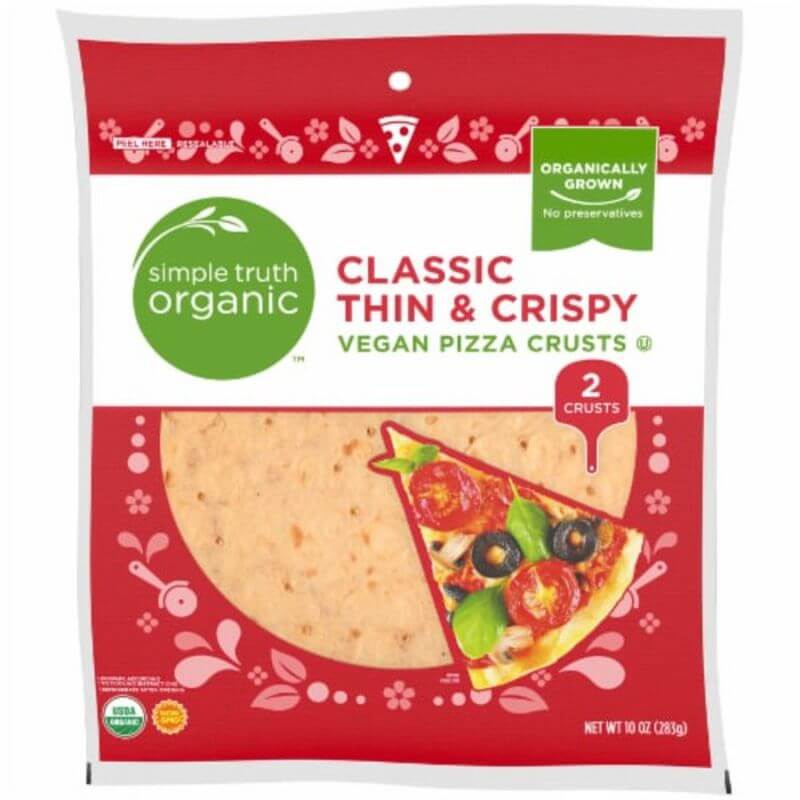 Gluten-Free Pizza Crust Mix
Bob's Red Mill
Who says gluten-free peeps can't make their own pizza? And no, this crust doesn't taste like cardboard! Bob's Red Mill is a household name for most of you health nuts out there, and this product lives up to that reputation. The package contains a packet of active dry yeast and gluten-free pizza dough mix. The baking instructions tell you to add in warm water, olive oil, and eggs, but it works just as well (actually, better!) when made with a vegan egg made from ground flaxseed. But be sure to start prepping before you're hungry as you have to let the dough rise for 20 minutes before baking!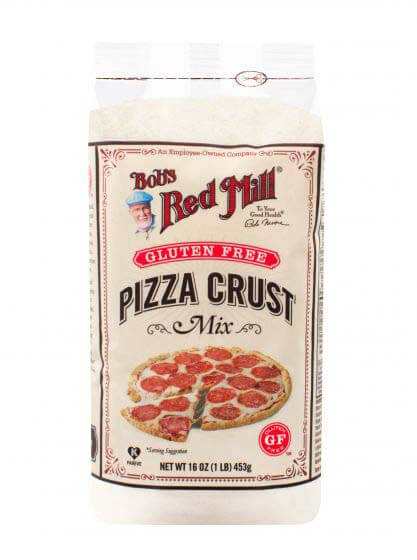 Classic Pizza Crust
Pillsbury
For those who can't find yeast at the grocery store (or just don't have the patience to wait for it to rise), you'll love what we're about to tell you! Pillsbury's canned pizza dough is one of those treasures remarked as "accidentally vegan." If you're unfamiliar with the term, that just means this item is made with all-vegan ingredients, even though it's not visibly advertised as "vegan." It's cheap, found at most grocery stores, and easy-to-make!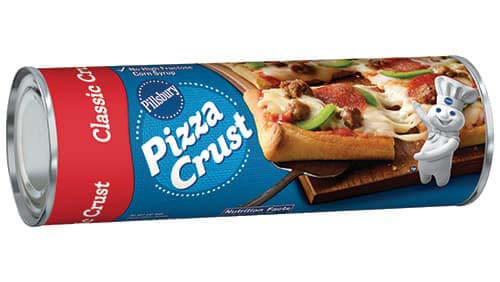 Sauce
Margherita Pizza Sauce
Rao's Homemade
If you've yet to grace your mouth with the flavors of the vegan-friendly sauces from Rao's Homemade, you need to change that ASAP! Their sauces are simple, yet flavorful and make the perfect base for cheese and toppings! Take your pick between Classic or Margherita pizza sauce flavors and get ready to slather it on your dough.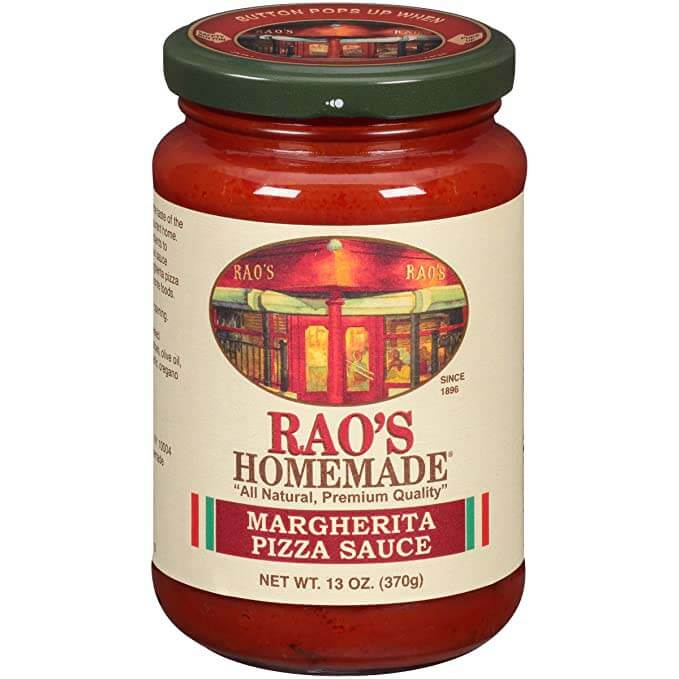 Vegan Kale, Cashew, & Basil Pesto
Trader Joe's
Vegan pesto can be hard to find … unless you're at Trader Joe's! This fan-favorite grocery store is known for their unique items, wonderful vegan options, and outrageously cheap prices. Anytime we find ourselves at Trader Joe's, we always have to grab a container of this pesto. It's great on many things, but we especially love to put it on our pizza!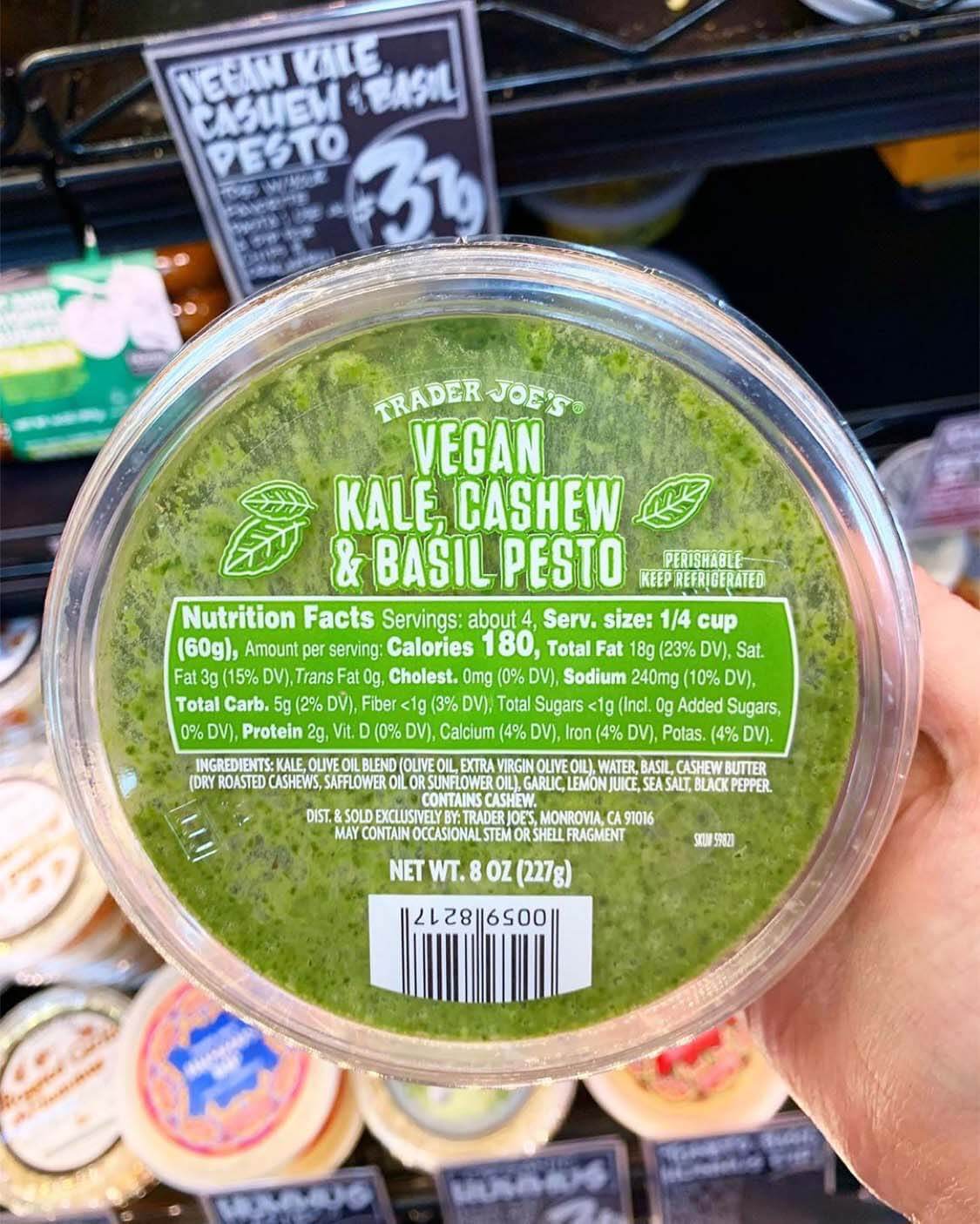 Plant-Based Alfredo
Simple Truth
If you're a person who prefers pizza with white sauce, grab a jar of this plant-based alfredo! Not only is it vegan, but it's gluten-free and fortified with Vitamin B12. Slather it on your crust of choice, throw on some spinach and onions, and stick it in the oven!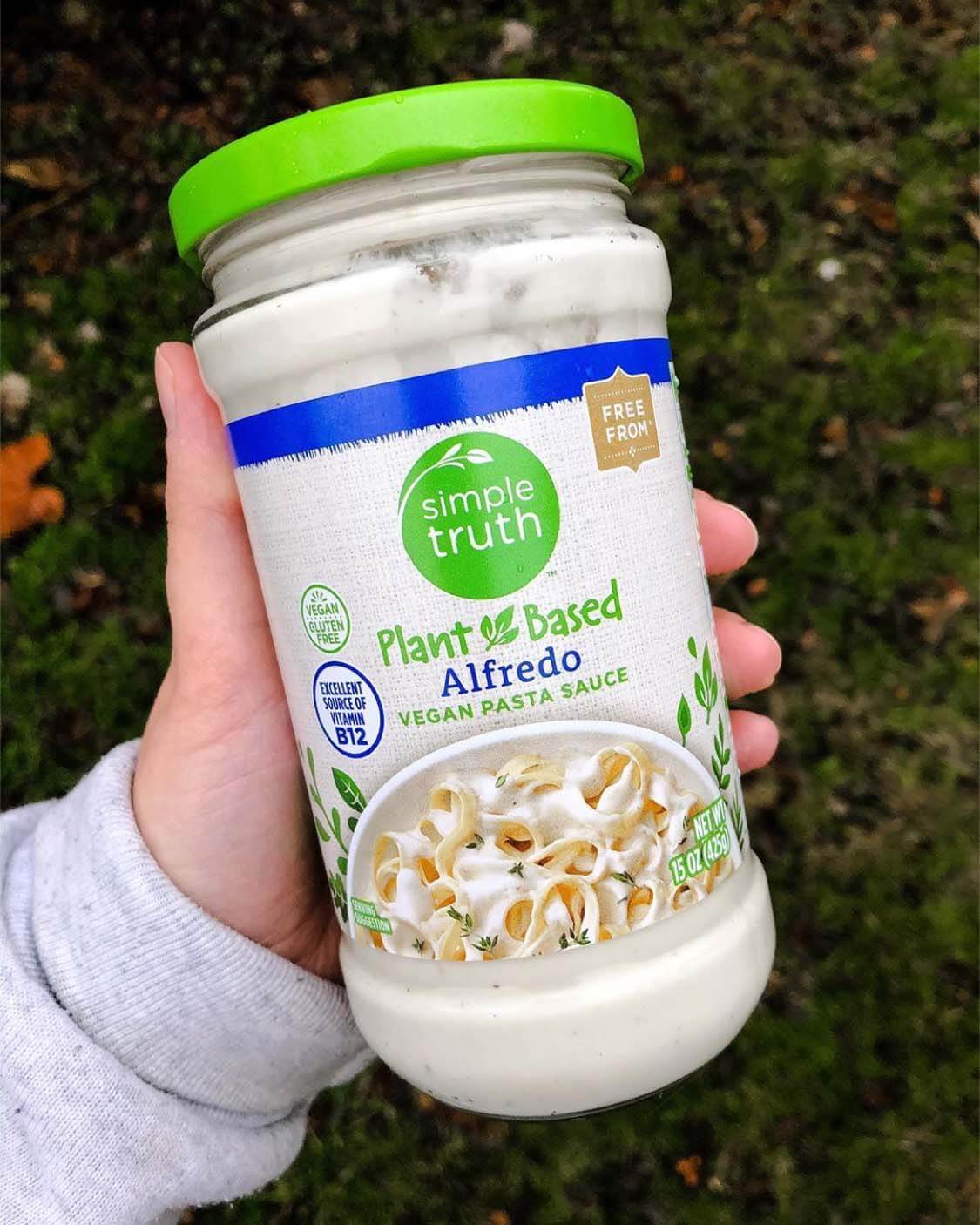 Photo credit: @consciously_vegan
Cheese
Mozzarella Style Cutting Board Shreds
Daiya
Daiya just launched a new and improved version of their shredded cheese, and you're going to want to grab a bag! What's different? These revamped shreds have a better taste, texture, and flavor. They're made with chickpea protein and are the perfect addition to your DIY pizza!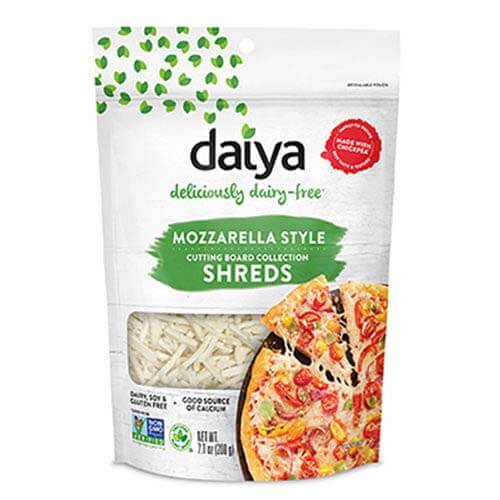 Smoked Vegan Mozz
Miyoko's
This wood-fired smoked vegan mozzarella is the cheese of our dreams! It's made with cashew cream, fermented with live cultures, and will melt beautifully on whatever pizza you were thinking of making!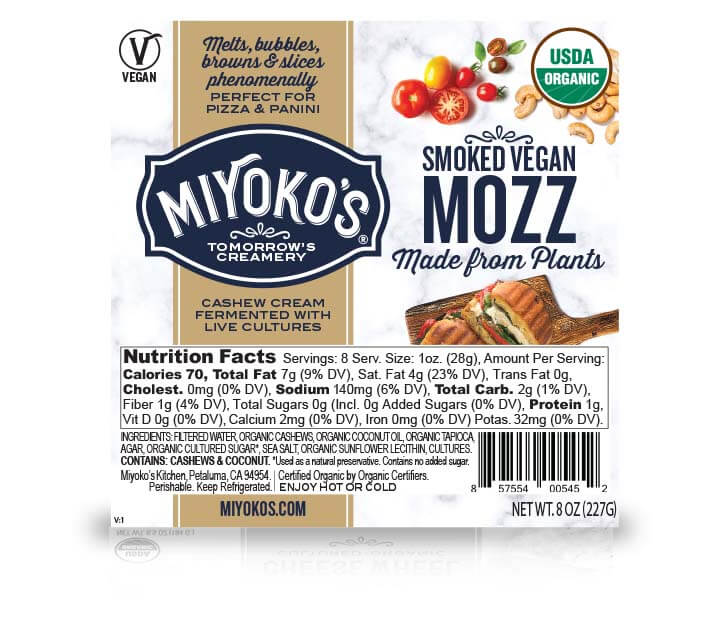 Pizzeria Blend Shreds
Follow Your Heart
What's got a little bit of parmesan, a little bit of mozzarella, and is a whole lotta yum? Follow Your Heart's Pizzeria Blend Shreds! They're gluten-free, soy-free, and non-GMO certified. And the word "pizza" is in the name of the cheese, so you know it's meant to be!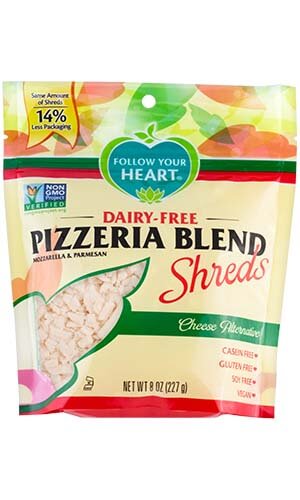 Toppings
Smart Deli Pepperoni
Lightlife
What's a pizza article without discussing the topic of pepperoni? Not an article we'd like to read! Our pep of choice is this one from Lightlife. It's got everything we could ever want––flavor and nutrition! Did you know that this item has only half a gram of fat per serving?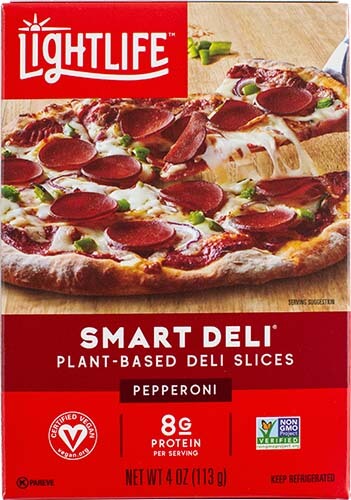 Veggie Italian Style Sausage Crumbles
MorningStar Farms
Italian sausage is the perfect choice to top your pizza with––as long as it's vegan, of course! A handful of this plant-based meat will provide your pie with a bit more protein, flavor, and texture. It's made with minimal ingredients and can be found at most supermarkets. Score!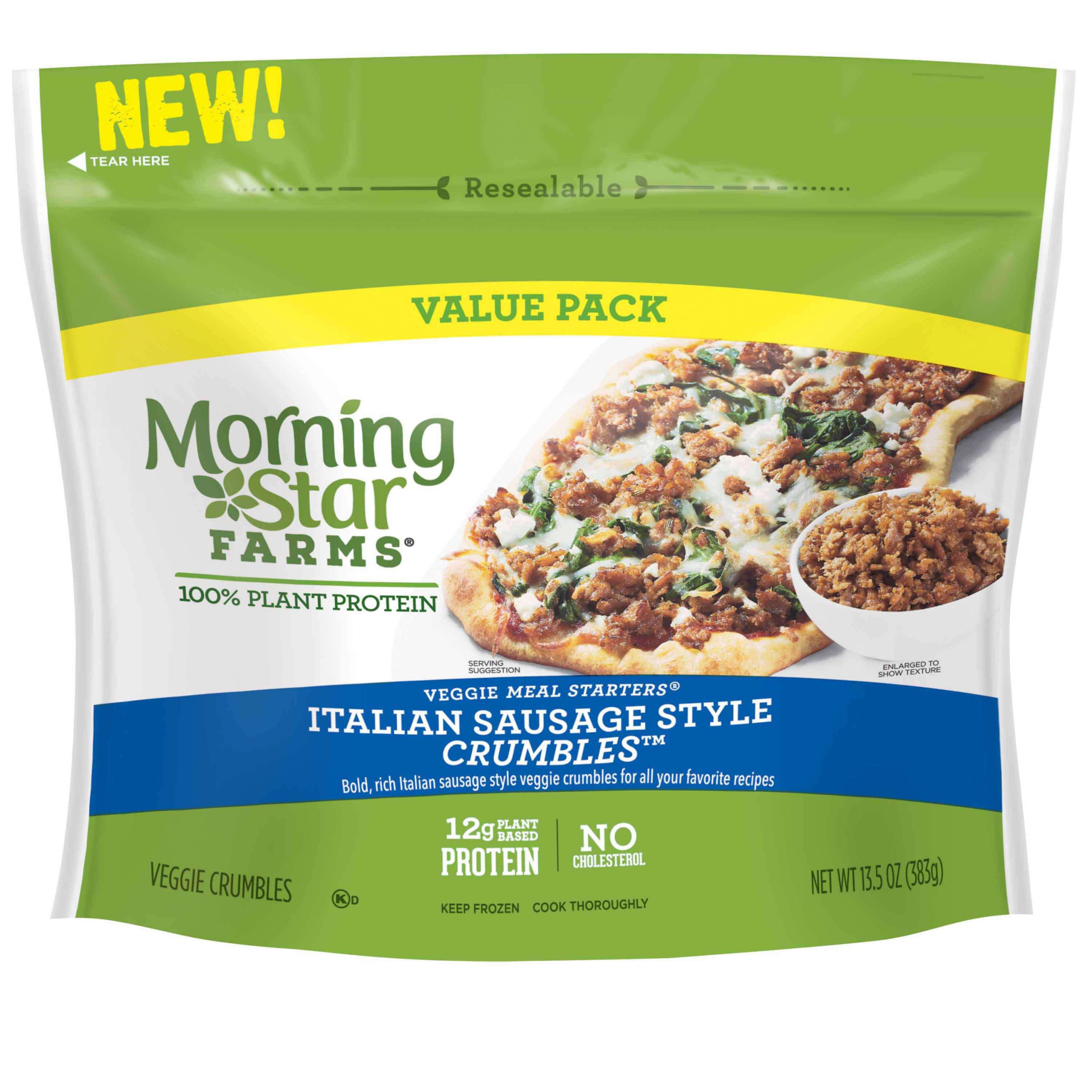 Hickory & Sage Benevolent Bacon
Sweet Earth Foods
If you're a bacon-on-pizza type of person, grab a pack of this vegan bacon for your circular creation! It's seasoned with cumin, sage, and garlic––what a trio! We'd recommend it on your pizza, alongside some tofu scramble, or in a BLT!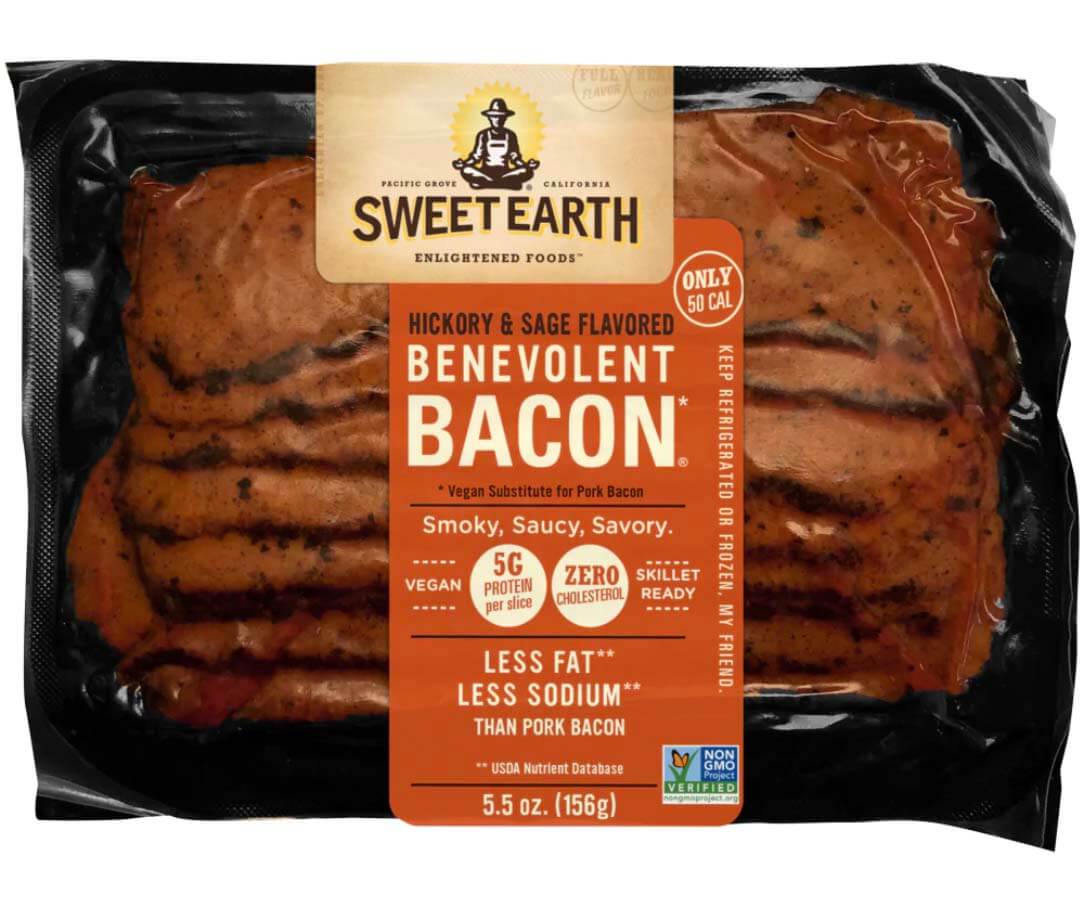 Veggies
No pizza is complete without a pile of veggies! Now's the time to throw whatever veggies (or fruits) you like on the top! Some of our favorites include mushrooms, onions, bell peppers, banana peppers, spinach, artichokes, tomatoes, and pineapple. Yep, we went there!
Are you in need of an easier option to make at home? Grab one of these frozen pizzas to pop in your oven. We recently tried Daiya's new Vegetable Crust Pizza and fell in love!
RELATED: Ready-to-Eat Plant-Based Meal Delivery Service Sakara Makes Mealtime Easy
---
Want even more vegan food, news, and lifestyle content? Subscribe to VegOut LA Magazine or VegOut NYC Magazine!