The VTree Hollywood may be a new addition to the LA vegan food scene, but celebrity chef and founder Chef Velvet is no stranger to restaurant success. Her other brick-and-mortar, VelTree, has been met with renown recognition in the heart of North Carolina, and was awarded "Top Vegan Soul Food" by PETA this year.
RELATED: Black-Owned Vegan Business Spotlight: Maya's Cookies
---
Want even more vegan news, food, and lifestyle content? Subscribe to VegOut LA Magazine or VegOut NYC Magazine!
When celebrity Nick Cannon visited VelTree last year, he was so impressed with the food that just a few months later, Chef Velvet was sitting down with him to brainstorm their new business partnership: The VTree Hollywood.
Meet the Chef
Chef Velvet has been plant-based for more than twenty years, and throughout that time, she has incorporated recipes and dishes that have been passed down from her grandmother and great grandmother over the generations.
When you order a side of candied yams, for example, you're tasting the same flavors and spices that Chef Velvet's own grandmother wove into her recipes for decades. The authentic flavors and the emphasis on community and family are just some of the qualities that make up The VTree's vision, as well as Chef Velvet's own personal standards.
Many new businesses that opened at the beginning of the shutdown have faced extreme hardships, but Chef Velvet isn't letting that slow her down. Faced with a hostile political and business climate, The VTree has sailed through it all with the support of the LA community.
Velvet and her team hosted an epic Juneteenth celebration that saw people from around the country coming together in support of Black lives, Black businesses, and social justice. The food is wildly popular, and the flavor speaks for itself.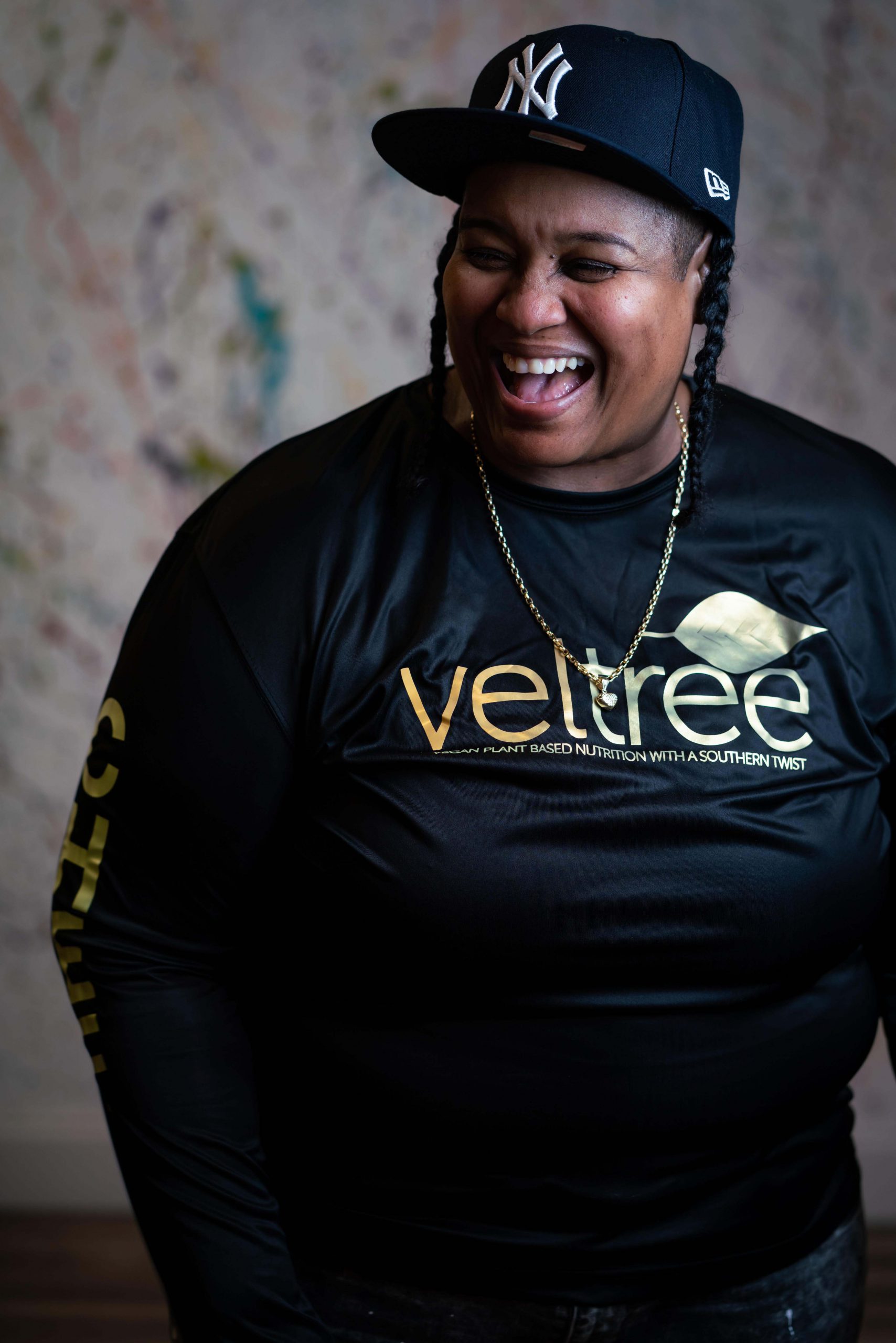 The Flavors
The VTree's plant-based meats are so popular that the restaurant has started taking pre-orders to ship nationwide! Choose from vegan chicken or vegan shrimp—all orders ship by September 1st, so they'll arrive just in time to impress your friends for those socially-distanced Labor Day barbeques.
But if you can't wait until then, The VTree is open for takeout Thursday-Saturday evenings. If you're looking for something you won't find at your local fast casual vegan joints, opt for the African Peanut Stew, which is a creamy, hearty stew filled with onions, celery, and plenty of traditional spices.
If you're a fan of chef's recommendations, Chef Velvet's favorites are the Bourbon Baked BBQ Ribs and the scratch-made Mac and Cheese. You can get both of these, plus fried chic'n, shrimp, veggies, and cornbread when you order the "Soul Plate with Ribs" platter. Make sure to bring a friend, because this platter is loaded!
Don't forget to snag a slice of Sweet Potato Cheesecake before you go, and if you're looking for something to quench your thirst in this heatwave, grab an Iced Sorrel Punch: a traditional African tea that's the perfect balance of sweet, sour, and refreshing.
Head on over to Instagram to give @thevtreehollywood a follow and see what else they're cooking up. And don't forget to sign up for pre-orders of their delicious plant-based meats at thevelvetchef.com.