You won't want to miss this allergy-friendly, vegan hot chocolate from Bare Life.
What do hot cocoa, food allergies, and chronic illness have in common? Bare Life founder, Ali Lazowski, is making the connection! After Ali's health journey and chronic illness diagnoses, she's launched a line of convenient and allergy-friendly foods by creating the creamy, delicious Bare Life Instant Dairy-Free Coconut Hot Cocoa Mix. Keep reading for Ali's story.
Ali's Mission to Make Allergy-Friendly Foods Easy and Accessible
For Ali Lazowski, the college experience looked a little different. During her junior year, Ali began experiencing chronic exhaustion and debilitating migraines which required medical leave from school. After working with several medical doctors, Ali was diagnosed with irritable bowel syndrome, Hashimoto's disease, thyroid cancer, and Lyme disease and its co-infections. In trying to make lifestyle adjustments to better her health, Ali found dietary changes to be impactful but not convenient—combining gluten and dairy restrictions was especially challenging. At the time, she realized she was not alone—a profound portion of the population lives with food allergies and chronic illnesses. Ali wanted to make a change in the chronic illness space and empower those living with food allergies by creating allergy-friendly foods that are both tasty and convenient. And this is how Bare Life came to be. Ali worked hard to create a crave-worthy, allergy-friendly vegan hot cocoa. Now, the female entrepreneur is on a mission to make allergy-friendly foods both easy and accessible whether that be online, at local coffee shops, or in grocery stores.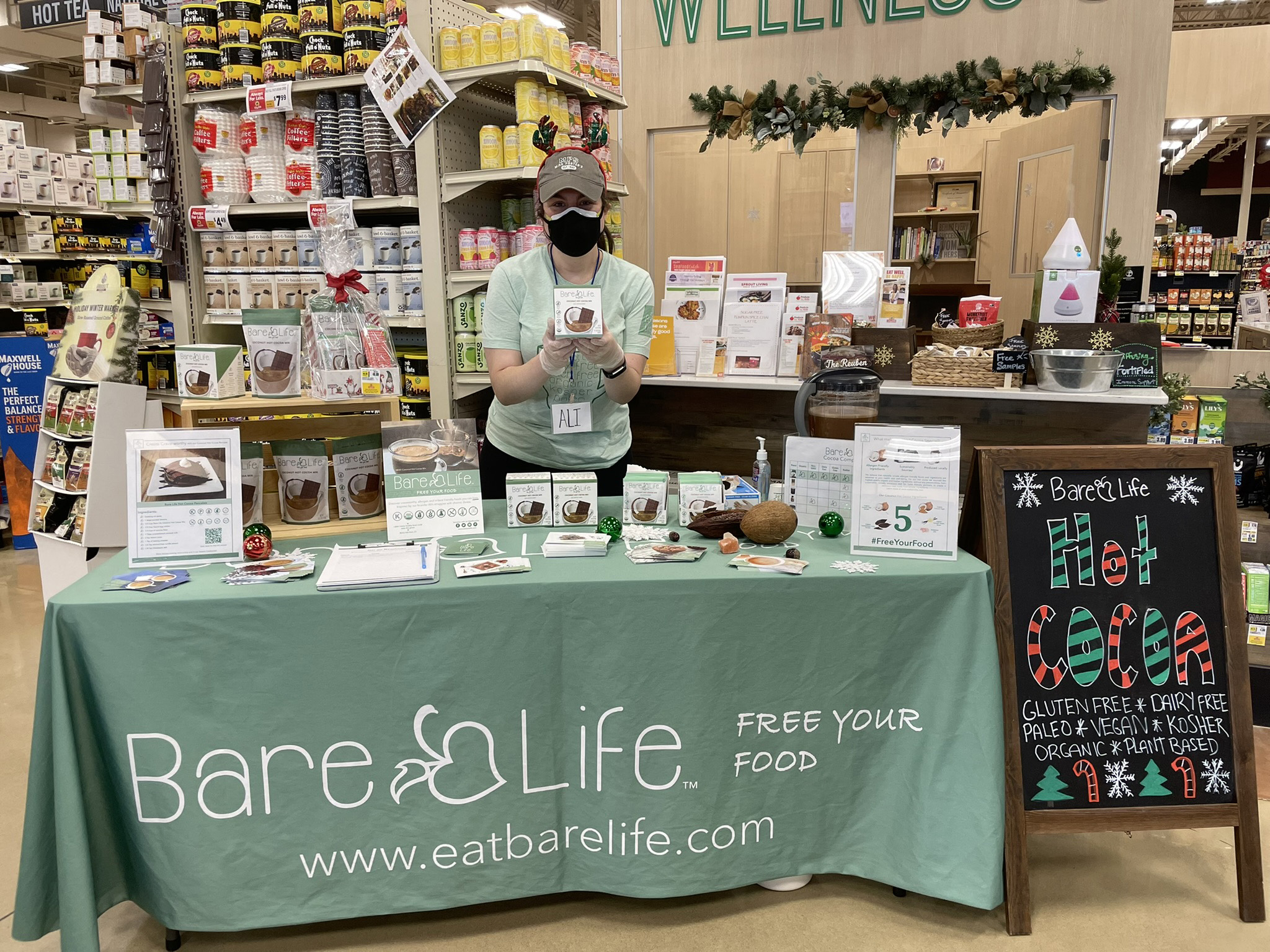 Bare Life's Vegan Hot Cocoa
Bare Life vegan hot cocoa is also paleo, organic, gluten-free, soy-free, corn-free, and kosher parve. The unique, allergy-friendly sipper is made with only five simple, organic, and sustainably sourced ingredients—coconut milk, coconut sugar, cacao powder, ground vanilla, and Himalayan pink salt. The organic cacao or cocoa is sourced from an eco-friendly, multigenerational farm located in Ecuador. The woman-owned brand's vegan hot cocoa is rich, indulgent, and simple to enjoy—just add hot water for a super creamy, coconutty, and chocolaty beverage. Not only does it make for a crave-worthy pick-me-up, but the hot chocolate can also be enjoyed beyond the mug. Bare Life features several vegan and vegan-friendly recipes that can be found on their website. Think frozen hot cocoa, mug cakes, and peanut butter protein bites.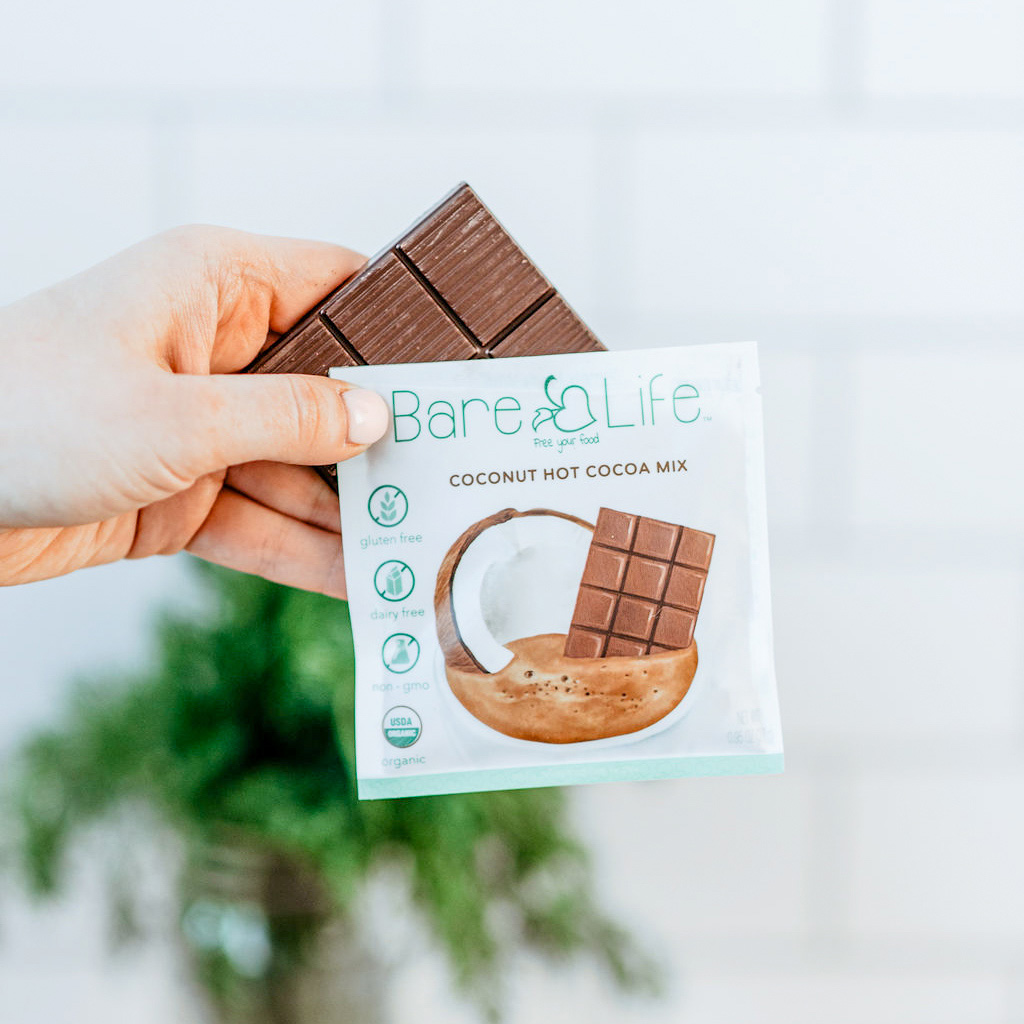 Where to Buy Bare Life's Instant Dairy-Free Coconut Hot Cocoa Mix
Bare Life Instant Dairy-Free Coconut Hot Cocoa Mix is made locally in New England and comes in single-serving packs for cocoa on the go and multi-serving pouches both housed in lightweight and sustainable packaging. The vegan hot chocolate can be found on the Bare Life website, Amazon, QVC.com, and in 95 retail locations across the country including a handful of Whole Foods Markets and local health food stores.
Use code VEGOUT15 at checkout for 15% off your purchase on their website. Orders ship within 48 hours, so you won't have to wait long to enjoy this allergy-friendly treat. What are you waiting for? You won't want to miss this allergy-friendly, vegan hot chocolate from Bare Life!