Don't sleep on our recommendations!
We know the vegan scene in Los Angeles is overwhelming. And since we've done our fair share of sampling plant-based fare across the city, we've made this list of the best dishes and desserts. Without further ado, here are the best vegan menu items across LA, according to VegOut staff.
Bang Bang Broccoli
Marina del Rey
You might think we're crazy when we say broccoli is our favorite dish at a restaurant, but hear us out. PLANTA Cocina transforms the cruciferous vegetable into a sweet chili and peanut sauce-coated crispy piece of magic.
Dan Dan Noodles
Downtown LA & Silver Lake
This vegan-friendly Taiwanese restaurant makes the best noods in town! Their Dan Dan Noodles—made with sesame-peanut sauce, cucumbers, cilantro, and peanuts—are creamy, hearty, and slurpable AF.
Spicy Rigatoni Vodka
Beverly Grove & Calabasas
We eat, sleep, and breathe Crossroads Kitchen's Spicy Rigatoni. This housemade fresh pasta swims in a gloriously spicy vodka sauce with a hefty sprinkle of vegan parmesan on top! Paired with the Stuffed Zucchini Blossoms? Chef's kiss!
The Original Fried Softserve Pie
Highland Park, Silver Lake, & Tarzana
A dessert that involves vegan ice cream, pie, and fried foods? We're sold! In case you missed it, this popular frozen dessert destination offers a plethora of vegan items—most notably, The Original Fried Softserve Pie. The vegan as-is treat features a corn almond soft serve base, vegan fudge, honeycomb, non-dairy whipped cream, and a fried candied cornflake streusel.
Wood-Fired Detroit-Style Pizza
Beverly Grove
While we love deep-dish and NY-style pies, Detroit-style pizza has a special place in our hearts. And the Wood-Fired Detroit-Style Pizza from Nic's On Beverly is top-notch. Current varieties include Original, Bianco, BBQ Chicken, and Pepperoni.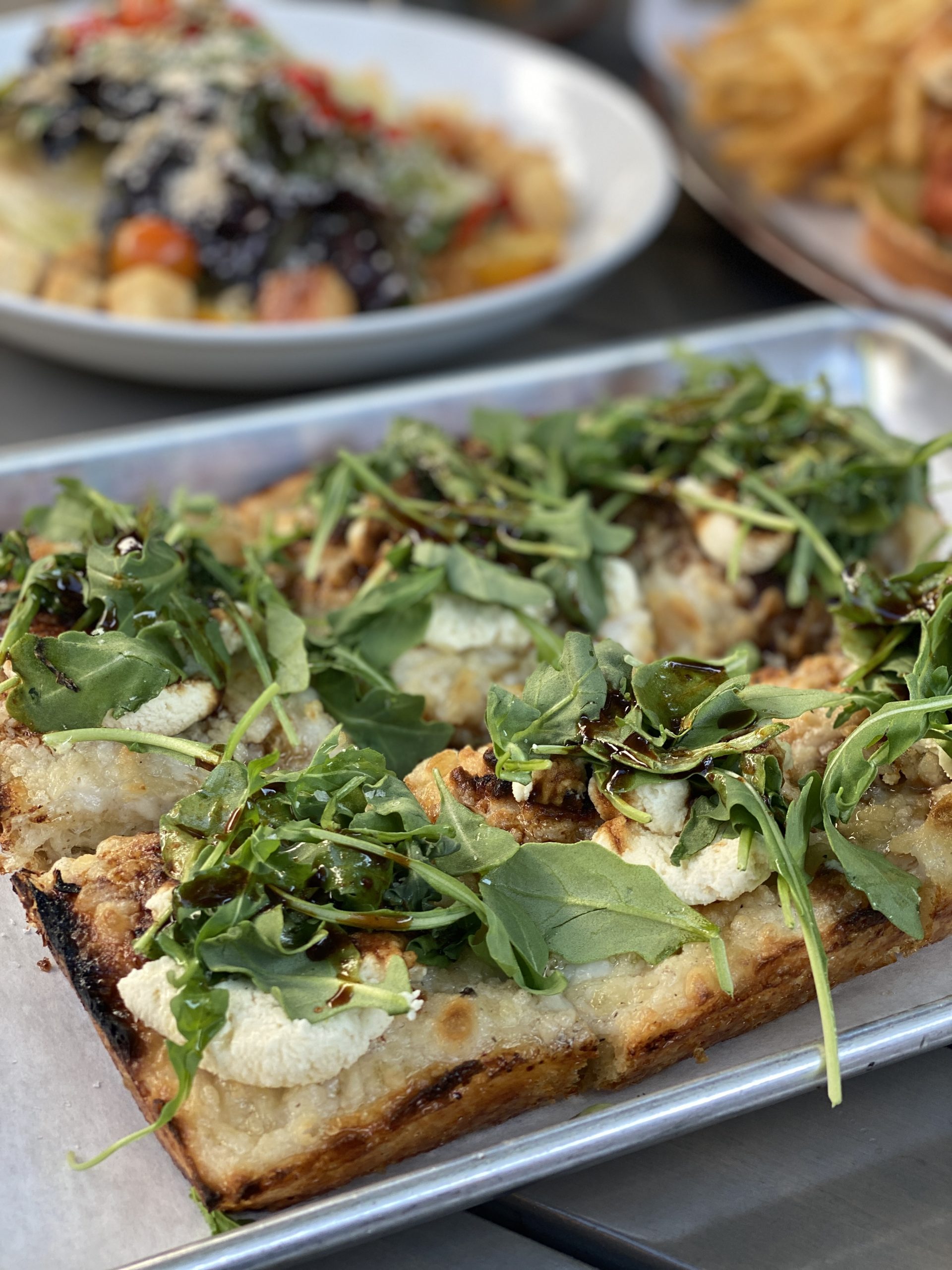 Fried Olives
Koreatown
Olivia Restaurant's Fried Olives is the appetizer of our dreams! The olives grace a bed of whipped macadamia ricotta with aleppo. Be sure to request the dish with agave instead of honey to make it vegan!
Carbonara
We can't express enough how much we love Pura Vita's Carbonara! The menu item showcases spaghetti noodles tossed in an avocado egg and macadamia romano cream with shiitake bacon on top. It's truly divine!
Halva Cinnamon Tahini Shake
Hollywood, Sherman Oaks, & West Adams
Looking to stray from a classic chocolate or vanilla milkshake? Let us introduce you to Mizlala's Halva Cinnamon Tahini Shake! This rich, creamy dessert is the perfect end to your meal at the vegan-friendly Middle Eastern restaurant. The Chocolate Almond flavor is also vegan, and the Salted Caramel variety can be made vegan when ordered without caramel.
Breakfast in Bread Calzone
Donna Jean does many things right—pasta, pizza, and brunch to name a few. But the dish that captures the essence of our favorite elements of the restaurant has to be the Breakfast in Bread calzone! This brunch dish is the ideal hearty, savory, bready dish you want to start your weekend with.
Mac 'n' JOi
Westlake Village
This 100% vegan, gluten-free cafe makes our favorite mac 'n' cheese in LA! With white truffle quinoa macaroni, cashew coconut cheese, spinach, and toasted bread crumbs, JOi Cafe's Mac 'n' JOi is the ultimate comfort food meal.
Biscuit Bomb Breakfast Sandwich
Costa Mesa, Los Feliz, & Long Beach
If you like biscuits and breakfast dishes, then order Seabirds Kitchen's Biscuit Bomb breakfast sandwich! The handheld includes seasoned tofu, maple-fennel tempeh, spinach, aji yolk sauce, and sweet maple drizzle on a heavenly rosemary cheddar biscuit.
Niku Nashi Roll
Melrose
Niku Nashi Sushi makes some of the best vegan sushi in Los Angeles! Their namesake maki roll is our top choice! It contains vegan crab and cucumber deep fried in panko and topped with avocado, unagi, spicy aioli, sriracha, and green onion. Mmm!
Tres Leches
Culver City, Long Beach, Mid City, Redondo Beach, & Van Nuys
The Grain Cafe's vegan Tres Leches is a little slice of heaven. The dessert offers the perfect balance of moist, light, and sweet in every bite. So whether you stop by for brunch, lunch, dinner, or drinks, remember these two words: Tres. Leches.
Ham and Cheese Croissant
Beverly Hills & Santa Monica
This vegan French Bakery is the ultimate croissant destination! From sweet to savory flavors, Chaumont Vegan's pastries hit the spot every time. Our go-to? The Ham and Cheese Croissant. Try it and thank us later!
Double Cheeseburger
Culver City, Echo Park, Koreatown, & Riverside
The LA food scene is loaded with vegan burgers, but our hearts go to Monty's Good Burger's Double Cheeseburger. With two Impossible patties, slice of vegan cheese, house spread, lettuce, tomato, pickles, and onions, this burger encapsulates the iconic fast-food taste.
BBQ Duck Peking Bun
Cerritos & Reseda
We can't get enough of Vinh Loi Tofu's BBQ Duck Peking Buns—aka Sexy Buns! The appetizer features fluffy white bread with vegan BBQ duck. Now, it's time to "forget" to go to the grocery store and hit up Vinh Loi Tofu for dinner!