Taste the flavors of the world within the city limits of Los Angeles! If you're looking for an escape from your go-to veggie burger but can't afford to bankroll your foodie trips around the world, we've got the solution for you! There are loads of vegan and vegan-friendly restaurants in LA that specialize in cultural cuisines from other countries! Here are our top picks!
Pura Vita
West Hollywood
What's the best way to please any vegan? CARBS! If that was your answer, say "ciao" to this plant-based Italian wine bar and scratch kitchen! Chef Tara Punzone heads up Pura Vita's killer kitchen that cranks out authentic Italian favorites with a healthy twist! For dinner, order Bruschetta alongside a plate of Lasagna Pura, Cauliflower Chickpea Parmigiana. After that, treat yo'self to Affogato, Tiramisu, or Gelato for dessert! As if things couldn't get any better, they've got a bangin' brunch menu! "Nutella" Pancakes? Come on!!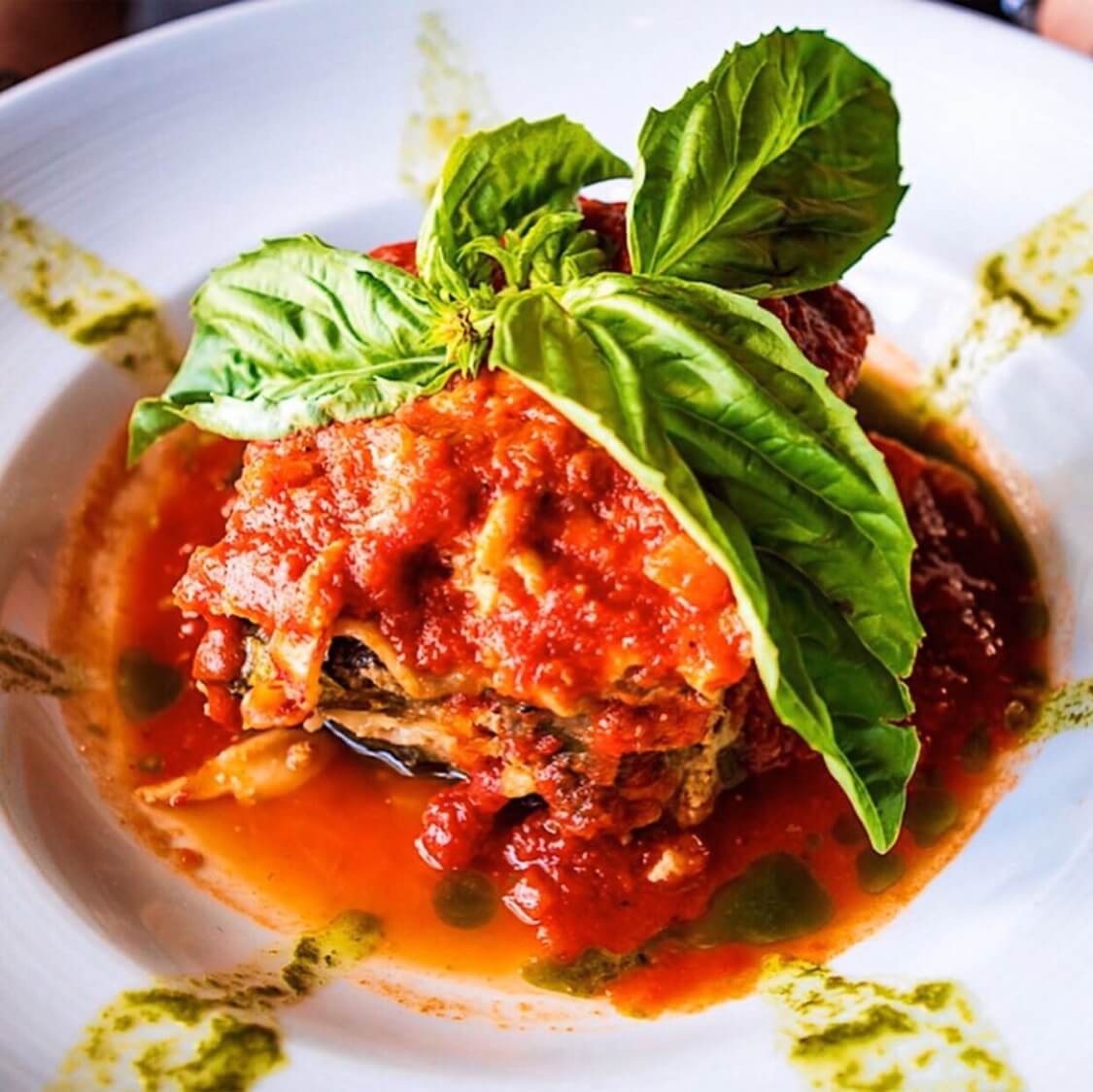 Hinterhof
Highland Park
Pretzels and schnitzel and spaetzle, oh my! Take the cheapest trip to Germany by driving to Highland Park for this all-vegan German restaurant and beer garden! Hinterhof dishes out large (LARGE!) portions, great service, and flavorful food! Potato Pancakes, Currywurst, and Apple Strudel is just one of the many combinations to order at this cultural food spot! Lecker! (That means, "yummy" in German!)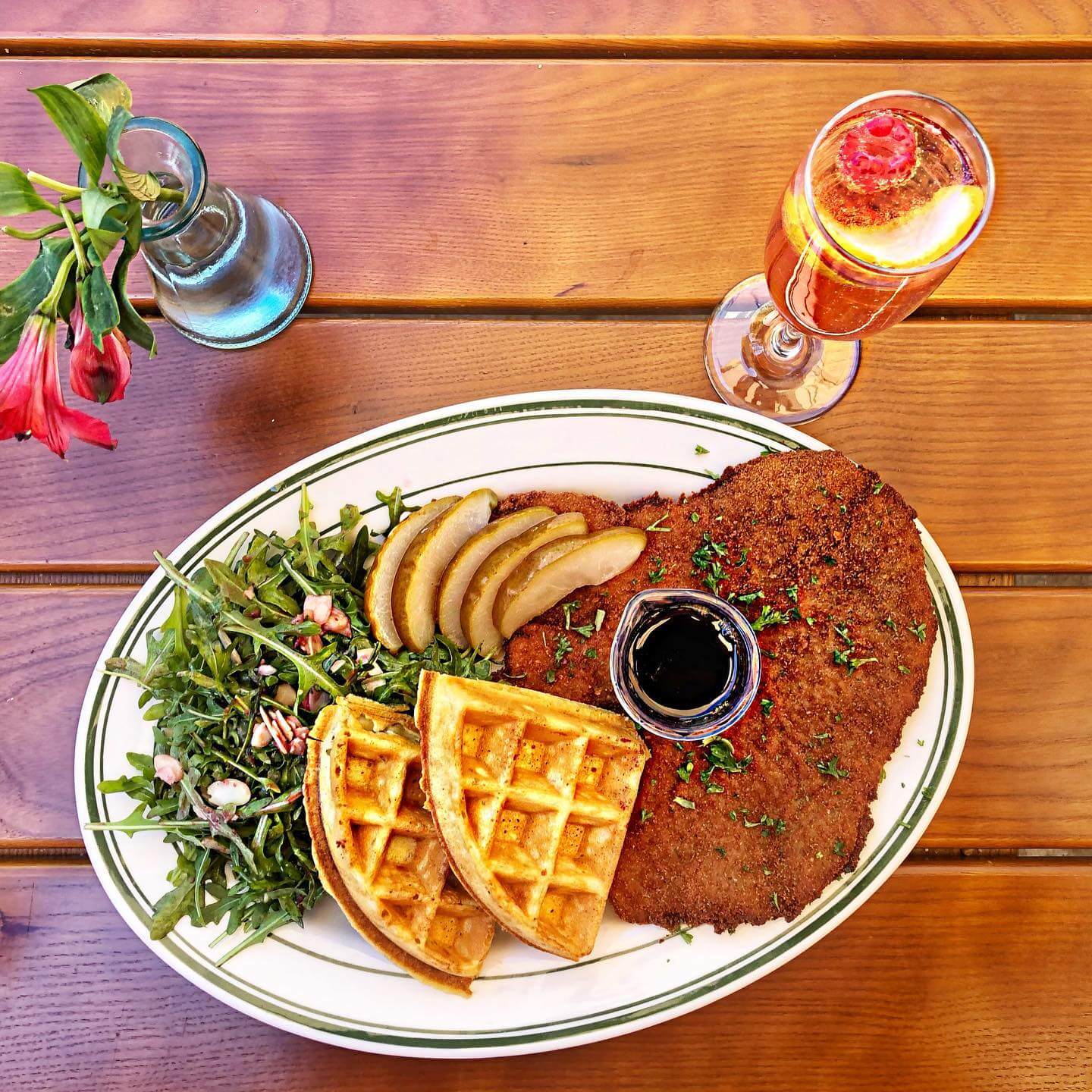 Shojin
DTLA and Culver City
Next stop, Japan! Well––Downtown LA or Culver City, but that's close enough! Shojin is an organic macrobiotic Japanese vegan spot with a fresh and inventive menu! If you like ramen, sushi, hand rolls, gyoza, or anything else in that realm, seek out a table at Shojin! Have a sweet tooth? No problem! Tempura Banana with Chocolate Mousse or Matcha Green Tea and Vanilla Ice Cream are just two options to satisfy your sugar craving!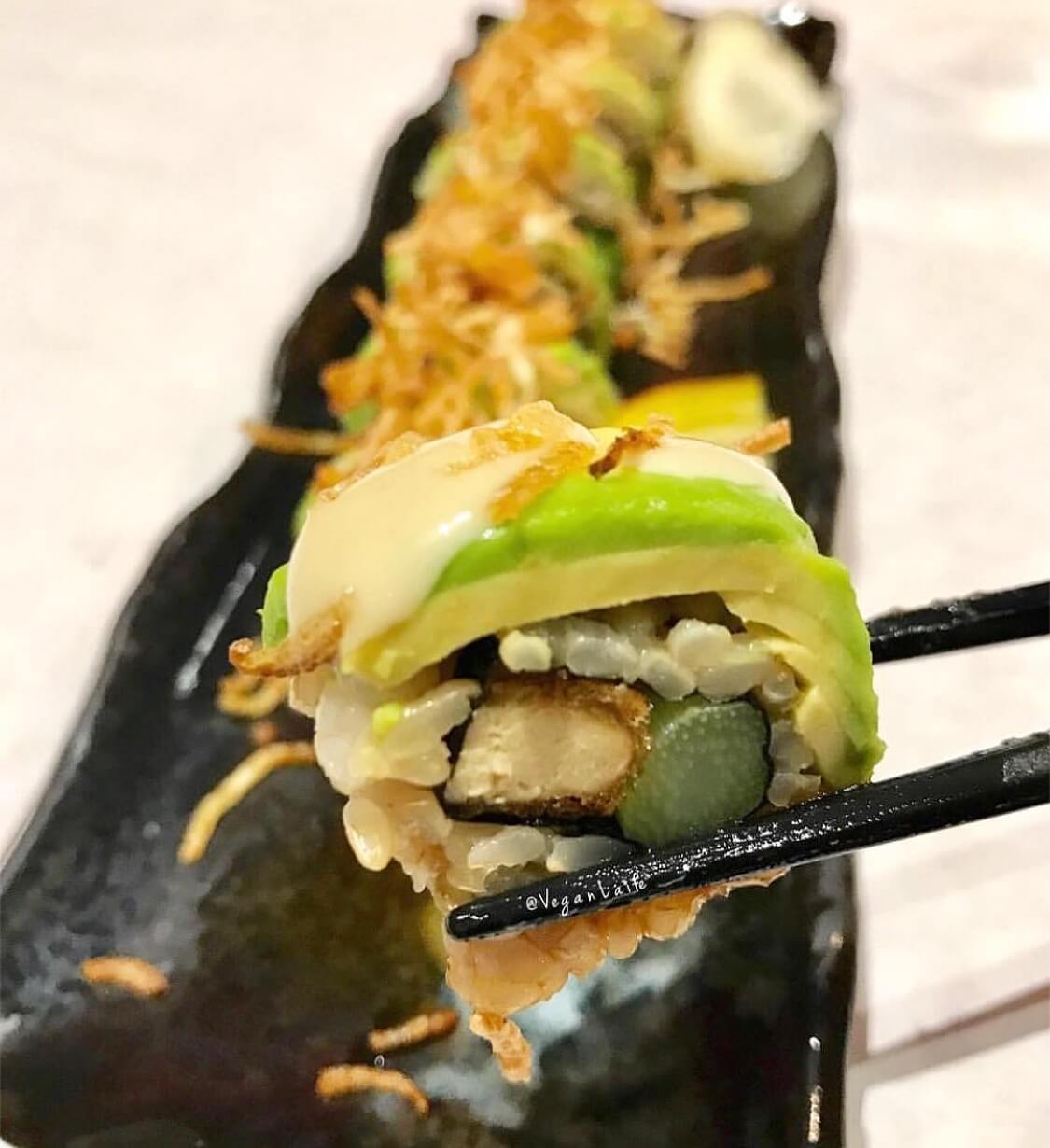 Mama's International Tamales
Westlake and Pop-up
Pull apart these vegan pupusas to unearth an ooey, gooey flavor burst of vegan bean and cheese, jackfruit and cheese, calabacita and cheese, or jalapeno and cheese––basically, whatever you order will be gushing with cheese! You can also fill your belly at this vegan-friendly spot with traditional Salvadoran eats ranging from tamales, ceviche, and Pan con Pollo Vegano to fried plantains and flan!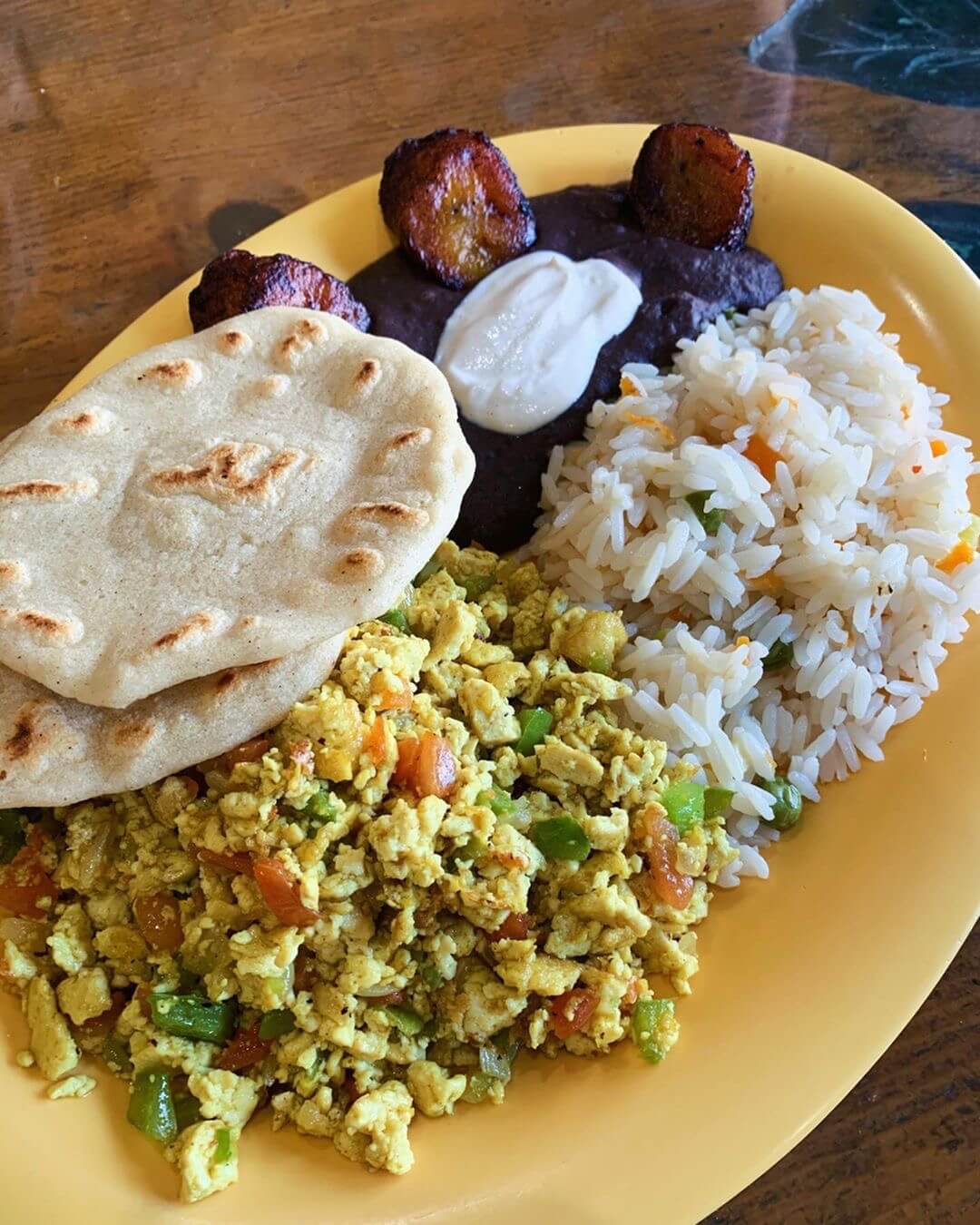 Ladurée
Beverly Hills
Break out your best french accents and macaron-craving taste buds, because this Parisian tea room is fully vegan! From Spinach Omelets and Gnocchi Parisienne to Chocolate French Toast, Rose Croissants, and macarons for daaayyyys, Ladurée is the ultimate destination for a European getaway and luxurious lunch break––all in one! Oui!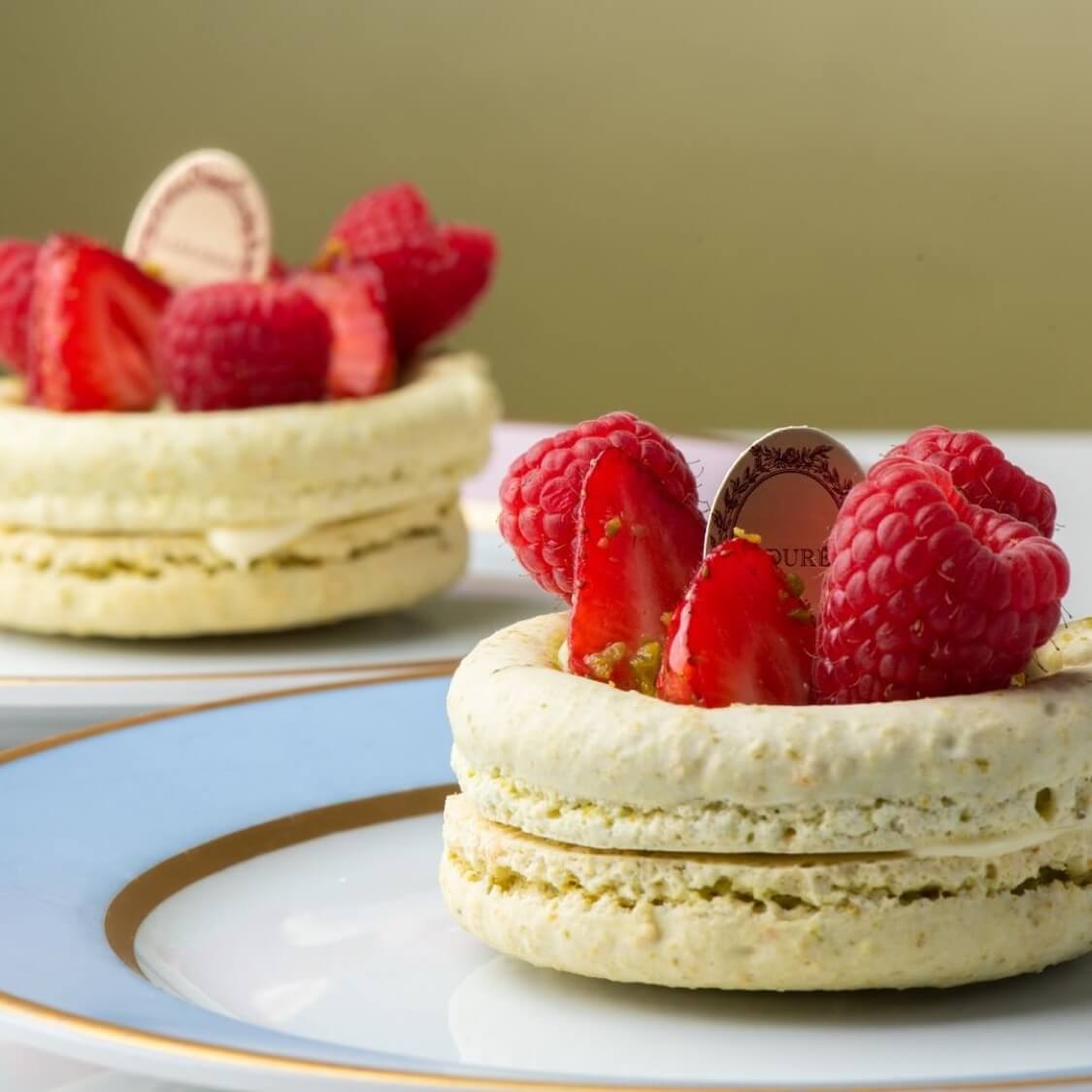 Qusqo
Sawtelle
Pile Peruvian perfection onto your plate at Qusqo! You know what's great about this vegan-friendly hunger hub? They have a seperate menu that's entirely vegan! That's right––no more searching for "v" icons, asking your server for help, or struggling to piece together your own plant-based meal! Qusqo saves the day with Palta Rellana, Ensalada Quinoa, Platanos, and more!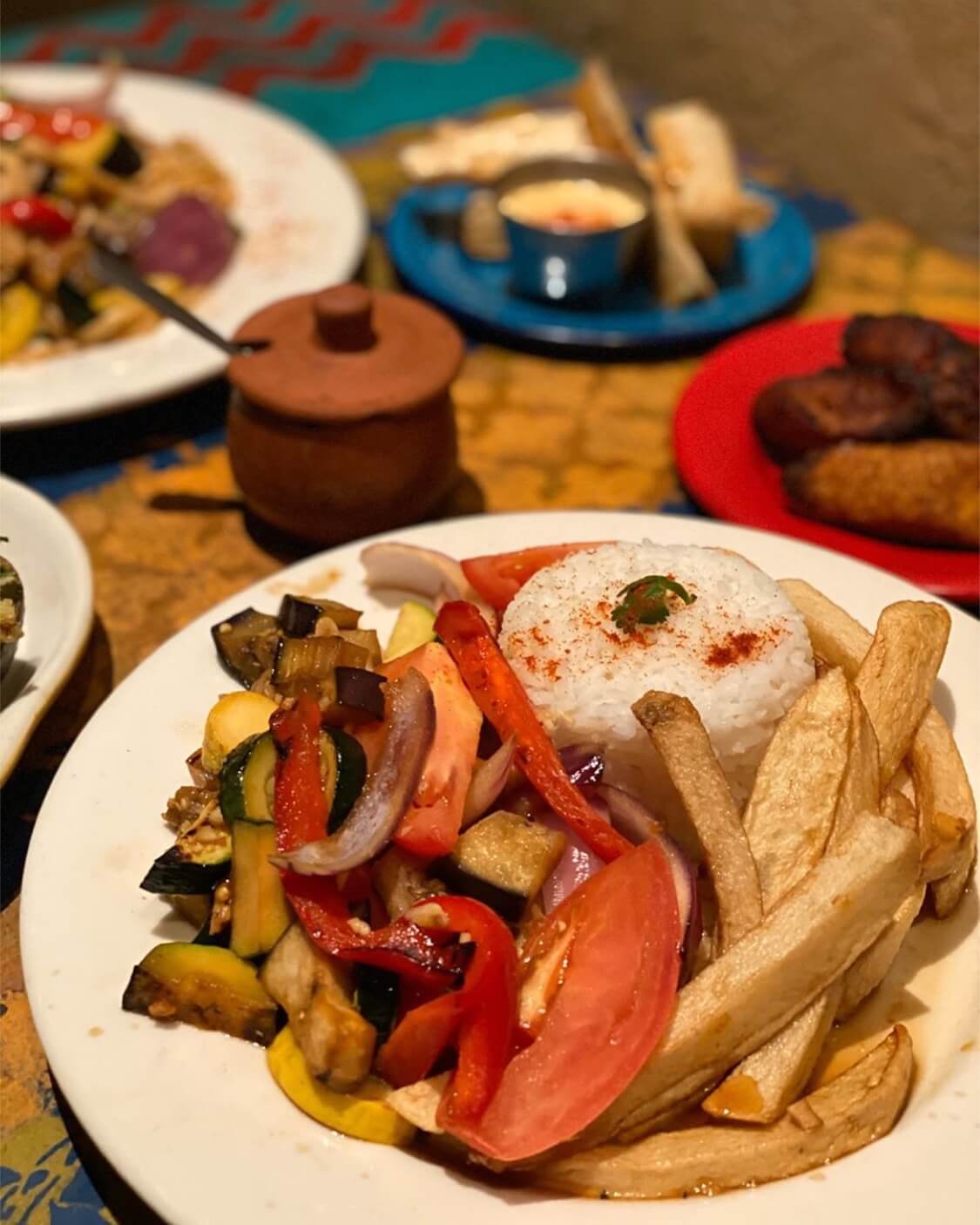 Azla
DTLA
Mix-n-match traditional Ethiopian dishes to create the combo meal of your dreams at Azla! Tofu Tibs, Gomen, and Keysir, are just a few inspiring items to try at this all-vegan spot. Oh, and did we mention they have gluten-free Injera? "In–what?" You know how every culture has a staple carby-bread-type side? Pita bread, naan, breadsticks, croissants––you get the point! Injera is a traditional Ethiopian flatbread that has a sponge-like texture. We're sold!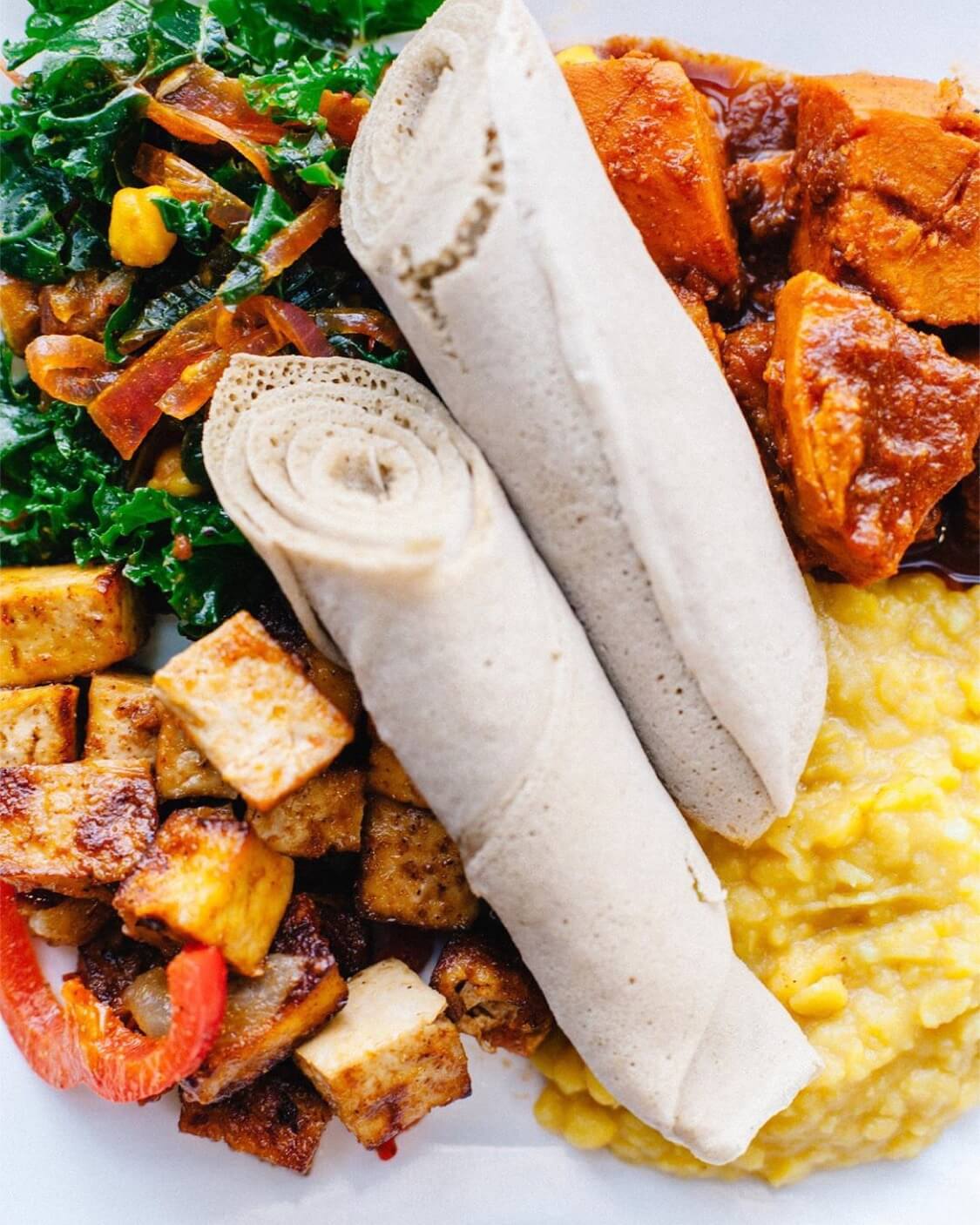 Rahel's Ethiopian Cuisine
Little Ethiopia
While we're on the Ethiopian trip, this is another all-vegan stop you'll want to make! Rahel specializes in a fiber-filled stew that's an amalgamation of split lentils, chickpeas, zucchini, and string beans. While it may sound just like a regular ol' pot of vegetables, this veggie combo is slow-cooked in a heavenly flavor combination to warm the bellies of any vegan, veg-curious, or skeptic! Looking to try even more? Heap up to nine different entreés onto Rahel's famous combination platter. Be sure to bring friends, it's huge!
Araya's Place
Beverly Grove
Who could devour some Pad Thai right now? We could! This Thai restaurant and bar packs quite the flavor and spice punch! Curries, soups, stir-fries––you name it, they've got it! We'd recommend starting with an order of Tofu Satay made of skewer-bound pan-fried tofu with curry powder and coconut milk glaze! The salivation begins!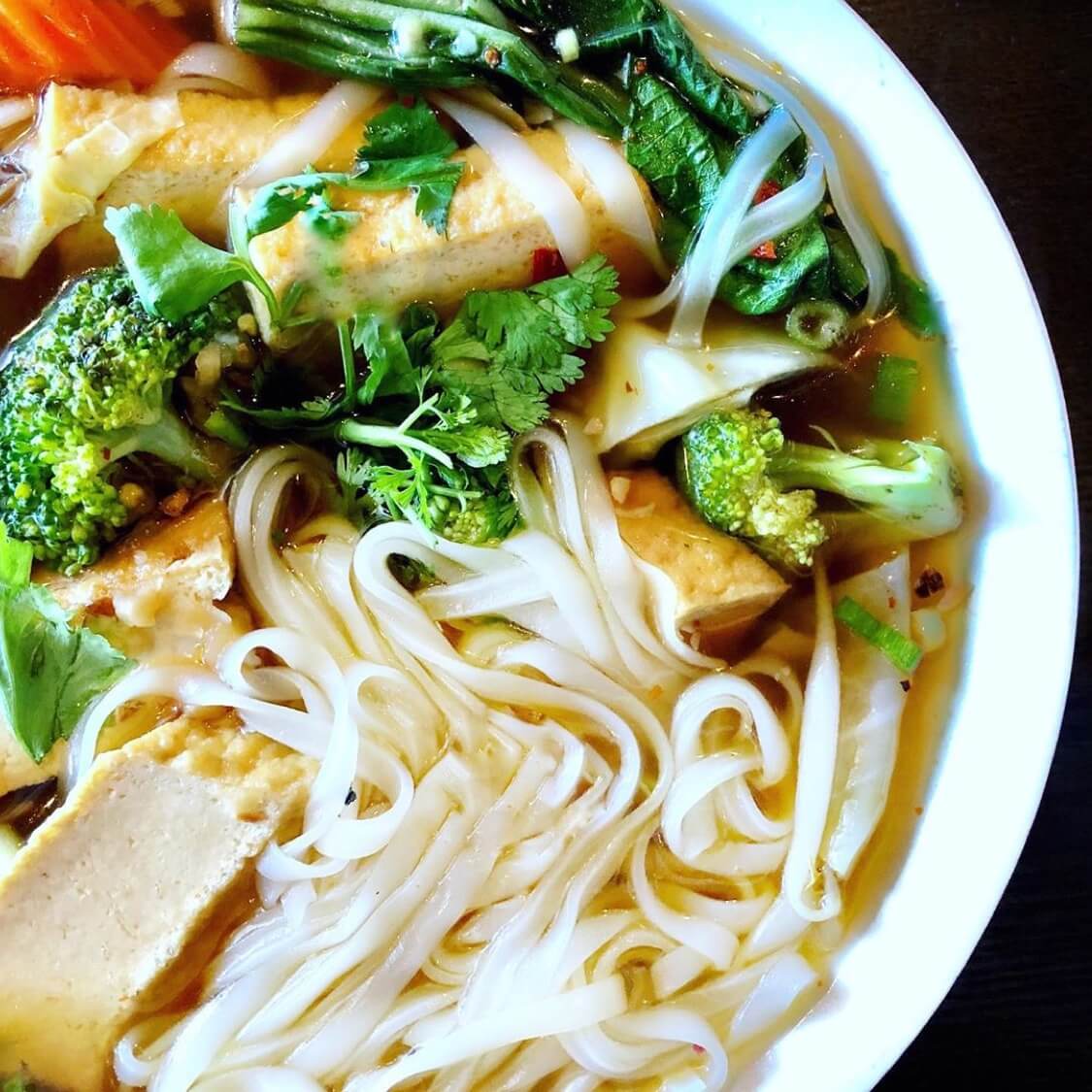 Kitchen Mouse
Highland Park
We're chuffed to the bits over the Full English Breakfast at this cafe! What's so great about it? The dish can be ordered vegan with tofu scramble, baked beans, poblano hash, roasted Roma tomatoes, roasted crimini mushrooms, two veggie sausage patties, two tempeh bacon strips, and millet toast. Yeah, that's pretty great!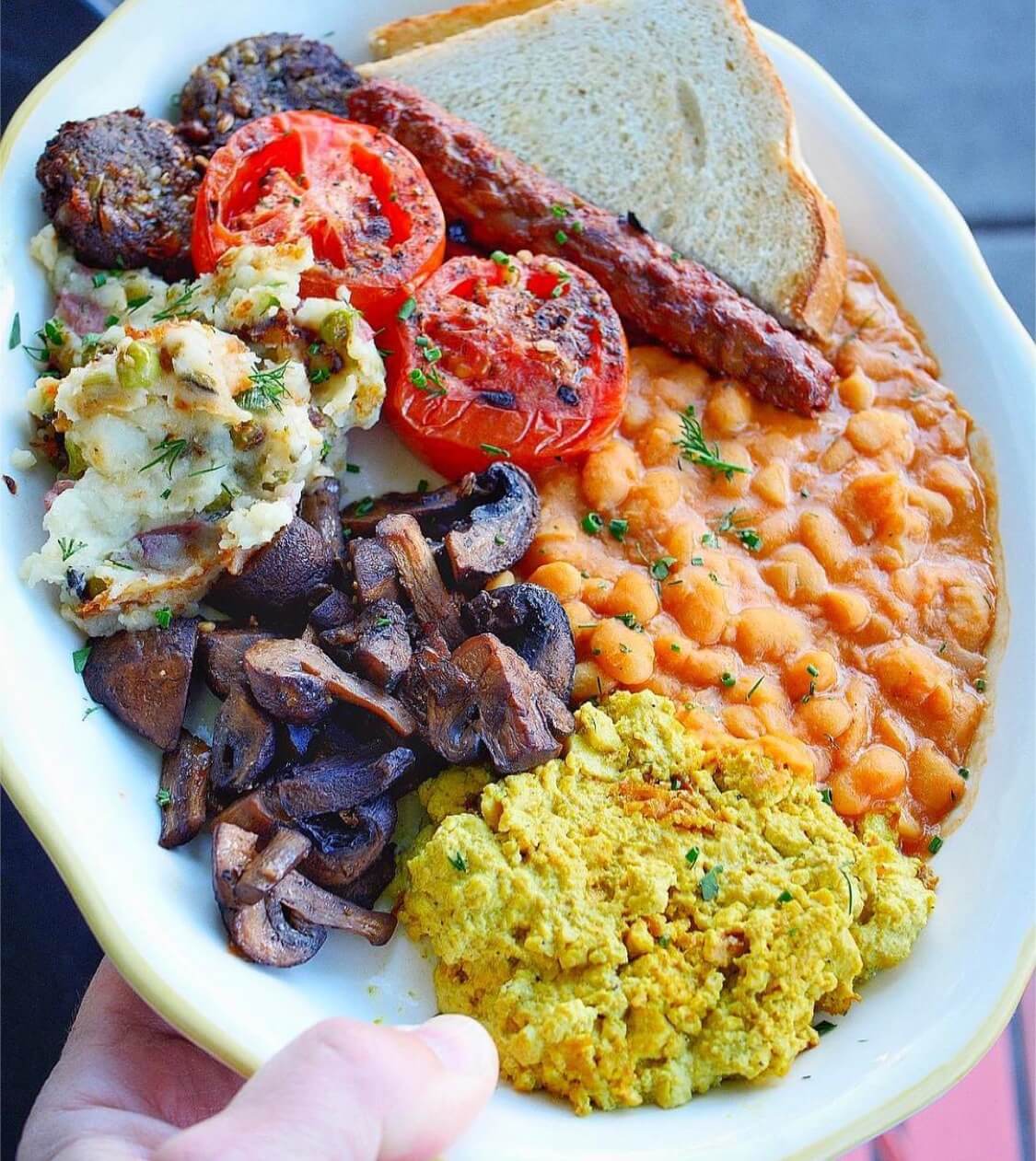 Shamshiri
Westwood
For all-things Mediterranean (yep, that includes falafel!), drop by this vegan-friendly Persian spot! Delight your palate with their inspiring ingredients of tahini, saffron, basmati rice, fava beans, falafel, and more! Their Vegan Sabzi Polo is prepared with fresh green onion, cilantro, parsley, baby dill, garlic, and fenugreek leaves atop a bed of basmati rice with hummus, tahini, seasonal vegetables, and a side salad! Talk about a complete meal!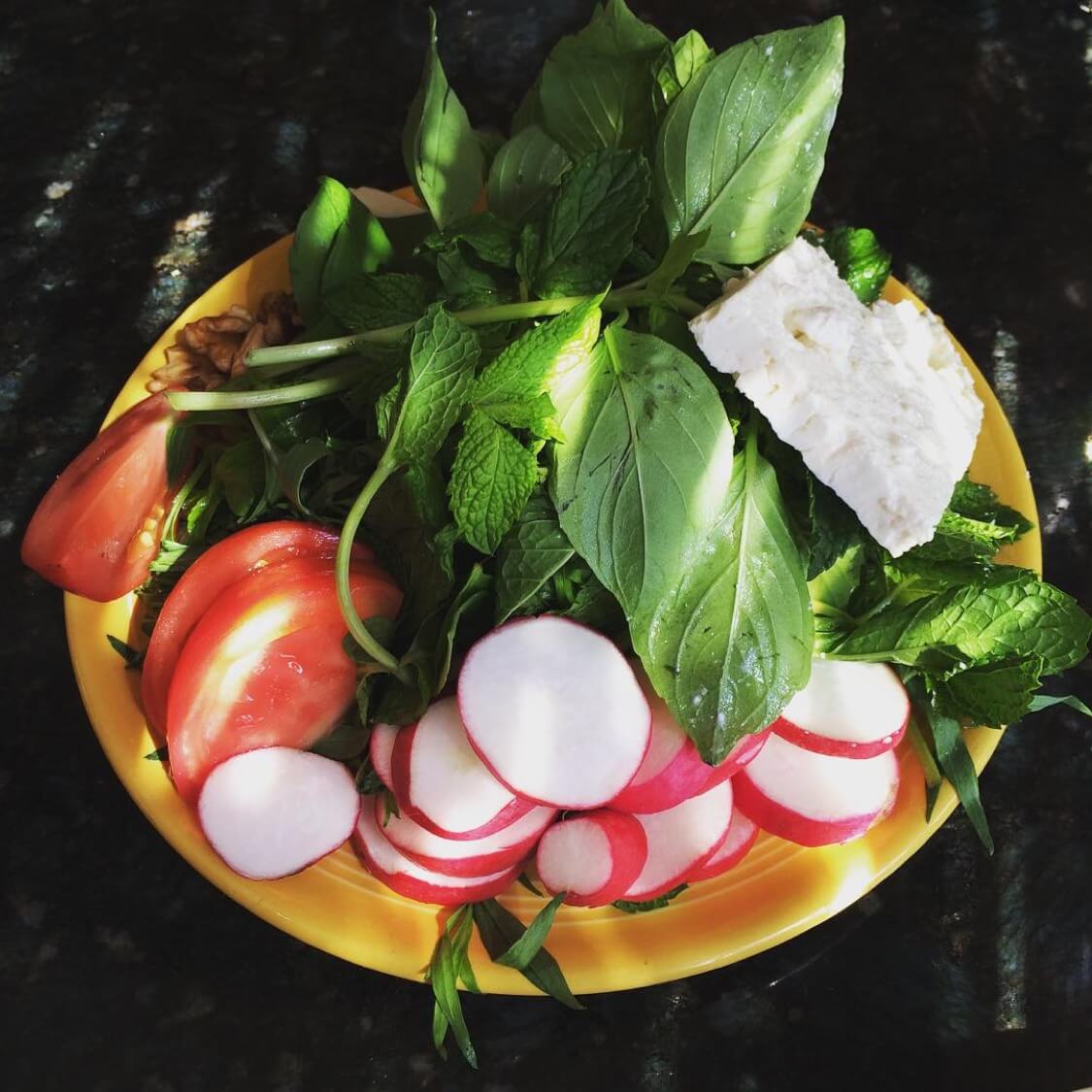 Equelecua Cuban Cafe
Pasadena
Cuba, here we come! We love Equelecua because they're all-vegan, all the time! Yuca Fries? We're having those! Papa Rellana? We'll order that, too! Vegan "Shrimp"? Duh! Tostones, Tamal Cubano, and a Mojo "Chicken" Ensalada? As you can tell, it might be hard to choose here, but that's not a bad problem to have! Come hungry, leave satisfied, and stop by tomorrow for more!