Weekend brunch is a ritual and just one more thing that has left many off-kilter during these times. While we can't replicate the experience of sitting on a sunny patio while splitting pancakes and a tofu benedict with your brunch buddy, we can highlight some of the incredible restaurants that are making it possible to enjoy the flavors of brunch. From fluffy Belgian waffles to savory scrambles, here are eight LA-area spots doing brunch to-go.
Flore Vegan Cuisine
Silver Lake
From its divine Chicken & Waffles to its comprehensive Country Breakfast of biscuits, potatoes, silver dollar pancakes, and bacon, this neighborhood gem is keeping the griddle hot on weekends. Order for delivery or takeout between 10am-2pm.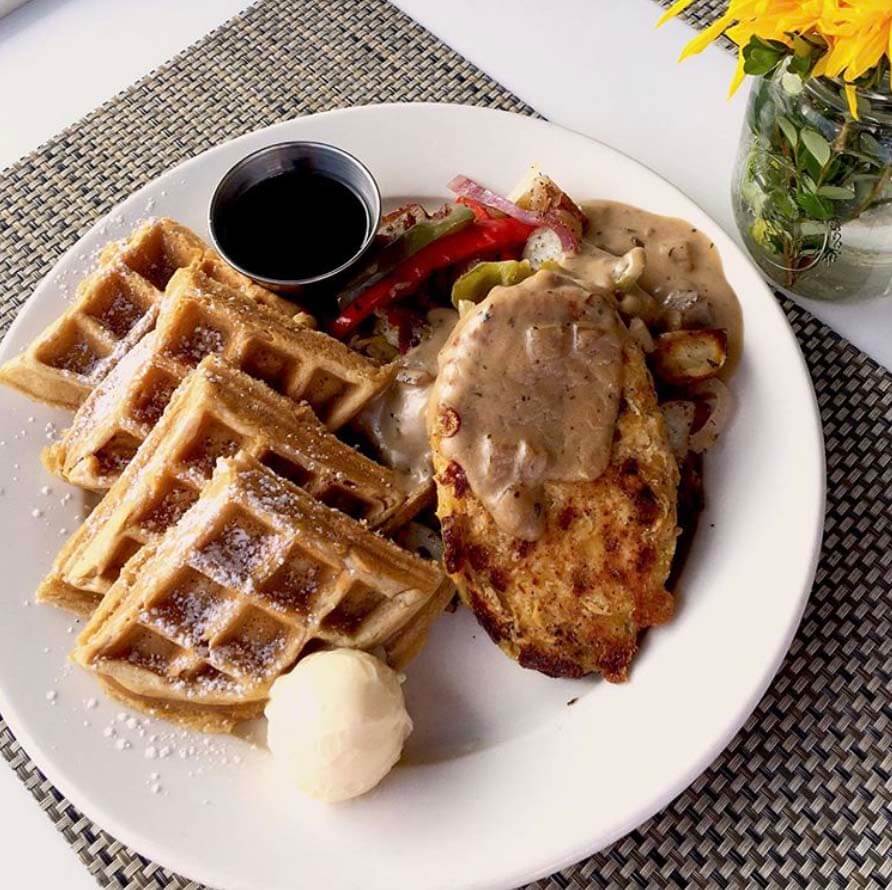 Seabirds Kitchen
Long Beach and Costa Mesa
While the options have been scaled down, both Seabirds Long Beach and Costa Mesa locations (at The LAB) are serving Biscuit Bombs and french-fry-packed breakfast burritos all day long Saturdays and Sundays. The only thing better than breakfast-for-dinner is brunch for dinner.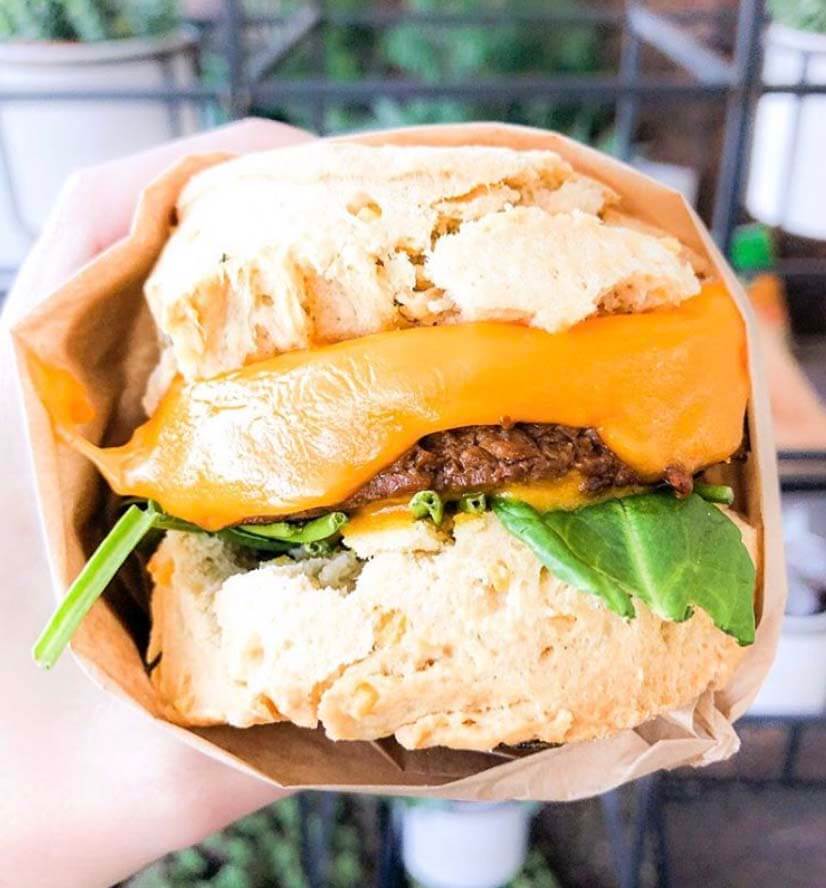 Doomie's
Hollywood
Doomies' new weekend brunch selection of sweet-meets-savory mashups appeals to the eatery's late-night vibe. A crispy, gooey, salty-sweet Monte Cristo sandwich (dubbed the Mighty Cristo) or a "Steak and Eggs" Breakfast Burrito are perfect any time of day. Consider yourself an early bird? Doors open at 9am.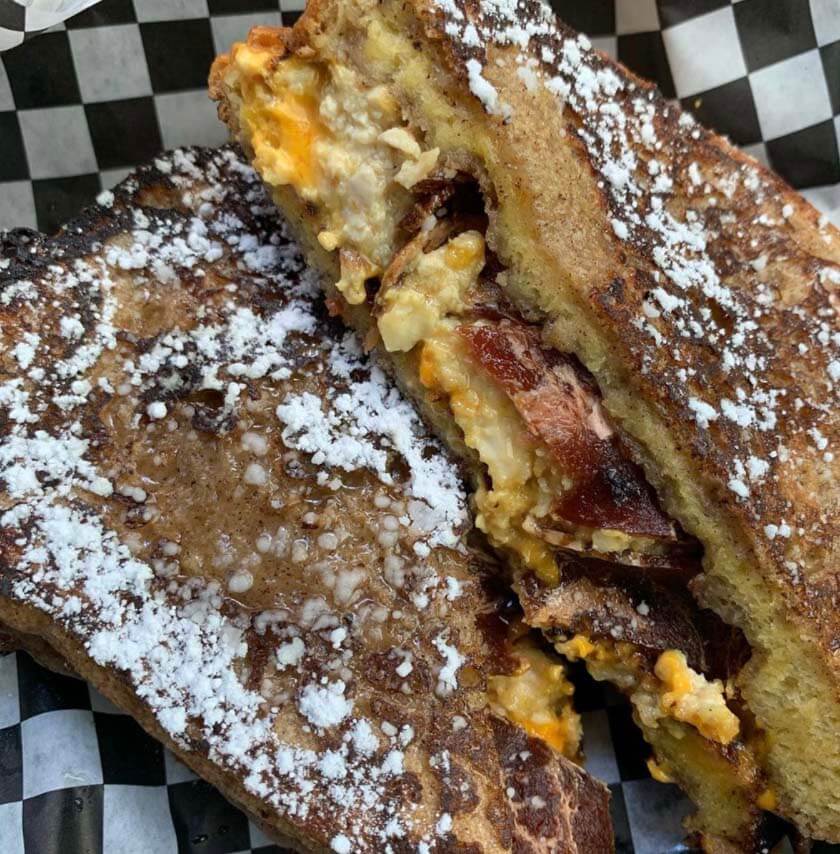 Photo credit: @lolograce
Real Food Daily
West Hollywood
After a temporary halt in business, the West Hollywood location of this iconic vegan restaurant is offering breakfast items for takeout from 11am-12pm on Sundays. Hurry and order your tempeh-topped Breakfast Pizza while you can.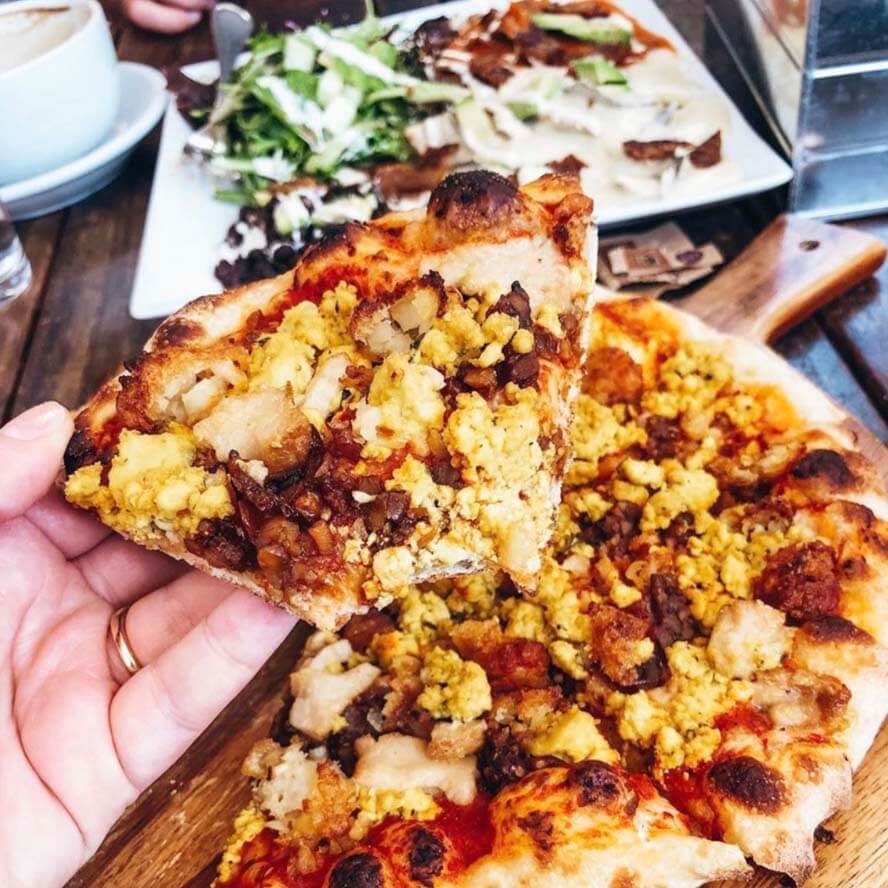 Photo credit: @theventuringvegans
Erin McKenna's Bakery
Santa Monica
The newest location of this gluten-free bakery is still devoted to weekend brunch service! Order apple cinnamon-topped waffles, biscuits and gravy, and more with your must-have Coffee Crunch doughnut.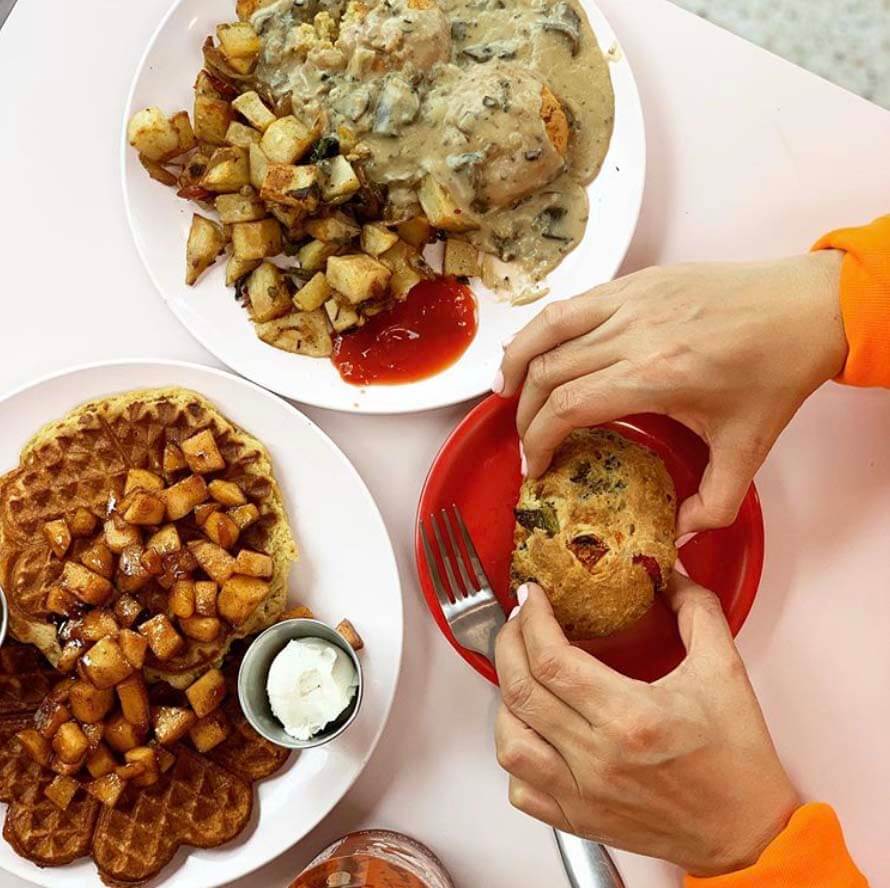 The Grain Cafe
Mid-City, Culver City, Long Beach, and Redondo Beach
Sometimes, we just really need a pancake in the shape of a bunny. The Grain Cafe locations are continuing their breakfast and brunch services to provide its loyal customers with the same scrambles, breakfast burritos, fruit-topped waffles, and smiling pancakes it always has—just served in a cardboard box in lieu of a colorful plate. Keep smiling!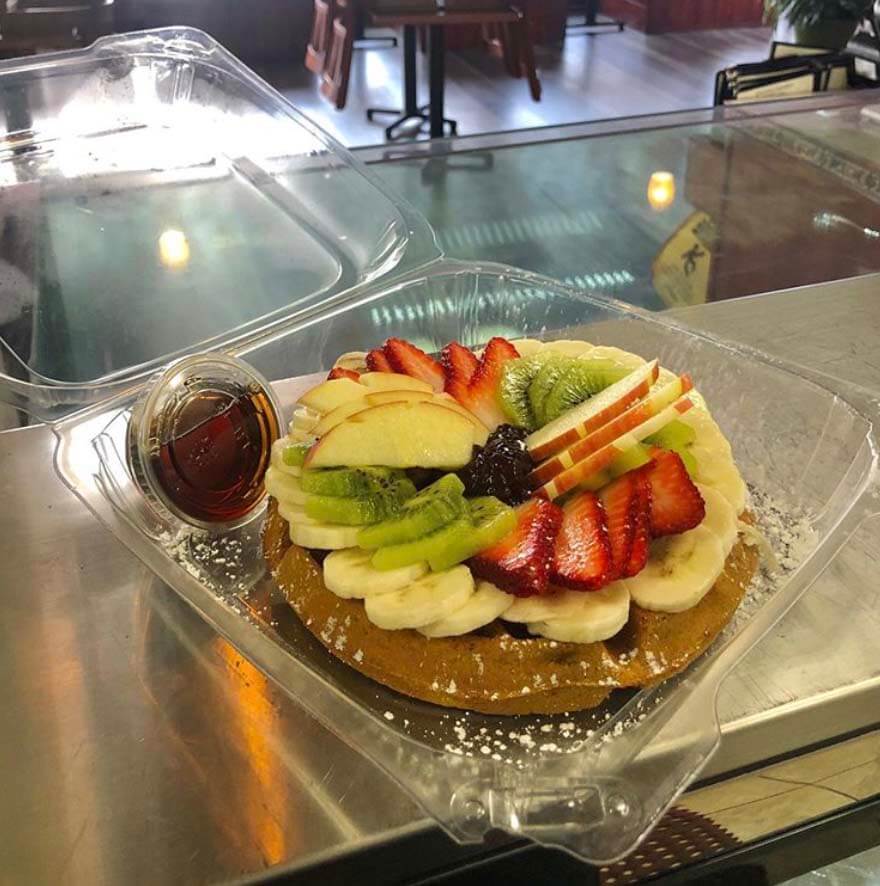 Kitchen Mouse
Highland Park
Don't wait for the weekend—this cozy Highland Park cafe is serving up its vegan-friendly chilaquiles and snickerdoodle pancakes seven days a week.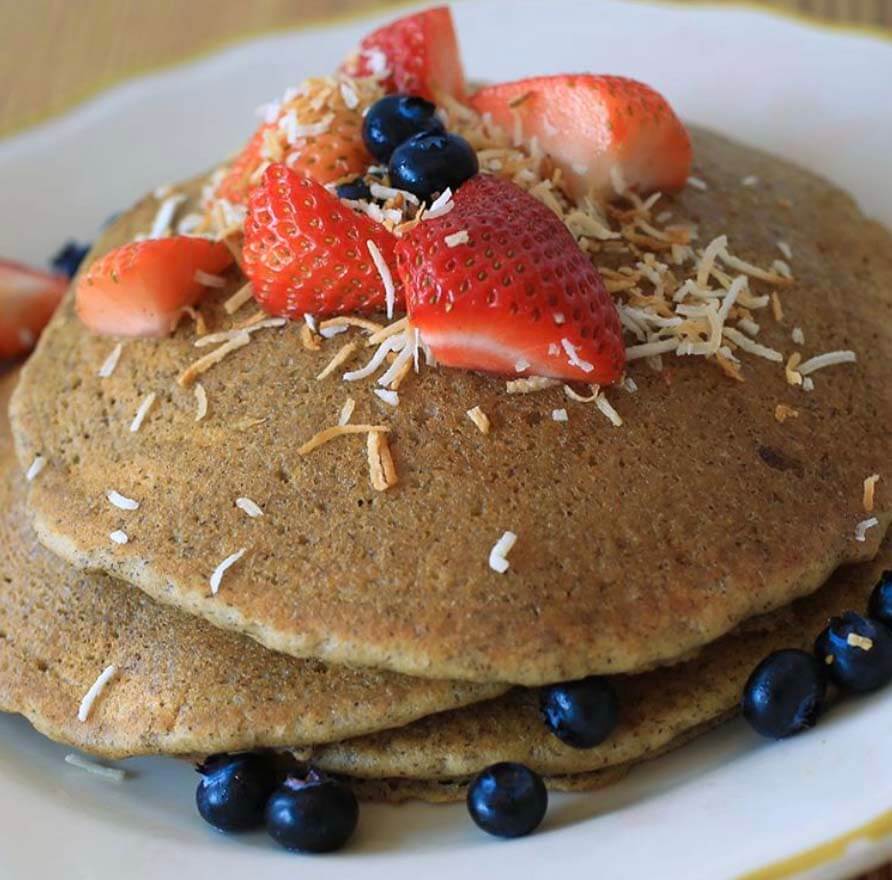 Jewel
Silver Lake
Like many, this tucked-away Silver Lake eatery offers an all-day menu—meaning you can enjoy brunch anytime between 10am-8pm. The grilled breakfast burrito is a top-seller, along with the delicate carrot lox toast. Just don't expect to Instagram this particular piece of toast—sometimes delivery is not kind to the 'gram.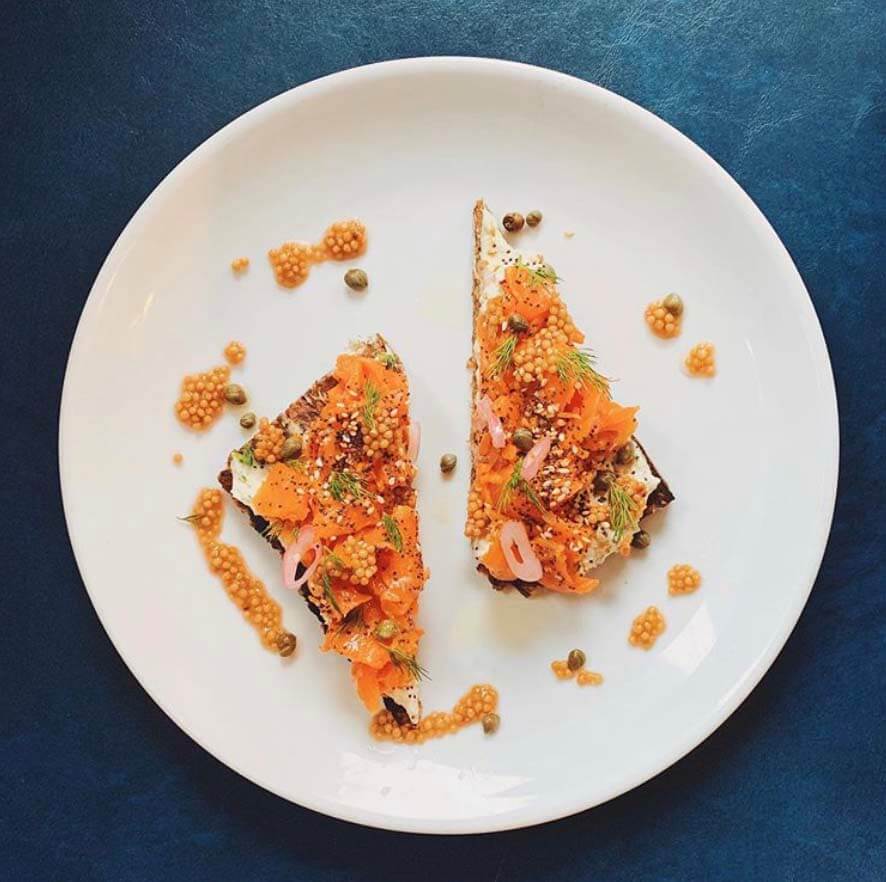 RELATED: 11 L.A. Vegan Restaurants, Markets, and Coffee Shops Offering More Than Takeout
---
Want even more LA vegan food, news, and lifestyle content? Subscribe to VegOut LA Magazine!