Hi, I'm Yolandi, a 4.5 pound, plant-based rescue Chihuahua who is pretty adorable, if I do say so myself. Contrary to popular belief, dogs can be vegan too—I am living proof! I love sniffing around town to find the best vegan spots that offer menu items for the doggos. I take photos everywhere I go and share them with all of my followers because who can resist a picture of a cute pup and kind eats? In honor of National Make a Dog's Day, here are some of the "Best in Show" of vegan and vegan-friendly restaurants with plant-based options for four-legged friends!
RELATED: 13 Spots for Spooky Vegan Sweets in Los Angeles
---
Want even more vegan food, news, and lifestyle content? Subscribe to VegOut LA Magazine or VegOut NYC Magazine!
Sugar Taco
Melrose
Sugar Taco is a spunky plant-based spot with a huge patio that's adorably decorated in bright colors––or so I think … I'm a little color blind! I love hanging out there with my furry friends and ordering their dog entrée. They offer one pup-friendly snack on their menu at a time that rotates regularly. In the past, they've served doggy tacos and conchas that are soooo yummy! Right now, they have doggy nachos! 100% of the profits from the dog menu item gets donated to an animal charity.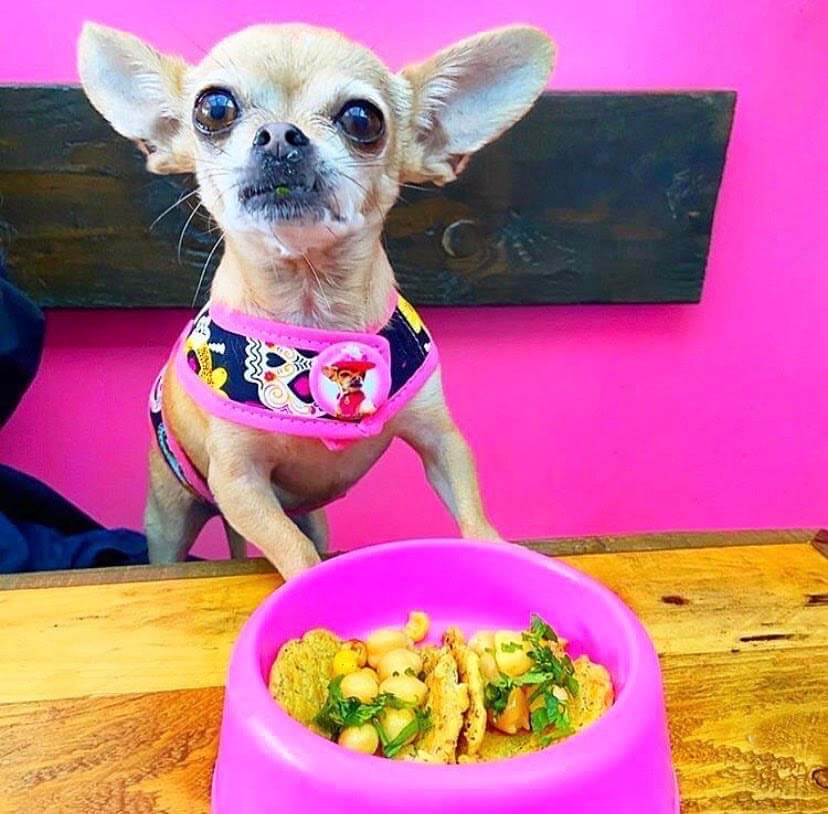 Powerplant Superfood Cafe
Mid-City
This tail-wagging cafe has an outdoor dining area for pups to perch and feast on their doggy menu item, the Bully Bowl. For $8, you get a bowl full of sautéed spinach, brown rice, carrots, beets, and chickpeas. If you're a small pup like me, ask for the Little Bully Bowl, which is only $5. You also get a complimentary house-made dog treat for dessert! The owner, Cynthia, loves all animals and is an advocate and rescuer of shelter pups of her own. I even let Cynthia hold me—that's how much I love her! Powerplant Superfood Cafe often features adoptable dogs at their location and on Instagram if you are looking for a new friend. Check 'em out!
Donut Friend
Highland Park & DTLA
I donut know what I would do without my friends at this vegan sweet stop! While your owner orders all the donuts their heart desires, the employees at Donut Friend gives us pooches a spoonful of peanut butter. Sometimes I feel like the employees are laughing at me when I have a bad case of "peanut butter" tongue, but maybe they're just laughing at how many donuts my human orders.
Photo credit: @popeyethefoodie on Instagram
Little Pine
Silver Lake
This all-vegan restaurant has a new extended patio that offers a beautifully spacious area for me and my human to enjoy a meal. I've always loved ordering the potatoes, but word has it, Little Pine will soon be launching an exclusive dog menu. They plan to serve up classic dishes with a punny pooch-themed twist, like German Shepherd Pie! Little Pine also offers Rescue Rosé, a wine brand that donates a portion of the proceeds from each bottle sold to Love Leo Rescue.
Yoga-urt
Glendale & Echo Park
This vegan soft serve shop has the perfect patio for me to cool off with my favorite flavor, Peanut Butter Prana. They have loads of other items for your human friends, too! Maybe even set up a playdate at Echo Park lake with your pet pals and make a pit stop at Yoga-urt before heading back home.
Golden Road Brewing
Atwater Village, DTLA, Anaheim, & Huntington Beach
If your human has four dollars to spare, head over to the Glendale location of this vegan-friendly spot and ask for an unseasoned Beyond Meat Patty just for you! For your owner, they've got plenty of vegan options like a Pub Pretzel, Portobello Sliders, and Vegan Caesar Salad. And when you purchase a six-pack of their new Hazy Pup IPA, a portion of the proceeds will be donated to the LA Wags & Walks dog rescue.
All Vegan Organic
Santa Monica
Nicknamed Avo Cafe, this place has a huge patio in the back where I love to take my photoshoots! Their Sweet Potato Mash is dog-friendly, and they always give us pups a free vegan peanut butter dog treat as well. Oh, and did I mention they even have a Yolandi-approved sticker up front? That's how you know it's the real deal.
NoHo Bakehouse
Pop-up
Bonus! For your next birthday or puppy party, get a custom order dog cake from NoHo Bakehouse. For my ninth birthday, I got a bone-shaped peanut butter cookie cake with writing and little bones on top. It was so good––I still dream about it every night! If it's a while until your birthday or gotcha day, NoHo Bakehouse also makes smaller treat-sized versions to keep handy.
That's all I have for you today! Check out my Instagram, @yolandi_eats_la for other good spots and cute pictures. Paw-paw for now!!