Celebrate the fall season with pumpkin-flavored donuts, pies, soups, and more!
Fall is in the air—and for many of us, that means it's time to get our pumpkin fix. From pumpkin cinnamon roll donuts to beet & pumpkin empanadas, there's a variety of autumn-inspired eats around the city to satisfy both sweet and savory palates. Here are 7 spots to get pumpkin-flavored vegan eats in NYC!
Manhattan
Indulge your pumpkin cravings with a creamy pumpkin spice milkshake from Orchard Grocer. This fall shake is blended with house-made pumpkin soft serve, then topped with coconut whip, coconut caramel, and pumpkin spice dust. Pair your shake with any of the eatery's deli sandwiches or with a pain au chocolat pastry to keep things sweet.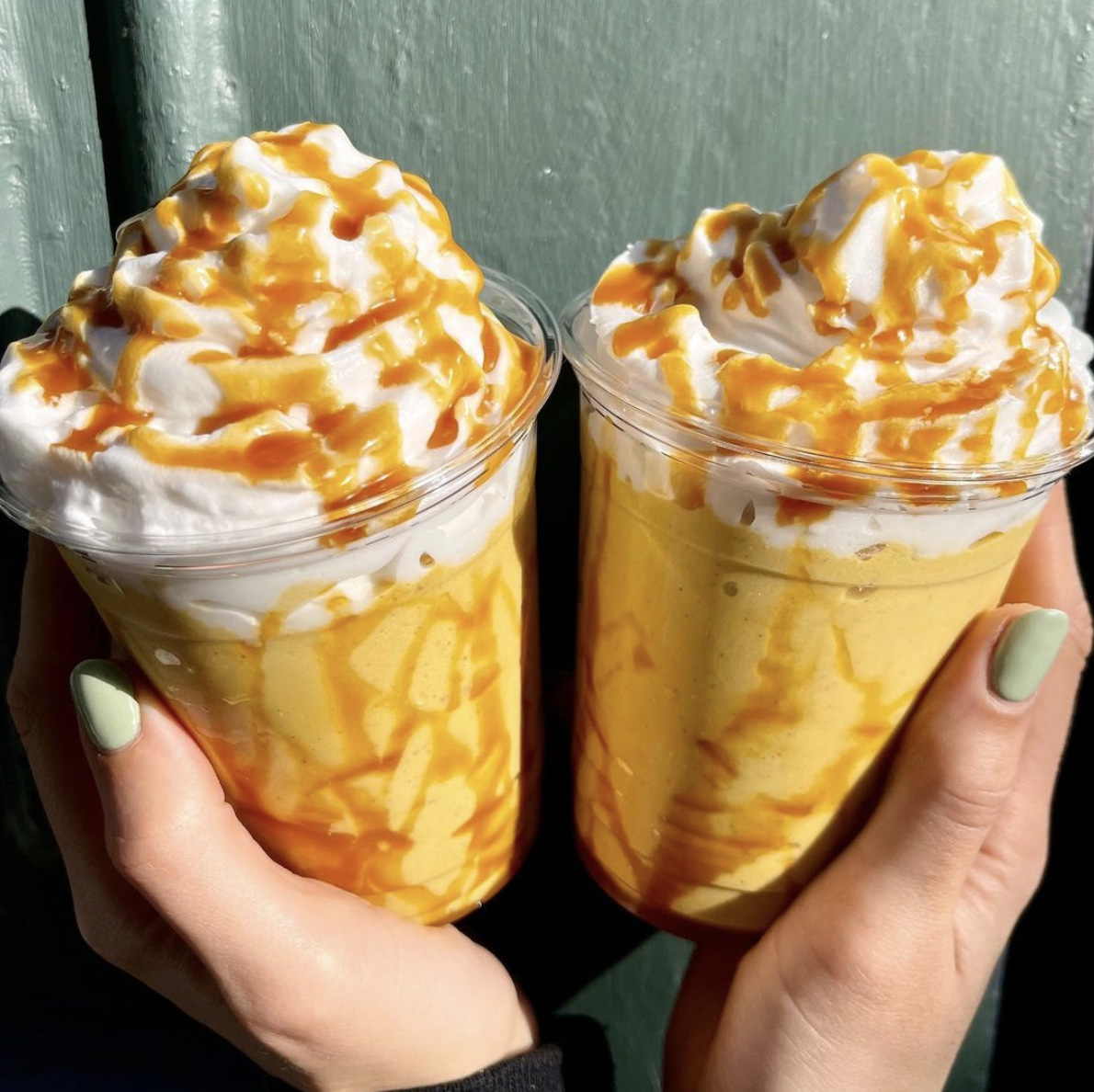 Brooklyn
For the perfect pumpkin dessert, head over to Modern Love Brooklyn, where you'll find pumpkin praline cheesecake slices made with a gluten-free graham cracker crust and candied pecans and topped with coconut whip for good measure. Those who prefer their dessert in liquid form can enjoy a pumpkin spice shake or a pumpkin kombucha float with caramel syrup, pumpkin spice ice cream, turmeric ginger kombucha, and coconut whip.
Multiple Locations
Prefer your pumpkin dish to be savory? Jajaja is your spot! This plant-based Mexican eatery offers a beet & pumpkin empanada that comes stuffed with kabocha squash and swiss chard, which is then topped with guacamole and chimichurri sauce. Accompany your empanada with a pomegranate & jalapeño margarita or the house sangria.
Multiple Locations
LuAnne's Wild Ginger is a plant-based Asian concept that offers a variety of rice bowls, soups, and noodle dishes. The restaurant's fall menu features kimchee pumpkin gumbo and pumpkin soup, both of which are great for warming up on a chilly autumn day.
Brooklyn
If you're more of a traditionalist when it comes to pumpkin dishes, stop into Clementine Bakery for a vegan pumpkin pie. This autumn staple is made with a decadent pumpkin filling, just the right amount of spice, and a flaky crust.
Brooklyn
Can't decide between a pumpkin spice donut or a cinnamon roll? How about both! Dun-Well Doughnuts offers a pumpkin cinnamon roll donut topped with a buttery pumpkin cinnamon glaze and cream cheese frosting. Pair yours with a chai oat latte and you've got the perfect fall snack!
Multiple Locations
Vegan-Friendly
This NYC-based creamery specializes in unique ice cream flavors for every season and offers a separate vegan menu with a variety of tasty dairy-free treats. Van Leeuwen's limited-edition Vegan Pumpkin Cinnamon Roll ice cream combines oat milk, puréed pumpkin, vegan cinnamon rolls, a dash of nutmeg, and swirls of cinnamon caramel. We recommend adding a scoop to your favorite fall pie!