Whether you're grabbing a slice after a night out in the East Village or binge watching the latest series on Netflix, these vegan and vegan-friendly pizzerias have just what you need to satisfy those pizza cravings. Feast on classics like pepperoni, or get creative with toppings such as BBQ jackfruit and vegan ham with pineapple. No matter your preference, there's something for everyone to enjoy! Here are 10 vegan and vegan-friendly pizzerias in NYC!
Brooklyn (Greenpoint & Crown Heights)
NYC's first all-vegan pizzeria, Screamer's serves authentic NY-style pizza in varieties ranging from Pepperoni to Buffalo Cauliflower. Get your daily dose of greens with the Fancy Kale, which comes topped with spicy pesto, vegan cheese, house-made seitan sausage, marinated kale, and oregano oil drizzle—oh, you fancy huh?
Long Island
3 Brothers hails as Long Island's first and only vegan restaurant, and it features wood-fired pizzas that have grown wildly popular with both Long Islanders and vegan foodies alike. Go the traditional route by ordering the Grandma Pizza (tomato sauce, fresh basil, and house-made cashew milk mozzarella), or expand your palette with the BBQ Pulled Jackfruit Pizza (BBQ pulled jackfruit, house-made mozzarella and cheddar cheeses, and red onions).
Manhattan
Brought to you by esteemed chef Matthew Kenney, Double Zero is a plant-based pizza restaurant that offers classics such as the Margherita (cashew mozzarella, tomato, and basil) and the Artichoke (cashew cream, diced tomatoes, spinach, and caramelized onion), as well as unique pizza creations such as the Truffle Cashew Cream (wild mushrooms, baby kale, and lemon vinaigrette).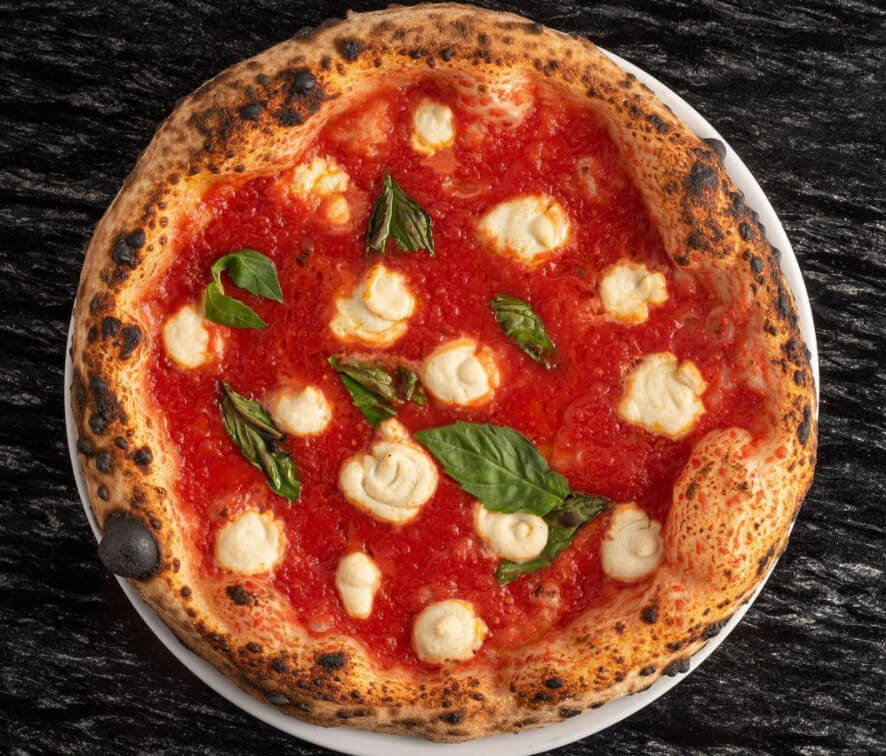 Brooklyn
A neighborhood institution since 1960, Vinnie's Pizzeria serves both traditional NY-style pies as well as unique pizza creations. You might just be convinced that pineapple belongs on pizza when you try Danielle's Treat, which comes topped with sliced vegan ham, pineapple, mozzarella, and cheddar. The pizzeria uses Teese cheese for their specialty vegan pies, and you can also substitute Daiya cheese for a $3 upcharge.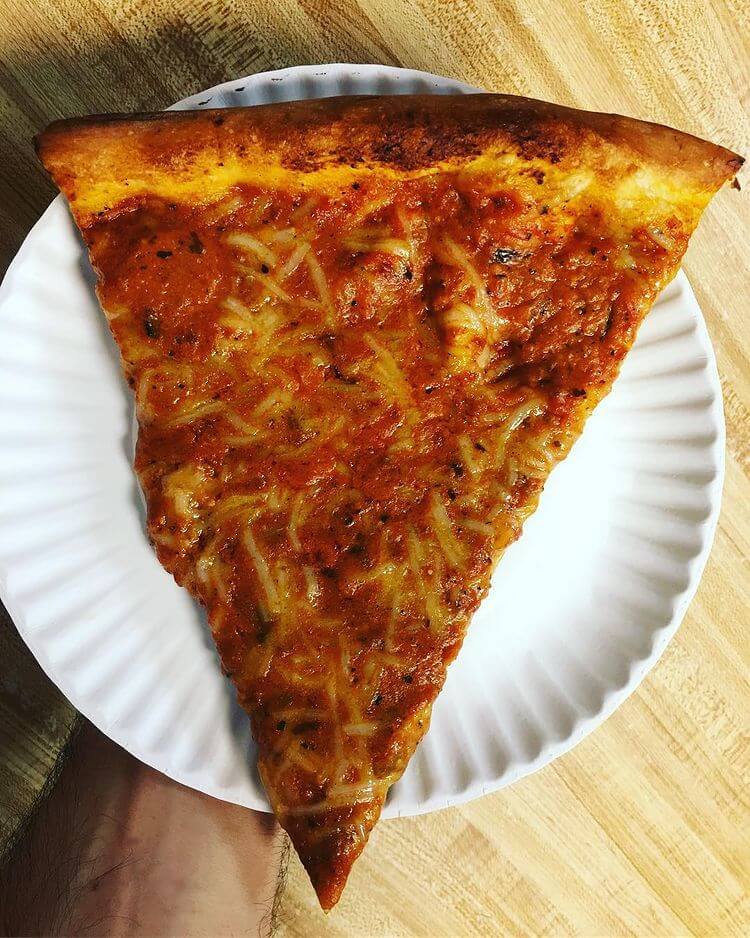 Staten Island
Love Earth has been serving up classic vegan pizzas to Staten Islanders since 2019. Choose from personal pies such as the Sausage Pepper & Onion, the Buffalo Cauliflower, the Margarita, or the Grilled Veggies. Pair your 'za with one of the cafe's healing nectars, like the Natural Pain Killer, which combines pineapple, celery, ginger, and oranges.
Manhattan
This vegan-friendly eatery offers a variety of plant-based pie options, including the Mother Earth Vegan Whole Wheat Pizza made with soy meatballs, mushrooms, red peppers, broccoli, sautéed onions, and mild tomato sauce. Prefer your salad in pizza form? Order the Insalata Vegan Whole Wheat Pizza, piled with toppings like romaine, kale, strips of seitan, and an organic vegan mayo base.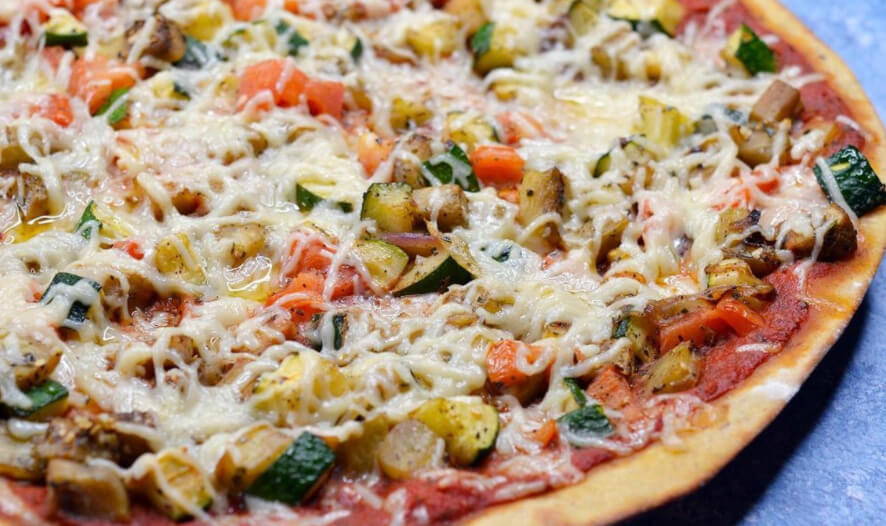 Multiple Locations
NYC is known for having great pizza, and Williamsburg Pizza is no exception. Their vegan pepperoni offers a plant-based twist on this classic pizza and features Violife vegan mozzarella, BE-Hive pepperoni, tomato sauce, and basil.
Manhattan
Founded by two indie filmmakers in 1987, Two Boots is an East Village pizzeria that features funky folk art on the inside as well as delicious vegan-friendly 'za. Their classic veggie pizza—Earth Mother—pays homage to Bette Midler's work in saving the community gardens of Lower East Side Manhattan in the 1970s, and it comes topped with fresh veggies like organic spinach, roasted garlic, roasted peppers, mushrooms, red onion, and marinara sauce.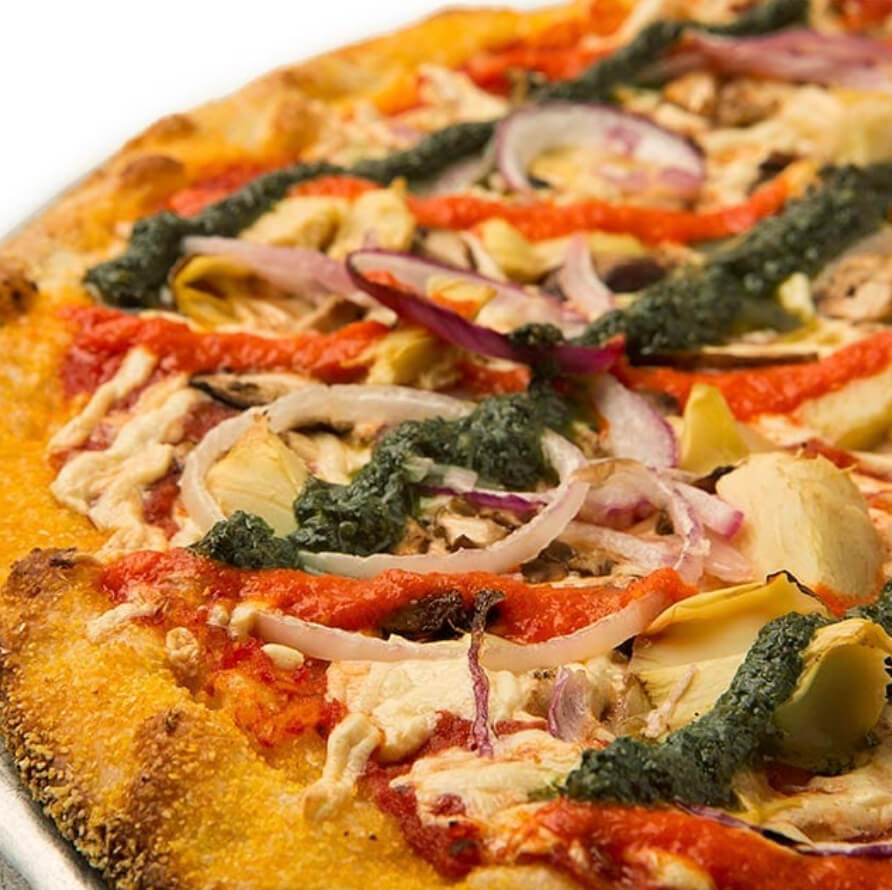 Brooklyn
If you like your pizza loaded with veggies and all the cheese, Paulie Gee's is the spot for you! Their Greenpoint menu features a variety of vegan options like the In Ricotta Da Vegan (vegan tomato sauce, house-made vegan sausage, post-oven house-made cashew ricotta dollops, baby arugula, and extra virgin olive oil), and the Vegan Daniela Spinaci (baby spinach, olive oil, NUMU vegan mozzarella, fresh sliced garlic, mild Aleppo chili oil, and sea salt). Spice up your 'za by adding their house-made vegan sausage, which is available for an extra $3.
Manhattan
A taste of the West Coast in Manhattan's Lower East Side, Pizza Beach offers a variety of California-inspired pizzas, which can be made vegan by substituting with Daiya cheese. The Tulum is a great option for fans of avocado, as it comes topped with cherry tomatoes, shishito peppers, grilled avocado, parsley, and balsamic (swap out mozzarella and ricotta for Daiya cheese to make it vegan).