From shrimp to sausage links, to tuna and chicken, there's a vegan substitute for quite literally everything, darling. And plant-based witchcraft cookery just keeps getting better and better, because now we gots da vegan eggs, y'all! Read on for our favorite egglicious dishes that taste like THE. REAL. THING.
RELATED: Vegan Versions of Your Favorite Childhood Meals: LA Edition
---
Want even more LA vegan news, food, and lifestyle content? Subscribe to VegOut LA Magazine!
VOWburger
VOWegg + Patty
Fairfax
This dish comes to you from the spot that is just racked up in karma points, where they take the vow that for every meal purchased they donate another to fight hunger in LA. VOWburger snuggles a delightful Impossible patty, vegan egg from JUST Egg, American cheese, and their seriously delicious green Peruvian sauce between two toasted hamburger buns. The result is the holy grail of breakfast sandwiches where the mung bean based JUST Egg is the star, and we are all merely its humble mouth servants blessed to be in the presence it's turmeric-y yellow glow. Top off the experience with a side of their heinously happenin' hash browns, which are a serious dupe for Mickey D's famous browns without all the, you know, grossness.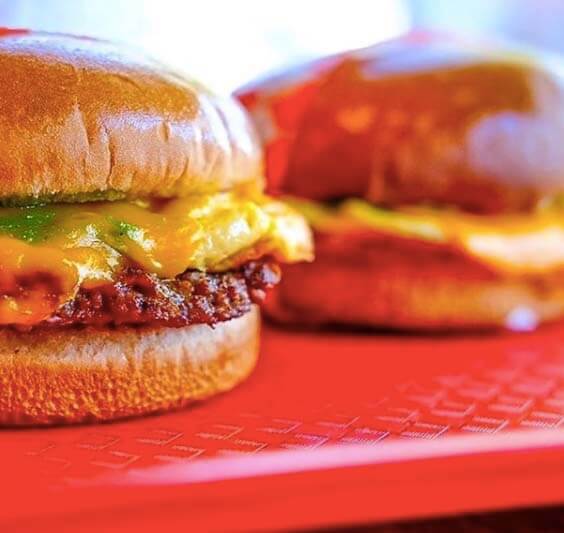 Munchies Diner
BrunchWrap Supreme
Santa Ana
This delicious amalgamation of melty goodness reigns supreme over Taco Bell's Crunchwrap Supreme. This savory baby is crafted with four pieces of house-made bacon, shredded cheddar cheese, two hash brown patties, scrambled eggs, bell peppers, red salsa, chipotle aioli, sour cream, and G sauce, all wrapped in one massively boss 13.5 inch tortilla. The scrambled eggs are the true star, a genius make-up of Munchies's house-made tofu-based concoction. This tasty union creates the perfect handheld meal, excellent for munching on the go, at the restaurant, on a skateboard, while in your car yelling at traffic, or standing in line at the DMV, and can even be held with one hand while using the other to take a selfie! The BrunchWrap is available Sundays 10am-2pm.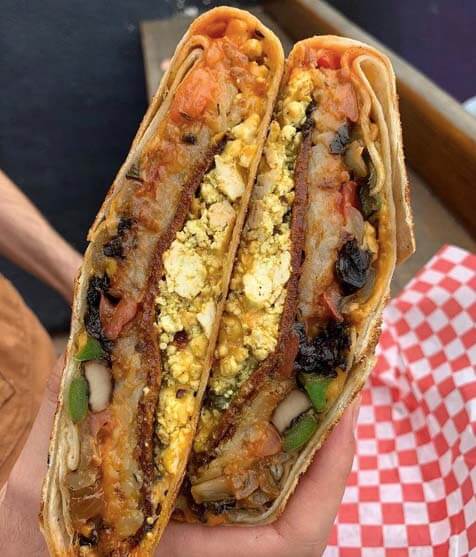 Ramen Hood
Ramen + Vegan Egg
DTLA
Okay sure, a lotta peeps are reinventing the wheel with the vegan scrambled eggs, and by golly they are delectable. But really, how many people are making vegan HARD BOILED EGGS? Look no further than LA's dedicated fully vegan ramen spot, Ramen Hood, and their eerily convincing hard boiled egg. Like a warm hug, a bowl of their ramen will have you feeling safe and comforted like a newborn babe starting with their signature sunflower seed broth and delightful toppings such as king oyster mushroom, bean sprout, scallions, chili threads, and nori, plus your little yummy friend, the vegan egg. The egg is designed in two parts from what can only be described as the mind of a culinary mad scientist. The white of the egg is salt and pepper seasoned GMO-free soy milk, gelled with a seaweed extract called agar. The yolk is a combination of nutritional yeast, black salt, and sodium alginate. That yolk is then spherified through some sort of vegan magic and placed in the center of the white. To the eye of even the most trained, this thing looks like it came from a real hen!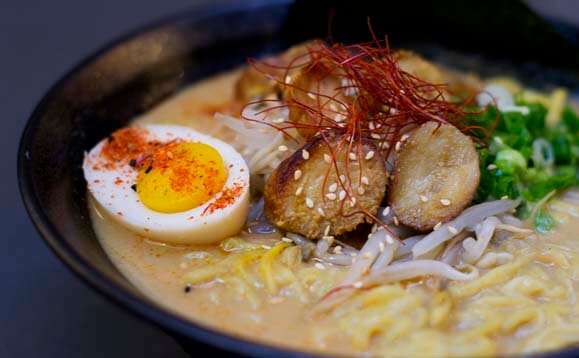 Ladurée Beverly Hills
Ladurée Omelet
Beverly Hills
Leave it to Matthew Kenney to keep cranking out the fire food establishments. And with the addition of turning Ladurée, one of the oldest and very non-vegan French restaurants, over to a completely plant-based location, you already know the food was going to be another level! Their omelet is one of those things that does not follow the "if it looks like a duck and quacks like a duck" expression, because this dish definitely looks like eggs, but boys and girls, it most definitely is NOT an egg and is even under their very helpful menu section titled "Not Eggs." The tofu-based omelet is stuffed lovingly with mushroom, tomato confit, tofu ham (yes VEGAN HAM), and a cashew gruyere! Bonus, it's cool for the gluten-intolerant.