You won't want to miss these vegan pumpkin-flavored products! Break out your fall-scented candles, seasonal decorations, and pumpkin-craving taste buds, because fall is in full swing. Do you know what that means? The countdown to the return of the beloved pumpkin spice flavor is over––hallelujah! We know this is #basic of us, but pumpkin spice is basic for a reason––it's just so dang good! Here's a list of pumpkin-infused vegan products we can't get enough of.
RELATED: Best New Vegan Products September 2020
---
Want even more vegan news, food, and lifestyle content? Subscribe to VegOut LA Magazine or VegOut NYC Magazine!
Pumpkin Flavored Marshmallows
Pumpkin-flavored vegan marshmallows? That's just about the best combination in the world! These squishy vegan cuties are gelatin-free and available in a new 5oz size. Sprinkle them on a sweet potato pie, a frothy PSL, or eat them straight out of the bag!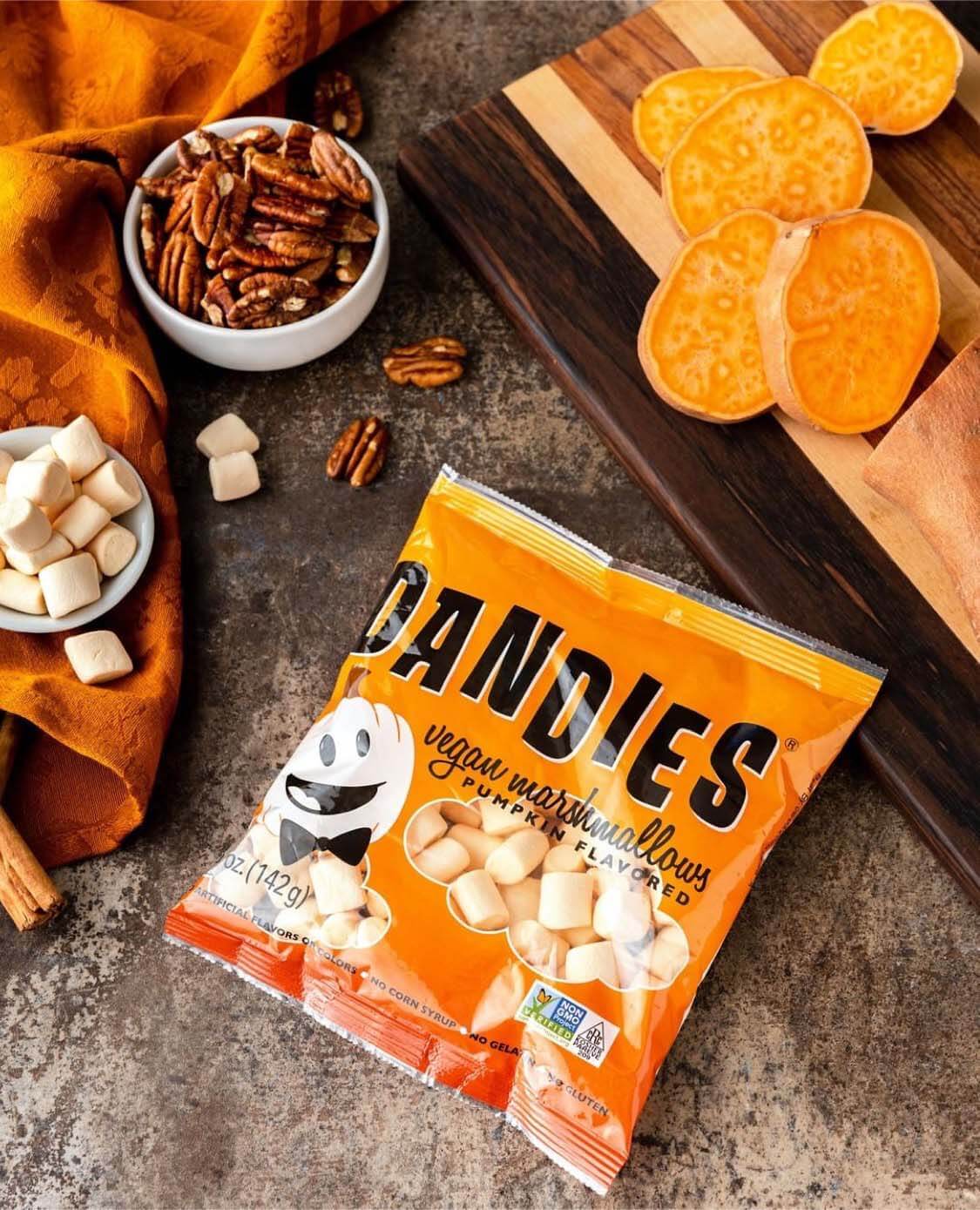 Gluten-Free Pumpkin Spice Waffles
Nature's Path Organic
Wake up and taste the pumpkin spice! These vegan, gluten-free, and organic waffles make for the perfect breakfast to start a cozy fall day. Pop them in the toaster, drizzle (or douse) them in maple syrup, and enjoy!
Pumpkin Spice Almond + Coconut Creamer
Nutpods
Speaking of breakfast, where are our coffee lovers at? Nutpods's seasonal coffee creamer is a staple for fall mornings! With just 10 calories per serving and 0 grams of carbs, sugar, or saturated fat, you won't feel guilty about using this beverage add-in on the daily.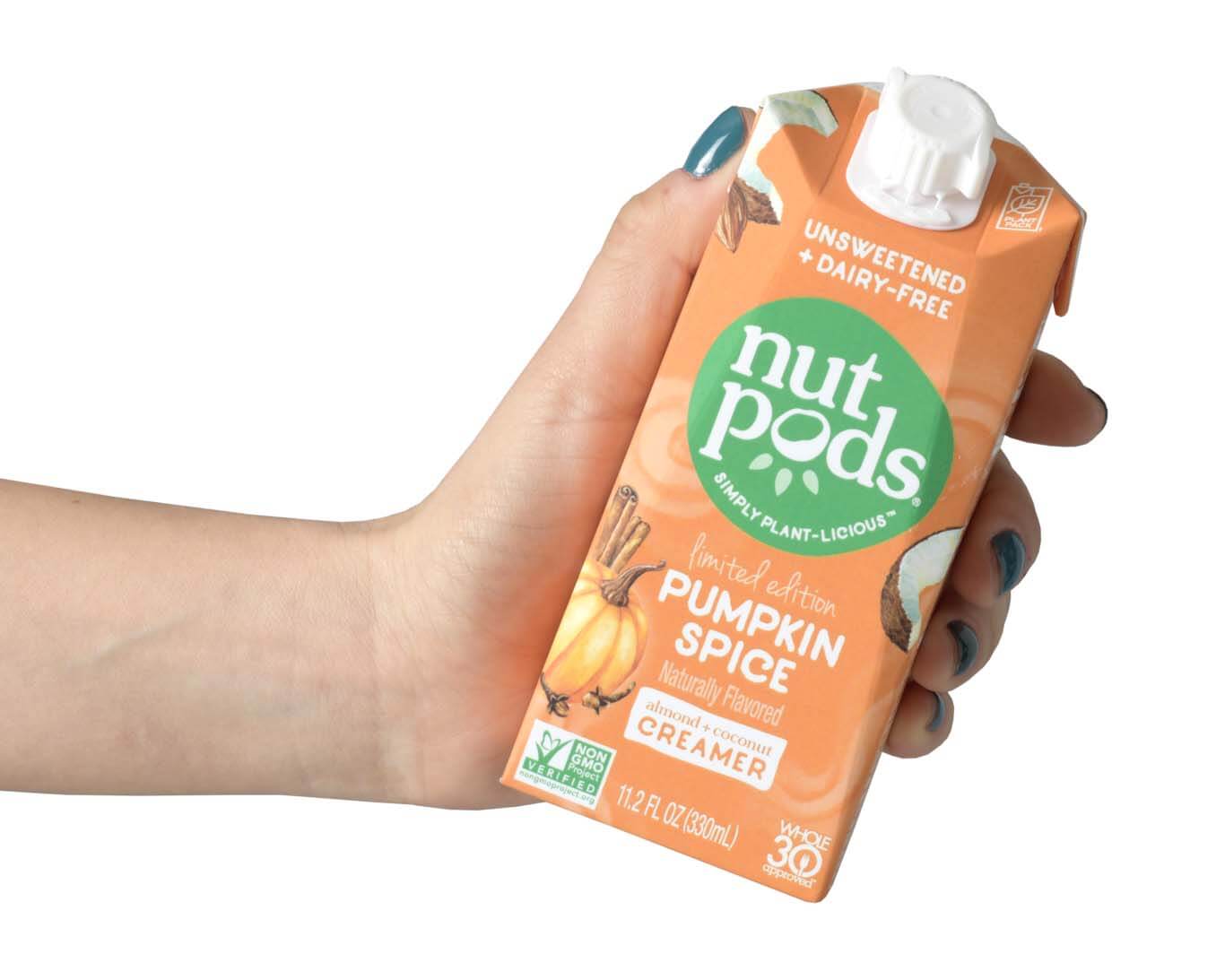 Pumpkin Pie Hummus
DELIGHTED BY Desserts
If you're longing for the taste of an indulgent slice of pumpkin pie in a healthier format, try this fall-inspired dessert hummus! We know it sounds a bit crazy, but have you tried it? Grab some apples, pretzels, or honey-free graham crackers and get your dip on! We won't even judge you if you eat it straight out of the container with a spoon––it's just that good.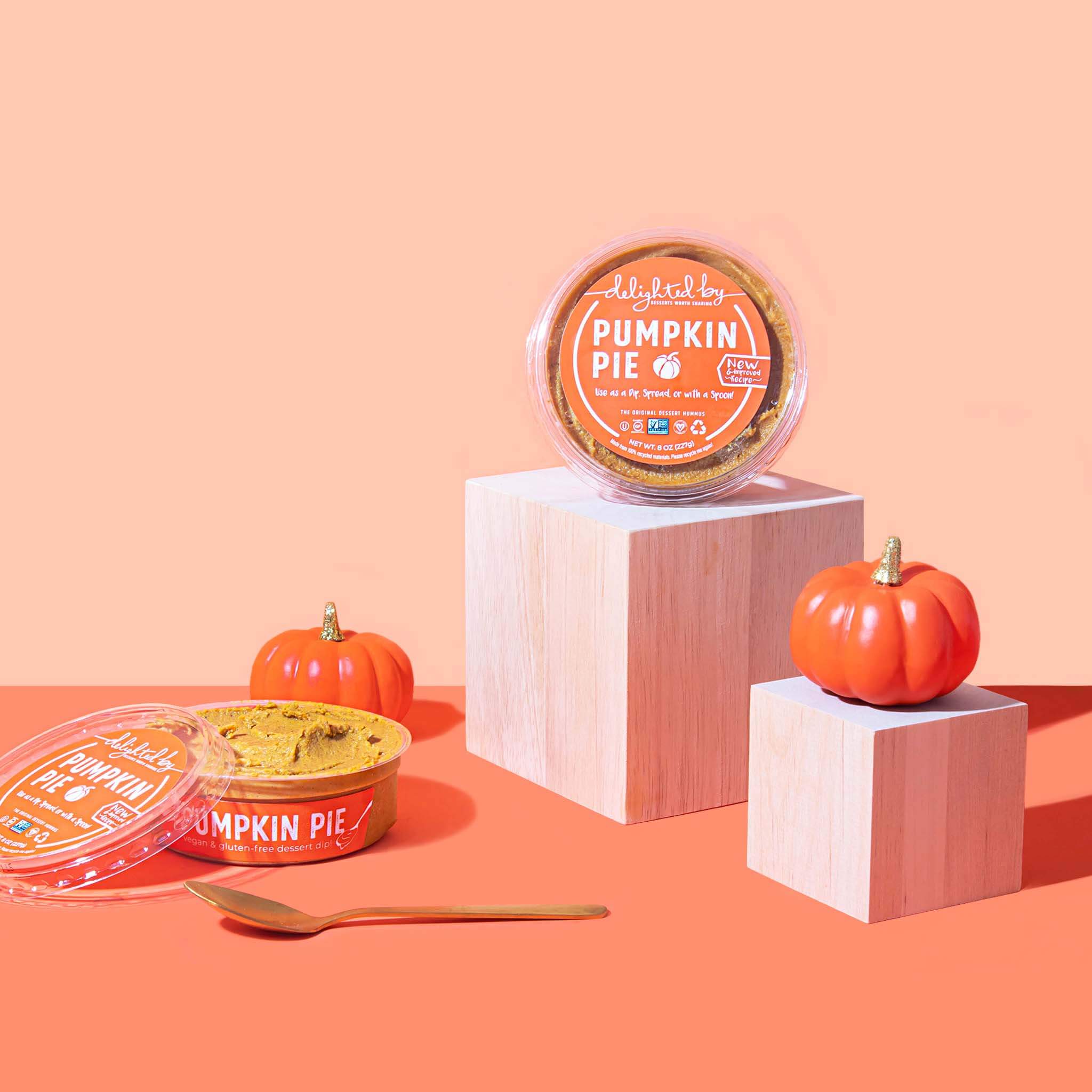 Pumpkin Spice Coconut Cookies
Emmy's Organics
Who doesn't love cookies? Especially when they're vegan, gluten-free, and made in the flavor of everyone's favorite fall gourd! These Limited-Edition Pumpkin Spice Coconut Cookies from Emmy's Organics are a nutritious way to satisfy your sweet cravings. They're made from a few simple organic ingredients like coconut, agave, and almond flour.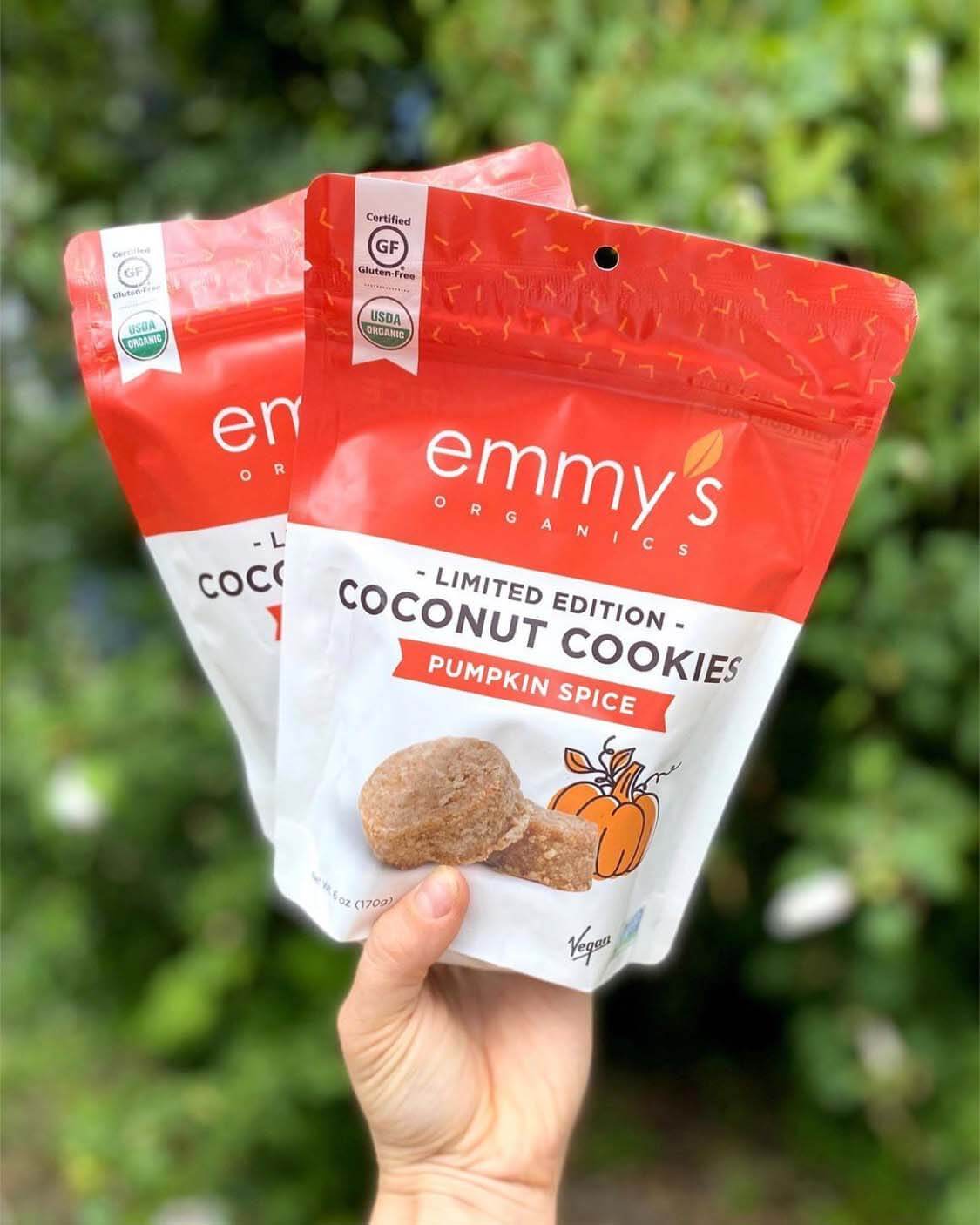 Pumpkin Spice Complete Cookie
Lenny and Larry's
Lenny & Larry's is known for their better-for-you treats that are loaded with protein. While we love the classic Complete Cookie flavors, we can't resist this seasonal Pumpkin Spice rendition that's vegan, soy-free, and non-GMO. It's the best way to get your fix of protein and pumpkin all in one big, beautiful cookie!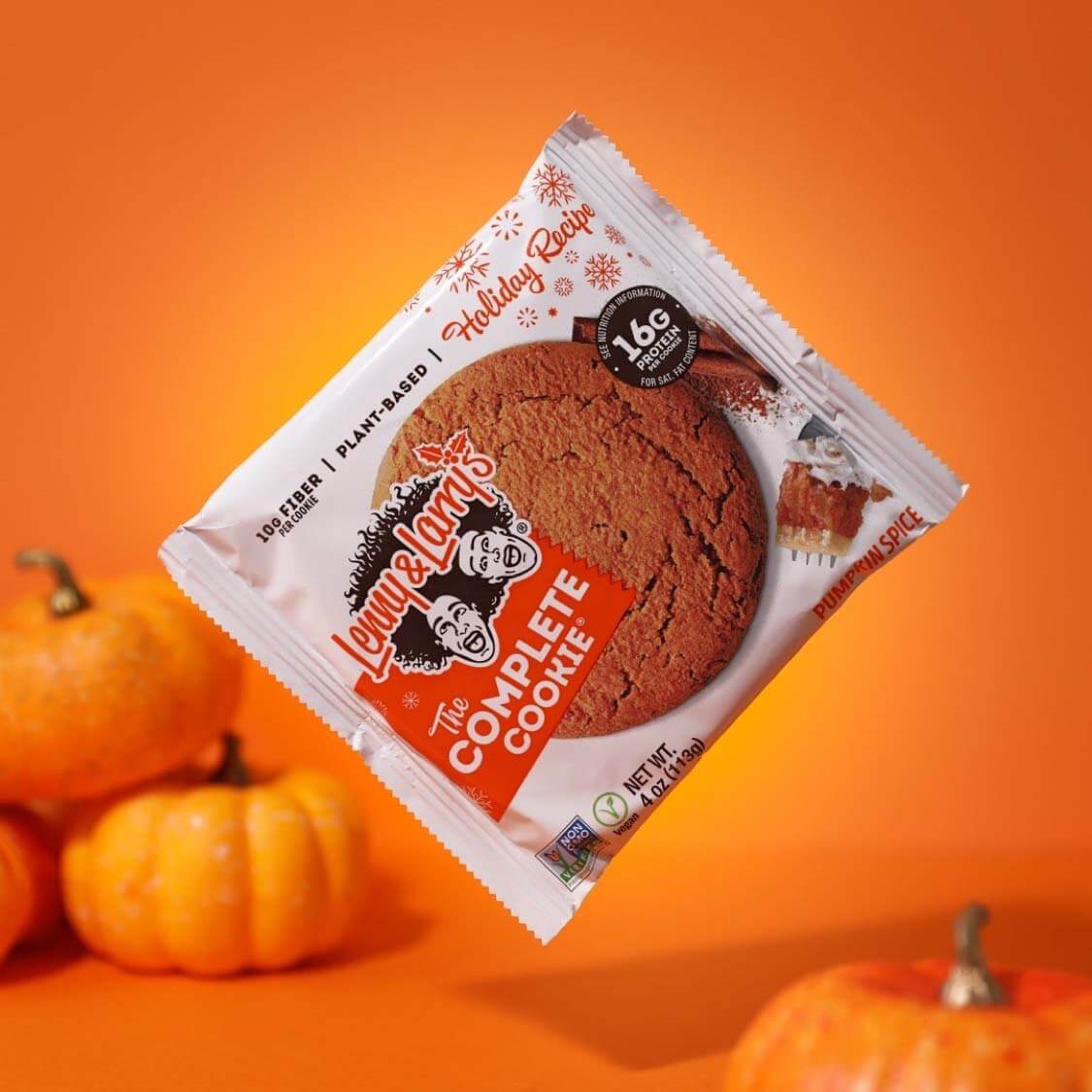 Pumpkin Spice Nog
Good Karma
Who said eggnog was just for Christmas? This fall, we're filling up our fridge with cartons of this flax-based Pumpkin Spice Nog from Good Karma! With hints of nutmeg, cinnamon, and pumpkin spice, this soy-free beverage encapsulates all the best seasonal flavors we know and love. Additionally, this drink is free of all major allergens, loaded with Omega-3, and comes in at just 45 calories per serving.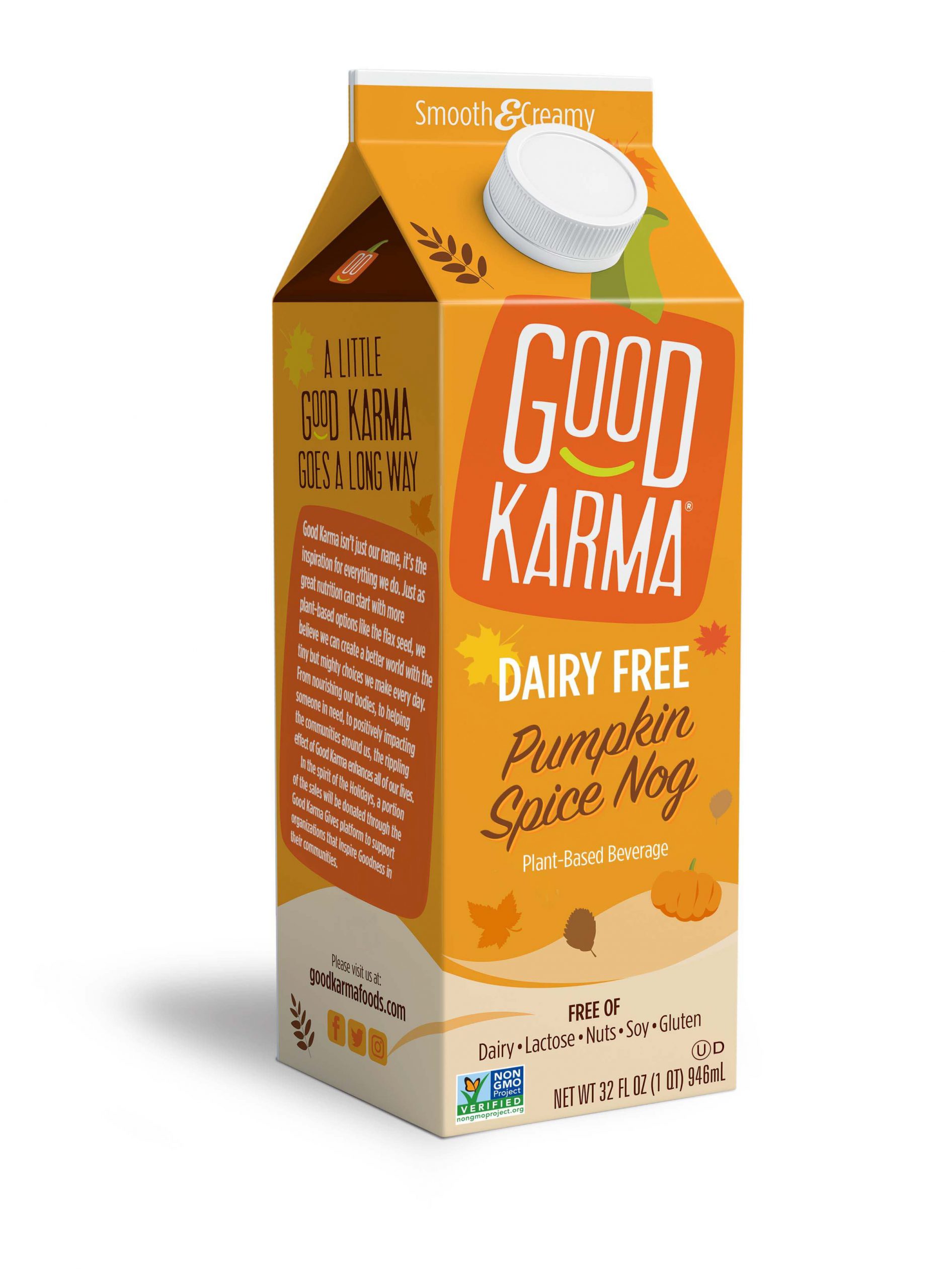 Pumpkin Spice Cheezecake
Daiya
This treat is the perfect solution to the cheesecake vs. pie debate (the struggle is real!). With Daiya's delicious fall-themed dessert, you still get all the delicious elements of a pumpkin pie in the cool, cream-cheesy setup of a cheesecake.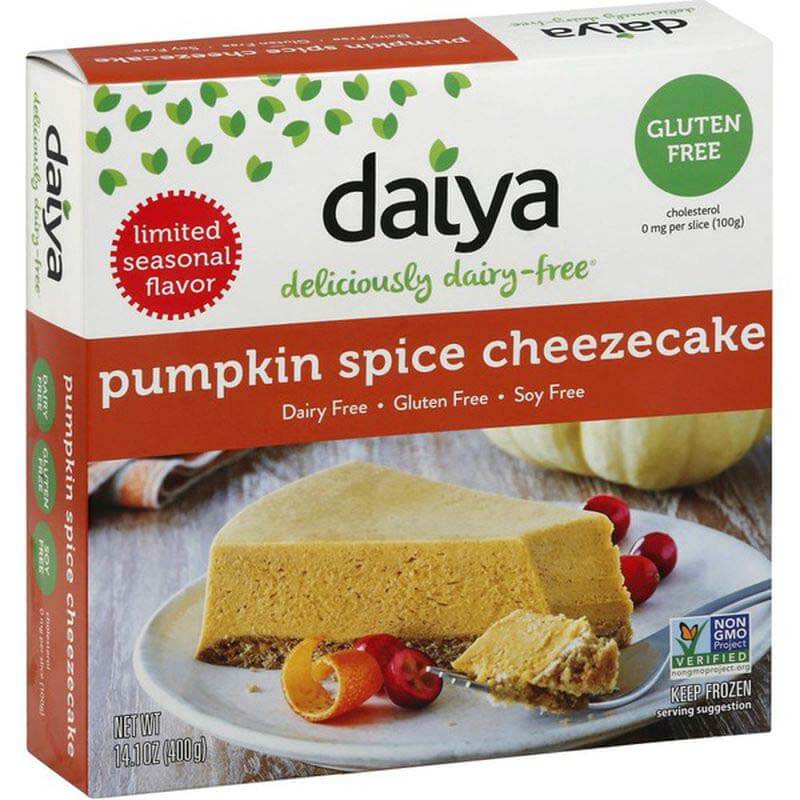 Pumpkin Spice Pound Cake and Muffins
Abe's Muffins
This autumn-flavored vegan pound cake pairs beautifully with a PSL—just saying! Want the same great taste in bite-size muffins? Try the Pumpkin Spice Muffins, they're divine! With a rich pumpkin taste and hints of nutmeg, cinnamon, and ginger, how can you resist?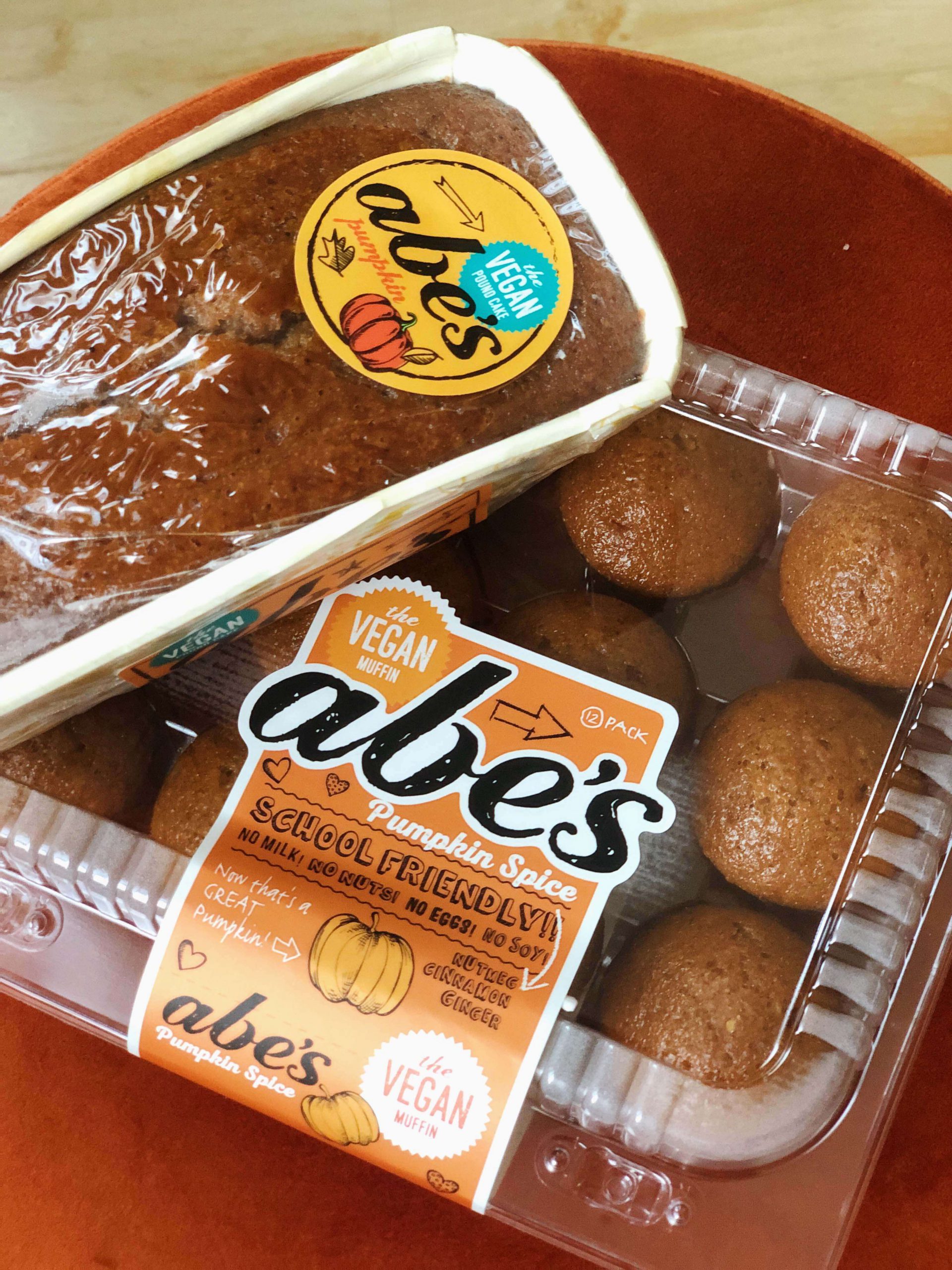 Dairy-Free Pumpkin Pie
Wholly Wholesome
While creative and fancy products can be fun, nothing beats a good ole classic pumpkin pie. This classic holiday dish is simple, sweet, and full of pumpkiny goodness! If you're feeling extra fancy, add a dollop of vegan whipped cream on top!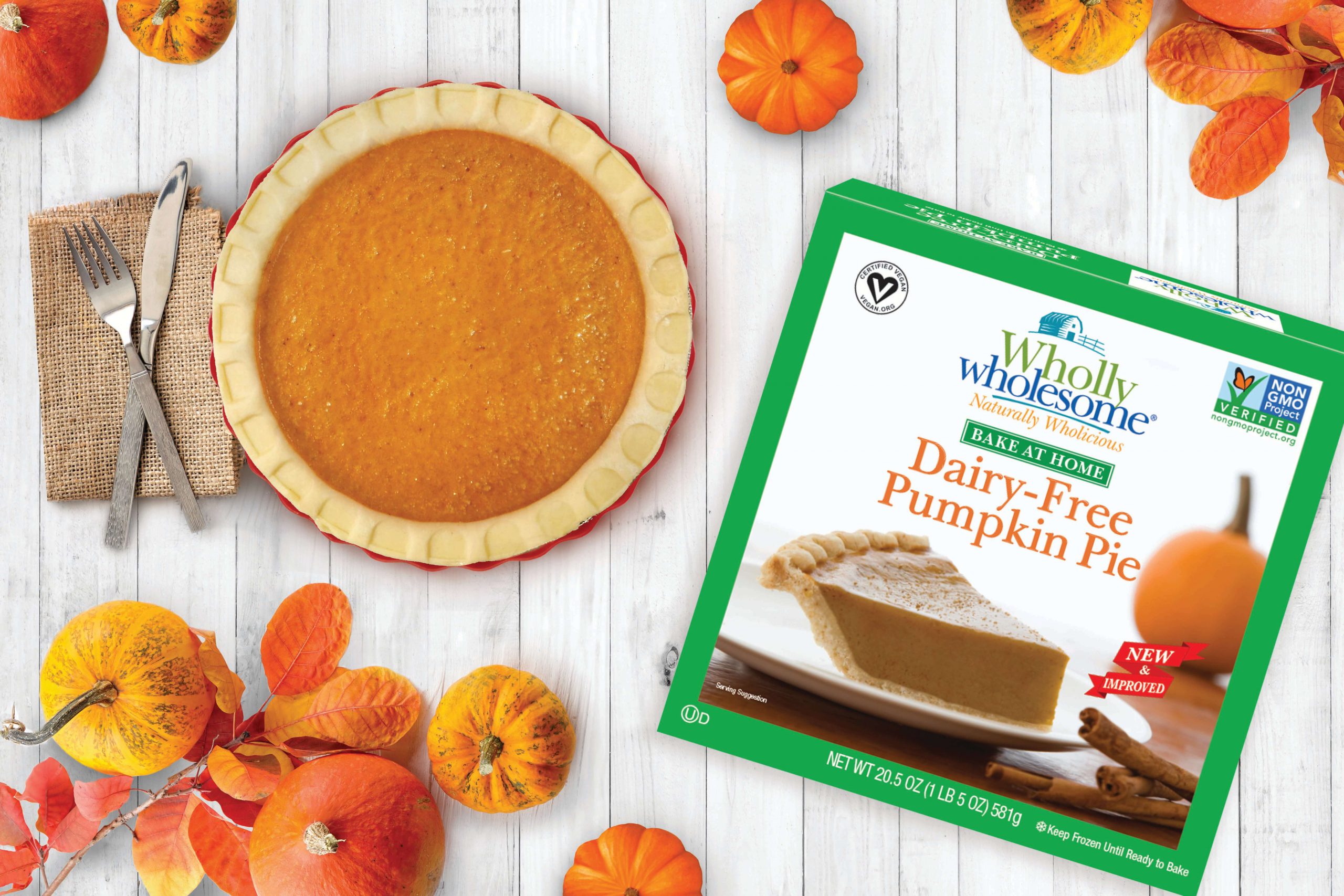 Pumpkin Spice Popcorn
Lesser Evil
Colder weather calls for more movie nights, which calls for more snacks, and no snack screams "movie night" more than a bag of popcorn! Stock up on bags of this Pumpkin Spice Popcorn and get ready for a delectable fall-inspired flavor experience! The kernels are vegan, organic, and loaded with fiber.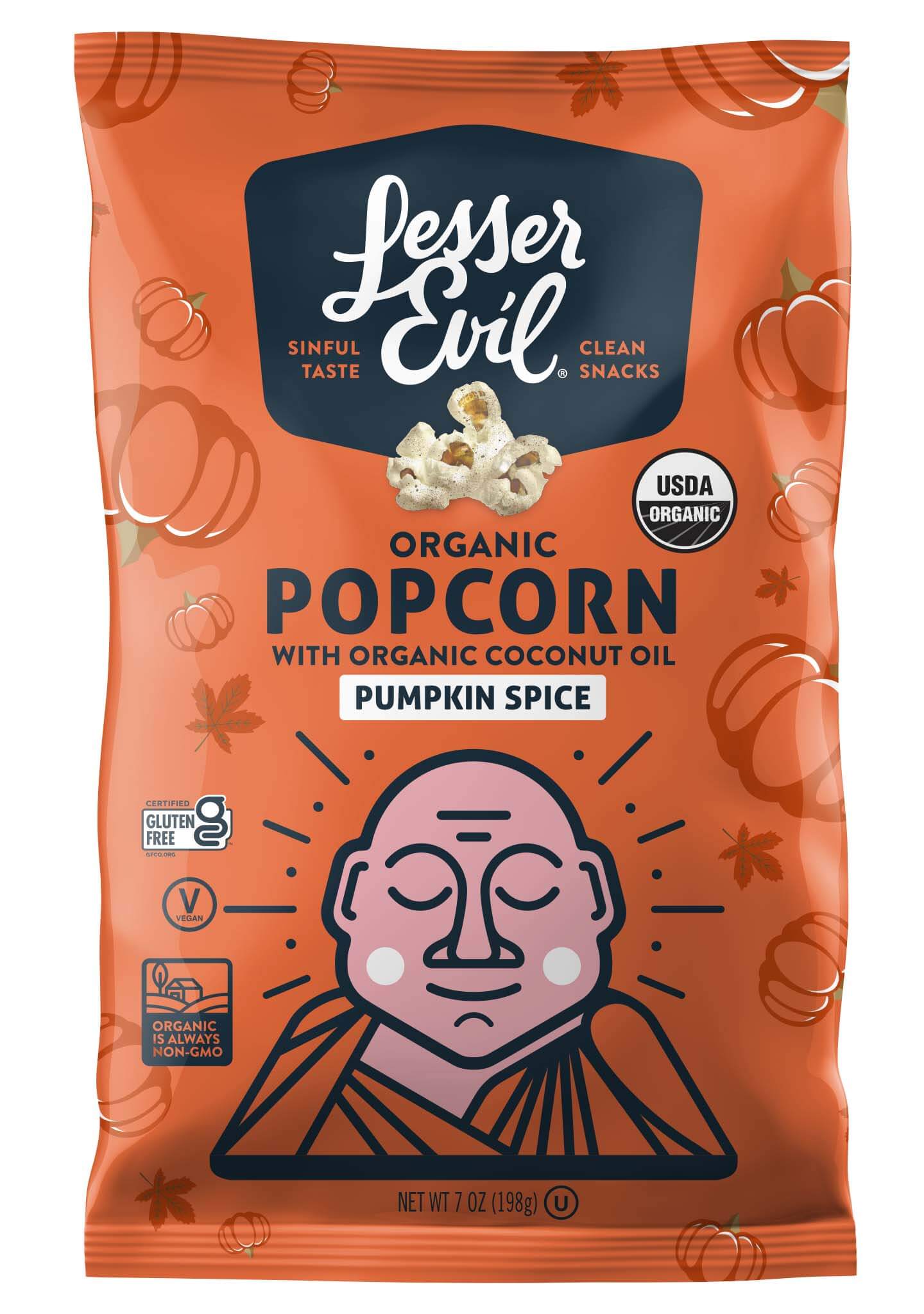 Pumpkin Fig Grain Free Granola Bites
Lark Ellen Farm
Craving an extra crunch in your smoothie bowl or oatmeal? Add a handful of granola! These clusters from Lark Ellen Farm are flavored with Pumpkin purée and organic California figs––the ultimate fall flavor duo. They're vegan, gluten-free, paleo, non-GMO, and sweetened with maple syrup.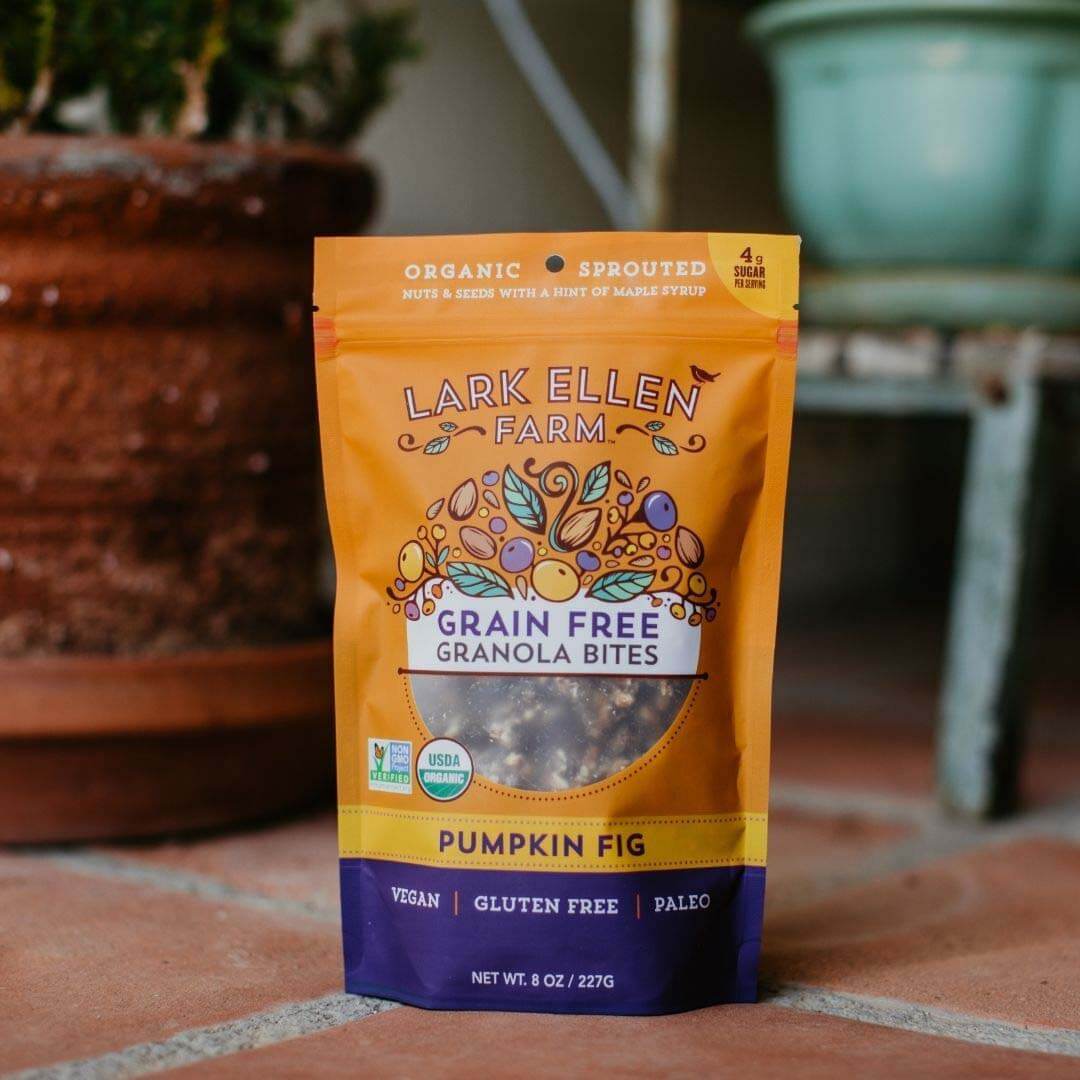 Vegan Pumpkin Pie
Raised Gluten Free
Are you on the lookout for a rich and creamy pumpkin pie that's vegan AND gluten-free? Free from dairy, gluten, peanuts, and GMOs, the Pumpkin Pie from this female-owned business is the definition of allergen-friendly! To make things even better, the pie is already baked and ready to enjoy. Craving another holiday flavor? Try their Dutch Apple Pie!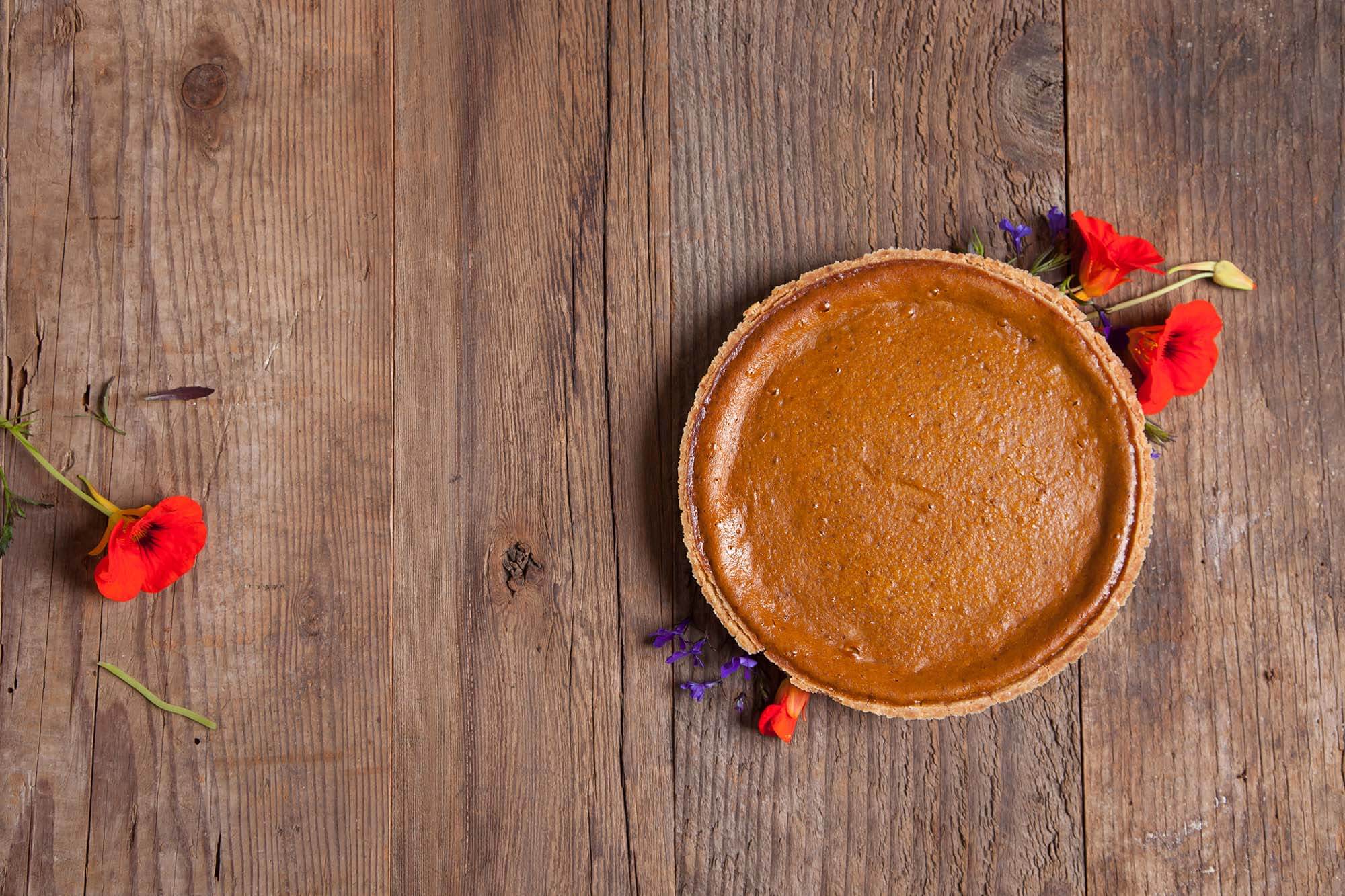 1-Minute Vegan Pumpkin Spice Mug Cake
Coconut Whisk
Want a decadent pumpkin-flavored dessert in the snap of a finger? Add Coconut Whisk's new limited-edition Vegan Pumpkin Spice Mug Cake mix to a mug with a bit of water, microwave it for one minute, and voila! Although it tastes indulgent, this vegan and gluten-free mix errs on the side of nutrition with ingredients like chickpea flour and coconut sugar.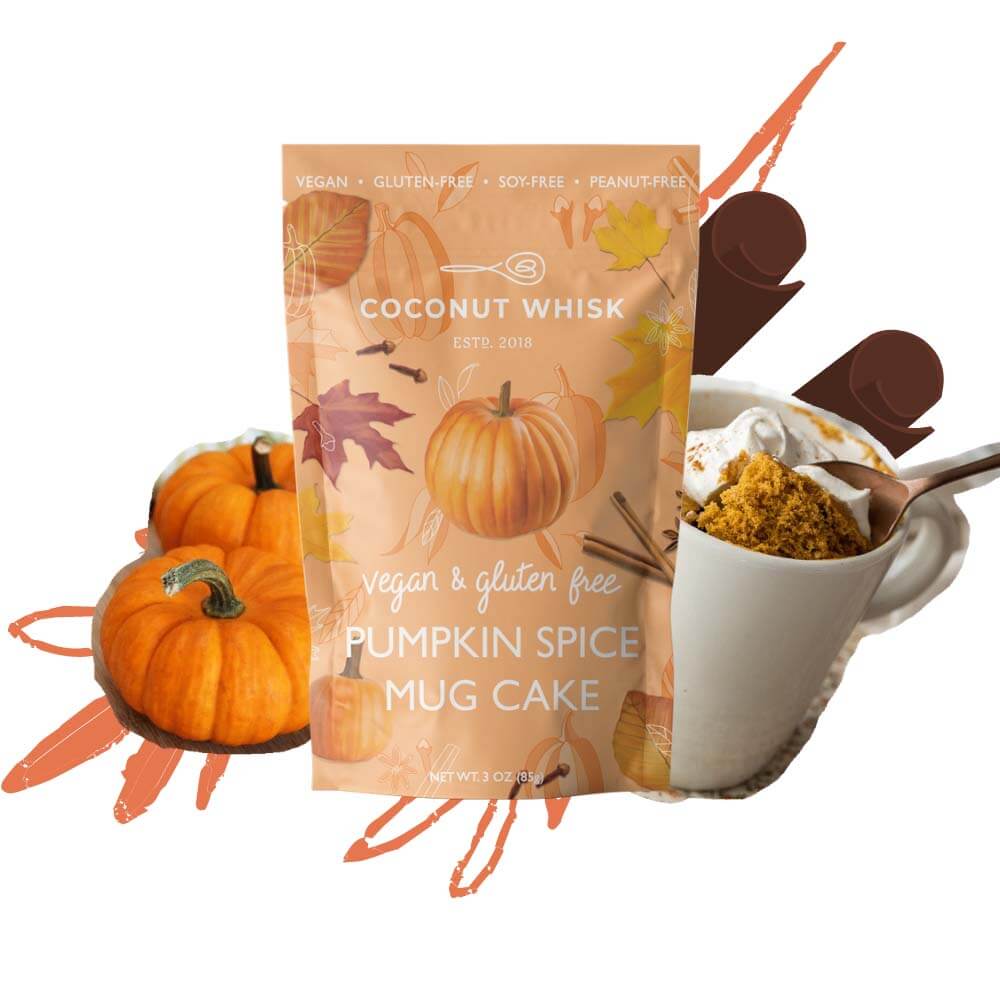 Pumpkin Pie Vegan Cracklins
Beanfields
Do you want the taste of a cool pumpkin pie, but in a crunchy texture? Grab a bag of this newest holiday snack from Beanfields! Their Pumpkin Pie Vegan Cracklins are vegan, gluten-free, and come in at 4 grams of protein and 3 grams of fiber per serving. The pumpkin spice seasoning is spot on, too!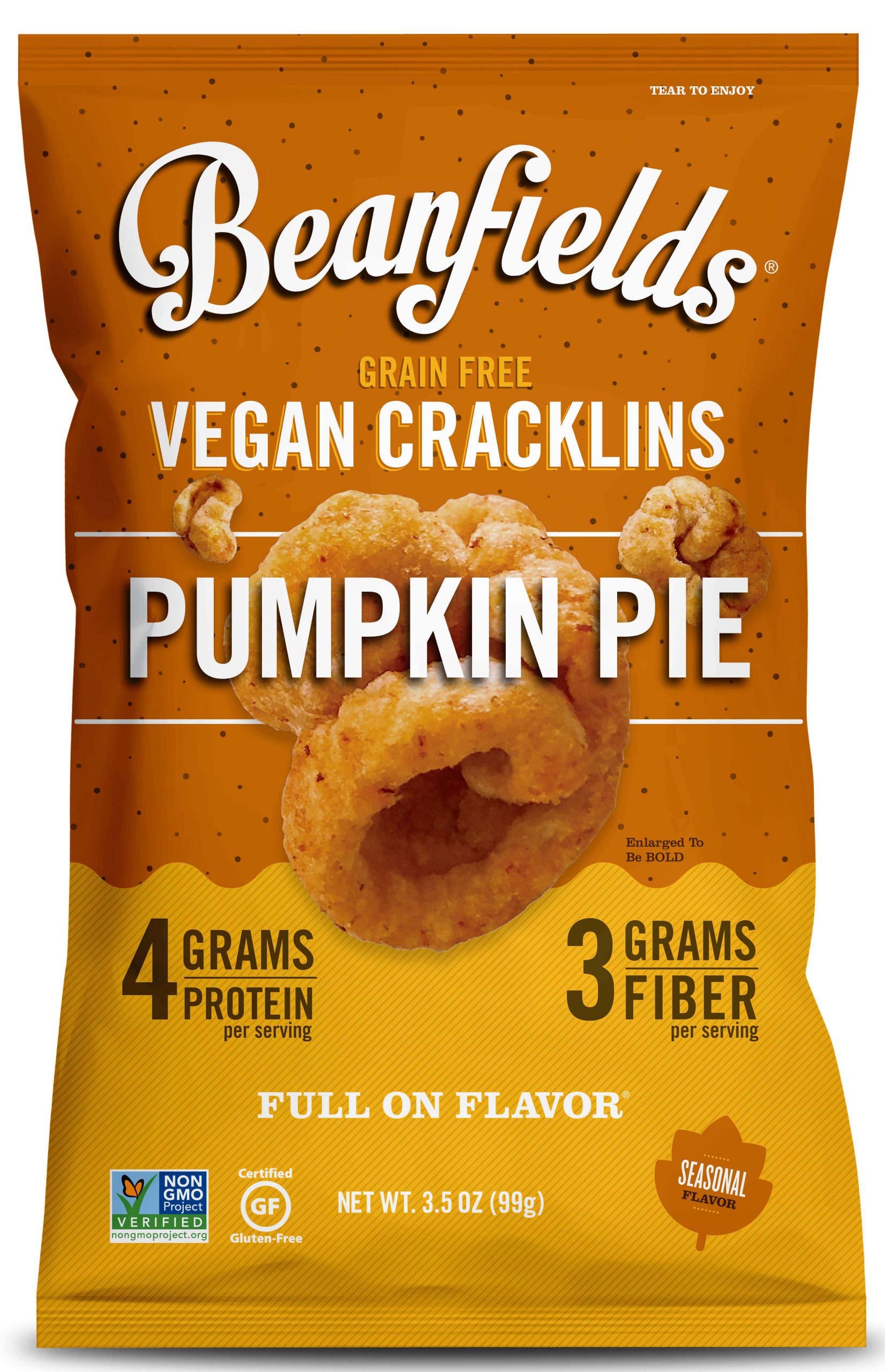 Pumpkin Spice Fig Bar
Nature's Bakery
Gettin' figgy with it! Yep, you guessed it––these delicious and healthy fig bars are available seasonally in a Pumpkin Spice flavor. They're great to toss in your bag as on-the-go fall fuel.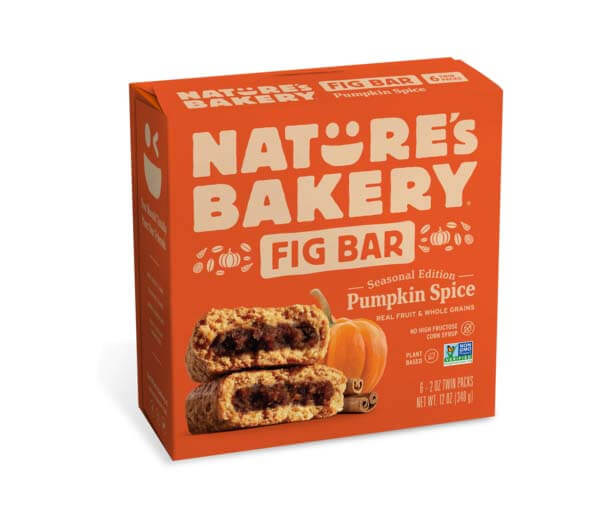 Pumpkin Spice Hemp Creamer
Elmhurst
One of our favorite aspects of the holiday season is the festive coffee creamers! This limited-edition creamer variation from Elmhurst will lighten up your cup of joe with a velvety pumpkin flavor with a hint of cinnamon and nutmeg. Oh, and since these cartons are shelf-stable, you can stock up for the whole year! Just be sure to refrigerate them upon opening.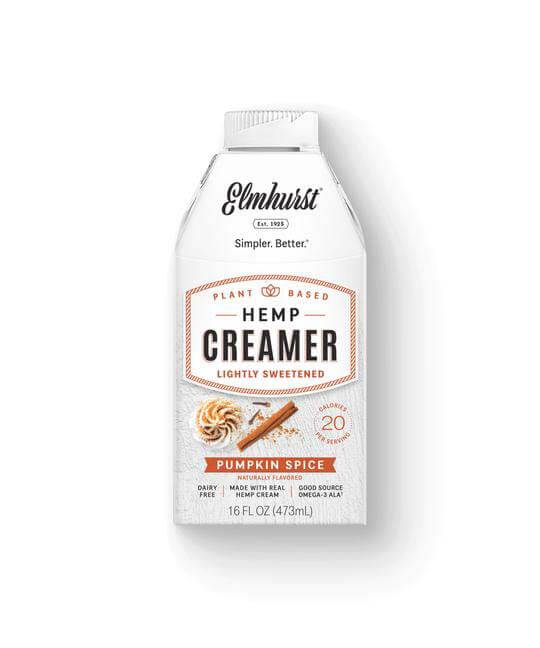 Pumpkin and Sweet Potato Mac & Cheese
Annie's Homegrown
Pumpkin Mac'n' cheese? This magical box contains some of our favorite food elements out there: pasta shells, creamy sauce, and a pumpkin and sweet potato flavor. It's easy to make, comforting, and available year-round! Shell yeah!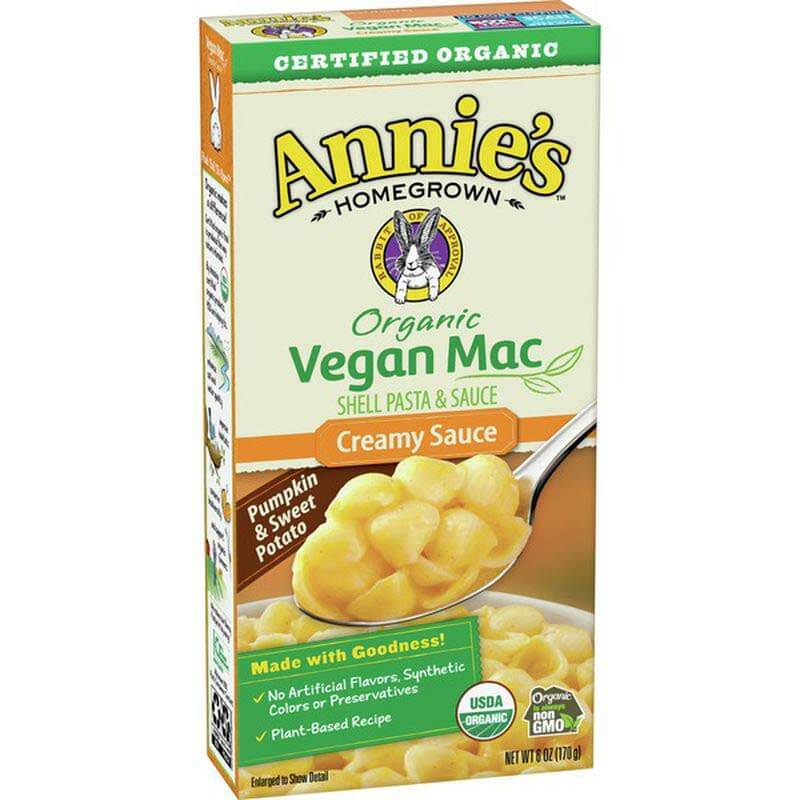 Pumpkin Muffin & Bread Mix
Simple Mills
Want to do the baking yourself? Grab a box of this Pumpkin Muffin & Bread Mix and put on your favorite apron! With almond and coconut flour as the base and coconut sugar as the sweetener, this mix from Simple Mills is vegan, gluten-free, soy-free, and non-GMO. The recipe on the box calls for eggs, but you can replace it with flax eggs, pumpkin puree, or mashed bananas.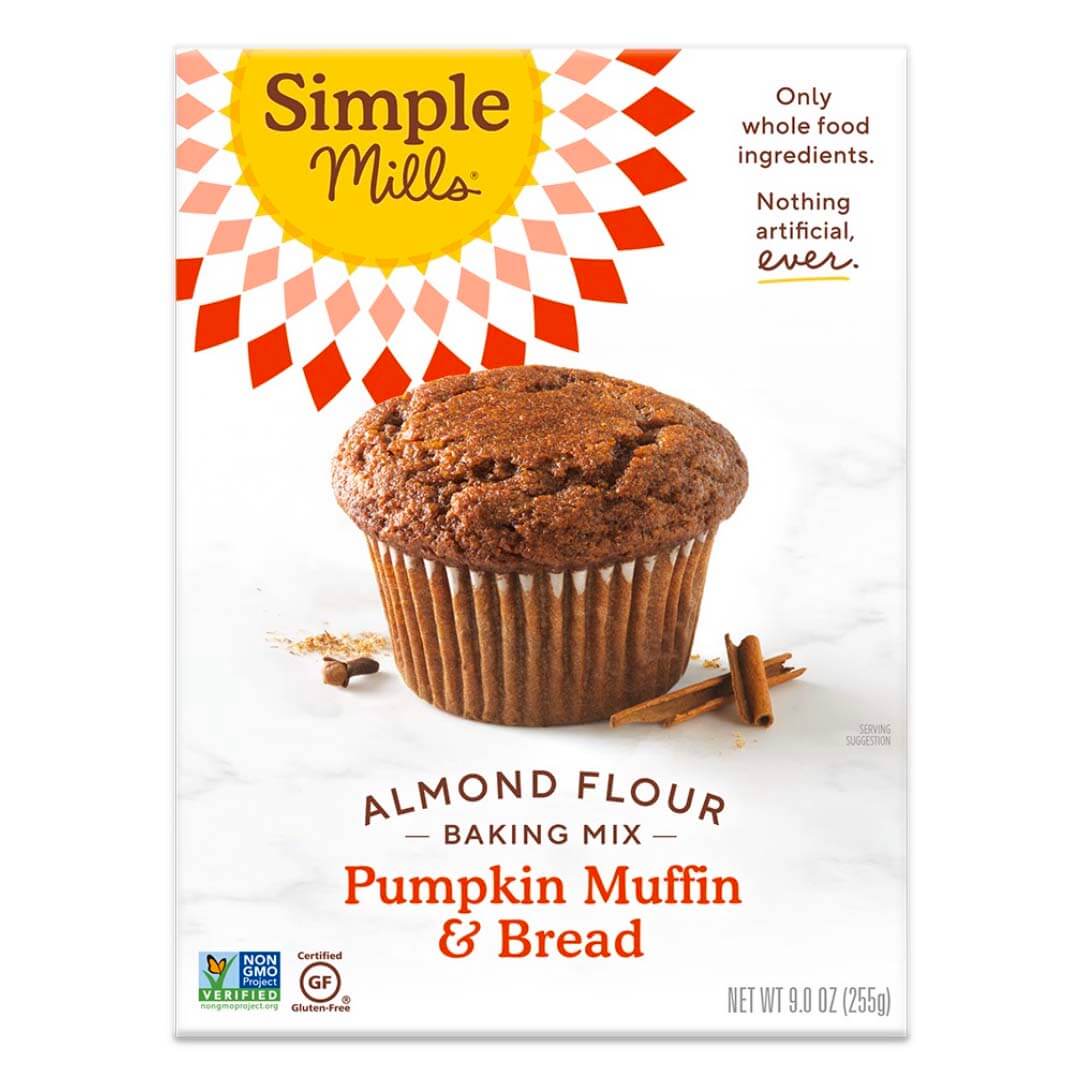 Pumpkin Spice Oat Bar
Bobo's
With the fiber of whole grain oats and the reminiscent flavor of grandma's pumpkin pie, this well-rounded bar is a staple in our fall snack routine! It's vegan, gluten-free, and non-GMO.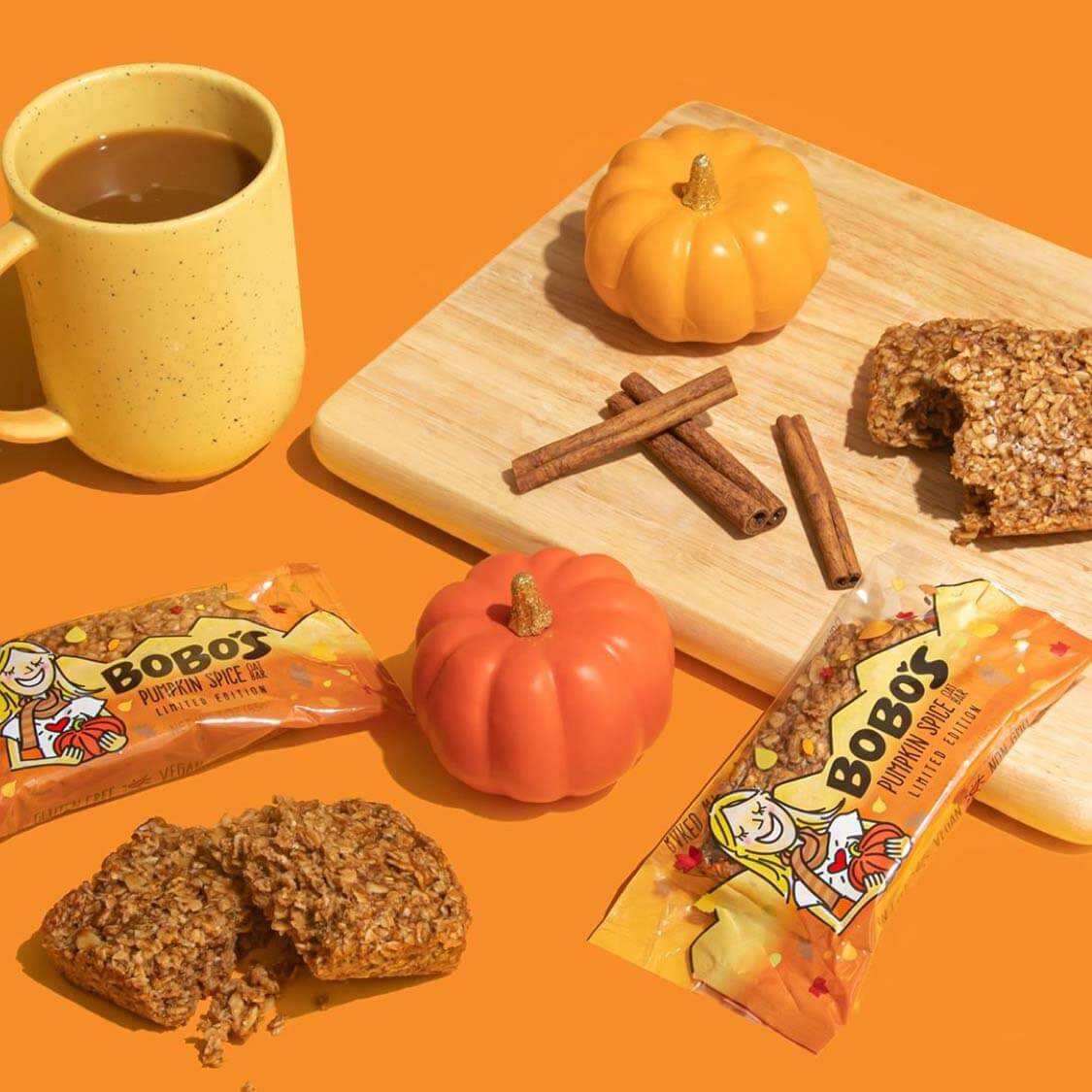 Pumpkin Spice Almond Creamer and Milk
Silk
What better way to ring in the autumn season than with Pumpkin Spice Almond Milk and Creamer? Whether you pour the milk over your bowl of cereal, drink it straight out of the carton, or add a splash of creamer to your morning coffee, there really isn't a wrong way to enjoy these festive beverages!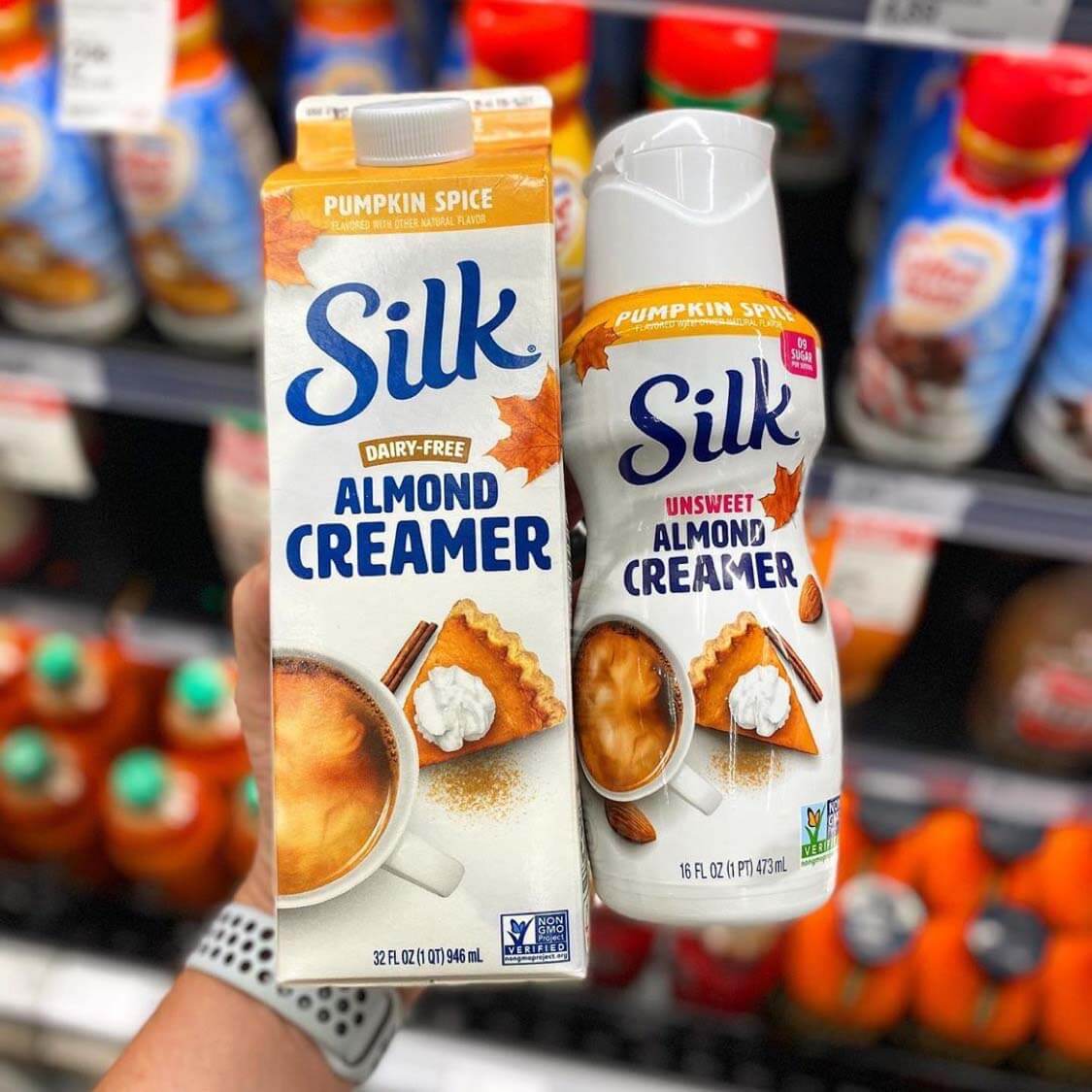 Photo credit: @bigboxvegan on Instagram
Pumpkin Spice Coconut Milk Caramels
Cocomels
Halloween is right around the corner, which means it's time to get candy. These Pumpkin Spice Coconut Milk Caramels are sweet, scrumptious, and pumpkiny AF! These pre-wrapped treats are made with organic, vegan, and gluten-free ingredients without any GMOs or high fructose corn syrup.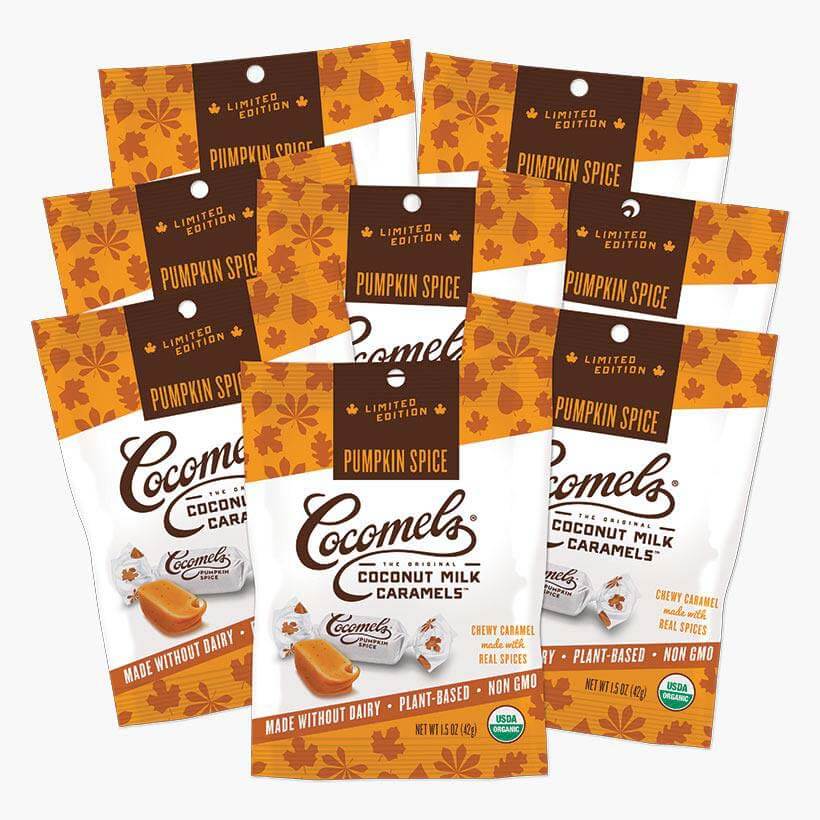 Pumpkin Spice Creamer, Half and Half, and Cold Brew
Califia Farms
Califia Farms is breaking out all of the best pumpkin beverages this season! From their Pumpkin Spice Creamer and Better Half (half and half) to the Pumpkin Spice Cold Brew Latte, whatever you pour in your cup is bound to bring a smile to your face!