Back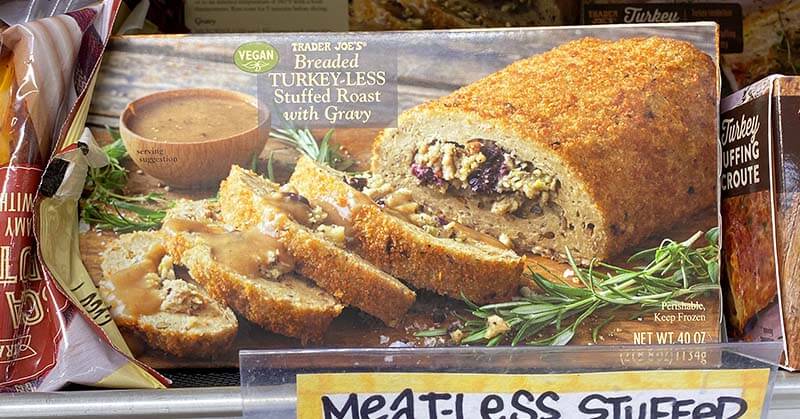 21 Vegan Thanksgiving Items from Trader Joe's
Trader Joe's is bursting at the seams with vegan Thanksgiving items! From classic foods like holiday roasts, gravy, and sweet potatoes to their more unique offerings of stuffing-flavored potato chips and pumpkin cinnamon rolls, Trader Joe's is the perfect spot to pick up ingredients for your plant-based feast.
RELATED: The Best Vegan Pumpkin Products at Trader Joe's
---
Want even more vegan food, news, and lifestyle content? Subscribe to VegOut Magazine!
Pumpkin Rolls
Wake up and smell the pumpkin! Start your Thanksgiving morning with these delicious pumpkin-flavored breakfast rolls complete with pumpkin spice icing.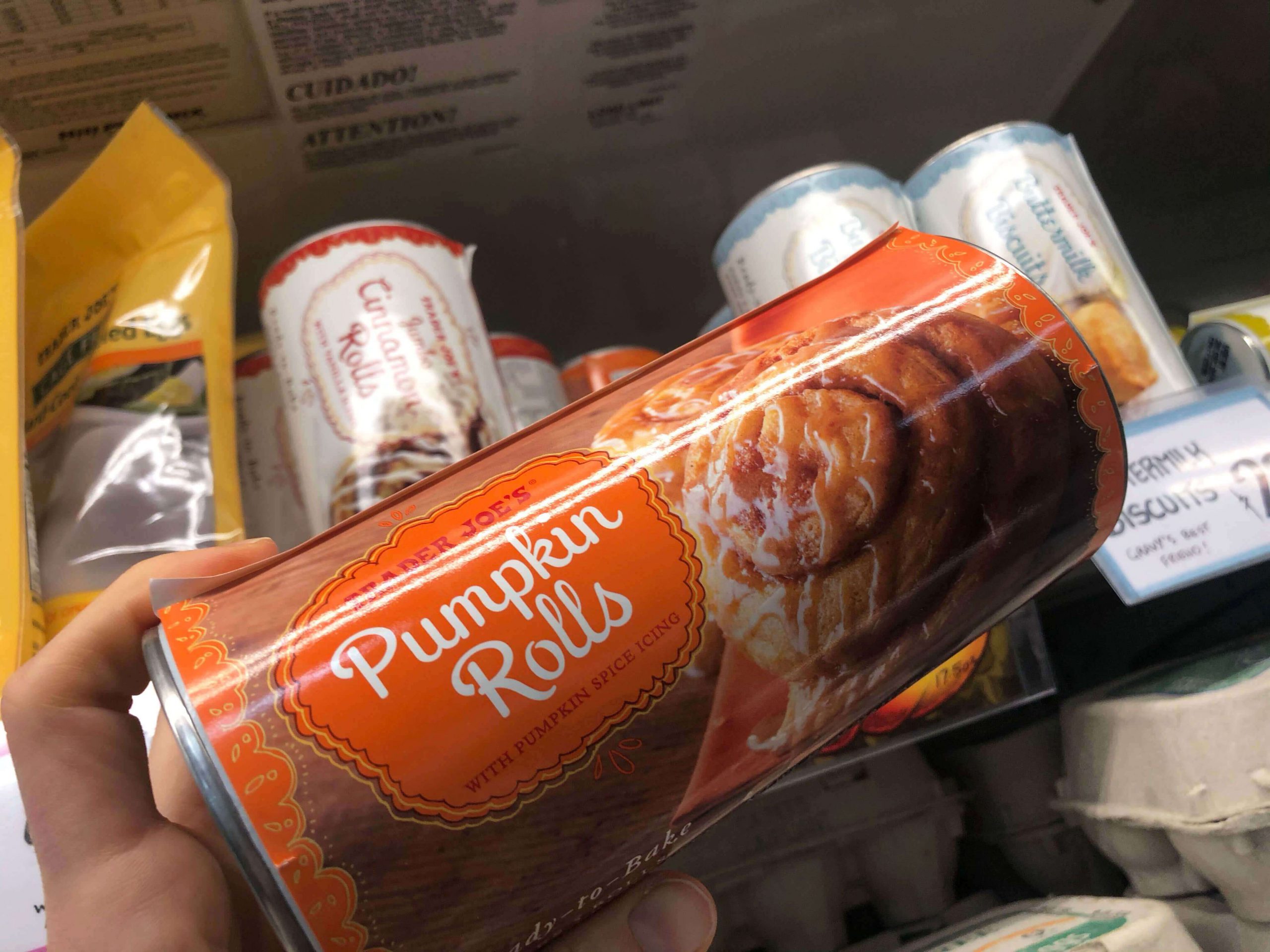 Pumpkin Bread & Muffin Mix
Another pumpkin-flavored breakfast option is this boxed muffin mix. Just add your favorite vegan egg substitute with oil and water, follow the instructions, and enjoy!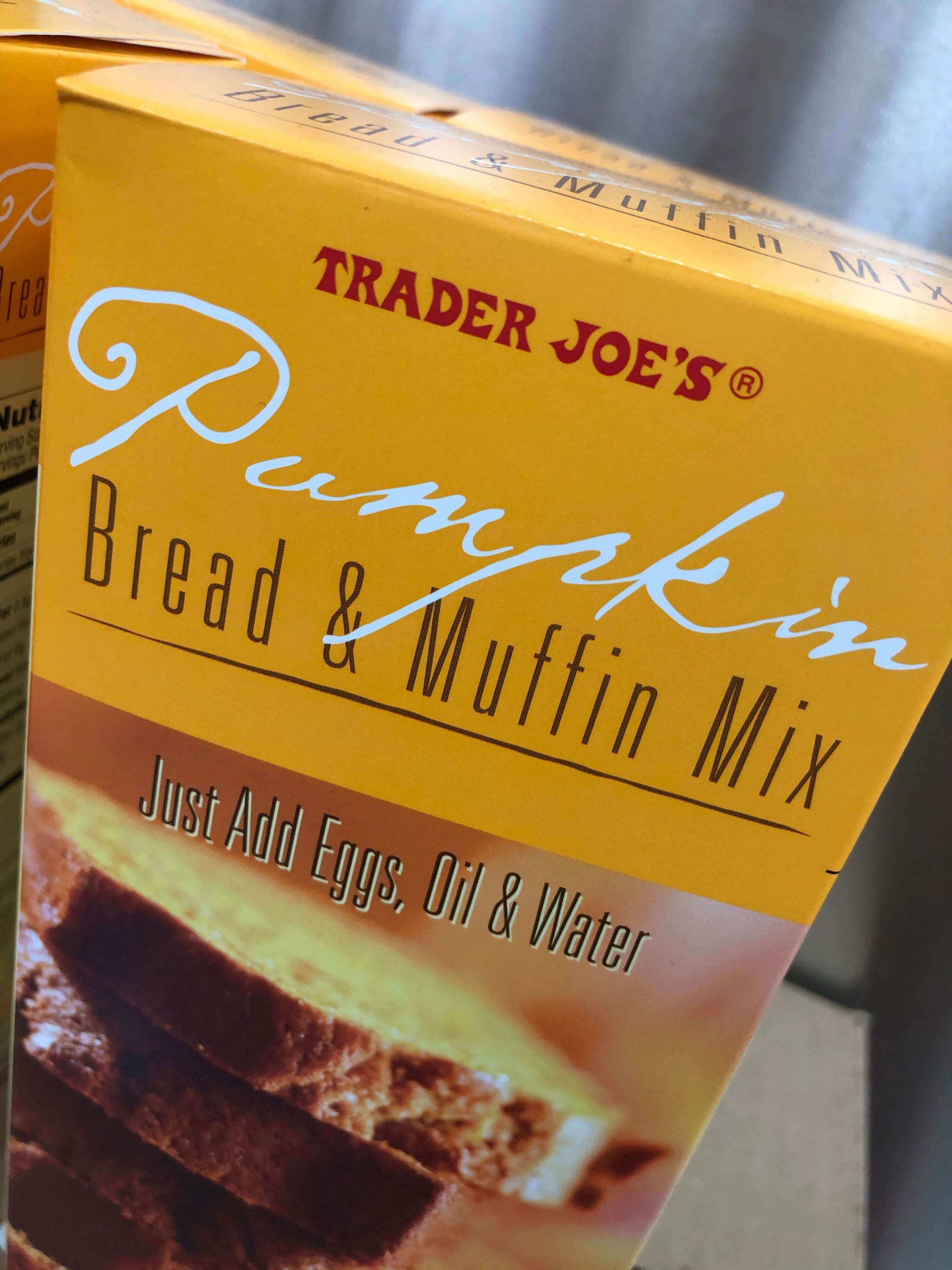 Pumpkin Tortilla Chips
And the pumpkin trend continues! These sweetly spiced tortilla chips are the perfect pre-game for your Thanksgiving feast.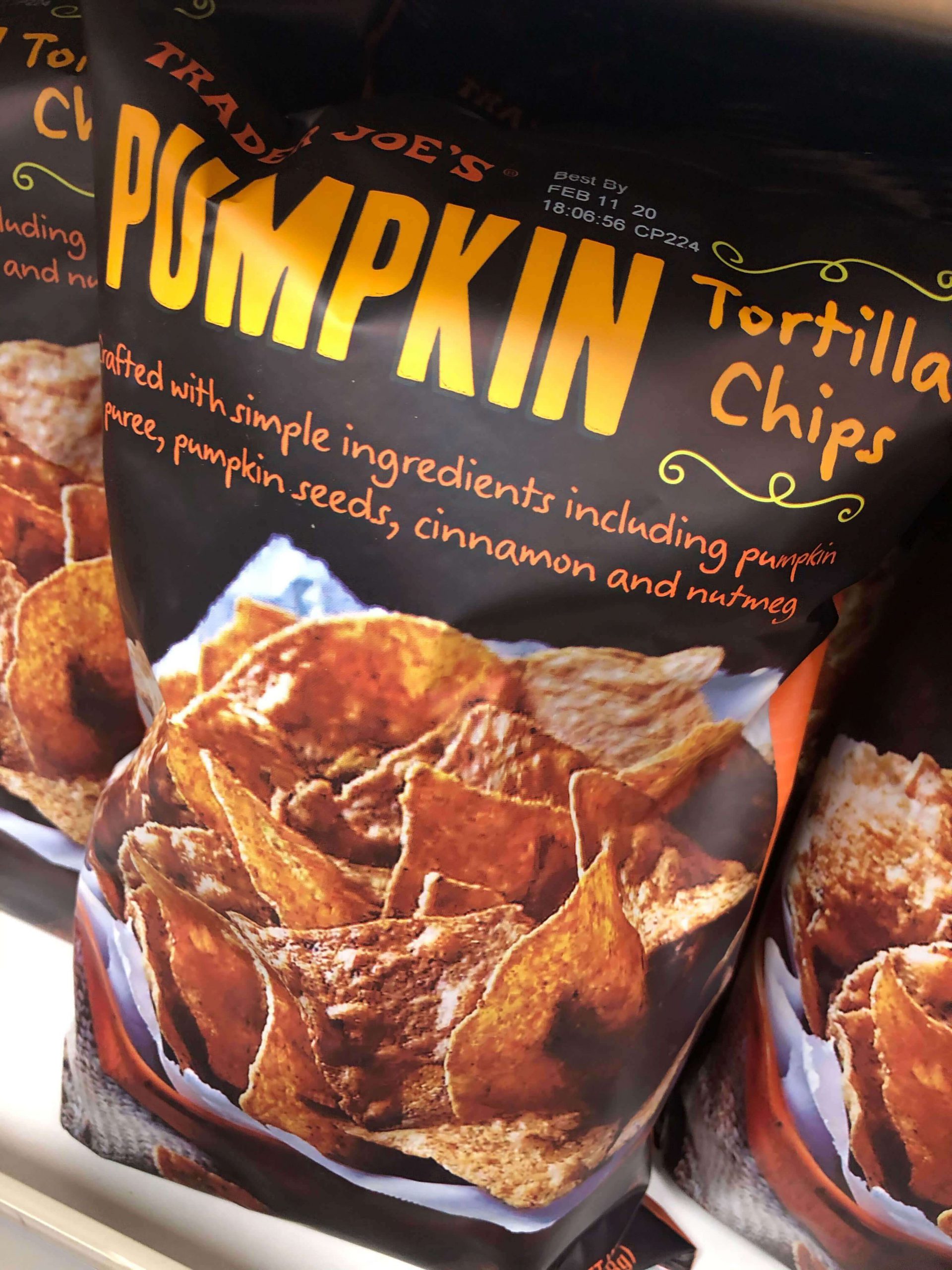 Vegan Ranch Dip
This plant-based ranch is the creamiest way to elevate your vegetable platter! Heck, you can even douse some on your Thanksgiving plate––we won't judge you either way. When in doubt, add ranch!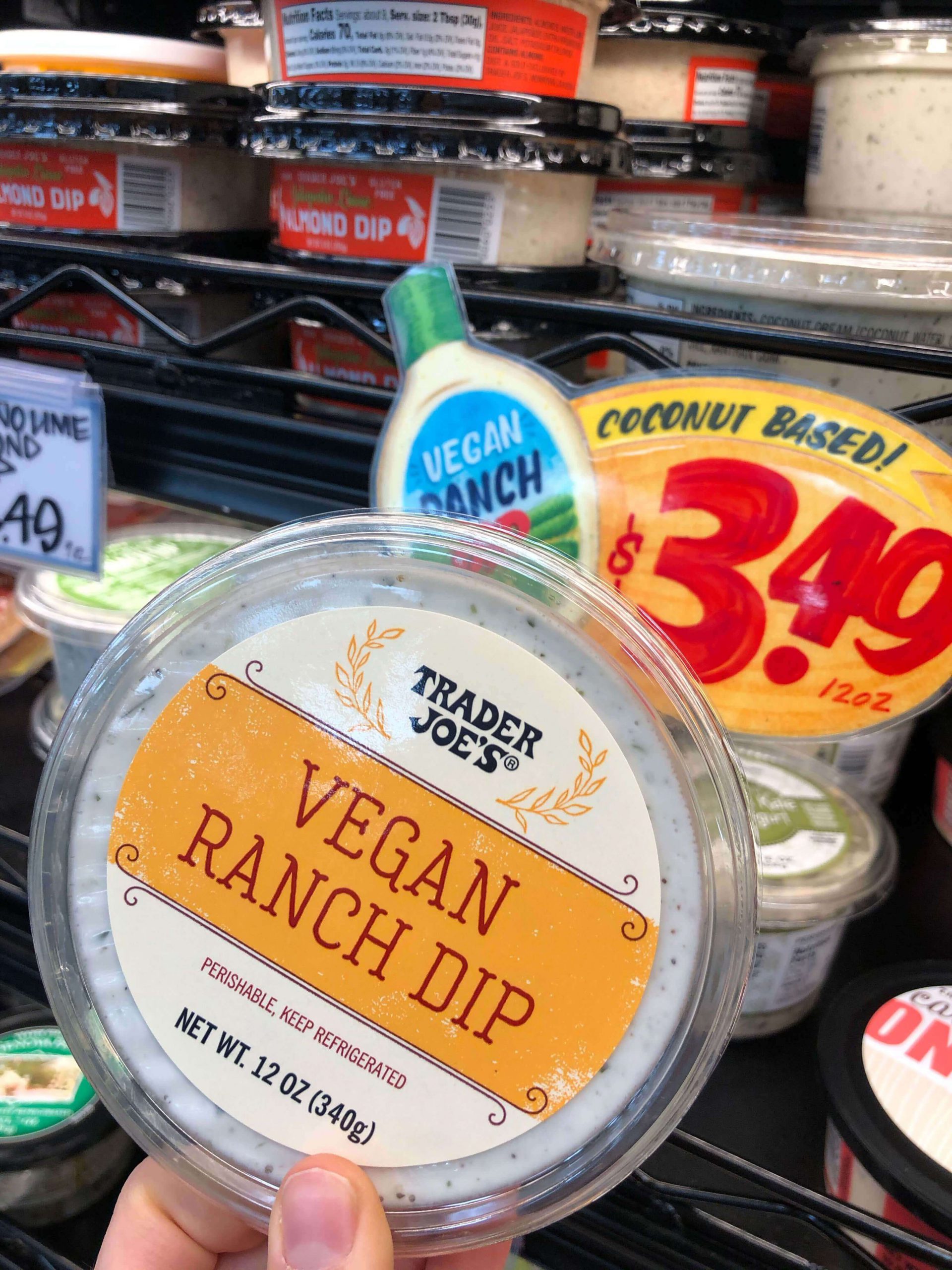 Breaded Turkey-less Stuffed Roast with Gravy
This Trader Joe's fan-favorite is the star of the show every Thanksgiving. If you haven't tried this entrée yet, get your hands on one ASAP for the most bountiful (and affordable) vegan feast! Even if you're celebrating solo, it makes for great reheated leftovers.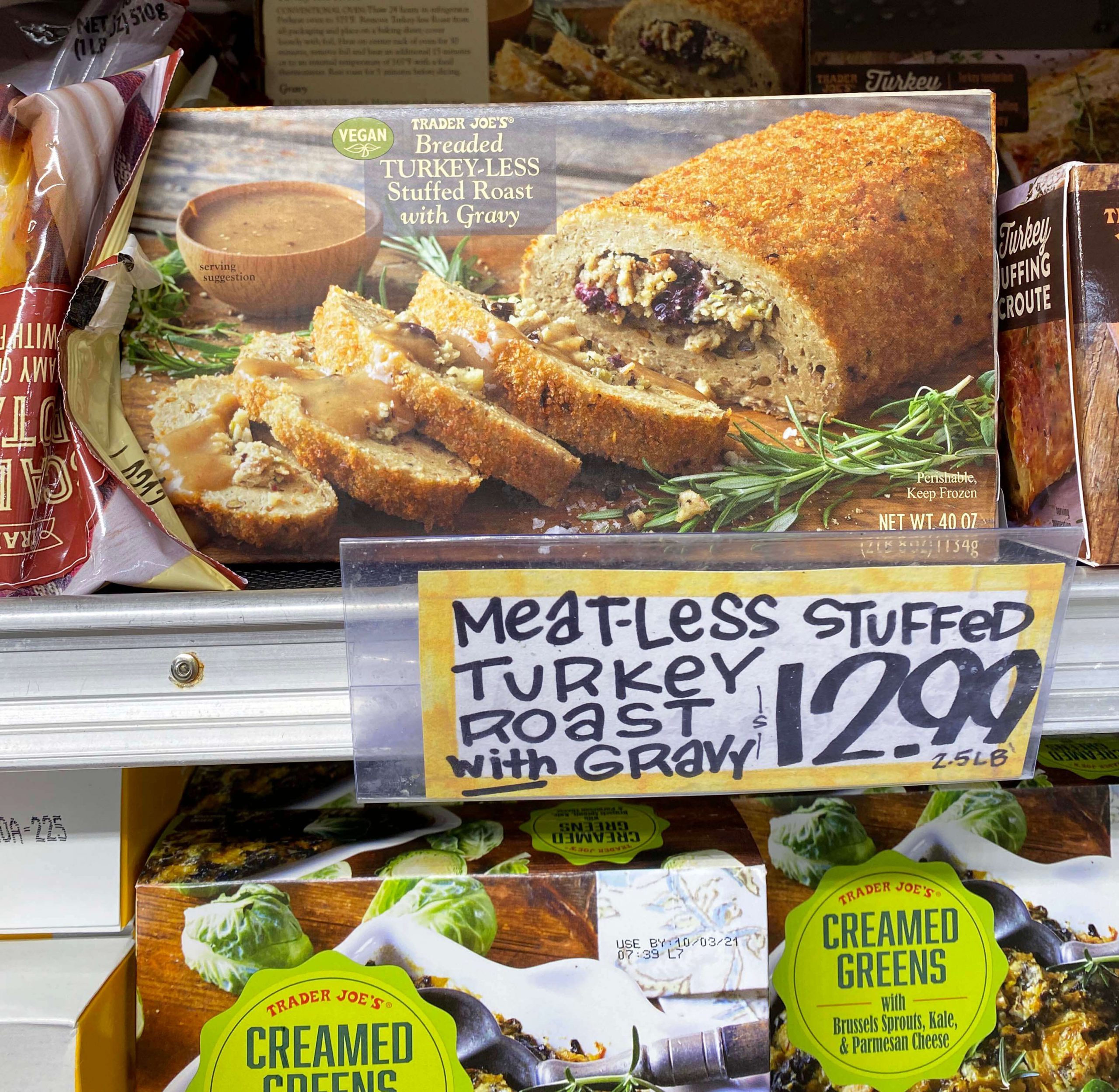 Organic Savory Vegan Gravy
Can't get enough of that gravy? You're in luck! This year, Trader Joe's will be selling individual containers of that glorious vegan liquid gold! It pairs perfectly with mashed potatoes, stuffing, bread, or the Turkey-less Roast––which already comes with gravy, but one can never have too much.
Riced Cauliflower Stuffing
Save your splurging for dessert and try this low-carb, fiber-filled stuffing. It has the perfect amount of sweetness from the dried cranberries and makes for a great flavorful addition to your dinner table.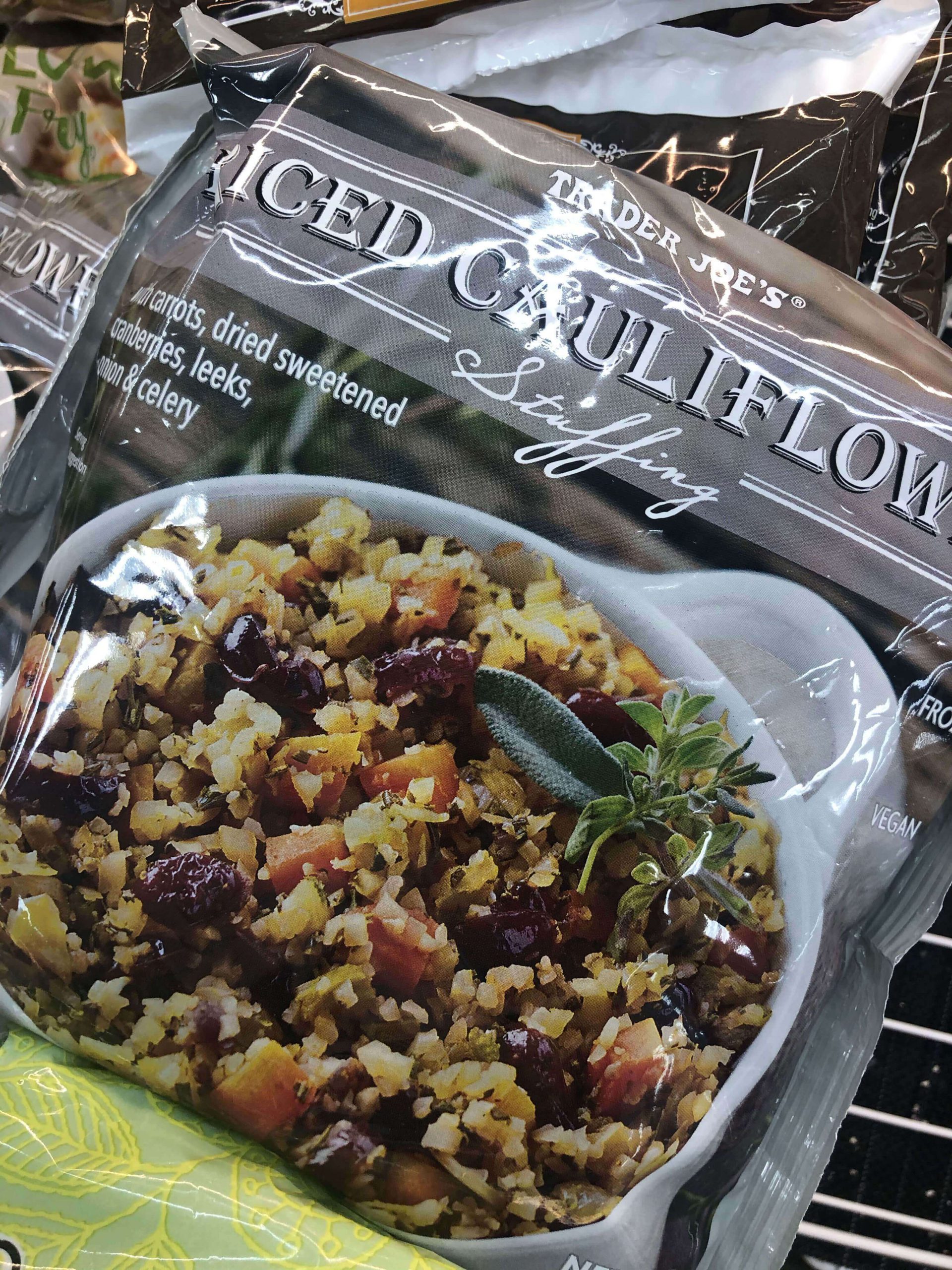 Cornbread Mix
Cornbread is a traditional Thanksgiving accessory for a reason––it's just so dang good and versatile! Mix the bag contents with your favorite egg substitute and non-dairy milk and you're good to go.
Roasted Vegetables
Because we should probably include vegetables somewhere, right? Here it is! This item is a quick and easy way to get your veggies and please your taste buds.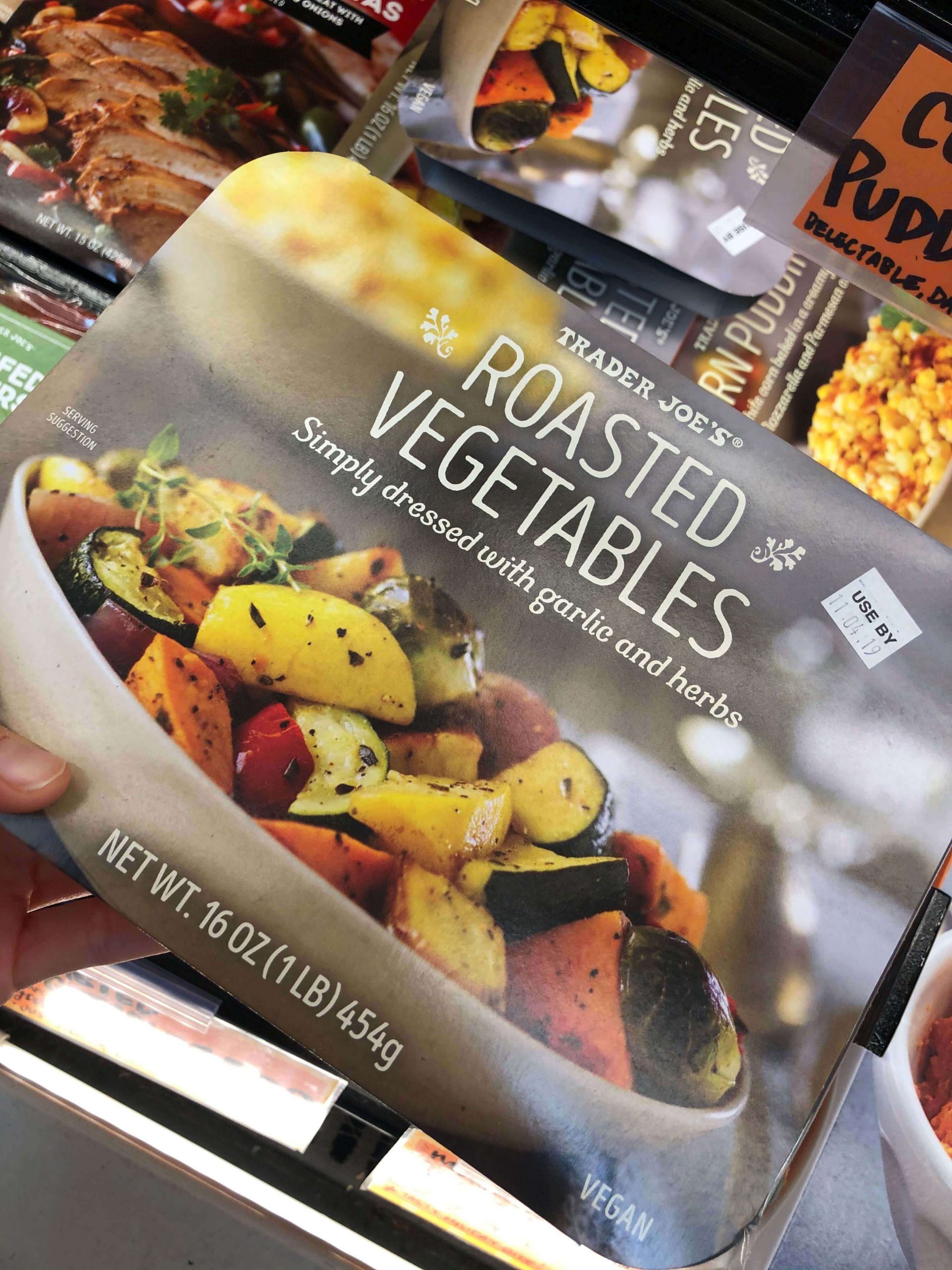 Thanksgiving Stuffing Seasoned Kettle Chips
These stuffing-flavored kettle chips harness all of the glorious flavors of the classic dish––in the form of delicious, golden potato chips. Yes, please!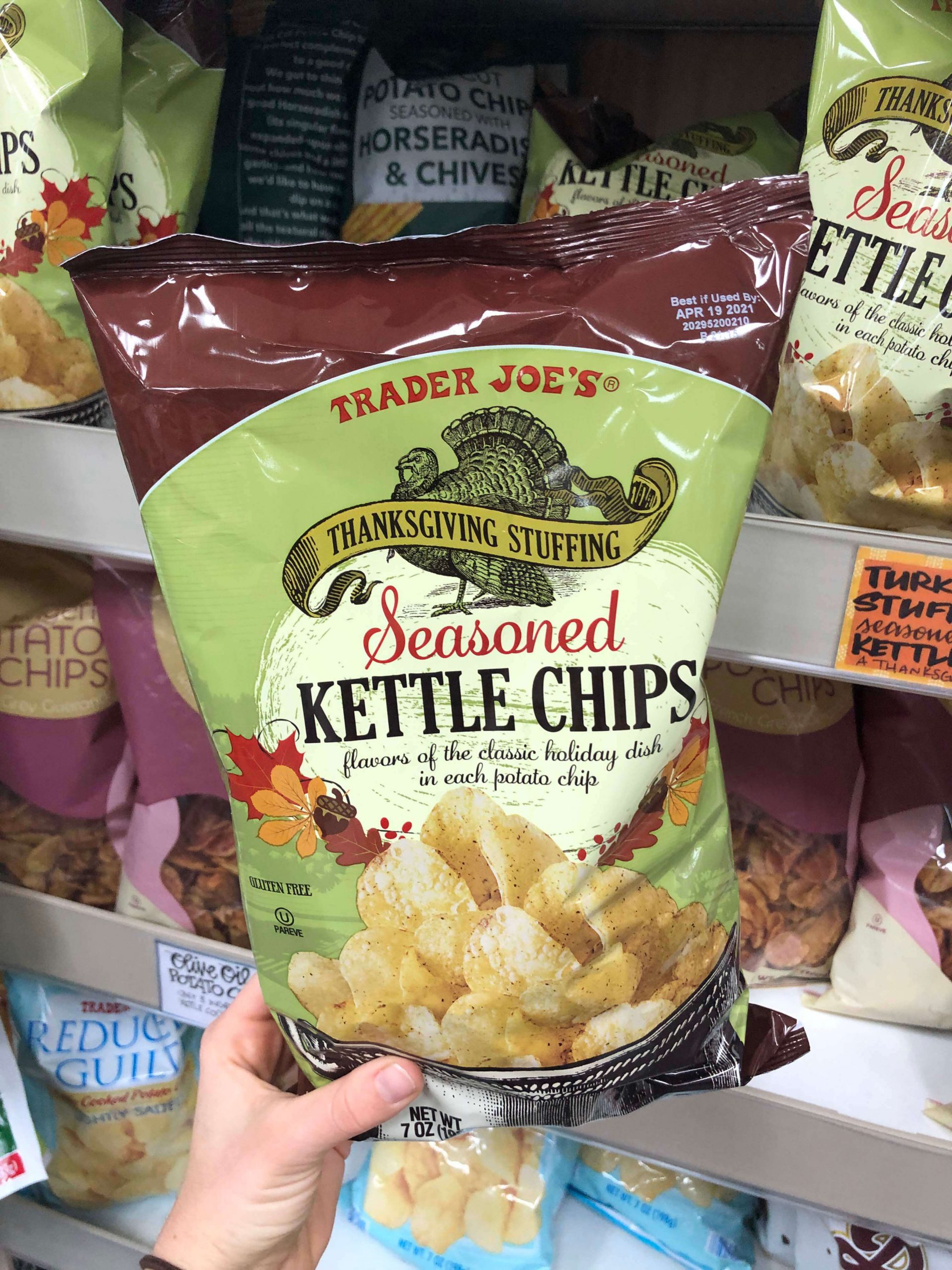 Gourmet Fried Onion Pieces
No green bean casserole is complete without the satisfying crunch of the fried onions on top. Trader Joe's thought it all through and has the perfect product for you to pick up, sprinkle on your casserole, and call it a day!
Cranberry Sauce
It's not Thanksgiving dinner without a generous smothering of cranberry sauce on any- and everything. Grab this jar and check it off your list!
Mashed Sweet Potatoes
When it comes to potatoes, we ain't got no type! This product saves you from the grueling process of peeling and boiling potatoes. It's composed of just one ingredient, sweet potatoes––no, really? And it even comes with microwave directions for those college students looking for a make-shift dorm-friendly Thanksgiving.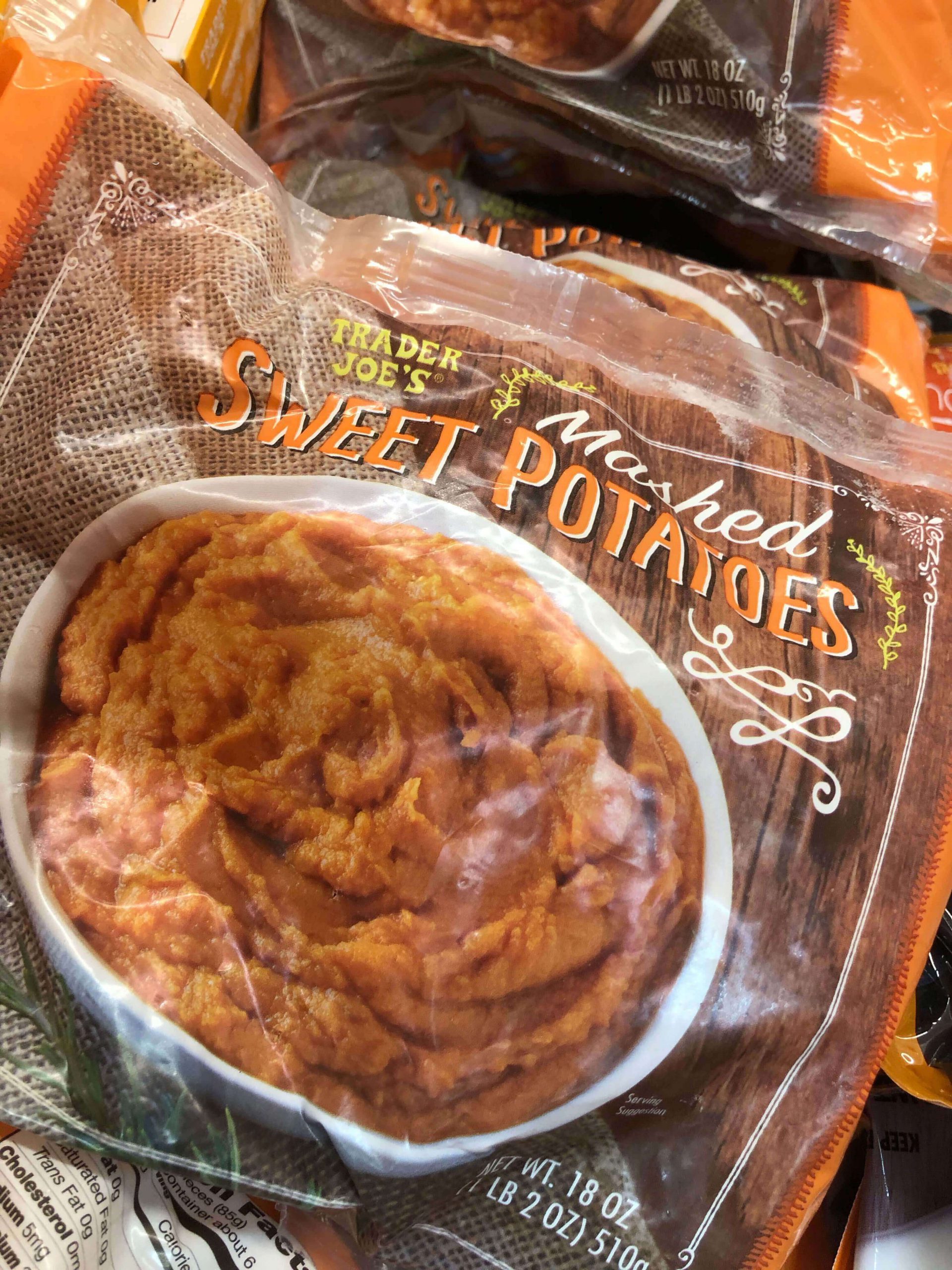 Mini Marshmallows
Who is Sweet Potato's partner in crime? Marshmallows! These plush beauties are gelatin-free, making them completely vegan. Sweet potato casserole, here we come!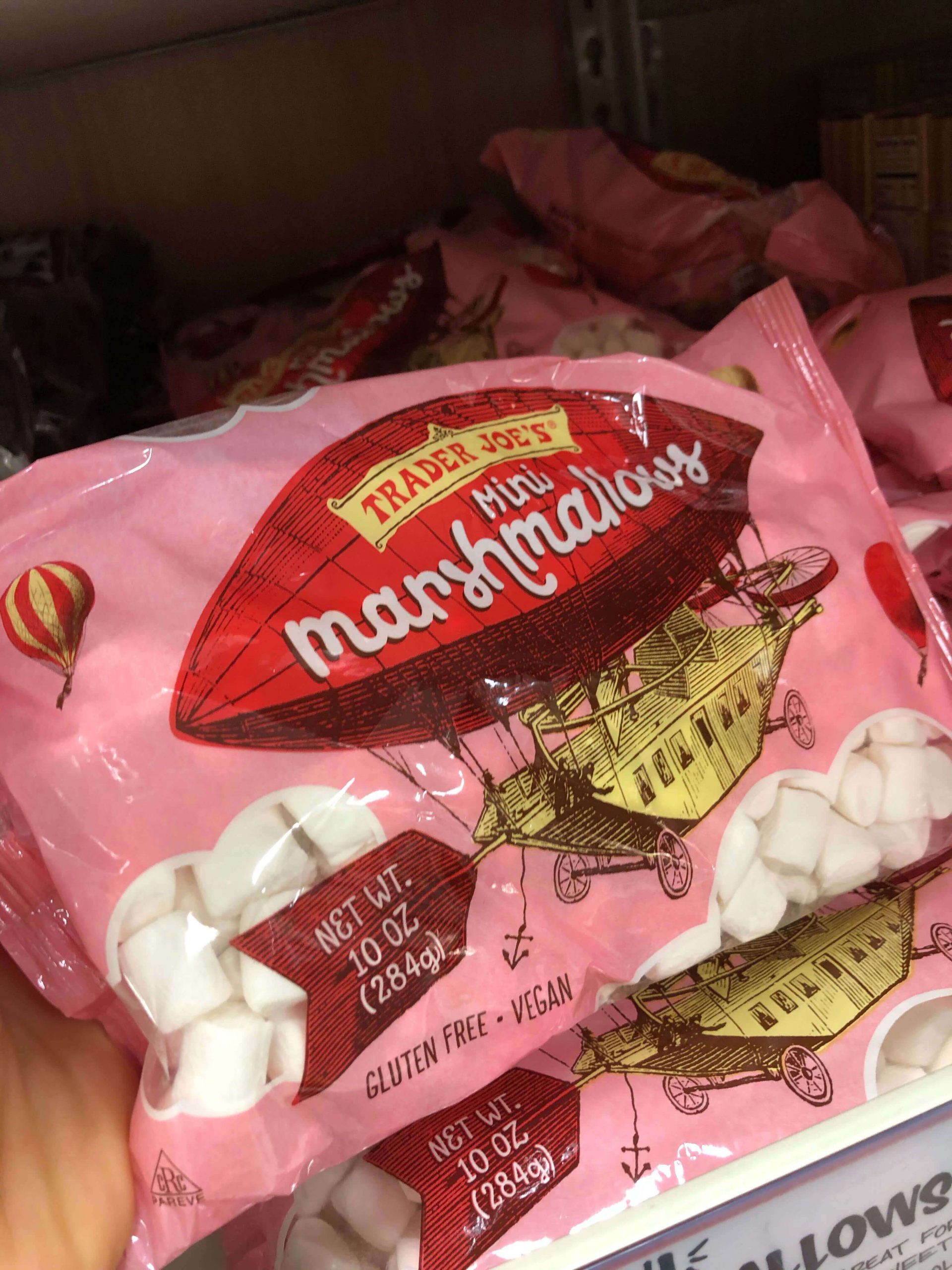 Coconut Milk or Cream
If you're looking to make a pie from scratch this year, you'll probably need a can or two of coconut milk or cream. Whatever form of coconut offspring your recipe calls for, Trader Joe's probably has it. Organic Coconut Milk, Organic Reduced-Fat Coconut Milk, and Organic Coconut Cream are the variations you'll find in the aisles of TJ's.
Organic Pumpkin
Speaking of pie, don't forget the pumpkin! If you want to go down the classic route and make a vegan pumpkin pie, you might need a few of these.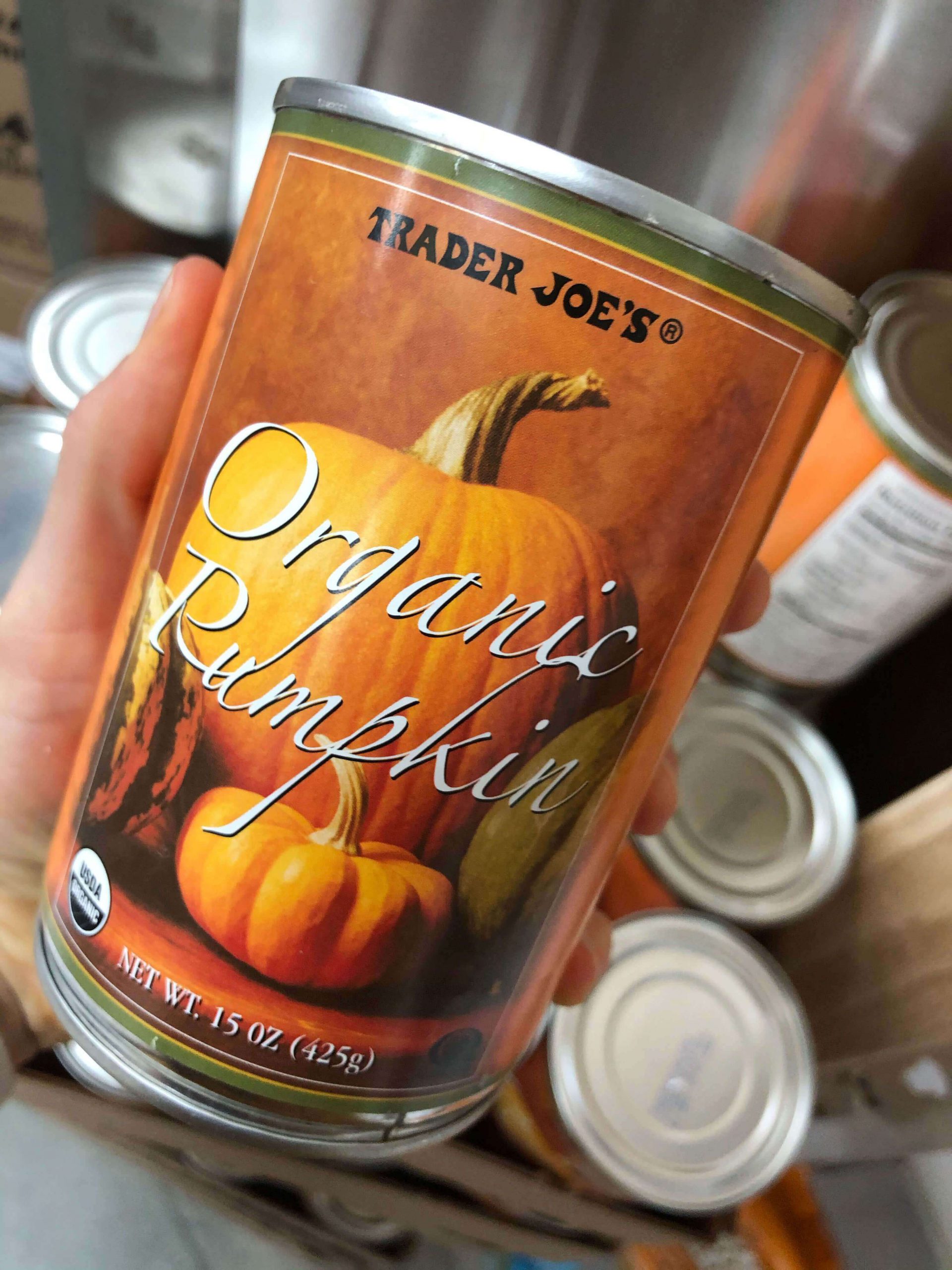 Soy Creamy Vanilla Ice Cream
Who doesn't love pie á la mode? This soy-based ice cream is a marvelous addition to your warm dessert. And if your pie recipe doesn't turn out as expected, no worries––it's great solo, too!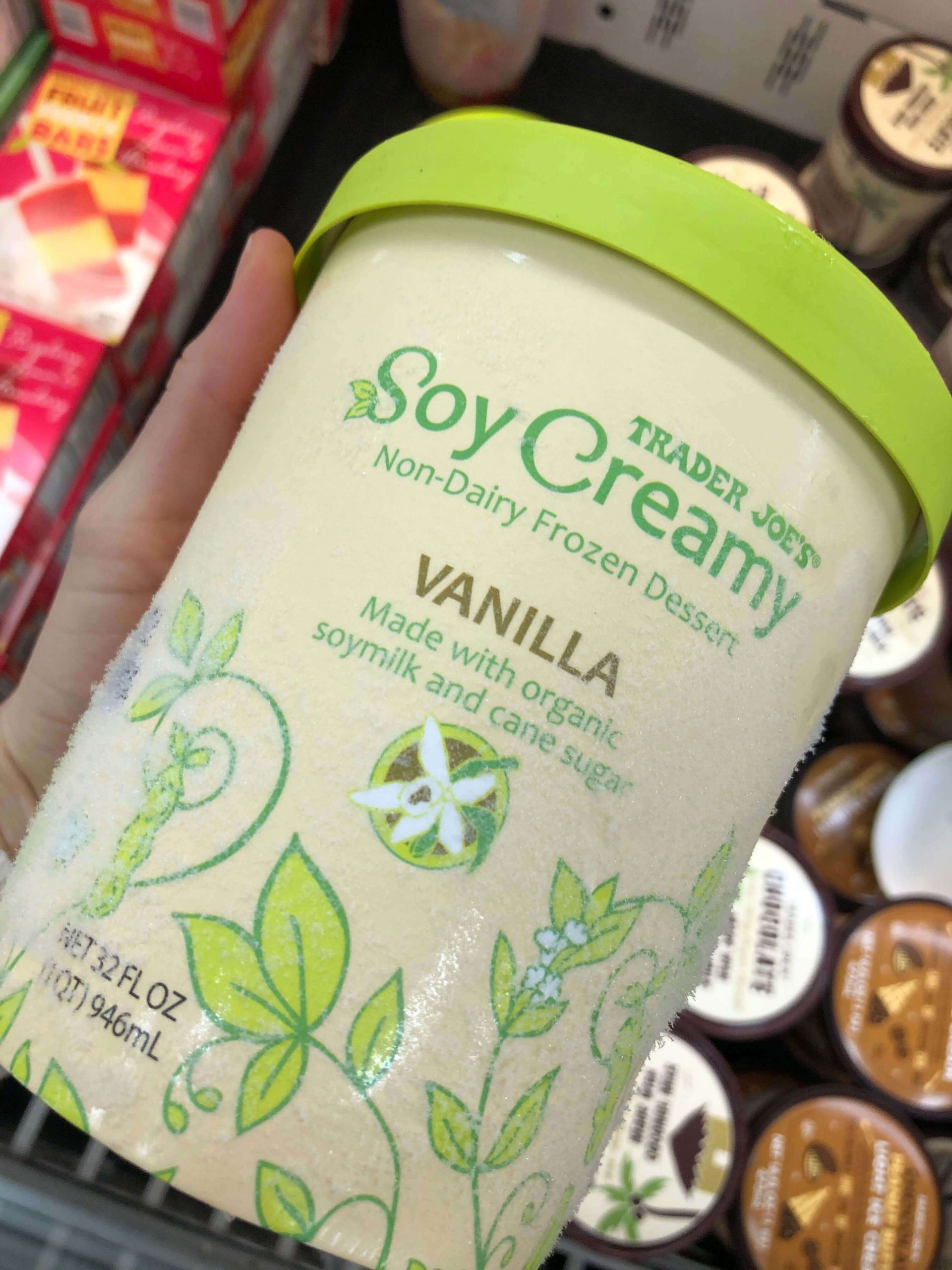 Coconut Whipped Topping
While this item isn't technically Trader Joe's brand, we couldn't leave it out! Elevate your dessert to the highest height with this metal can of deliciousness that's carried at most Trader Joe's.
Maple Leaf Cookies
There's always room for cookies, right? These fall-inspired cuties are made with vegan ingredients and tasty flavors.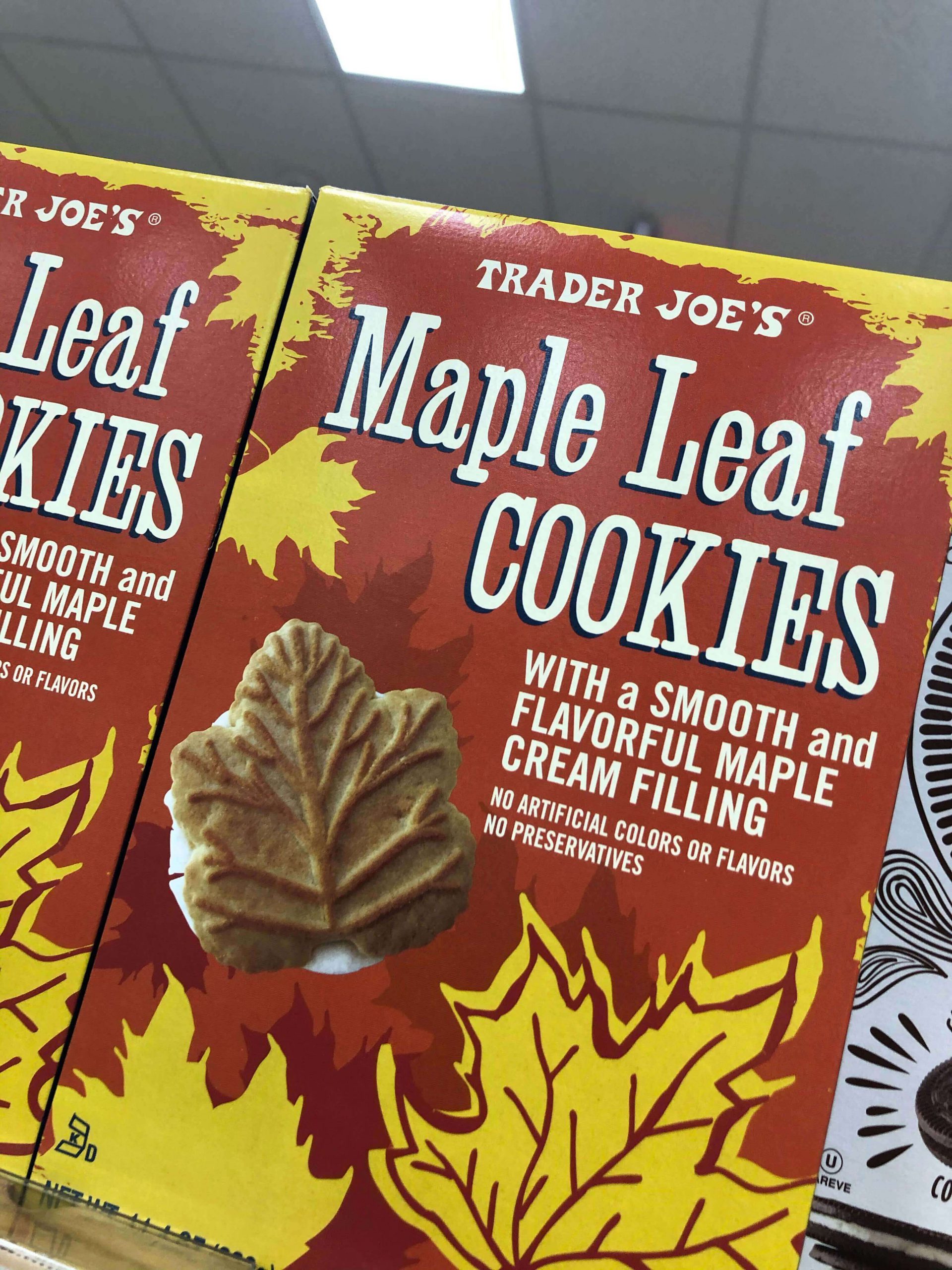 Vegan Cookies
These Vegan Chocolate Chip, Oatmeal Chocolate Chip, and Trail Mix cookies are just what you need to finish off the dessert table. If you just can't get enough, rejoice in knowing they're available year round!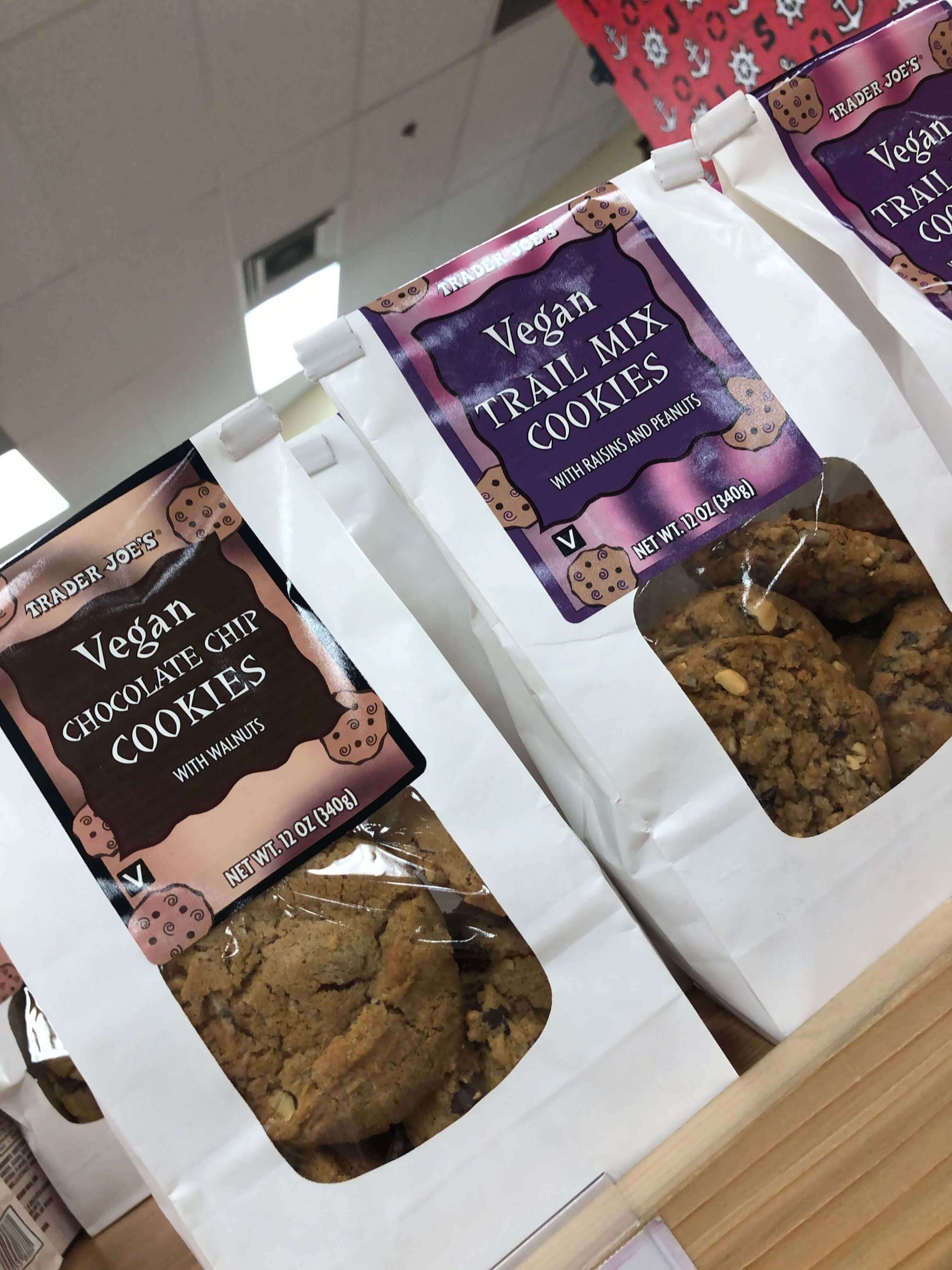 Chocolate Chips
Instead of paying an insane amount of money for chocolate chips that are clearly marked as "vegan," save some coin with these "accidentally vegan" chocolate pieces of bliss! They're perfect for homemade chocolate chip cookies or to sprinkle on top of your pie (on top of the ice cream, on top of the whipped cream—it's the holiday season, anything goes!).
Allie Mitchell
@alliemitch
Allie is a writer, musical theatre performer, yoga instructor, and walking vegan restaurant directory. On any given day, you can catch her making tofu scramble, scouring Trader Joe's for new plant-based products, or watching The Lizzie McGuire Movie! Visit her website at alexandrammitchell.com.
Articles by Allie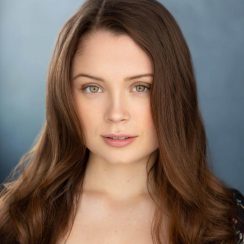 More from VegOut
Subscribe Now
Get the premier vegan food and lifestyle magazine delivered to your door (or inbox!)
Order the magazine!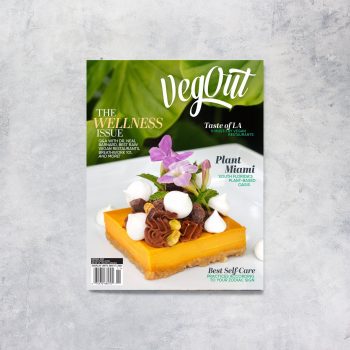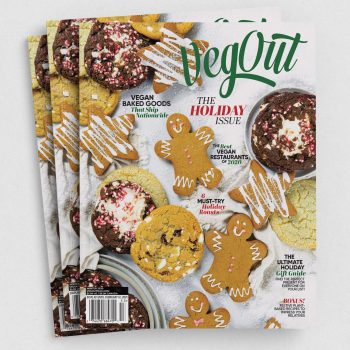 Navigation