Find these plant-based poultry products at your favorite grocery stores.
Craving a chicken sandwich? Got your heart set on a chicken Caesar salad? Meal planning a chicken stir-fry? We've got all your vegan chicken wants and needs covered! From nuggets and tenders to patties and strips, these tasty, cruelty-free vegan chicken products will have you saying, "What the cluck?" Check out our list of the 21 store-bought vegan chicken brands we love. Find these plant-based poultry products at your favorite grocery stores.
We're obsessing over the new Better Chew Extra Crispy Fried Chicken—it's the crunchy batter, crave-worthy taste, and realistic texture for us. And we love the convenience of throwing them in the air fryer. Better Chew also offers shredded chicken for sandwiches and tacos, along with chicken nuggets for family-approved snacking.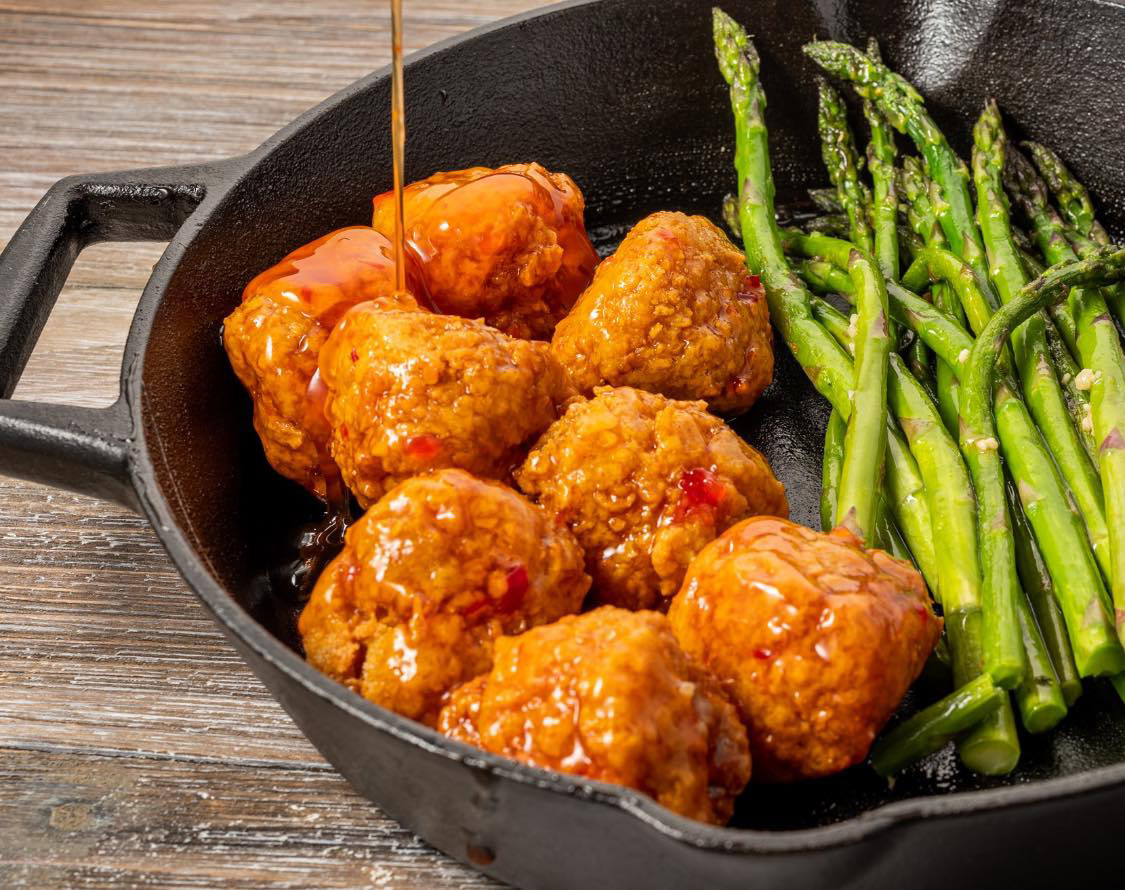 This fully vegan brand has the hookup on all things vegan chicken. From Seven Grain Crispy Tenders and Chick'n Scallopini to Teriyaki Chick'n Strips and the Ultimate Plant-Based Chick'n Filets, Gardein offers plant-based chickenless products for every occasion. Try these freezer favorites on burger buns, in stir-fries, and paired with homemade pasta dishes.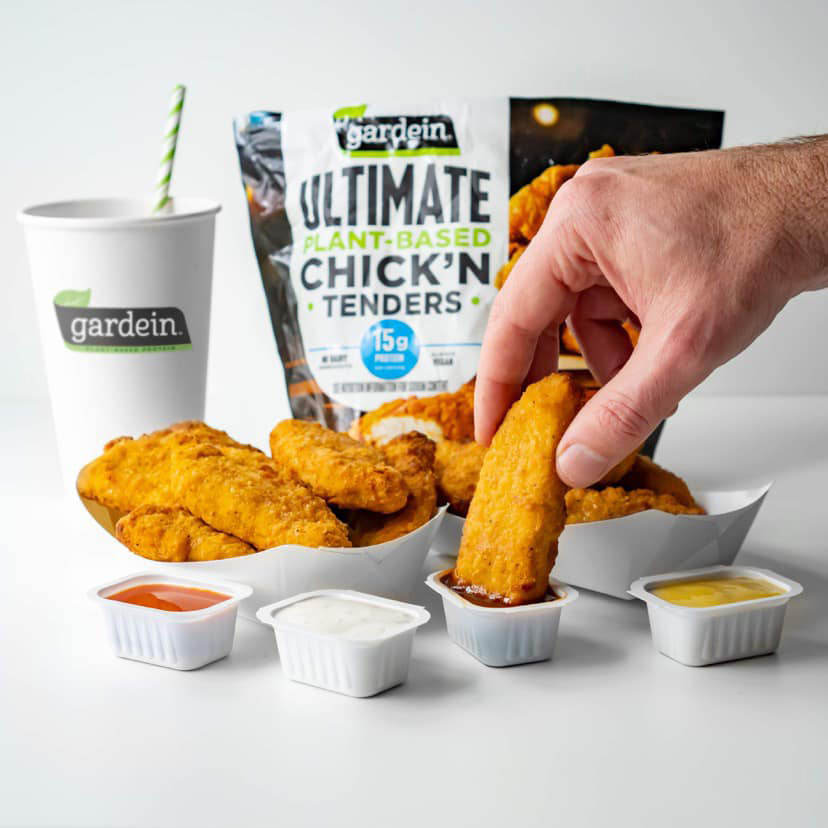 Nuggets, pieces, and wings, oh my! The LikeMeat brand is serving up a finger-licking variety of vegan chicken, and we are here for it! Go for the Chick'n Pieces, and whip up a tasty pita sandwich, or opt for the Grilled Chick'n for a hearty salad. If you're planning a party, wow your guests with the saucy Chick'n Wings.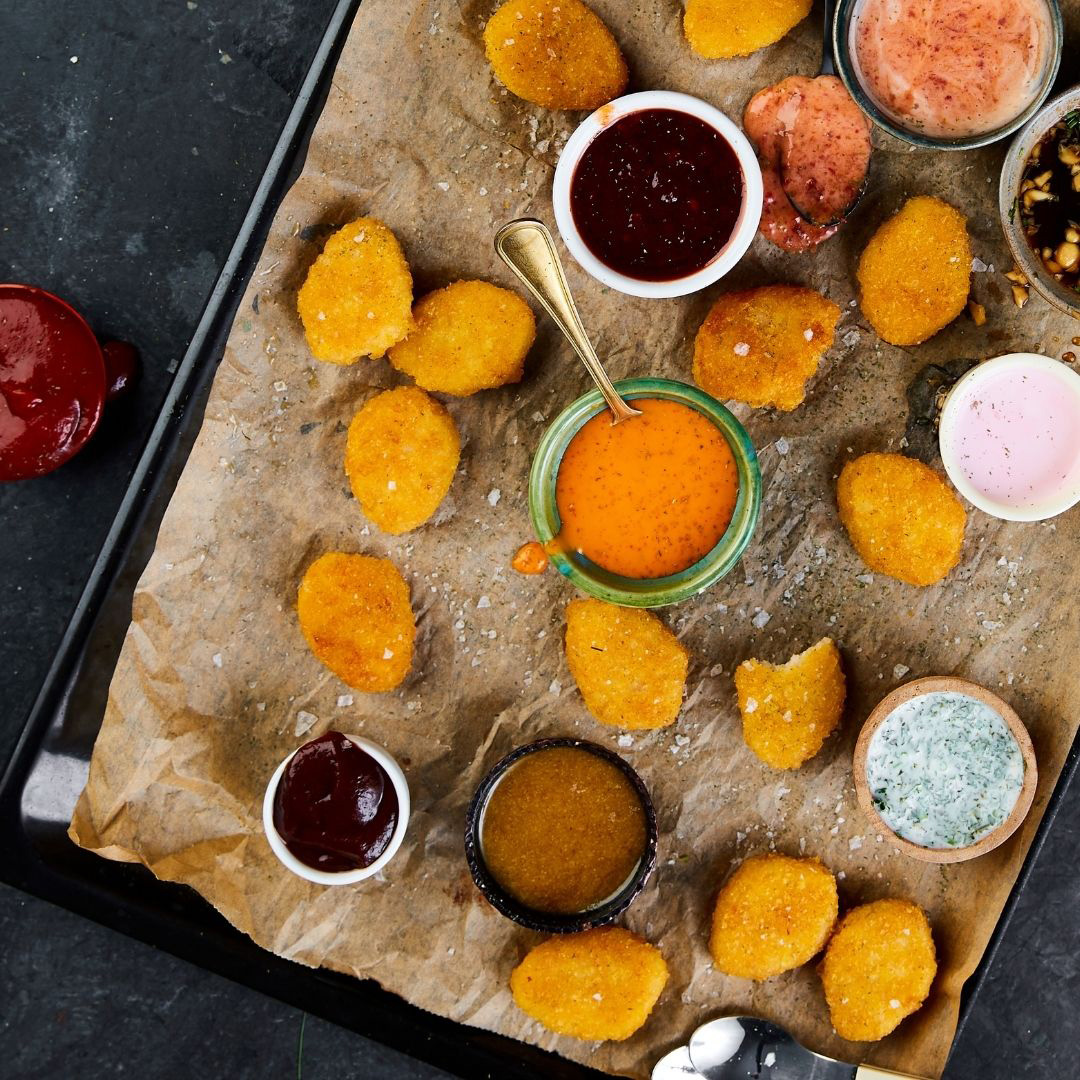 Made with jackfruit as the first ingredient, these plant-based nuggets and Buffalo wings are an innovative way to enjoy cruelty-free poultry products. We love pairing the nuggets with hand-cut fries from the air fryer and adding the Buffalo wings to a salad with ranch. Find several other meat alternatives from the Jack & Annie's brand.
These Beyond Chicken Tenders are perfect for veganized chicken Caesar wraps—think lettuce, vegan parm, and plant-based Caesar dressing. It's the crispy, golden breading for us! Made with faba beans, these breaded chickenless tenders are an easy way to add a protein source to your lunches, dinners, and snack sessions alike.
Don't let the name fool you. Tofurky doesn't just specialize in plant-based turkey, it offers other mock meats, like Plant-Based Chick'n too. Try the Sesame Garlic on pasta or the Thai Basil atop flatbreads for super decadent dishes. Bonus: These vegan chicken products are microwavable, making them great for last-minute eats.
The Impossible Chicken Nuggets sport a crispy, golden brown breading on the outside and a tender, juicy texture on the inside. Made with both wheat and soy, these popular nuggets are packed with protein sans the animal ingredients. Treat your inner kid to a weekend nugget dinner paired with tots and dipping sauces.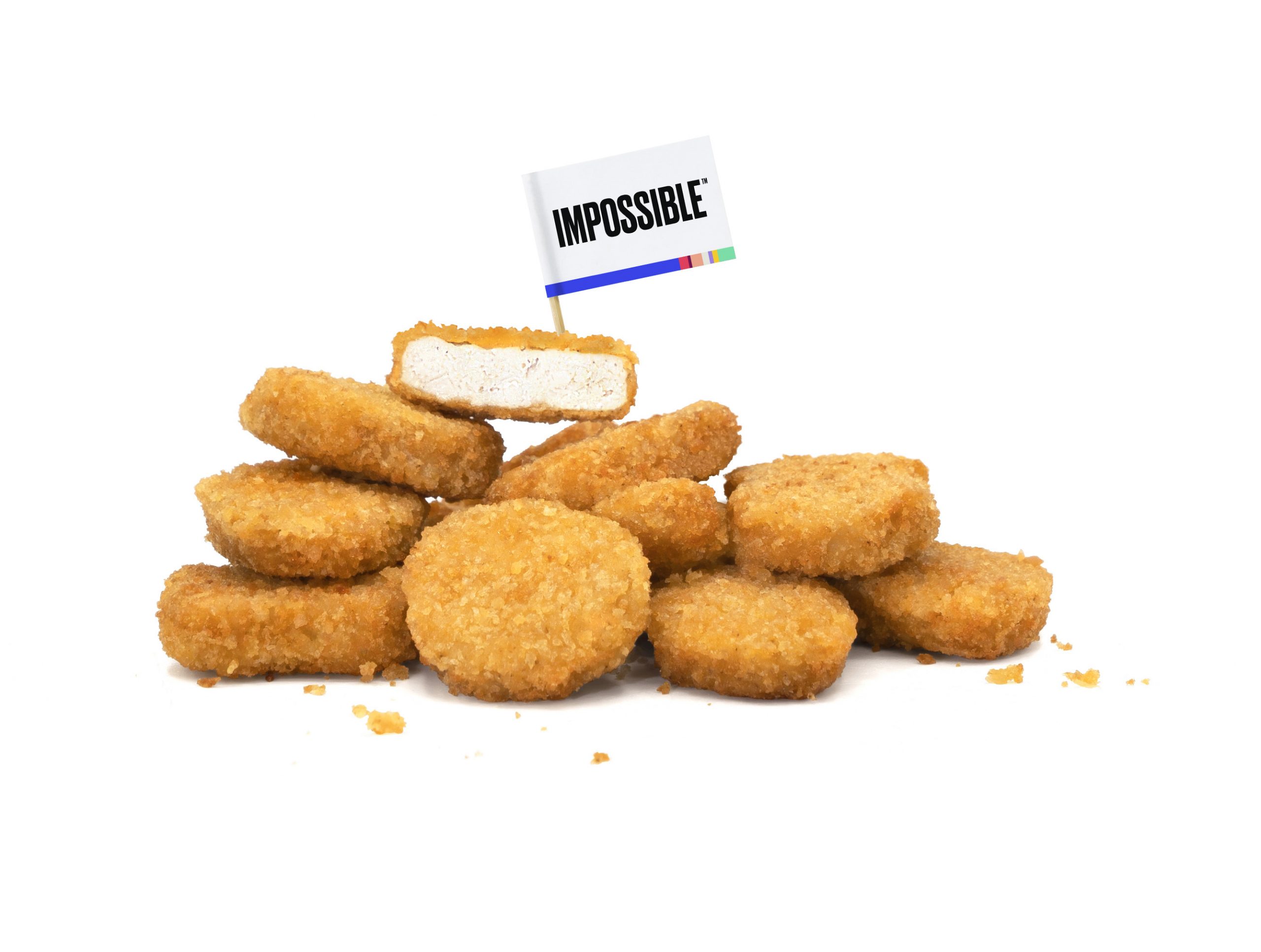 As the brand likes to say, Daring is "1000% not chicken," but it sure looks, shreds, and tastes like it. Made with simple ingredients and available in four irresistible flavors, including Original, Breaded, Cajun, and Lemon & Herb, the plant-based poultry pieces are a must-try. We love adding these bites to homemade pasta dishes.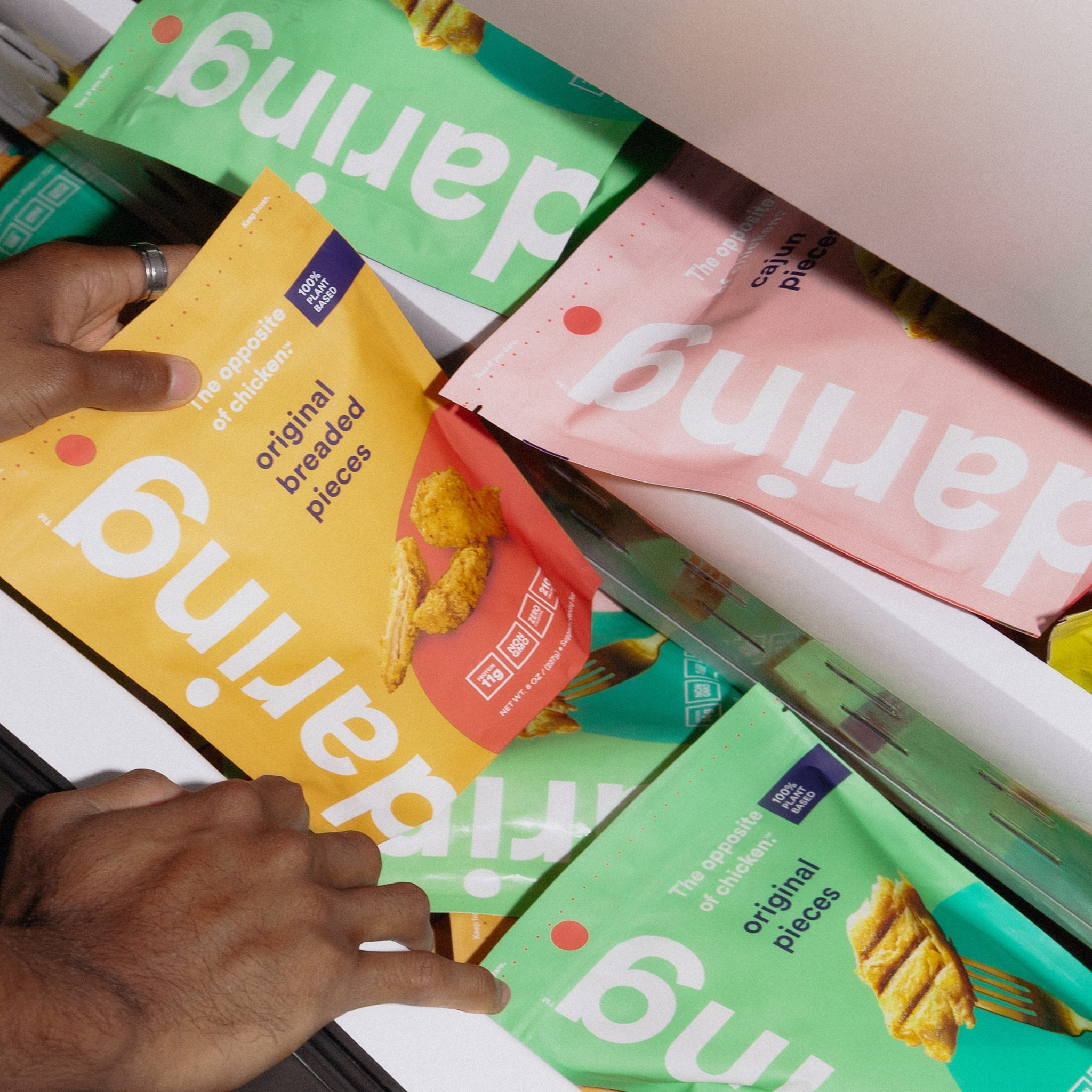 From the company that makes vegan sausages and deli slices, the Field Roast nuggets and wings definitely deserve a VegOut shout-out. The Classic Plant-Based Nuggets and Buffalo Wings always make our game day appetizer spread. We love them paired with celery sticks and dipping sauces or used as loaded chicken nacho toppers.
The comforting taste of nugget nostalgia isn't just for kids. Herbivorous adults unite with these dunkable Original Chik'n Nuggets. And don't sleep on the Chik'n Burgers or Chik'n Strips from Alpha Foods. Whether you opt for a quick snack or a full on chik'n dinner, you're in for a cluckin' treat with this vegan chicken brand!
From breaded tenders and filets to Smart Tenders without the breading, consider your cruelty-free chicken cravings satisfied. From the makers of your favorite tempeh, Lightlife has plant-based poultry too. Whip up fajitas, pastas, and salads, or let the chickenless products speak for themselves by pairing them with fries and ketchup for dunking—the possibilities are endless.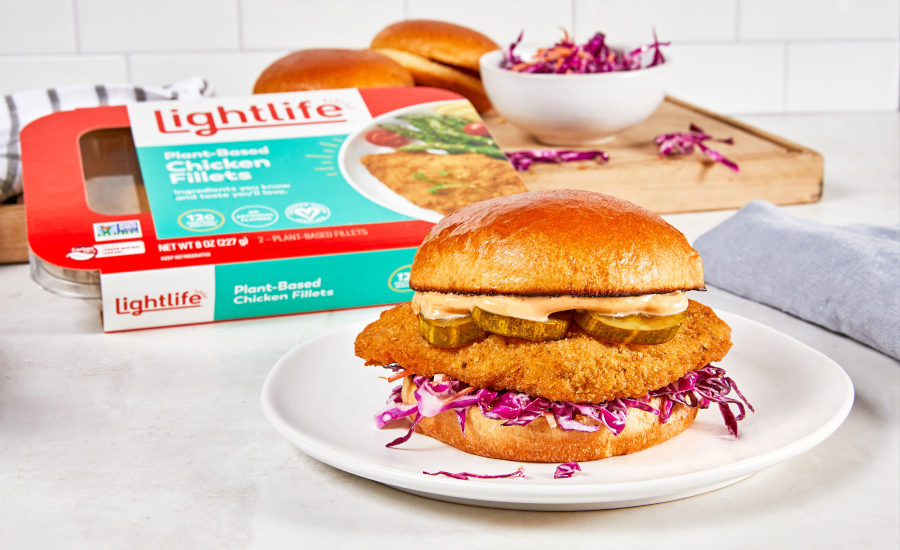 Vegan-Friendly
While this longtime plant-based freezer staple continues to transition to an all-vegan lineup of products, many vegan chicken products are ready to be enjoyed now. Opt for their Veggie Chick'n Nuggets, Veggie Chick'n Strips, and Veggie Chik Patties for vegan-friendly eats. Don't forget about their Incogmeato sub-brand featuring additional inclusive chicken products.
Vegan-Friendly
ICYMI: We've been obsessing over the Good & Gather plant-based products at Target. The store line offers a plethora of vegan-friendly goods, including Meatless Chick'n Tenders. We're all about baking up a serving of these tenders and eating them with homemade mashed potatoes, gravy, and green beans. Can you even blame us?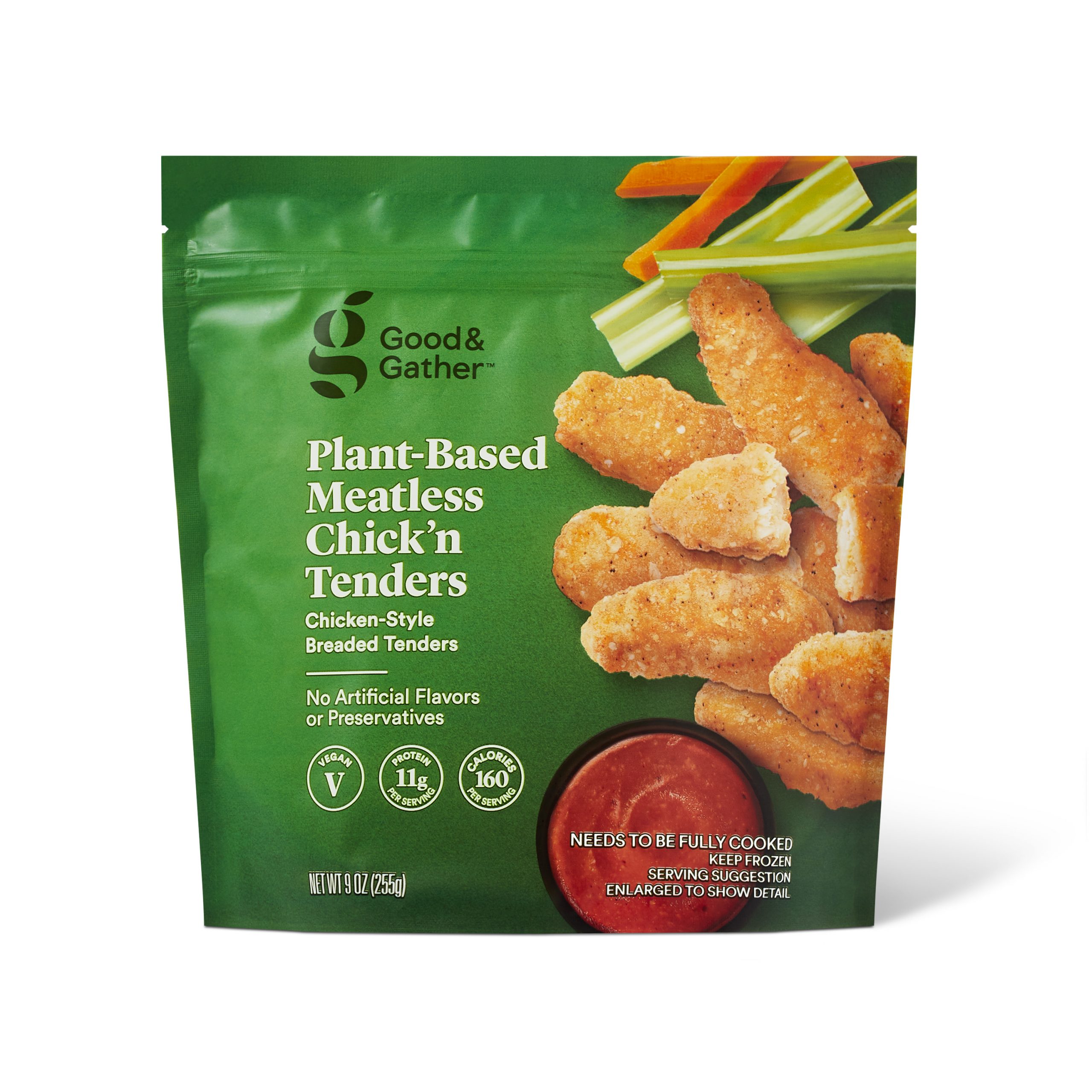 Vegan-Friendly
While not all Boca brand products are vegan, plant-based eaters can find several vegan chicken products to enjoy. Try out the Chik'n Nuggets dunked in vegan ranch and barbeque or opt for a Chik'n Patty on a bun loaded with vegan bacon and guacamole. The options are endless with this tasty brand.
Photo credit: @thebakingfairy
Vegan-Friendly
Your friendly Walmart didn't skimp on the vegan chicken products. Check the freezer aisle at your local market for Great Value Chick'n Patties and Tenders from this inclusive store brand. We love these freezer staples for whipping up easy barbeque chicken sandwiches and quick after school snack platters on the fly.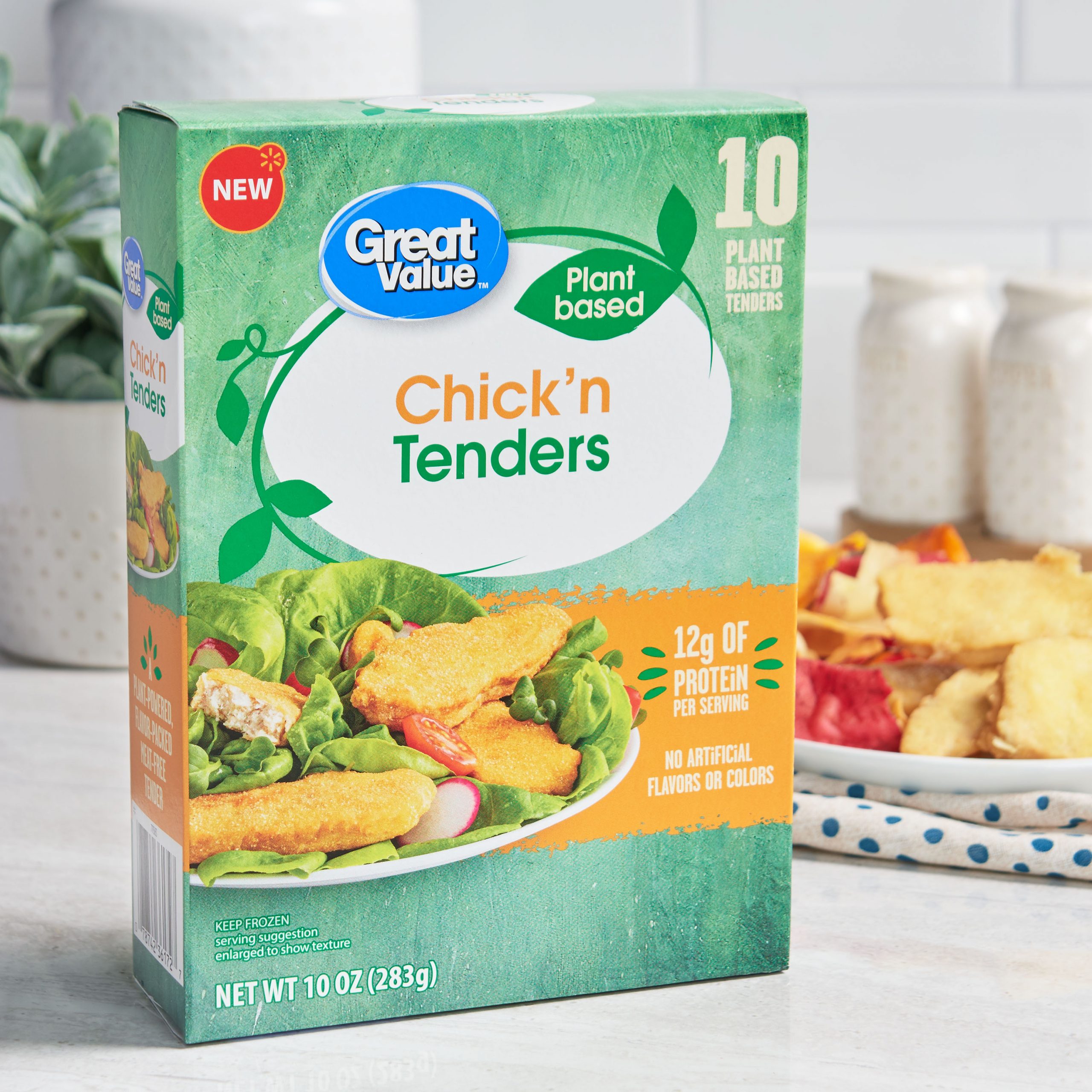 Vegan-Friendly
The Mindful Chik'n Strips from Sweet Earth are out of this world. They are so versatile and can be featured in burritos, casseroles, salads, and beyond. The vegan-friendly brand also offers Chik'n Apple Sausages, which we love adding to homemade pasta bowls loaded with noodles and rotational veggies all around!
Vegan-Friendly
We're all about the Chicken-less Mandarin Orange Morsels served atop white rice and steamed broccoli. Seriously, it is the easiest, tastiest dinner ever! Trader Joe's also offers Chickenless Crispy Tenders, perfect for dipping in vegan ranch or using in easy chicken tacos topped with TJ's guac, pico, and vegan cheese shreds.
Vegan-Friendly
Awesome for those avoiding soy and gluten, Dr. Praeger's offers a handful of vegan-friendly chicken alternatives made from pea protein. Opt for the Chick'n Tenders in Classic, Gametime Buffalo, and Grandpa Mel's BBQ varieties. This freezer aisle line also offers the Perfect Chick'n Spinach Pesto Burgers to enjoy as a loaded handheld.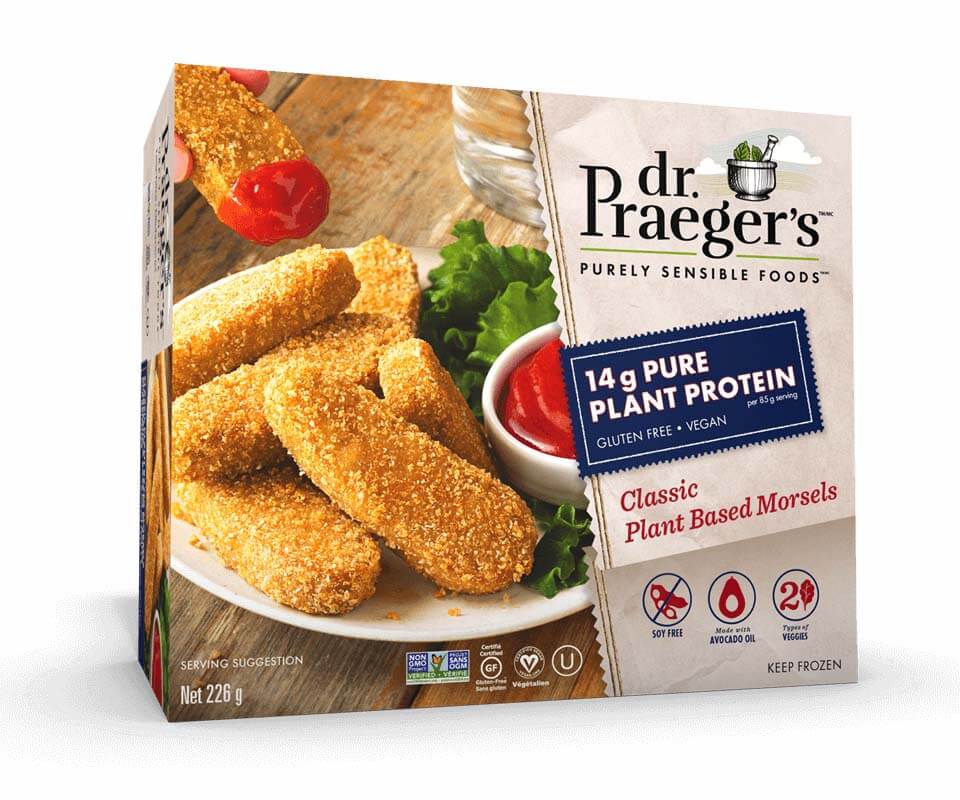 Vegan-Friendly
Discount supermarket chain Aldi offers a growing number of vegan grocery products. Look for their store brand, Earth Grown, for plant-based nuggets, tenders, strips, patties, and more. Shoppers can enjoy vegan chicken sandwiches, kid-friendly nugget platters, Buffalo ranch wraps packed with tenders, and homemade chicken parmesan loaded with vegan cheese.
Vegan-Friendly
If you've heard enough about vegan nuggets and patties, Quorn has you covered. They offer Vegan Meatless Chipotle Cutlets, perfect for Tex Mex bowls with beans, rice, and salsa. They also serve Buffalo Dippers, which are great for appetizer nights with your besties. Not all Quorn products are vegan, so be sure to investigate your labels.
Vegan-Friendly
Take a step back in time with the Meatless Plant-Based Dinosaur-Shaped Protein Nuggets from Yummy, a sub-brand of Perdue Farms. These dino nugs are just as you remember, but totally animal-free. Unfold your TV table, bake up some crinkle-cut fries, and you've got yourself a tasty dinner and a trip down memory lane.