Back
21 Black-Owned Vegan Food Brands to Support Right Now
Load up your kitchen with these amazing vegan food products from Black-owned businesses across the nation! Right now, it's more important than ever to support the Black community. Put more of your spending money toward supporting local Black-owned businesses, rather than larger corporations. Whether you need coffee, snacks, or plant-based meats and cheeses, this list covers it all!
Los Angeles
Good vegan cheese can be hard to come across. From texture to taste to the way it melts, there are many aspects we look for in non-dairy cheese products. But with Misha's Kind Foods, you won't have to worry about any of that! Their cashew and almond-based cheese come in a plethora of melodious flavors using hints of sun-dried tomatoes, cilantro, habanero, roasted carrots, black truffles, and more! Their products are available at stores across Los Angeles. Check out their website for a full list of locations!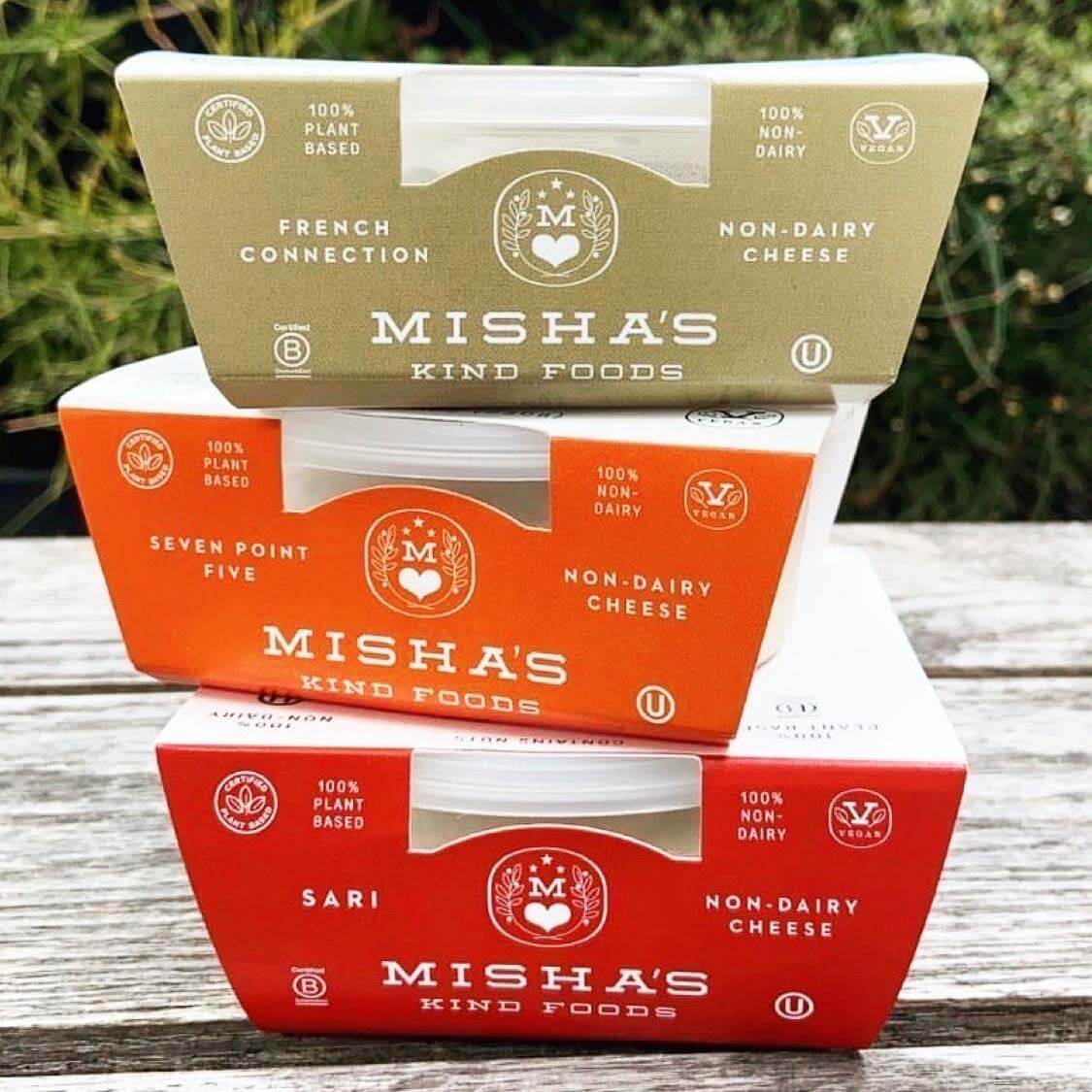 Photo credit: @newdelivenice on Instagram
New York and Nationwide
What do you eat when it's cold? Soup! What do you eat when you're not feeling well? Soup! What do you eat when you need some comfort? Soup! What do you eat––okay, you get the point! What we're trying to say is you can never go wrong with a warm bowl of soup. Egunsi Foods specializes in authentic West African soups made with fresh, rich ingredients. Enjoy this soup solo or add it to your favorite dish for a saucy flavor flair! Purchase this soup online or at select stores in New York.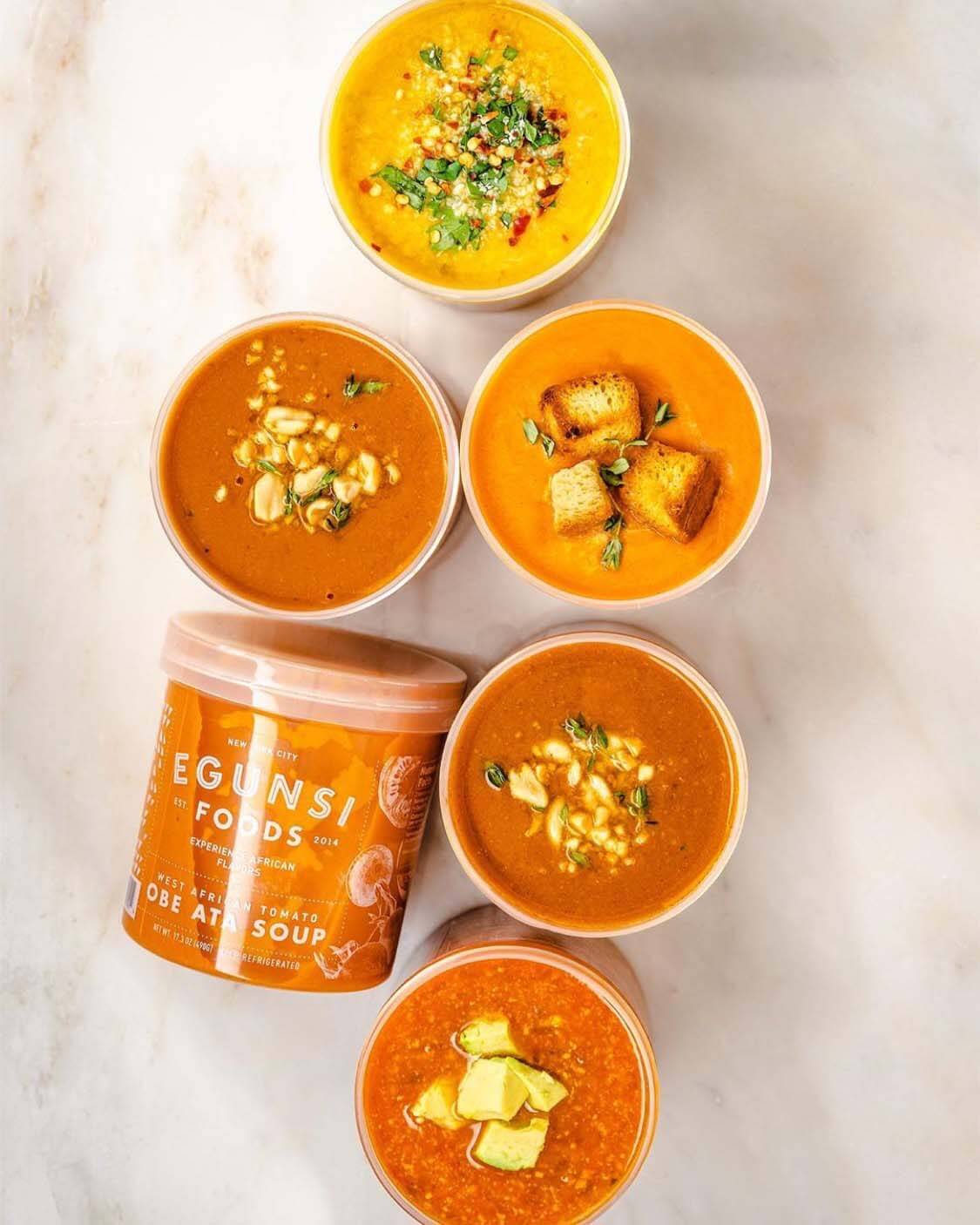 Nationwide
Trade Street Jam Co. was created by Ashley Rouse in her tiny apartment on Trade Street in North Carolina. Her passion and knowledge for food comes through in every bite. If you're looking to swap out your jar of classic strawberry jam for something a bit more fun and flavorful, snag a jar of Smoked Yellow Peach, Sour Cherry Ginger, or Blueberry Lemon Basil jam from this Black female-owned company. Put a dollop on your oatmeal, spread it on a flatbread, toss it with your salad, add it to a cocktail––the combinations are endless!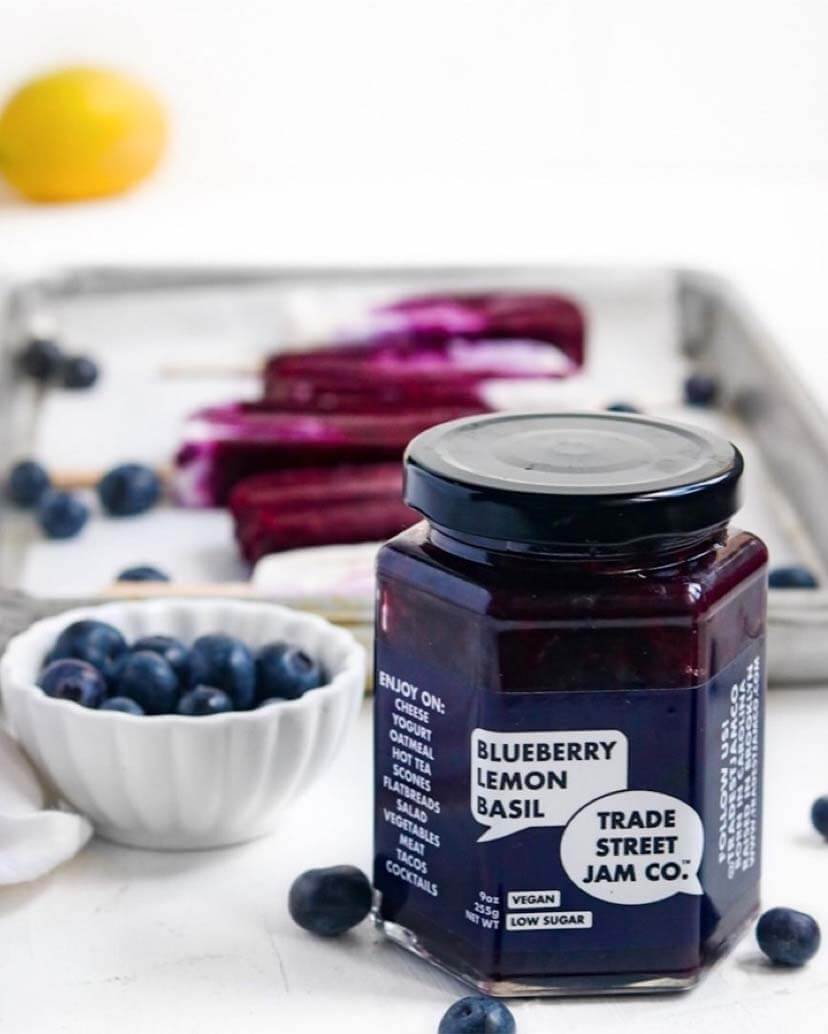 Nationwide
What's squishy, sweet, and square-shaped? Funky Mello's vegan and gluten-free Mellos (as in marshmallows)! Whether they're used in s'mores during the summer, on hot chocolate in the winter, or enjoyed by the handful any time of the year, marshmallows are always good to have on hand! Choose from their Vanilla or Cookies N Cream Mellos and load up your online cart. The product can also be purchased at Rabbit Food Grocery and Dia's Market in Austin, Texas.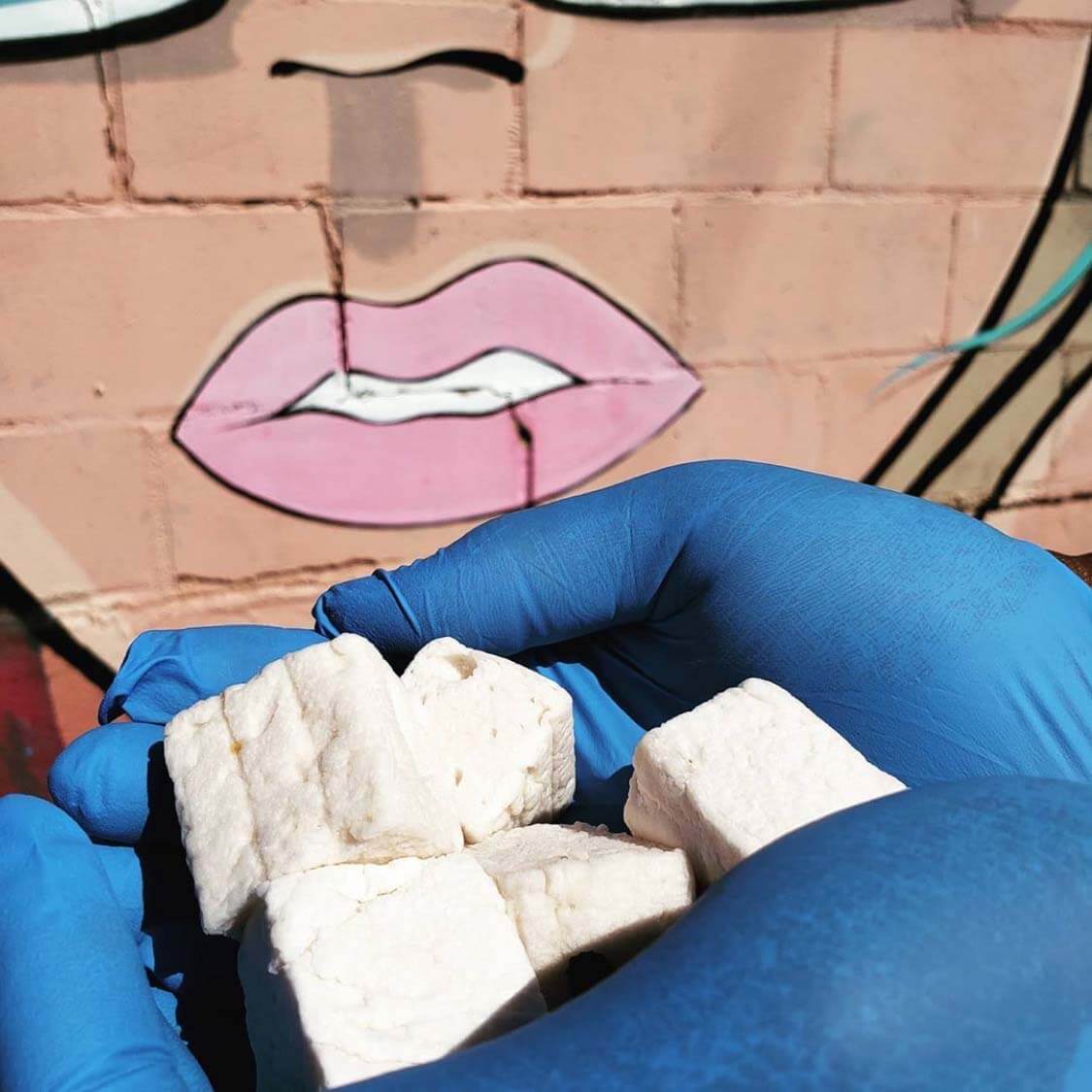 Nationwide
While we're on the topic of s'mores, let's talk about this amazingly tasty Vegan S'mores Popcorn from Pop of Inspiration! Each bag contains organic vegan popcorn that's coated in graham cracker crust and mixed in with mini marshmallows and semi-sweet chocolate chips––we're drooling just thinking about it! This brand also makes Birthday Cake Popcorn, Spicy Popcorn, Salted Caramel Popcorn, and White Chocolate Chip Macadamia Nut Cookies. And yes, it's all vegan!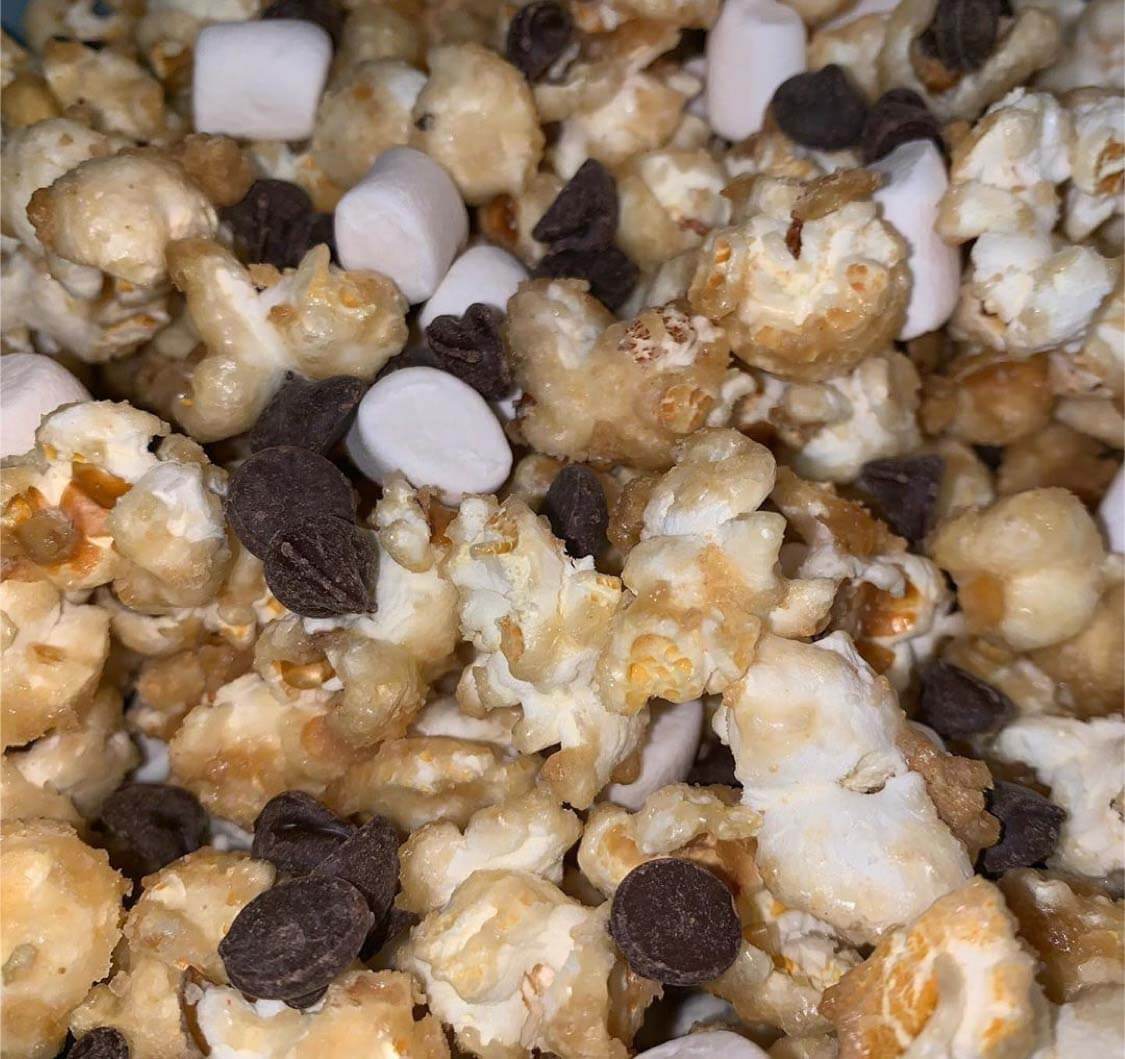 Nationwide
Have you ever tried the No Cookie cookie? No? Then you're going to want to order some in the very near future! These moist and chewy cookies contain no dairy, no eggs, and no wheat—now can you tell where they get their name from? The wide variety of flavors range from Peanut Butter, Oatmeal Raisin, and Chocolate Chip to Lemon Poppyseed, Carob Mint, and Island Coconut. What are you waiting for? Order your cookies online or track them down at select retailers across the nation!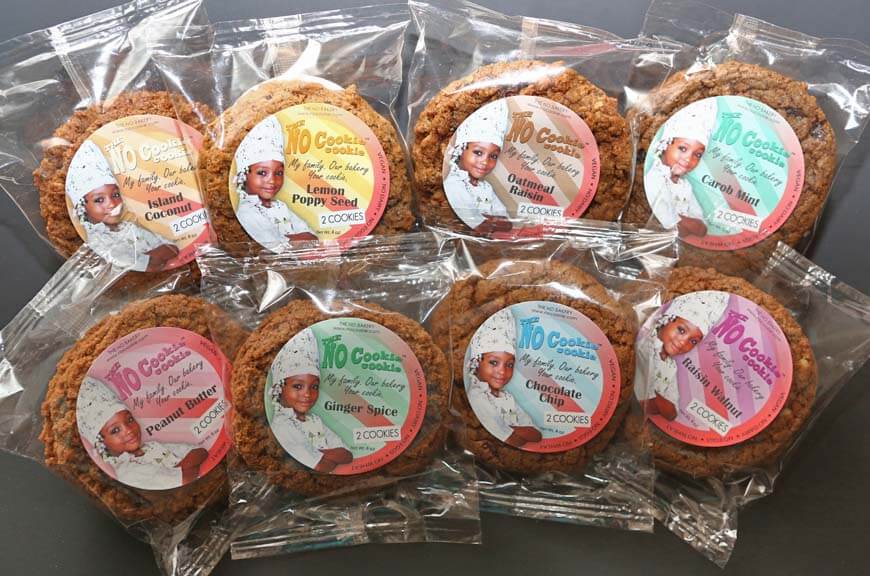 Nationwide
We can never say no to a stack of pancakes or a plate of waffles––especially when they're made using these delicious mixes from Vicky Cakes! The company was founded by Christian Sargent and is based on a nearly-40-year-old buttermilk pancake recipe created by her mother, Vicky. Each blend aside from the chocolate chip flavor can be made vegan when prepared with plant-based milk and egg alternatives.
Nationwide
If you've tasted the vegan mac 'n' cheese from the Whole Foods hot bar or deli section, you know it's glorious! But did you know it's from this vegan company? Ayindé Howell is a Black vegan chef, activist, writer, actor, and the mastermind behind Mac & Yease—talk about a jack of all trades! His Mac & Yease is cheesy, comforting, and oh-so-satisfying. Choose from Original or Jalapeno & Cheddar and get it delivered straight to your door! Do you understand how life-changing this is? Vegan mac 'n' cheese that can be shipped nationwide! SO MUCH YES!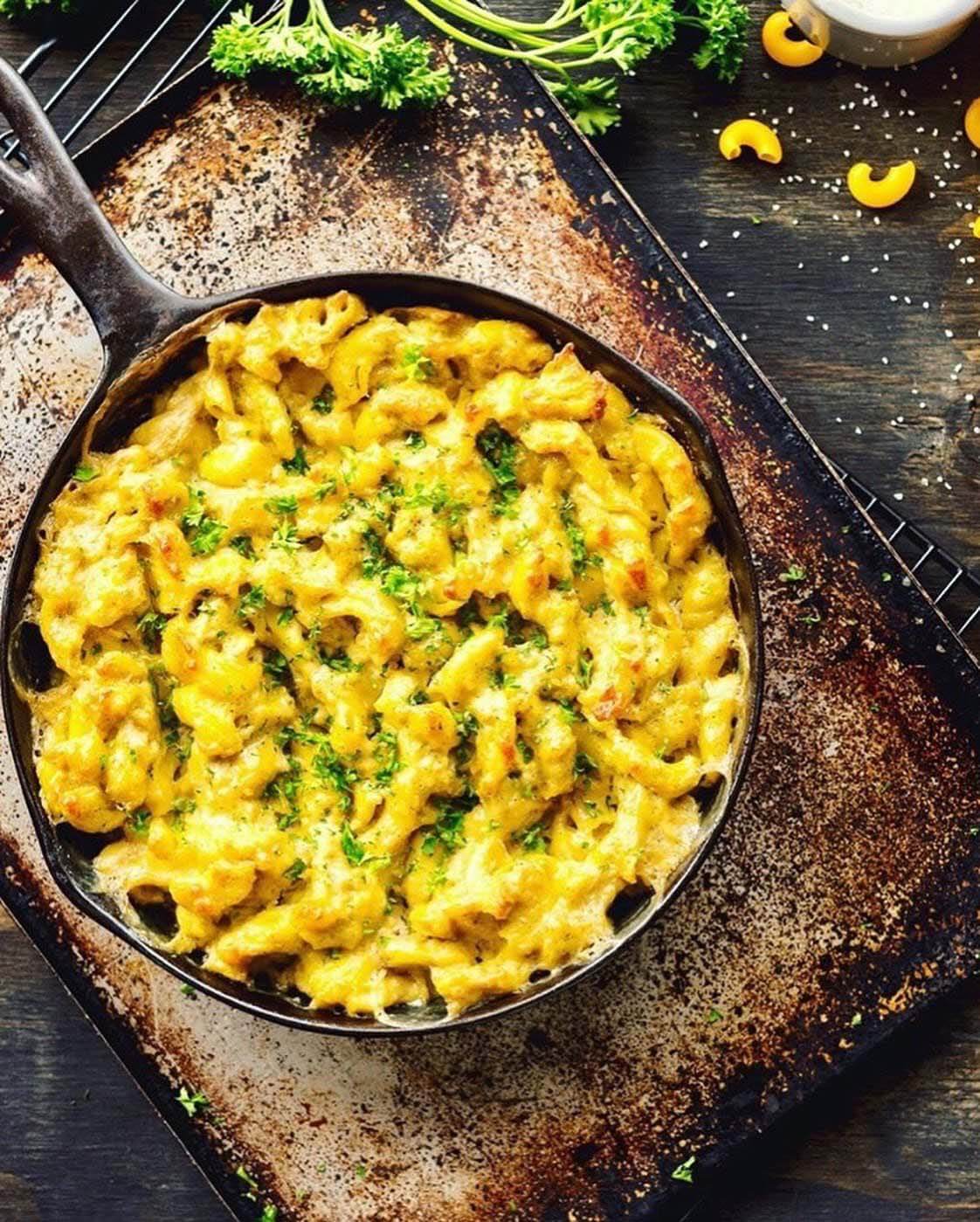 Nationwide
What's the best movie-watching snack? Popcorn! Azzizah's Herbal Green Popcorn gets its color from the superfood spirulina! It's also seasoned with other tasty, health-boosting spices from turmeric and nutritional yeast, to basil and curry powder. The company was started by Azzizah Rahim and her family to improve people's health with the power of super plants! Order your Herbal Green Popcorn online or use the store locator on their website to find it near you!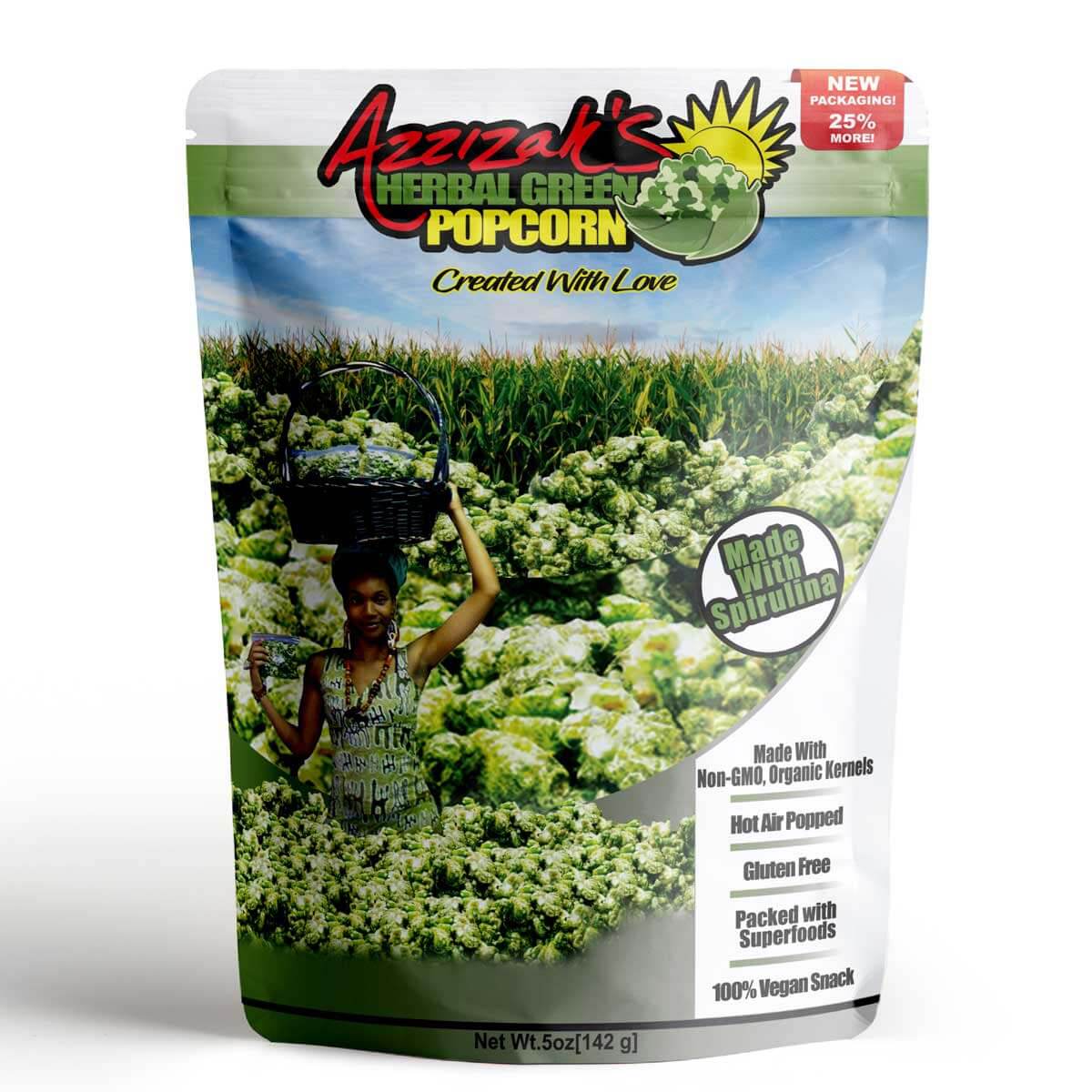 San Diego and Nationwide
What's our secret to a perfect plate of vegan nachos? This creamy, drool-worthy Notcho Cheese from Mylk Dog! Their jars of vegan, gluten-free, and soy-free sauce are made with just eleven ingredients. Whether it's for nachos, mac 'n' cheese, burritos, burgers, or just to dip fresh veggies in, this cheese doesn't disappoint! Mylk Dog's jars are available online for nationwide shipping or at Mission Square Market Deli in San Diego.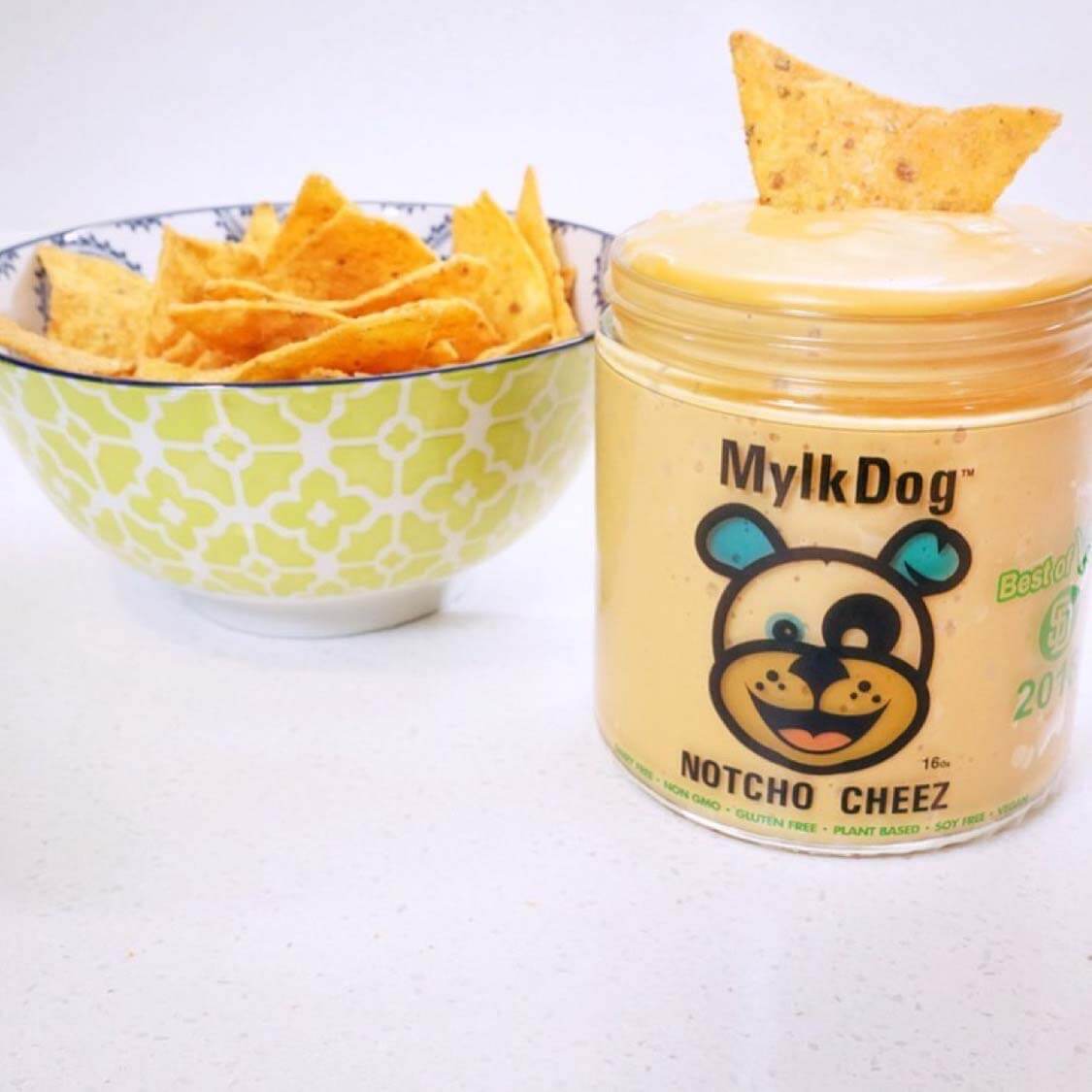 Nationwide
Where can you get Vegan Crispy Fried Chik'n, Cured Bacon, Apple Wood Fired Ribs, and Popcorn Chik'n? Atlas Monroe! Owner Deborah Torres was seen on an episode of Shark Tank last year where she shockingly turned down an investment offer of one million dollars. After the episode aired, Atlas Monroe's Crispy Fried Chik'n went viral! People––including vegan social media influencer Tabitha Brown—couldn't get enough of their craveable plant-based meats! Their wildly popular products can be ordered online or found in dishes at a handful of restaurants around the US.
Photo credit: @mothercluckerr on Instagram
Nationwide
Need some fuel for your at-home workouts? Plantmade to the rescue! A single serving of this brand's vegan protein powder comes in at a whopping 20g of protein with only 3g of fat and 0g of sugar. Their all-natural protein powder is available in chocolate and vanilla variations––perfect for a nutritious and delicious post-workout shake! Plantmade's protein powder is currently on backorder until early July, but keep them on your wish list, because you won't want to miss out on their products!
Nationwide
What's raw, vegan, gluten-free, and infused with the flavors of cinnamon, maple, and walnut? These jars of scrumptious spreadable goodness from Oat Butter Brand. Founded by Jakera Williams, this plant-based food brand has been slaying the health food game with their Cinnamon Maple Walnut Oat Butter. It's like a hybrid between creamy nut butter and thick cookie dough––OMG!! We love pairing it with fruit, pancakes, toast, oatmeal, and more.
Nationwide
Energize your day with these vegan and gluten-free Power Bites! They're healthy, sweet, and made from all-natural ingredients like dates and cacao. Yum! Each snack pouch contains Salted Peanut Butter or Almond Butter Crunch-flavored bites. Order yours online or in select retailers nationwide.
Nationwide
Turmeric is one of the most popular superfoods out there. It's great for digestion, clear skin, and boosting your immune system! Golde's vegan and keto-friendly Turmeric Latte Blend is an extraordinarily yummy way to get your fix! Choose between the Original, Cacao, or Matcha Turmeric Latte Blend and add it to water, plant-based milk, coffee, or smoothies. Visit their website to purchase yours today.
Nationwide
Many communities in the West African Sahel experience extreme poverty. The Fonio sold by Yolélé Foods creates an export market for ingredients grown by rural West Africans, which in turn supports their economy and agriculture. What is Fonio? A tiny ancient grain (similar to couscous or rice) that's native to Africa. It's easily digestible and contains methionine and cystine, two amino acids that are essential for growth. So not only does purchasing this product support vulnerable populations in West Africa, but it's also great for your health and taste buds! Head to their website or visit a Whole Foods near you for a bag or two!
Nationwide
There's nothing more refreshing than a spoonful of applesauce! Using his grandfather's recipes, Ethan Holmes launched this company at the young age of fifteen! His all-natural applesauce is made with real fruit ingredients and no added sugar. Original, Apple Pie, and Strawberry Peach are the three flavors you can find online and in select supermarkets in the US.
Nationwide
Coffee or tea? Both! Blk and Bold crafts specialty coffee and tea in a plethora of blends and intensities. Bid adieu to your bland cup of joe, because these varieties are rich and flavorsome! From light to dark roast coffee and black to herbal tea, there's bound to be something that'll fill your cup (literally and metaphorically)! Blk and Bold is available online or in select Target, Whole Foods, and coffee shops across the US, and 5% of all sales made from Blk and Bold are donated to at-risk youth across the country.
Nationwide
When you bite into the perfectly seasoned chips from this brand, you'll never want to eat a bag of plain potato chips ever again! Every variety of these crunchy snackables are vegan, gluten-free, all-natural—and most importantly, full of flavor. Choose between their original, smoked, or balsamic variations and get ready for a snackin' good time.
Photo credit: @love.vegan.soul on Instagram
Nationwide
There's nothing that pairs better with grains than beans! This vegan company makes slow-cooked beans that are inspired by traditional Black and Latino recipes from throughout the Americas. These pre-cooked pouches of beans are ready to heat-and-eat! Introduce your palate to their Cuban Black Beans, Mexican Cowboy Beans, and Trini Chickpea Curry. Order online at Amazon.com and Walmart.com.
New York and Nationwide
After wowing students and colleagues with her homemade granola balls, Margaret Barrow decided to turn it into a business and give back 10% of the profits (once the company is profitable) to community college mentoring programs. Not only is Brooklyn Granola charitable, but their products are delicious! These health-forward granola balls are available in chocolate, cranberry coconut, and mango masala flavors. They're vegan, non-GMO, and gluten-free. You can buy them online or at select retailers in New York.
Allie Mitchell
@alliemitch
Allie is a writer, musical theatre performer, yoga instructor, and walking vegan restaurant directory. On any given day, you can catch her making tofu scramble, scouring Trader Joe's for new plant-based products, or watching The Lizzie McGuire Movie! Visit her website at alexandrammitchell.com.
Articles by Allie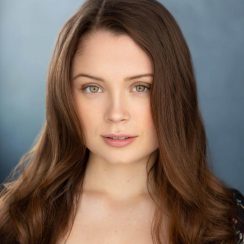 More from VegOut
Subscribe Now
Get the premier vegan food and lifestyle magazine delivered to your door (or inbox!)
Order the magazine!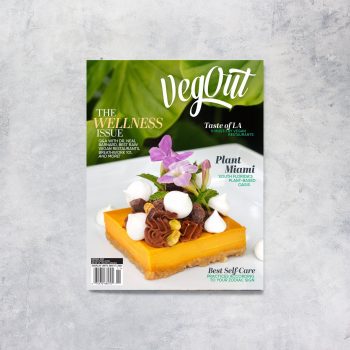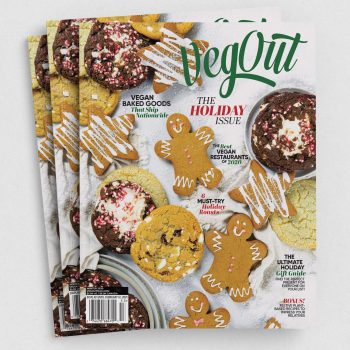 Navigation