Prepare for pizza cravings—pin these spots to find the best vegan pies wherever you are in LA.
Purgatory Pizza
DTLA
At Purgatory Pizza you can order one of their eight vegan specialty pizzas, including Buffalo Bill, Vegan & Sara, Field of Dreams, and more, or create your own. They also have vegan salads and sides including potato salad, quinoa salad, Vegan Garlic Knots, and Vegan Meatballs. All of their dressings are vegan too, so make sure you get a side of ranch to dip your pizza in. Bonus, Purgatory offers free delivery within 3.5 miles of the restaurant.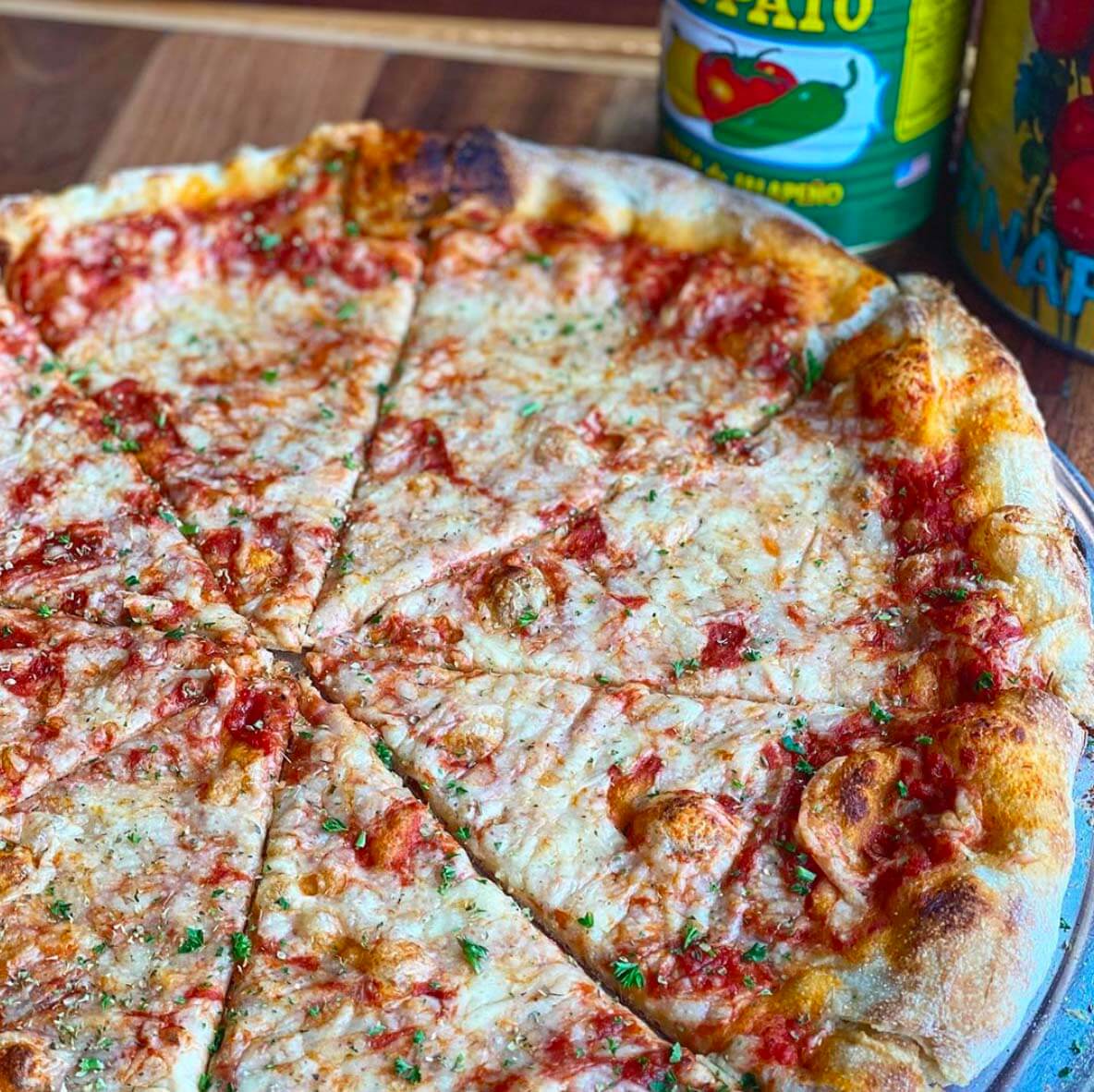 Masa of Echo Park
Echo Park
While not exclusively vegan, Masa of Echo Park has a vegan menu with items including vegan soup, salad, garlic bread and pizza. For those Chicago style fans, the Vegan Chicago Deep Dish is a must try. You can either build your own or choose from Masa's specialty pizza list.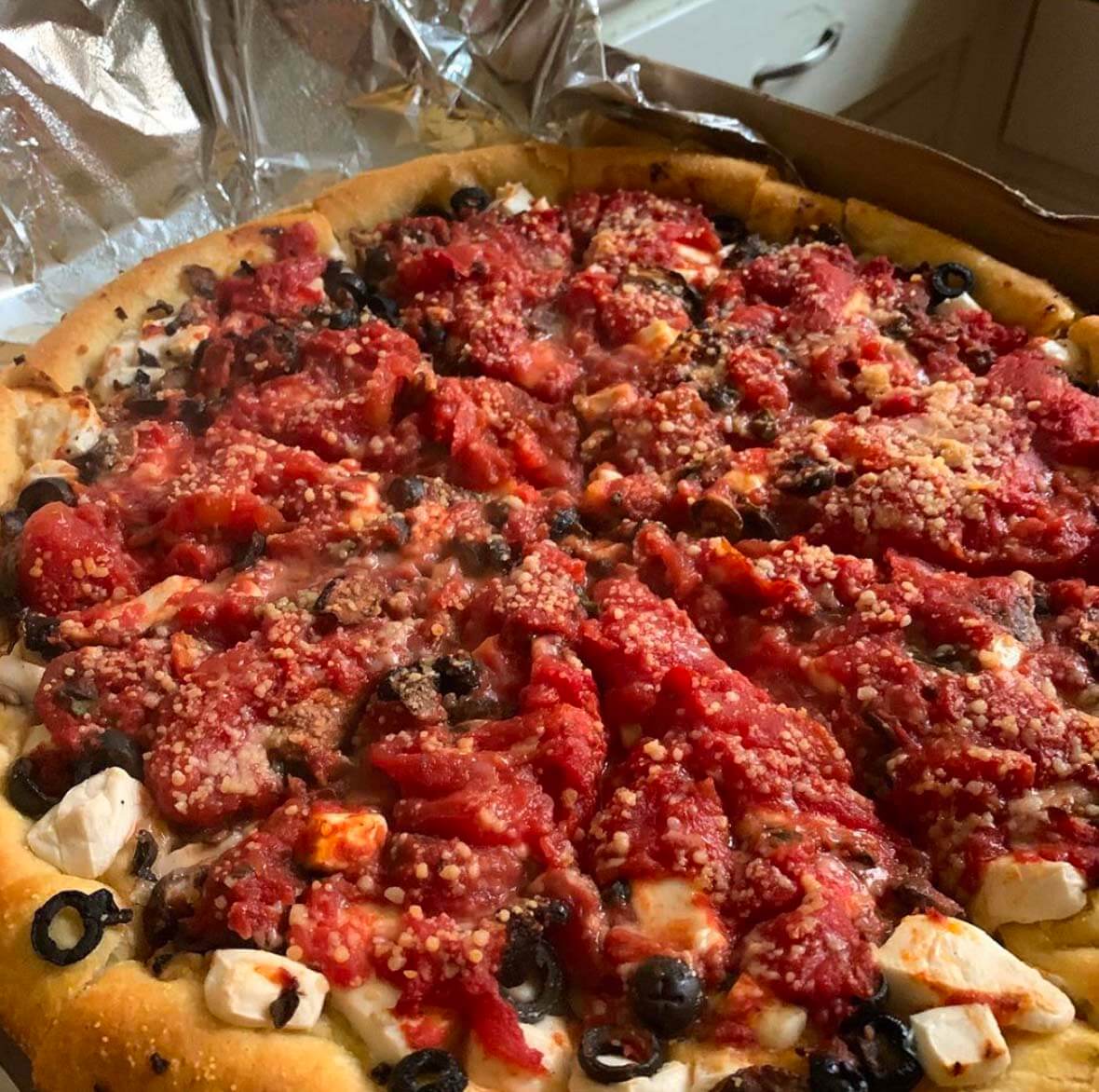 Photo credit: @mawmawgoesnomnom on Instagram
La Morra Pizzeria
Atwater Village
Wood-fired frozen pizza is officially a thing. This pickup and delivery operation uses a naturally leavened dough and local ingredients that make it taste like it came straight out of the pizza oven. Stock up on the veggie-loaded vegan option and you can have restaurant-quality Neopolitan pizza on the table in 8-10 minutes (minus oven preheating time).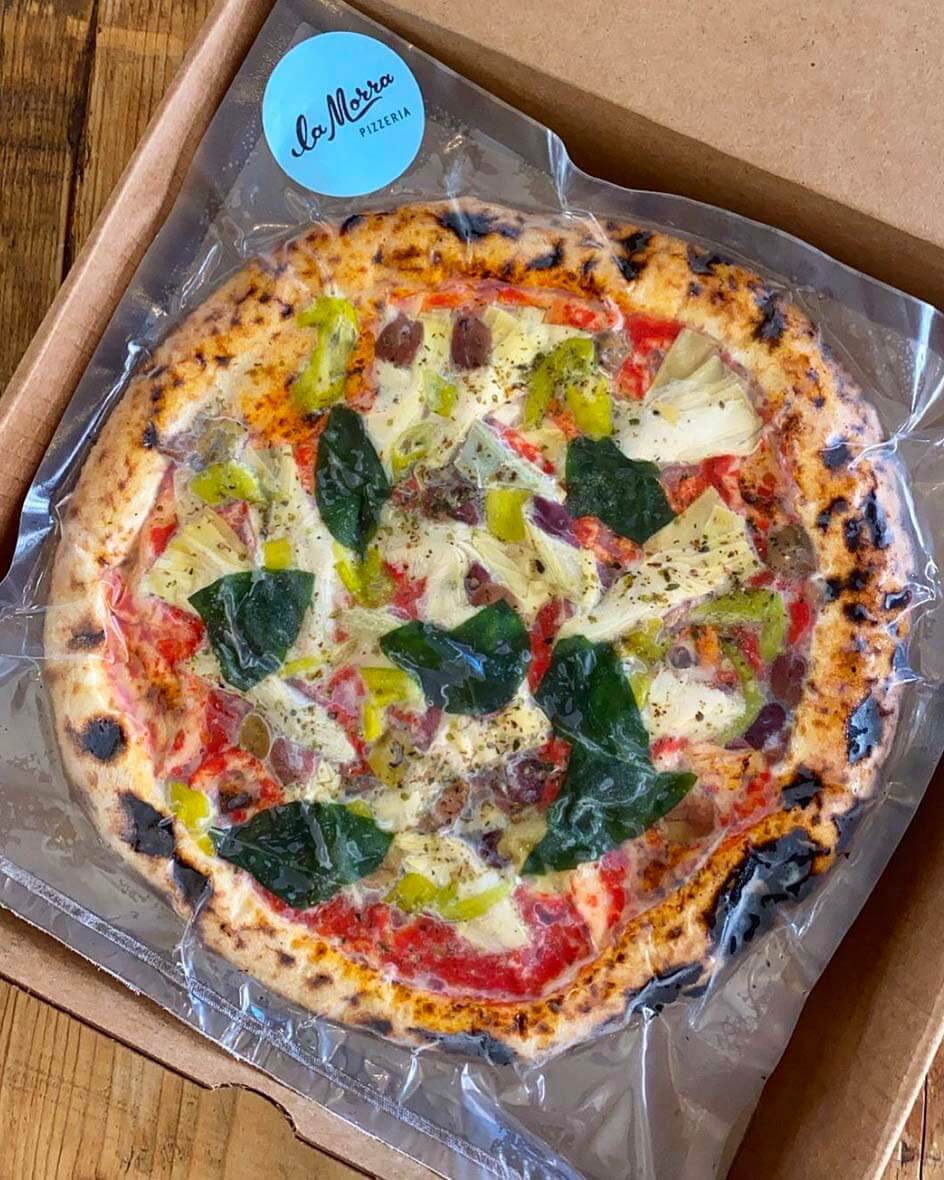 Whole Foods
Multiple Locations
The great thing about Whole Foods is you can order by the slice, and they usually have a vegan pizza already made (typically roasted veggie, but sometimes the workers get fancy and make something like BBQ "chicken"). Want a full vegan pizza but don't want to wait? Mosey over to the frozen aisle and grab one of the four The Pizza Plant varieties. Each is loaded with vegan cheese and meats—perfect for those looking for more than just a roasted veggie pie.
Cruzer Pizza
East Hollywood
After a hike at Griffith Park, head to Cruzer Pizza to replenish the calories. Cruzer Pizza is a 100% vegan pizza shop in East Hollywood. We tried their BBQ chicken pizza with ranch dipping sauce, and we highly recommend it! The thing we love about Cruzer Pizza is the variety and uniqueness of their pizzas. Sure, you can get a regular vegan cheese pizza, but if you're feeling more adventurous why not try their Jamaican or Ratatouille pizza? They also offer gluten-free options.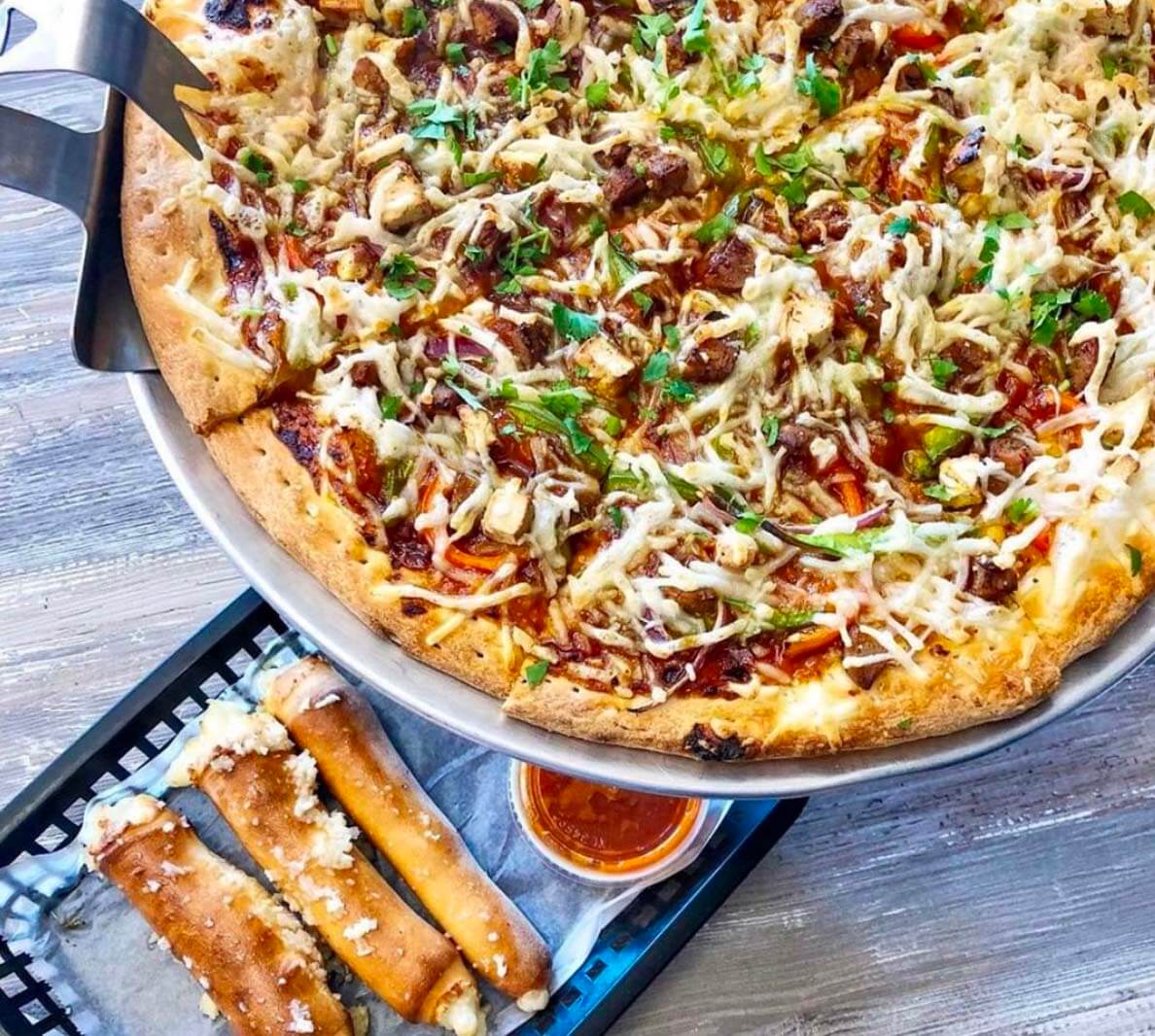 Pizzana
Brentwood and West Hollywood
Pizzana does Neapolitan-style thin-crust pizza so well you'll feel like you're in Italy! While not an entirely vegan establishment, they offer a Vegan Margherita and Vegan Funghi pizza (which are both delicious).
Julie Goes Green
Palms
Julie Goes Green is an all-vegan Italian restaurant serving 10+ specialty pizzas, including the Feisty Buffalo, Hawaiin Delight, and our current favorite, which also happens to be named Julie's Favorite (coincidence?). Order their Fettuccine Alfredo or Shrimp Scampi and you've got a complete Italian meal. Buon appetito!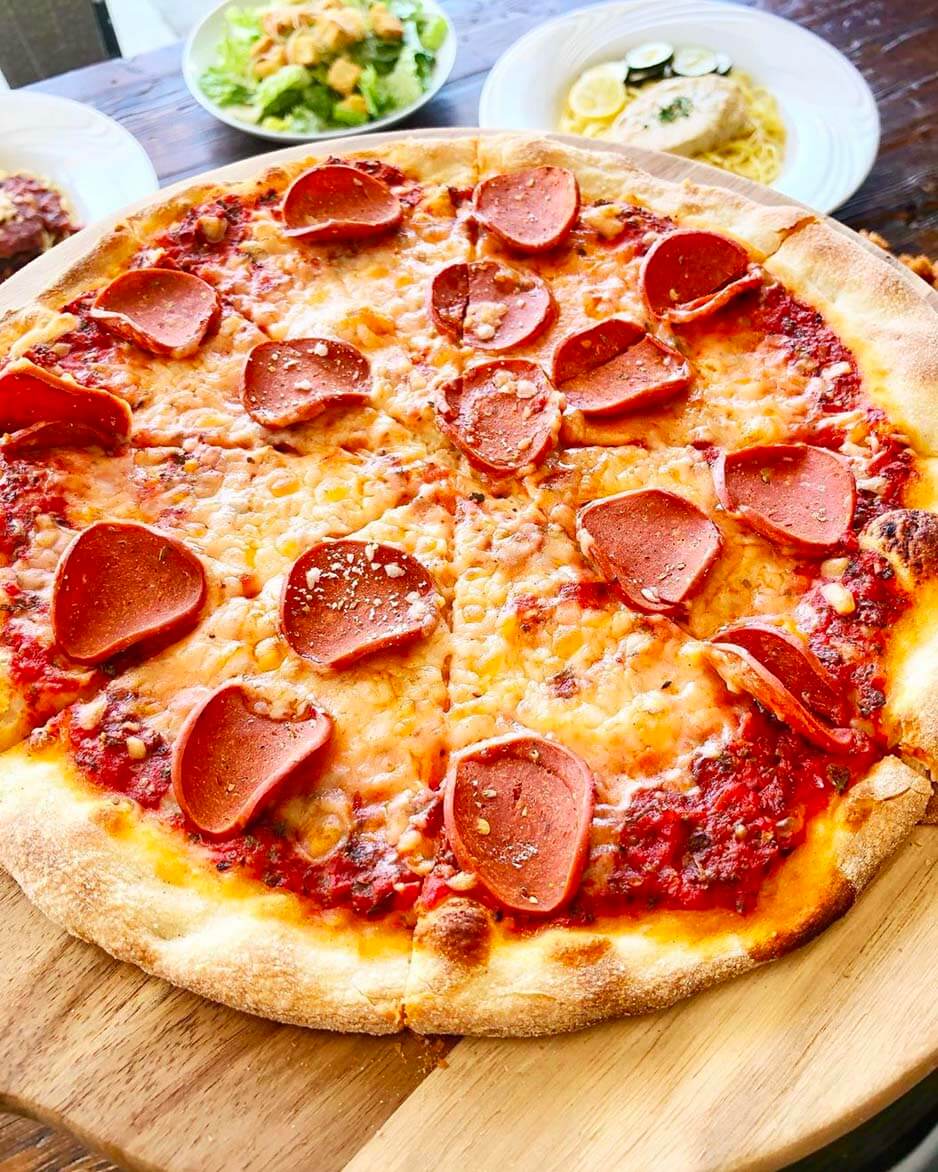 Lucifer's Pizza
Multiple Locations
This hellish pizza joint will make you feel like you're in heaven when you bite into their vegan pizza. Located on Melrose, next to Tatsu Ramen, Lucifer's turns up the heat with their vegan pizza game. The thing that sets their pizza apart is you get to choose your spice level, zero to blazing. Loud music, black walls, and hot hot heat, Lucifer's is vegan punk's dream come true. Gluten-free options are also available.
Apollonia's Pizzeria
Mid-Wilshire
The Viva La Vegan is calling your name. This off-the-cuff pizza spot gained a reputation for its gravity-defying fricco (aka cheese crisps that form when melted against a metal pan), but the chef/owner is looking out for his vegan patrons, too. The Viva La Vegan is simply topped with housemade red sauce and vegan cheese, but if you crave more variety, opt for the veggie-load The Green Mile (cheeseless and topped with organic produce) or build your own from a selection of sauces and toppings.
Blaze
Multiple Locations
Another pizza chain with vegan options, Blaze cooks up personal sized pizzas super fast. The cool thing is you pay a fixed price and can get as many toppings as you'd like. Toppings include vegan-friendly cheese, popcorn chicken, and spicy chorizo, along with a host of veggies and seasonings such as artichokes, black olives, fresh basil, green peppers, kalamata olives, pineapple, roasted garlic, sautéed onions, zucchini, oregano, banana peppers, cherry tomatoes, jalapeños, mushrooms, red onions, roasted red peppers, spinach, arugula, olive oil, BBQ sauce drizzle, and sea salt. Gluten-free dough is also available.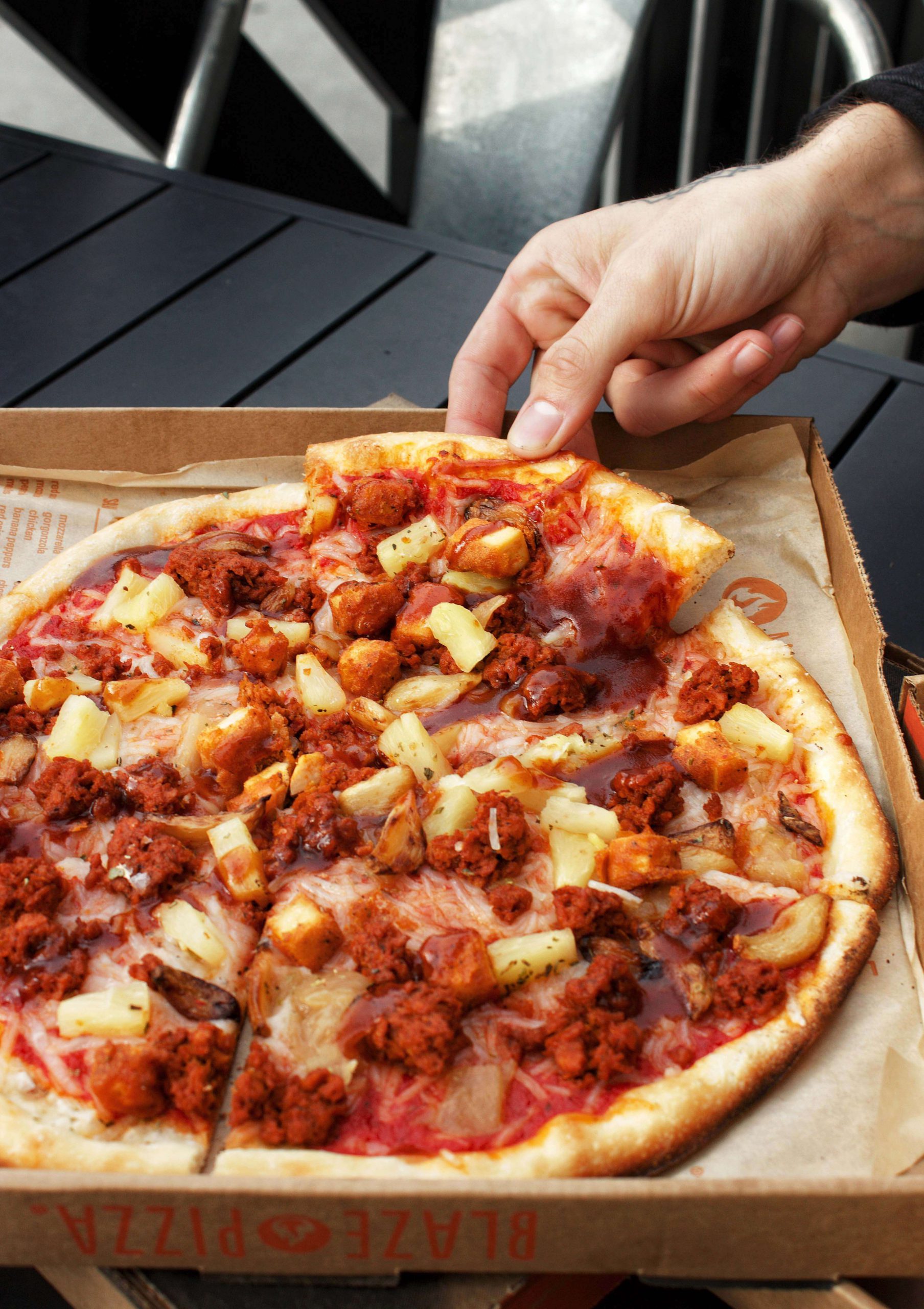 Photo credit: Kimberly Tran
Garage Pizza
Silver Lake
Classic pizzeria vibes with wooden tables, glass red pepper shakers, large slices, and melty vegan cheese.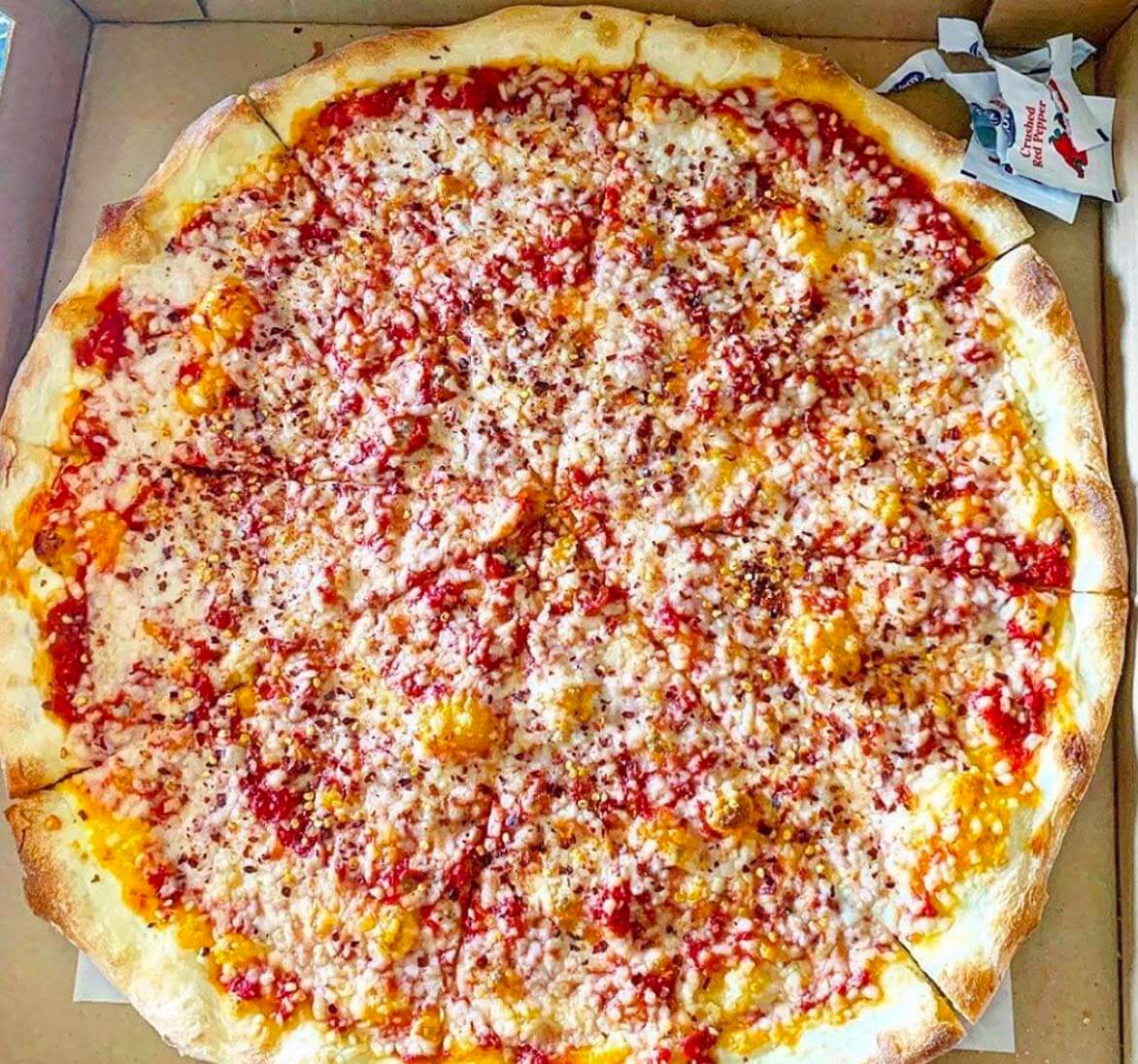 Photo credit: @kristoplants on Instagram
Pizzanista!
DTLA
Pizzanista! caters to both vegans and non. You can order by the slice or a whole pie. Vegan slices include Vegan Cheese, Vegan Pepperoni, Vegan Veggie, and Vegan Macaroni & Cheese (available on Sundays only). They also have side orders of Vegan Macaroni & Cheese on Sundays. Wondering what happened to the Long Beach location? It's closed for the foreseeable future, but check the company's Instagram (@pizzanista) for updates.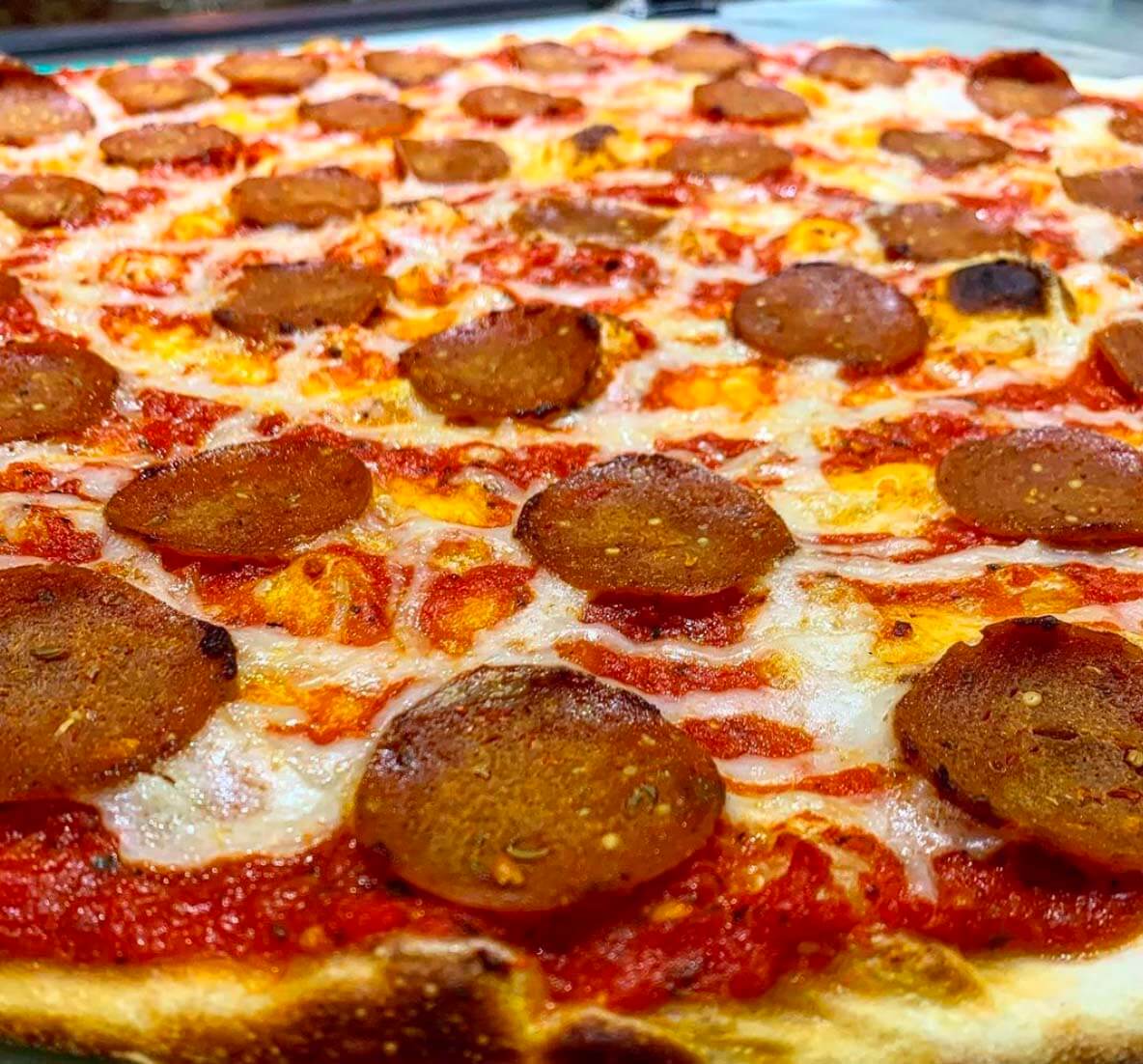 Real Food Daily
West Hollywood and Pasadena
RFD is the place to go when you're craving breakfast pizza—even if it's 7pm. This savory pie is piled with tofu scramble, tater tots, avocado, ranchero sauce, tempeh bacon, and smoked cashew mozzarella. The menu features other pizzas, but it's hard to compete with this epic creation.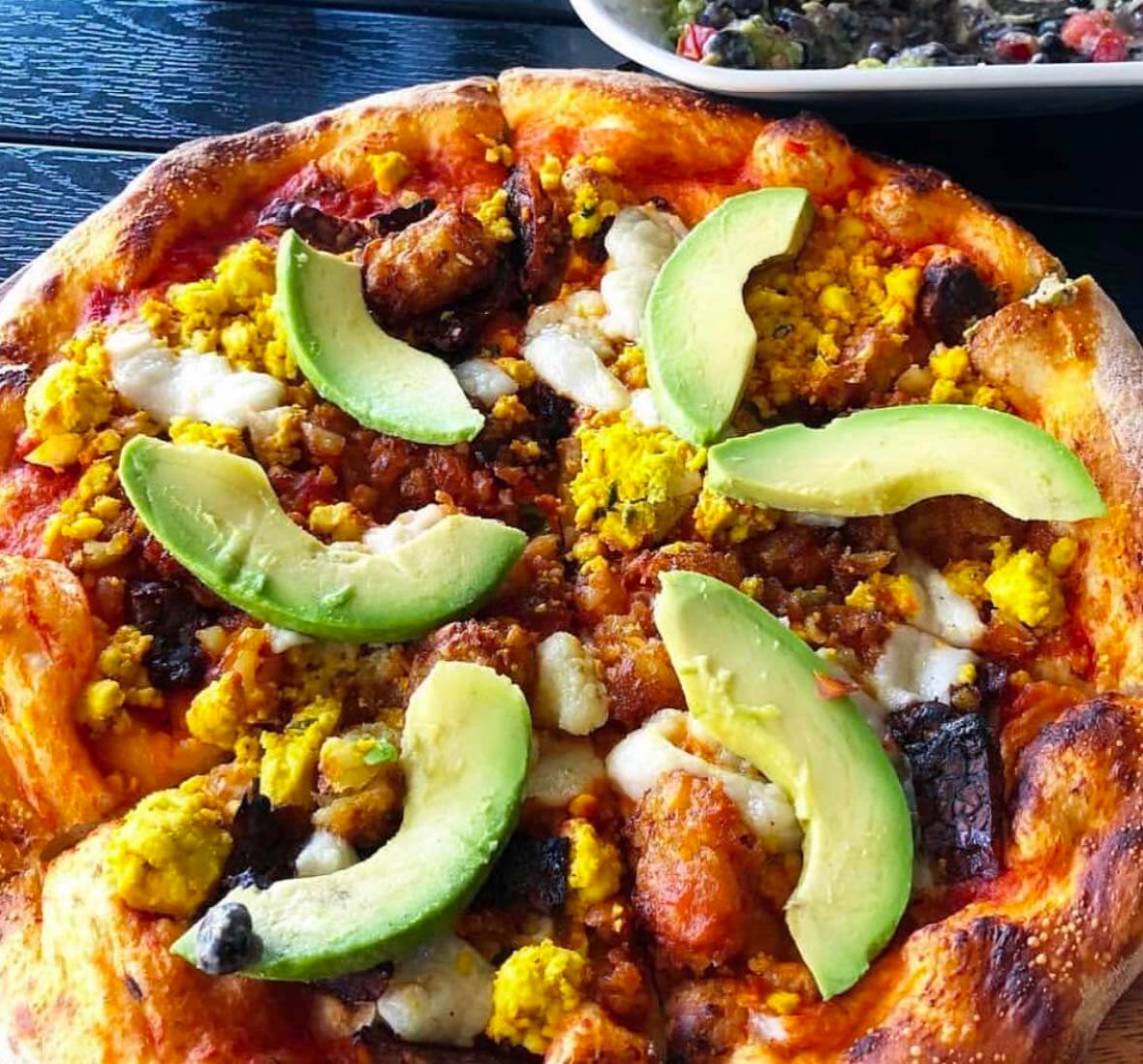 Braazo Pizza
Downtown LA
Braazo Pizza is an OG pizza shop in the heart of downtown with a straightforward menu that includes vegan Follow Your Heart cheese, for all of your vegan cheesy desires.
Fresh Brothers
Multiple Locations
Fresh Brothers is a Los Angeles staple. And lucky for all of us, they have vegan options. Keep it simple and try their Daiya cheese pizza or opt for their Beyond Meat Italian sausage pizza. For a side, they have a Farmers Market salad, which includes lots of tasty vegetables. It's not your ordinary pizza takeout's piece of iceberg lettuce with croutons and ranch dressing. Gluten-free options are available as well.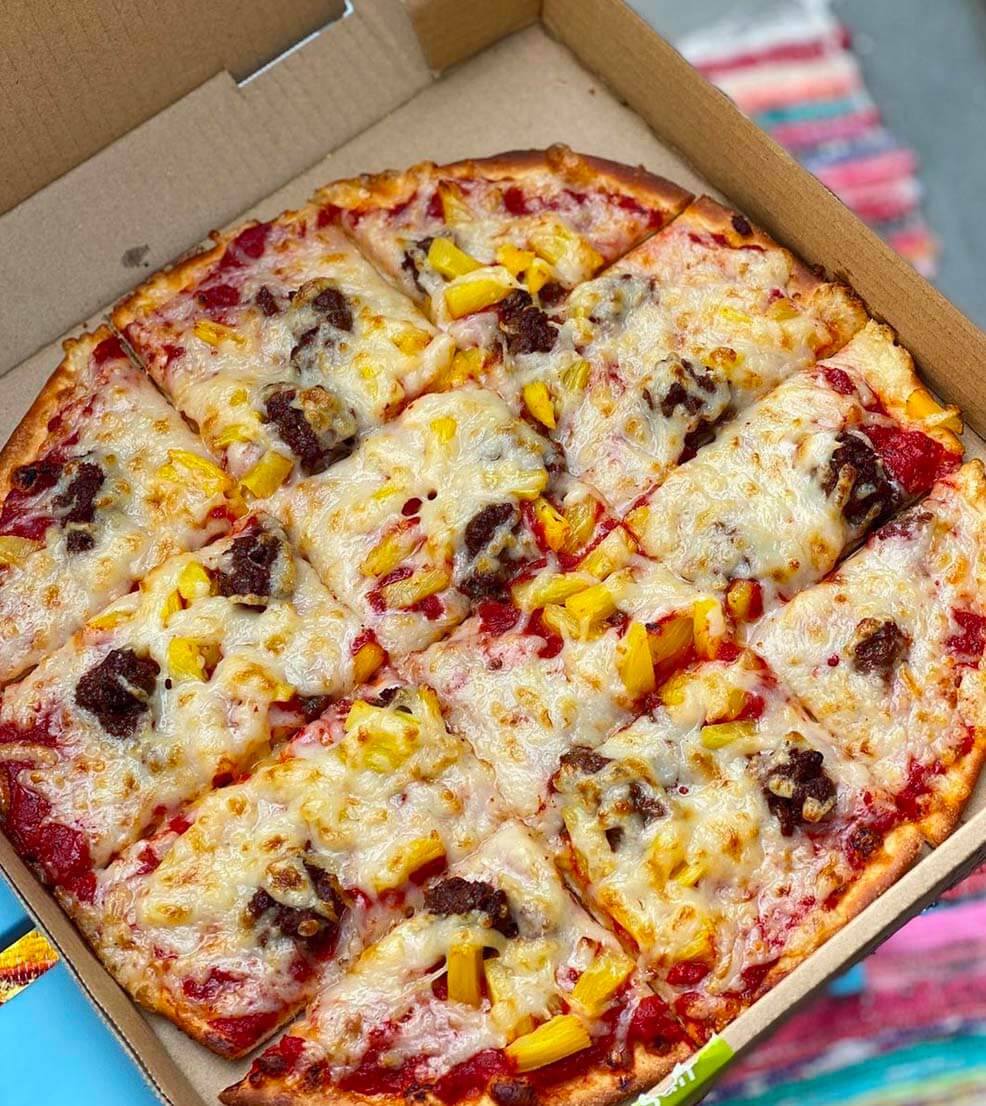 800 Degrees
Multiple Locations
Create your own vegan pizza at 800 Degrees. Start with marinara sauce and vegan cheese, then add toppings such as roasted garlic, caramelized onions, peppadews, pine nuts, butternut squash, pineapple, Kalamata olives, and more.
Mohawk Bend
Echo Park
Mohawk Bend has a variety of vegan pies, which range from classic to extravagant, to spicy. For those who love spicy, try out their Angry Vegan—a thin crust pizza with tomato sauce, almond ricotta, vegan mozzarella, fresh serrano chilies, Calabrian chilies, house-made cashew parmesan, chili oil, and oregano.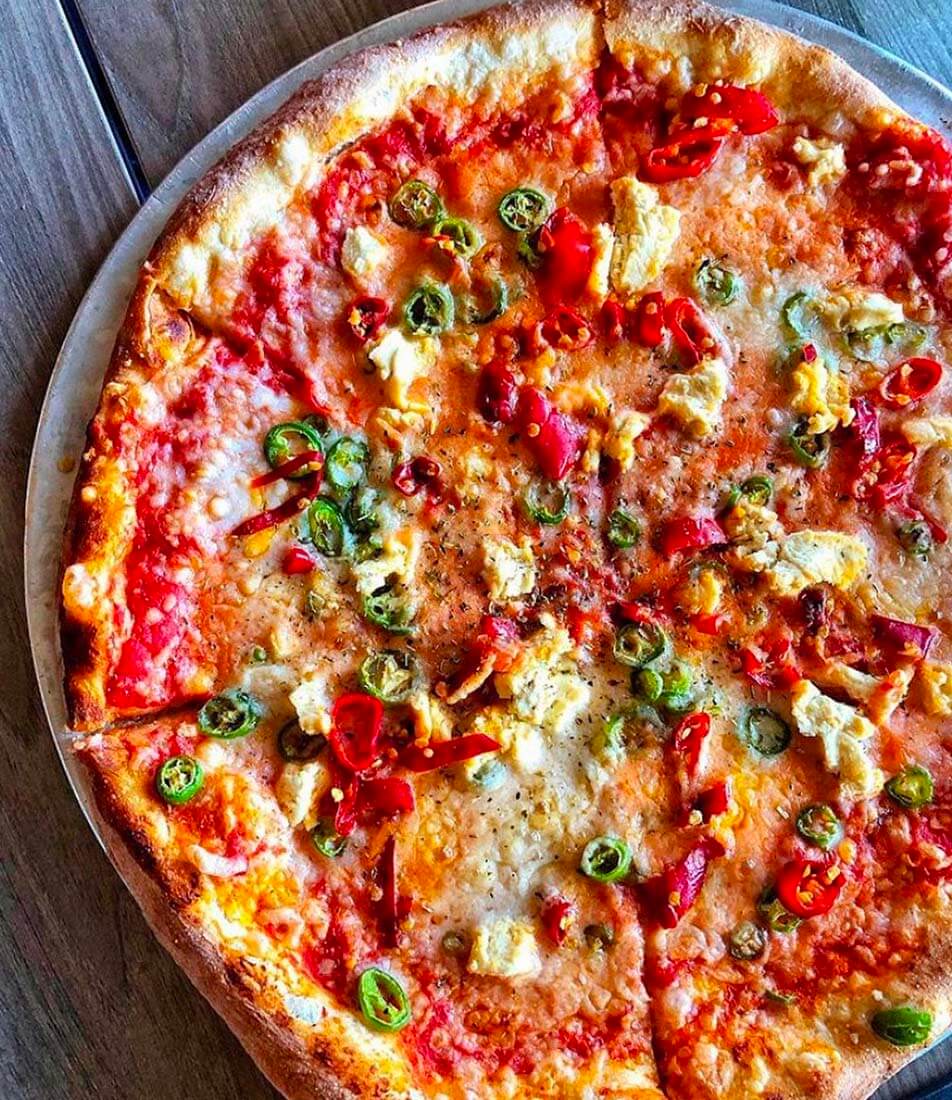 Photo credit: @plantbasedcompany on Instagram
Pura Vita Pizzeria
West Hollywood
If you love Pura Vita, you're going to fall hard for its pizza-focused sister restaurant. Chef Tara Punzone is cranking out speckled, thin-crust pies with chewy, puffy edges at her pizza place right next door to the wine bar. You can't go wrong with your order, but the pizza specials are highly recommended. Get it while you can!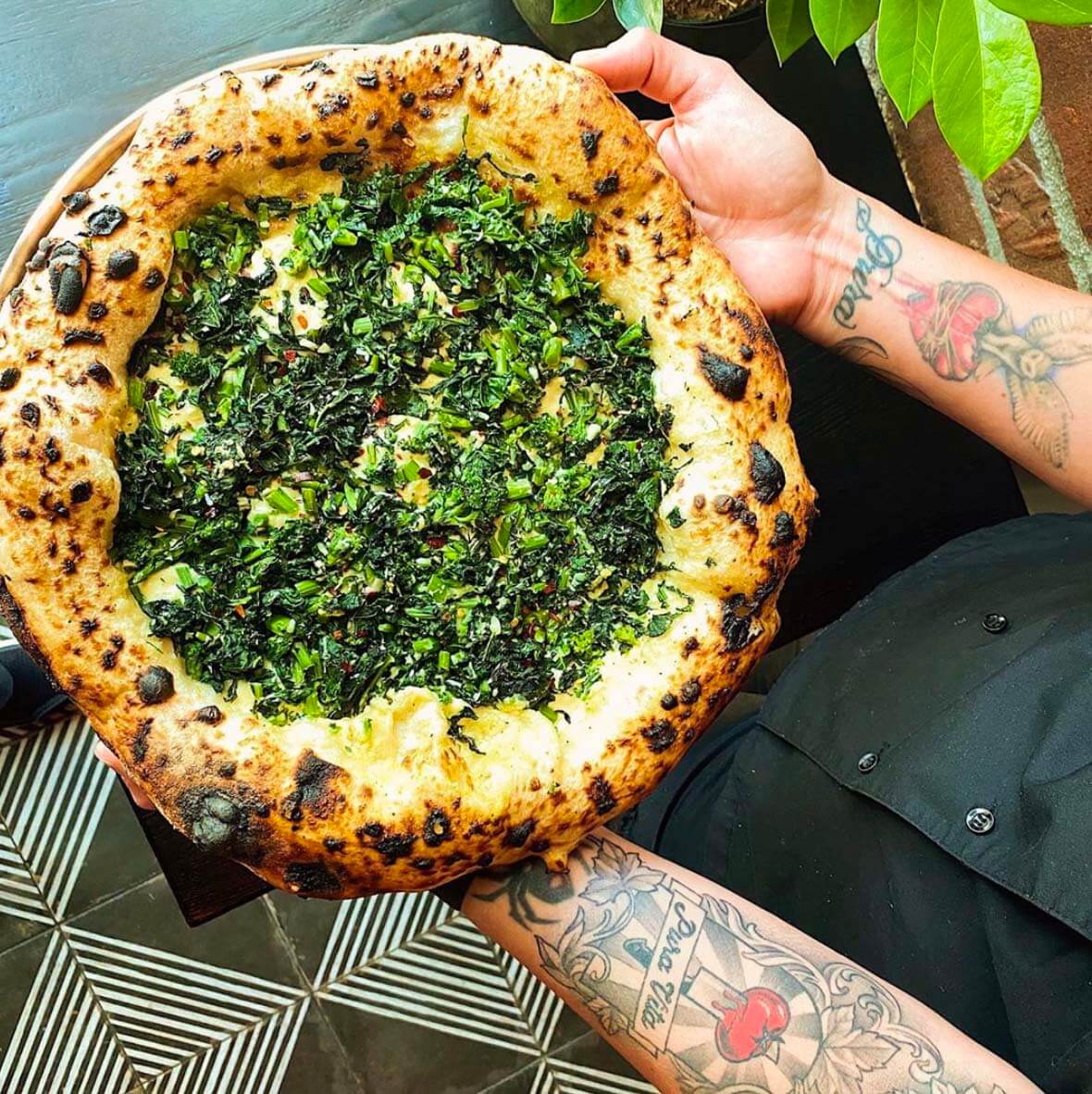 Hail Mary
Atwater Village
Former Journeyman chef/owner takes his pizza seriously, and his new restaurant concept is seriously fantastic. It's not all vegan, but when you hold the cheese on the Garbage Pie, you've got yourself a veggie-loaded delight on some of the best Neapolitan-style crust you're ever likely to consume.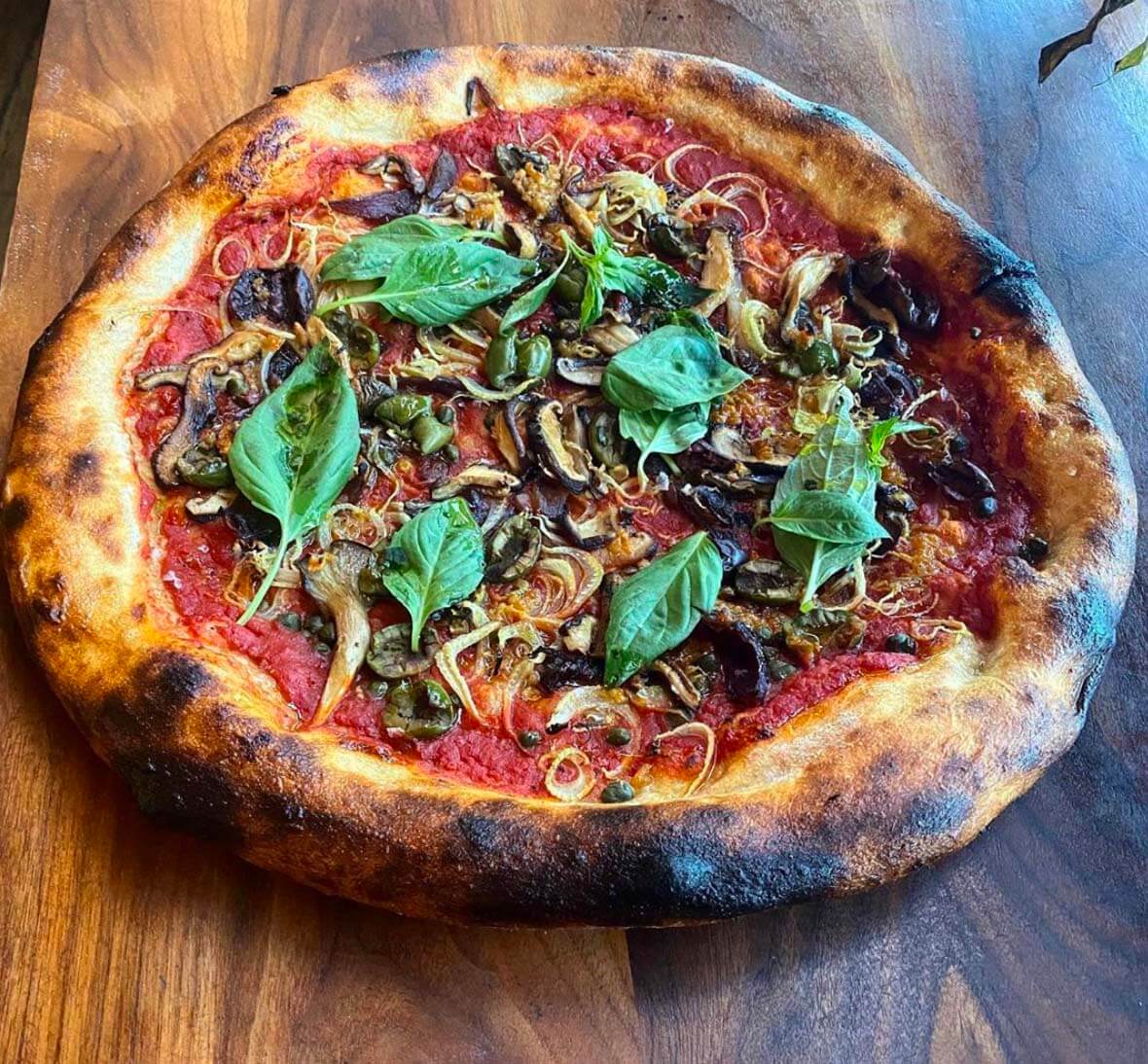 Double Zero
Venice
Get fancy with your pizza at this celebrity chef outpost. Matthew Kenney's pizzeria produces wood-fired pies with high-end toppings like wild mushrooms, gigante beans, rapini, truffle oil, and velvety cashew cream. Note: This place is always hoppin', so prepare to wait 45 minutes to an hour—even for takeout.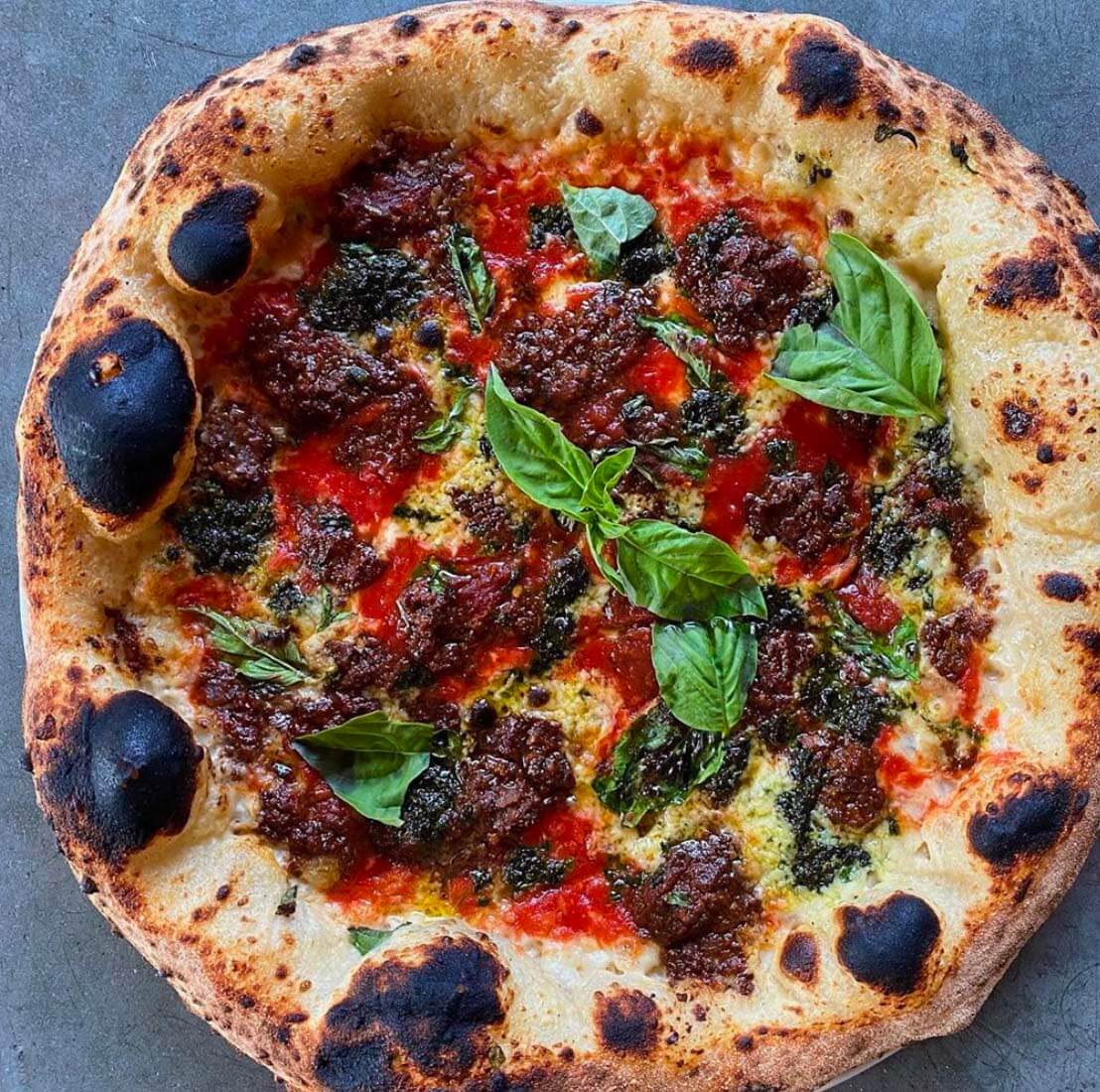 Coauthored by Ryan Tempfer