Back
15 Vegan Halloween Candy Brands
These vegan candies are perfect for Halloween! While we may not be able to trick-or-treat as usual, who said we can't still nosh on some candy? After all, that's the best part of Halloween! Whether you're trick-or-treating at a distance, hosting a small get together with your crew, or binging scary movies solo, here's a list of brands that stock vegan candy for the occasion.
RELATED: 13 Accidentally Vegan Halloween Candies
---
Want even more vegan food, news, and lifestyle content? Subscribe to VegOut LA Magazine or VegOut NYC Magazine!
This vegan candy company is all treats and no tricks! Their Halloween Minis Variety Pack comes with individually wrapped fun-sized versions of their most popular offerings––Choco No No's, Milkless Bars, PeaNot Cups, and No Whey Bars. If you're looking for another spook-tastic option, we'd recommend the Fall Lollipop Collection or Haunted Halloween Collection, which contain chocolates shaped like skulls, jack-o'-lanterns, and spider webs! All of No Whey's goodies are free from animal products, gluten, soy, sesame, and artificial flavors. Who knew Halloween could be so tasty and health-conscious?
Craving something on the fruity side? Let us introduce you to Torie & Howard's Chewie Fruities Halloween Package. Each bag contains 20 snack packs filled with individually wrapped chewy bites that are like Starbursts––but more nutritious! These colorful cuties are vegan, organic, kosher, and free from artificial dyes, flavors, and preservatives. You can find them at retailers nationwide, including Whole Foods, Kroger, Rite Aid, Walgreens, and more.
Chocolate and nut butter is one of the best combinations out there, which is why we're obsessed with the vegan-friendly Dark Chocolate Cups from UnReal! Choose between their almond butter, creamy peanut butter, or peanut butter with crispy quinoa varieties and get ready to be the hottest stop in the neighborhood for curbside candy! Note: UnReal has a few non-vegan products but their Dark Chocolate Cups and Coconut Bars are vegan.
We're coconuts for these creamy caramels! With only two grams of sugar per piece, these organic coconut milk-based candies are great to have on hand for snacking. Because who wouldn't want to unwrap chewy, caramelly bites of deliciousness this Halloween?
There are two types of people: those who eat gummies by the handful, and those who meticulously sort them by flavor. Whichever one you are, get ready to satisfy your sweet craving with naturally flavored gummies from Wholesome! Their vegan offerings include Organic Cinnamon Bears, DelishFish, Fruity Bears, Sour Worms, and Watermelon Rings.
Enjoy Life's Halloween Chocolate Minis are so good, they might make you turn off your porch light and pretend like no one's home! These allergen-friendly, fun-sized confections are sold in dark chocolate and rice milk flavors, and make for the best binging snacks! Note: The rice milk crunch version contains honey.
This candy company stocks some of the most nostalgic goodies out there! Do we have any Skittles lovers in the house? YumEarth's Giggles and Sour Giggles are reminiscent of those small and round snackable cuties! Their other vegan-friendly products enlist Lollipops, Licorice, Fruit Snacks, Sour Twists, Sour Beans (a la jelly beans), Hard Candies, Gummy Fruits, Vitamin C Fruit Drops, and Roll'n Stones––a.k.a. CHOCOLATE. ROCKS. Holy throwback!
Did someone say oat milk? Let's be honest—we know most parents have to "look through" their children's candy before they can have some. Raaka's Oat Milk Minis probably won't make it back to the kids after the screening because they are so decadently delightful! Made with organic cacao beans from Peru, organic oat flour, and sweetened with maple sugar, these will be sure to please the parent's sweet tooth.
Want something sweet without all of the sugar? Sounds impossible, right? Wrong! The vegan-friendly candies from SmartSweets are naturally sweetened with monk fruit, stevia, and allulose. Their Sourmelon Bites come in at just 3 grams of sugar and 100 calories per bag—how awesome is that? Sweet Fish, Peach Rings, Sour Blast Buddies, and Sweet Chews are the other vegan options offered by this brand.
If you want to go down as the most iconic house in the neighborhood and pass out full-sized candy bars, check out this brand. They have the vegan version of just about every type of candy bar out there––even white chocolate peanut butter cups! Pro-tip: Order a couple extra for yourself, you'll thank us later!
Add some Squish to your candy dish! These gorge-worthy gummies are available in a plethora of shapes and flavors, but we'd recommend the Vegan Alien Invasion and Wicked Witch varieties for Halloween. If you're hoping to share with others, the Jumbo Mixes contain pre-packaged mini bags that make for a safe way to spread the sweet spooks!
Constantly craving chocolate? SAME. We always keep our fridge stocked with the health-forward candy bars from Nelly's Organics. From Nutty Nougat and Double Chocolate to Peanut Butter Quinoa, Coconut, and German Chocolate, each satisfying flavor is made with organic, nutrient-dense ingredients—including a generous coat of fair-trade Italian dark chocolate!
Halloween may be spooky, but the candy you eat doesn't have to be! Free2b specializes in allergen-friendly candy made from minimal ingredients. Their Bag O' Treats is a multipack bag that holds 18 individual Dark Chocolate Sunflower Butter Cups—perfect for *lightly* tossing at trick or treaters from six feet away!
With Project 7's better-for-you candy, you can save the holiday splurging for Thanksgiving! Their guilt-free Gummy Bears, Sour Fruit Gummies, and Golly Lolli's are vegan, keto-friendly, low-sugar, and high-fiber. What are you waiting for? Rip open a bag and bite into these fruity, nutrient-dense bites of goodness!
Two words: Vegan. Gummies. These pre-packaged snacks from Annie's Homegrown are certified organic and gelatin-free. Each pack contains bunny- and bat-shaped gummies in the flavors of strawberry, cherry, and raspberry. They're great for guys and ghouls of all ages!
Allie Mitchell
@alliemitch
Allie is a writer, musical theatre performer, yoga instructor, and walking vegan restaurant directory. On any given day, you can catch her making tofu scramble, scouring Trader Joe's for new plant-based products, or watching The Lizzie McGuire Movie! Visit her website at alexandrammitchell.com.
Articles by Allie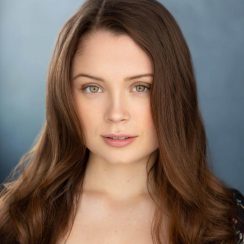 More from VegOut
Subscribe Now
Get the premier vegan food and lifestyle magazine delivered to your door (or inbox!)
Order the magazine!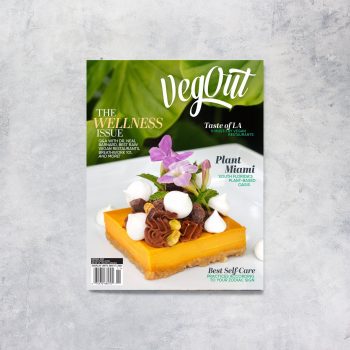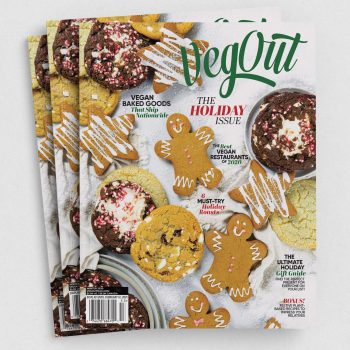 Navigation