Back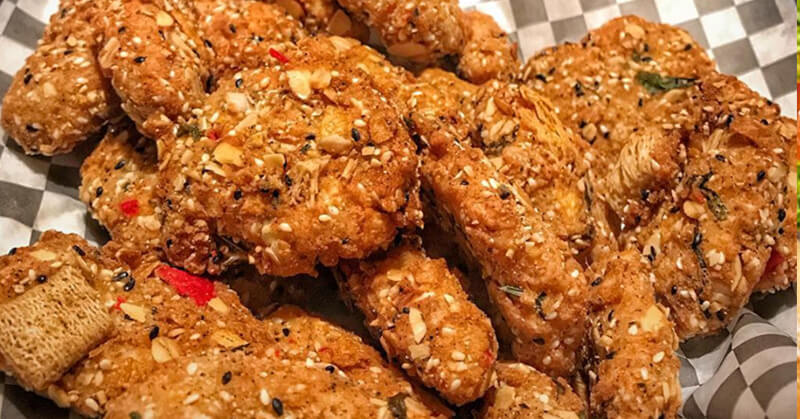 13 Spots for Vegan Fried Chicken in Los Angeles
Whether it's a classic chicken sandwich from Chick-fil-A, greasy hot wings from a local dive bar, or sticky orange chicken from Panda Express, there's a spot in all our hearts for finger lickin' good fried chicken. Even if you've given up winged creatures for good, you still deserve meaty, salty, and crispy perfection, even if it's made from soy or wheat protein. Mushroom and cauliflower "chicken" have their place on the vegan food ladder, but today we're focusing on realistic faux meats that'll have your eyes rolling backwards in bliss. From Southern fried chicken to orange chicken, here are 13 spots to get your faux fried chicken fix in Los Angeles!
Organix
Eagle Rock
A specialty vegan grocery store with a dedicated vegan deli? Only in LA. This Eagle Rock gem serves up burgers, sandwiches, and tacos, but we're here to talk fried chicken. Organix has several fried chicken options to choose from, including their Southern Belle Sandwich—an indulgent taste of the South in SoCal, where they smother panko crusted soy chicken with mashed potatoes and gravy in between a soft sesame seed bun.
Atlas Monroe
Pop-Up
This entirely plant-based pop-up, based out of San Jose, has achieved nationwide fame for their vegan fried chicken. Their chicken and waffles was even declared The Best Dish at The National Fried Chicken Festival by Time Magazine's "Extra Crispy editor." If Atlas Monroe can steal the spotlight over a plethora of carnivorous vendors, then their seitan fried chicken is sure to leave your mouth watering. Check out their website and follow their Instagram for upcoming events; they visit Los Angeles multiple times a year!
Crossroads Kitchen
Melrose
Atlas Monroe may have nationally renowned chicken & waffles, but what if you want some tomorrow? Crossroads Kitchen serves up warm and fluffy waffles topped with crispy vegan fried chicken every Saturday and Sunday during brunch, from 10am-2pm, and weekdays for lunch from 11am-2:30pm.
Compton Vegan
Pop-Up
As you could probably tell, this vegan pop-up arose from Compton, and they're bringing traditional soulful flavors with them. They used to be tough to catch, but now you can regularly find them at Vegan Sunday in North Hollywood, where you can grab their Vegan Chicken Wings: crispy fried seitan served up classically, barbecue style, or buffalo style. But you know deep down that barbecue's the right choice.
Bulan Thai Vegetarian Kitchen
Silverlake
This all-vegetarian Thai restaurant in Silverlake has some of the most realistic faux chicken teeth have ever dug into. Stringy, juicy, and tender soy meat on a stick fools you into thinking you're eating a real drumstick. For a unique Thai take on fried chicken, try their Khao Mok Gai, or go classic Chinese-American style with their orange chicken
Veggie Grill
Multiple locations
Haven't we wrote about Veggie Grill enough? Nah. What can we say, they have a dish for every craving and fried chicken is no exception. Their Nashville Hot Chickin' Sandwich with a soft sesame bun, breaded soy chicken, charred scallion ranch, and Nashville hot sauce gives the standard American spicy chicken sandwich a run for its money.
Clean South
Pop-Up
If there were such thing as vegan KFC (can we petition to make that happen?), Clean South would be it. They have three different fried seitan chicken options, including buffalo wings, popcorn chicken, and honey barbecue wings, along with all the Southern sides your heart desires, like cornbread, mac & cheese, and potato salad. Some pop-ups can be difficult to track down, but Clean South is now at Block Party Highland Park every Thursday and Vegan Sunday every Sunday.
Green Leaves Vegan
Los Feliz
Add Green Leaves to your "visit regularly" list, because we all need a no-fuss restaurant with diner vibes in our life. Like any respectable diner, they serve breakfast all day—our favorite of which is their chicken and pancakes. That's right, step aside waffles, because Green Leaves' light and crispy tempura soy chicken's new neighbors are pancakes now.
The Wild Chive
Pop-Up; Long Beach
This Long Beach based pop-up, currently working on a brick and mortar location, is a fan of switching up their menu every week. But two of their crowd-favorites, include their take on fried chick'n & waffles, as well as another innovative spinoff, their fried chick'n & French toast with southern gravy—both of which frequently make appearances on their Sunday brunch menu, which you can experience at the Marina Farmers Market.
Doomie's Home Cookin'
Hollywood
Doomie's has the key to our hearts and we're not ashamed in the least bit. This Los Angeles icon of vegan junk food has the hook up on everything fried, which certainly includes fried chicken. You can grab their chicken parm sub or spicy chicken sandwich, but we're partial to their fried chicken plate with french fries and mac & cheese, which comes with two massive pieces of greasy, salty, and crispy soy chicken.
DFC Ghost Kitchen
Koreatown; Delivery & Pickup Only
A newcomer on the scene that's not to be overlooked. Located out of Hotel Normandie, Dante's Fried Chicken Ghost Kitchen is delivering meticulously crafted fried chicken nuggets, cornbread, mac n cheese, and other comfort delights. Their menu is both vegan & non-vegan and DFC's head chef Dante Gonzales knows how to make plant-based fair on a level that's on par with (or better than) the rest of his menu. Time to pick up your phone, open Postmates, and await a pile of hot, crunchy, and soulful chicken nuggets that'll have your mouth watering before you take the first bite.
Veggie Fam
Pop-Up
With fried chicken sandwiches and waffle fries, Veggie Fam may just be the closest experience a vegan can get to Chick-fil-A. When you pair their Hot Fried Chicken Sandwich, complete with slaw, pickles, remoulade, and a tender & chewy housemade chicken patty made from wheat protein & various vegetables, with Old Bay Waffle Fries, you're immediately transported to vegan fast food heaven.
Lettuce Feast
Food Truck
After publishing a vegan cookbook in 2016, Eva & Willie of Lettuce Feast decided to take their Southern & Creole inspired comfort food to the streets of LA, starting their food truck of the same name in 2018. Since then, they've been smashing the food scene with their indulgent fried foods, with their biggest hit being the Nashville Hot Chick'n Sammy—crispy fried chick'n, apple slaw, vegan buttermilk ranch, and housemade spicy sauce in between soft pretzel buns.
Next time you wake up from having dreams of vegan fried chicken heaven, pull up this list to remember why you live in the best vegan city in the United States.
Ryan Tempfer
@ryantempfer
Ryan is a cook, writer, and musician born and raised in Tampa, FL. With years of recipe testing for his Asian-American food blog, No Eggs or Ham, behind him, he strives to sharpen the image of vegan food by highlighting chefs who push the boundaries of plant-based cuisine. Unlike the advice your mom lent you, he encourages you to play with your food every chance you get!
Articles by Ryan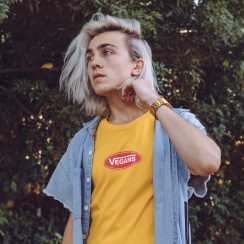 More from VegOut
Subscribe Now
Get the premier vegan food and lifestyle magazine delivered to your door (or inbox!)
Order the magazine!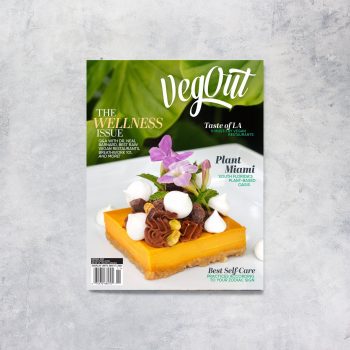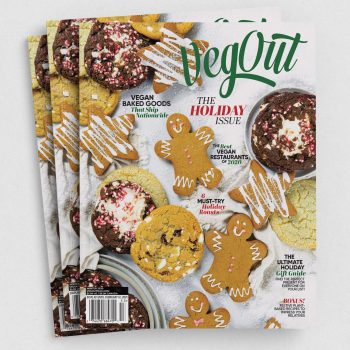 Navigation